Whole genome de novo assemblies of three divergent strains of rice, Oryza sativa, document novel gene space of aus and indica
Received: 24 April 2014
Accepted: 21 October 2014
Published: 3 December 2014
Abstract
Background
The use of high throughput genome-sequencing technologies has uncovered a large extent of structural variation in eukaryotic genomes that makes important contributions to genomic diversity and phenotypic variation. When the genomes of different strains of a given organism are compared, whole genome resequencing data are typically aligned to an established reference sequence. However, when the reference differs in significant structural ways from the individuals under study, the analysis is often incomplete or inaccurate.
Results
Here, we use rice as a model to demonstrate how improvements in sequencing and assembly technology allow rapid and inexpensive de novo assembly of next generation sequence data into high-quality assemblies that can be directly compared using whole genome alignment to provide an unbiased assessment. Using this approach, we are able to accurately assess the 'pan-genome' of three divergent rice varieties and document several megabases of each genome absent in the other two.
Conclusions
Many of the genome-specific loci are annotated to contain genes, reflecting the potential for new biological properties that would be missed by standard reference-mapping approaches. We further provide a detailed analysis of several loci associated with agriculturally important traits, including the S5 hybrid sterility locus, the Sub1 submergence tolerance locus, the LRK gene cluster associated with improved yield, and the Pup1 cluster associated with phosphorus deficiency, illustrating the utility of our approach for biological discovery. All of the data and software are openly available to support further breeding and functional studies of rice and other species.
Keywords
Rice Accession
Temperate Japonica
InterPro Domain
Reference Nipponbare Genome
Exonic Base
Background
Rice (
Oryza sativa
) provides 20% of the world's dietary energy supply and is the predominant staple food for 17 countries in Asia, 9 countries in North and South America and 8 countries in Africa. Within
O. sativa
, there are two major varietal groups,
Indica
and
Japonica
, that can be further subdivided into five major subpopulations:
indica
and
aus
share ancestry within the
Indica
varietal group, and
tropical japonica
,
temperate japonica
and
aromatic
(
Group V
) share ancestry within the
Japonica
varietal group (Figure
1
) [
1
]-[
3
]. The subpopulation structure of
O. sativa
is deep and ancient, with estimates of divergence showing average pairwise Fst values of 0.375 to 0.45 [
1
]-[
3
], compared with Fst values of 0.25 for dogs [
4
], around 0.10 to 0.12 across human populations [
5
], or 0.08 to 0.09 for heterotic groups in maize [
6
].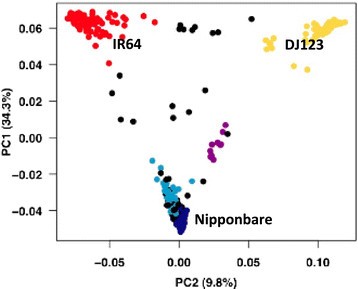 The time since divergence of the ancestral Indica and Japonica gene pools is estimated at 0.44 million years, based on sequence comparisons between cv Nipponbare (Japonica) and cv 93-11 (Indica) [8]. This time estimate pre-dates the domestication of O. sativa by several hundred thousand years, suggesting that rice cultivation proceeded from multiple, pre-differentiated ancestral pools [1],[9]-[13]. This is consistent with genome-wide estimates of divergence based on gene content [14], transcript levels [15], single nucleotide polymorphisms (SNPs) [3],[16], and transposable elements [17]. This is also consistent with evidence from the cloning of dozens of genes underlying diverse quantitative trait loci (QTLs) [2],[10],[18]-[21]. Despite ongoing debate about the precise moment and location of the first domestication 'event' in rice, these studies all demonstrate that natural variation in the rice genome is deeply partitioned and that divergent haplotypes can be readily associated with major varietal groups and subpopulations. The course of domestication, as rice transitioned from its ancestral state as a tropical, outcrossing, aquatic, perennial species to a predominantly inbreeding, annual species adapted to a wide range of ecologies, was punctuated by persistent episodes of intermating among the different subpopulations. This resulted in both natural and human-directed gene flow between the different gene pools, but the essential differentiation that distinguishes the Indica and Japonica genomes was maintained and reinforced over time as a result of numerous partial sterility barriers scattered throughout the genome [22]-[25].
A better understanding of the nature and extent of genome variation within the Oryza clade is critical for both practical and scientific reasons. While the OMAP project [26] is focused on documenting structural variation across 21 wild species of Oryza, relatively little effort has been made to explore the nature of structural variation within and between subpopulations of O. sativa. The high quality, bacterial artificial chromosome (BAC)-by-BAC sequence of the temperate japonica rice variety Nipponbare, generated by the International Rice Genome Sequencing Program (IRGSP) [27], and the shotgun assembly of an indica rice genome, cv 93-11, by Chinese scientists in 2005 [28],[29] have served as 'reference genomes' for the rice research community. The availability of these reference genomes helped catalyze and unify rice research efforts for over a decade, and continue to serve as the backbone for re-sequencing efforts today [2],[30]-[33].
Recently, the resequencing of hundreds of wild and cultivated rice genomes using next generation sequencing (NGS) and various complexity-reduction and genotype-by-sequencing strategies have enriched the pool of sequence information available for rice [30],[34],[35]. However, the vast majority of resequenced genomes are aligned to and compared with the Nipponbare reference rather than being assembled de novo, including in our own previous work [35] and in the current 3,000 rice genomes project [36]. This introduces a potential bias due to significant differences in genome size [37],[38] and structure [14],[17],[29],[39] that characterize the different subpopulations and varieties of rice. Alignment to a single reference is particularly problematic when NGS data from indica, aus or divergent wild species genomes from the center of diversity of Oryza are aligned to the genetically and geographically divergent Nipponbare (temperate japonica) reference because of the potential for misalignment, and for elimination of critical sequences that cannot be aligned with confidence.
The type and distribution of structural variation that distinguishes one rice genome from another, both within and between the five subpopulations of O. sativa, remain largely unknown. Yet it is essential to understanding the genetic basis of heterosis, as well as to identify genes underlying many of the most significant phenotypic differences that are critical to global food security, including a plant's ability to grow in stressful environments afflicted by drought, submergence, low phosphorus and/or disease. The only practical way to fully understand the genomic diversity of rice is to carry out whole genome shotgun sequencing and de novo assembly. This has been problematic until recently due to the difficulties in assembling the short reads initially provided by NGS. However, recent advances in NGS chemistry and in computational approaches to sequence assembly have significantly improved the power and reliability of de novo assembly of NGS data.
In this study we use these advances to de novo assemble three divergent rice genomes representing the indica (IR64), aus (DJ123) and temperate japonica (Nipponbare) subpopulations and to determine the extent and distribution of structural variation among them. These varieties were chosen for both biological interest and to facilitate evaluation of assemblies. On the biological side, different subpopulations of rice are adapted to different ecologies and geographies, and harbor different alleles and traits of interest for plant improvement [3],[19],[20],[40]-[43]. The aus subpopulation is of particular interest because it is the source of important alleles conferring disease resistance [44], tolerance to submergence [33], deep water [45], low-phosphorus soils [41], and drought [46]. Indica rice harbors the greatest amount of genetic variation [1],[30] and accounts for the largest contribution to rice production globally. Our choice to sequence Nipponbare was due to the fact that it provided a high quality BAC-by-BAC sequence assembly [27] that served as a solid benchmark for assessing the quality of our three NGS assemblies and provided a context for understanding the impact of varying data sets and parameters used in the assemblies.
Conclusions
In this study we wanted to overcome the limitation on sequencing and comparison to a reference genome by instead analyzing high quality de novo assemblies of multiple rice genomes to observe biologically significant changes between them. The rice accessions sequenced were selected to represent the indica (cv IR64), aus (DJ123) and temperate japonica (Nipponbare) subpopulations (Figure 1). The inclusion of the high quality, BAC-by-BAC assembly of Nipponbare and the shotgun assembly of 93–11 provided a control that allowed us to assess the quality of the different datasets and de novo assembly strategies. It is apparent from comparing different assembly software that ALLPATHS-LG gave the best results in our hands (Table S3 in Additional file 1). It is also apparent that the use of k-mer frequencies is a robust technique for characterizing repetitive regions, and enabled us to correctly characterize and validate genome-specific regions.
The three-way comparison among the different genomes was informative in identifying major shared and structurally variable regions of the rice genome. We were particularly interested in regions that were structurally unique to either the indica and/or the aus genome because they would likely have been discarded in previous re-sequencing efforts due to difficulties aligning their sequencing reads to the Nipponbare reference genome. This would be particularly true for longer genome-specific sequences, which would be completely absent in the alignments to the reference. We anticipate the ongoing 3,000 rice genomes project [36] will benefit greatly from having our assemblies available, especially so that they can map variations within regions not present in the Nipponbare reference as they have currently done. We also anticipate future studies will systematically perform follow-up functional studies of genome-specific gene loci as being likely candidates for phenotypic differences observed between the genomes.
Our analysis clearly demonstrates that the indica and the aus genomes are more distantly related than previously known. Because the aus subpopulation is phenotypically so similar to indica, the degree of genetic differentiation has been underappreciated by breeders and geneticists alike [43],[63],[64]. The unusual characteristics of the aus subpopulation, combined with evidence of unique aus alleles at loci such as Rc, conferring white versus colored pericarp [19], the Snorkel locus conferring deep water ability [45], the Pstol1 locus conferring phosphorus-update efficiency [41], or the Sub1 locus conferring submergence tolerance [33], all support the hypothesis that aus may have a unique domestication history compared to japonica and indica. These findings underscore the importance of recognizing genetic subpopulation structure to guide plant breeders in identifying novel sources of variation for traits of interest. In recent years, many key biotic and abiotic stress tolerance genes have been discovered in aus varieties [33],[41],[44]-[46]. It is interesting to note that in several cases, the donor aus germplasm is referred to as indica, underscoring how indica and aus are often confused, as noted for the DJ123 haplotype of the S5 hybrid sterility locus (see above).
The overall annotation of our Nipponbare assembly is quite close to that of the reference Nipponbare genome. This illustrates that the approach we describe here provides a genome sequence of considerable vitality for further research. However, our contig N50 sizes (as opposed to scaffold N50) are still fragmented by the presence of repeats too long and too complex to be fully resolved in the short read assemblies. This somewhat limits application when studying large structural rearrangements, as exemplified by the Pup1 region that remains partially unassembled in the aus variety DJ123 (Figure 5), and the modest differences we observed in annotation quality between core genes and genome-specific genes. We anticipate that some combination of short-read NGS sequencing and newly emerging long read sequences, such as Pacific Biosciences Single Molecule Real Time Sequence [65], which can now produce reads approaching 100 kbp long, will soon overcome this limitation and provide assemblies approaching, or perhaps even surpassing, those provided by the vastly more expensive and time consuming BAC-by-BAC approach. Once this occurs it should spark an outburst of genomics studies of agronomically important plant genomes, greatly enriching our potential to understand their many unique qualities and characteristics and paving the way for enhanced utilization of natural variation in plant improvement.
Materials and methods
Plant material
Three rice (
Oryza sativa
) accessions (Nipponbare, IR64, DJ123) were used in the study. Accession information (that is, Genetic Stocks
Oryza
(GSOR) identifier, accession name, country of origin, subpopulation) is summarized in Table
10
[
63
]. The plants were grown in the Guterman greenhouse facility at Cornell University, leaf tissue was harvested from one-month-old seedlings, ground in a mortar and pestle, and DNA was extracted using the Qiagen Plant DNeasy kit (Qiagen, Valencia, CA, USA).
Table 10
Accession information for the three rice genomes in the Genetic Stocks Oryza (GSOR) stock center
| GSOR ID | Accession name | Country of origin | Subpopulation |
| --- | --- | --- | --- |
| 301164 | Nipponbare | Japan | temperate japonica |
| 312010 | IR64 | Philippines | indica |
| 301307 | DJ123 | Bangladesh | aus |
DNA sequencing
The DNA sequencing was performed in the Cold Spring Harbor Laboratory Genome Center using Illumina HiSeq 2000 instruments. For each of the three varieties, three libraries were sequenced following the requirements and recommendations of the ALLPATHS-LG whole genome assembler: (1) a 180 bp fragment library sequenced as 2 × 100 bp reads; (2) an approximately 2 kbp jumping library sequenced as 2 × 50 bp reads; and (3) an approximately 5 kbp jumping library sequenced as 2 × 50 bp reads.
For the 180-bp overlap library the sample was mechanically fragmented by using the Covaris S2 System and then prepared based on the New England Biolabs NEBNext Illumina library protocol and ligated to standard Illumina paired-end adapters. To maximize sample throughput the samples were size-selected in 50-bp windows between 290 and 310 bp using the Caliper XT instrument. Each library was PCR enriched for 12 cycles and quantified using the Bioanalyzer.
For the jumping libraries, the Illumina mate-pair library protocol was used. The DNA was fragmented into 2 kb and 5 kb segments. We again used the Covaris S2 System using programs that we developed in the lab. The fragmented DNA was then end-repaired with biotin-labeled dNTPs. The labeled fragments are circularized and fragmented again into 400 bp pieces. Fragments with the biotin labels are enriched, end-repaired, and ligated with adapters used for downstream processes. Each library was PCR enriched for 18 cycles and size-selected for 350 to 650 bp fragments. The final library consists of fragments made up of two DNA segments that were originally separated by approximately 2 kbp or approximately 5 kb. Each of the libraries was sequenced to 30× to 80× sequence coverage, as recommended by the assembler.
Libraries were sequenced on one or more lanes of an Illumina HiSeq 2000 using paired-end 50- or 100-bp runs. Image processing and base calling were performed as the runs progressed with Illumina's Real Time Analysis (RTA) software. The binary base call files were streamed to a shared Linux server for further processing. The Illumina Casava pipeline (v1.8) was used to process the binary files to fastq files containing the base-called reads and per base quality scores. Only reads passing the standard Illumina quality filter were included in the output files.
Genome assembly
The ALLPATHS-LG version R41348 assembly algorithm was used for the assemblies. It consists of five major phases: (1) pre-assembly error correction, (2) merging of the overlapping fragment reads into extended reads, (3) constructing the unipath graph from the k-mers present in the reads, (4) scaffolding the unipaths with the jumping libraries, and (5) gap closing. To complete the five phases, the algorithm requires an overlapping pair fragment library and at least one jumping library, although the authors recommend at least two jumping libraries of approximately 2 kbp and approximately 5 kbp or larger. We assembled each of the genomes using approximately 50× coverage of the fragment library and approximately 30× coverage of each of the two jumping libraries using the recommended parameters, except we lowered the MIN_CONTIG size to 300 bp from the default 1,000 bp. This parameter controls the minimum contig size to be used for scaffolding, and our previous testing determined this change leads to (modestly) improved contig and scaffold statistics.
We also evaluated using SOAPdenovo2 [66] and SGA [67] for the assemblies (Table S3 in Additional file 1), using the same fragment, 2 kbp, and 5 kbp libraries but both assemblers had substantially worse contiguity statistics under a variety of parameter settings. For SOAPdenovo2, we corrected the reads using the Quake error correction algorithm [68], and then ran seven assemblies with the de Bruijn graph k-mer size set to k = 31 through k = 45 (odd values only, as required). In every attempt the scaffold N50 size was below 10 kbp compared with >200 kbp for our best ALLPATHS-LG assembly. For SGA, we evaluated four assemblies with the string graph minimum overlap length of k = 71 through k = 77 (odd values only, as required), but the scaffold N50 size was below 15 kbp in every attempt. We hypothesize that ALLPATHS-LG achieved superior results because the algorithm automatically measures many of the properties of the sequencing data, and could therefore self-adjust the various cutoffs used by the algorithm for error correction, contigging, and scaffolding.
Applying nomenclature proposed by [51], we have named these assemblies to convey accession, quality, origin, and iteration as follows: Os-Nipponbare-Draft-CSHL-1.0, Os-IR64-Draft-CSHL-1.0, Os-DJ123-Draft-CSHL-1.0.
Genome annotation
Repeat elements were masked using RepeatMasker [69] with a rice repeat library available from the Arizona Genome Institute. Protein-coding genes were annotated using MAKER-P version 2.30, installed on the Texas Advanced Computer Center Lonestar cluster and provisioned through an iPlant Collaborative allocation [52],[70]-[72]. Sequence evidence used as input for MAKER-P included Oryza expressed sequences (EST, cDNA, and mRNA) downloaded from the National Center for Biotechnology Information (NCBI), and annotated coding and protein sequences available for Nipponbare (IRGSP1.0 and MSU release 7) [51], 93-11 [28], and PA64s (Table S1 in Additional file 1). Ab initio gene predictions made using FGENESH [73] were incorporated exogenously into the MAKER-P pipeline using the pred_gff parameter. The SNAP [74] ab initio predictor was run within MAKER-P using the O.sativa.hmm parameter provided with SNAP. To annotate protein domain structure and assign GO terms we used InterProScan 5 software [75], available within the iPlant Discovery Environment [76]. Among resulting InterPro domains we curated 21 as being associated with transposon-encoded genes and screened out MAKER-P annotations with these domains (IPR000477, IPR001207, IPR001584, IPR002559, IPR004242, IPR004252, IPR004264, IPR004330, IPR004332, IPR005063, IPR005162, IPR006912, IPR007321, IPR013103, IPR013242, IPR014736, IPR015401, IPR018289, IPR026103, IPR026960, IPR027806). To identify homologies we conducted BLASTP alignment to the plants subsection of NCBI RefSeq (release 63), using an e-value threshold of 1e-10.
Whole genome comparisons
We used the MUMmer [77] whole genome alignment package and the GAGE assembly comparison scripts to compare the de novo assemblies to the reference Nipponbare and Indica genomes. Briefly, we aligned the assemblies to the genomes using nucmer using sensitive alignment settings (-c 65 -l 30 -banded -D 5). For base level accuracy evaluations, we used the GAGE assembly comparison script, which further refines the alignments by computing the best set of one-to-one alignments between the two genomes using the dynamic programming algorithm delta-filter. This algorithm weighs the length of the alignments and their percentage identity to select one-to-one non-redundant alignments. This effectively discards spurious repetitive alignments from consideration, allowing us to focus on the meaningful differences between the genomes. Finally, the evaluation algorithm uses dnadiff to scan the remaining, non-repetitive alignments to summarize the agreement between the sequences, including characterizing the nature of any non-aligning bases as substitutions, small indels, or other larger structural variations. To characterize the unaligned regions of the reference genome, we converted the whole genome alignments into BED format. For this we did not exclude repetitive alignments, so that we could focus on novel sequence instead of copy number differences. We used BEDTools [78] to intersect the unaligned segments with the reference annotation, and summarized the size distributions of the unaligned segments using AMOS [79].
K-mer analysis
To evaluate the repeat composition, we selected a random sample of 400 million unassembled reads from each of the three genomes and used Jellyfish [80] to count the number of occurrences of all length 21 k-mers in each read set. Length 21 was selected to be sufficiently long so that the expected number of occurrences of a random k-mer was below 1, but short enough to be robust to sequencing errors. The modes of the 3 k-mer frequency distributions, excluding erroneous k-mers that occurred less than 10 times, were 60× (Nipponbare), 64× (DJ123), and 73× (IR64) drawn from an approximately negative binomial distribution (Figure S1 in Additional file 1). These values correspond to the average k-mer coverage for single copy, non-repetitive regions of the genome. See Kelly et al. [68] for a discussion of k-mer frequencies. We then used the AMOS program kmer-cov-plot [79] to report the kmer coverage along the two reference genomes using the three databases of read k-mer frequencies. Unlike read alignments, which may be sensitive to repeats and variations, evaluating k-mer coverage is very robust to determine repetitive content [81],[82]. Single nucleotide variants are also readily apparent in these plots as abrupt gaps in coverage kilobase pairs long, while indels will be present as longer gaps in coverage [83].
Pan-genome analysis
The pan-genome analysis followed the reference-based analysis above, using nucmer to align the genomes to each other, BEDTools to find the genome-specific and shared regions of the genomes, and the jellyfish/AMOS k-mer analysis as described above to classify unique and repetitive sequences. We also used BEDTools to intersect the genome-specific/shared regions against their respective annotations to determine how the exonic bases were shared across the genomes. We summarized the genome-specific/shared exonic bases into gene counts by counting the total number of shared or specific exonic bases across all possible transcripts for a gene, and assigned the gene to the sector of the Venn diagram with the most bases associated with it. For the purposes of the Venn diagram (Figure 2A), wherever possible, the Nipponbare base or gene counts were used, followed by the values from IR64, and then followed by the DJ123 specific values, although the values were all largely consistent.
PCR and sequencing validation of specific regions
The same algorithms and parameters as the pan-genome analysis were also used to characterize the specific regions identified in the paper. PCR and/or sequencing validation were performed on genomic DNA extracted from tissue collected from independently grown plants obtained from the same seed source used for Illumina sequencing. Genomic DNA was extracted from young leaf tissue using the Qiagen Plant DNeasy Mini kit. Primers used for validation of 10 of the longest genome-specific sequences from each rice line, and of the S5 and Pup1 loci, are listed in Table S4a-c in Additional file 1. Sanger sequencing was performed at the Biotechnology Resource Center at Cornell University.
Data access
The read data, assemblies, annotations, and pan-genome alignments are posted on the CSHL website at [
84
]. The NCBI Sequence Read Archive (SRA) accession numbers for the short read data used in this study are listed in Table
11
. Analysis software packages are available open source from the websites for ALLPATHS-LG [
85
], MUMmer [
86
], AMOS [
87
], Jellyfish [
88
], and BEDTools [
89
].
Table 11
NCBI Sequence Read Archive accession codes for sequencing data used in this study
| Genome | Library type | Read length | SRA accession |
| --- | --- | --- | --- |
| Nipponbare | 180 bp fragment | 2 × 101 | SRX734432 |
| | 2 kbp jump | 2 × 50 | SRX179260 |
| | 5 kbp jump | 2 × 50 | SRX179265 |
| IR64 | 180 bp fragment | 2 × 101 | SRX180537 |
| | 2 kbp jump | 2 × 50 | SRX180555 |
| | 5 kbp jump | 2 × 50 | SRX180597 |
| DJ123 | 180 bp fragment | 2 × 101 | SRX180718 |
| | 2 kbp jump | 2 × 50 | SRX180822 |
| | 5 kbp jump | 2 × 50 | SRX180892 |
Abbreviations
BAC:

bacterial artificial chromosome
bp:

base pair
CDS:

coding sequence
EST:

expressed sequence tag
GO:

Gene Ontology
IRGSP:

International Rice Genome Sequencing Program
MSU:

Michigan State University
NCBI:

National Center for Biotechnology Information
NGS:

next generation sequencing
ORF:

open reading frame
PCR:

polymerase chain reaction
QTL:

quantitative trait locus
SNP:

single nucleotide polymorphism
UTR:

untranslated region
Declarations
Acknowledgements
This project was supported in part by National Science Foundation awards PGRP-1026555 to SMc, DBI-126383 to DW and MCS, DBI-1350041 to MCS, IOS-1032105 to WRM and DW, and DBI-0933128 to WRM. It was also supported in part by National Institutes of Health award R01-HG006677 to MCS. We would like to thank Adam Phillippy and Sergey Koren for their helpful discussions with the GAGE assembly validation software and pan-genome alignments; Aaron Quinlan for his helpful discussions with BEDTools; and David Jaffe, Iain MacCallum, Ted Sharpe, Filipe Joao Ribeiro, and all the ALLPATHS-LG developers and support staff for the assistance debugging and troubleshooting the assemblies.
Authors' Affiliations
(1)
Cold Spring Harbor Laboratory, Cold Spring Harbor, USA
(2)
Department of Plant Breeding and Genetics, Cornell University, Ithaca, USA
(3)
Centro de Ciencias Genómicas, Universidad Nacional Autónoma de México, Cuernavaca, Mexico
(4)
Macalester College, St Paul, USA
(5)
Stony Brook University, Stony Brook, USA
(6)
USDA-ARS NAA Plant, Soil and Nutrition Laboratory Research Unit, Cornell University, Ithaca, USA
Copyright
© Schatz et al.; licensee BioMed Central Ltd. 2014
This article is published under license to BioMed Central Ltd. This is an Open Access article distributed under the terms of the Creative Commons Attribution License (http://creativecommons.org/licenses/by/4.0), which permits unrestricted use, distribution, and reproduction in any medium, provided the original work is properly credited. The Creative Commons Public Domain Dedication waiver (http://creativecommons.org/publicdomain/zero/1.0/) applies to the data made available in this article, unless otherwise stated.