Conserved syntenic clusters of protein coding genes are missing in birds
Received: 29 October 2014
Accepted: 8 December 2014
Published: 18 December 2014
Abstract
Background
Birds are one of the most highly successful and diverse groups of vertebrates, having evolved a number of distinct characteristics, including feathers and wings, a sturdy lightweight skeleton and unique respiratory and urinary/excretion systems. However, the genetic basis of these traits is poorly understood.
Results
Using comparative genomics based on extensive searches of 60 avian genomes, we have found that birds lack approximately 274 protein coding genes that are present in the genomes of most vertebrate lineages and are for the most part organized in conserved syntenic clusters in non-avian sauropsids and in humans. These genes are located in regions associated with chromosomal rearrangements, and are largely present in crocodiles, suggesting that their loss occurred subsequent to the split of dinosaurs/birds from crocodilians. Many of these genes are associated with lethality in rodents, human genetic disorders, or biological functions targeting various tissues. Functional enrichment analysis combined with orthogroup analysis and paralog searches revealed enrichments that were shared by non-avian species, present only in birds, or shared between all species.
Conclusions
Together these results provide a clearer definition of the genetic background of extant birds, extend the findings of previous studies on missing avian genes, and provide clues about molecular events that shaped avian evolution. They also have implications for fields that largely benefit from avian studies, including development, immune system, oncogenesis, and brain function and cognition. With regards to the missing genes, birds can be considered 'natural knockouts' that may become invaluable model organisms for several human diseases.
Keywords
Gene LossZebra FinchMouse Genome InformaticsSyntenic BlockMissing Gene
Background
Birds are highly successful and diverse descendants of therapod dinosaurs (Figure
1
) that have evolved a number of distinct characteristics such as feathers, wings and the ability to fly, a sturdy lightweight skeleton, a toothless beak, high metabolic rate and endothermy, and unique respiratory and urinary/excretion systems that distinguish them from other sauropsids (for example, lizards, turtles, crocodiles [
1
]-[
3
]). To date, however, the genetic basis underlying these traits has been largely unknown. With the recent sequencing and annotation of a large number of avian (60) and sauropsid (5) genomes, including zebra finch, [
4
], chicken [
5
], turkey [
6
], 45 genomes completed in the context of the avian phylogenomics consortium [
7
],[
8
], 12 additional avian genomes available at NCBI (listed in Methods), Western painted [
9
] and Chinese soft-shelled turtles, the green anole [
10
], and the American alligator and saltwater crocodile [
11
],[
12
], it has become possible to identify genomic features that are unique to birds, and thus possibly associated with the evolutionary emergence of characteristic avian traits.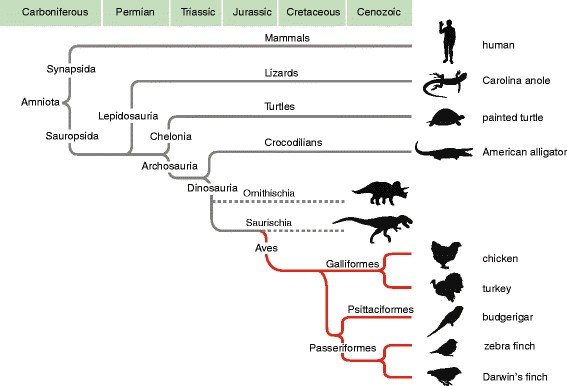 Avian genomes have been found to be more compact compared to other amniotes. This difference, which correlates with an overall smaller cell size, was speculated to reflect an adaptation related to the higher rates of oxidative metabolism necessitated by the evolution of flight [13],[14]. However, more recent evidence for similar genomic streamlining in non-avian dinosaurs, suggests that the evolution of compact genomes may have occurred largely before the emergence of flighted birds [15]. Mechanistically, these reductions in genome size likely occurred as the result of a loss of non-coding DNA sequences, a possibility supported by evidence that avian genomes have less repetitive DNA, fewer pseudogene, and shorter introns compared to mammals [5],[16]. Importantly, however, the evolution of avian genomes also appears to have involved a loss of protein coding genes, as the total number of unique identified avian coding genes (for example, 15,508 in chicken according to Ensembl release e71; [17],[18]) is considerably smaller than in other tetrapods (20,806 in humans, 18,596 in anole lizard, 18,429 in frogs). Indeed, paralog analysis demonstrates an overall higher occurrence of gene families with fewer members in birds than in other vertebrates [13]. Finally, birds are also known to have high rates of chromosomal rearrangements compared to other organisms, which could in principle have resulted in significant losses of syntenic groups of protein coding genes [5],[19].
We have previously observed that analysis of side-by-side chromosomal alignments of 1-to-1 orthologs from representative vertebrate species can be used to identify protein coding genes that are missing in birds [4]. Specifically, we found that a syntenic gene block on mammalian chromosome X that includes Synapsin 1 (SYN1) is missing in the genomes of both zebra finch and chicken, but present in lizards. To gain a more comprehensive understanding of the extent of possible avian gene losses, we decided to systematically apply this approach to the entire genome of birds. Specifically, we compared the syntenic arrangements of orthologous genes in the genomes of non-avian sauropsids as well as humans with those of birds, coupled with extensive BLAT/BLAST searches of avian genomes and manual verification of orthology for any resulting hits. Our reasoning was that genes present in non-avian sauropsids and humans but missing in a large number of distantly related birds, including those that were used to define the avian phylogenomic tree [8], likely represent gene losses that are characteristic of the avian lineage, rather than genomic features specific to lizard or to only a few bird species. We found that approximately 274 genes that are present in conserved syntenic blocks or in close proximity to these blocks at discrete chromosomal locations in non-avian sauropsids and mammals are absent in all birds examined. We also found that these genes are for the most part present in crocodilian genomes, indicating that the losses likely occurred within the dinosaur/avian lineage rather than in a more distant archosaur ancestor. A comprehensive bioinformatics analysis revealed that a substantial number of missing genes are associated with lethality or disease phenotypes that affect major tissues, organs, or systems in mice and/or humans. In several cases paralogous genes and/or biochemical or physiological adaptations that are present in birds may have provided compensation for these gene losses. We discuss the possible functional and evolutionary implications of this loss of protein coding genes.
Discussion
We have presented genomic evidence for the avian loss of 274 protein coding genes located within or in close proximity to conserved syntenic blocks with a clustered localization to discrete chromosomal domains in lizards and humans (human chr19, X; lizard chr2). The majority (86%) of these avian missing genes are present in the crocodilian lineage, and 90% to 95% are present in fish, coelacanth, and frog, suggesting that their loss was largely subsequent to the split of dinosaurs/birds from their archosaur ancestor. These avian missing genes are associated with the physiology of a broad range of organs and systems in mammals, as well as lethality in rodents and severe genetic disorders in humans. Some of them provide plausible explanations for known avian traits, while others were likely compensated by elements of the avian genome, including novel paralogs. As discussed below, these findings have important implications for understanding several aspects of avian physiology and the evolution of avian traits and adaptations. They are also potentially important for developing novel animal models for human disease, and could be of relevance to the poultry industry.
Conclusions
In sum, our findings provide a more accurate understanding of the avian genetic makeup as well as novel insights into the evolutionary origins of gene losses affecting the avian lineage. We also highlight a number of examples wherein birds constitute natural knockouts for genes that in other organisms are known to play fundamental metabolic or physiological roles, or are associated with severe disease phenotypes and genetic disorders. It is also noteworthy that the function of numerous avian missing genes described here relate to areas of biomedical research to which birds have made substantial contributions as model organisms, including development, immune system function, oncogenesis, and brain and behavior, to name a few. It will be important to assess the impact that avian gene deletions might have for these fields of research. Our studies have also identified a number of gene deletions as well as possible compensatory adaptations that have important implications for understanding basic aspects of avian physiology, and could be of potential relevance for improving commercial poultry strains.
Declarations
Acknowledgments
We wish to thank D. Ray and R.E. Green for generously providing early access to the crocodile genomes, E.D. Jarvis for access to the Budgerigar genome and useful comments on the manuscript, and E.D. Jarvis, G. Zhang, and T. Gilbert for access to the Medium Ground Finch, Ostrich, and general access to genomes from the avian phylogenomics consortium. NHL was supported by a fellowship from the National Library of Medicine Biomedical Informatics Training Grant. This study was supported by the NIH through a resource grant from the NIGMS (R24-GM092842) to CVM.
Authors' Affiliations
(1)
Department of Behavioral Neuroscience, Oregon Health and Science University, Portland, USA
(2)
The Genome Institute, Washington University School of Medicine, St. Louis, USA
(3)
Oregon National Primate Research Center, West Campus, Oregon Health and Science University, Portland, USA
(4)
Bioinformatics and Computational Biology Division, Oregon Health & Science University, Portland, USA
Copyright
© Lovell et al.; licensee BioMed Central. 2014
This article is published under license to BioMed Central Ltd. This is an Open Access article distributed under the terms of the Creative Commons Attribution License (http://creativecommons.org/licenses/by/4.0), which permits unrestricted use, distribution, and reproduction in any medium, provided the original work is properly credited. The Creative Commons Public Domain Dedication waiver (http://creativecommons.org/publicdomain/zero/1.0/) applies to the data made available in this article, unless otherwise stated.