Glucocorticoid receptor binds half sites as a monomer and regulates specific target genes
Received: 19 May 2014
Accepted: 17 July 2014
Published: 31 July 2014
Abstract
Background
Glucocorticoid receptor (GR) is a hormone-activated, DNA-binding transcriptional regulatory factor that controls inflammation, metabolism, stress responses, and other physiological processes. In vitro, GR binds as an inverted dimer to a motif consisting of two imperfectly palindromic 6 bp half sites separated by 3 bp spacers. In vivo, GR employs different patterns of functional surfaces of GR to regulate different target genes. The relationships between GR genomic binding and functional surface utilization have not been defined.
Results
We find that A477T, a GR mutant that disrupts the dimerization interface, differs from wild-type GRα in binding and regulation of target genes. Genomic regions strongly occupied by A477T are enriched for a novel half site motif. In vitro, GRα binds half sites as a monomer. Through the overlap between GRα- and A477T-bound regions, we identify GRα-bound regions containing only half sites. We further identify GR target genes linked with half sites and not with the full motif.
Conclusions
Genomic regions bound by GR differ in underlying DNA sequence motifs and in the GR functional surfaces employed for regulation. Identification of GR binding regions that selectively utilize particular GR surfaces may discriminate sub-motifs, including the half site motif, that favor those surfaces. This approach may contribute to predictive models for GR activity and therapy.
Keywords
Glucocorticoid ReceptorFunctional SurfaceTranscriptional Start SiteU2OS CellDimerization Interface
Background
Glucocorticoid receptor (GR, HUGO symbol NR3C1) is a DNA-binding transcriptional regulatory factor that is activated specifically by binding glucocorticoid hormones, and which regulates diverse aspects of physiology. Genome-wide measurements of gene expression in U2OS human osteosarcoma cells stably expressing GR [
1
] have revealed that thousands of genes are differentially expressed in response to glucocorticoid treatment (that is, regulated by GR) [
2
]. Moreover, U2OS lines stably expressing three mutant GR alleles, each disrupting one functional surface, have revealed that different GR target genes depend on different patterns of functional surfaces of GR for proper regulation; A477T disrupts the dimerization interface; and 30iiB (E219K/F220L/W234) and E773R disrupt the activation function 1 and 2 (AF1, AF2) domains, respectively (Figure
1
A) [
2
]. Similarly, GRγ, a minor isoform differing from the major isoform GRα by insertion of a single arginine in the 'lever arm' region [
3
], differentially regulates some GR regulated genes, implicating this region as another functional surface. X-ray crystallography [
3
] and nuclear magnetic resonance spectroscopy (NMR) [
4
] of GR bound to different oligonucleotides containing high-affinity binding sites indicate that GR assumes distinct conformations at different sites. These results imply that GR also assumes different conformations
in vivo
at different glucocorticoid response elements (GREs), genomic regions that confer specific context-dependent GR responsiveness upon a nearby gene.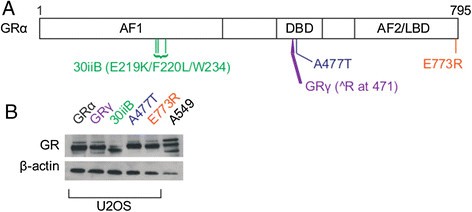 In vitro, purified GR recognizes specifically a GR binding sequence (GBS) motif composed of imperfect palindromic 6 base pair (bp) 'half sites' separated by 3 bp 'spacers', binding as an inverted dimer [5]. In vivo, GR occupies specific genomic GR binding regions (GBRs), identified using chromatin immunoprecipitation coupled with quantitative PCR (ChIP) or deep sequencing (ChIP-seq). The genomic locations of GBRs differ strikingly in different cell or physiologic contexts, and not all GBRs contain an identifiable GBS motif. Hence, the relationship between sequences recognized in vitro and genomic regions occupied in vivo is complex. It is reassuring that GBS motifs drive GR-regulated transcription in a simple reporter context [5], and therefore reasonable to assume that GR occupancy at GBRs that contain GBSs reflects in vivo sequence recognition. Interestingly, different GBSs, tested in isolation in vivo, trigger utilization of different patterns of GR functional surfaces [3], supporting the notion that GR assumes different conformations at these sequences in vivo. However, rules dictating the relationship between DNA sequence, GR conformation, and utilization of distinct GR functional surfaces remain unknown.
We therefore examined whether sequence motifs, including the canonical GBS, found within GBRs might in fact be an aggregate of specific motifs, each biased toward utilization of particular functional surfaces of GR. In this study, we measured changes in gene expression and genomic occupancy upon glucocorticoid treatment of isogenic cultured human cell lines expressing alleles of GR bearing differences in particular functional surfaces. We further used statistical, computational, and biophysical methods to characterize changes in GR conformation and function, as well as the sequence motifs that are present at GREs, in relation to these functional surfaces.
Conclusions
GREs differ in their precise sequence motifs, in their modes of GR binding (monomer or dimer; direct or indirect), and in the functional GR surfaces required for binding or regulation. Structural changes induced in GR upon binding different 'sub-motifs' (refinements of the canonical motif) may be important determinants of GR activity at particular response elements. We have shown that GR occupies in vivo many genomic regions containing half sites, and that these regions are likely responsible for regulation of a subset of target genes. Moreover, GR specifically binds to half sites in vitro, without apparent cooperativity, and thus as a monomer.
Half sites are easily overlooked among those sequences that conform to the known GR full site motif, but they have distinct functional properties compared to degenerate full sites, which may be predicted to bind with similar affinity. Identification of GREs with other sub-motifs, the conformations those GREs induce, and the functional surfaces they utilize will be important steps in defining predictive models of GR activity and in developing therapeutic strategies to modulate GR activity.
Materials and methods
Cell culture
U2OS cells stably transfected with rat GRα, GRα 30iiB (30iiB; E219K/F220L/W234R), GRα A477T (A477T), GRγ, or GRα E773R (E773R) were grown as previously described [2]. Parent U2OS cells do not manifest any endogenous response to glucocorticoid treatment. DNA sequencing analysis was used to confirm the presence of point mutations in all cell lines. A549 cells were obtained from American Type Culture Collection and maintained in DMEM supplemented with 10% volume/volume (v/v) fetal bovine serum.
Immunoblotting
Whole cell extracts were collected using 20 mM Tris-Cl pH 8.0, 150 mM NaCl, 1% NonidetP-40 (NP-40), 1% sodium deoxycholate, 0.1% sodium dodecyl sulphate (SDS), 2 mM ethylenediaminetetraacetic acid (EDTA). Immunoblot analysis was performed as previously described [34]. Antibodies to GR (N499) and β-actin (Sigma-Aldrich) were used.
Gene expression measurements using microarrays
Cells were plated in 6-well plates using DMEM supplemented with 5% v/v fetal bovine serum. Dexamethasone (Sigma) at a final concentration of 100 nM was added to the medium for 2, 4, or 24 h; for the '0 h' time point, cells were treated with vehicle (ethanol) only for 4 h. Cells were lysed and total RNA was isolated using QIAshredder and RNeasy mini columns (Qiagen). The quality of RNA samples was evaluated by A260/A280 ratio which was at least 1.9 and the integrity was analyzed using the Bioanalyzer 2100 (Agilent) with the Experion RNA Stdsens analysis kit (Biorad). For each experimental condition 2 μg of high quality total RNA was submitted to the University of Southern California Epigenome Center. Four biological replicates of each experimental sample from independent experiments that were collected on different days were randomly placed on Illumina Human Ref8 beadchips and processed following standard Illumina procedures.
Genome build
All coordinates reported are for the UCSC human genome build hg19 (GRCh37).
Computational analysis of gene expression data
Bead-level data outputted from Illumina's BeadScan software were read using the beadarray package [35] from Bioconductor [36] with the R programming language [37]. BASH [38] was used to correct for compact and diffuse spatial artifacts on the arrays. Bead-level data were summarized using beadarray, filtering out beads that were more than three mean absolute deviations from the median. Probe annotations were retrieved using the illuminaHumanv3.db package from Bioconductor; poor quality probes and probes not corresponding to known HUGO gene symbols were removed from the data before further processing. Bead summary data were log2 transformed and quantile normalized. We then used the non-parametric empirical Bayes method described by [39] to correct for chip-to-chip batch effects. The raw data and batch-corrected, normalized data have been deposited in NCBI's Gene Expression Omnibus [40] and are accessible through GEO Series accession number GSE45407 [41].
The limma package [7] from Bioconductor was used to determine differential gene expression/regulation: the lmFit function was used to determine relative expression at each condition (time point, expressed allele); the contrasts.fit function was used twice, first to determine fold-change at 2, 4, and 24 h relative to the '0 h' time point (4 h ethanol treatment), and second to determine the difference in fold-change between each expressed allele and GRα; the eBayes function was used to compute statistics in each case. An adjusted [42]P value cutoff of P <0.05 was used to determine which genes are differentially expressed. We found there was insufficient statistical power to identify many differentially regulated genes at 2 h. This is likely due in part to the limitations of measuring steady state total RNA levels rather than newly generated transcripts, which was not feasible at the time of this study. The ggplot2 package [43] was used to visualize the results. For a more detailed procedure see (Additional file 17).
Chromatin immunoprecipitation (ChIP)
U2OS cells stably expressing one of GRα, A477T, 30iiB, or E773R were grown in 3× 75 cm2 dishes and treated with 100 nM dexamethasone for 90 min. The following procedure is adapted from [19]. We added formaldehyde to a final concentration of 1% for 3 min at room temperature and then quenched by adding 2.5 M glycine to a final concentration of 125 mM glycine. Cells were incubated at 4°C for 10 min and then washed with PBS for 5 min. We added 5 mL ice-cold IP lysis buffer (50 mM HEPES-KOH pH 7.4, 1 mM EDTA, 150 mM NaCl, 10% v/v glycerol, 0.5% v/v Triton X-100) with 1× protease inhibitor cocktail added (PIC; Roche Complete) to each flask to lyse cells and scraped cells into 50 mL conical tubes. Lysed cells were nutated for 30 min and pelleted by centrifugation at 4°C for 5 min at 600 times gravity. After removing the supernatant, nuclei were resuspended in 900 μL RIPA buffer (10 mM Tris pH 8.0, 1 mM EDTA, 150 mM NaCl, 5% v/v glycerol, 0.1% sodium deoxycholate, 0.1% SDS, 1% v/v Triton X-100) with 1× PIC added and frozen at −80°C.
The remaining ChIP procedure was performed at 4°C. Protein G Dynabeads (Invitrogen) were prepared for IP as follows: beads were pelleted (using a magnet); liquid was removed; beads were washed twice with RIPA, then resuspended in RIPA with 1× PIC and 0.5 mg/mL BSA at the original bead concentration; 12 μg N499 α-GR antibody were added per 100 μL beads, and the beads were nutated for 2 h.
Nuclei were thawed in ice water. Chromatin from nuclei were fragmented by sonication at 4°C in 300 μL aliquots in 1.5 mL microcentrifuge tubes using the Diagenode Biorupter for 8 cycles of 7 min (0.5 min on / 0.5 min off). Samples were spun at 14,000 revolutions per minute (rpm) and for 15 min to pellet insoluble molecules, and the supernatant was transferred into new microcentrifuge tubes. We saved 10% of each sample to isolate later as input DNA (GRα and A477T only). Protein G Dynabeads with antibody bound were pelleted, washed twice with RIPA, and resuspended at the original bead concentration in RIPA with 4× PIC and 2 mg/mL BSA. Sonicated chromatin (900 μL) from each sample was incubated with 100 μL of antibody-bound beads for 16 h.
After pulldown, beads were washed four times with RIPA with 500 mM NaCl, then four times with LiCl buffer (20 mM Tris, 1 mM EDTA, 250 mM LiCl, 0.5% NP-40, 0.5% sodium deoxycholate), to decrease non-specific binding. To reverse crosslinks, beads were then resuspended in 11 μL RIPA with 500 mM NaCl plus 89 μL Rev-Xlink buffer (0.7% SDS in TE pH 8.0 with 0.2 mg/mL Proteinase K). A total of 10 μL of each input DNA sample was similarly treated by adding 1 μL 5 M NaCl and 89 μL Rev-Xlink buffer. Samples were incubated in a PCR block at 55°C for 3 h, then 16°C for 16 h, then column purified using the Clean & Concentrator-5 kit (Zymogen) at a DNA binding buffer:sample ratio of 5:1.
Library preparation for ChIP sequencing (ChIP-seq)
Fragments were end-repaired for 30 min at 20°C in 25 μL reactions with 1× T4 DNA Ligase Buffer w/ 10 mM ATP (NEB), 100 uM dNTPs (Invitrogen), 3.75 U T4 DNA Polymerase (NEB), 1.25 U DNA Polymerase I, Large (Klenow) Fragment (NEB), and 12.5 U T4 Polynucleotidse Kinase. Samples were column purified using the Clean & Concentrator-5 kit (Zymogen) at a DNA binding buffer:sample ratio of 2:1 following this and subsequent enzymatic reactions. dATP was added to the 3' end of molecules by incubating for 30 min at 37°C in 25 μL reactions with Buffer 2 (NEB), 200 uM dATP (Invitrogen), and 7.5 U Klenow Fragment (3'- > 5' exo-). Sample concentrations were measured using PicoGreen (Invitrogen), and then ligated to sequencing adapters at a 2:1 (adapter:sample) molar ratio in 20 μL reactions with 1X T4 DNA ligase buffer w/ 10 mM ATP (NEB) with 6% PEG-8000 and 200 U T4 DNA Ligase (NEB). Libraries were amplified by PCR for 17 cycles using the standard Illumina paired-end primers, and purified by PAGE as described in [44]. Sample concentrations and size distribution were measured using the High Sensitivity DNA kit for the Bioanalyzer 2100 (Agilent) prior to sequencing.
Adapters and barcodes for ChIP-seq
In-house barcodes were used for ChIP samples, which were added to the 3' ends of the sequencing adapters and determined using the first four bases of the read. Barcodes are TCAT (BC1), GACG (BC2), AGTC (BC3), and CTGA (BC4). The ChIPs for GRα and A477T were each ligated to all barcodes, pooled, and sequenced in their own lanes. Samples for 30iiB and E773R were ligated to BC1-2 and BC3-4, respectively, and pooled. Input samples were ligated to indexed TruSeq adapters using indices 5 and 7 for GRα and A477T inputs, respectively.
ChIP-seq procedure
ChIP samples were sequenced at the University of California San Francisco Center for Advanced Technology using the Genome Analyzer II (Illumina) with 2× 75 bp paired end reads as per the manufacturer's instructions. Input DNA samples were sequenced using the HiSeq 2000 (Illumina) with 2× 100 bp paired end reads. Raw sequence reads were deposited in the Sequence Read Archive (SRA) at the National Center for Biotechnology Information (NCBI) [45] and are accessible through SRA study accession number SRP020242.
Computational analysis of ChIP-seq data
We automated the analysis procedure using the Python programming language in order to make our results easily reproducible and to facilitate similar analysis by others. The scripts used - preprocess_reads.py, align2.py, call_peaks.py, and analyze.py - are described here and are available in the software package seriesoftubes on the Python Package Index (PyPI). seriesoftubes depends in part on Biopython [46]. We used preprocess_reads.py (seriesoftubes) to separate the sequencing results by barcode/index, saving only reads with valid barcodes/indices (on both ends in a pair for internal barcodes), and merged barcodes/indices as applicable to consolidate sequence data for each sample. We then used align2.py (seriesoftubes) to align sequences to the genome using bowtie2 [47], allowing a maximum insert size of 600 bp (based on our observation of an average library size of <150 bp) and saved in BAM format using samtools [48]. Note: for internal barcodes, the first five bases contain the barcode plus an additional 'T'; these positions were ignored when running bowtie2.
We used call_peaks.py (seriesoftubes), which relies on the MACS2a callpeak module, to find significantly occupied peak regions ('peaks') and summit positions using an adjusted P value cutoff of P <0.01 and to generate pileup tracks (signal per million reads). Additionally, the MACS2 diffstats module was used to compute differential occupancy statistics and find (mutant versus GRα) differentially occupied peaks at using an adjusted P value cutoff of P <0.05. For convenience, we have created a track hub formatted for the UCSC genome browser [49] containing paired-end read alignments, signal pileups, peak region locations, and peak summit locations [50].
GBR to gene assignment
Peaks were assigned to genes using GREAT [9], with a basal domain of ±20 kb of a gene's primary transcriptional start site (where assignment is guaranteed) and an extended domain of ±100 kb (where assignment is made only if it does not overlap with another gene's basal domain); if a peak was assigned to multiple genes, it was ignored in subsequent analyses.
Motif analysis
MEME-ChIP [16] was used for motif discovery as described in the text. For all motif analyses, we used only peak regions (±75 bp from the peak summit) that do not overlap with repeats, found by using bedtools [51] to intersect peaks regions with the 'rmsk' table from the RepeatMasker [52] track for hg19, extracted using the Table Browser [53]. Peak sequences (±75 bp from the peak summit) were then extracted from the UCSC hg19 build of the human genome using the twobitreader package (available on PyPI). Occurrences of motifs were found using analyze.py (seriesoftubes), which relies on MOODS [54] for efficiency. JASPAR [55] motifs MA0144.1 and MA0099.2 were used to find STAT3 and AP1 sites, respectively. Peak sequences were randomly permuted and the 95th percentile of individual information for the best motif in each permuted peak sequence was used as a cutoff for determining presence of GR full site, STAT3, or AP1 motifs (8.94, 8.06, and 9.49 bits, respectively). Data were integrated for further analysis using the R programming language (Additional file 10) and visualized with ggplot2 [43].
Luciferase transcriptional reporters
Selected GR binding regions were cloned into the firefly luciferase reporter vector pGL4.10-E4TATAd using conventional methods (that is, PCR and restriction enzymes). A table of reporter names, primers, and genomic coordinates is provided in Additional file 18. We used the Renilla luciferase reporter vector pGL4.70-MLE2e as a normalization control, and the mammalian expression vector p6R as 'filler' DNA to reach the recommended concentration of DNA for transfections.
U2OS cells stably expressing either GRα or A477T were grown in three 10 cm dishes each, split, and seeded into two 96-well plates at a final density of about 5 × 104 cells/well. The next day, cells were transfected with 3.33 ng firefly reporter, 150 pg Renilla reporter, and 20 ng p6R per well using PLUS Reagent and Lipofectamine (Invitrogen) according to manufacturer instructions. After 16 h, cells were treated with 100 nM dexamethasone or vehicle only (ethanol) for 3 h, and then luciferase expression was assayed using the Dual-Luciferase Reporter Assay System (Promega) according to manufacturer's instructions.
Endnotes
aMACS2 will be described in more detail in a forthcoming publication. Briefly, peak calling uses a Poisson test as in the first version of MACS [56] and differential occupancies are determined using a log-likelihood ratio test, and transformed to P values using Wilks' theorem [57]. Pre-release versions of MACS2 are available online at [58].
bGBRs with different locations among two samples were determined as those GBRs that were detectable in one sample and not the other (by overlap) and that did not significantly differ in occupancy among the two samples. This quantification of GBRs with differing locations is only an estimate, as some GBRs that differ in occupancy may appear to have similar occupancy. This effect results from variation in the observed numbers at a given GBR, primarily due to Poisson counting error.
cTo determine whether fold-changes in gene expression between two conditions were less than two-fold different at a significance level of 95%, we constructed 97.5% confidence intervals for the fold-change in gene expression under each condition and required that they do not overlap at all. The 97.5% confidence intervals were computed as the fold-change plus or minus 2.447 - the t-statistic for six degrees of freedom (eight total sample measurements minus two degrees for determining their respective means) - divided by the square root of two (because subtracting two groups of four yields an equivalent n of 2), and multiplied by the posterior standard deviation for a given gene as determined by limma.
dpGL4.10-E4TATA was constructed by ligating the E4TATA minimal promoter 5'-tttttagtcc tatatatact cgctctgtac ttggcccttt ttacactgtg to the promoter-less vector pGL4.10 at BglII and HindIII restriction sites. The E4TATA promoter was selected because it does not respond to dexamethasone.
epGL4.70-MLE2 was constructed by ligating the MLE2 promoter (engineered ML promoter with stronger induction ability) 5'-gaaggggggc tataaaaact cgctctggcg cgttcgtcct cactctcttc cgcatcgct. The MLE2 promoter was chosen because it does not respond to dexamethasone and drives strong expression.
Abbreviations
AF1:

Activation function 1
AF2:

Activation function 2
AP1:

Activation protein 1
AR:

Androgen receptor
bp:

Base pairs
ChIP:

Chromatin immunoprecipitation
ChIP-seq:

Chromatin immunoprecipitation sequencing
DNA:

Deoxyribonucleic acid
GBR:

Glucocorticoid receptor binding region
GBS:

Glucocorticoid receptor binding sequence
GR:

Glucocorticoid receptor
GRE:

Glucocorticoid receptor response element
kb:

Kilo-base pairs
NMR:

Nuclear magnetic resonance spectroscopy
STAT:

Signal Transducers and Activators of Transcription
Declarations
Acknowledgements
Samantha Cooper was involved in the design of the study and optimizing chromatin immunoprecipitation sequencing protocols. Sheng-Hong Chen provided the luciferase reporter vectors pGL4.10-E4TATA and pGL4.70-MLE2. Clement Chu and Jessica Lund at the UCSF Center for Advanced Technology aided in the acquisition of sequencing data. Processing of RNA samples and gene expression microarrays were performed by the University of Southern California Epigenome Center. Joel Mefford suggested the statistical test used to identify non-selective, activated genes. Funding for this study was provided by grants to KRY (R01 CA020535) and to MRS (R01 DK043093) from the National Institute of Health and also by Cancer Center Support Grant P30CA014089 from the National Cancer Institute. The content is solely the responsibility of the authors and does not necessarily represent the official views of the National Cancer Institute or the National Institutes of Health.
Authors' Affiliations
(1)
Department of Cellular and Molecular Pharmacology, University of California, San Francisco, USA
(2)
Department of Biochemistry and Molecular Biology, University of Southern California, Los Angeles, USA
Copyright
© Schiller et al.; licensee BioMed Central 2014