dCLIP: a computational approach for comparative CLIP-seq analyses
Received: 24 August 2013
Accepted: 7 January 2014
Published: 7 January 2014
Abstract
Although comparison of RNA-protein interaction profiles across different conditions has become increasingly important to understanding the function of RNA-binding proteins (RBPs), few computational approaches have been developed for quantitative comparison of CLIP-seq datasets. Here, we present an easy-to-use command line tool, dCLIP, for quantitative CLIP-seq comparative analysis. The two-stage method implemented in dCLIP, including a modified MA normalization method and a hidden Markov model, is shown to be able to effectively identify differential binding regions of RBPs in four CLIP-seq datasets, generated by HITS-CLIP, iCLIP and PAR-CLIP protocols. dCLIP is freely available at http://qbrc.swmed.edu/software/.
Keywords
Hide Markov ModelZero Truncate Negative Binomial ModelDifferential Binding SiteSimilar Binding Strength
Rationale
Eukaryotic genomes encode large numbers of RNA-binding proteins (RBPs), each of which has unique associating properties with RNAs and impacts the structure, localization, generation and function of both coding and non-coding RNAs [1, 2]. Comparison of RNA-RBP interaction profiles across different conditions becomes increasingly important to understanding the function of RBPs and RNA regulation processes [3, 4]. The advent of the crosslinking immunoprecipitation (CLIP) coupled with high-throughput sequencing (CLIP-seq) technique enables the investigation of RNA-RBP interactions at the genome level [5–7]. There are three versions of CLIP-seq experiments, high-throughput sequencing together with UV-crosslinking and immunoprecipitation (HITS-CLIP), photoactivatable-ribonucleoside-enhanced CLIP (PAR-CLIP) and individual-nucleotide resolution CLIP (iCLIP) [5–7], of which HITS-CLIP and PAR-CLIP are most commonly used. These two methods differ mainly by the crosslinking strategy being used. HITS-CLIP treats cells with UV light to crosslink proteins with RNAs and will introduce certain types of mutations in some of the CLIPed tags at crosslinking sites. For example, the mutations are specifically deletions if the crosslinked RBP is Argonaute (AGO) [8]. PAR-CLIP treats cells with photoreactive ribonucleotide analogs for incorporation into RNAs before UV treatment, which results in specific T → C or G → A substitutions depending on the type of nucleoside analog used [6]. One disadvantage of HITS-CLIP and PAR-CLIP is that reverse transcription must pass over the residual amino acids on the crosslink sites of RNAs. iCLIP overcomes this problem by employing a self-circularization strategy [9]. Also random barcodes are introduced to discriminate between PCR duplicates and unique cDNA products.
Although a few bioinformatics tools like PARalyzer, CLIPZ, wavClusteR and miRTarCLIP [10–13] have been developed to analyze a single CLIP-seq dataset, the quantitative comparison of multiple CLIP-seq datasets has only recently gained interest in the field [4, 14, 15]. Piranha [16] has been developed for CLIP-seq and Ribonucleoprotein immunoprecipitation followed by high-throughput sequencing (RIP-seq) [17] data analysis, and also provides a procedure for comparative analysis. However, the comparative analysis procedure in Piranha is relatively ad hoc, and does not utilize the spatial dependency among neighboring genomic locations, which is an important characteristic in creating differential binding profiles. A straightforward way to compare RNA-RBP interaction profiles across conditions is to analyze individual CLIP-seq data separately to identify the peaks (or binding sites) for each condition and then use coordinate overlapping or similar approaches to obtain common and differential binding sites. However, this ad hoc approach compares the results qualitatively but not quantitatively. For example, if a region is bound by an RBP under two conditions (for example, wild type versus knockout) with both significant enrichment but different binding intensities, the ad hoc approach will not be able to detect this region as a differential binding site. In addition, this ad hoc approach is over-sensitive to the cutoffs used for analyzing individual data, and has been shown to underestimate the similarity of two samples when applied to the analysis of multiple chromatin immunoprecipitation (ChIP)-seq experiments [18, 19]. Therefore, a computational approach that can compare different CLIP-seq datasets simultaneously and quantitatively is needed.
The main challenge to quantitatively comparing genome-level sequencing profiles across conditions is that next-generation sequencing data usually contains relatively low signal-to-noise ratios [20, 21]. Differences in background levels further complicate the analysis. To address these problems, several computational approaches have been developed for comparative ChIP-seq analysis, including ChIPDiff [22], ChIPnorm [23], MAnorm [24] and dPCA [25]. These computational approaches have greatly facilitated the understanding of dynamic changes of protein-DNA interactions across conditions. However, these computational approaches cannot be directly applied to CLIP-seq data to identify differential RNA-protein interactions, due to some inherent differences between ChIP-seq and CLIP-seq data. First, CLIP-seq data are strand-specific, while the tools designed for ChIP-seq experiments do not consider strands of peaks. Second, CLIP-seq experiments usually induce additional characteristic mutations in high-throughput sequencing reads, but the mutation information in the raw sequencing data is simply discarded in the bioinformatics software designed for ChIP-seq data analysis. Third, CLIP-seq reads are usually short, and the reads are not shifted or extended when counting tag intensities, but shifting or extension of reads is a necessary step in ChIP-seq analysis [26]. Fourth, CLIP-seq requires a much higher resolution (close to single nucleotide) in detection of RBP-binding sites, but ChIP-seq software usually work on a much lower level of resolution. For example, ChIPDiff is limited to 1 kb and ChIPnorm typically to a resolution of a few hundred base pairs. In addition, the method proposed by Bardet et al.[18] is not bundled as a portable software and takes about two days to finish. Therefore, we have developed the dCLIP software for detecting differential binding regions in comparing two CLIP-seq experiments.
dCLIP is a two-stage computational approach for comparative CLIP-seq analysis. As the first stage, a modified MA-plot approach was designed specifically to normalize CLIP-seq data across datasets to obtain high resolution results. As the second stage, a hidden Markov model (HMM) was developed to detect common or different RBP-binding regions across conditions. The HMM has a great advantage in modeling the dependency among adjacent genomic locations, which leads to improved performance in identifying differential binding sites. Here, we show that dCLIP can accurately identify RBP differential binding sites through the comparative analysis of four differential CLIP-seq datasets, including HITS-CLIP, PAR-CLIP and iCLIP experiments. In addition, we compared the performance of dCLIP and Piranha [16]. Our analysis shows that dCLIP can identify more biologically meaningful differential binding sites than Piranha.
Overview of the software
Data preprocessing
An overview of the dCLIP pipeline is shown in Figure
1
. Data preprocessing is conducted in a strand-specific manner. For HITS-CLIP and PAR-CLIP, duplicate reads with the same mapping coordinates and the same strand are first collapsed to unique tags. The characteristic mutations are collected on all tags and written to separate output files. CLIP clusters are defined as contiguous regions of non-zero coverage in either condition and are identified by overlapping CLIP tags from both conditions. The tags that comprise each cluster retain their original condition identity. As a high resolution is needed for CLIP-seq analysis, dCLIP divides the clusters into bins of small length (the default is 5 bp) and calculates tag counts in each bin for both conditions. More specifically, the number of tags covering each base is calculated and the counts on all bases in each bin are summed to be the tag intensity count for that location. Therefore, the i-th bin in the j-th cluster has a pair of data points , where is the tag intensity count for the first condition and is the tag intensity count for the second condition.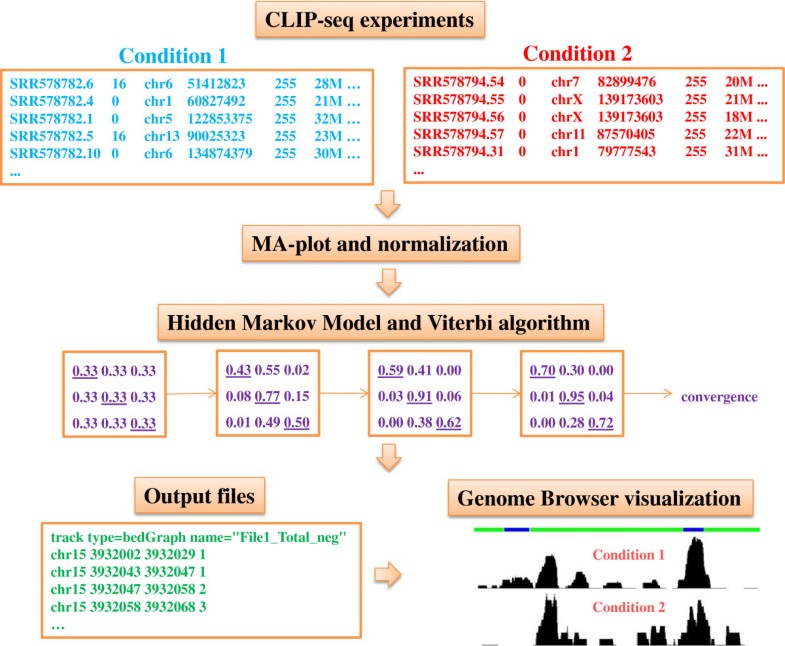 iCLIP dataset preprocessing mainly follows that of Konig et al.[9], with minor modifications. Sequencing reads with the same random barcode represent PCR duplicates. Duplicates are removed and barcodes trimmed from the unique tags before mapping to the reference genome. A helper script, remove_barcode.pl, is provided in the dCLIP software to help users remove barcodes from Fastq sequencing files. After mapping, the first nucleotide upstream of each mapped cDNA, defined as the crosslink nucleotide, is expanded by a few nucleotides (specified by the users) in both downstream and upstream directions from its location, namely adding one to the tag counts on all bases in this short window. Therefore, the total tag count on each base is calculated as the sum of expanded cDNA counts covering that base and the mutant tag count will always be zero. Similarly, cDNA counts in both experimental conditions are summarized on the bin-level in regions of non-zero coverage.
Data normalization
A normalization step is essential for an unbiased comparison because of the different sequencing depths of the two CLIP-seq samples. However, the common method of normalizing by total number of tags in high-throughput sequencing studies could be problematic, because of possibly different signal-to-noise ratios for different samples. We implemented the MA-plot normalization method, which was originally designed for normalizing microarray data [
28
] and later applied to ChIP-seq analysis [
24
]. When applying the MA-plot method to normalize microarray data, usually the expression value for each gene is used as a unit of normalization. When applying the MA-plot method to normalize multiple ChIP-seq data as in [
24
], read counts in the 1,000 bp windows centered on the summits of peaks are used as a data unit of normalization. However, in dCLIP, we modified the MA-plot method to normalize count data on the bin level, because high resolution is required in CLIP-seq data analysis. The value of each bin is then defined as:
A small number c is added to each count value to avoid logarithm of zero count. We assumed that both conditions share a large number of common binding regions with similar binding strength. Therefore, a linear regression line M = a + b × A is fitted to bins whose and values are both larger than a user-defined cutoff. Because common binding sites should have similar binding strengths, the parameters derived from the regression model should capture the true scaling relationship between the two samples. This scaling relationship is extrapolated to the whole dataset, by subtracting a fitted M value from the linear regression model from the raw M value of every bin in all clusters. The adjusted M value is used in the following data analysis.
Hidden Markov model
The HMM is a statistical Markov model in which the system being modeled is assumed to have spatial dependency between neighboring data units. RBP-RNA interactions involve a short stretch of RNA that can span up to a few bins [29]. This ensures the strong auto-correlation of tag counts in neighboring bins, which can be modeled by HMM. Therefore, we applied HMM to identify common and differential binding regions from the adjusted M values. As these adjusted M values come from many individual CLIP clusters, the HMM model has multiple observation sequences. During the statistical inference, all observation sequences share the same transition matrix and the same emission function.
The HMM has three possible states for each i-th bin in the j-th cluster:
Accordingly, the transition matrix Π is a 3 × 3 matrix, whose element πr,s is the transition probability Given state , the adjusted M values are fitted by a three-component normal mixture model. Because the common peaks that are determined by similar mechanisms in both conditions are normalized towards the same binding strength, the middle normal component is assigned a mean of zero. To avoid unreasonable assignment of bins to hidden states when the adjusted M values are extremely large or small, the three normal components are all assumed to have the same variance. Also, to simplify the problem, the means of first and third normal components are assumed to have the same absolute value but different signs.
To estimate the parameters for the HMM, we adopted an empirical-based method by fitting the adjusted M values to a three-component Gaussian mixture model.
Since we assume that most sites would not show changes in their binding between conditions, the second component should dominate the mixture distribution. The first and third components can be treated as outliers if we solely focus on the second component. We then apply a median absolute deviation method [30] to robustly estimate the standard deviation to estimate σ, by equating .
The other parameters
P
and
μ
are estimated by a recombinant method that combines method of moments estimator and maximum likelihood estimator [
31
]. Simply speaking, the second moment and sample second moment of the mixture distribution are given by:
By equating the above two formulas, we could get a constraining relationship between
P
and
μ
. The likelihood function was written as:
So, using grid approximation, we obtain a pair of and that maximize the likelihood function and also maintain the constraint at the same time.
The emission probabilities are calculated from the fitted model and fixed for each bin in different states before the iterations of HMM start. To find the chain of most likely hidden states, given the observations and the model, a Viterbi dynamic-programming algorithm is employed to infer the hidden state .
Data visualization
Finally, adjacent bins inferred to be in the same state are concatenated into continuous regions. A BED file is then generated to be uploaded to the University of California Santa Cruz (UCSC) Genome Browser, each entry of which is one continuous region in the same state. In addition, a TXT file is generated that describes the inference results of each bin in more detail. Eight bedGraph files are generated that store the total or mutant tag counts for both conditions and both strands. These files can also be directly uploaded to the UCSC Genome Browser for visualization. Examples of output files from the dCLIP pipeline are provided in Additional file 3.
Implementation
The dCLIP software was implemented in the Perl programming language. Perl (versions above 5.16) together with two Perl modules PDL and PDL::Stats are needed to run the program. The implementation is supported on all major operating platforms.
The dCLIP software inputs SAM format alignment files of the two conditions to be compared. The SAM format files can be in single-end mode or paired-end mode. The users can specify parameters such as bin size, minimal number of tags in a cluster, the number of nucleotides to expand for cDNA counts (iCLIP), the type of characteristic mutations to be profiled and the stop conditions for the HMM.
Discussion
The two-stage procedure implemented in dCLIP includes an MA normalization step and a HMM to identify differential and common binding sites. The MA normalization is a critical step to make the CLIP-seq data comparable across conditions. The straightforward rescaling by the total number of reads across samples is not appropriate for comparative CLIP-seq analysis because the signal-to-noise ratio usually varies across different conditions. The modified MA plot normalization method in dCLIP not only addresses the issue of different signal and noise levels effectively, but also works on much smaller units than those used for microarray and ChIP-seq data analysis, allowing dCLIP to detect binding sites of higher resolution required for CLIP-seq data analysis. To reduce potential bias and conduct rigorous comparison across different conditions, we recommend adopting the same experimental and bioinformatics procedures, such as RNase digestion, high-throughput sequencing and alignment, for both conditions.
The HMM plays a key role in identifying differential and common binding sites of two CLIP-seq samples in the dCLIP software. HMM can increase signal-to-noise ratios for sequencing data analysis, because it takes into account the correlation between consecutive bins. This is particularly important for CLIP-seq data, because of small bin size and high correlations between consecutive bins. The HMM in dCLIP defined a common binding state and two differential binding states. One thing to note for the three-state HMM is that the identified differential binding sites, for example the ones with inferred state of enriched and non-enriched, may actually only have a small tag enrichment in condition one, and an even smaller tag enrichment in condition two. Therefore, the differential binding sites need to be ranked and screened as such sites may not be of real interest to biologists. The analysis of the miR-155/AGO HITS-CLIP dataset, for example, set a cutoff of average tag intensity of 30 in the wild-type condition.
One assumption of the dCLIP algorithm is that most sites will not have changes in their binding between conditions. Our simulation studies (Additional file 4) show that dCLIP is able to handle comparative CLIP-seq analysis when there are more than 50% of common binding sites between two samples. We recommend users to roughly assess whether this assumption is valid or not for their experiments based on biological knowledge or preliminary bioinformatics analysis. In addition, dCLIP software will issue a warning if the estimated proportion of common binding sites with similar binding strength is less than 50%.
The dCLIP software was benchmarked against the Piranha software. Piranha incorporates covariates which could represent transcript abundance, count data in the second condition or positional mutation information. However, the covariate is incorporated in the statistical model in the exactly same way no matter which type of data it actually represents. This design enables Piranha to be easily applied to a wide variety of CLIP-seq data analysis scenarios. However, this one-for-all method also harms the detection power of RBP binding regions of interest in each specific scenario, as different data types have their unique properties and should be treated differently. The dCLIP method is specialized in comparing two CLIP-seq experiments and was shown to perform better than Piranha in identifying differential binding sites. Therefore dCLIP should be a better choice when the users are interested in identifying differential or common RBP-binding sites.
The pairwise approach to compare CLIP-seq data in dCLIP can be extended to multiple-sample comparison. When there are n samples, a transition matrix of 2 n states need to be implemented in the HMM. Theoretically, dCLIP can be easily modified to handle as many samples as possible. However, if n exceeds 10, the computation cost will increase dramatically. In addition, the normalization method also needs to be changed to suit the multiple-sample comparison. For example, the trimmed mean of M values method [44] or the upper-quartile normalization method [45] could be modified to handle the normalization step for multiple-sample comparisons. Currently, most CLIP-seq studies do not conduct transcript abundance measurements [29, 46] and, accordingly, most current CLIP-seq analysis tools, such as PARalyzer [13], do not consider transcript abundance either. However, taking background transcript abundance into account will be very helpful for more accurately defining RBP binding sites in either one-sample scenarios or multiple-sample scenarios. If the background expression data is available, that information can be relatively easily incorporated into dCLIP to further refine its performance.
We present a new computational approach, dCLIP, for the comparative analysis of CLIP-seq data. dCLIP was implemented as an easy-to-use command line tool in the Perl programming language. The dCLIP software is able to handle HITS-CLIP, PAR-CLIP and iCLIP datasets, and can take single-end or paired-end sequencing files as input. The dCLIP software is strand-sensitive and is able to detect differential binding sites at almost single-base resolution. It also correctly keeps all of the characteristic mutation information for later analysis. Real data analysis shows that dCLIP can accurately identify differential binding regions of RBPs and outperforms another CLIP analysis program, Piranha [16]. We anticipate that the dCLIP software will become a helpful tool for biologists and bioinformaticians for comparative CLIP-seq data analysis.
Abbreviations
AGO:

argonaute
bp:

base pair
ChIP:

chromatin immunoprecipitation
CLIP-seq:

crosslinking immunoprecipitation coupled with high-throughput sequencing
FTLD:

frontotemporal lobar degeneration
HITS-CLIP:

high-throughput sequencing of RNA isolated by crosslinking immunoprecipitation
HMM:

hidden Markov model
iCLIP:

individual-nucleotide resolution crosslinking and immunoprecipitation
miRNA/miR:

microRNA
PAR-CLIP:

photoactivatable-ribonucleoside-enhanced crosslinking and immunoprecipitation
PCR:

polymerase chain reaction
phyloP:

phylogenetic p-score
RBP:

RNA-binding protein
rRNA:

ribosomal RNA
snoRNA:

small nucleolar RNA
snRNA:

small nuclear RNA
tRNA:

transfer RNA
UCSC:

University of California Santa Cruz
UTR:

untranslated region
RIP-seq:

RNP immunoprecipitation followed by high-throughput sequencing.
Declarations
Acknowledgements
This work was supported by the National Institutes of Health (1R01CA172211, 5R01CA152301, 4R33DA027592) and the Cancer Prevention Research Institute of Texas (RP101251).
Authors' Affiliations
(1)
Quantitative Biomedical Research Center, University of Texas Southwestern Medical Center, Dallas, USA
(2)
Harold C. Simmons Comprehensive Cancer Center, University of Texas Southwestern Medical Center, Dallas, USA
Copyright
© Wang et al.; licensee BioMed Central Ltd. 2014
This article is published under license to BioMed Central Ltd. This is an open access article distributed under the terms of the Creative Commons Attribution License (http://creativecommons.org/licenses/by/2.0), which permits unrestricted use, distribution, and reproduction in any medium, provided the original work is properly cited.