Widespread duplications in the genomes of laboratory stocks of Dictyostelium discoideum
Received: 19 December 2007
Accepted: 22 April 2008
Published: 22 April 2008
Abstract
Background
Duplications of stretches of the genome are an important source of individual genetic variation, but their unrecognized presence in laboratory organisms would be a confounding variable for genetic analysis.
Results
We report here that duplications of 15 kb or more are common in the genome of the social amoeba Dictyostelium discoideum. Most stocks of the axenic 'workhorse' strains Ax2 and Ax3/4 obtained from different laboratories can be expected to carry different duplications. The auxotrophic strains DH1 and JH10 also bear previously unreported duplications. Strain Ax3/4 is known to carry a large duplication on chromosome 2 and this structure shows evidence of continuing instability; we find a further variable duplication on chromosome 5. These duplications are lacking in Ax2, which has instead a small duplication on chromosome 1. Stocks of the type isolate NC4 are similarly variable, though we have identified some approximating the assumed ancestral genotype. More recent wild-type isolates are almost without large duplications, but we can identify small deletions or regions of high divergence, possibly reflecting responses to local selective pressures. Duplications are scattered through most of the genome, and can be stable enough to reconstruct genealogies spanning decades of the history of the NC4 lineage. The expression level of many duplicated genes is increased with dosage, but for others it appears that some form of dosage compensation occurs.
Conclusion
The genetic variation described here must underlie some of the phenotypic variation observed between strains from different laboratories. We suggest courses of action to alleviate the problem.
Keywords
Axenic StrainAdditional Data FileDuplicate GeneLog2 RatioSegmental Duplication
Background
Genetic variation within a given species can extend from simple polymorphisms at single nucleotides to translocations, inversions and duplications affecting many genes. Recent work shows that such large-scale structural variation may be much more important than previously thought: for instance, the genomes of healthy human individuals may differ in copy number at hundreds of loci, that is, have distinct amplifications and deletions detectable by DNA microarray hybridizations [1–3]. These structural variations can have marked effects on phenotype as demonstrated by their association with pathologies of various kinds [4]. For instance, amplifications of alpha-synuclein cause a rare class of familial Parkinson's disease [5], and triplication of the trypsinogen locus can cause hereditary pancreatitis [6]. All sequence variation can, in principle, affect the function and regulation of genes and it is now possible to estimate the relative contribution of different kinds of mutation to changes in gene expression [7].
Similar variability can occur in laboratory organisms: inbred mouse strains show widespread copy number variation [8, 9], which can be associated with complex phenotypes [10]. Budding yeast grown for generations in particular culture conditions displayed experimentally induced variations, reproducibly accumulating copy number mutations on certain chromosomes [11]; strains selected to suppress a loss of function mutation develop particular segmental duplications [12]. Spontaneous translocations have also been observed genetically in Aspergillus nidulans [13] and Neurospora crassa [14, 15].
Copy number can influence phenotype through a proportional effect on mRNA abundance: aneuploidy, associated with direct increases in gene expression, is implicated in the antifungal drug resistance of certain Candida albicans strains [16]. These effects can also be of pathological significance: for instance, DNA copy number alteration is associated for many genes with altered gene expression in breast tumors [17, 18] and progression of colorectal cancer coincides with large scale changes on copy number that are broadly mirrored by similar changes in mRNA level of affected genes [19].
Dictyostelium discoideum is a widely used laboratory organism, particularly useful for examining problems in cell biology, developmental signaling, the evolution of altruism and the function of conserved genes [20, 21]. The organism grows as singled-celled amoebae, feeding on bacteria, and enters a multi-cellular stage when starved, to eventually produce a stalked fruiting body with a head of viable spores. Virtually all laboratory strains derive from the original type isolate from North Carolina, NC4, dating from 1933. Around 1970 two independent axenic strains - Ax2 and Ax3 - able to grow in complex media, were selected from NC4 [22, 23]. These and their descendents now form the great majority of strains in current use.
Dictyostelium cells can be maintained as vegetatively growing amoebae or stored over long periods either frozen, or as spores. Although a sexual cycle via macrocyst formation exists, it has not been used as a laboratory tool [24, 25]. Genetic exchanges are possible by a parasexual cycle, but are largely limited to chromosomal re-assortments with only a low frequency of recombination [26]. Today this cycle is not widely exploited. Most laboratory stocks therefore represent individual lineages that have become isolated from each other at various times in the past, and which may potentially have diverged from each other over time.
The published genome sequence of the Ax4 strain contains a large inverted segmental duplication on one chromosome [21, 27], which is absent in other lines, notably the type strain NC4, from which Ax4 is ultimately derived. Other genetically marked strains have also been reported to contain duplicated chromosomes, or chromosome segments [28–30] and there are cases where duplicated genes are reported in particular stocks [31, 32], but are only present as single copies in the sequenced genome. Pulsed field gel electrophoresis has also evidenced differences in chromosome size and number between certain strains [33].
These variations are of major practical importance to investigators, especially when they remain unknown, causing phenotypic differences between strains, and difficulties in genetic manipulation. We have surveyed a range of Dictyostelium laboratory strains and wild isolates using array comparative genomic hybridization and find that duplications are unfortunately widespread, such that the same strains, sourced from different laboratories, often differ substantially.
Results
Virtually all laboratory strains of
D. discoideum
derive from the original type isolate, NC4 [
34
], with only limited use being made of other wild isolates, such as V12. The axenic strains Ax2 and Ax3 are the most widely used and a particular lineage of Ax3, termed Ax4, has been fully sequenced [
21
]. A simplified family tree of this lineage is shown in Figure
1a
. Axenic strains differ substantially from their parental NC4 stock: they grow more slowly on bacteria and produce smaller fruiting bodies, as is readily apparent from their plaque morphologies (Figure
1b,c
). Amplifications and deletions (copy number variation) could be one source of this between-strain variability, in addition to small-scale mutation of individual genes and promoters.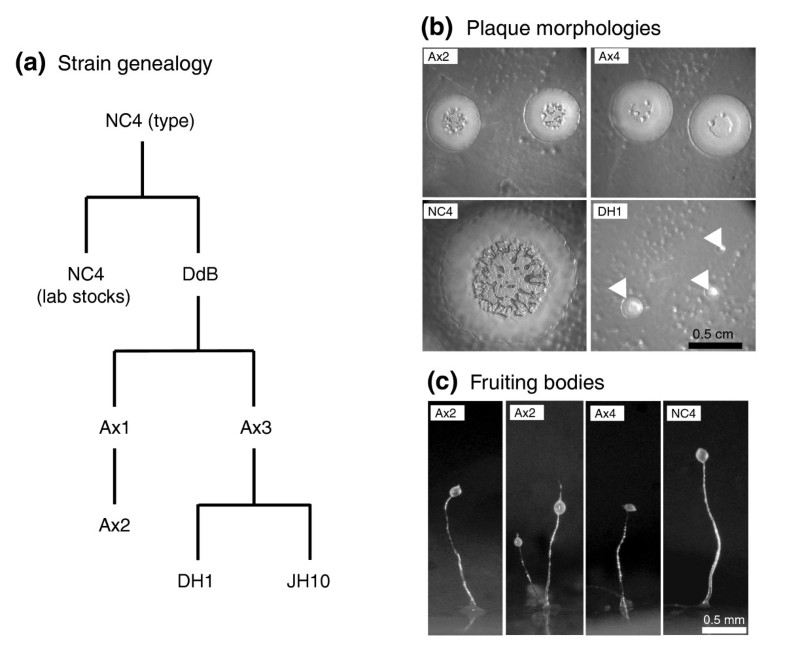 To assess this potential source of variation, we used a custom-built DNA microarray to perform array comparative genome hybridization. In this procedure, DNA from a strain of interest and a reference strain is labeled with different dyes and the mixture hybridized to the array; after background subtraction the ratio of fluorescent signals gives the relative abundance of the DNA, which we normalize to 1 over the whole genome (log
2
ratio of zero). Duplications should give a log
2
ratio of 1 and deletions a large negative log
2
ratio. In practice, cross-hybridization produces smaller than theoretically expected log
2
ratios. Duplications can only be mapped to the nearest array marker, which average roughly 4 kb apart, and the procedure gives no information on chromosomal location of the duplication; their size is given as that of the region duplicated (thus the known duplication on chromosome 2 of Ax3 is referred to as 750 kb, not 1.5 Mb). The reference strain throughout was our version of Ax2 - called Ax2(Ka) - and other stocks were from the
Dictyostelium
Stock Center [
35
] or had been received into our laboratory in the past (Table
1
).
Table 1
Strains used in this work
| Strain | Donor | Stock centre strain ID | Reference |
| --- | --- | --- | --- |
| A2cycR | D Francis | | [24,25] |
| Ax2-206 | G Gerisch | | |
| Ax2-214 | G Gerisch | | |
| Ax2(I) | R Insall | | |
| Ax2(Ka) | RR Kay | DBS0235521 | |
| Ax2(M) | D Malchow | | |
| Ax2(Wee) | G Weeks (via SC) | DBS0235526 | |
| Ax3(C) | R Chisholm (via SC) | DBS0235539 | |
| Ax3(Dev) | P Devreotes (via SC) | DBS0235542 | |
| Ax4(F) | R Firtel (via SC) | DBS0236487 | |
| Ax4(Ku) | A Kuspa | | |
| DdB(SC) | Stock Center | DBS0235747 | |
| DdB(Wel) | D Welker | | |
| DH1 | P Devreotes | | [37] |
| HU32 | D Welker | | [68] |
| JH10 | R Firtel | | [36] |
| KAx3(U) | H Urushihara | | |
| NC28.2 | D Francis | | [46] |
| NC4(B) | J Bonner | | |
| NC4(Dee) | R Deering (via D Welker) | | |
| NC4(Kn) | D Knecht | | |
| NC4(L) | W Loomis | | |
| NC4(S) | P Schaap | | |
| NC4(Wi) | K Williams (via D Welker) | | |
| NC42.1 | D Francis | | [46] |
| NC4A2(Kn) | D Knecht | | [44] |
| NC4A2(SC) | Stock Centre | DBS0236602 | [44] |
| NC59.2 | D Francis | | [46] |
| NC66.2 | D Francis | | [46] |
| NC94.2 | D Francis | | [46] |
| NP73 | D Welker | | [69] |
| NP81 | D Welker | | [40] |
| NYA64 | H Hagiwara | | |
| V12M2 | G Gerisch | DBS0235789 | |
| WS205 | D Francis | | [24,25] |
| X22 | P Newell | | [41] |
| XP55 | P Newell | | [42] |
| XP99 | P Newell | | [43] |
Discussion
Our results reveal that duplications are common among all Dictyostelium laboratory stocks, except for those that have recently been isolated from the wild. This discovery brings an unwelcome element to phenotypic and molecular genetic experiments, but one that can be ameliorated by suitable precautions. We have also been able to glean useful information about Dictyostelium genealogy, identify some apparently non-essential genes, and loci that vary between wild-type stocks. Unexpectedly, our experiments also suggest that Dictyostelium has a form of gene-dosage compensation that acts on individual genes.
Conclusion
Our results show that previously unrecognized duplications are common in laboratory stocks of D. discoideum. These duplications are likely to alter the phenotype of the cells carrying them, and to cause problems, both when detailed phenotypes are examined, and in genetic manipulation. Nevertheless, stocks are relatively stable, and have been maintained over many years without apparent change, showing that with appropriate care, the problems caused by gratuitous duplications can be minimized. We also discerned possible genetic differences between wild isolates, and provide a list of potentially divergent loci.
Materials and methods
D. discoideum strains were grown on SM agar plates in association with Klebsiella aerogenes, or else in axenic growth medium as previously described [60]. Strains were either obtained from the Dictyostelium Stock Centre or received into this laboratory as noted in Table 1. Different examples of the same strain are distinguished by letter codes indicating laboratories of origin. All strains were stored, without cloning, immediately upon receipt, either as spores (4°C or -20°C on silica gel with renewal times of 5-15 years) or frozen in liquid nitrogen (indefinitely viable).
To extract genomic DNA, cells were starved over-night and resuspended in lysis buffer (20 mM Tris-HCl, 5 mM MgCl2, 0.32 M sucrose, 0.02% sodium azide, 1% Triton X-100, pH 7.4) at 4°C, vortexed and incubated at 4°C for 15 minutes. Nuclei were pelleted at 3,000 g for 10 minutes, resuspended in lysis buffer and pelleted again, before freezing the pellets on dry ice. Proteinase K (100 μl (20 mg/ml)) was added, followed immediately by 10 ml digestion buffer (10 mM Tris-HCl, 5 mM EDTA, 0.7% EDTA, pH 7.5), and the pellet resuspended by gentle trituration. The lysate was incubated for 1 h at 60°C and the DNA phenol-chloroform extracted. DNA (5 μg) was labeled with Cy3 or Cy5 by incorporation of dye-conjugated dCTP (GE Healthcare, Little Chalfont, UK) from random hexamer primed strand synthesis catalyzed by the Klenow fragment (Invitrogen, Paisley, UK). Labeled samples were paired with an Ax2 (Ka) sample labeled with the complementary dye and hybridized to custom DNA microarrays printed on Codelink slides (GE Healthcare). Between two and four replicate hybridizations, always including both dye orientations, were carried out for each strain.
RNA was extracted using RNeasy kits (Qiagen, Crawley, UK). Samples were labeled and hybridized essentially similarly except that 25 μg of total RNA was labeled using anchored oligo(dT) primers and Superscript III reverse transcriptase (Invitrogen). Five independent replicates were carried out, two in one dye orientation, and three in the other.
The DNA microarray consisted of 9,247 PCR products non-redundantly representing 8,579 genes, with little bias regarding chromosomal location. The design was based on the sequence of strain Ax4(Ku), and genomic DNA of this strain was used as the template for PCR amplifications to generate the probes. The PCR products are predominantly between 200 and 400 bp in length (with a small fraction between 150 and 200 bp) and located towards the 3' end of predicted genes. Although overall coverage is good (8,579 genes non-redundantly represented of 10,500-12,500 predicted), non-coding DNA, including ncRNA genes, is not covered at all (unless accidentally), and some regions are more sparsely covered than others. Probes are ordered according to dictyBase assembly version 2.5 [45]).
Microarrays were hybridized for 16-18 h at 42°C, washed at room temperature, and scanned using a Genepix 4000B scanner (Molecular Devices, Wokingham, UK). Images were quantified using Genepix 3 software, then background-subtracted using the Kooperberg function, normalized with the print-tip loess algorithm, and model-fitted using Limma [61–63]. Data from low intensity probes (defined as mean log2 intensity in the hybridizations involving a particular strain less than 6) were omitted; in such a case the median was taken of the log2 ratios of the ten probes either side of it as they are arranged chromosomally (except those of mean log2 intensity less than 6). For probes within 10 of the end of a chromosome a median of the 20 terminal probes was taken (except those of mean log2 intensity less than 6).
The known 750 kb duplication of the sequenced strain Ax4(Ku) was readily apparent (Figure S1 in Additional data file 1), standing out on average 5.4 standard deviations beyond the remainder of chromosome 2 probes. The mean log2 ratio of probes within the duplication is 0.60. A similar underestimation relative to the expected value of one for a duplication in a haploid strain was observed for many different duplications, and presumably reflects a hybridization or scanning artifact, perhaps caused by cross-hybridization of equal copy-number probes. Noise in the data was approximately the same in hybridizations of the same DNA labeled in both channels as in comparisons of different strains (as assessed by overall standard deviation) and so can be explained mostly by experimental error, and not, for example, by sequence variation.
Novel duplications were identified by direct inspection of the data, and on occasion rough breakpoint positions were estimated using DNAcopy [64]. Complex repeat sequences were identified by performing BLAST alignments [65] of the 20 kb sequence surrounding our estimate of the breakpoint position against a database of the sequences described in [66].
Quantitative real-time PCR was carried out using Superscript III and Platinum Taq (Invitrogen) and an Mx3000P thermal cycler (Stratagene, Amsterdam, The Netherlands). Standard curves were made for each primer pair using Ax4(Ku) genomic DNA, and four comparisons made between that template and genomic DNA of Ax2(Ka). The mean of these four log2 ratios thus obtained was then taken.
Array data are deposited at Array Express [67] as array design A-SGRP-3 and the data as submission E-TABM-394.
Additional data files
The following additional data are available with the online version of this paper. Additional data file 1 is Figure S1 showing the Ax3/4 duplication on chromosome 2. Additional data file 2 is Figure S2 showing the genealogy of NC4-derived strains. Additional data file 3 is Figure S3, showing multiple copy number variants on chromosome 5 of strains NP81 and HU32. Additional data file 4 contains Table S1, listing genes present on the Ax2 duplication, Table S2, listing genes on the chromosome 5 duplication present in many Ax3 lines, and the legends for Figures S1, S2 and S3.
Abbreviations
REMI mutagenesis:

REstriction Mediated Integration mutagenesis.
Declarations
Acknowledgements
We should like to thank the Dictyostelium Stock Centre and Dennis Welker especially for strains, as well as the donors listed in Table 1. Régis Dieckmann and Navin Gopaldass for preparing DH1 and Ax2 RNA; and Nefeli Katsaridou, Kay Jagels and Theresa Feltwell for technical assistance. This work was supported by a Wellcome Trust Grant 06724, and core funding from the MRC.
Authors' Affiliations
(1)
MRC Laboratory of Molecular Biology, Cambridge, UK
(2)
The Wellcome Trust Sanger Institute, Wellcome Trust Genome Campus, Hinxton, UK
Copyright
© Bloomfield et al.; licensee BioMed Central Ltd. 2008
This article is published under license to BioMed Central Ltd. This is an open access article distributed under the terms of the Creative Commons Attribution License (http://creativecommons.org/licenses/by/2.0), which permits unrestricted use, distribution, and reproduction in any medium, provided the original work is properly cited.