The prokaryotic antecedents of the ubiquitin-signaling system and the early evolution of ubiquitin-like β-grasp domains
Received: 11 April 2006
Accepted: 6 July 2006
Published: 19 July 2006
Abstract
Background
Ubiquitin (Ub)-mediated signaling is one of the hallmarks of all eukaryotes. Prokaryotic homologs of Ub (ThiS and MoaD) and E1 ligases have been studied in relation to sulfur incorporation reactions in thiamine and molybdenum/tungsten cofactor biosynthesis. However, there is no evidence for entire protein modification systems with Ub-like proteins and deconjugation by deubiquitinating enzymes in prokaryotes. Hence, the evolutionary assembly of the eukaryotic Ub-signaling apparatus remains unclear.
Results
We systematically analyzed prokaryotic Ub-related β-grasp fold proteins using sensitive sequence profile searches and structural analysis. Consequently, we identified novel Ub-related proteins beyond the characterized ThiS, MoaD, TGS, and YukD domains. To understand their functional associations, we sought and recovered several conserved gene neighborhoods and domain architectures. These included novel associations involving diverse sulfur metabolism proteins, siderophore biosynthesis and the gene encoding the transfer mRNA binding protein SmpB, as well as domain fusions between Ub-like domains and PIN-domain related RNAses. Most strikingly, we found conserved gene neighborhoods in phylogenetically diverse bacteria combining genes for JAB domains (the primary de-ubiquitinating isopeptidases of the proteasomal complex), along with E1-like adenylating enzymes and different Ub-related proteins. Further sequence analysis of other conserved genes in these neighborhoods revealed several Ub-conjugating enzyme/E2-ligase related proteins. Genes for an Ub-like protein and a JAB domain peptidase were also found in the tail assembly gene cluster of certain caudate bacteriophages.
Conclusion
These observations imply that members of the Ub family had already formed strong functional associations with E1-like proteins, UBC/E2-related proteins, and JAB peptidases in the bacteria. Several of these Ub-like proteins and the associated protein families are likely to function together in signaling systems just as in eukaryotes.
Keywords
Additional Data File
Gene Neighborhood
Thiamine Biosynthesis
Sulfur Transfer
Cofactor Biosynthesis
Background
The ubiquitin (Ub) system is one of the most remarkable protein modification systems of eukaryotes, which appears to distinguish them from model prokaryotic systems. The modification of proteins by Ub or related polypeptides (Ubls) has been detected in all eukaryotes studied to date and is comprised of conserved machineries that both add Ub and remove it [
1
,
2
]. The Ub-conjugating system consists of a three-step cascade beginning with an E1 enzyme that uses ATP to adenylate the terminal carboxylate of Ub/Ubl and subsequently transfers this adenylated intermediate to a conserved internal cysteine in the form of a thioester linkage. The E1 enzyme then transfers this cysteine-linked Ub to the conserved cysteine of the E2 enzyme, which is the next enzyme in the cascade. Finally, the E2 enzyme transfers the Ub/Ubl to the target polypeptide with the help of an E3 enzyme [
1
,
3
]. The E3 enzymes of the HECT domain superfamily contain a conserved internal cysteine, which accepts the Ub/Ubl through a thioester linkage and finally transfers it to the ε-amino group of a lysine on the target protein. The E3 ligases of the treble-clef fold, namely the RING and A20 finger superfamilies, appear to facilitate directly the transfer of Ub to the lysine of target protein, without forming a covalent link with Ub/Ubl (Figure
1
) [
4
,
5
].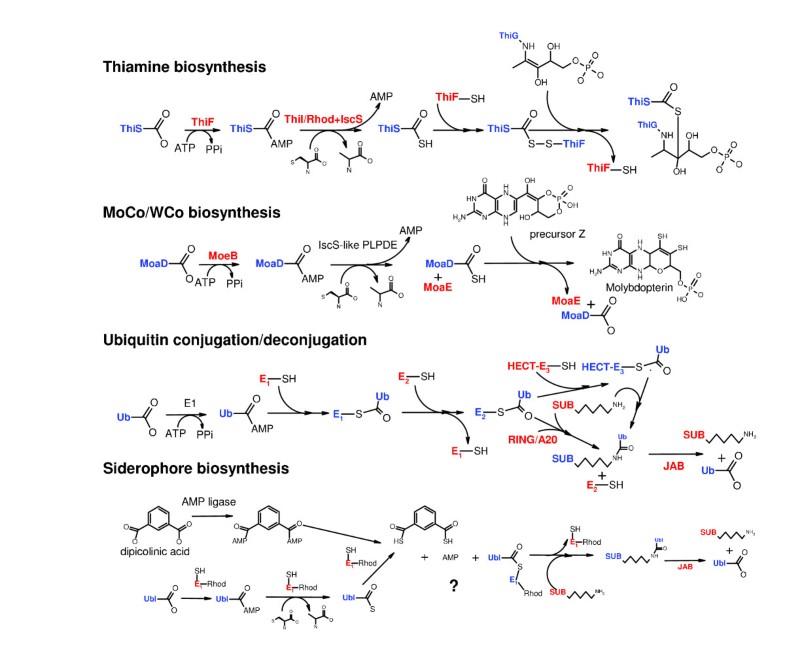 The proteins modified by ubiquitination might have different fates depending both on the specific Ub or Ubl used, and the type of modification they undergo [6, 7]. Mono-ubiquitination and poly-ubiquitination via G76-K63 linkages play regulatory roles in diverse systems such as signaling cascades, chromatin dynamics, DNA repair, and RNA degradation. Poly-ubiquitination via G76-K48 linkages is one of the major types of modification that results in targeting the polypeptide for proteasomal degradation [7]. Other polyubiquitin chains formed by linkages to K29, K6, and K11 are relatively minor species in model organisms and are poorly understood in functional terms. Similarly, modification by Ubls such as SUMO, Nedd8, URM1, Apg8/Apg12, and ISG15 have specialized regulatory roles in the context of chromatin dynamics, RNA processing, oxidative stress response, autophagy, and signaling [8, 9]. The Ub modification is reversed by a variety of deubiquitinating peptidases (DUBs) belonging to various superfamilies of the papain-like fold and pepsin-like, JAB, and Zincin-like metalloprotease superfamilies [10–16]. Of these the most conserved are certain versions of the papain-like fold and the JAB superfamily metallo-peptidases, which are components of the proteasomal lid and signalosome [17–20]. The JAB peptidases are critical for removing the Ub chains before the targeted proteins are degraded in the proteasome [21, 22].
Although the entire Ub system with the apparatus for conjugation and deconjugation has only been observed in the eukaryotes, several structural and biochemical studies have thrown light on prokaryotic antecedents of this system. Most of these studies are related to the experimental characterization of the key sulfur incorporation steps in the biosynthetic pathways for thiamine and molybdenum/tungsten cofactors (MoCo/WCo). Both these pathways involve a sulfur carrier protein, ThiS or MoaD, which is closely related to the eukaryotic URM1 and bears the sulfur in the form of a thiocarboxylate of a terminal glycine, just as the thioester linkages of Ub/Ubls formed in the course of their conjugation [23, 24]. Furthermore, both ThiS and MoaD are adenylated by the enzymes ThiF and MoeB, respectively, prior to sulfur acceptance from the donor cysteine [25–29]. ThiF and MoeB are closely related to the Ub-conjugating E1 enzymes, and all of them exhibit a characteristic architecture, with an amino-terminal Rossmann-fold nucleotide-binding domain and a carboxyl-terminal β-strand-rich domain containing conserved cysteines [25]. Interestingly, in the case of the thiamine pathway, it has been shown that ThiS also gets covalently linked to a conserved cysteine in the ThiF enzyme, albeit via an acyl-persulfide linkage, unlike the direct thioester linkage of the E1-Ub covalent complex [26, 27] (Figure 1). However, no equivalent covalent linkage between MoaD and MoeB has been reported [30] (Figure 1). There are other specific similarities between the eukaryotic Ub/Ubls and ThiS/MoaD, such as the presence of a conserved carboxyl-terminal glycine and the mode of interaction with their respective adenylating enzymes [23, 25]. These observations indicated that core components of the eukaryotic Ub-signaling system and the interactions between them were already in place in the prokaryotic sulfur transfer systems, and implied direct evolutionary connection between them [25, 31].
Homologs of other central components of the eukaryotic Ub-signaling pathway have also been detected in bacteria, such as the TS-N domain found in prokaryotic translation factors, which is the precursor of the helical Ub-binding UBA domain [32–34]. Similarly, members of the papain-like fold, zincin-like metallopeptidases, and the JAB domain superfamilies are also abundantly represented in prokaryotes [10–16, 35]. However, to date there is no reported evidence of functional interactions of any of the prokaryotic versions of these domains with endogenous co-occurring counterparts of Ub/Ubls and their ligases in potential pathways analogous to eukaryotic Ub signaling. Thus, despite a reasonably clear understanding of the possible precursors of Ub/Ubls and the E1 enzymes, the evolutionary process by which the complete eukaryotic Ub-signaling system as an apparatus for protein modification was pieced together remains murky. To address this problem we conducted a systematic comparative genomic analysis of the Ub-like (also referred to as the β-grasp fold in the SCOP database [36]) fold in prokaryotes to decipher its early evolutionary radiations. We then utilized the vast dataset of contextual information derived from newly sequenced prokaryotic genomes to identify systematically the potential functional connections of the relevant members of the Ub-like fold and other functionally associated enzymes such as the E1/MoeB/ThiF (E1-like) family.
As a result of this analysis we were able to identify several new members of the Ub-like fold in prokaryotes as well as functionally associated components such as E1-like enzymes, JAB hydrolases, and E2-like enzymes, which appear to interact even in prokaryotes to form novel pathways related to eukaryotic Ub signaling. We not only present evidence that there are multiple adenylating systems of Ub-related proteins in prokaryotes, but also we predict intricate pathways using JAB-like peptidases and E2-like enzymes in the context of diverse Ub-related proteins.
Conclusion
By performing a systematic search for Ub-like domains in bacteria we identified several novel domains with diverse domain architectures. We present evidence that there are several predicted bacterial operons, beyond those specifying the previously well characterized thiamine and MoCo/WCo biosynthesis systems that encode Ub-related, JAB domain, and E1-like and E2-like proteins. These gene neighborhoods exhibit several distinct organizational themes, each of which is likely to specify a distinct functional system. Some of these systems are likely to possess the capacity to transfer Ub-like protein moieities onto target proteins via a relay of E1-like and E2-like proteins. This is the first report of a genuine prokaryotic ubiquitin-like signaling system, and we suggest that these systems were the precursors to the eukaryotic Ub-signaling system. We hope this report may stimulate experimental analysis of these bacterial systems and thereby throw light on the emergence of a signaling system that was hitherto considered the unique property of the eukaryotes.
Materials and methods
The nonredundant (NR) database of protein sequences (National Center for Biotechnology Information [NCBI], NIH, Bethesda, MA, USA) was searched using the BLASTP program [78]. A complete list of these genomes and the predicted proteomes of prokaryotes used in this analysis in fasta format can be downloaded from the Complete Microbial Genomes database at the NCBI [79]. Additional sequences, from microbial genomes that have been sequenced but not completely assembled and submitted to the GenBank database, were also used in this analysis. A list of these prokaryotic genomes, from which sequences have been deposited in GenBank, can be accessed from the Draft Assembly Sequences database at the NCBI website [80]. Gene neighborhoods were determined using a custom script that uses completely sequenced genomes or whole genome shot gun sequences to derive a table of gene neighbors centered on a query gene. Then the BLASTCLUST program was used to cluster the products in the neighborhood and establish conserved co-occurring genes. These conserved gene neighborhood are then sorted as per a ranking scheme based on occurrence in at least one other phylogenetically distinct lineage ('phylum' in the NCBI Taxonomy database), complete conservation in a particular lineage ('phylum'), and physical closeness (<70 nucleotides) on the chromosome indicating sharing of regulatory -10 and -35 elements. Putative promoter regions were predicted if required by scanning for the consensus of the -10 and -35 elements in the predicted upstream regions.
Profile searches were conducted using the PSI-BLAST program with either a single sequence or an alignment used as the query, with a default profile inclusion expectation (e) value threshold of 0.01 (unless specified otherwise), and was iterated until convergence. For all searches involving membrane-spanning domains we used a statistical correction for compositional bias to reduce false positives due to the general hydrophobicity of these proteins [81]. The library of profiles for various signaling domains was prepared by extracting all alignments from the PFAM database [82] and updating them by adding new members from the NR database. These updated alignments were then used to make HMMs with the HMMER package [83] or PSSMs with PSI-BLAST.
Multiple alignments were constructed using the T_Coffee, MUSCLE, and PCMA programs followed by manual adjustments based on PSI-BLAST results [84–86]. The GIBSS sampling method, as implemented in the MACAW program, was used for the identification and statistical evaluation of conserved motifs in multiple protein sequences [87, 88]. All large-scale sequence analysis procedures were carried out using the TASS package (Anantharaman V, Balaji S, Aravind L; unpublished data). Structural manipulations were carried out using the Swiss-PDB viewer program [89]. Searches of the PDB database with query structures were conducted using the DALI program [90, 91]. Protein secondary structure was predicted using a multiple alignment as the input for the JPRED program, with information extracted from a PSSM, HMM, and the seed alignment itself [92]. Similarity-based clustering of proteins was carried out using the BLASTCLUST program [93]. Sequence-structure threading was carried out using the PHYRE and 3DPSSM programs [94]. Phylogenetic analysis was carried out using the maximum-likelihood, neighbor-joining, and least squares methods [95–97]. Briefly, this process involved the construction of a least squares tree using the FITCH program or a neighbor joining tree using the NEIGHBOR program (both from the Phylip package) [95], followed by local rearrangement using the Protml program of the Molphy package [96] to arrive at the maximum likelihood tree. The statistical significance of various nodes of this maximum likelihood tree was assessed using the relative estimate of logarithmic likelihood bootstrap (Protml RELL-BP), with 10,000 replicates. Text versions of all alignments reported in this study can be obtained in the Additional data file 1.
Additional data files
The following additional data are included with the online version of this article: A text file containing a complete list of conserved gene neighborhoods, domain architectures, and alignments discussed in this article (Additional data file 1); a text file containing the complete list of all gi numbers for proteins encoded by conserved gene neighborhoods and their genomic position in various genomes (Additional data file 2); and a text file containing a list of major starting points for PSI-BLAST and HMMer searches and gi numbers detected in the searches conducted with them, along with e values (Additional data file 3).
The files are also available for download from the authors' FTP site [98].
Declarations
Acknowledgements
Research by the authors of this article is supported by the intramural funds of the National Library of Medicine (NIH).
Authors' Affiliations
(1)
National Center for Biotechnology Information, National Library of Medicine, National Institutes of Health, Bethesda, USA
(2)
Bioinformatics Program, Boston University, Boston, USA
Copyright
© Iyer et al.; licensee BioMed Central Ltd. 2006
This article is published under license to BioMed Central Ltd. This is an open access article distributed under the terms of the Creative Commons Attribution License (http://creativecommons.org/licenses/by/2.0), which permits unrestricted use, distribution, and reproduction in any medium, provided the original work is properly cited.