How complete are current yeast and human protein-interaction networks?
Published: 1 December 2006
Networks are invaluable models for bettering our understanding of biological systems. Whether its constituent parts are molecules, cells, or living organisms, a network provides an organizing framework amenable to modeling the complex events that emerge from interactions among the parts. In functional genomics, concerted efforts over the past decade or so have produced rudimentary maps of the networks of genes, proteins, and metabolites controlling cells and, with these maps, have offered the promise of predictive, rather than just descriptive, models of molecular biology. Already, the network of physical interactions (the 'interactome') among yeast proteins, generated through a succession of experimental and algorithmic reconstructions, has proved its usefulness for discovering protein function [1, 2], predicting cellular behavior [3, 4], and the analysis of complex gene regulation [5–7]. Similar efforts for protein-interaction networks for Caenorhabditis elegans and Drosophila melanogaster are ongoing. We expect the human protein-interaction network to be equally informative; like the sequencing of the human genome, the construction of this map will represent a major step along the path towards understanding the functions of our genes.
Even in its current incomplete state, with interactions compiled from the literature, focused screens, and first-generation high-throughput interaction maps, the human protein-protein interaction network should be able to provide information about gene function and relevance to human health. For example, the emergent properties of proteins that are revealed in networks, as opposed to considering each protein in isolation, may identify genes and proteins critical to disease. Such a trend has been observed in yeast: a yeast gene's tendency to be essential correlates with the count of the encoded protein's interaction partners (the 'degree') [
8
]. Although not without its critics [
9
,
10
], this correlation would be exciting if present in animals. We have examined the current human protein-interaction network and find that this trend does indeed hold in humans (Figure
1
). Among many other contributions, the human protein-interaction network will therefore focus attention on important hub proteins. Such proteins are likely to be essential to cell function and their disruption will often be lethal. Likewise, the network may focus attention on particularly important interactions: not all interactions are equally critical to the cell, and we might expect the network context of interactions (such as their centrality or association with essential proteins) to allow essential interactions to be identified.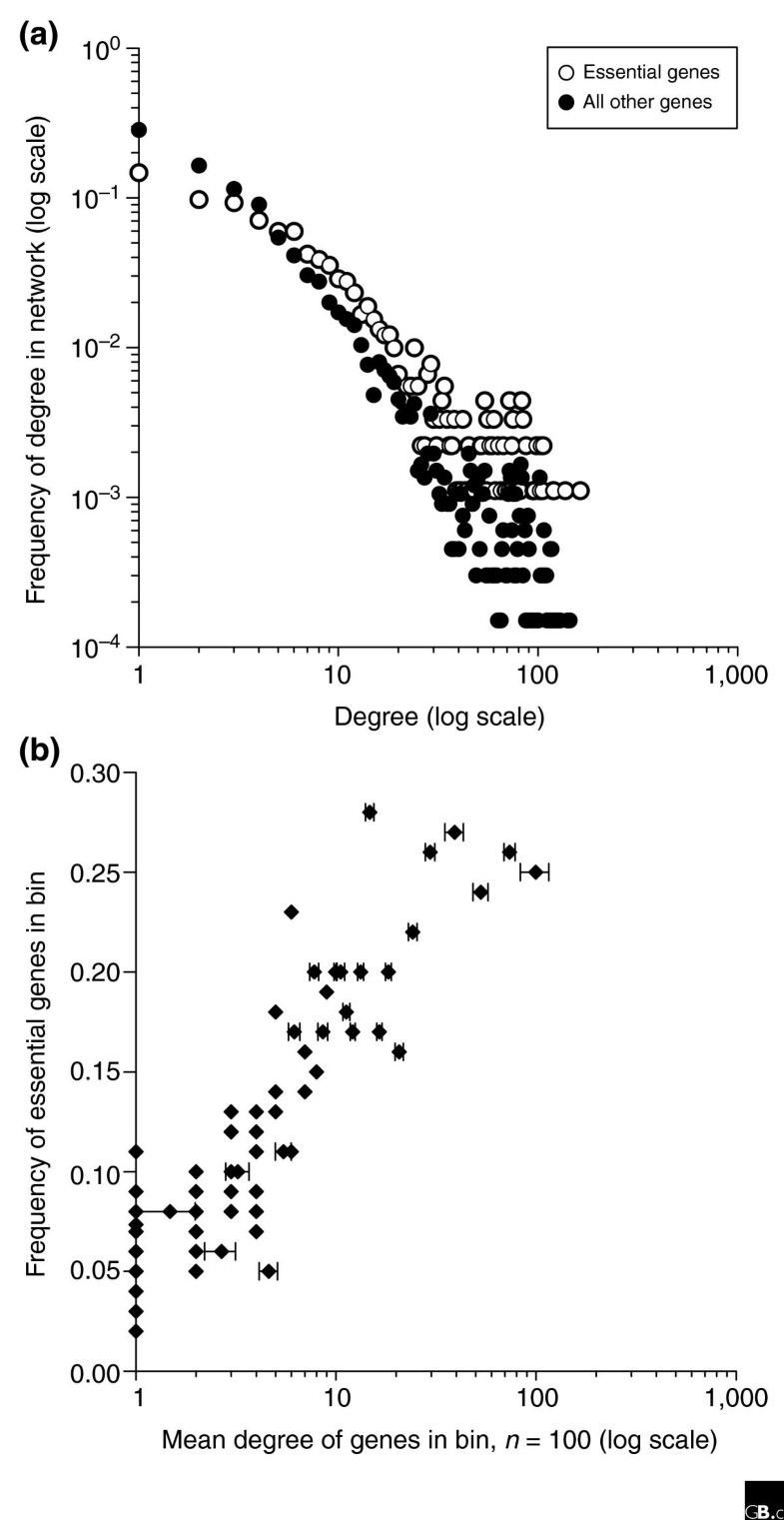 Although maps of both the yeast and human protein-interaction networks are well under way, their completion poses many problems, not least because of the anticipated scale of the human network, which could require multiple testing of all possible pairs of around 20,000-25,000 human proteins - roughly 200 million to 300 million pairs. The scale of this effort raises many questions. How do we even measure completion? The network is, after all, unknown. How close are we to completing the networks? How do we assess errors in the maps? Would maps obtained using only a single technique suffice?
In this article, we discuss the techniques used up to now, describe strategies for recognizing network completion, and estimate our progress towards finished yeast and human protein-interaction maps. Even though large numbers of interactions have been mapped, we argue that assay false-positive rates are so high that only about half of the expected yeast network has been defined to date, and considerably less for the human one. Like whole-genome shotgun sequencing [11], interaction networks will require multiple-fold coverage for completion. We argue that raw interaction data should be released, pooled, and analyzed as a set, as was the case for the human genome sequence. Coverage is low enough and errors common enough in individual datasets to mean that the human interactome will only be fully mapped through integration of repeated analyses from many groups.
(1)
Center for Systems and Synthetic Biology, Institute for Cellular and Molecular Biology, University of Texas at Austin, 2500 Speedway, Austin, TX 78712, USA
(2)
The Wellcome Trust Sanger Institute, Wellcome Trust Genome Campus, Hinxton, Cambridge, CB10 1SA, UK
© BioMed Central Ltd 2006