Assessing unmodified 70-mer oligonucleotide probe performance on glass-slide microarrays
Received: 14 August 2002
Accepted: 8 November 2002
Published: 6 January 2003
Abstract
Background
Long oligonucleotide microarrays are potentially more cost- and management-efficient than cDNA microarrays, but there is little information on the relative performance of these two probe types. The feasibility of using unmodified oligonucleotides to accurately measure changes in gene expression is also unclear.
Results
Unmodified sense and antisense 70-mer oligonucleotides representing 75 known rat genes and 10 Arabidopsis control genes were synthesized, printed and UV cross-linked onto glass slides. Printed alongside were PCR-amplified cDNA clones corresponding to the same genes, enabling us to compare the two probe types simultaneously. Our study was designed to evaluate the mRNA profiles of heart and brain, along with Arabidopsis cRNA spiked into the labeling reaction at different relative copy number. Hybridization signal intensity did not correlate with probe type but depended on the extent of UV irradiation. To determine the effect of oligonucleotide concentration on hybridization signal, 70-mers were serially diluted. No significant change in gene-expression ratio or loss in hybridization signal was detected, even at the lowest concentration tested (6.25 μm). In many instances, signal intensity actually increased with decreasing concentration. The correlation coefficient between oligonucleotide and cDNA probes for identifying differentially expressed genes was 0.80, with an average coefficient of variation of 13.4%. Approximately 8% of the genes showed discordant results with the two probe types, and in each case the cDNA results were more accurate, as determined by real-time PCR.
Conclusions
Microarrays of UV cross-linked unmodified oligonucleotides provided sensitive and specific measurements for most of the genes studied.
Keywords
Additional Data File
Oligonucleotide Probe
Probe Type
cDNA Array
Hybridization Signal Intensity
Background
The advent of microarray technology has enabled scientists to investigate biological questions in a more global fashion. Instead of studying genes individually, the expression of thousands of genes can be analyzed simultaneously using probes attached to the surface of a microscope slide [1,2,3,4,5,6]. The cDNA microarray represents a popular array type in which double-stranded PCR products amplified from expressed sequence tag (EST) clones are spotted onto glass slides [7,8], allowing gene-expression profiles to be determined with high reproducibility and efficiency. However, construction of cDNA microarrays presents a number of challenges, largely related to costs associated with clone validation, tracking and maintenance. The laborious and problematic tracking of cDNA clones and PCR amplicons may lead to 10-30% misidentification of clones [6]. For all practical purposes, sequence verification of array elements is an ongoing necessity. Other limitations of cDNA microarrays are their difficulty, because of cross-hybridization, in discriminating expression patterns of homologous genes, alternative splice variants and antisense RNAs.
Alternatively, microarrays can be composed of short oligonucleotides (25 bases) synthesized directly onto a solid matrix using photolithographic technology (Affymetrix) [2,9] or constructed from long oligonucleotides (55-70 bases) spotted onto glass slides [10,11,12]. To mimic the Affymetrix design of freely moving probes tethered at one end onto a solid support, in-house manufactured or commercially available long oligonucleotides are modified by the addition of a 5' amino group for covalent attachment onto pre-activated glass slides [5,10]. This oligonucleotide design strategy has been widely viewed as a prerequisite for accurate gene-expression measurements. However, there is no clear evidence that other covalent attachments do not form. With oligonucleotide arrays, problems related to clone tracking, handling of glycerol stocks and failed PCR amplifications are avoided. The completion of numerous microbial, plant and eukaryotic genomes, as well as extensive EST data, provides sufficient sequence information to design unique oligonucleotides capable of distinguishing homologous genes and alternative splice variants. As such, oligonucleotide probes have an added flexibility over PCR amplicons.
Comprehensive studies comparing the Affymetrix approach with cDNA arrays have only recently appeared in the literature [13,14]. Studies comparing long oligonucleotides to cDNA arrays have not been as forthcoming. In the only example to date, 5'-amino-modified 50-mers representing prokaryotic genes were compared to corresponding PCR amplicons [12]. Analysis of the hybridization signals derived from these two probe types, while providing important insights pertaining to sensitivity and specificity, were limited in scope (total of eight genes) and design (interrogation was carried out with complementary targets derived from synthetic RNA as opposed to cellular RNA). A drawback to using modified oligonucleotides is the significant cost associated with the addition of the 5'-amino linker. An alternative strategy is to utilize unmodified oligonucleotides spotted onto glass slides, where attachment is believed to be primarily ionic in nature [11]. However, a comparison of this approach to standard cDNA arrays has yet to be provided. It is imperative that comparisons be carried out on all probe types in the light of conflicting reports regarding the correlation between Affymetrix and cDNA array-based expression measurements [13,14]. Whereas one study shows both approaches correctly identifying 16 out of 17 differentially regulated genes [13], a second study found a correlation of r = 0.328 between matched results from the same two platforms [14]. Discordant results were not resolved in the latter study. Here we test the performance of unmodified 70-mers printed alongside PCR amplicons. Using this unique study design, both probe types can be simultaneously interrogated with a complex target composed of both cellular and synthetic RNA.
Discussion
In the study reported here, we systematically compared the performance of unmodified 70-mer oligonucleotides to traditional PCR amplicons, both probe types printed and UV cross-linked onto glass slides coated with primary amine groups. Direct comparisons are best accomplished when both probes are printed alongside each other, allowing for simultaneous interrogation with a complex target. Hence, analysis is not confounded by uneven aminosilane coating in different batches of slides, inconsistencies in the array resulting from different print sessions, differences in day-to-day label incorporation, or variations in day-to-day hybridization and wash procedures. A correlation coefficient (r) of 0.80 was obtained from our analysis, indicating that the two probe types gave comparable expression ratios. One variable that was not controlled for in our study was the number of cross-links per DNA molecule. Given a constant UV exposure, many more cross-links per molecule of cDNA probe are presumably formed compared to the shorter oligonucleotide probe. It is possible that the correlation coefficient was not higher as a result of the differential reaction of the two probe types to UV irradiation.
We designed our arrays to contain 75 different probes corresponding to mammalian signal transduction genes with a wide range of expression levels. In heart versus brain comparisons, oligonucleotide probes, like their cDNA probe counterparts, could reproducibly discern differences in mRNA populations as low as twofold (namely, 14-3-3 protein gamma) and as high as around 90-fold (namely, creatine kinase). Hence, the dynamic range of unmodified oligonucleotides is at least two orders of magnitude in fold-change measurements.
In the course of our work, we generated a resource of 10 Arabidopsis spiking control cRNAs along with their corresponding 70-mer oligonucleotide and PCR amplicon probes. As part of our quality-control procedures, all microarray assays routinely incorporate the spiking controls. These reagents will allow the microarray user to add specific concentrations of known transcripts into a complex mix of mammalian target RNA in order to assess, for example, hybridization kinetics, intra-slide variability, inter-slide variability, sensitivity and effectiveness of normalization algorithms. On the basis of experiments with the spiking controls, unmodified oligonucleotides can be used to detect twofold changes in transcript number at a level of 2-20 mRNA copies per cell. It is important to note that our protocol for generating first-strand cDNA target involves the use of random primers. At the outset, the Arabidopsis cRNAs were engineered to contain a 3' poly(A) tail. Hence, alternative protocols using oligo(dT) to prime mRNA for the synthesis of labeled target [15,16] can still take advantage of our spiking control set.
In our initial assessment of cDNA and 70-mer oligonucleotide probe types, the latter was printed at a concentration of 50 μM. Even at a printing concentration as low as 6 μM, oligonucleotide probes were capable of discerning twofold expression differences in complex cellular RNA mixtures and in synthetic spiked cRNAs. In fact, decreasing the oligonucleotide printing concentration from 50 to 6 μM had the effect of increasing the hybridization signal around two- to sixfold for a number of the probes (Figure 7a). The reason is unclear, but it is possible that high-density packing of an oligonucleotide probe within the confines of a small spot interferes with fluorescence emission of the target or hybridization efficiency. Alternatively, the higher spotting concentrations may favor cross-linking of the oligonucleotide probes to each other following UV irradiation. In either case, this phenomenon appears to be sequence dependent as not all probes exhibited this behavior. The present study also demonstrates that longer probes are not necessarily associated with higher hybridization signals, as the hybridization signals from half of the 70-mer oligonucleotide probes were actually higher than or equivalent to their corresponding PCR amplicons, which have an average length of 1 kilobase (kb). Taken together, the combination of unmodified oligonucleotides and low printing concentrations has resulted in an approximately 16-fold reduction in reagent costs. An issue not evaluated in the present study, but one that has significant cost-saving potential, is the effect of reducing the length of unmodified oligonucleotides on microarray sensitivity. Clearly, this is an area for future investigation.
Of the five discordant results found between oligonucleotide and cDNA arrays, real-time PCR data validated the accuracy of the cDNA probe type in every case (Figure
5b
). It seems likely that a failure in oligonucleotide probe design was responsible for the discordant data. Analysis of the discordant oligonucleotide sequences (that is, inositol-1,4,5-trisphosphate receptor, H
+
-ATPase, branched aminotransferase and epoxide hydrolase) did not reveal any obvious secondary structure that might interfere with hybridization. Treatment of spotted arrays with UV light is thought to induce free-radical-based coupling between thymidine residues on the oligonucleotide and carbon atoms on the alkyl amine groups of coated glass slides (Todd Martinsky, TeleChem International, personal communication). The T content of concordant and discordant oligonucleotides was similar, with average values of 26% and 29%, respectively, suggesting that UV cross-linking was not preferentially disrupting hybridization specificity of discordant 70-mers. Moreover, there was a lack of correlation (
r
= 0.03,
p
> 0.05) between T content of the oligonucleotides and corresponding hybridization signal intensities. Of interest, however, was the finding that the discordant oligonucleotides had an average GC content of 57% compared to the concordant oligonucleotide average of 50%. Accordingly, the hybridization signal associated with the discordant oligonucleotides was around two- to threefold higher than the concordant oligonucleotides, suggesting that 'non-specific' Cy-labeled targets were cross-hybridizing with the discordant oligonucleotides. This possibility is clearly illustrated for the H
+
-ATPase gene (Figure
9
). Within the H
+
-ATPase 70-mer sequence is a stretch of 20 contiguous nucleotides perfectly matching a region in the tumor endothelial marker 8 mRNA. It has been shown previously that 15 contiguous nucleotides are sufficient for cross-hybridization of non-target species [
12
]. There are two important points to note. First, the PCR amplicon for H
+
-ATPase also contains the same 20 contiguous nucleotides (Figure
9
). Regardless of this, this particular probe was still able to distinguish differential expression of the H
+
-ATPase gene in heart and brain tissue. We postulate that a large fraction of H
+
-ATPase-specfic Cy-labeled targets (which on average should be 100-200 nucleotides long) were available for hybridization to complementary sequences found on the longer PCR amplicon probe but absent on the shorter 70-mer probe (for example, sequences downstream of the 70-mer). Second, tumor endothelial marker 8 mRNA was identified in mouse. The orthologous rat mRNA has not been cloned yet, which is reflected by the more than 2.5 million mouse EST sequences present in dbEST, compared to only 351,827 ESTs for the rat. On the basis of BLAST searches of human and mouse sequences, contiguous non-target sequences could also be identified in the discordant oligonucleotides for inositol-1,4,5-trisphosphate receptor, branched amino-transferase and epoxide hydrolase. Hence, future oligonucleotide design considerations should include an analysis of mouse and human sequences, because of the relatively small number of available rat sequence for expressed transcripts. In addition, the synthesis of redundant probe sets (for example, two 70-mers per gene) might be warranted to help decrease false negatives by an order of magnitude.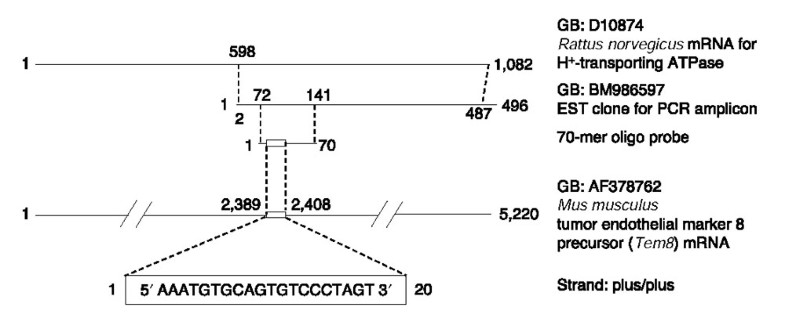 The mechanism of the adherence of unmodified oligonucleotides to glass slides has been addressed [11]. Attachment involves noncovalent interactions such as electrostatic interactions, where the negatively charged phosphate backbone of the oligonucleotide is attracted to the positively charged surface of the glass slide (for example, a surface containing protonated alkyl amines). Whereas noncovalent interactions appear to be the predominant mechanism for oligonucleotide attachment, covalent linkage is likely to have an important supplementary role in UV-irradiated microarrays. This seems plausible as our stringent overnight washes in strong detergent did not appreciably detach unmodified oligonucleotides from the slide surface. The importance of UV cross-linking cannot be overemphasized. Under-irradiation of cDNA arrays is known to cause insufficient binding of DNA and over-irradiation results in over-nicking of DNA samples [17]. A further complicating factor is our finding that oligonucleotides printed onto different slide chemistries (or slides with similar chemistries from different vendors) will have very different optimal UV titration curves. In our hands, optimal UV cross-linking occurred at 450 and 70 mJ/cm2 for oligonucleotides printed onto TeleChem SuperAmine™ and Corning GAP II™ slides, respectively. For TeleChem slides, under-irradiation (70-150 mJ/cm2) causes insufficient oligonucleotide attachment. For Corning slides, over-irradiation (150-450 mJ/cm2) results in a decrease in the hybridization signal that may reflect excessive covalent attachment of oligonucleotides. As UV cross-linking may adversely affect oligonucleotide accessibility to labeled target during hybridization, we cannot discount the possibility that alternative attachment strategies (for example, 5'-amino-modified oligonucleotides) may provide greater sensitivity and specificity. This issue needs to be explored in the future.
In summary, the present study provides evidence that the performance of unmodified 70-mer oligonucleotides is comparable to cDNAs printed on glass slides. Optimal conditions were identified for oligonucleotide attachment and hybridization/wash conditions, resulting in high assay sensitivity and reproducibility. Our results show that unmodified oligonucleotides can provide an accurate, reproducible and cost-effective means to measure gene-expression profiles. Of interest is the fact that our hybridizations were successfully carried out on slides that simultaneously contained both PCR amplicons and oligonucleotides. Hence, future microarrays can be constructed in a modular fashion, with oligonucleotide-based elements being added to existing PCR amplicons as more genomic sequence information is gathered, in the absence of readily available cDNA clones. Lastly, our findings have broader implications, suggesting that the combination of expression measurements across different platforms (for example, Affymetrix and cDNA arrays, unmodified long oligonucleotides and cDNA arrays) within a single analysis maybe feasible [18].
Additional data files
The sequences of the 70-mers and corresponding GenBank accession numbers of the genes are available as an additional data file.
Declarations
Acknowledgements
We thank Nnenna Nwokekeh for her excellent technical assistance. We also thank members of the TIGR microarray team for technical assistance and helpful comments. This work was supported by a Programs for Genomic Applications grant from the National Heart Lung and Blood Institute.
Authors' Affiliations
(1)
The Institute for Genomic Research, Rockville, USA
(2)
Department of Physiology, Medical College of Wisconsin, Milwaukee, USA
(3)
Department of Pharmacology, The George Washington University Medical Center, Washington, USA
Copyright
© Wang et al.; licensee BioMed Central Ltd. 2003
This article is published under license to BioMed Central Ltd. This is an Open Access article: verbatim copying and redistribution of this article are permitted in all media for any purpose, provided this notice is preserved along with the article's original URL.