Extensive epigenetic reprogramming during the life cycle of Marchantia polymorpha
Received: 11 August 2017
Accepted: 21 December 2017
Published: 25 January 2018
Abstract
Background
In plants, the existence and possible role of epigenetic reprogramming has been questioned because of the occurrence of stably inherited epialleles. Evidence suggests that epigenetic reprogramming does occur during land plant reproduction, but there is little consensus on the generality and extent of epigenetic reprogramming in plants. We studied DNA methylation dynamics during the life cycle of the liverwort Marchantia polymorpha. We isolated thalli and meristems from male and female gametophytes, archegonia, antherozoids, as well as sporophytes at early and late developmental stages, and compared their DNA methylation profiles.
Results
Of all cytosines tested for differential DNA methylation, 42% vary significantly in their methylation pattern throughout the life cycle. However, the differences are limited to few comparisons between specific stages of the life cycle and suggest four major epigenetic states specific to sporophytes, vegetative gametophytes, antherozoids, and archegonia. Further analyses indicated clear differences in the mechanisms underlying reprogramming in the gametophytic and sporophytic generations, which are paralleled by differences in the expression of genes involved in DNA methylation. Differentially methylated cytosines with a gain in methylation in antherozoids and archegonia are enriched in the CG and CHG contexts, as well as in gene bodies and gene flanking regions. In contrast, gain of DNA methylation during sporophyte development is mostly limited to the CHH context, LTR retrotransposons, DNA transposons, and repeats.
Conclusion
We conclude that epigenetic reprogramming occurs at least twice during the life cycle of M. polymorpha and that the underlying mechanisms are likely different between the two events.
Keywords
Bisulfite sequencing
DNA methylation
Epigenetics
Life cycle
Liverwort
Marchantia polymorpha
Reprogramming
Tissue specificity
Background
Epigenetic reprogramming refers to global changes in DNA methylation and histone modifications (together referred to as the epigenome) between different stages of development. For instance, the erasure of epigenetic marks between one generation and the next removes modifications that accumulated during the lifetime of an organism and sets the stage for zygotic development. Thus, epigenetic reprogramming results in the existence of epigenomes that are specific to different stages of the life cycle, and which are not inherited from the previous stage, but actively set during transition from one stage to the next. As a consequence, the epigenomes of two different individuals at the same developmental stage are more similar to each other than the epigenomes of one individual at two different developmental stages. Compared to histone modifications, DNA methylation is more accessible [1], such that whole-genome DNA methylation profiling has been the method of choice to study epigenetic reprogramming [2]. In mammals, epigenetic reprogramming is associated with sexual reproduction and occurs in two major waves: during primordial germ cell formation and in the zygote. The reprogramming comprises an almost complete erasure of DNA methylation marks, followed by their re-establishment [3, 4]. Given the extensive resetting of epigenetic marks, transgenerational inheritance of epigenetic variants (epialleles) is thought to be rare in mammals [5, 6].
In contrast to mammals, land plants do not have a predefined germline and follow a more complex life cycle with an alternation between two heteromorphic and multicellular generations: the diploid sporophyte and the haploid gametophyte [7]. In the sporophyte, distinct cells undergo meiosis and produce spores. These give rise to multicellular gametophytes, which produce the male and female gametes through mitotic divisions. Fusion of a male gamete (sperm cell or antherozoid) and a female gamete (egg cell) results in a zygote, which forms the sporophyte of the next generation. Thus, the germline is not set aside early during development but forms only later when somatic cells are committed to form gametes. Epigenetic marks gained during development or induced by environmental conditions are thus potentially heritable. Indeed, there are several examples of stably inherited epialleles in plants [8, 9] and their existence led to the hypothesis that epigenetic reprogramming might not exist in plants [2]. However, recent studies provide direct or indirect evidence for dynamic changes in histone modifications during sporogenesis [10], DNA methylation during gametogenesis [11–15], and DNA methylation during embryogenesis [16]. Thus, epigenetic reprogramming does also occur in plants, at least to a certain extent [2, 10, 17, 18]. However, these studies focused on either male or female gametogenesis or embryogenesis of flowering plants and do not provide a comprehensive view on the entire life cycle. Thus, there currently seems to be little consensus on the overall extent of epigenetic reprogramming in plants [2, 9]. Lastly, considering the different modes of sexual reproduction and different overall patterns of DNA methylation across the plant kingdom [19], it is likely that there are also differences in epigenetic reprogramming between species.
To contribute to the understanding of the extent of epigenetic reprogramming in plants, we studied the DNA methylation dynamics during the life cycle of the liverwort
Marchantia polymorpha
, a member of the probably most basal lineage of extant land plants [
20
,
21
]. Due to its phylogenetic context, simple life cycle, small genome size, the absence of evidence for ancient polyploidization, and the lack of gene duplication,
M. polymorpha
has recently received increasing attention as a model organism [
22
–
24
]. In contrast to flowering plants, the gametophyte of
M. polymorpha
represents the dominant generation, while the sporophyte is a small and ephemeral structure that completely depends on the female gametophyte for its development (Fig.
1
). Recent efforts to sequence and annotate the genome of
M. polymorpha
have further revealed that, based on the genes known in the model plant
Arabidopsis thaliana
, it contains a complete DNA methylation machinery [
25
]. The genome of
M. polymorpha
codes for five DNA methyltransferases belonging to three different classes [
25
]: the DNA METHYLTRANSFERASE family protein MpMET (maintains methylation in CG context [
2
]); the plant-specific CHROMOMETHYLASE family proteins MpCMTa and MpCMTb (de novo methylation in CHG and CHH contexts [
2
]); and the DOMAINS REARRANGED METHYLTRANSFERASE family proteins MpDRMa and MpDRMb (de novo methylation in all contexts, including CHG and CHH sites not methylated by CMT [
2
]). Given its phylogenetic position, the low complexity of its genome, and the presence of maintenance and de novo methyltransferases,
M. polymorpha
is an attractive model system to study DNA methylation dynamics throughout its life cycle.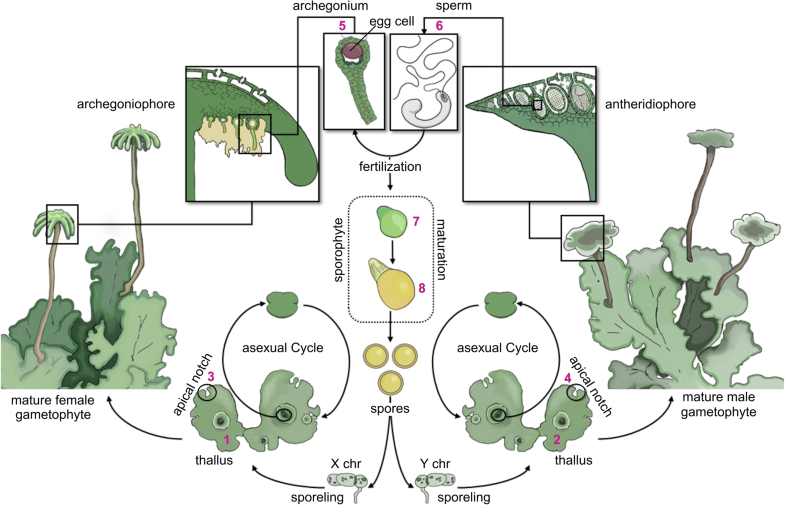 By sampling eight tissues from males and females, we provide the most comprehensive dataset on tissue-specific methylation in plants to date and show that 42% of all assessed cytosines vary significantly in their methylation pattern throughout the M. polymorpha life cycle. We identified four distinct epigenetic landscapes among these tissues and show that epigenetic reprogramming occurs at least twice, once in both the gametophytic and sporophytic generation, with each event relying on a distinct mechanism.
Conclusion
To determine the DNA methylation dynamics during the life cycle of M. polymorpha, we isolated several tissues at various developmental stages. We first characterized the DNA methylation patterns of the individual tissue types separately (Fig. 2) and then focused on the identification of DMCs to characterize the extent of DNA methylation dynamics during the M. polymorpha life cycle. DNA methylation varied greatly between the different tissue types with 42% of all tested positions being identified as DMCs. However, the differences were clearly limited to a few comparisons and suggested four major epigenetic landscapes specific to the sporophytes, the gametophytes, the antherozoids, and the archegonia (Fig. 4). DNA methylation was generally low in the gametophytes and DNA methylation dynamics during the life cycle were largely driven by a gain of DNA methylation in antherozoids and archegonia, a loss in the (early) sporophyte compared to the antherozoids and the archegonia before fertilization, and another gain during sporophyte development.
Characterization of three sets of DMCs indicative of epigenetic reprogramming, based on the fact that a gain in DNA methylation requires an active process, suggests that distinct mechanisms underlie reprogramming at different stages of M. polymorpha development (Fig. 5). DMCs with a gain in methylation in antherozoids and archegonia relative to the gametophytes showed a clear enrichment in the CG and CHG contexts and the gene bodies and gene flanking regions. In contrast, gain of DNA methylation during sporophyte development was mostly found in the CHH context, LTR retrotransposons, DNA transposons, and repeats, which partially resembled the CHH methylation pattern dynamics observed during early A. thaliana sporophyte development [16]. Some of the differences could be explained with previously published expression data [25], leading to the speculation that at least one of the CMTs present in M. polymorpha might act as a maintenance methyltransferase. However, the exact mechanisms underlying epigenetic reprogramming in the gametes and the sporophyte remain to be elucidated.
We do not know whether resetting of DNA methylation is complete or if certain positions evade erasure. An experiment including more generations and a sequencing depth reaching saturation would be required to answer these questions. Nonetheless, our study clearly demonstrates that there is extensive reprogramming in M. polymorpha and that distinct mechanisms are involved in this process in the gametophytic and the sporophytic generation. Finally, our datasets provide valuable information for in-depth studies of DNA methylation at specific genes of interest, further expanding the genomic resources of the emerging model system M. polymorpha.
Abbreviations
DMC:

Differentially methylated cytosine
FDR:

False discovery rate
LTR:

Long terminal repeat
LINE:

Long interspersed elements
RC:

Rolling circle transposon
RdDM:

RNA-directed DNA methylation
SINE:

Short interspersed elements
TE:

Transposable element, transposon
Declarations
Acknowledgements
We thank our colleagues at the JGI for providing the reference genome, annotation, and expression data; Vimal Rawat (University of Zurich) for discussions; Valeria Gagliardini for help with ddPCR; and Christof Eichenberger, Arturo Bolaños, Daniela Guthörl, Anja Frey, and Peter Kopf (University of Zurich) for general laboratory support.
Funding
Work on the M. polymorpha genome, conducted by the U.S. Department of Energy's (DOE) Joint Genome Institute (JGI), a DOE Office of Science User Facility, was supported by the Office of Science of the U.S. DOE under contract DE-AC02-05CH11231. The work on tissue specific DNA methylation was supported by the University of Zurich and, in part, by grants from Swiss National Science Foundation and the European Research Council to UG.
Authors' contributions
UG conceived and supervised the project. AGF performed the experiments. MWS performed the bulk of the data analysis with some help from AGF. DS annotated transposons and repeats. MR and JLB provided know-how and unpublished data. MWS and UG wrote the manuscript with input from the other authors. All authors read and approved the final manuscript.
Ethics approval and consent to participate
Not applicable.
Consent for publication
Not applicable.
Competing interests
The authors declare that they have no competing interests.
Publisher's Note
Springer Nature remains neutral with regard to jurisdictional claims in published maps and institutional affiliations.
Open AccessThis article is distributed under the terms of the Creative Commons Attribution 4.0 International License (http://creativecommons.org/licenses/by/4.0/), which permits unrestricted use, distribution, and reproduction in any medium, provided you give appropriate credit to the original author(s) and the source, provide a link to the Creative Commons license, and indicate if changes were made. The Creative Commons Public Domain Dedication waiver (http://creativecommons.org/publicdomain/zero/1.0/) applies to the data made available in this article, unless otherwise stated.
Authors' Affiliations
(1)
Department of Plant and Microbial Biology and Zurich-Basel Plant Science Center, University of Zurich, Zurich, Switzerland
(2)
Biological Sciences, Monash University, Clayton, Australia