The genome of the Gulf pipefish enables understanding of evolutionary innovations
Received: 11 August 2016
Accepted: 5 December 2016
Published: 20 December 2016
Abstract
Background
Evolutionary origins of derived morphologies ultimately stem from changes in protein structure, gene regulation, and gene content. A well-assembled, annotated reference genome is a central resource for pursuing these molecular phenomena underlying phenotypic evolution. We explored the genome of the Gulf pipefish (Syngnathus scovelli), which belongs to family Syngnathidae (pipefishes, seahorses, and seadragons). These fishes have dramatically derived bodies and a remarkable novelty among vertebrates, the male brood pouch.
Results
We produce a reference genome, condensed into chromosomes, for the Gulf pipefish. Gene losses and other changes have occurred in pipefish hox and dlx clusters and in the tbx and pitx gene families, candidate mechanisms for the evolution of syngnathid traits, including an elongated axis and the loss of ribs, pelvic fins, and teeth. We measure gene expression changes in pregnant versus non-pregnant brood pouch tissue and characterize the genomic organization of duplicated metalloprotease genes (patristacins) recruited into the function of this novel structure. Phylogenetic inference using ultraconserved sequences provides an alternative hypothesis for the relationship between orders Syngnathiformes and Scombriformes. Comparisons of chromosome structure among percomorphs show that chromosome number in a pipefish ancestor became reduced via chromosomal fusions.
Conclusions
The collected findings from this first syngnathid reference genome open a window into the genomic underpinnings of highly derived morphologies, demonstrating that de novo production of high quality and useful reference genomes is within reach of even small research groups.
Keywords
Syngnathus scovelli SyngnathidaeMale pregnancyGenome assemblyEvolutionDifferential expressionGene lossNovel traits
Background
Evolutionary novelties adorn the tree of life and yet their genetic origins remain a problem for biologists. The Modern Synthesis sparsely addressed novel traits but rationalized their incidence with neo-Darwinian models of gradual change via accumulation of many small-effect mutations [1]. Contemporary perspectives are more accepting of discontinuous morphological change [2], underlain by genetic changes diverse in nature. These changes may include point mutations as well as gross changes like gains and losses of genes or their regulatory elements, but the common thread is their effect on developmental systems. Indeed, the origin of novelties is now routinely viewed through the lens of evolutionary developmental biology, with an emphasis on how gene regulatory networks arise de novo or are modified from ancient ones [3] to orchestrate novel gene expression in development [4].
This modern genetic and developmental understanding of novel traits is an extremely difficult objective without quality genomic resources. Past genome sequencing efforts have been the purview of large, well-populated research communities generally focused on producing a resource beneficial for biomedical research. In the midst of the current sequencing technology revolution, however, the door is open for small research groups to produce genome resources for a variety of other questions, including those in ecology, conservation biology, evolutionary biology, and population genomics. As new evolutionary lineages are sampled, a valuable by-product is that novel reference genomes can augment the study of other existing model genomes, in the way the spotted gar (Lepisosteus oculatus) genome aids in bridging between the tetrapod and teleost model organisms [5]. We set out to genomically enable the study of novel body plan and reproductive character evolution in syngnathid fishes (pipefishes, seahorses, and seadragons) by generating a high-quality reference genome for the Gulf pipefish, Syngnathus scovelli.
Syngnathid fishes are widely recognized for their highly divergent body plans [
6
–
8
], including the elongate form of many pipefishes (Fig.
1
), the upright body axis and reduced craniovertebral angle of seahorses, and the highly cryptic morphology of the seadragons. Derived characters such as leafy appendages, prehensile tails, and bony body armor are common across the family and, in many cases, have evolved independently in multiple lineages [
6
,
8
,
9
]. A truly striking evolutionary innovation shared by all syngnathid fishes is the somatic brooding of offspring by males, crowned by those lineages that have evolved complex, pouch-like structures for the maintenance of homeostasis during pregnancy [
10
–
13
]. In total, these remarkable characters make syngnathids an exceptional clade for the study of evolutionary novelty. The Gulf pipefish represents the group well, given its recent history as a choice subject for evolutionary genetic and behavioral studies [
14
–
17
], its abundance and amenability to experimental work, and its embodiment of many of the derived syngnathid traits.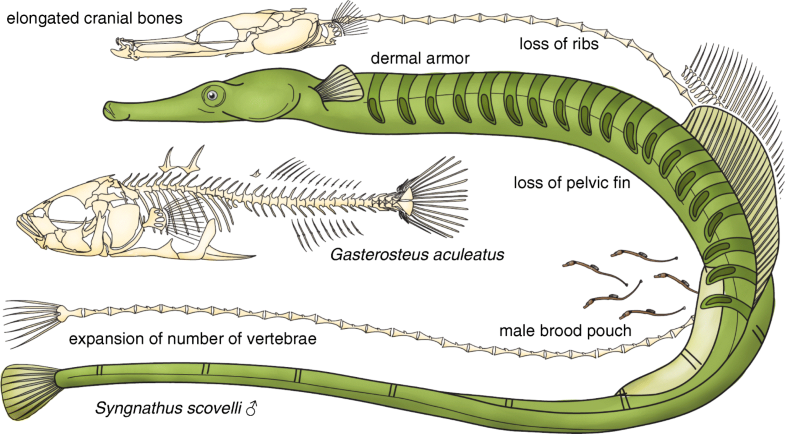 Comparative genomics and evolutionary developmental approaches to effectively study the evolution of new forms, such as the diversification of the syngnathid body plan or the origin of male pregnancy, require advanced genomic tools. The centerpiece of each toolkit is a properly assembled, well annotated genome model, which can be directly compared at the sequence and structural levels to other species and efficiently mined to design molecular tools for manipulative genetic studies. To this end, we produced an annotated chromosome-level genome model [5] for S. scovelli by integrating a 176X-coverage, short-read genome assembly with a linkage map constructed from RAD-seq markers. We used this tool to reveal features of chromosome structure evolution, to investigate pipefish lineage-specific losses of genes associated with morphological development, to infer the likely phylogenetic position of the syngnathids in the tree of ray-finned fishes, and to describe a unique cluster of tandemly duplicated patristacins [18] that demonstrate conspicuous expression changes in the brood pouch during male pregnancy. Others have reviewed the approaches best suited to small-scale genome projects [19], but our intention here is to provide a biological case study and methodological template for success, motivated by the desire to better understand how novelties arise. We expect our experiences to be of interest to similarly sized research groups ready to reap the benefits of a reference genome in their own pursuits of biological discovery.
Discussion
Despite the explosive teleost species radiation over the last 300 million years, these fishes have been conservative in karyotype evolution relative even to the much younger mammalian lineage, with the majority of teleost species having a haploid number of 24 or 25 [53]. Variations from the inferred ancestral number of 24 [26] do exist across the teleost radiation, stemming from chromosome duplications, fissions, and fusions. We have shown that two chromosomal fusions in an ancestor of Syngnathus scovelli have likely led to a haploid karyotype of 22 (Fig. 2a and b). Comparisons of sequenced genomes suggest that interchromosomal rearrangements (translocations) are relatively uncommon in teleosts [53] and this is reflected in the striking one-to-one correspondence of chromosomes across most of the genome between Gulf pipefish and other percomorphs, such as southern platyfish (Fig. 2a). The stability of teleost genomes simplifies comparisons and increases confidence in correctly determining orthology of genes and chromosome segments based on observed patterns of conserved synteny. We have exploited the exceptional conservation of synteny among sequenced teleosts to explore the evolution and behavior of genes that might play a role in syngnathid innovations.
The remarkable morphology of syngnathids was noted in "The History of Animals" by Aristotle, who construed the peculiar phenomenon of pipefish live birth as a splitting open of the body. Prior to our characterization of the Gulf pipefish genome, however, with the exception of a few transcriptomic resources [51, 52, 54], virtually no information existed for how key developmental genes and their modification might be responsible for derived syngnathid phenotypes. Now, with the availability of the genome of Syngnathus scovelli, and likely other related genomes soon to follow, we expect researchers interested in the developmental genetic underpinnings of novel vertebrate morphologies to make the critical experimental connections between genomic differences in syngnathids and their functional consequences. In anticipation of exciting functional genomics work enabled by the latest genome editing approaches [55, 56], here we highlight a few especially promising examples of molecular signatures with implications for hallmark traits of pipefishes, seahorses, and their relatives.
We explored the constitution of the syngnathid hox genes because these Vertebrate Hox clusters are tandem arrays of transcription factor genes with many developmental roles, including segmental identity in the axis and in limb morphogenesis (reviewed in [36, 57]). Our investigation of Gulf pipefish hox cluster content revealed that the evolution of an elongated, ribless body was not accompanied by drastic reorganization of the hox genes. While there are multiple losses of pipefish hox genes and the hox-regulating microRNA genes that are interspersed among them, many of these same genes have been lost from other percomorphs that have less modified skeletons (Fig. 4).
Two gene losses from the Gulf pipefish hox clusters stand out, however. The loss of eve1 is unique among described teleost hox clusters. This gene belongs to the evenskipped (evx) gene family, whose members reside at the ends of particular clusters. In zebrafish embryogenesis, the hoxba cluster-associated eve1 gene is expressed during gastrulation and in the extending tail tip; its knockdown suppresses trunk and tail development, prompting the experimentalists to suggest eve1 acts as a posterior organizer [58] (but see [59] for another interpretation). It is therefore remarkable that eve1 is deleted in pipefish (Fig. 4). It is possible that some of these early ontogenetic functions of eve1 have been distributed to the remaining two pipefish evx genes or otherwise compensated for. However, syngnathids have neither oral nor pharyngeal teeth, consistent with evolutionary loss of eve1, the only reported evx gene that is expressed during teleost tooth development [60, 61]. In addition, it appears that pufferfish and pipefish lineages have independently lost all copies of hox7, a paralogy group that when experimentally knocked out in mouse causes reduction and mispatterning of ribs [62]; consistent with this biological role for hox7, both pufferfish and pipefish lack ribs.
A uniting trait of the Syngnathidae is an absence of pelvic fins. Two other percomorphs that have evolutionarily lost pelvic fins appear to have done so by alteration of a hindlimb-positioning hoxd9a expression boundary (pufferfish [63]) or by loss of pitx1 expression in the developing hindlimb (freshwater threespine stickleback [64, 65]). Pitx1, a transcription factor, directly activates initial expression of tbx4 in the hindlimb primordium [66] and tbx4 is required for initial limb bud outgrowth [67]. We found that pipefish pitx1 has an amino acid insertion in the OAR, a functional domain thought to modulate DNA binding [68], and unusual homopolymeric alanine and proline repeat expansions between the homeodomain and OAR (Fig. 6). Homopolymers are known to cause several developmental diseases in humans (reviewed in [69]) and to affect subcellular localization, protein-protein interaction, and transcriptional regulation [70, 71]. In particular, expansions of alanine and proline homopolymers within transcription factors can modulate the proteins' ability to regulate transcription of gene targets. A distantly related pipefish species, the messmate pipefish, shares one of the homopolymeric repeats (Fig. 6), suggesting that this divergence of pitx1 began early in the syngnathid lineage. It is conceivable that changes in the amino acid sequence of syngnathid Pitx1 have had functional consequences for the protein's interaction with its gene targets (such as tbx4), affecting hindlimb development. We found no pipefish ortholog of tbx4. Failure to find pipefish tbx4 in the genome assembly does not necessarily mean the gene has been evolutionarily lost; however, the possible loss of this gene with an apparently narrow developmental role in teleosts – in hindlimb development [46] – is consistent with the evolutionary loss of the hindlimb itself in syngnathids. Loss of the pelvic fins in a syngnathid ancestor may have occurred shortly before or after the origin of the lineage, because the closest extant relatives – the ghost pipefishes (Family Solenostomidae) [72, 73] – have large, clasping pelvic fins in which females brood the embryos [74]. Interestingly, Pitx1 in robust ghost pipefish (Solenostomus cyanopterus) lacks the homopolymeric repeats described above (Fig. 6).
A family of homeodomain transcription factors important for limb, brain, and craniofacial development, the Dlx genes, are arranged in gene pairs associated with specific Hox clusters. Within and near the Dlx gene pairs are CNEs recognizable by alignment among sequences from even distantly related vertebrates. Several teleost dlx clusters, for example, have CNEs in common with mammals [40, 75]. Putatively these CNEs are preserved because they have a function, perhaps in regulating gene expression of the dlx genes themselves. For instance, two CNEs that fall between dlx1 and dlx2 and that are conserved between teleosts and mammals direct reporter gene expression in the developing forebrain and first and second pharyngeal arches in murine [43] and in zebrafish [75] embryos. We found that pipefish has retained these two ancient CNEs but has apparently lost a third element that is as deeply conserved (i.e. between mammals and teleosts), from within an intron of dlx1a. In addition, at least two more CNEs in the intergenic region of dlx1/2a that are conserved among other percomorphs are lost or diverged beyond recognition in pipefish (Fig. 5). Experimental mutation of mouse Dlx1/2 genes creates defects in the development of pharyngeal arch derivatives, such as the mandible and teeth [76]. Knockdown of these genes in zebrafish causes embryos with shortened faces and mispatterning of first and second arch cartilages and a reduced ethmoid (a cartilage of the ventral neurocranium) [77]. In addition, dlx2 genes are expressed in developing teeth in cichlids, catfish, and cyprinids [78–80], and dlx2a is expressed in migrating neural crest that will form the anterior pharyngeal arch cartilages [77, 81]. Pipefish embryos show modified development of the anterior skull including cartilage derivatives of the first and second pharyngeal arches, particularly elongation of the hyosymplectic (a cartilage of the second arch), as well as unusual early curvature and later elongation of the ethmoid cartilage (see Additional file 1: Figure S7 for a view of pipefish craniofacial development), implicating changes in expression of early acting genes such as dlx2a, involved in cranial neural crest survival and patterning. Functional testing in other teleosts could reveal whether the CNEs here shown to be erased in pipefish are functional units that modulate expression of the dlx1/2a cluster genes and possibly affect pharyngeal arch or tooth development.
Male pregnancy in syngnathid fishes is a true example of evolutionary novelty. In many lineages, including S. scovelli, males gestate developing embryos in a tightly regulated environment defined by a complex brood pouch. Extensive cellular and developmental changes in the pouch occur leading up to and during pregnancy, including proliferation of epithelial cells, development of specialized secretory cells, and angiogenesis [10, 82, 83]. These specializations are likely the consequence of adaptation, as they enable functions directly relevant to fitness, including solute, gas, and nutrient delivery to a male's brood [12, 13, 84], as well as immune priming of offspring [85]. Consistent with this functional diversity, our genome-based analysis of male pregnancy in S. scovelli revealed a transcriptionally rich brood pouch in which over 73% of annotated genes were expressed robustly and over 1000 were differentially expressed as a consequence of pregnancy (Additional file 2: SH2). Previous studies, based on de novo transcriptome assemblies, characterized pregnancy-specific gene expression in pipefish species of Syngnathus [52] and in the seahorse Hippocampus abdominalis [54], but lack of a reference genome in those surveys limited insights into the transcriptional breadth of the pouch and single gene resolution for transcript abundance measurements. Our differential expression analysis comparing early-stage pregnant to non-pregnant male pouch tissue echoes many of the patterns described in the comprehensive seahorse study [54], including evidence for positive regulation of developmental processes, lipid transport, homeostasis, and the immune system during pregnancy. Interestingly, we noted a more pronounced signature of pregnancy-specific gene expression for innate, relative to adaptive, immune pathways in Gulf pipefish (Additional file 1: Figure S6). This observation is likely in part a consequence of pipefishes in Syngnathus having lost important genetic components of MHC class II mediated immunity [51], although MHC class I components remain intact. Syngnathid fathers face unique demands with respect to immunity and pregnancy, given that the brood pouch is a non-urogenital organ more directly exposed to the environment than internal uterine structures of other vertebrates. A seemingly difficult balance among pathogen control, maintenance of beneficial microbes, and mitigation of attack against non-self (embryonic) tissues must therefore be struck. Although future work regarding the details of this balance will be required to say so, perhaps a uniquely fine-tuned division of labor between innate and adaptive immunity has been an evolutionary outcome of male pregnancy, a balance we hypothesize differs across syngnathid lineages with varying brood pouch complexity.
The significance of gene duplication to adaptation and biological diversification in general is continually of interest to evolutionary biologists [86–88]. We identified at least four clustered members of the patristacin gene subfamily on a single scaffold of LG4 in the Gulf pipefish genome (Fig. 7). Given the striking patterns of gene expression for pastn1 and pastn2 with respect to pregnancy, it is possible that gene duplication followed by neo- or subfunctionalization played a key role in the evolution of male pregnancy, although surveys of other syngnathid genomes and those of their closest relatives are needed to test this hypothesis. Our interpretation of the evolution of patristacins is distinct from that of Harlin-Cognato et al. [18], who suggested that one patristacin, identified without the advantage of a complete S. scovelli genome, took on a novel role in male pregnancy by a spatiotemporal shift in gene expression and not via gene duplication. Our genome-wide approach has provided additional information, however, by revealing the complete coding sequence for multiple patristacin paralogs in S. scovelli. Because the two patristacins with exceptional pregnancy-specific gene expression (pastn1 and pastn2) likely diverged by gene duplication after pipefish separated from the other fish lineages in our comparison, we provide evidence for a role of relatively recent gene duplication in patristacin evolution. Our phylogenetic analysis highlights a second, large expansion of patristacin-like genes in the genome of Xiphophorus maculatus, suggestive of high duplicate retention in multiple live-bearing fish lineages.
The specific functional roles patristacins play in male pregnancy are currently unknown, but our current phylogenetic understanding of their place among teleost Astacin-like metalloproteases suggests that they may be more functionally similar to Nephrosin-like proteins than hatching enzyme components (Fig. 7a, Additional file 1: Figure S8). Kawaguchi et al. [89] showed, for example, that medaka 6-cysteine astacin genes mc6ast1 and mc6ast2, orthologs of zebrafish c6ast1 and zebrafish c6ast3/4, respectively, were expressed in a wide range of tissues, in contrast to medaka hatching enzymes, which were expressed exclusively in pre-hatching embryos. Another member of this gene subclade, cimp1, is expressed epithelially in the developing cichlid jaw and may play a role in ECM turnover during development [90]. We hypothesize that patristacins evolved from an already transcriptionally promiscuous ancestor and now, following subsequent duplication events, work in concert to regulate the remodeling of the pouch epithelium necessary for the sustenance of pregnancy. Our characterization here of their structural organization and expression patterns in the brood pouch will inform and facilitate future functional studies of these gene duplicates and their specific roles in male pregnancy.
Conclusions
We present the first annotated reference genome assembly, organized into chromosomes, for a syngnathid fish. Our comparisons of the Gulf pipefish genome to other fish genomes reveal two chromosomal fusions in the syngnathid lineage. We provide additional evidence suggesting that syngnathiform fishes are an outgroup relative to fellow percomorph fishes commonly used in comparative genomics studies. The Gulf pipefish genome will therefore serve as a useful comparator in studies that aim to understand rates of genome evolution among percomorphs for which there are existing genomic resources. We show that losses of both genes and CNEs have occurred in pipefish gene families important for vertebrate craniofacial, tooth, hindlimb, and axial development, all features that are highly modified in syngnathids. In addition, we detail aspects of the molecular biology of male pregnancy, a unique and unifying feature of the pipefish, seahorses, and seadragons; in particular, we exploited the annotated Gulf pipefish genome and transcriptional profiling to show how pregnancy is associated with clear changes in gene expression in the male brood pouch tissue, a broad example being regulation of the innate immune system and a specific example being regulation of duplicated patristacins.
Declarations
Acknowledgements
We thank Ingo Braasch and John Postlethwait for helpful comments early in the project, Mark Currey, Emily Buck, and Nicole Nishimura for laboratory help, Jason Sydes for bioinformatic help, and John Willis, Sarah Flanagan, and Thomas Desvignes for technical consultation. Paula Carlson (Dallas World Aquarium) and Atsushi Sogabe kindly assisted with acquisition of S. robustus and C. haematopterus specimens.
Funding
This work was funded by an NSF EAGER grant (DEB-1038587) to WAC, an NIH R24 (RR032670) to WAC et al., an NSF grant (DEB-1119261) to AGJ, and an NSF DDIG (DEB-1110709) to CMS and AGJ. CMS was also supported by NIH grant P50GM098911 to WAC et al. AA was also supported in part by NIH R01 (R01OD011116) to J. Postlethwait. SB and JC were supported by NIH NRSA fellowships (F32 GM078949) and (F32GM095213), respectively.
Availability of data and materials
Upon publication, all raw sequencing data described in this study will be available via the NCBI Sequencing Read Archive (SRA) through BioProject ID PRJNA355893 and BioSample accessions SAMN06094711, SAMN06094712, SAMN06094713, SAMN06094714, SAMN06094715, and SAMN06094716. Additional files necessary for understanding the structure and content of the S. scovelli genome (e.g. assembly, annotation, map, etc.) will be hosted by the Cresko Lab web server (http://creskolab.uoregon.edu).
Authors' contributions
CMS, SB, and JC are equal co-authors. SB and WAC initiated the project. CMS, SB, AGJ, and WAC obtained funding. CMS, SB, JC, AGJ, and WAC designed the project; CMS, SB, and JC wrote the manuscript; CMS, SB, JC, RB, and AF produced sequencing libraries and/or produced gene annotations; CMS, JC, and AF performed genome assemblies; CMS, SB, JC, AA, and AF analyzed genomic, genetic map, and/or RNA-seq data; JC wrote custom software; RB performed morphological analysis of embryos; AGJ and WAC commented on the manuscript. WAC supervised the overall progress of the project. All authors read and approved the final manuscript.
Competing interests
The authors declare that they have no competing interests.
Consent for publication
Not applicable.
Ethics approval and consent to participate
All research protocols involving live fish were approved by the Texas A&M University and University of Oregon Institutional Animal Care and Use Committees (2011-51 and 13-07, respectively).
Open AccessThis article is distributed under the terms of the Creative Commons Attribution 4.0 International License (http://creativecommons.org/licenses/by/4.0/), which permits unrestricted use, distribution, and reproduction in any medium, provided you give appropriate credit to the original author(s) and the source, provide a link to the Creative Commons license, and indicate if changes were made. The Creative Commons Public Domain Dedication waiver (http://creativecommons.org/publicdomain/zero/1.0/) applies to the data made available in this article, unless otherwise stated.
Authors' Affiliations
(1)
Institute of Ecology and Evolution, University of Oregon, Eugene, USA
(2)
Present address: Department of Animal Biology, University of Illinois at Urbana-Champaign, Urbana, USA
(3)
Institute of Neuroscience, University of Oregon, Eugene, USA
(4)
Present address: Oregon Health & Science University, Portland, USA
(5)
Department of Biology, Texas A&M University, College Station, USA