A comprehensive study of the genomic differentiation between temperate Dent and Flint maize
Received: 16 December 2015
Accepted: 15 June 2016
Published: 8 July 2016
Abstract
Background
Dent and Flint represent two major germplasm pools exploited in maize breeding. Several traits differentiate the two pools, like cold tolerance, early vigor, and flowering time. A comparative investigation of their genomic architecture relevant for quantitative trait expression has not been reported so far. Understanding the genomic differences between germplasm pools may contribute to a better understanding of the complementarity in heterotic patterns exploited in hybrid breeding and of mechanisms involved in adaptation to different environments.
Results
We perform whole-genome screens for signatures of selection specific to temperate Dent and Flint maize by comparing high-density genotyping data of 70 American and European Dent and 66 European Flint inbred lines. We find 2.2 % and 1.4 % of the genes are under selective pressure, respectively, and identify candidate genes associated with agronomic traits known to differ between the two pools. Taking flowering time as an example for the differentiation between Dent and Flint, we investigate candidate genes involved in the flowering network by phenotypic analyses in a Dent–Flint introgression library and find that the Flint haplotypes of the candidates promote earlier flowering. Within the flowering network, the majority of Flint candidates are associated with endogenous pathways in contrast to Dent candidate genes, which are mainly involved in response to environmental factors like light and photoperiod. The diversity patterns of the candidates in a unique panel of more than 900 individuals from 38 European landraces indicate a major contribution of landraces from France, Germany, and Spain to the candidate gene diversity of the Flint elite lines.
Conclusions
In this study, we report the investigation of pool-specific differences between temperate Dent and Flint on a genome-wide scale. The identified candidate genes represent a promising source for the functional investigation of pool-specific haplotypes in different genetic backgrounds and for the evaluation of their potential for future crop improvement like the adaptation to specific environments.
Keywords
MaizeFlintDentSelectionPopulation geneticsGenomicsGenome-wide screenLandraces
Background
Maize is one of the world's major staple crops but considerable concern is arising that ongoing anthropogenic global warming will have drastic effects on maize production and might result in a reduction of up to 10 % in yield in the near future [
1
]. Expanding production areas to higher latitudes could moderate the effect, but this would require the adaptation of breeding material to shorter vegetation periods. Breeders can cope with this challenge by taking advantage of the tremendous genetic diversity of maize that is available in different temperate breeding pools. Two of the major pools exploited in breeding are the Dent and Flint germplasm pools with their names referring to different kernel phenotypes [
2
]. Dents have characteristic indented kernels with high soft starch content, whereas Flints have kernels with a thick, hard, and vitreous outer layer (Fig.
1a
). The genetic divergence of these two pools can be explained by their historic geographical separation [
3
] and adaptation to different environments. Among all maize germplasm, Northern Flints reached the highest latitudes like the northern regions of the U.S. and Canada, which required selection for early maturity and cold tolerance [
3
]. These Northern Flints, together with Caribbean germplasm, were major progenitors of European maize and enabled the rapid adaptation to European climates [
4
]. Especially in cooler regions of Europe, breeding programs exploit heterotic effects between Dent lines tracing back to U.S. Corn Belt Dents and Flint lines, with Flint contributing early vigor and good cold tolerance and Dent contributing high productivity to the hybrids. The divergence of the Dent and Flint germplasm pools has been described in diversity studies based on molecular markers [
5
] and also in genetic studies mapping quantitative trait loci (QTL) underlying agronomic traits. A recent study utilizing Dent and Flint nested association mapping (NAM) populations [
6
] found little overlap of QTL for five complex traits between the two pools [
7
]. Although QTL mapping is a useful tool to elucidate the genetic architecture of phenotypic traits, it can only unravel genomic regions for which the genetic material under study is segregating, whereas regions under selection can be missed in case of near or complete fixation. Thus, alternative approaches are needed to investigate the divergence of Dent and Flint on a genomic level and to further elucidate how selection shaped the pool-specific genomic diversity.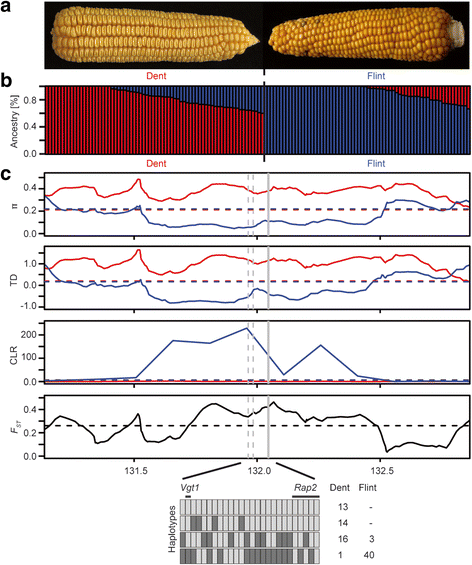 Selection creates specific patterns of diversity in the genome [8] and these signatures can be used for the detection of regions under selection. When a favorable, new (derived compared to the ancestral) allele rises in frequency within a population, selective sweeps are generated, which are characterized by a local reduction in nucleotide diversity and high derived allele frequencies [9–11]. In addition, strong and recent sweeps will display large blocks with high linkage disequilibrium surrounding the derived mutation as the dispersal of the new allele will be faster than recombination is able to break down linkage disequilibrium [12, 13]. The identification of selection signatures through genome-wide screens provides an efficient way to detect selection candidates and methods for their detection are often combined to reduce the number of false-positives [14–16]. In maize, genome-wide screens for selection signatures were successfully applied to identify genes involved in domestication and improvement and allowed insights into evolutionary processes shaping the genome diversity of maize [17–20]. Taking advantage of the characteristics of selective sweeps and using high-density genotyping data from a maize 600 k single nucleotide polymorphism (SNP) array [21], we screened a panel of 136 temperate Dent and Flint elite lines for extreme allele frequencies over extended linked sites to identify genomic regions under selective pressure and to gain insights into the genomic variation underlying the differentiation of Dent and Flint. We included outgroup information from Sorghum bicolor to further support the identified candidate genes based on derived allele frequencies. We furthermore investigated the candidate genes based on whole-genome sequence data of 40 Dent and Flint lines [21, 22] and examined if genic and upstream regions contributed equally to the differentiation between temperate Dent and Flint.
The elite line panel under study comprised frequently used and important founder lines exploited in breeding programs for temperate climates. The Dent lines in our panel represent U.S. Corn Belt and European material, whereas most of the Flint lines originated from European breeding programs. Based on the selection screens, we examined pool-specific enrichment of candidate genes for metabolic pathways and investigated candidates associated with traits that are known to differentiate Dent and Flint like cold tolerance and flowering time [23, 24]. Flowering time is essential for local adaptation and represents a major determinant for other agronomic traits, such as grain filling and yield. The complex genetic architecture of flowering time has been studied in maize in a large number of studies mapping QTL with a meta-QTL analysis revealing 62 flowering time consensus QTL [25]. Phenotypic differences in maize flowering time are mainly caused by the accumulation of many small-effect QTL [26] and only a few large-effect genes have been characterized so far [27–30]. Hundreds of homologs to A. thaliana flowering time genes have been found in the maize genome [31], but in most cases their functional roles in the maize flowering network remain to be elucidated [25, 26, 29, 32–37]. In this study, we identified candidate genes from the flowering network with haplotypes near fixation or fixed in either of the two elite pools. We used this set of genes as an example to characterize genomic differentiation between Dent and Flint in more detail. We evaluated the effect of these genes on flowering time in a Dent–Flint introgression library and investigated their assignment to different pathways within the flowering network. To assess the congruency of the allelic composition of the candidate genes between elite lines and landraces, we expanded our candidate gene analysis to a large dataset of 38 European landraces that comprises more than 900 individuals. By exploring this unique resource, we gained insights into the genetic variation of the selection candidates between landraces and elite lines and investigated, which landraces likely contributed to the observed candidate gene diversity in the elite lines and if haplotypes not yet exploited in breeding could be detected. Taken together, our study allowed insights into patterns of differentiation between temperate Dent and Flint germplasm and provided candidates for follow-up studies to characterize their biological and molecular functions, to investigate their impact on phenotypes, and to assess their potential use for further crop improvement.
Conclusions
In this study, we report genomic differentiation between two major temperate maize germplasm pools, Dent and Flint. By comparing a representative panel of Dent and Flint elite lines, we identified candidate genes under differential selective pressure in Dent and Flint. The significant enrichment in derived allele frequencies for these genes provided strong indication that the candidate regions represented selective sweeps. Candidate genes associated with agronomic traits known to differ between Dent and Flint could be identified. Most of the detected flowering time candidates have not yet been functionally characterized in maize. Investigating the effect of the flowering time candidates in a Dent–Flint introgression library, we found that Flint haplotypes of these candidates promoted earlier flowering. Within the flowering network of maize, a Flint-specific enrichment of genes associated with endogenous signaling, hormone-dependent pathways, and developmental processes was discovered in contrast to Dent, where selection seemed to act predominantly on genes involved in the response to environmental factors. Low levels of differentiation of Flint flowering time candidate genes between European Flint elite lines and European landraces indicated that the allelic composition of the elite lines was comparable to those of the Flint-type landraces and suggested a major contribution of landraces from France, Germany, and Spain to the candidate gene diversity in the Flint elite lines. Our findings highlight the role of genomic regions that have undergone intense selection and contributed to the differentiation of temperate Dent and Flint with likely effects on different agronomic traits. The identification of pool-specific selection signatures enabled insights into different patterns of diversity between temperate Dent and Flint and provides new targets for future functional analyses and crop improvement.
Declarations
Acknowledgements
We are grateful to Angel Alvarez (CSIC, Estación Experimental de Aula Dei, Zaragoza, Spain), Alain Charcosset (INRA, UMR de Génétique Quantitative et Evolution, Gif-Sur-Yvette, France), Barbara Eder and Joachim Eder (Bavarian State Research Center, Institute for Crop Science and Plant Breeding, Freising, Germany), Albrecht E. Melchinger (University of Hohenheim, Institute of Plant Breeding, Seed Science and Population Genetics, Stuttgart, Germany), Mark J. Millard (USDA-ARS, Ames, USA), Jesús Moreno González (CIAM, A Coruña, Spain), Rita Redaelli (CRA-MAC Maize Research Unit, Bergamo, Italy), Pedro Revilla (CSIC, Pontevedra, Spain), and Anne Zanetto (INRA, UE de Melgueil DiaScope, Mauguio, France) for providing elite line and/or landrace seeds. The original introgression library was kindly provided by Milena Ouzunova and Thomas Presterl (KWS SAAT SE, Einbeck, Germany). We thank Manfred Schönleben for his help with field trials and their analysis and Stefan Schwertfirm for his technical assistance, as well as Ruedi Fries (Technical University of Munich, Animal Breeding, Freising, Germany) for providing genotyping facilities. Furthermore, we thank our colleagues from the University of Hohenheim for kindly providing pictures of maize cobs and Joachim Hermisson (University of Vienna, Mathematics and BioSciences Group, Vienna, Austria) for fruitful discussions and helpful remarks during a research stay of SU in Vienna. We thank three anonymous reviewers for their valuable comments and suggestions.
Funding
This study was funded by the Federal Ministry of Education and Research (BMBF, Germany) within the AgroClustEr Synbreed - Synergistic plant and animal breeding (grant 0315528) and by the Spanish Ministry of Economy and Competitiveness (project RF2011-00022-C02-01 "Regeneration and rationalization of the maize landraces from the Iberian Peninsula"). Bernardo Ordas acknowledges a grant from the program "Ramón y Cajal" of the Spanish Ministry of Economy and Competitiveness.
Availability of data and materials
Genotype calls for elite lines and landraces are available at NCBI dbSNP upon Build B149 under accession number ss1998449529 to ss1999065412 and ss1999065413 to ss1999681296, respectively. Whole-genome sequence data for 30 elite lines are available under accession number PRJNA260788 at the NCBI BioProject webpage and the combined and filtered VCF file of whole-genome sequence data for 30 elite lines and the ten lines from the maize HapMap2 project [17, 22] are available at NCBI dbSNP under accession number ss1999681297 to ss2012927636 (upon Build B149). All three datasets are available at https://dx.doi.org/10.6084/m9.figshare.3427040.v1.
Authors' contributions
CCS, EB, AT, and SU conceived the study and discussed the results; SU investigated genotypic and outgroup data; SU and MM analyzed genotypic data of landraces; MAS, GH, and KFXM carried out variant calling; SP extracted ancestral allele information; RP, SP, and SU performed sequence analyses; PW conducted the introgression library experiments; SU and EB investigated the introgression library data; BO contributed part of the Spanish landrace data; HP performed genotyping of elite lines and landraces; SU drafted the manuscript; EB, CCS, and AT edited the manuscript; all authors read and approved the final manuscript.
Competing interests
The authors declare that they have no competing interests.
Ethics approval and consent to participate
Not applicable.
Open AccessThis article is distributed under the terms of the Creative Commons Attribution 4.0 International License (http://creativecommons.org/licenses/by/4.0/), which permits unrestricted use, distribution, and reproduction in any medium, provided you give appropriate credit to the original author(s) and the source, provide a link to the Creative Commons license, and indicate if changes were made. The Creative Commons Public Domain Dedication waiver (http://creativecommons.org/publicdomain/zero/1.0/) applies to the data made available in this article, unless otherwise stated.
Authors' Affiliations
(1)
Plant Breeding, TUM School of Life Sciences Weihenstephan, Technical University of Munich, Freising, Germany
(2)
Section of Population Genetics, TUM School of Life Sciences Weihenstephan, Technical University of Munich, Freising, Germany
(3)
Present Address: Institute for Crop Science and Plant Breeding, Bavarian State Research Center, Freising, Germany
(4)
Plant Genome and System Biology, Helmholtz Zentrum München, Neuherberg, Germany
(5)
Misión Biológica de Galicia, Spanish National Research Council (CSIC), Pontevedra, Spain
(6)
Animal Breeding, TUM School of Life Sciences Weihenstephan, Technical University of Munich, Freising, Germany