Schmutzi: estimation of contamination and endogenous mitochondrial consensus calling for ancient DNA
Received: 9 June 2015
Accepted: 10 September 2015
Published: 12 October 2015
Abstract
Ancient DNA is typically highly degraded with appreciable cytosine deamination, and contamination with present-day DNA often complicates the identification of endogenous molecules. Together, these factors impede accurate assembly of the endogenous ancient mitochondrial genome. We present schmutzi, an iterative approach to jointly estimate present-day human contamination in ancient human DNA datasets and reconstruct the endogenous mitochondrial genome. By using sequence deamination patterns and fragment length distributions, schmutzi accurately reconstructs the endogenous mitochondrial genome sequence even when contamination exceeds 50 %. Given sufficient coverage, schmutzi also produces reliable estimates of contamination across a range of contamination rates. Availability: https://bioinf.eva.mpg.de/schmutzi/ license:GPLv3.
Keywords
Mitochondrial GenomeSequencing ErrorContamination RateMitochondrial Genome SequenceDiagnostic Position
Introduction
Advances in sequencing and improved methods for the extraction of ancient DNA (aDNA) have enabled the study of ancient genomes. However, many computational hurdles remain in the analysis of aDNA. After the death of an organism, the endogenous DNA begins to degrade and accumulates chemical damage. aDNA molecules, therefore, tend to be quite short, typically less than 60 bases in length [1], and carry uracils as a result of cytosine deamination. Deaminated cytosines are misread as thymines during sequencing and lead to the characteristic increase in frequency of cytosine to thymine transitions near the ends of ancient molecules [2]. Further, when extracting DNA from ancient human remains, microbial DNA often forms the bulk of all recoverable fragments [3], which, together with contaminating DNA from individuals who handled the ancient sample, is sequenced along with the endogenous DNA [4]. While bacterial sequences do not typically align to the human reference genome, present-day human contaminants will align together with the endogenous DNA fragments. The presence of contaminant fragments affects both consensus calling and genotyping, and the resulting errors may influence comparisons to present-day humans including the calculations of genotype likelihoods, divergence times, population genetics parameters and phylogenetic reconstructions [5, 6].
Previous approaches to reconstructing ancient mitochondrial genomes include the mapping iterative assembler (MIA), which iteratively calls a consensus from the DNA fragments [
7
]. When contamination is high (e.g., >30 %), calling the consensus sequence of the endogenous mitochondrial genome without removing contaminant fragments is likely to result in an incorrect sequence (see Fig.
1
). Because ancient endogenous DNA is more likely to be deaminated than the contaminant DNA from present-day humans [
8
], some studies have restricted the analyses to fragments carrying deaminated cytosines [
9
,
10
]. However, using only deaminated fragments reduces the amount of data available for many ancient samples.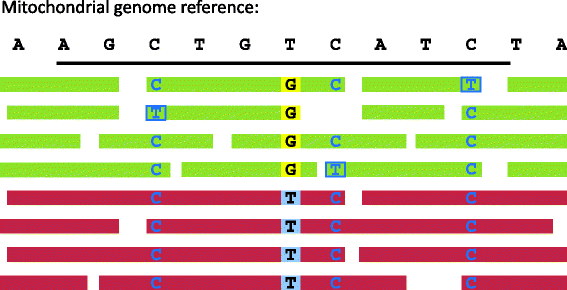 Due to these issues, research groups have generally prioritized samples with low levels of present-day human contamination. To date, methods to quantify present-day human mitochondrial contamination have relied on the presence of fixed differences between the mitochondrial genomes of archaic and modern humans [11, 12]. This works well when analyzing the genomes of Neanderthals and Denisovans, but early modern human genomes typically carry too few fixed differences to permit a robust estimate of contamination. For early modern humans, various groups have, therefore, relied on sites in the ancient sample that differ from a large dataset of present-day human mitochondrial sequences [13]. Additionally, a maximum-likelihood approach, which co-estimates sequencing error rates and contamination, has been applied to sequences originating from both early modern humans and archaic humans [14]. Deamination patterns have also been used to estimate contamination from present-day humans in mitochondrial DNA [10]. Software tools are available to measure overall deamination [15], identify the endogenous template [16], isolate deaminated fragments [9] and perform nuclear contamination estimates based on the X-chromosome [17]. However, there is currently no software for estimating mitochondrial contamination, which has been thoroughly tested to ascertain its accuracy, available for download for the aDNA research community.
We developed schmutzi, an iterative approach to assembling the endogenous mitochondrial genome while simultaneously estimating present-day human mitochondrial contamination in archaic and early modern human aDNA datasets. Our approach to determining the endogenous mitochondrial genome sequence relies on distinguishing the endogenous and the contaminant nucleotides, given a prior on: contamination, deamination frequency and length distribution of the fragments. Contamination is estimated using single nucleotide differences between the endogenous mtDNA sequence and a database of potential contaminant mitochondrial genomes. The consensus calling and contamination estimation are run iteratively until a stable contamination rate estimate is reached.
Schmutzi was tested on both simulated and empirical data. Our results show that schmutzi outperforms currently available methods in terms of accuracy of the endogenous call and contamination estimate, particularly at high levels of contamination. An open-source implementation of schmutzi in C++ has been released under the GPLv3.0 and is freely available together with the test datasets that were used [18]. On a desktop computer, schmutzi requires between 1 and 3 hours to reach convergence for approximately 1 million fragments aligned to the mitochondrial reference genome. Faster run times (∼30 minutes) can be achieved using multi-core systems.
Results
Schmutzi iteratively calls (i) the endogenous mitochondrial consensus sequence and (ii) a contamination estimate using two linked software programs (Fig.
2
). The input for endoCaller, the consensus caller, is a set of aDNA sequences aligned to a mitochondrial genome reference, a contamination prior and deamination rates for the potentially endogenous and potentially contaminating DNA fragments. In the first iteration, the deamination rates and the prior for contamination are obtained using contDeam, a third sub-program of the schmutzi package (Fig.
2
). contDeam implements a methodology described in previous studies [
10
], but incorporates some additional information including base quality and mapping quality into a Bayesian framework. An underlying assumption is that the base qualities are reasonably representative of the sequencing error probability. Recent versions of the default Illumina base caller, Bustard, provide such accuracy. The inputs for the contamination estimator, mtCont, are the same set of aligned fragments (in BAM format) that were used as input for contDeam, the endogenous consensus sequence determined by endoCaller, and a database of potential contaminant mitochondrial genomes. endoCaller, contDeam and mtCont can also be used as standalone applications. Each component program uses a Bayesian maximum a posteriori algorithm to estimate the most probable model parameters given the data. A list of the inputs and outputs for each of the three main programs, which are described in more detail in the sections below, is presented in Table
1
.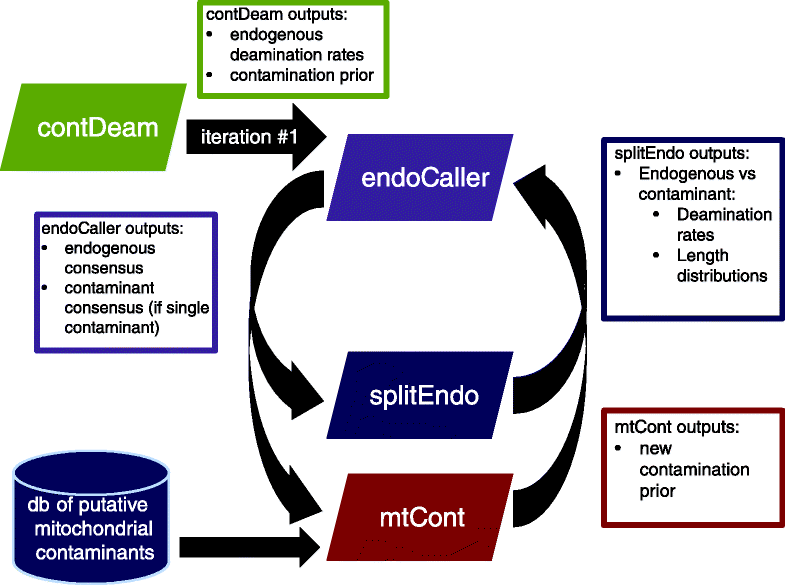 Table 1
Inputs and outputs for the different programs described in 'Methods'. Overview of the three main programs, contDeam, endoCaller and mtCont, with the helper program splitEndo for the iterative mode
| Program | Input | Output |
| --- | --- | --- |
| contDeam | BF | CRDP, EDR |
| endoCaller | BF, EDR, CP, DFL | EB |
| mtCont | BF, EDR, DB, EB | CRDB, CS |
| splitEndo | BF, EB | EDR, DFL |
We tested the performance of each of the component programs and of the iterative function, using both simulated and empirical data. For simulations, we used mitochondrial sequences from an early modern human, a Neanderthal and a Denisovan as the endogenous genomes and a present-day human as the contaminant genome. We also tested the performance on a number of previously published aDNA datasets [12, 19–21]. Further details about the test data can be found in 'Methods'.
Endogenous consensus calling
Simulated data
We ran schmutzi on simulated datasets created for three archaic genomes, each with increasing levels of present-day human contamination, and compared the endogenous and the contaminant genome sequences inferred by schmutzi to the published mitochondrial genome sequences for each individual (see Fig.
3
). We also compared the endogenous consensus produced by (i) schmutzi, (ii) simply calling a consensus from all fragments using htslib and (iii) calling a consensus from fragments identified as deaminated by PMDtools. A Neanderthal was used as the endogenous mitochondrion and various levels of present-day human contamination were simulated. The mitochondrial sequences obtained using all three approaches to call the consensus were not considerably different (<1 %) at low levels of contamination (see Table
2
). In contrast, at higher levels of contamination (>20 %), using only the deaminated reads reduces false calls by bases from present-day human contamination. However, schmutzi, which uses all the reads and includes additional sources of information such as fragment length and a contamination prior, prevents false calls that are due to the presence of present-day human contamination. For the remaining simulations, a Denisovan, Neanderthal or early modern human was used as the endogenous genome, with either single- or double-stranded deamination patterns. The accuracy of the consensus sequences generated by schmutzi and by other computational methods to the published reference sequences is presented in Additional file
1
: Tables S9–S14.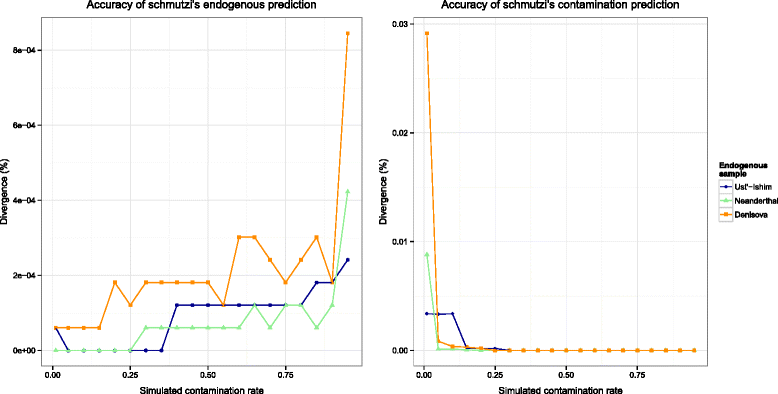 Table 2
Similarity of the predicted endogenous mitochondrial genome sequence to the original Neanderthal reference sequence, at various rates of simulated contamination with present-day human DNA. An endogenous consensus call was performed using schmutzi on all fragments, and using PMDtools followed by htslib on the fragments labeled by PMDtools as endogenous. For comparison, we generated a simple consensus by running htslib on all sequenced fragments. While this approach works well at low amounts of contamination, it produces an incorrect consensus at higher levels of contamination when the presence of contaminating fragments is not accounted for using approaches like PMDtools and schmutzi. The number of indels are reported as either insertions or deletions in either the predicted consensus or the Neanderthal reference; hence, discrepancies in the final sum may occur
Contamination

Endogenous prediction

Endogenous prediction from

Mitochondrial consensus, called

rate

from schmutzi

PMDtools and htslib

using htslib on all fragments

Matches

Mismatches

Indels

Matches

Mismatches

Indels

Matches

Mismatches

Indels

1 %

16,565

0

0

16,561

2

6

16,561

3

5

5 %

16,565

0

0

16,561

2

6

16,561

3

5

10 %

16,565

0

0

16,561

2

6

16,561

3

5

15 %

16,565

0

0

16,560

3

6

16,553

11

5

20 %

16,565

0

0

16,560

3

6

16,488

76

5

25 %

16,565

0

0

16,558

5

6

16,374

190

5

30 %

16,564

1

0

16,558

5

6

16,371

193

5

35 %

16,564

1

0

16,556

7

6

16,371

193

5

40 %

16,564

1

0

16,555

8

6

16,371

193

5

45 %

16,564

1

0

16,553

10

6

16,371

193

5

50 %

16,563

2

0

16,553

10

6

16,371

193

5

55 %

16,564

1

0

16,554

9

6

16,370

194

5

60 %

16,563

2

0

16,551

12

6

16,368

196

5

65 %

16,563

1

1

16,551

12

6

16,361

203

5

70 %

16,562

1

2

16,548

15

6

16,358

206

5

75 %

16,563

1

1

16,546

17

6

16,355

209

5

80 %

16,561

2

2

16,545

18

6

16,355

209

5

85 %

16,563

1

1

16,544

19

6

16,355

209

5

90 %

16,561

3

1

16,539

24

6

16,355

209

5

95 %

16,550

15

7

16,532

31

6

16,355

209

5
Schmutzi produced a consensus for both the endogenous and contaminant genomes that is very robust to high levels of contamination. Our results show that the endogenous consensus is accurately reconstructed for up to 50 % present-day human contamination for the double-stranded simulations and up to 70 % for the single-stranded ones. This is due to higher levels of deamination in the single-stranded simulations resulting in better ascertainment of the endogenous base.
We also called mitochondrial consensus sequences for each sample after processing the data using PMDtools (using the parameter -a to adjust quality scores and the recommended PMD score threshold of 3) to identify deaminated reads and then calling the consensus with htslib (default parameters and haploid model). The sequence similarity to the published ancient genomes was computed as for schmutzi. At higher levels of contamination, schmutzi is able to infer the endogenous genome more accurately than is possible using only htslib on the deaminated reads. It also performs better at higher levels of contamination than the approach of calling a consensus solely from deaminated reads using samtools mpileup (see Additional file 1: Results, Section 2.3.1). All three approaches provide a more accurate sequence than mitochondrial consensus genome obtained using MIA (see Additional file 1: Results, Section 2.3.1).
The improvement obtained by schmutzi over approaches that use only deaminated reads from highly contaminated samples results from the inclusion of length and observed ratio of endogenous and contaminant bases. Iteration increases the accuracy of the endogenous consensus call. We found that the initial call for the m dataset with a simulated contamination rate of 58 % had seven mismatches to its original reference while only a single mismatch remained after convergence.
At around 50 % present-day human contamination, the inference of the endogenous base becomes difficult as there is a near 50/50 distribution of endogenous and contaminant bases. As in the evaluation of the contamination estimate, to simulate low coverage, we subsampled the original BAM file with a simulated contamination rate of 48 %. This was done both for fragments with double-stranded and single-stranded associated damage. Our results show that, for this difficult target, we can infer the endogenous genomes to a coverage of about 20 × (see Additional file 1: Results, Section 2.3.2). This is also possible at 15 × but the endogenous calls need to be filtered for high-quality bases to avoid a high number of errors. This filtering also eliminates a significant portion (≈1/16) of the mitochondrial calls. Prediction of the endogenous mitochondrial genome at a lower coverage is possible if present-day human contamination is lower.
Empirical data
Because not all features of empirical aDNA datasets can be accurately simulated, we also tested schmutzi on the five empirical datasets described in Table
3
. Only a subset of the original data was used here. The accuracy of the endogenous consensus sequences called using schmutzi was compared to the published mitochondrial genomes and to the consensus sequence called using htslib. For htslib, the quality scores of potentially deaminated bases were reduced to avoid incorrect calls at deaminated sites, like the procedure used in [
12
,
22
].
Table 3
Empirical mitochondrial datasets. The numbers in parentheses represent the deamination rates when conditioning on the other end of the fragment being deaminated for heavily contaminated samples
Sample

mtDNA

Deamination

Present-day

Library ID

ID

coverage

rates (%)

contamination

and reference

(×)

5′

3′

Altai Neanderthal

1076

5.7

28.4

Low (∼1 %)

L9198 from [12]

Denisovan

258

14.8

33.9

Low (∼1 %)

B1108 from [20]

Ust'-ishim

124

2.7

3.4

Low (∼1 %)

B3899 from [19]

Mezmaiskaya Neanderthal B9687

711

8.8 (17.3)

13.3 (25.8)

High (∼40–50 %)

B9687 from [21]

Mezmaiskaya Neanderthal B9688

636

8.5 (15.0)

12.7 (24.1)

High (∼40–50 %)

B9688 from [21]
At contamination rates less than 5 %, the consensus sequences called with htslib were highly similar (between one and five mismatches) to the published mitochondrial genome sequences (see Fig.
4
). However, at higher contamination rates (>40 %), the consensus sequence becomes increasingly inaccurate when called with htslib. In contrast, the consensus sequence produced by schmutzi is robust to higher contamination (40–50 %). For the highly contaminated Mezmaiskaya samples, we assessed the effect of using only deaminated fragments to generate the consensus using htslib. This approach has been used previously and substantially reduces the amount of contamination. Indeed, we show that the consensus obtained using htslib and only deaminated fragments improves the accuracy of the consensus sequence (see Fig.
4
) but that the consensus sequence produced by schmutzi is still more accurate in all but one case, which was influenced by capture bias (see paragraphs below and '
Discussion
').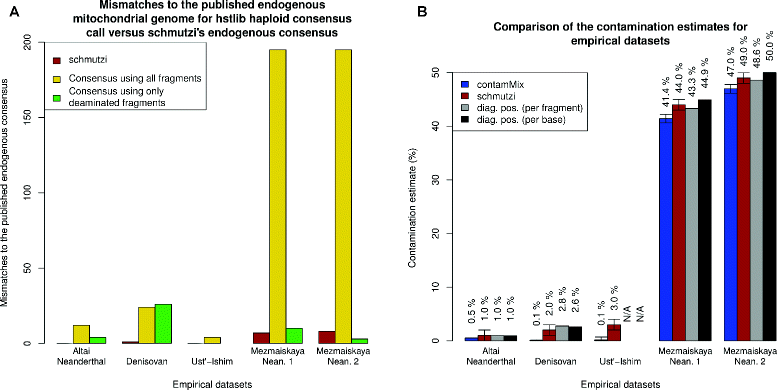 To evaluate further the accuracy of the endogenous consensus calling, a maximum-likelihood phylogenetic tree was computed using the high-quality bases (≥200 PHRED scale) for both the inferred endogenous and contaminant genomes (see Fig.
5
b
), and another using the unfiltered positions (see Additional file
1
: Results, Section 2.2.3). The tree for the high-quality bases has a higher likelihood than the unfiltered one. As expected, our endogenous mitochondrial genome falls within the Neanderthal lineage, more precisely on the Mezmaiskaya branch, whereas the contaminant one falls within the range of human variation. Our algorithm is, therefore, able, without any prior phylogenetic information, to separate the endogenous sequences from the contaminant portions of the alignment.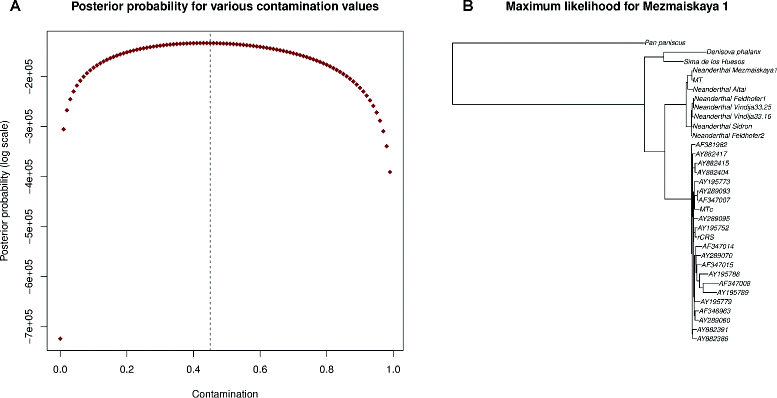 We examined in more detail the sequence inferred for the mitochondrial genome of the Neanderthal from Mezmaiskaya 1 (library ID B9687), which was generated from the same individual for which a high-quality mitochondrial genome from a library with low contamination is available (GenBank FM865411). We note that the contaminating mitochondrial sequence is not known.
Under the assumption that the sequence from GenBank is without errors, the endogenous genome inferred by schmutzi should match perfectly this reference sequence. The inferred endogenous sequence differed by nine of the 16,608 bases. We noted that this region falls in the D-loop, which is typically quite divergent. We speculated that the incorrect identification of these nine bases may arise from an ascertainment bias due to the mitochondrial capture of the Mezmaiskaya sample using probes based on the human mitochondrial sequence. Indeed, we found that in this region the endogenous bases were significantly underrepresented compared to the contaminant (75 % rather than the average of 50 % for the whole mitochondrial genome). However, these bases tend to have low consensus base quality, which implies that the consensus calls at these positions is unreliable. Filtering for consensus base quality ≥200 (PHRED scale) reduces the number from nine mismatches to one. This single mismatch is in the poly-C region (position 16,184), which is routinely removed in downstream analyses [23, 24].
Accuracy of contamination estimates
Empirical data
We estimated contamination for each of the five empirical datasets using schmutzi and contamMix (v1.0-10), an implementation from the authors of a previously described maximum-likelihood method for estimating mitochondrial contamination [14, 19].
The correct contamination estimate was taken to be that obtained from fragments aligned to sites in the reference mitochondrial genome where Neanderthals or Denisovans differ from 20 present-day humans (diagnostic sites). Since there are too few diagnostic sites, this approach could not be used for the early modern human data.
For the Altai Neanderthal and Denisovan samples, which have low contamination, both schmutzi and contamMix accurately estimate the contamination (see Fig. 4). However, for the highly contaminated Mezmaiskaya Neanderthal samples, schmutzi's contamination estimates are closer to the estimates provided using diagnostic positions (44.1±0.8 and 49.3±0.7 for Mezmaiskaya samples 1 and 2, respectively). For Mezmaiskaya 1, for instance, using the 111 diagnostic sites, there were 2,443,418 individual bases supporting the Neanderthal base and 1,989,785 supporting the present-day human base, resulting in an estimated contamination of 44.9 % (per nucleotide basis). The contamination estimates obtained using diagnostic positions are constant even when filtering for high base quality and removing potentially deaminated bases. In comparison, the contamination estimate from schmutzi was 44±1 % and the estimate from contamMix was 41.4±0.8 %. We speculate that this is due to schmutzi's iterative inference of the contaminating genome (see 'Simulated data'). To explore the results, we plotted the distribution of the posterior probability for the contamination estimate from one of the individuals (library ID B9687); see Fig. 5 a. The posterior probability peaks at the one obtained using diagnostic positions.
To test further the ability of schmutzi to estimate contamination and infer the endogenous sequence, we downloaded 22 different aDNA datasets from four different studies from different research groups. To compare our estimates to those produced by existing methods, we also ran contamMix on the same samples. Our results show that schmutzi is more accurate and our implementation faster than the existing methodologies (see Additional file 1: Results, Section 2.2.5).
Simulated data
To evaluate the range of contamination and coverage over which schmutzi can be used, we used the three simulated datasets with increasing levels of contamination and at varying coverage. For the simulated datasets, the contamination rates predicted by schmutzi correlate well with those simulated (Fig.
6
and Additional file
1
: Fig. S16).

To test the accuracy of our algorithm to existing methods, we ran our algorithm and contamMix on a simulated dataset of 1 million fragments with double-stranded deamination patterns. The endogenous mitochondrial genome used was an early modern human with 50 % present-day human contamination. Our result show that the schmutzi algorithm offers superior accuracy compared to this existing method for estimating early modern human contamination (see Table
4
). Results for the maximum-likelihood methods used by contamMix for the remaining samples are presented in Additional file
1
: Results, Section 2.3.6. We also evaluated the impact of having multiple contaminant mitochondrial genomes (see Additional file
1
: Results, Section 2.3.7) where an underestimate is observed for the early modern human at very high levels of contamination (70 %) and at a high mixture (e.g., 50/50) of different contaminant mitochondrial sequences.
Table 4
Accuracy of contamination estimates on a simulated early modern human with double-stranded deamination patterns and high present-day modern human contamination. Three cores were used for every program. The programs contamMix and contDeam estimate contamination on a per fragment basis while mtCont estimates contamination on a per nucleotide basis. The contamination on a per nucleotide basis is higher due to the longer average length of contaminating fragments
Contamination

Contamination

Run time

estimate

estimate

method

Target contamination rate: 50 % (fragment basis)

contamMix 1.0-10

54.9±0.7 %

4 days

Schmutzi (contDeam)

49.0±0.5 %

68 s

Target contamination rate: 58.2 % (nucleotide basis)

Schmutzi (mtCont without the predicted contaminant)

32.0±1.0 %

183 m

Schmutzi (mtCont with the predicted contaminant)

60.0±1.0 %

200 m
The predictions of our algorithm for the remaining simulated datasets are presented in Additional file 1: Results, Section 2.3.5. The predicted present-day human contamination rates matched the simulated contamination rates.
To evaluate the effect of coverage on schmutzi's contamination estimate, we analyzed a dataset with 47 % contamination and subsampled this to various levels of coverage. We chose 47 % as a level of contamination that makes the use of currently available tools difficult. Furthermore, at this level of contamination, there is an almost even number of endogenous and contaminant bases thus making the inference of each one relatively difficult for our model.
For the simulated Neanderthal, the contamination estimated by schmutzi is stable down to a coverage of
∼
100× (see results for the single-stranded protocol in the top row of Fig.
7
and Additional file
1
: Fig. S18 for the double-stranded data). At coverage less than 100 × for the single-stranded data and contamination simulated here, estimation of contamination becomes difficult. For the double-stranded data, due to lower rates of deamination, our estimates are stable at coverages down to 150 ×. However, there are cases where an accurate mitochondrial genome sequence from another closely related individual can be used as a proxy to compute contamination rates (see Additional file
1
: Fig. S19). Using this heuristic we can obtain accurate contamination rates for coverage down to
∼
5× (see Fig.
7
bottom row).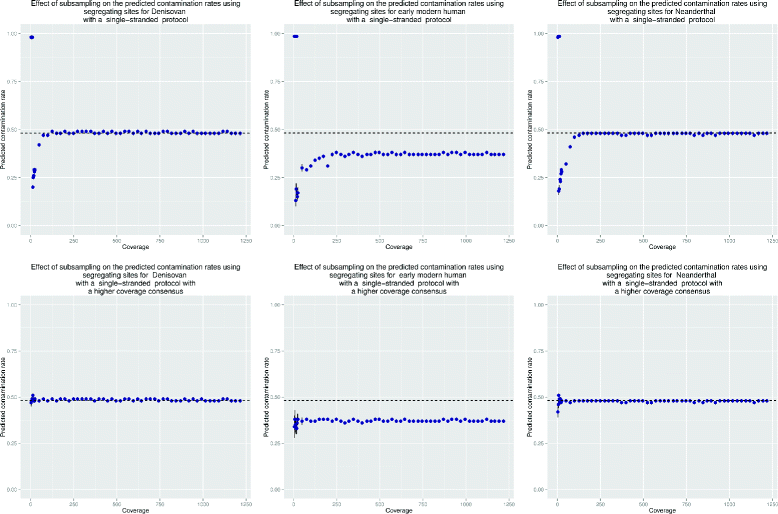 We also note that the contamination prior estimates based only on deamination patterns also show a high correlation to those simulated (see Additional file 1: Results, Section 2.3.3). However, these estimates do not have the same robustness to low coverage as the final contamination estimate produced by the iterative approach. Additionally, we show that using a sensitive aligner like SHRIMP [25] does not cause drops in coverage around regions of high divergence of the Denisovan mitochondrial genome to the human mtDNA, thus allowing for a more reliable contamination estimate (see Additional file 1: Results, Section 2.1).
Contaminant consensus calling
The accuracy of the contaminant genome inferred from the simulated datasets increased as the amount of contamination increased (Fig. 3). However, at less than 1 % contamination, schmutzi cannot accurately infer the contaminant genome. An analysis of the inferred contaminant sequences is presented in Additional file 1: Tables S6 and S7.
For our empirical Mezmaiskaya samples, while the endogenous genome sequence is known, the nature of the contaminant is not. We can, however, take the inferred contamination genome and verify whether it falls within a known mitochondrial haplogroup. Using HaploGrep [26, 27], we determined that our inferred mitochondrial genome pertained to the T2b3 haplogroup with a confidence of 93.1 %. Out of a total of 33 diagnostic sites for this haplogroup, only one site, with a relatively low consensus prediction quality from our software (65 on a PHRED scale), was not the expected diagnostic base.
Discussion
aDNA analyses have typically decoupled reconstruction of the endogenous mitochondrial genome from quantification and characterization of present-day human contamination. Since these two tasks are interdependent, we argue that consensus calling and contamination estimation should be performed iteratively to achieve the most accurate results. Current approaches to determining the endogenous mtDNA sequence are very dependent on the amount of contamination. In samples with low present-day human contamination, a consensus sequence is usually called using all sequences, whereas for highly contaminated samples, only deaminated fragments are used. However, there is no clear contamination cut-off to determine which strategy should be used. Schmutzi can be applied to samples with either low or high levels of contamination thereby obviating this decision.
We have presented here empirical and simulated datasets demonstrating that schmutzi outperforms a number of existing approaches to consensus sequence calling and contamination estimation over a wide range of contamination rates and coverages. Our simulations were conducted using empirical fragment length distributions and deamination rates. It is trivial to see that higher deamination rates can enable end users to infer with greater confidence the endogenous sequence of even highly contaminated samples. We note that absence of deamination will yield incorrect estimates of contamination. Since deamination is the primary feature used to distinguish endogenous from contaminant bases, treatment with full uracil-DNA glycosylase [34] is also likely to impact negatively the estimation of contamination and result in an incorrect endogenous consensus call at high levels of contamination. We, therefore, recommend using schmutzi only for samples with either no, or partial, uracil-DNA glycosylase treatment for potentially contaminated samples. It is important to note that the number of parameters and their range hinder us from making simple general statements about the amount of coverage or extent of deamination required for accurate estimates of present-day human contamination or accurate inference of the endogenous genome sequence. Although our study focused on human mitochondrial aDNA data, schmutzi can be applied to any other haploid aDNA dataset for which a reference genome is available. This includes non-human mitochondrial genomes, as well as viral, bacterial and chloroplast genomes.
Although many groups have implemented ad hoc methods to assess contamination, there are few available software implementations. We compared schmutzi to contamMix, a previously used maximum-likelihood method described in [14]. The predicted contamination rates produced by our algorithm are more accurate than those produced by this method on simulated data (see Additional file 1: Results, Section 2.3.6). Although the true contamination rate is not known for most ancient datasets, we have shown that our estimates are also consistent with contamination measured in empirical datasets using methods relying on diagnostic positions. While the approach of taking diagnostic positions is suitable for archaic humans like Neanderthals, it is not readily applicable to early modern humans, who have few fixed differences to present-day humans. Schmutzi's modeling of mismatches due to deamination, sequencing errors and mismapping results in greater accuracy than simply estimating a single error parameter.
Our endogenous consensus call shows a significant dependence on the prior, which is calculated based on the deamination patterns only for the first iteration (contDeam). We interpret this as evidence that a reasonable estimate for contamination can be obtained from deamination. For contDeam, we have also evaluated the impact on the final estimate due to biases like insufficient deamination and having deamination for contaminant fragments (see Additional file 1: Results Section 2.3.4). We do, however, notice that the contamination estimate improves incrementally during iteration of consensus calling and contamination estimation, suggesting that additional information is available in the mitochondrial endogenous consensus. This is particularly useful for low coverage samples.
Schmutzi accurately infers the endogenous ancient genome sequence from unfiltered ancient sequence data. This is of particular importance when the contamination is high. Interestingly, schmutzi is also more accurate than approaches that reduce contamination by using only deaminated fragments to call the consensus. Such approaches substantially reduce the number of fragments available for calling the consensus, which may explain why schmutzi is marginally better at determining the consensus sequence.
Although schmutzi performs well for both simulated and empirical data, a few artifacts are not currently modeled in the software. First, it is possible that there are multiple present-day human contaminants. At low contamination rates with multiple contaminants, schmutzi will underestimate the contamination, but the inference of the endogenous consensus sequence should not be affected. However, at high contamination rates, multiple contaminants make the inference of the endogenous sequence and estimation of the contamination extremely difficult, since the endogenous and contaminant alleles do not follow the expected distributions. Second, inclusion of misaligned microbial sequences and mitochondrial heteroplasmy are also not currently considered in the computation, though the empirical data suggest that schmutzi is not particularly sensitive to these. Lastly, the use of target enrichment approaches with DNA probes that are closer to the contaminant than to the endogenous sequence may cause differences in allele sampling, and may lead to incorrect consensus calls (see Fig. 4 and Additional file 1: Section 2.2.3 for further discussion about the capture bias).
Schmutzi is sensitive to the divergence between the actual contaminant and the closest record in the database of putative contaminants. If this divergence is very large (e.g., more than 30 mismatches), contamination will be underestimated.
When contamination rates are high, the predicted contaminant can be inferred at high resolution. This enables the program to use this predicted contaminant as a database record for the quantification of mitochondrial contamination (see Additional file 1: Results). This is not feasible at low contamination rates, where the prediction of the contaminant mtDNA is poor. Our method does not currently use phylogenetic information to infer the endogenous and contaminant sequences. Although our approach works well empirically, the use of phylogenetic information could provide additional power for obtaining contamination estimates in very low coverage samples.
In conclusion, we have described an algorithm that infers the endogenous mitochondrial genome sequence from an aDNA sample, even in the presence of high contamination. We have applied this to the reconstruction of mitochondrial genomes for archaic and early modern humans and show that it is possible to quantify accurately contamination from present-day individuals.
Abbreviations
aDNA:

Ancient DNA
MIA:

Mapping iterative assembler
Declarations
Acknowledgments
We would like to acknowledge the help of Udo Stenzel, Matthias Meyer, Marie Gansauge, Michael Dannemann and the entire Ancient DNA Methods group at the Max Planck Institute of Evolutionary Anthropology for their expertise. We would like to thank Fernando Racimo and Montgomery Slatkin for their useful input. We are also indebted to Joana Rocha, Susanna Sawyer and Johann Visagie for their help in testing the software and expertise regarding mitochondrial genomes. We are also grateful to Anahita Kazem for proofreading parts of our manuscript. We acknowledge the Max Planck Society for funding and Natural Sciences and Engineering Research Council of Canada (NSERC) for a PGS D scholarship.
Open Access This article is distributed under the terms of the Creative Commons Attribution 4.0 International License (http://creativecommons.org/licenses/by/4.0/), which permits unrestricted use, distribution, and reproduction in any medium, provided you give appropriate credit to the original author(s) and the source, provide a link to the Creative Commons license, and indicate if changes were made. The Creative Commons Public Domain Dedication waiver (http://creativecommons.org/publicdomain/zero/1.0/) applies to the data made available in this article, unless otherwise stated.
Authors' Affiliations
(1)
Max Planck Institute for Evolutionary Anthropology, Leipzig, Germany
(2)
McMaster Ancient DNA Centre, Department of Anthropology, McMaster University, Hamilton, ON, Canada