Impact of flanking chromosomal sequences on localization and silencing by the human non-coding RNA XIST
Received: 17 April 2015
Accepted: 10 September 2015
Published: 2 October 2015
Abstract
Background
X-chromosome inactivation is a striking example of epigenetic silencing in which expression of the long non-coding RNA XIST initiates the heterochromatinization and silencing of one of the pair of X chromosomes in mammalian females. To understand how the RNA can establish silencing across millions of basepairs of DNA we have modelled the process by inducing expression of XIST from nine different locations in human HT1080 cells.
Results
Localization of XIST, depletion of Cot-1 RNA, perinuclear localization, and ubiquitination of H2A occurs at all sites examined, while recruitment of H3K9me3 was not observed. Recruitment of the heterochromatic features SMCHD1, macroH2A, H3K27me3, and H4K20me1 occurs independently of each other in an integration site-dependent manner. Silencing of flanking reporter genes occurs at all sites, but the spread of silencing to flanking endogenous human genes is variable in extent of silencing as well as extent of spread, with silencing able to skip regions. The spread of H3K27me3 and loss of H3K27ac correlates with the pre-existing levels of the modifications, and overall the extent of silencing correlates with the ability to recruit additional heterochromatic features.
Conclusions
The non-coding RNA XIST functions as a cis-acting silencer when expressed from nine different locations throughout the genome. A hierarchy among the features of heterochromatin reveals the importance of interaction with the local chromatin neighborhood for optimal spread of silencing, as well as the independent yet cooperative nature of the establishment of heterochromatin by the non-coding XIST RNA.
Keywords
XISTLong non-coding RNADosage compensationX-chromosome inactivationNucleolar localizationFacultative heterochromatinSMCHD1macroH2AH3K27me3H4K20me1
Background
To avoid a functional gene dosage imbalance between the sexes, one of the two X chromosomes in female placental mammals is transcriptionally silenced [1]. This process of X-chromosome inactivation (XCI) occurs early in development and is generally random in all human tissues with either the paternal or maternal X chromosome becoming the inactive X (Xi). The X-inactivation centre (XIC), which is located at Xq13 in humans, is the region of the X that is necessary for the chromosome to be inactivated, and contains the XIST gene (X-inactive specific transcript) [2–4]. Remarkably, the approximately 17 kb spliced and polyadenylated long non-coding XIST RNA uniquely localizes to the chromosome from which it is transcribed [5]. The coating of the Xi by the XIST RNA results in a substantial epigenetic transformation, losing epigenetic modifications associated with active chromatin (notably histone acetylation) and gaining modifications associated with inactive chromatin (including H3K27me3, H3K9me2/3, H4K20me1, and H2AK119u1). The Xi also becomes enriched in several other proteins, including the histone variant macrohistone H2A (macroH2A), the nuclear matrix protein hnRNPU, and the epigenetic regulators SMCHD1 and ASH2L ([6, 7], reviewed in [8]). In addition, the Xi is peripherally or perinucleolarly localized [9] with perinucleolar targeting during S phase suggested to be important for maintenance of silencing. A further feature of the Xi is silencing of repetitive elements, as visualized by loss of RNA hybridization with a Cot-1 probe for repetitive DNA [10] resulting in what has been termed a 'Cot-1 hole'.
The timing of acquisition of these features has been best studied in mouse, where the differentiation of embryonic stem cells (ESCs) provides an in vitro model for the events of XCI (reviewed in [11]). Early studies in mouse suggested the presence of a developmental window beyond which Xist was unable to induce X-chromosome inactivation [12], although macroH2A could be recruited [13]. After this stage, Xist expression was no longer required for maintenance of silencing [14], consistent with studies in human showing maintenance of silencing in the absence of XIST [15, 16]. SATB1 has been suggested to be involved in defining such a window for Xist function [17]; however, Satb1/Satb2-deficient mice are able to undergo X inactivation [18]. More recent studies have shown that induction of Xist can recruit H3K27me3 in mouse somatic cells [19], and XIST induction recruits multiple features of the Xi in human somatic cells [10, 20]. In addition, an ongoing role for Xist in stable silencing of the Xi has been shown by loss of Xist resulting in gene reactivation, loss of perinucleolar association and loss of H3K27me3 [21]. Loss of X-linked gene silencing is enhanced by disruption of DNA methylation and other pathways that cooperate with Xist, thus reactivation of X-linked markers has been used to identify additional players in the pathway [22–24]. Characterization of the ongoing role for XIST in somatic cells has important implications for disease, as highlighted by a recent study showing that deletion of Xist results in hematological malignancies in female mice due to reactivation of X-linked genes [25].
There is substantial evidence for cooperativity of multiple silencing pathways in the initial silencing of the chromosome, with XCI able to proceed in the absence of key components of the silencing machinery such as PRC2 [26–28], PRC1 [29], or macroH2A [30]. In addition to multiple factors cooperating in the process of XCI, different X-linked genes may be silenced (or maintained silent) by different players. For example, mutation of the Smchd1 gene results in loss of DNA methylation and partial to full reactivation of approximately 20 % of the X-linked genes in mouse [31, 32]. Surprisingly, many of the marks of an Xi can be recruited by a mouse transgene containing a deletion that makes the Xist RNA defective in silencing, although often the recruitment is not as effective as seen with a full-length Xist (reviewed in [8]). This silencing defective Xist RNA is also able to form a Cot-1 hole [33], consistent with the Cot-1 hole not reflecting X-linked gene silencing [34], but rather a core of silenced non-coding DNA [35].
Spread of silencing to autosomal genes has been observed in unbalanced X/autosome translocations; however, the extent of autosomal silencing is highly variable in both humans (reviewed in [36]) and mice [37]. Silencing of autosomal genes has also been observed upon integration of Xist/XIST transgenes into autosomes, and localization of the RNA to the autosome is able to induce many features of the Xi including nucleolar localization [10, 20, 21, 38]. Recently, an XIST transgene was integrated into chromosome 21 in induced pluripotent stem cells from an individual with Down's syndrome and corrected gene expression from chromosome 21 to near normal disomic levels [39]. Together, these studies demonstrate the XIST RNA is able not only to spread along autosomal material but also to recruit some of the heterochromatic features associated with XCI to autosomes. The silencing of the trisomic chromosome 21 in induced pluripotent stem cells was proposed as a first step towards 'chromosome therapy' [39], and for such uses of XIST a better understanding of the influence of the chromatin neighborhood is necessary.
XIST expression is required to induce the cascade of changes that cooperatively silence the X, but relatively little is known about the process by which the non-coding RNA recruits these changes. In human somatic cells we have reported the recruitment of several features of XCI, including gene silencing, following XIST expression from an inducible transgene [20, 40]. The separation of XIST expression from the myriad of changes that occur during differentiation provides an opportunity to dissect the role of XIST in XCI. By using this inducible XIST transgene to examine the influence of XIST expression induced from nine different integration sites we aimed to establish a hierarchy to the features that are recruited by XIST and determine if any were influenced by the genomic context of the XIST integration. We were able to identify features (Cot-1 hole formation, perinucleolar localization, proximal reporter silencing, and H2AK119u1) that are recruited to all integrations and thus are compatible with any of the sites/genomic contexts tested, a feature that is not recruited to any site examined (H3K9me3) while another set of features (macroH2A, H3K27me3, SMCHD1, and H4K20me1 recruitment) are dependent on genomic context, but appear independent of each other.
Discussion
We have examined the impact of genomic location of XIST on its ability to alter nuclear ultrastructure, chromatin state, and gene expression in a somatic cell line. We observe considerable heterogeneity in the extent of silencing and the recruitment of chromatin marks, depending upon the integration site, providing us with an opportunity to dissect the interactions between features in a system in which complete recruitment and silencing does not occur. The ability of XIST to localize to all integration sites supports that there is limited sequence specificity for the RNA with the chromosome, in agreement with the spread of inactivation reported in X/autosome translocations, and various mouse Xist transgenes (reviewed in [36, 50]). The lack of sequence specificity is also in line with the recently described proximity-transfer model which suggests that Xist first associates with sequences in physical proximity to the Xist locus and then transfers to gene-rich regions which are topologically associated with the integration site [43].
Spread of silencing to autosomes in these HT1080 cells is not seen to the extent that is observed for X/autosome translocations [48, 49] or an autosomal XIST transgene in iPS cells [39], suggesting that bypassing differentiation reduces the ability to inactivate a chromosome. While early mouse studies suggested the presence of a limited developmental window during which silencing could be induced [12] we see XIST-dependent silencing of endogenous genes in these HT1080 fibrosarcoma cells up to almost 50 Mb from the integration site, although endogenous gene silencing is most prominent closer to the integration site. It is possible that the cancerous origin of these cells has reactivated critical developmental gatekeepers, as specific mouse cancers have been shown to allow Xist-induced silencing [17, 25]. The ability of XIST to induce gene silencing in somatic cells has important implications for cancer cells where rearrangements or reactivation of XIST may bring previously active genes under the influence of XIST.
We observe a Cot-1 hole and increased perinucleolar association at all integration sites, consistent with previous reports that XIST/Xist expression from autosomes increases perinucleolar association [
10
,
21
]. In our assessment of multiple XIST integrations, we observed heterogeneity in the extent of perinucleolar association, and the correlation with silencing was limited. The three integration sites for which the increase in perinucleolar association was not significant (15q, 3q, and Xq) were all G-dark integration sites; however, the 7p integration was also in a G-dark band yet demonstrated a significant increase in perinucleolar localization, suggesting an incomplete association between perinucleolar association and G-dark integrations with lower XIST levels (Fig.
7
).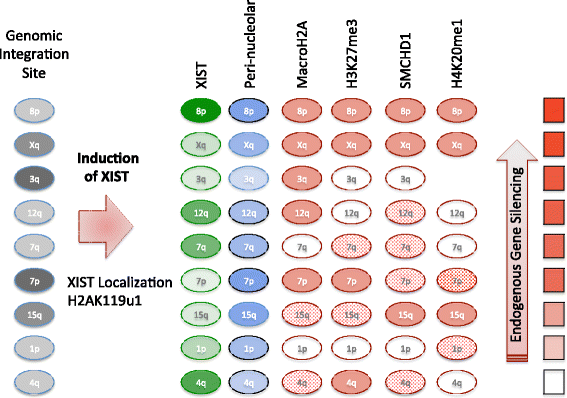 The other feature that we observed at all integrations examined was H2AK119u1, which is established by the PRC1 complex. We observed H2AK119u1 in the absence of SMCHD1, macroH2A, and H3K27me3 in the 1p integration cells, suggesting that XIST may be able to directly recruit the PRC1 complex, in agreement with the PRC2-independent PRC1 recruitment previously suggested in mice [27]. As the 1p integration site demonstrated limited silencing in the presence of H2AK119u1 recruitment, we conclude that H2AK119u1 is insufficient for the spread of gene silencing. No integration site examined showed recruitment of H3K9me3, although the antibody clearly hybridized to the native Xi in female cells. Therefore it appears that facultative heterochromatic marks can be recruited by XIST in these cells, but the establishment of a 'locked-in' silent state required additional layers of developmentally-regulated chromatin condensation. Without such locks on silencing, the continued silencing of both reporter genes and endogenous genes was XIST-dependent, undergoing reactivation upon removal of XIST induction.
Interestingly, no single factor was seen to associate with more robust silencing (Fig. 7), demonstrating considerable redundancy in XIST-inducible silencing pathways. Consistent with previous studies in mice, silencing of endogenous genes in these human cells was observed in the absence of recruitment of macroH2A (7p) [30], SMCHD1 (3q) [51], or H3K27me3 (12q) [27]. MacroH2A has been reported to be recruited by induction of mouse Xist expression [13], and is also lost upon deletion of Xist [14]; yet intriguingly we observe macroH2A recruitment to be site-dependent, rather than solely XIST-dependent. We observed that macroH2A is not required for XIST-induced silencing, which is consistent with the ability of mice that are knocked-out for both macroH2A1 and macroH2A2 to continue to undergo XCI [30]. The recruitment of SMCHD1 and macroH2A seems to be independent of each other as, for example, the 3q integration site recruits macroH2A but not SMCHD1, while the 7q integration shows some SMCHD1 recruitment, but no macroH2A recruitment. There was a positive correlation between the amount of SMCHD1 recruitment and the final perinucleolar localization (Spearman r = 0.8; P = 0.01), with the proportion of cells positive for SMCHD1 always equal or lower to the percent seen to be perinucleolar. Thus perinucleolar localization may be required but not sufficient to recruit SMCHD1. The strong ability of the X integration to recruit all features confounded the ability to detect correlations; however, it appears that the majority of the features are independently recruited to the chromosome that expresses XIST. For several of the integration sites two or more independent clones with similar XIST levels behaved similarly supporting that the variation we observe is due to the integration site. In addition, the 4q and 12q clones were derived from a different subclone of HT1080 from the other autosomal integration sites; however, they did not appear to be more similar to each other, arguing against the variation arising during subclone generation.
The differential recruitment of chromatin marks depending on integration site suggests that multiple silencing pathways not only work in parallel to promote silencing, but that their recruitment is favored by different underlying DNA sequences, consistent with previous studies using genes that escape from inactivation to identify 12 features of the DNA sequence of the X chromosome that may be involved in the spread or maintenance of XCI [52].
Conclusions
Overall, we saw variability in the recruitment of chromatin marks between the integration sites, highlighting the importance of the integration site in modulating XIST function. Localization of XIST with a concomitant depletion of Cot-1 RNA, recruitment of H2AK119u1, and a shift to perinucleolar location was seen at all integrations, and thus reflect features established by XIST independent of the local chromatin environment. In contrast, recruitment of SMCHD1, macroH2A, H3K27me3, and H4K20me1 appeared to be strongly influenced by the site of XIST expression. As some silencing was observed at all integrations, this study demonstrates that silencing in human somatic cells can occur in the absence of macroH2A, SMCHD1, and H3K27me3/H4K20me1 recruitment, underscoring the independent but cooperative nature of the X-chromosome inactivation process. The X chromosome demonstrated the most consistent ability to recruit the heterochromatic marks of XCI, consistent with an evolutionary accumulation of DNA features enabling the recruitment of heterochromatic marks to the X chromosome.
Declarations
Acknowledgements
This work was supported by CIHR grants to CJB (MOP-13680) and LL (MOP-119357). The authors thank Jen Chow for developing the inducible XIST clones, and Jordan Henriksen, Irene Qi and Allison M. Cotton for assistance and advice on FISH.
Open AccessThis article is distributed under the terms of the Creative Commons Attribution 4.0 International License (http://creativecommons.org/licenses/by/4.0/), which permits unrestricted use, distribution, and reproduction in any medium, provided you give appropriate credit to the original author(s) and the source, provide a link to the Creative Commons license, and indicate if changes were made. The Creative Commons Public Domain Dedication waiver (http://creativecommons.org/publicdomain/zero/1.0/) applies to the data made available in this article, unless otherwise stated.
Authors' Affiliations
(1)
Department of Medical Genetics, Molecular Epigenetics Group, Life Sciences Institute, University of British Columbia, Vancouver, Canada
(2)
Ludwig Institute for Cancer Research, University of California at San Diego School of Medicine, La Jolla, USA
(3)
Division of Life Science, The Hong Kong University of Science and Technology, Hong Kong, China