The genomes of two key bumblebee species with primitive eusocial organization
Received: 14 October 2014
Accepted: 10 March 2015
Published: 24 April 2015
Abstract
Background
The shift from solitary to social behavior is one of the major evolutionary transitions. Primitively eusocial bumblebees are uniquely placed to illuminate the evolution of highly eusocial insect societies. Bumblebees are also invaluable natural and agricultural pollinators, and there is widespread concern over recent population declines in some species. High-quality genomic data will inform key aspects of bumblebee biology, including susceptibility to implicated population viability threats.
Results
We report the high quality draft genome sequences of Bombus terrestris and Bombus impatiens, two ecologically dominant bumblebees and widely utilized study species. Comparing these new genomes to those of the highly eusocial honeybee Apis mellifera and other Hymenoptera, we identify deeply conserved similarities, as well as novelties key to the biology of these organisms. Some honeybee genome features thought to underpin advanced eusociality are also present in bumblebees, indicating an earlier evolution in the bee lineage. Xenobiotic detoxification and immune genes are similarly depauperate in bumblebees and honeybees, and multiple categories of genes linked to social organization, including development and behavior, show high conservation. Key differences identified include a bias in bumblebee chemoreception towards gustation from olfaction, and striking differences in microRNAs, potentially responsible for gene regulation underlying social and other traits.
Conclusions
These two bumblebee genomes provide a foundation for post-genomic research on these key pollinators and insect societies. Overall, gene repertoires suggest that the route to advanced eusociality in bees was mediated by many small changes in many genes and processes, and not by notable expansion or depauperation.
Keywords
Transposable Element
Long Terminal Repeat
Odorant Receptor
Bumblebee Species
Synteny Block
Background
Social living, and in particular eusociality (the social system in which many individuals forego reproduction), represents one of the major transitions in evolution [1], where a balance between cooperation and conflict must be met [2,3]. Eusociality has arisen multiple times [2,4]. Although the selective bases of the evolution of eusociality are relatively well understood [2,5,6], the evolutionary origins and dynamics of the molecular mechanisms underpinning eusociality remain obscure [7,8], making the understanding of the genomics of eusocial species a priority. Genome sequencing of social and eusocial species is expanding [9-17], but existing data do not span the spectrum of sociality or the phylogenetic diversity of social taxa.
In the Hymenoptera, the honeybees (tribe Apini), stingless bees (Meliponini), and certain ant species display advanced eusocial traits, including a permanent reproductive division of labor between queen and worker castes, worker females that show high degrees of task specialization, and, sometimes, caste polymorphism, and large perennial colonies with complex communication and organization [18,19]. In addition to these advanced eusocial species, the Hymenoptera include species with a spectrum of social traits [2]. The four tribes of corbiculate bees, Apini, Meliponini, Bombini, and Euglossini, are thought to have shared a primitively eusocial ancestor. Subsequently, the Meliponini and Apini evolved advanced eusociality independently, while the predominantly solitary behavior of the Euglossini was secondarily derived [18]. Although rare overall, advanced eusociality has arisen twice in this group, once following the split of honeybee and bumblebee lineages (approximately 77 to 95 million years ago (mya)), and once following the split of stingless bee and bumblebee lineages (approximately 66 to 82 mya) [18].
The 'primitively eusocial' bumblebees (
Bombus spp.
, Bombini) share some traits with advanced eusocial bees, yet lack particular aspects that would qualify them as advanced eusocial organisms (Table
1
). In comparison to honeybees, they have queen-worker caste differentiation based mainly on body size and physiology, annual colonies of hundreds rather than many thousands of individuals, and worker offspring that have lost the ability to mate, but can reproduce readily by laying haploid (male) eggs [
20
]. Bumblebees typically exhibit an annual colony cycle (Figure
1
), although perennial colonies have been recorded in some bumblebee species such as the neotropical
B. atratus
[
21
], and social parasitic cuckoo bumblebees do not found their own colonies. There is a clear value to investigating bumblebees as they hold a key, intermediate position on the eusocial spectrum.
Table 1
Key differences and similarities between honeybees, Apis mellifera , and the bumblebees Bombus impatiens and B. terrestris
Honeybee

Bumblebees

A. mellifera

B. impatiens

B. terrestris

Native range

Africa/Asia/Europe

Temperate North America

Palaearctic region

Nesting

Cavity nesters

Nest location

Trees

Ground

Foraging

Generalist foragers of nectar and pollen

Colony cycle

Perennial

Annual with queen diapause

Colony founding

Colony fission

Solitary nest founding

Sociality

Advanced eusocial

Primitively eusocial

Colony size

Approximately 20,000-100,000 workers

<400 workers

Queen mating system

Highly polyandrous

Limited polyandry

Monandrous

Worker division of labor

Age-based

Some size- and age-based

Caste differentiation

Morphology/Size/Physiology

Size/Physiology

Worker reproduction

Rare

Common

Human links

Managed (hundreds-thousands of years)

Managed (decades)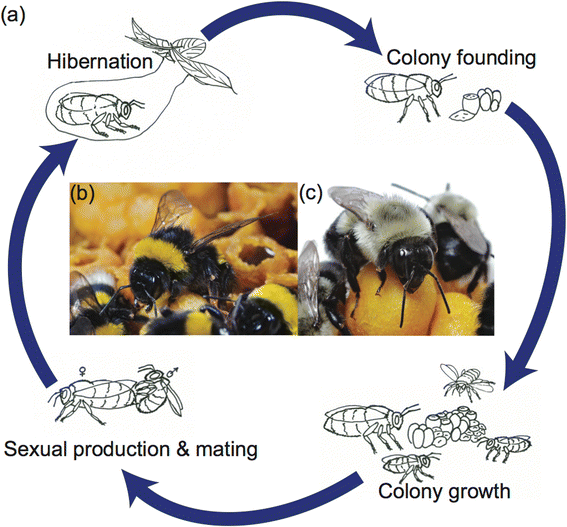 Bumblebees are natively found around the globe, except for sub-Saharan Africa and Oceania, but reach their highest diversity in temperate, alpine, and arctic zones [20]. Two species of bumblebee, B. terrestris and B. impatiens, have in particular been the focus of research activity in a wide variety of fields. These include, among others, social evolution and organization [22-24], caste-structured development [25], learning [26], color vision [27], host-parasite interactions [28,29], plant-pollinator interactions [30], and community ecology [31,32]. The lineages leading to B. terrestris and B. impatiens separated approximately 18 mya [33,34]. B. terrestris is native to the Palaearctic and is common in many parts of Europe, North Africa, and parts of Western Asia, while the Nearctic B. impatiens is frequent in bumblebee communities of eastern North America. The species are placed in distinct sub-genera (B. (Bombus) terrestris and B. (Pyrobombus) impatiens) within the genus Bombus [33] and have some important biological differences (Table 1).
As a major component of the wild pollinator assemblage, bumblebees provide vital ecosystem services [35,36] and are also important for the productivity of agroecosystems [37]. Due to their effective pollination abilities, which are distinct from those of honeybees, bumblebees have also been employed in commercial pollination services [38]. B. terrestris and B. impatiens are both reared commercially and distributed internationally. The key role of bumblebees as pollinators is highlighted by losses in managed honeybee populations placing an increasing pollination burden on alternative pollinators [39]. However, many bumblebee species have also experienced marked population decreases recently [40,41]. Nonetheless, to date, B. terrestris and B. impatiens have proven to be relatively resilient to these declines. Relative abundances of B. terrestris in bumblebee communities in Europe have increased [42], while their absolute abundance has remained relatively stable [43]. B. impatiens has likewise increased in relative abundance in bumblebee communities in North America, since its populations have remained stable against a trend of declines in other bumblebee species [40,44]. In addition to remaining stable in its native range, B. terrestris has also proven to be an effective invader, further expanding its range as the result of human introductions [41,45,46]. Threats to both bumblebees and honeybees come from a variety of sources [47], and recently it has come to light that there is significant overlap of important pathogens between the two [48].
Genomic data form a rich platform on which comparative biology can be based. Comparative analyses of the genomes of honeybees and bumblebees will be crucial for understanding the relationships between these species, the dynamics of the evolution of eusociality, their resistances to pathogens, and their susceptibilities to other threats to pollinator health. Genomes of pollinators, such as bumblebees, will not only help understanding of the pollinator organisms themselves, but will also aid understanding of interactions between pollinators and plants [49]. For both B. terrestris and B. impatiens some genetic, genomic, and transcriptomic resources already exist [8,50-54].
Here we present high-quality draft genome sequences of two bumblebees,
B. terrestris
(Bter_1.0, accession AELG00000000.1) and
B. impatiens
(BIMP_2.0, accession AEQM00000000.2), and analyses that highlight both shared and divergent features compared to the honeybee (
A. mellifera
), other Hymenoptera, and further selected insects.
We present high sequence coverage assembled genomes of B. terrestris (249 Mb) and B. impatiens (248 Mb).

The two bumblebee genomes exhibit extensive synteny, with limited rearrangements over the estimated 18 My of divergence between the two lineages.

We find relatively few repetitive elements and a low diversity of transposable elements, although there is some evidence of recent activity.

Orthology and protein domain analysis uncovered bee- and bumblebee-specific genes and domains, with hints of evolutionary processes differentially acting upon aspects relating to chemosensation and muscle function in the bumblebee lineage.

B. terrestris and B. impatiens are extremely similar in terms of gene content related to developmental pathways in molting, metamorphosis, and exoskeleton dynamics. This gene repertoire shows striking similarities among social and non-social Hymenoptera.

A similar set of genes underlying haplo-diploid sex determination is present relative to honeybees, despite an alternative primary signal for sex determination being employed.

Genes involved in behavior, neurophysiology, and endocrinology are broadly conserved between A. mellifera and bumblebees, yet limited differences do exist, and in particular among Juvenile Hormone Binding Proteins this may be connected to functional differences between these species.

Xenobiotic detoxifying enzymes were found to be depauperate, as in A. mellifera, which has consequences for the ability of these species to deal with novel environmental xenobiotics, such as insecticides.

Genes involved in chemoreception show expected complex patterns of gene birth and death. However, surprisingly, the gene repertoire of B. terrestris suggests that, relative to honeybees, bumblebees emphasize gustation over olfaction.

Venom constituents, in general, are highly similar between honeybees and bumblebees.

While components of all major immune pathways are present, as in A. mellifera, the complement of immune genes in the bumblebees is much reduced relative to Dipteran models, suggesting this is not a honeybee-specific characteristic, nor is it linked to advanced eusociality. Rather, it is likely that a reduced immune repertoire is basal to the bee lineage.

RNAi core genes, RNA editing, and DNA methylation genes and genome wide patterns are highly conserved between A. mellifera and the two bumblebees.

MicroRNAs (miRNAs) show a distinct pattern between the bumblebees and honeybees. Unique miRNAs were identified in both groups as well as potentially functionally relevant changes in conserved miRNAs. These are excellent candidates that may tune key biological differences between advanced eusocial honeybees and primitively eusocial bumblebees.
Conclusions
In addition to providing an excellent basis for future post-genomic studies, the two bumblebee genomes presented here illuminate key aspects of the biology of these important pollinator insects, and, based on comparisons with honeybees, offer an insight into potential foundations of advanced eusociality. Given the plethora of differences between the two bumblebees investigated here and A. mellifera (Table 1), it is surprising that in general the gene repertoires of the species are highly similar. Some of these similarities are informative in themselves, and demonstrate that certain genome characteristics found in A. mellifera are not unique. For example, depauperate complements of xenobiotic detoxification and immune genes in comparison with many other insects are not honeybee-specific. With regard to protein-coding genes, striking differences relate to chemosensation, with bumblebees emphasizing gustation relative to olfaction, which is likely tied to specific ecology of these species.
While mechanisms of gene regulation are known to have an important role in insect societies, the surprising divergence in miRNA complement and potential functionality represents a major difference between the primitively eusocial bumblebees and advanced eusocial honeybees. It may well be that these elements are what tune complex behavior and organization in the advanced eusocial bees. However, selection on gene regulation, potentially driven or limited by environmental constraints (for example, temperate and tropical, annual and perennial) could underlie other key biological differences aside from the level of eusociality.
In general, the gene repertoires reported here for two key bumblebee species suggest that the evolution of advanced eusociality in bees did not occur through large leaps involving notable gene expansions and/or depauperation between lineages. Rather, the route to advanced social living was mediated by many small changes in many genes and processes.
Declarations
Acknowledgements
The sequencing, annotation, and assembly of the B. impatiens genome was supported by National Institutes of Health (NIH) Pioneer Award DP1 OD006416 (GER). The B. terrestris genome sequencing, assembly and project coordination was supported by NIH grant U54 HG003273 (RAG). Contributions from members of the CGE lab were supported by Agriculture and Food Research Initiative Competitive grant no. 2010-65106-21301 from the USDA National Institute of Food and Agriculture. GVA was supported by the Research Council of Norway (NFR) and the PEW Charitable Trust. MB was supported by a student fellowship from the University of East Anglia, UK. GB was supported by the Israel Science Foundation (ISF). DHC was supported by a studentship funded by the Biotechnology and Biological Sciences Research Council, UK, and the University of East Anglia. JDL was supported by the University of Alabama College of Arts and Sciences. ZPLS was supported by a São Paulo Research Foundation grant (FAPESP number 11/03171-5). RMW was supported by Marie Curie International Outgoing Fellowship PIOF-GA-2011-303312 and by Swiss National Science Foundation awards 31003A-125350 and 31003A-143936 to EMZ. BMS was supported by a New Faculty Initiative Grant (NFIG) from Illinois State University College of Arts and Sciences. MHasselmann received financial support from the DFG. The work of FC, RG, and MM was supported by the Instituto Nacional de Bioinformática (INB) from ISCIII in Spain. We thank Justin Reese and Christopher Childers for setting up genome annotation tools at Hymenoptera Genome Database.
Authors' Affiliations
(1)
School of Biological Sciences, Illinois State University, Normal, USA
(2)
Experimental Ecology, Institute of Integrative Biology, Eidgenössiche Technische Hochschule (ETH) Zürich, Zürich, Switzerland
(3)
Department of Biology, East Carolina University, Greenville, USA
(4)
Department of Ecology, Evolution, and Behavior, The Alexander Silberman Institute of Life Sciences, The Hebrew University of Jerusalem, Jerusalem, Israel
(5)
Laboratory of Zoophysiology, Faculty of Sciences, Ghent University, Ghent, Belgium
(6)
Laboratory for Evolution and Development, Genetics Otago and the National Research Centre for Growth and Development, Department of Biochemistry, University of Otago, Dunedin, New Zealand
(7)
Division of Animal Sciences, Division of Plant Sciences, and MU Informatics Institute, University of Missouri, Columbia, USA
(8)
Department of Biology, Georgetown University, Washington, USA
(9)
School of Life Sciences, Arizona State University, Tempe, USA
(10)
Center for Functional and Comparative Insect Genomics, Department of Biology, University of Copenhagen, Copenhagen, Denmark
(11)
University of Hohenheim, Institute of Animal Science, Stuttgart, Germany
(12)
Department of Biological Sciences, University of Alabama, Tuscaloosa, USA
(13)
Department of Entomology, University of Illinois at Urbana-Champaign, Urbana, USA
(14)
Laboratory of Agrozoology, Department of Crop Protection, Faculty of Bioscience Engineering, Ghent University, Ghent, Belgium
(15)
Institute of Biology, Martin-Luther-University Halle-Wittenberg, Wittenberg, Germany
(16)
Department of Genetic Medicine and Development, University of Geneva Medical School, Geneva, Switzerland
(17)
Swiss Institute of Bioinformatics, Geneva, Switzerland
(18)
Computer Science and Artificial Intelligence Laboratory, Massachusetts Institute of Technology, Cambridge, USA
(19)
The Broad Institute of MIT and Harvard, Cambridge, USA
(20)
Westfalian Wilhelms University, Institute of Evolution and Biodiversity, Muenster, Germany
(21)
Centre for Genomic Regulation (CRG), Barcelona, Spain
(22)
Universitat Pompeu Fabra (UPF), Barcelona, Spain
(23)
Ernst Moritz Arndt University Greifswald, Institute for Mathematics and Computer Science, Greifswald, Germany
(24)
Genomics Division, Lawrence Berkeley National Laboratory, Berkeley, USA
(25)
National Center for Biotechnology Information, National Library of Medicine, Bethesda, USA
(26)
Department of Chemistry, Biotechnology and Food Science, Norwegian University of Food Science, Aas, Norway
(27)
School of Computing Sciences, University of East Anglia, Norwich, UK
(28)
Institute of Evolutionary Genetics, Heinrich Heine University Duesseldorf, Duesseldorf, Germany
(29)
University of Cologne, Institute of Genetics, Cologne, Germany
(30)
Departamento de Biologia, Faculdade de Filosofia, Ciências e Letras de Ribeirão Preto, Universidade de São Paulo, Ribeirão Preto, Brazil
(31)
Institute of Evolutionary Biology and Edinburgh Genomics, The Ashworth Laboratories, The King's Buildings, University of Edinburgh, Edinburgh, UK
(32)
School of Biological Sciences, University of East Anglia, Norwich, UK
(33)
School of Biological Sciences, Royal Holloway University of London, London, UK
(34)
Maynooth University Department of Biology, Maynooth University, Co, Kildare, Ireland
(35)
School of Biological Sciences, University of Bristol, Bristol, UK
(36)
Land and Water Flagship CSIRO, Canberra, Australia
(37)
Department of Zoology, School of Natural Sciences, Dublin, Ireland
(38)
Institute of Zoology, Zoological Society of London, London, UK
(39)
Theoretical Biology, Institute of Integrative Biology, Eidgenössiche Technische Hochschule (ETH) Zürich, Zürich, Switzerland
(40)
Swiss Institute of Bioinformatics, Lausanne, Switzerland
(41)
Computational Evolution, Department of Biosystems Science and Engineering, ETH Zürich, Basel, Switzerland
(42)
USDA-ARS Bee Research Laboratory, Maryland, USA
(43)
Departamento de Genética, Faculdade de Medicina de Ribeirão Preto, Universidade de São Paulo, Ribeirão Preto, Brazil
(44)
Center for Research in Scientific Computation, North Carolina State University Raleigh, Raleigh, USA
(45)
Laboratory of Insect Ecology, Graduate School of Agriculture, Kyoto University, Kyoto, Japan
(46)
Departamento de Biologia Celular e Molecular e Bioagentes Patogênicos, Faculdade de Medicina de Ribeirão Preto, Universidade de São Paulo, Ribeirão Preto, Brazil
(47)
Instituto Federal de Educação, Ciência e Tecnologia de São Paulo, Matão, Brazil
(48)
Department of Entomology, The Ohio State University, Wooster, USA
(49)
Department of Biological and Medical Sciences, Faculty of Health and Life Sciences, Oxford Brookes University, Oxford, UK
(50)
Department of Biological Sciences, Xi'an Jiaotong-Liverpool University, Suzhou, China
(51)
Department of Laboratory Medicine, University Hospital Halle (Saale), Halle, Germany
(52)
German Centre for Integrative Biodiversity Research (iDiv) Halle-Jena-Leipzig, Leipzig, Germany
(53)
University of Southampton, Southampton, UK
(54)
Department of Biology, University of Leicester, Leicester, UK
(55)
Departamento de Genética e Evolução, Centro de Ciências Biológicas e da Saúde, Universidade Federal de São Carlos, São Carlos, Brazil
(56)
Departamento de Tecnologia, Faculdade de Ciências Agrárias e Veterinárias, Universidade Estadual Paulista, Jaboticabal, Brazil
(57)
Department of Biology, University of North Carolina at Greensboro, Greensboro, USA
(58)
Institute of Biosciences & Applications, National Center for Scientific Research Demokritos, Athens, Greece
(59)
Ludwig Maximilian University, Munich, Germany
(60)
Human Genome Sequencing Center, Department of Molecular and Human Genetics, Baylor College of Medicine, Houston, USA
(61)
Roy J. Carver Biotechnology Center, University of Illinois Urbana-Champaign, Urbana, USA
(62)
Department of Crop Sciences and Institute of Genomic Biology, University of Illinois at Urbana-Champaign, Urbana, USA
(63)
Molecular Genetic Technology Program, School of Health Professions, MD Anderson Cancer Center, Houston, USA
(64)
Department of Human Genetics, University of Chicago, Chicago, USA
(65)
Laboratory of Protein Biochemistry and Biomolecular Engineering, Department of Biochemistry and Microbiology, Ghent University, Ghent, Belgium
(66)
Department of Biological and Experimental Psychology, School of Biological and Chemical Sciences, Queen Mary University of London, London, UK
(67)
School of Life Sciences, Guangzhou University, Guangzhou, China
(68)
Center for Computational Biology, McKusick-Nathans Institute of Genetic Medicine, Johns Hopkins University, Baltimore, USA
(69)
Carl R. Woese Institute for Genomic Biology, Department of Entomology, Neuroscience Program, University of Illinois at Urbana-Champaign, Urbana, USA
Copyright
© Sadd et al.; licensee BioMed Central. 2015
This is an Open Access article distributed under the terms of the Creative Commons Attribution License (http://creativecommons.org/licenses/by/4.0), which permits unrestricted use, distribution, and reproduction in any medium, provided the original work is properly credited. The Creative Commons Public Domain Dedication waiver (http://creativecommons.org/publicdomain/zero/1.0/) applies to the data made available in this article, unless otherwise stated.