Genomes of the rice pest brown planthopper and its endosymbionts reveal complex complementary contributions for host adaptation
Received: 5 April 2014
Accepted: 30 October 2014
Published: 3 December 2014
Abstract
Background
The brown planthopper, Nilaparvata lugens, the most destructive pest of rice, is a typical monophagous herbivore that feeds exclusively on rice sap, which migrates over long distances. Outbreaks of it have re-occurred approximately every three years in Asia. It has also been used as a model system for ecological studies and for developing effective pest management. To better understand how a monophagous sap-sucking arthropod herbivore has adapted to its exclusive host selection and to provide insights to improve pest control, we analyzed the genomes of the brown planthopper and its two endosymbionts.
Results
We describe the 1.14 gigabase planthopper draft genome and the genomes of two microbial endosymbionts that permit the planthopper to forage exclusively on rice fields. Only 40.8% of the 27,571 identified Nilaparvata protein coding genes have detectable shared homology with the proteomes of the other 14 arthropods included in this study, reflecting large-scale gene losses including in evolutionarily conserved gene families and biochemical pathways. These unique genomic features are functionally associated with the animal's exclusive plant host selection. Genes missing from the insect in conserved biochemical pathways that are essential for its survival on the nutritionally imbalanced sap diet are present in the genomes of its microbial endosymbionts, which have evolved to complement the mutualistic nutritional needs of the host.
Conclusions
Our study reveals a series of complex adaptations of the brown planthopper involving a variety of biological processes, that result in its highly destructive impact on the exclusive host rice. All these findings highlight potential directions for effective pest control of the planthopper.
Keywords
Brown Planthopper
Fosmid Library
Fosmid Clone
Peritrophic Matrix
Unannotated Gene
Background
The brown planthopper (BPH),
Nilaparvata lugens
(Stål) (Hemiptera: Delphacidae) (Figure
1
A), has become the most destructive pest for rice (
Oryza sativa
) - the major food source for half of the world's population - since Asian farmers adopted green revolution technologies in the 1960s, that is, agricultural practices using genetically improved cultivars, synthetic fertilizers and pesticides [
1
]. BPH is equipped with special biological features that enable frequent outbreaks of it in condensed rice paddy fields, which have been used continuously for monoculture across large areas of Asia, under heavy use of nitrogen fertilizer and insecticides. Features contributing to the success of the insect include its mystical capacity to live on a sole host plant and to overcome host plant resistance, association with multiple endosymbionts, high fecundity, and long distance migration (Figure
1
A,B). Although various new rice varieties with high resistance to BPH and new insecticides, as well as integrated pest management (IPM) programs, have been developed and implemented, Asian countries have continually experienced serious outbreaks of BPH in the new century. Approximately 10 to 20 million hectares of rice fields were destroyed by BPH through direct sucking and transmittal of ragged stunt virus and grassy stunt virus in 2005 [
2
],[
3
].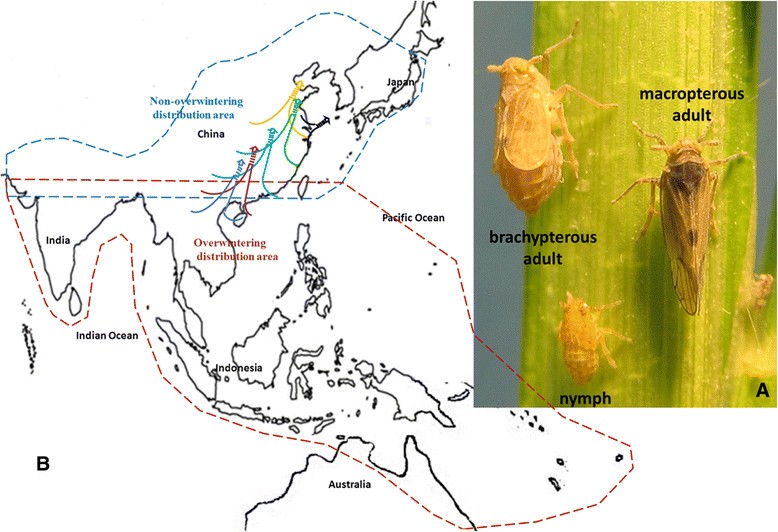 As a monophagous insect, BPH feeds only on the phloem sap of the rice plant and can also quickly overcome resistance genes in its rice host through the development of new virulence [4]. BPHs occur as a complex of populations that exhibit varying abilities to survive on and infest host varieties possessing different resistance genes [5],[6]. Furthermore, recent studies have revealed that the yeast-like endosymbionts (YLS) and bacterial symbionts of this insect might also play important roles in insect-plant competition [7],[8], thereby forming an integrative part of BPH's adaptation to its rice host.
Among all the features of BPH, perhaps the best known are its wing dimorphism (macropterous and brachypterous adults) and capability for long-distance migration, which enable it to exploit its exclusive rice host in temperate regions and results in maximized damage to rice production across wide geographic areas (Figure 1B). The northern geographic limit of winter breeding for BPH is approximately 23 to 25°N, and it does not survive winter in temperate regions [9]. Migratory macropterous adults remain in reproductive diapause after emergence, but their capacity for long-distance flight enables them to migrate northward when rice becomes available in temperate areas of China, northern India, Japan, and Korea [10]. During autumn, returning migrations (north-to-south) of BPH populations have been observed across China and India [11]. However, most adults of subsequent generations post-migration are brachypterous, exhibiting increased fecundity due to shortened pre-oviposition and extended oviposition periods [12]. When the local habitat deteriorates critically, such as when host rice matures, the fitness of the brachypterous morph plummets because of its inability to escape and colonize more favorable habitats elsewhere. Consequently, the macropterous morph becomes dominant [12].
In this study, we obtained a 1.14 Gbp draft BPH genome and identified 27,571 protein-coding genes. The BPH genome is the first characterized genome of a monophagous sap-sucking arthropod herbivore. In addition, we sequenced the genomes of both the YLS and bacterial endosymbionts of BPH. By targeted investigations of these three genomes with reference to the increasing diversity of arthropod genomes, we discovered that components in the chemoreception, detoxification, and digestive enzyme gene families in the BPH genome have contracted or been lost. However, genes essential for BPH's survival on rice sap, a nutritionally imbalanced food source, were discovered within the genomes of its microbial endosymbionts, which have evolved to complement the needs of their host.
Conclusion
Whole genome sequencing of BPH and its fungal and bacterial endosymbionts revealed genomic mechanisms of insect-symbiont interactions. The complementarity of the three genomes with regard to nutritional pathways, including essential amino acid and steroid biosynthesis by the fungal symbiont and vitamin B supplementation by the bacterial symbiont, enables BPH to thrive on a low-nutrient diet provided solely by rice. In addition, the contractions or loss of genes involved in chemoreception, detoxification, and digestion by BPH also reflect its unique sap diet. These three, complementary genomes will serve as invaluable resources for further understanding plant-herbivore-microbe interactions and the underlying evolutionary mechanisms involved in such mutualistic relationships. Genomic annotation and expression analysis indicated the wing network related to BPH's dimorphism. All these findings highlight potential directions for effective pest control of BPH. Additionally, with a reference sequence available, more extensive re-sequencing in different global populations will improve the understanding of BPH's migratory routes, and aid in identifying potential differences between populations that cause different levels of destruction.
Abbreviations
bp:

base pair
BPH:

brown planthopper
CDS:

coding sequence
CSP:

chemosensory protein
EST:

expressed sequence tag
GR:

gustatory receptor
GST:

glutathione-S-transferase
KEGG:

Kyoto Encyclopedia of Genes and Genomes
miRNA:

microRNA
ncRNA:

non-coding RNA
OBP:

odorant binding protein
OR:

odorant receptor
PBS:

phosphate-buffered saline
PCR:

polymerase chain reaction
PM:

peritrophic matrix
snRNA:

small nuclear RNA
TE:

transposable element
WGS:

whole-genome shotgun
YLS:

yeast-like symbiont
Declarations
Acknowledgements
This work was supported by grants from the National Basic Research Program of China (973 Program, number 2010CB126205) and the National Science Foundation of China (31272374 and 31070136). Genome sequencing and analysis were also supported by grants from BGI-Shenzhen, Chinese Ministry of Agriculture, Key Lab of Genomics and the China National GeneBank-Shenzhen. We thank Kimiko Yamamoto, Tetsuro Shinoda and Kazuei Mita of the Agrogenomics Research Center, National Institute of Agrobiological Sciences, Japan, for their helpful suggestions for this program.
Authors' Affiliations
(1)
State Key Laboratory of Rice Biology/Institute of Insect Science, Zhejiang University, Hangzhou, China
(2)
BGI-Shenzhen, Shenzhen, China
(3)
BGI-Tech, BGI-Shenzhen, Shenzhen, China
(4)
School of Biosciences, The University of Birmingham, Birmingham, United Kingdom
(5)
National Institute of Agrobiological Sciences, Tsukuba, Japan
(6)
State Key Laboratory for Biocontrol/Institute of Entomology, Sun Yat Sen University, Guangzhou, China
(7)
Department of Biology, University of Copenhagen, Copenhagen, Denmark
(8)
Princess Al Jawhara Center of Excellence in the Research of Hereditary Disorders, King Abdulaziz University, Jeddah, Saudi Arabia
(9)
China National GeneBank, BGI-Shenzhen, Guangdong, China
(10)
James D. Watson Institute of Genome Science, Hangzhou, China
(11)
Macau University of Science and Technology, Taipa, China
(12)
Department of Medicine, University of Hong Kong, Pokfulam, Hong Kong
Copyright
© Xue et al.; licensee BioMed Central Ltd. 2014
This article is published under license to BioMed Central Ltd. This is an Open Access article distributed under the terms of the Creative Commons Attribution License (http://creativecommons.org/licenses/by/4.0), which permits unrestricted use, distribution, and reproduction in any medium, provided the original work is properly credited. The Creative Commons Public Domain Dedication waiver (http://creativecommons.org/publicdomain/zero/1.0/) applies to the data made available in this article, unless otherwise stated.