A general framework for analyzing tumor subclonality using SNP array and DNA sequencing data
Received: 31 July 2014
Accepted: 15 September 2014
Published: 25 September 2014
Abstract
Intra-tumor heterogeneity reflects cancer genome evolution and provides key information for diagnosis and treatment. When bulk tumor tissues are profiled for somatic copy number alterations (sCNA) and point mutations, it may be difficult to estimate their cellular fractions when a mutation falls within a sCNA. We present the Clonal Heterogeneity Analysis Tool, which estimates cellular fractions for both sCNAs and mutations, and uses their distributions to inform macroscopic clonal architecture. In a set of approximately 700 breast tumors, more than half appear to contain multiple recognizable aneuploid tumor clones, and many show subtype-specific differences in clonality for known cancer genes.
Keywords
Somatic Mutation
Single Nucleotide Polymorphism Marker
Single Nucleotide Variant
Single Nucleotide Polymorphism Array
Copy Number Profile
Background
It has been recognized for nearly 40 years that cancer is a dynamic disease and its evolution follows a classical Darwinian process [1],[2]. After the proposal of the two-hit model of oncogenesis [3], and especially after the discovery of the linear progression from benign polyps to colorectal cancer via a series of mutational events [4],[5], it was briefly envisioned that cancer could be understood in most cases by simply finding the small number of events that act sequentially to drive step-wise clonal selection. However, initial efforts to sequence most coding genes in tumor DNA revealed remarkable heterogeneity between tumors in each cancer type examined [6]-[9]: typically, very few (<10) genes are mutated in >10% of tumors, but many (40 to 80) are mutated in 1% to 5% of tumors. Further, heterogeneity in cancer could manifest on other levels: not just among different patients, but also among tumors of different grades or organ sites in the same patient, as well as among different cells within a tumor [10],[11]. Heterogeneity at any of these levels could confound diagnosis and treatment, and underlie the inherent evasiveness of this disease. Most genomic analyses to date, notably those led by the Cancer Genome Atlas (TCGA) Research Network [12]-[15] and the International Cancer Genome Consortium (ICGC) [16] have focused on inter-tumor heterogeneity. These studies analyze hundreds of tumors per cancer type, relying on bulk tissue samples, usually for one sample per patient. The data were primarily interpreted by regarding each tumor as a single population of cells with uniform character. Despite the inherent limitation of this assumption, as shown by the widely reported tumor-normal mixing [17]-[19], large-scale inter-tumor comparisons have led to important new insights into significantly mutated genes [12],[13], recurrently perturbed pathways [20], mutation signatures [16],[21], tumor subtypes [22],[23], molecular predictors of outcome, and commonalities or distinctions among different cancer types [24]. However, these studies are not designed to adequately investigate intra-tumor heterogeneity. Ultimately, cancer genome evolution takes place at the single-cell level, and it is the cellular complexity and its dynamics that give rise to both intra- and inter-tumor heterogeneity. Currently, cytogenetic methods are of low throughput and often cannot assure representative sampling. And the cost of single-cell sequencing [25]-[28] remains prohibitively expensive for all but the proof-of-concept studies. Under such constraints, many groups have surveyed intra-tumor heterogeneity by comparing multiple specimens from the same patient by longitudinal sampling or spatial sampling (mainly for solid tumors). Almost invariably, analyses of longitudinal samples have uncovered dramatic temporal changes of the cancer cell population that often correlate with disease progression, severity, and treatment resistance [29]-[32]. Similarly, multi-region comparisons have revealed extensive genomic variability across different geographic sectors of the tumor [33],[34], or between the primary and metastatic tumors [35]. These studies, while using samples collected with a higher spatial or temporal resolution than those in TCGA and ICGC, often still contain heterogeneous populations of cells [35]-[37].
Fortunately, while bulk tissue data describe the global average of multiple subpopulations of cells, it is sometimes possible to statistically infer the number and genomic profile of such subpopulations. For example, when a sample is sequenced deeply, the somatic mutation frequencies sometimes cluster around a small number of distinct frequency `modes' [38],[39], suggesting that somatic mutations of similar frequencies may reside in the same population of cells and these cells may have descended from the same founder cell. For this reason, these mutations are said to belong to the same `clone' or `subclones', the latter referring to a clonal population of a relatively small cellular fraction. This inference task, essentially a deconvolution problem (or Blind Source Separation Problem), presents many analytical challenges, since both the number of subclones and the genomic profile of each need to be estimated simultaneously, and somatic copy number alterations (sCNAs) and somatic single-nucleotide variants (SNVs) often reside in the same region yet have unknown phase or genealogical order. Currently available methods often need to invoke simplifying assumptions and often focus on a subset of the issues. For example, ABSOLUTE[40] uses sCNA data to estimate the global mixing ratio of aneuploid and euploid cells, but only under a tumor-normal, two-population assumption, which involves a single tumor population of full clonality. When a sCNA or SNV is subclonal, ABSOLUTE makes the qualitative designation of `subclonal' without quantitatively estimating the clonality. Other methods also invoke other types of compromises, and we will defer the description of these limitations to the Discussion.
In this work, we developed Clonal Heterogeneity Analysis Tool (
CHAT
) as a general framework for estimating the cellular frequencies of both sCNAs and SNVs. It is suitable for analyzing genomewide SNP genotyping and DNA sequencing data for tumor-normal pairs (Figure
1
).
CHAT
begins by identifying regions of sCNA or by partitioning the genome into bins; and for each sCNA or bin, it estimates a local mixing ratio, called segmental aneuploid genome proportion (sAGP), between a euploid population and a single aneuploid population carrying the local CNA. The assumption of local two-way mixing does not imply there are only two cell populations globally. It is akin to the infinite-site model in population genetics, stating that each locus experienced only one copy number alteration, without a second over-riding alteration or the reversal to the original germline state (that is, back mutation). After calculating sAGP for every sCNA in the tumor,
CHAT
estimates the cellular prevalence of SNVs (also called cancer cell fraction, or CCF, as in [
32
]) by adjusting the observed somatic allele frequency (SAF) from sequencing data according to the background copy number status, while also considering the sCNA clonality (sAGP), the relative order of occurrence between the SNV and its associated sCNA, and their cis- or trans-relationship. Through simulation we show that
CHAT
performs well in quantitatively recovering sAGP, CCF, and the underlying evolutionary scenario. We also show that it estimates CCF more accurately than
EXPANDS
and
PyClone
in most scenarios and CNA states. We have applied
CHAT
to calculate sAGP for sCNAs, and CCF for SNVs, across 732 human breast tumor samples previously analyzed for inter-tumor diversity by TCGA [
14
] (Materials and methods, Data access and sCNA identification), and we will present two vignettes of the results. Lastly, we discuss the model identifiability issue and compare the theoretical features of
CHAT
with that of several similar methods.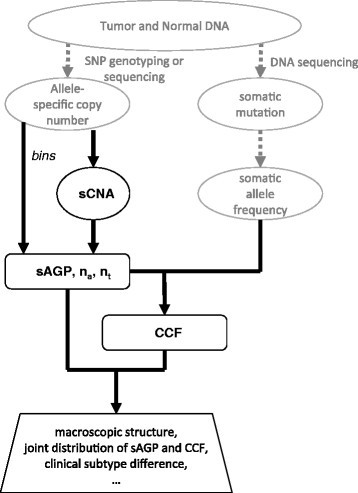 Discussion
In this work, we developed a computational framework to estimate clonality for both sCNAs and SNVs. It is built on previous methods both by us [18] and by others [32],[38],[41],[43],[50]. While CHAT does not solve all the issues facing the cancer genome deconvolution problem, it attempts to overcome several important compromises or simplifying assumptions that underlie other methods. First, oncoSNP[51] and THetA[41] are designed to estimate sCNA clonality, but they do not address the clonality of somatic mutations. Second, Ding et al. [52] used a kernel density estimation method to characterize somatic mutations, but only focused on those in the euploid regions of genome, staying clear of the complicated relationship between SNV and sCNAs. Third, ABSOLUTE infers clonality for both sCNA and mutations but only designate subclonal status of the events, stopping short of quantitative estimation. This method was extended in Landau et al. [32] to estimate CCF for somatic mutations even if they are subclonal, but the algorithm only considers the case where sCNA occurred before SNV, equivalent to our scenario B (Figure 3 and Additional file 1: Figure S1), and further assumes that the copy number was altered by only one in the sCNA. In this regard, CHAT considers a wider array of possible scenarios. Fourth, EXPANDS[50] works with next-generation sequencing data and jointly estimates the absolute DNA copy number, clonality of somatic mutations, and that of sCNAs. However, this method only considers scenario A, and without the r1 population. In effect, it assumes that the mutation and sCNA occur at the same instance and are in phase. These assumptions explained its underestimation of CCF in scenario A and overestimation in B and C (Figure 6). Fifth, PyClone[43] infers clonality of somatic mutations and performs phylogenetic analysis. It receives as input the integer copy number profiles estimated from other methods, but only considers scenarios A and B, disregarding the possibility of a branching lineage (scenario C). Furthermore, for scenario A, it assumes co-occurrence of SNV and sCNA, thus ignoring the r1 population. In sum, the first key contribution of CHAT is in providing a general mathematical framework that enumerates the complete set of scenarios covering the possible order and phase of the sCNA and the mutation.
Like many of the previous methods, CHAT has its own limitations, primarily in being unable to resolve extremely complex events such as three-way mixing or above. It models two-population mixing at each genomic region (a gene, a sCNA, or a bin) and works best when the tumor has not experienced extensive and repeated copy number alterations. In the TCGA breast tumor dataset we found that 9.3% of sCNAs do not follow the regional two-way mixing model and preclude sAGP estimation. For the other, permissible sCNAs, CHAT can proceed, and is able to infer the co-existence of two or more subpopulations by analyzing the distribution of sAGP or CCF values. We wish to re-emphasize that while CHAT invokes two-way mixing for each individual genomic region, it is not limited to infer the presence of only two populations of cells. Globally, the number of peaks in the sAGP or CCF distribution has no restriction, and can be very high when the signal-to-noise ratio is improved, such as with ultra-deep sequencing data, for example, [39].
A second contribution of CHAT is in systematically assessing the input data combinations that leads to `unidentifiable zones', in which the CCF, or `scenarios' (that is, the evolutionary order and phase of the sCNA and SNV), cannot be resolved even with perfect data. Importantly, we found that in many situations, even if the evolution scenario is undetermined, CCF can still be estimated. The ability to objectively evaluate the power of inference in any given dataset is an important part of method development. Our treatment of this topic therefore sets useful constraints for future development of similar analysis tools. We found that, with the TCGA breast tumor data, about 9.3% of the identified sCNAs cannot be explained by local two-way mixing and were assigned missing sAGP values. In the second step, about 7% of the SNVs have unidentifiable CCF because they fall in either an inadmissible sAGP-SAF zone or a region with conflicting CCF estimates. Thus 93% of SNVs are suitable for CCF estimation, despite the fact that 48% of them involve ambiguous scenarios.
When applying CHAT to the breast tumor dataset, we found that approximately 61% of the breast tumors in the TCGA cohort contain more than one recognizable sAGP peaks, suggesting that even in a tumor cohort collected for studying inter-tumor diversity there is opportunity to detect intra-tumor mixing of multiple populations of aneuploid cells. And the results show that extensive intra-tumor heterogeneity does exist. This observation expands the earlier view that tumor-normal mixing contributes to intra-tumor heterogeneity, and confirms the results from single-cell and multi-region analyses in other solid tumors, for example, [25],[33]. We wish to point out that the estimate of 61% was based on a specific analysis approach, and would vary with alternative parameter choices. For example, by using regularly spaced bins we found that 392 of 645 samples (61%) were multi-modal, yet by using the naturally occurring sCNAs, only 635 samples had sufficient number of events, and 373 of them, or 59%, were multi-modal. More notably, of the 392 multi-modal samples called with bins, and the 373 multi-modal samples called with sCNAs, the overlap is 235, or about 60% for either method. This level of concordance is related to the inherent shortage of observations for many samples: when the number of sCNAs or bins is in the 50 to 100 range, and if the primary peak is far larger than the secondary peak, the inference is less stable. These data-derived limitations can be overcome in the future when more samples are analyzed with whole-genome sequencing, which will likely yield a far greater number of genealogically informative markers.
A useful downstream analysis of the inferred clonality measures is to assess the distribution patterns of cellular frequencies of somatic aberrations, and to detect frequency clusters when they do exist for a given tumor. CHAT provides the option of characterizing the macroscopic clonal structure by a cluster-based approach (Figure 1). It is important to emphasize that these frequency clusters, despite their many valid interpretations, cannot be equated to individual subclones. A subclone may carry somatic events in multiple clusters, and may share some events with another subclone if they are descendants of the same parental clone. The full deconvolution of the observed aggregate pattern into those contributed by individual subclones requires further mathematical modeling and involves additional challenges. Several methods have recently appeared to address this `Blind Source Separation Problem', or synonymously, `Feature Allocation Problem' [53]-[56]. CHAT can be applied in tandem with these methods, that is, the sAGP and CCF output from CHAT can serve as the input data for further feature allocation to component subclones.
The co-existence of multiple clonal populations in bulk tissues could be explained by several population genomics models that are not mutually exclusive. First, in a multi-region parallel-evolution model, the tumor tissue might contain geographically segregated `pure' populations, reflecting branched evolution of multiple clones of homogeneous tumor cells, each developing a different genomic profile that reflects its cell type of origin and adaptation to the local tissue habitat. This model can only be tested by spatially restricted sampling. Second, even in the absence of spatial segregation, the non-spatial, sequential expansion model could still lead to multiple nested populations. In some episodes, a burst of mutations or copy number variants might occur in one cell, which subsequently expands to a detectable clonal size driven by its unusually high selective advantage [57]-[59]. Alternatively, even in the absence of such disruptive genomic crisis, the slow, successive replacement of mildly advantageous clones could also result in a series of partial sweeps, leading to co-existence of multiple clones at any given time [60],[61]. In other words, episodic acceleration of cancer genome evolution can take place either via mutation rate `spikes' or simply through variabilities of selective advantage among driven events within a constant mutation regime. There are many routes that could lead from gradual evolution to punctuated equilibrium [62] in the history of each cell population; and this temporal heterogeneity is often further compounded in solid tumors by their spatial heterogeneity.
Conclusion
We developed an automated pipeline that estimates cellular fractions for both sCNAs and mutations, and uses their distributions to inform macroscopic clonal architecture. It considers a wider range of evolutionary scenarios than existing methods concerning the timing and phase relationship between a sCNA and a mutation it contains. Our method also explicitly evaluates model- and parameter- identifiability. When applied to a previously analyzed set of >700 breast tumors we found more than half of the tumors appear to contain multiple recognizable aneuploid tumor clones, and many show subtype-specific differences in clonality between sCNA and mutation in known cancer genes. This method adds to the available toolkit for examining intra-tumor heterogeneity using bulk tumor genomic data.
Authors' contributions
BL developed and implemented the algorithm; BL and JL wrote the manuscript; JL supervised the study. Both authors read and approved the manuscript.
Abbreviations
CCF:

Cancer cell fraction
CHAT :

Clonal heterogeneity analysis tool
ICGC:

International Cancer Genome Consortium
SAF:

Somatic allele frequency
sAGP:

Segmental aneuploidy genome proportion
sCNA:

Somatic copy number alteration
TCGA:

The Cancer Genome Atlas
Declarations
Acknowledgments
The results presented here are in part based upon data generated by the TCGA Research Network: http://cancergenome.nih.gov/. We would like to thank a Rackham Predoctoral Fellowship (BL) and a Pilot Grant from the Center of Computation Biology and Medicine at University of Michigan (JL) for supporting this research. We thank Drs. Nancy Zhang, Kerby Shedden, and Sebastian Zoellner for helpful discussions.
Authors' Affiliations
(1)
Program of Bioinformatics, University of Michigan, Ann Arbor, USA
(2)
Department of Human Genetics, University of Michigan, Ann Arbor, USA
Copyright
© Li and Li; licensee BioMed Central Ltd. 2014
This article is published under license to BioMed Central Ltd. This is an Open Access article distributed under the terms of the Creative Commons Attribution License (http://creativecommons.org/licenses/by/4.0), which permits unrestricted use, distribution, and reproduction in any medium, provided the original work is properly credited. The Creative Commons Public Domain Dedication waiver (http://creativecommons.org/publicdomain/zero/1.0/) applies to the data made available in this article, unless otherwise stated.