Transcriptome analyses of primitively eusocial wasps reveal novel insights into the evolution of sociality and the origin of alternative phenotypes
Received: 17 December 2012
Accepted: 26 February 2013
Published: 26 February 2013
Abstract
Background
Understanding how alternative phenotypes arise from the same genome is a major challenge in modern biology. Eusociality in insects requires the evolution of two alternative phenotypes - workers, who sacrifice personal reproduction, and queens, who realize that reproduction. Extensive work on honeybees and ants has revealed the molecular basis of derived queen and worker phenotypes in highly eusocial lineages, but we lack equivalent deep-level analyses of wasps and of primitively eusocial species, the latter of which can reveal how phenotypic decoupling first occurs in the early stages of eusocial evolution.
Results
We sequenced 20 Gbp of transcriptomes derived from brains of different behavioral castes of the primitively eusocial tropical paper wasp Polistes canadensis. Surprisingly, 75% of the 2,442 genes differentially expressed between phenotypes were novel, having no significant homology with described sequences. Moreover, 90% of these novel genes were significantly upregulated in workers relative to queens. Differential expression of novel genes in the early stages of sociality may be important in facilitating the evolution of worker behavioral complexity in eusocial evolution. We also found surprisingly low correlation in the identity and direction of expression of differentially expressed genes across similar phenotypes in different social lineages, supporting the idea that social evolution in different lineages requires substantial de novo rewiring of molecular pathways.
Conclusions
These genomic resources for aculeate wasps and first transcriptome-wide insights into the origin of castes bring us closer to a more general understanding of eusocial evolution and how phenotypic diversity arises from the same genome.
Keywords
Royal JellyEusocial InsectAlternative PhenotypeSolenopsis InvictaEusocial Species
Background
Phenotypic plasticity is a fundamental biological process that allows organisms to adapt to changes in their environment [1, 2]. Examples of plastic phenotypes include insect castes [3, 4], horn-polyphenic beetles [5] and sex differences [6], where they play a crucial role in shaping the ecology and evolution of species and ecosystems. Understanding how alternative phenotypes arise from the same genome is one of the most challenging questions in modern biology [1, 2].
The most impressive examples of phenotypic plasticity are found in the eusocial Hymenoptera (ants, some bees and some aculeate wasps), where specialized reproductive or non-reproductive phenotypes (castes) play a pivotal role in the ecological success of these insects [7]. Eusocial insect castes usually arise through differential expression of shared genes [8, 9], but studies to date have been largely restricted to the highly eusocial bees and ants, where caste phenotypes are evolutionarily derived, being greatly modified from their ancestral state (for example, with morphological adaptations that are established early in development). Thus, some of the molecular processes underlying the origins of castes are likely to differ substantially from those underlying highly eusocial species [10, 11]. Understanding how castes first arise is best studied in primitively eusocial species, but little is known about their molecular evolution, particularly in the aculeate wasps [12–15]. Thus, there is a need for comprehensive gene-level studies on primitively eusocial wasps.
In the evolution of eusociality, behavioral and physiological traits of the non-social ancestor become decoupled into complementary queen and worker phenotypes [16], but we understand little about the molecular patterns and processes by which this originates and to what extent molecular ground plans are re-organized. These questions are of general biological importance in understanding the evolution of phenotypic diversity [1, 2]. Empirical assessment of how gene transcription is decoupled into alternative phenotypes has been difficult to obtain because it requires unbiased quantification of gene expression (of both known and novel (undescribed) genes) across whole genomes [17]. Microarray analyses of the highly eusocial honeybee (Apis mellifera) and fire ant (Solenopsis invicta) suggest marked functional decoupling of molecular processes in queens and workers, involving large numbers of genes [18–21]. Little is known about the patterns and processes of transcriptional decoupling for castes in primitively eusocial insects [12, 14]. A simple prediction is that patterns of transcriptional and functional decoupling should be less pronounced than in highly eusocial species, because phenotypes are in the first stages of merely behavioral decoupling [9, 12].
Processes of phenotypic decoupling at the molecular level may occur via several mechanisms [5, 22]. Conserved toolkits of ancestral molecular processes may be redeployed to regulate similar alternative phenotypes across species and lineages [23–26]. In eusocial insects, conserved toolkit genes appear to be differentially expressed in castes across species, including bees and wasps [12, 27]. An alternative, untested prediction is that at least some of the molecular processes underlying social phenotypes, in different social lineages and among different levels of social complexity, will differ substantially. This is because extensive molecular and developmental re-wiring or new gene evolution may be required for the loss of phenotypic plasticity and elaboration of phenotype-specific traits [10, 28]. There may also be rapid evolution of genes associated with the emergence of alternative phenotypes [6, 17, 29], and there is evidence for this in the highly eusocial honeybees and fire ants [30, 31]. Finally, the importance of novel genes (that is, previously undescribed genes that lack any detectable protein-coding homologues from existing sequence data [32]) in the evolution of phenotypic innovations has recently emerged in animals as varied as yeast [33], hydra, reptiles [34–36], and also honeybees [37]. To date the eusocial insect literature has largely focused on conserved molecular pathways for social behavior [12, 26, 27, 38, 39], and the relative roles of the different mechanisms of phenotypic decoupling are unknown.
We sequenced over 20 Gbp of genome-wide caste-specific transcripts from the primitively eusocial, tropical paper wasp
Polistes canadensis
using high-throughput sequencing technologies. Castes in
Polistes
differ only in behavior and are determined through differential gene expression during adulthood [
12
–
14
], making
Polistes
important models for studying the early stage in the evolution of eusociality and phenotypic plasticity [
40
].
Polistes
originated in the tropics, and the secondary adaptations to diapause found in temperate species (for example, [
41
]) will be absent in
P. canadensis
[
42
]. Typically a few foundresses build and provision new colonies (Figure
1
). One foundress becomes the primary egg-layer (queen). Emerging adults help raise the offspring of their mother queen, but retain the ability to become egg-layers [
43
–
45
]. Thus,
Polistes
castes represent an early stage of phenotypic decoupling in the evolution of eusociality [
16
].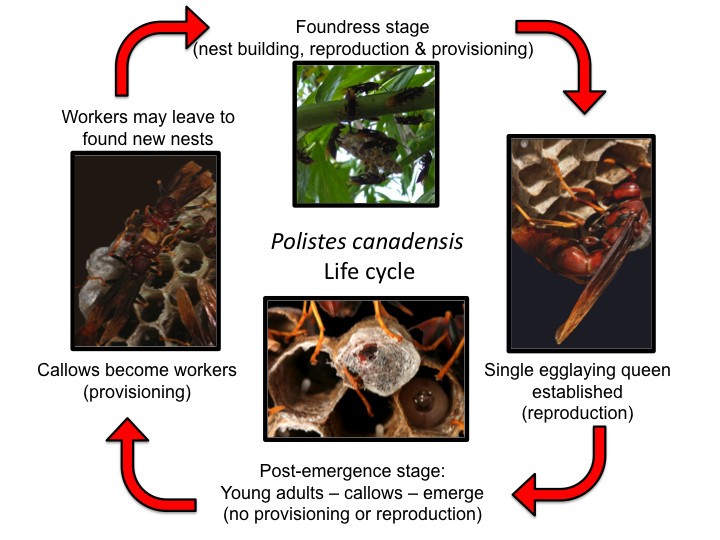 Here, we generate a genome-wide catalogue of aculeate wasp genes expressed in adult females to provide a resource for genomic analyses. We then conduct the first RNA-seq analyses of caste-biased expression in a wasp and primitively eusocial insect to test the above hypotheses on the patterns and processes of molecular decoupling of alternative phenotypes at the early stages in the evolution of eusocial behavior. These datasets allow a first simultaneous assessment of the role of conserved genetic toolkits, novel genes and gene evolution when social behavior first evolves. We also use our data to re-assess the phylogenetic relationships between the three aculeate Hymenoptera subfamilies (bees, wasps and ants), which is vital information for interpreting common processes and lineage-specific novelties underlying the evolution of alternative phenotypes. Recently, there has been much debate over the relationships of aculeate bees, wasps and ants, challenging the morphology-based view that Vespoidea (ants plus aculeate wasps) are monophyletic [46, 47]. Genome sequences (or similar catalogue of genes) for aculeate wasps will help resolve this controversy and provide a basis for interpreting comparative data on social evolution.
Conclusions
Our RNAseq analyses of phenotypic decoupling in P. canadensis provide some intriguing novel insights into the evolution of alternative phenotypes, and the early stages of caste evolution and sociality. First, they highlight the importance of novel genes in phenotypic diversity, emphasizing the need to expand existing genomic datasets beyond established model organisms to include a wider range of taxonomic groups. Secondly, they add important insights to the current emerging picture that much of the molecular changes that accompany social evolution occur predominantly in the worker rather than queen caste, with an over-representation of novel caste-biased genes in workers. These features may be important in facilitating the evolution of behavioral complexity in the worker caste. We show that these patterns are evident even at the early stages of sociality, where castes retain plasticity. Further, contrary to highly eusocial species, genes involved in caste differentiation do not appear to be subject to relaxed selection at the early stages of sociality. Diversity in the molecular regulation of castes across social lineages is expected if many pleiotropic genes involved with sexual conflict are lost in the early stages of social evolution, when ancestral monogamy is required to generate the conditions for the evolution of worker behavior [10]. Subsequent evolution of queen and worker behaviors, therefore, may take very different molecular pathways in different lineages, requiring new gene networks to evolve independently [28]. Further RNA-seq studies on other species (for example, [70]) and also genome sequencing to explore the potential role of alternative splicing (for example, [71]) will help determine the complementary roles of conserved and novel molecular processes in shaping social and other polyphenisms, bringing us closer to understanding how genomes give rise to phenotypic diversity in general.
Abbreviations
bp:

base pair
GO:

Gene Ontology
lncRNA:

long non-coding RNA
NR:

non-redundant
ORF:

open reading frame
RPKM:

reads per kilobase per million.
Declarations
Acknowledgements
We thank Centre for Genomic Regulation (CRG) (Heinz Himmelbauer and Francisco Câmara), GenePool and the Babraham Institute (Wolf Reik and Simon Andrews) for support and access to their sequencing facilities. We thank RCUK, CONSOLIDER (CSD2007-0005), the Spanish Ministry of Science (BIO2006-03380, BFU2009-09168), GTEX (NIH Project 1RO1MH090941-01), and a Wellcome Trust Senior Investigator Award to Wolf Reik. SS was supported by a UK Research Council (RCUK) fellowship, and PGF by a FCT postdoctoral grant (SFRH/BPD/42003/2007) from the Portuguese Ministry of Science and Technology. We thank the Smithsonian Tropical Research Institute (particularly William Wcislo, Mary Jane West-Eberhard, Jorge Morales and staff at the Galeta Field Station) for hosting the fieldwork, and Stephanie Dreier and Thibault Lengronne for assistance in the field. The fieldwork was conducted under ANAM Permit No. SE/A-33-09.
Authors' Affiliations
(1)
Center for Genomic Regulation, Universitat Pompeu Fabra (CRG-UPF), Barcelona, Spain
(2)
Institute of Zoology, Zoological Society of London, Regent's Park, UK
(3)
The Babraham Institute, Babraham Research Campus, Cambridge, UK
(4)
Centre for Ecology and Conservation, Biosciences, University of Exeter, Tremough, UK
(5)
School of Biological Sciences, University of Bristol, Bristol, UK
(6)
Department of Genetic Medicine and Development, University of Geneva Medical School, Geneva, Switzerland
Copyright
© Ferreira et al.; licensee BioMed Central Ltd. 2013
This article is published under license to BioMed Central Ltd. This is an open access article distributed under the terms of the Creative Commons Attribution License (http://creativecommons.org/licenses/by/2.0), which permits unrestricted use, distribution, and reproduction in any medium, provided the original work is properly cited.