Comparative genomics of the pathogenic ciliate Ichthyophthirius multifiliis, its free-living relatives and a host species provide insights into adoption of a parasitic lifestyle and prospects for disease control
Genome Biology
2011
12:R100
Received: 20 April 2011
Accepted: 17 October 2011
Published: 17 October 2011
Abstract
Background
Ichthyophthirius multifiliis, commonly known as Ich, is a highly pathogenic ciliate responsible for 'white spot', a disease causing significant economic losses to the global aquaculture industry. Options for disease control are extremely limited, and Ich's obligate parasitic lifestyle makes experimental studies challenging. Unlike most well-studied protozoan parasites, Ich belongs to a phylum composed primarily of free-living members. Indeed, it is closely related to the model organism Tetrahymena thermophila. Genomic studies represent a promising strategy to reduce the impact of this disease and to understand the evolutionary transition to parasitism.
Results
We report the sequencing, assembly and annotation of the Ich macronuclear genome. Compared with its free-living relative T. thermophila, the Ich genome is reduced approximately two-fold in length and gene density and three-fold in gene content. We analyzed in detail several gene classes with diverse functions in behavior, cellular function and host immunogenicity, including protein kinases, membrane transporters, proteases, surface antigens and cytoskeletal components and regulators. We also mapped by orthology Ich's metabolic pathways in comparison with other ciliates and a potential host organism, the zebrafish Danio rerio.
Conclusions
Knowledge of the complete protein-coding and metabolic potential of Ich opens avenues for rational testing of therapeutic drugs that target functions essential to this parasite but not to its fish hosts. Also, a catalog of surface protein-encoding genes will facilitate development of more effective vaccines. The potential to use T. thermophila as a surrogate model offers promise toward controlling 'white spot' disease and understanding the adaptation to a parasitic lifestyle.
Keywords
Ortholog GroupParasitic LifestyleCelera AssemblerCraig Venter InstituteWhite Spot Disease
Background
The ciliates are an ancient and diverse phylogenetic group related to the largely parasitic apicomplexans, but consisting mostly of free-living heterotrophs. Some ciliates, however, have adopted a parasitic lifestyle. By far the most important of these is
Ichthyophthirius multifiliis
(which we will refer to by its common name of Ich), an endoparasite that causes white spot disease in freshwater fish [
1
,
2
]. With an extremely broad host-range, Ich is responsible for large-scale die-offs in natural populations and poses a significant threat to the growing worldwide aquaculture industry. Ich has a simple life cycle with no intermediate hosts (Figure
1
). The free-swimming theront form invades the epidermis of susceptible fish, feeding on host tissue and growing up to 0.5 mm in diameter. Host-associated trophonts become visible as individual white spots for which this disease is named. A severe infection, particularly of the gills, results in asphyxiation and death. Although fish that survive infection are resistant to future challenge, prophylactic and therapeutic options remain extremely limited.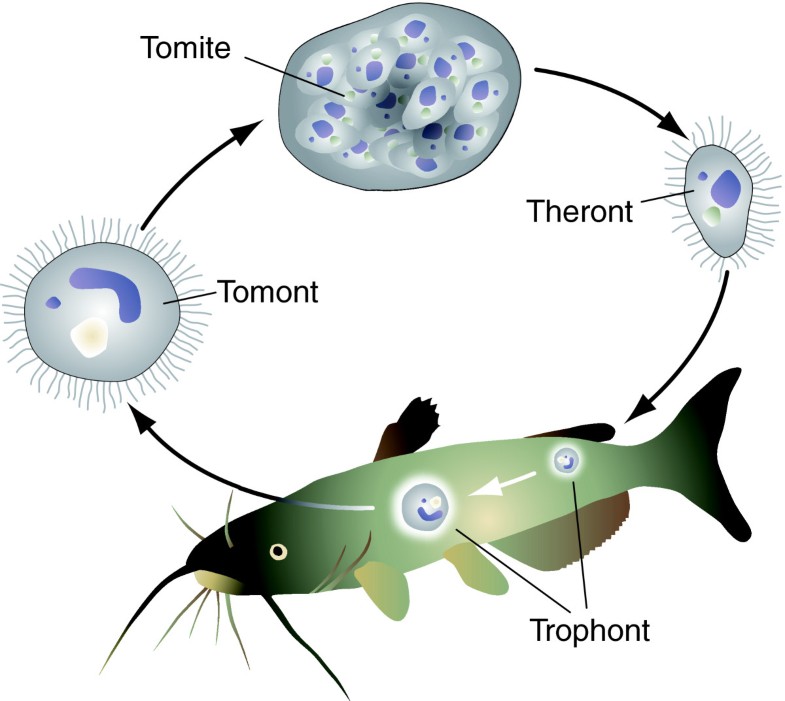 Experimental studies of Ich are limited by its obligate parasitic lifestyle and lack of genetics, and therefore genomic approaches have been pursued to identify targets for therapy and vaccines. EST projects [3, 4] have provided partial sequences of many protein-coding genes, but to gain a complete understanding of Ich's metabolism and virulence, it is necessary to obtain and analyze its full genome sequence. Indeed, this approach has been extremely useful in uncovering potential targets for therapeutic intervention and/or immunologic protection for a number of protozoan parasites whose complete genome sequences have recently been deciphered [5–8]. Fortunately, Ich is fairly closely related to the model organisms Tetrahymena thermophila and Paramecium tetraurelia, whose macronuclear genomes have also been sequenced and annotated [9–11]. As shown here, comparative genomic analysis between these free-living species and the parasitic Ich reveals extensive genome reduction and modifications associated with the adoption of a parasitic lifestyle. There are relatively few cases of which we are aware in which the genome sequences of a parasite and a closely related free-living species are both available for such comparative analysis (for example, [12]). The ciliates may represent an excellent model system in which to explore the genomic consequences of this lifestyle switch, as it appears to have occurred in multiple independent cases within the genus Tetrahymena alone [13].
In addition, the genome of zebrafish, a model organism and representative host species, has been sequenced and thoroughly annotated [14]. Metabolic reconstruction of Ich and comparison with its host's metabolic pathways reveal potential targets for combating white spot disease.
Conclusions
Because of its evolutionary proximity to the well-studied, free-living T. thermophila and P. tetraurelia, Ich's genome sequence provides an interesting comparative viewpoint on the consequences of adaptation to a parasitic lifestyle. Ich has experienced a dramatic reduction in macronuclear gene content, but at the same time retains remarkable diversity of many gene families, such as kinases and membrane transporters, even in comparison to complex metazoan organisms. Ich's basic metabolic and cellular functions appear largely intact relative to its free-living relatives, but unlike Tetrahymena and Paramecium, Ich contains far fewer lineage-specific ortholog groups, in particular those presumed to be involved in signaling pathways and gene regulation. This suggests a genomic consequence of Ich's dependence on a host has been a reduction in the capacity for behavioral and regulatory complexity characteristic of predatory ciliates.
The full catalog of immobilization antigens for this strain, as well as candidates for other surface proteins, will facilitate elucidation of the mechanisms of antigenic variation and the development of more effective vaccines to prevent white spot disease. Likewise, the comparative genomics and comprehensive metabolic reconstruction made possible by the genome sequence provide numerous candidates for effective therapeutic intervention. Strikingly, several of these candidates are also being investigated as potential drug targets against other parasites, such as apicomplexans. These include the highly divergent ATP synthase, purine and pyrimidine salvage enzymes and calcium-based regulatory pathways. Thus, the fight against white spot disease may well benefit from research directed against malaria and other human diseases. To facilitate their use by the research community, the Ich genome sequence and annotation have been loaded into the genome browser of the Tetrahymena Genome Database [91].
Abbreviations
bp:

base pair
CAMK:

Ca2+/calmodulin-dependent protein kinase
CDPK:

calcium-dependent protein kinase
D2LIC:

dynein-2 light intermediate chain
EST:

expressed sequence tag
GPI:

glycosylphosphatidylinositol
HGT:

horizontal gene transfer
Ich:

Ichthyophthirius multifiliis
KEGG:

Kyoto Encyclopedia of Genes and Genomes
MAC:

macronucleus/macronuclear
Mb:

megabase pair
MIC:

micronucleus/micronuclear
mtDNA:

mitochondrial DNA
ncRNA:

non-coding RNA
OAD:

outer arm dynein
ORF:

open reading frame
rDNA:

ribosomal RNA-encoding DNA locus
sh-IAD:

single-headed inner arm dynein
TC:

transporter classification
TCDB:

Transporter Classification Database
TMS:

trans-membrane segment
VIC:

voltage-gated ion channel
WGD:

whole genome duplication.
Declarations
Acknowledgements
We would like to thank the following persons: Lakshmi Devi Viswanathan, Karen Beeson (library construction, sequencing), Jason Inman, Seth Shobel, Pamela Mishra, Kevin Galinsky (database submission), Mathangi Thiagarajan, Nikhat Zafar (advice and statistical data generation), Jason Miller (assembly assistance), Mihai Pop, Niranjan Nagarajan, Emily Zentz (optical map analysis and interpretation), Heather McDonald, (scientific illustration), Michael Gray (mitochondrial rRNA gene structure annotation), Mark Winey (comments) and Gerard Manning (preliminary kinome analysis and maintenance of kinbase). This work was supported by a grant (2007-04743) from the USDA/CSREES's National Research Initiative [128] via the Interagency Microbial Genome Sequencing Program to RSC, DMC and TGC.
Authors' Affiliations
(1)
Genomic Medicine, J Craig Venter Institute, Rockville, USA
(2)
Informatics, J Craig Venter Institute, Rockville, USA
(3)
Biology, University of Pennsylvania, Philadelphia, USA
(4)
Joint Technology Center, J Craig Venter Institute, Rockville, USA
(5)
Informatics, J Craig Venter Institute, San Diego, USA
(6)
Microbial and Environmental Genomics, J Craig Venter Institute, Rockville, USA
(7)
Microbial and Environmental Genomics, J Craig Venter Institute, San Diego, USA
(8)
Biological Sciences, University of California - San Diego, La Jolla, USA
(9)
Biology, University of Texas at San Antonio, San Antonio, USA
(10)
Microbiology and Immunology, Drexel University College of Medicine, Philadelphia, USA
(11)
Biological Sciences, Indiana University - South Bend, South Bend, USA
(12)
Undergraduate Science Education Program, Howard Hughes Medical Institute, Chevy Chase, USA
(13)
Cell and Developmental Biology, University of Colorado - Denver, Aurora, USA
(14)
Infectious Diseases, College of Veterinary Medicine, University of Georgia, Athens, USA
(15)
Department of Biology, University of Virginia, Charlottesville, USA
(16)
Plant Systems Biology, Ghent University, Ghent, Belgium
(17)
Biology and Penn Genome Frontiers Institute, University of Pennsylvania, Philadelphia, USA
(18)
Microbiology and Immunology, College of Veterinary Medicine, Cornell University, Ithaca, USA
Copyright
© Coyne et al.; licensee BioMed Central Ltd. 2011
This article is published under license to BioMed Central Ltd. This is an open access article distributed under the terms of the Creative Commons Attribution License (http://creativecommons.org/licenses/by/2.0), which permits unrestricted use, distribution, and reproduction in any medium, provided the original work is properly cited.