Enrichment of sequencing targets from the human genome by solution hybridization
Genome Biology
2009
10:R116
Received: 17 June 2009
Accepted: 16 October 2009
Published: 16 October 2009
Abstract
To exploit fully the potential of current sequencing technologies for population-based studies, one must enrich for loci from the human genome. Here we evaluate the hybridization-based approach by using oligonucleotide capture probes in solution to enrich for approximately 3.9 Mb of sequence target. We demonstrate that the tiling probe frequency is important for generating sequence data with high uniform coverage of targets. We obtained 93% sensitivity to detect SNPs, with a calling accuracy greater than 99%.
Keywords
Additional Data FileSequence CoverageCapture ProbeSolution HybridizationFragment Library
Background
Over the past several years, genome-wide association (GWA) studies have identified compelling statistical associations between more than 350 different loci in the human genome and common complex traits [1]. However, great difficulty occurs in moving beyond these statistical associations to identifying the causative variants and functional basis of the link between the genomic interval and the given complex trait. Population sequencing of these genomic intervals has been proposed as a method for identifying the causal common variants underlying the statistical associations and also for examining the potential contribution of rare variants in the interval to the complex trait of interest [1]. Next-generation sequencing technologies and their increased capacity have made it feasible to sequence efficiently hundreds of megabases of DNA. However, the current costs for sequencing entire human genomes makes this approach prohibitively expensive for population studies. Targeted sequencing of the specific loci associated with a complex trait in large numbers of individuals is a promising approach for using current sequencing technologies to identify and characterize the variants in these intervals. Additionally, population sequencing of candidate genes or the entire human exome may, in the near future, potentially make sequence-based association studies possible.
Several methods have been proposed for enrichment of sequence targets from the human genome. PCR has been used to amplify a large hundred-kilobase-size interval associated with prostate cancer for targeted sequencing in 79 individuals [2] and also the exons of hundreds of genes to identify somatic mutations in hundreds of individual tumors [3, 4]. Although PCR enriches target sequences with high specificity and sensitivity, it is difficult to scale the method. A second approach is hybridization-based methods using oligonucleotide probes either attached to a solid array [5–7] or in solution [8] to capture the sequencing targets. The solid-phase hybridization approach has been used to capture the entire human exome, reported in several published studies [7, 9]; however, the process is difficult to scale for large population studies. A proof-of-principle study for solution-phase hybridization by using long 170-bp capture probes has recently been published [8]. Although this study clearly demonstrated the utility of the approach, at a depth of 84× coverage, the variant-detection sensitivity was only 64% to 80% within the exonic sequences, likely because of insufficient coverage uniformity.
In this study, we further assessed the solution hybridization method for enrichment of sequencing targets. We chose to sequence the exons and potential regulatory elements of 622 genes distributed across the genome that are candidate intervals for playing a role in healthy aging (Wellderly, denoting healthspan; Figure
1
) [
10
]. These genes were selected either because their orthologues have been demonstrated to play a role in longevity in animal models [
11
–
13
] or for their potential roles in age-related diseases. We also included three contiguous genomic intervals on 8q24, 9p21, and 19q13, all of which contain variants associated with age-related diseases. Variants in the 8q24 interval have been associated with breast cancer [
14
], bladder cancer [
15
], and prostate cancer [
16
,
17
]. The 9p21 interval has been associated with coronary artery disease [
18
,
19
] and type 2 diabetes [
20
–
22
]. The 19q13 interval encodes the
APOE
gene, which is known to play an important role in Alzheimer disease [
23
,
24
] and coronary artery disease [
25
]. We prepared genomic DNA-fragment libraries with an average size of 200 bp from two samples, NA15510 and HE00069 (Figure
1
). The fragment libraries for both samples were split into two aliquots, and technical replicates of the target-enrichment step (Capture 1 and Capture 2) were performed; each of the four target-enriched samples were loaded in separate lanes of an Illumina Genome Analyzer (GA) II flow cell (Illumina, San Diego CA, USA) and sequenced. To evaluate the approach, we analyzed the probe-design efficiency, the efficiency of capturing targeted sequences, coverage uniformity across targeted sequences, reproducibility for the technical replicates and across different samples, and single-nucleotide polymorphism (SNP) detection and accuracy rates. We demonstrated that the tiling frequency of the 120-bp capture probes is important for obtaining high uniform coverage across the targeted sequences; the reproducibility of coverage across samples is very good; and the resulting data have excellent sensitivity and accuracy for calling SNPs.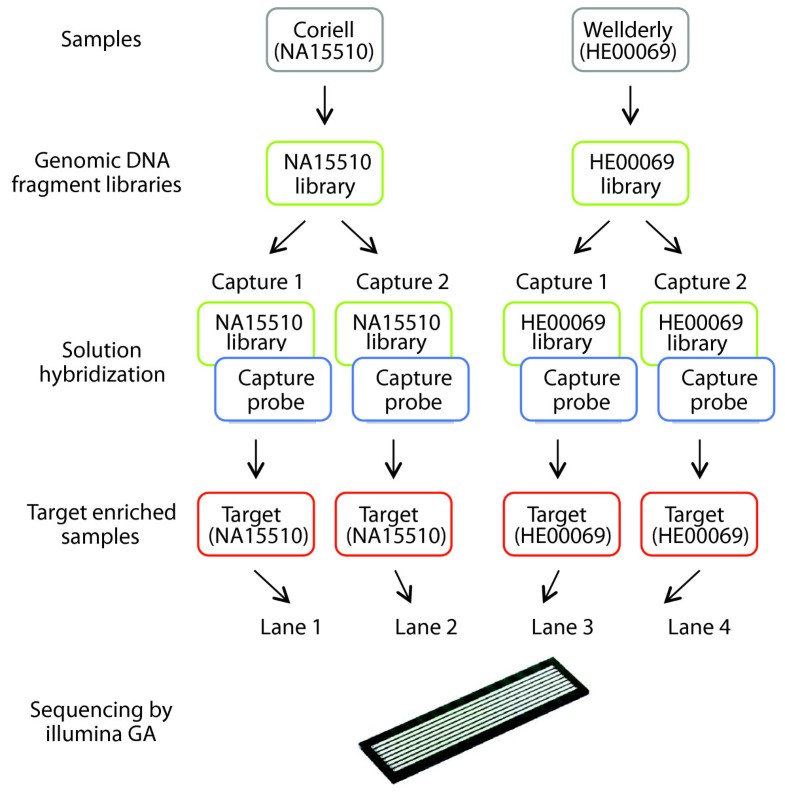 Conclusions
Our results show that the solution hybridization-based method can generate highly uniform coverage of sequence targets that is reproducible across samples. The method has limited, if any, systematic allelic biases resulting in dropout effects, as demonstrated by the greater than 99% SNP calling accuracy and especially the ability to call correctly most heterozygous sites. The solution hybridization-based method is clearly dependent on the ability to design successful capture probes to target sequences of interest. The ability to design capture probes is dependent on local sequence characteristics, and whereas 97% of the base pairs in exonic targets can be targeted, the success rate is only about 50% for base pairs in genomic intervals. We demonstrated that shorter 120-mer probes and an overlapping tiling strategy for probe design produces greater uniformity than previously published results for a solution hybridization-based study with 170-mer probes tiled with an end-to-end strategy [8]. It is important to note that some of this increase in overall uniformity of coverage may in part be due to the fact that the shorter 120-mer probes are easier to synthesize in a reliable and consistent fashion than are 170-mer probes. This greater coverage uniformity allowed us to call confidently a higher proportion of variant bases at a sequence-coverage depth almost one third lower than that produced in the previous study. This improvement will result in reduced costs and more-complete variant detection for large-scale resequencing studies.
Two general types of population-based sequencing studies are currently under consideration in the community. The first type is sequence-based association studies that specifically focus on elements with known function. Relatively few repetitive sequences occur in the majority of known functional elements, and thus the success rate for designing capture probes is high. The second type is targeted sequencing of intervals associated through genome-wide association studies with a particular complex trait. In our study, the repetitive content of the three genomic intervals we targeted varied from 45% to 63%. Thus, although the base pairs in these genomic intervals for which capture probes can be designed are well represented in the resulting sequence data, a considerable fraction of bases cannot be investigated. It is important to note that analysis methods for investigating variants outside of exons and regulatory elements for function are currently nonexistent. Thus, the solution-hybridization approach for targeted sequencing is clearly optimal for sequence-based association studies, and the limitations of capture-probe design have to be taken into account for targeted sequencing of genomic intervals.
Overall, our study demonstrates that the solution hybridization-based method is well suited for the enrichment of loci in the mega-base-pair scale from the human genome for population studies using current sequencing technologies.
Additional data files
The following additional data are available with the online version of this article: an Excel file listing the three contiguous genomic intervals that we have targeted in this study (Additional data file 1), an Excel file listing the genes and ECS that we have targeted in this study (Additional data file 2), the 33 discordant positions and the variant characteristics in each targeted sequencing experiment (Additional data file 3), and an Excel file listing the probes that we have designed by using eArray[27]) in this study (Additional data file 4).
Abbreviations
ECS:

evolutionarily conserved sequence
GWA:

genome-wide association
SNP:

single-nucleotide polymorphism.
Declarations
Acknowledgements
This work was partly funded by NIH CTSA grant 1U54RR025204-01. MN was supported by Japan Foundation for Aging and Health. We thank Karrie Trevarthen for excellent technical assistance and Sarah Murray and Greg Cooper (University of Washington) for providing the NA15510 and HE00069 Illumina 1 M genotype data.
Authors' Affiliations
(1)
Scripps Genomic Medicine, Scripps Translational Science Institute, The Scripps Research Institute, La Jolla, USA
(2)
Division of Biological Sciences, University of California San Diego, La Jolla, USA
(3)
Agilent Technologies, Inc., Santa Clara, USA
(4)
Moores UCSD Cancer Center, La Jolla, USA
Copyright
© Tewhey; licensee BioMed Central Ltd. 2009
This article is published under license to BioMed Central Ltd. This is an open access article distributed under the terms of the Creative Commons Attribution License (http://creativecommons.org/licenses/by/2.0), which permits unrestricted use, distribution, and reproduction in any medium provided the original work is properly cited.