The transcriptional program underlying the physiology of clostridial sporulation
Received: 5 March 2008
Accepted: 16 July 2008
Published: 16 July 2008
Abstract
Background
Clostridia are ancient soil organisms of major importance to human and animal health and physiology, cellulose degradation, and the production of biofuels from renewable resources. Elucidation of their sporulation program is critical for understanding important clostridial programs pertaining to their physiology and their industrial or environmental applications.
Results
Using a sensitive DNA-microarray platform and 25 sampling timepoints, we reveal the genome-scale transcriptional basis of the Clostridium acetobutylicum sporulation program carried deep into stationary phase. A significant fraction of the genes displayed temporal expression in six distinct clusters of expression, which were analyzed with assistance from ontological classifications in order to illuminate all known physiological observations and differentiation stages of this industrial organism. The dynamic orchestration of all known sporulation sigma factors was investigated, whereby in addition to their transcriptional profiles, both in terms of intensity and differential expression, their activity was assessed by the average transcriptional patterns of putative canonical genes of their regulon. All sigma factors of unknown function were investigated by combining transcriptional data with predicted promoter binding motifs and antisense-RNA downregulation to provide a preliminary assessment of their roles in sporulation. Downregulation of two of these sigma factors, CAC1766 and CAP0167, affected the developmental process of sporulation and are apparently novel sporulation-related sigma factors.
Conclusion
This is the first detailed roadmap of clostridial sporulation, the most detailed transcriptional study ever reported for a strict anaerobe and endospore former, and the first reported holistic effort to illuminate cellular physiology and differentiation of a lesser known organism.
Keywords
Additional Data FileSigma FactorLate Stationary PhaseEndospore FormAntisense Strain
Background
Clostridia are of major importance to human and animal health and physiology, cellulose degradation, bioremediation, and for the production of biofuels and chemicals from renewable resources [1]. These obligate anaerobic, Gram-positive, endospore-forming firmicutes include several major human and animal pathogens, such as C. botulinum, C. perfringens, C. difficile, and C. tetani, the cellulolytic C. thermocellum and C. phytofermentans, several ethanologenic [2], and many solventogenic (butanol, acetone and ethanol) species [3]. Their sporulation/differentiation program is critical for understanding important cellular functions or programs, yet it remains largely unknown. We have recently examined the similarity of the clostridia and bacilli sporulation programs using information from sequenced clostridial genomes [1]. We concluded that, based on genomic information alone, the two programs are substantially different, reflecting the different evolutionary age and roles of these two genera. We have also argued that C. acetobutylicum is a good model organism for all clostridia [1]. Transcriptional or functional genomic information is, however, necessary for detailing these differences and for understanding clostridial differentiation and physiology. Key issues awaiting resolution include: the identification of the mid to late sigma and sporulation factors and their regulons; the orchestration and timing of their action; the set of genes employed by the cells in the mid and late stages of spore maturation; identification of candidate histidine kinases that might be capable of phosphorylating the master regulator (Spo0A) of sporulation; and some functional assessment of the roles of several sigma factors of unknown function encoded by the C. acetobutylicum genome. Furthermore, an understanding of the transcriptional basis of the complex physiology of this organism will go a long way to improve our ability to metabolically engineer, for practical applications, its complex sporulation and metabolic programs. Such information generates tremendous new opportunities for further exploration of this complex anaerobe and its clostridial relatives, and constitutes a firm basis for future detailed genetic and functional studies.
Using a limited in scope and resolution transcriptional study, we have previously shown that it is possible to use DNA-microarray-based transcriptional analysis to generate valuable functional information related to stress response [4, 5], initiation of sporulation [6] and the early sporulation program of C. acetobutylicum [7]. In order to be able to accurately study the transcriptional orchestration underlying the complete sporulation program of the cells, it was necessary to develop a more sensitive and accurate microarray platform, a better mRNA isolation protocol (in order to isolate RNA from the mid and late stationary phases), as well as to use a much higher frequency of observation and sampling. We also aimed to employ more sophisticated bioinformatic tools in order to globally interrogate any desirable cellular program and relate it to the characteristic phenotypic metabolism and sporulation of this organism. The results of this extensive study are presented here as a single, undivided story, which offers unprecedented insights and a tremendous wealth of information for further explorations. Furthermore, it serves as a paradigm of what can be effectively accomplished with the now highly accurate DNA-microarray analysis in generating a robust transcriptional roadmap and in illuminating the physiology of a lesser understood organism.
Conclusion
This detailed and previously unrevealed transcriptional roadmap has allowed for the first time a complete investigation of the genetic events associated with clostridial differentiation. We were able to link distinct and striking global transcriptional changes to previously known important morphological and physiological changes. To date, this is the most complete genetic analysis of the different morphological forms: vegetative, clostridial, and forespore/endospore. Importantly, this analysis was performed on a mixed culture, which may either dilute or produce noise in the data, but investigation of the clusters identified revealed that these clusters do capture important known processes. We were also able to identify a cell population late in the timecourse similar to vegetative cells. Visually, these late cells looked and acted like vegetative cells, and transcriptionally, they were also fairly similar. The major cell motility and chemotaxis genes were upregulated both early and late in the timecourse (Figure S2 in Additional data file 3), as were the ribosomal proteins (Figure S12 in Additional data file 3). Also, the cell division associated genes rodA, ftsE, and ftsX follow the same transcriptional pattern of both early and late expression (Figure S11 in Additional data file 3). Although, these cells stain differently from the early vegetative cells, probably due to changes in membrane structure in response to the presence of solvents and do not produce detectable levels of acids or solvents, we believe these cells are germinated cells from spores produced early in the timecourse. While the triggers for both sporulation and germination are not known [1], the culture late in the timecourse is less acidic because of the acid reassimilation, and pH has been shown to be a trigger for sporulation [21].
This study has also allowed the first full comparison to the widely studied B. subtilis sporulation program. We have confidently identified the temporal orchestration of all known sporulation-related transcription factors and conclude the Bacillus model generally holds true with the cascade progressing in the following manner: σH, Spo0A, σF, σE, and σG (Figure 4f). In addition, we can conclude that the major activating/processing proteins involved in sigma factor activation in B. subtilis play a similar role in C. acetobutylicum, though additional investigation is needed to clarify their role. Of significance is the lack of sigK signal. The genes responsible for transcribing sigK in B. subtilis, sigE and spoIIID, were expressed, but the putative processing enzyme spoIVFB was not. Two genes under the control of σK in B. subtilis were expressed, but their expression patterns are not consistent with each other. Based on the expression pattern of yabG, it could be controlled by σE, while the late expression of spsF could be an indication of σK activity.
Finally, in order to determine if one of the annotated sigma factors of unknown function could be a
sigK
-like gene, we first investigated their transcriptional profiles. CAP0157 was a possible candidate with its upregulation late in the timecourse, as was CAC1766 since its expression was sustained throughout the stationary phase (Figure
6a,b
). Neither of these genes, nor any of the other sigma factors of unknown function, clustered close to the known sporulation-related sigma factors on the phylogenetic tree (Additional data file 6), but when downregulated using asRNA, both CAC1766 and the CAP0167 operon (CAP0166 and CAP0167) displayed altered differentiation (Figures
6d
,
7
and
8
). Though involved in differentiation, the exact role of these two sigma factors is difficult to assess because of the incomplete silencing of the genes through asRNA downregulation. Mature free spores and typical endospore forms without a pinched end are still seen (data not shown), but whether these develop from the novel cell types or from cells not affected by the antisense cannot be determined. Interestingly, both CAP0167 and CAC1766 clustered together with other clostridial sigma factors and closer to ECF sigma factors than to the major sporulation sigma factors
sigF
,
sigE
, and
sigG
(Additional data file 6). In
B. subtilis
, ECF sigma factors do not play a role in differentiation [
61
,
62
], though a triple mutant in
sigM
,
sigW
, and
sigX
did display altered phenotypes [
62
]. The fact that CAC1766 and CAP0167 appear to affect the developmental process of sporulation (Figures
7
and
8
; Additional data file 8) suggests either that ECF factors may play a role in sporulation in clostridia or that a novel category of sigma factors exist in clostridia that play a role in sporulation.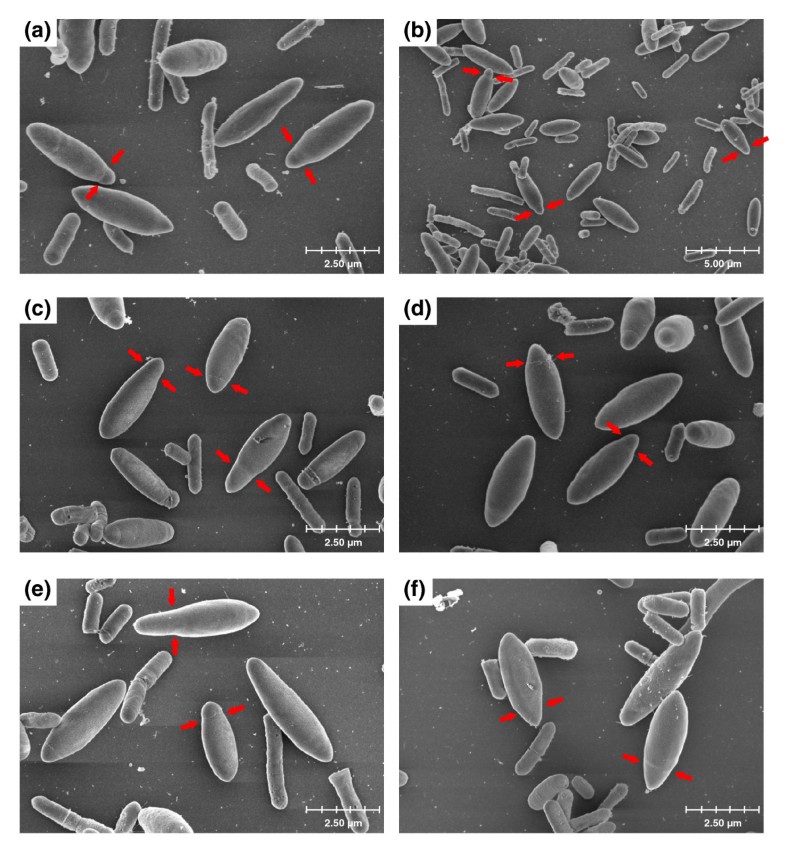 Materials and methods
Fermentation analysis
Two cultures of C. acetobutylicum ATCC 824 were grown in pH controlled (pH >5) bioreactors (Bioflow II and 110, New Brunswick Scientific, Edison, NJ, USA) [7]. Cell density, substrate and product concentrations were analyzed as described [56].
RNA isolation and cDNA labeling
Samples were collected by centrifuging 3-10 ml of culture at 5,000×g for 10 minutes, 4°C and storing the cell pellets at -85°C. Prior to RNA isolation, cells were washed in 1 ml SET buffer (25% sucrose, 50 mM EDTA [pH 8.0], and 50 mM Tris-HCl [pH 8.0]) and centrifuged at 5,000×g for 10 minutes, 4°C. Pellets were processed similarly to [7] but with the noted modifications. Cells were lysed by resuspending in 220 μl SET buffer with 20 mg/ml lysozyme (Sigma, St. Louis, MO, USA) and 4.55 U/ml proteinase K (Roche, Indianapolis, IN, USA) and incubated at room temperature for 6 minutes. Following incubation, 40 mg of acid-washed glass beads (≤106 μm; Sigma) were added to the solution, and the mixture was continuously vortexed for 4 minutes at room temperature. Immediately afterwards, 1 ml of ice cold TRIzol (Invitrogen, Carlsbad, CA, USA) was added; 500 μl of sample was diluted with an equal volume of ice cold TRIzol and purified. Following dilution, 200 μl of ice cold chloroform was added to each sample, mixed vigorously for 15 s, and incubated at room temperature for 3 minutes. Samples were then centrifuged at 12,000 rpm in a tabletop microcentrifuge for 15 minutes at 4°C. The upper phase was saved and diluted by adding 500 μl of 70% ethanol. Samples were then applied to the RNeasy Mini Kit (Qiagen, Valencia, CA, USA), following the manufacturer's instructions. To minimize genomic DNA contamination, samples were incubated with the RW1 buffer at room temperature for 4 minutes. The method disrupted all cell types equally, as evidenced by microscopy (data not shown). cDNA was generated and labeled as described [7]. The reference RNA pool contained 25 μg of RNA from samples taken from the same culture at 8, 10, 12, 14, 16, 18, 20, 22, 24, 26, 28, 30, 32, 34, 36, 38, 40, 44, 48, 54, 58, and 66 h.
Microarray analysis
Agilent technology 22k arrays, (GEO accession number GPL4412) as described in [63], were hybridized, washed, and scanned per Agilent's recommendations. Spot quantification employed Agilent's eXtended Dynamic Range technique with gains of 100% and 10% (Agilent's Feature Extraction software (v. 9.1)). Normalization and slide averaging was carried out as described [7, 63]. A minimum intensity of 50 intensity units was used as described [63]. Microarray data have been deposited in the Gene Expression Omnibus database under accession number GSE6094. To gain a qualitative measure of the abundance of an mRNA transcript, the averaged normalized log mean intensity values were ranked on a scale of 1 (lowest intensity value) to 100 (highest intensity value). Genes were clustered using TIGR's MEV program [64].
Quantitative RT-PCR
Q-RT-PCR was performed as described [48]. Specific primer sequences are included in Additional data file 9; CAC3571 was used as the housekeeping gene.
Microscopy
For light microscopy, samples were stored at -85°C after 15% glycerol was added to the sampled culture. Samples were then pelleted, washed twice with 1% w/v NaCl and fixed using 50 μl of 0.05% HCl/0.5% NaCl solution to a final count of 106 cells/μl. Slides were imaged using a Leica widefield microscope with either phase contrast or Syto-9 and PI dyes (Invitrogen LIVE/DEAD BacLight Kit) to distinguish cell morphology.
For electron microscopy, samples were fixed by addition of 16% paraformaldehyde and 8% glutaraldehyde to the culture medium for a final concentration of 2% paraformaldehyde and 2% glutaraldehyde. For cultures grown on plates, colonies were scraped from the agar and suspended in 2% paraformaldehyde and 2% glutaraldehyde in 0.1 M sodium cacodylate buffer (pH 7.4). Cultures were fixed for 1 h at room temperature, pelleted and resuspended in buffer.
For transmission electron microscopy, bacteria were pelleted, embedded in 4% agar and cut into 1 mm × 1 mm cubes. The samples were washed three times for 15 minutes in 0.1 M sodium cacodylate buffer (pH 7.4), fixed in 1% osmium tetroxide in buffer for 2 h, and then washed extensively with buffer and double de-ionized water. Following dehydration in an ascending series of ethanol (25, 50, 75, 95, 100, 100%; 15 minutes each), the samples were infiltrated with Embed-812 resin in 100% ethanol (1:3, 1:2, 1:1, 2:1, 3:1; 1 h each) and then several changes in 100% resin. After an overnight infiltration in 100% resin, the samples were embedded in BEEM capsules and polymerized at 65°C for 48 h. Blocks were sectioned on a Reichert-Jung UltracutE ultramicrotome and ultrathin sections were collected onto formvar-carbon coated copper grids. Sections were stained with methanolic uranyl acetate and Reynolds' lead citrate [65] and viewed on a Zeiss CEM 902 transmission electron microscope at 80 kV. Images were recorded with an Olympus Soft Imaging System GmbH Megaview II digital camera. Brightness levels were adjusted in the images so that the background between images appeared similar.
For scanning electron microscopy, fixed samples were incubated on poly-L-lysine coated silica wafers for 1 h and then rinsed three times for 15 minutes in 0.1 M sodium cacodylate buffer (pH 7.4). The samples were fixed with 1% osmium tetroxide in buffer for 2 h, washed in buffer and double de-ionized water, and then dehydrated in ethanol (25, 50, 75, 95, 100, 100%; 15 minutes each). The wafers were critical point dried in an Autosamdri 815B critical point drier and mounted onto aluminum stubs with silver paint. The samples were coated with Au/Pd with a Denton Bench Top Turbo III sputter-coater and viewed with a Hitachi 4700 FESEM at 3.0 kV.
Phylogenetic tree generation
Based on the genome annotations available at NCBI, we considered any sigma factor that was annotated as σ70 or unannotated. A second filter was applied by requiring that all the sequences should contain a Region 2, the most conserved region of the σ70 protein. All members of this class of sigma factor contain Region 2, and it was modeled with the HMM pfam04542. This criterion removed CAC0550, CAC1766 and CAP0157, but they were added to the list again despite their lack of a Region 2. The alignment was made using ClustalW 1.83 using the default settings and visualized as a radial tree as created by Phylodraw v. 0.8 from Pusan National University.
Generation and characterization of antisense strains
Oligonucleotides were designed to produce asRNA complementary to the upstream 20 bp and first 30-40 bp of the targeted genes' transcripts (Additional data file 7). The constructs were cloned into pSOS95del under the control of a thiolase (thl) promoter and confirmed by restriction digest. Plasmids were then methylated and transformed into C. acetobutylicum ATCC 824, as previously described [33, 55, 56]. Strains were grown in 10 ml cultures and characterized using microscopy and HPLC to analyze final product concentrations [56].
Additional data files
The following additional data are available. Additional data file 1 is a figure comparing the present microarray study to an earlier microarray study that examined the early sporulation of C. acetobutylicum followed by a brief discussion. Additional data file 2 contains tables detailing the COG analysis for each cluster and all the genes placed in each cluster. Additional data file 3 contains figures of the transcriptional profiles, in terms of both intensity and differential expression, of specific gene clusters with brief discussions following several figures. Additional data file 4 is a composite figure showing the individual expression profiles of the genes that were standardized and averaged and is followed by a brief discussion on how the genes used to construct the deduced activity plots were chosen. Additional data file 5 is a figure showing the differential expression and intensity of all annotated histidine kinases and response regulators. Additional data file 6 is a figure showing the phylogenetic tree resulting from the alignment of the σ70-related and unannotated sigma factors from ten bacterial species. Additional data file 7 is a table listing the sequences for each asRNA construct. Additional data file 8 contains figures showing additional TEM images of the plasmid control strain, asCAP0167, and asCAC1766. Additional data file 9 is a table listing the primer sequences used in the Q-RT-PCR experiments.
Abbreviations
asRNA:

antisense RNA
COG:

Cluster of Orthologous Groups
ECF:

extracytoplasmic function
PI:

propidium iodide
Q-RT-PCR:

quantitative reverse transcription PCR
TEM:

transmission electron microscopy
WT:

wild type.
Declarations
Acknowledgements
We acknowledge the use of the Northwestern University Keck Biophysics Facility, the Northwestern University Biological Imaging Facility for the light microscopy, and Shannon Modla in the Delaware Biotechnology Institute Bio-Imaging Facility for the electron microscopy. Supported by NSF grant (BES-0418157) and an NIH/NIGMS Biotechnology Training grant (T32-GM08449) fellowship for Bryan Tracy.
Authors' Affiliations
(1)
Department of Chemical and Biological Engineering, Northwestern University, Evanston, USA
(2)
Department of Chemical Engineering, University of Delaware, Newark, USA
(3)
Delaware Biotechnology Institute, University of Delaware, Newark, USA
(4)
Cobalt Biofuels, Mountain View, USA
(5)
The Zitter Group, San Francisco, USA
Copyright
© Jones et al.; licensee BioMed Central Ltd. 2008
This article is published under license to BioMed Central Ltd. This is an open access article distributed under the terms of the Creative Commons Attribution License (http://creativecommons.org/licenses/by/2.0), which permits unrestricted use, distribution, and reproduction in any medium, provided the original work is properly cited.