The embryonic muscle transcriptome of Caenorhabditis elegans
Received: 20 July 2007
Accepted: 12 September 2007
Published: 12 September 2007
Abstract
Background
The force generating mechanism of muscle is evolutionarily ancient; the fundamental structural and functional components of the sarcomere are common to motile animals throughout phylogeny. Recent evidence suggests that the transcription factors that regulate muscle development are also conserved. Thus, a comprehensive description of muscle gene expression in a simple model organism should define a basic muscle transcriptome that is also found in animals with more complex body plans. To this end, we applied microarray profiling of Caenorhabtidis elegans cells (MAPCeL) to muscle cell populations extracted from developing C. elegans embryos.
Results
We used fluorescence-activated cell sorting to isolate myo-3::green fluorescent protein (GFP) positive muscle cells, and their cultured derivatives, from dissociated early C. elegans embryos. Microarray analysis identified 7,070 expressed genes, 1,312 of which are enriched in the myo-3::GFP positive cell population relative to the average embryonic cell. The muscle enriched gene set was validated by comparisons with known muscle markers, independently derived expression data, and GFP reporters in transgenic strains. These results confirm the utility of MAPCeL for cell type specific expression profiling and reveal that 60% of these transcripts have human homologs.
Conclusion
This study provides a comprehensive description of gene expression in developing C. elegans embryonic muscle cells. The finding that more than half of these muscle enriched transcripts encode proteins with human homologs suggests that mutant analysis of these genes in C. elegans could reveal evolutionarily conserved models of muscle gene function, with ready application to human muscle pathologies.
Keywords
Green Fluorescent Protein
Additional Data File
Thin Filament
Body Wall Muscle
Microarray Profile
Background
The basic architecture of the muscle contractile unit, the sarcomere, and regulatory processes that control muscle activity are remarkably similar in motile animals. For example, sarcomeres are universally assembled from interdigitating myosin thick filaments and actin thin filaments; this complex is activated by intracellular calcium to drive muscle contraction [1–3]. In addition to these important functional and structural elements, transcription factors that direct muscle differentiation are also conserved. In mammals, a group of basic helix-loop-helix transcription factors or myogenic regulatory factors (MRFs) define a transcriptional cascade that directs skeletal muscle differentiation [4]. A similar pathway functions in the nematode, Caenorhabtidis elegans, in which a single MRF-related factor, HLH-1 (helix-loop-helix), is highly expressed in all embryonic body wall muscle cells [5, 6]. A determinative role of HLH-1 in embryonic muscle differentiation is suggested by the finding that ectopic HLH-1 is sufficient to convert other embryonic cell types to a body wall muscle fate. Interestingly, body wall muscle differentiation in C. elegans also depends on two other transcription factors, namely UNC-120 (serum response factor) and HND-1 (HAND family of basic helix-loop-helix factors), conserved homologs of which are selectively required for vertebrate smooth muscle and cardiac muscle differentiation, respectively. This finding suggests that vertebrate muscles may have arisen from a common primordial invertebrate muscle cell [7]. It follows that pathways that define C. elegans body wall muscle differentiation and function may be encoded by genes that contribute to all three major classes of vertebrate muscles.
In C. elegans, 81 body wall muscle cells are generated before hatching to comprise the predominant embryonic muscle cell type. Minor embryonic muscles include two anal muscles and two myoepithelial cells that envelope the posterior intestine [1, 3]. All of these muscles express the myosin heavy chain gene myo-3 (myosin heavy chain 3) [8]. A distinct group of 20 muscle cells in the feeding organ or pharynx are also generated in the embryo but they do not express myo-3.
Extensive genetic screens have identified large numbers of mutations that disrupt the structure and organization of body wall muscle cells [
9
–
12
]. Although this approach has revealed key molecules (for instance,
myo-3
) with important roles in muscle function and development, the complexity of these processes suggests that many additional
C. elegans
genes are also likely to contribute to the myogenic program [
13
]. Here we describe the application of a recently developed technique, microarray profiling of
C. elegans
cells (MAPCeL), to generate a comprehensive catalog of
C. elegans
genes expressed in embryonic body wall muscle cells. In this method, cells marked with a specific green fluorescent protein (GFP) reporter gene are isolated by fluorescence-activated cell sorting (FACS) for microarray profiling experiments [
14
]. The sorted cells can be obtained either from freshly dissociated embryos, in which early developmental genes are expressed, or from mature cells after differentiation in culture (Figure
1
). Thus, this approach can potentially identify distinct sets of genes that may respond to extrinsic signals that influence cell fate and differentiation in the early embryo as well as transcripts that are expressed later in development as the sarcomere apparatus begins to function. We have used the
myo-3
::GFP reporter gene to mark nonpharyngeal embryonic muscle cells in
C. elegans
[
15
]. This robust reporter initiates expression during early embryonic myogenesis and also perdures in mature embryonic muscle cells. We have exploited the continuous embryonic expression of
myo-3
::GFP to profile
C. elegans
body wall muscle cells at these two developmental stages. In addition to revealing genes that are differentially expressed in these distinct myogenic populations, this approach has also identified transcripts, such as
myo-3
, that are enriched in muscle cells throughout embryonic development. A common group of about 600 genes in these datasets are also upregulated in an independent microarray profile of HLH-1 induced transcripts in the
C. elegans
embryonic cells [
7
]. This overlapping set of MRF-regulated mRNAs defines a core group of candidate genes with potentially key roles in muscle development and function. In the future, analysis of these gene sets with the facile genetic tools available in this model organism should lead to a detailed understanding of the logic of the muscle transcriptome and its role in myofilament assembly and function.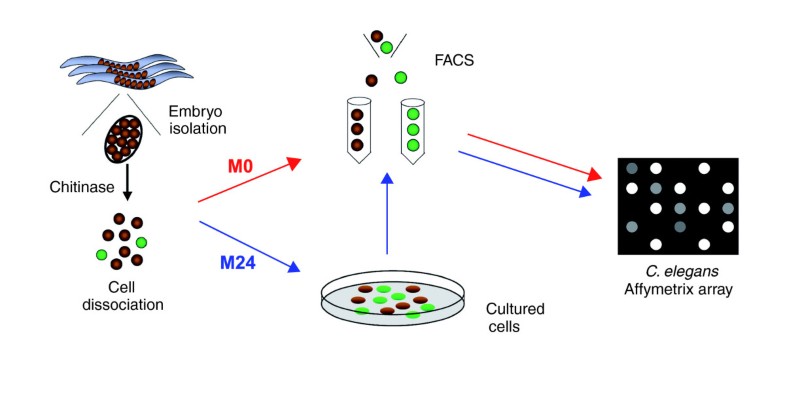 Discussion
Our application of MAPCeL to C. elegans embryonic body wall muscle has generated a high-quality gene expression profile that defines the embryonic muscle transcriptome. We base this conclusion on five observations. First, we have successfully isolated myo-3::GFP labeled muscle cells directly from embryos and determined that transcriptional profiles obtained from these cells are reproducible. Second, sorting of cultured muscle cell populations yields similarly reproducible data and a transcriptional profile consistent with more fully differentiated muscle cells. Third, our muscle-enriched gene lists are largely distinct from profiles of other nonmuscle cell types from C. elegans (Additional data file 6). Conversely (fourth), the MAPCeL datasets show substantial overlap with an independent experiment in which most embryonic blastomeres were converted to body wall muscle-like cell fates in vivo and profiled on the Affymetrix array (Additional data file 10) [7]. Fifth, transgenic GFP reporters generated in this study confirmed that a majority of muscle-enriched genes were expressed in muscle in vivo. Based on these observations, we suggest that our results provide a comprehensive profile of gene expression in developing C. elegans body wall muscle cells. Moreover, the common group of 592 genes in these microarray profiles that are also specifically upregulated with the induction of embryonic muscle differentation are likely to comprise a core group of genes with fundamental roles in myogenesis. An additional 719 genes are identified that may also contribute substantially to the myogenic program (Figure 6). These lists can now be exploited in future work for studies of muscle development, myofibril assembly, and muscle function (Additional data file 8).
The strong concurrence of our data with known or predicted muscle proteins (Table 1) underscores the potential utility of these MAPCeL profiles for identifying candidate muscle genes that can now be tested by genetic methods in this model organism. Examples include F45G2.2, an atypical member of the myosin II family that shows strong homology to the head region of known C. elegans body wall muscle myosin heavy chain genes (for instance, myo-3) but for which a muscle function has not previously been described. Muscle enrichment of tag-138 is intriguing because its vertebrate homolog HIP1 (Huntingtin interacting protein 1) mediates receptor endocytosis, is highly expressed in a variety of human tumors, and may function as an oncogene [63]. Mutations affecting components of the DGC result in human muscular dystrophies, and similar genetic defects in C. elegans also disrupt body wall muscle structure and function [49–51]. Our muscle datasets have detected potential additional members of the DGC, namely the sarcoglycan-like genes sgcb-1 and H22K11.4 and a syntrophin-like gene, stn-2, which can now be experimentally tested for related functions. In addition to confirming muscle enrichment of known neurotransmitter-gated ion channels, these data have also identified several new possible receptors for modulating muscle activity. Indeed, enrichment of the nAChR subunit gene acr-16 in the M24 dataset led to physiological experiments that confirmed a key role for the ACR-16 receptor in acetylcholine-evoked muscle excitation [16, 57]. These positive results, which are based on a limited survey of the muscle genes in our datasets, suggest that a more detailed analysis of these gene lists should reveal a substantial number of additional muscle functional genes.
The evolutionary conservation of sarcomere structure and function from C. elegans to mammals has made the nematode an attractive model for studies of muscle development [1–3]. Past work in the worm has been useful for understanding general concepts of myosin filament assembly [8, 32, 37], the molecular mechanisms that underlie the transduction of sarcomere contractile force to connected tissues [2, 39] and the evolution of striated muscle specification [7]. Our gene expression profiles should similarly shed light on myogenesis in other species, including humans. Approximately 60% of transcripts enriched in at least one of the embryonic body wall muscle datasets (787/1,312) are conserved in the human genome (BLAST = e-10; Additional data file 13). Although many of the transcripts in this list encode proteins with well established roles in mammalian muscle (for example, myosin heavy chain), potential muscle functions for a substantial number of additional proteins have not been defined. Of particular interest are 32 transcripts encoding proteins with no known function in any organism ('uncharacterized conserved protein'; Additional data file 13). Our data strongly suggest that many of these novel proteins play important roles in myogenesis or muscle function and serve as ripe targets for future studies, both in C. elegans and in other animals.
We view this study as a starting point for determining how the C. elegans muscle cell transcriptome regulates myogenesis. Our approach provides a temporal component by profiling both nascent and differentiated muscle cells, and we have examples from our data in which transcript appearance mimics the known order of protein assembly within the sarcomere (for example, UNC-54). It may be possible to enhance the temporal resolution of MAPCeL by profiling embryos expressing a series of muscle reporters that come on at successive developmental time points. These data could potentially provide clues as to how the transcriptome temporally orchestrates myogenesis to assemble myofibrils into functional sarcomeres. Profiling data collected from subsets of embryonic muscle (anal and pharyngeal muscles) could also reveal gene sets with specialized functions in these different muscle types.
The embryonic muscle profiles described in this paper show substantial overlap (about 600 genes) with an independent microarray dataset obtained from embryonic muscle cells induced by ectopic expression of the MRF related transcription factor HLH-1 (Figure 6 and Additional data file 10) [7]. Our MAPCeL datasets show less similarity, however (about 250 common genes), with a profile of larval muscles obtained using the mRNA tagging strategy (Additional data file 8). In this approach, an epitope-tagged poly-A binding protein was used to specifically pull down body wall muscle transcripts from L1 stage larvae [25]. It seems unlikely that this result can be fully attributed to differences in developmental age (embryonic versus larval) because reporter gene constructs for genes in our MAPCeL datasets showed post-embryonic expression in one or more muscle types (Figure 7). One potential explanation for this disparity is the relative sensitivity of the two profiling approaches used to generate these data.
A recent modification of the mRNA tagging strategy that reduces background RNA could yield a deeper dataset of larval muscle enriched transcripts [24]. The use of the mRNA tagging method to profile larval muscles is necessary because post-embryonic cells are not readily accessible to MAPCeL analysis [14, 17]. mRNA tagging affords the additional benefit of providing sharply defined temporal profiles of gene expression that could potentially identify transcriptional cascades of genes that control muscle differentiation and growth during this period. Finally, mRNA tagging profiles of aging body wall muscle cells could reveal transcriptionally regulated genes associated with sarcopenia, an evolutionarily conserved process in which body wall muscles in C. elegans exhibit morphological disorganization and functional decline that resembles the progressive age-related muscle atrophy that occurs in mammals [64]. In this context, it will be interesting to compare these gene expression data with MAPCeL profiles of embryonic muscle cells maintained in culture for prolonged periods to potentially distinguish between autonomous versus environmentally induced aging processes.
Conclusion
We used MAPCeL to generate comprehensive descriptions of gene expression in developing C. elegans embryonic body wall muscle cells. In addition to detecting known muscle genes, our MAPCeL dataset has also identified a large number of previously uncharacterized transcripts with potentially important roles in muscle development or structure. Therefore, this work defines a basic muscle transcriptome that can lead to new discoveries into how these genes are deployed to drive myofibril assembly and function.
Additional data files
The following additional data are available with the online version of this paper. Additional data file 1 provides a complete list of RMA normalized intensity values from 0 hours (M0) and 24 hours (M24) datasets. Additional data file 2 provides all expressed gene lists. Additional data file 3 provides comparisons of expressed gene lists (total reference expressed genes [R0 + R24] versus total muscle expressed genes [M0 + M24]; M0 versus M24; total unique genes). Additional data file 4 summarizes M0 and M24 enriched genes, plus the total unique genes from both lists (total muscle), and provides comparisons of these lists. Additional data file 5 lists genes depleted in M0 and M24 and provides a comparison of those lists. Additional data file 6 provides a master annotation file of all probesets represented on the C. elegans Affymetrix microarray. Additional data file 7 provides a master annotation file of all genes represented on the C. elegans Affymetrix microarray. Additional data file 8 provides comparisons with other datasets (Germline enriched or mRNA tagging isolated intestine enriched [GI] versus total muscle, L1 mRNA tagging isolated muscle transcripts versus total muscle). Additional data file 9 provides a comparison of total muscle enriched genes versus embryonic A-class (EA) and total muscle enriched genes versus embryonic pan-neural (EP). Additional data file 10 provides a comparison of total muscle dataset with HLH-1 induced transcripts. Additional data file 11 provides a full list of GFP reporters generated. Additional data file 12 provides a table of muscle structural genes. Additional data file 13 summarizes total muscle genes with human homologs.
Abbreviations
DGC:

dystrophin glycoprotein complex
FACS:

fluorescence-activated cell sorting
GABA:

γ-aminobutyric acid
GFP:

green fluorescent protein
HLH:

helix-loop-helix
MAPCeL:

microarray profiling of C. elegans cells
MHC:

myosin heavy chain
MRF:

myogenic regulatory factor
nAChR:

nicotinic acetylcholine receptor
NHR:

nuclear hormone receptor
PI:

propidium iodide
SOE:

sequence overlap extension
UNC:

uncoordinated.
Declarations
Acknowledgements
We thank Susan Barlow for generating the R24 dataset; Christian Shaffer and Marilyn Ritchie for updating Perl scripts for mining WormBase; Cathy Alford and Jim Price of the VU Flow Cytometry Special Resource Center; John Mote, Braden Boone and Shawn Levy of the Vanderbilt Microarray Shared Resource; and David Greenstein for encouragement. This research was supported by the Intramural Research Program of the NIH, NIDDK (MK) and by NIH grants R01 NS26115, P01 DK58212 and U01 HG004263 (DMM), F31 NS046293 (RMF), T32 HD07502 (RMF and SEV), F31 NS043068 (SEV), F31 NS049743 and T32 MH64913 (JDW), P30 CA68485, P60 DK20593, P30 DK58404, HD15052, P30 EY08126, and P01 HL6744. Additional support for microarray experiments was provided by DK58749 (AL George).
Authors' Affiliations
(1)
Department of Cell and Developmental Biology, Vanderbilt University, Nashville, USA
(2)
Graduate Program in Neuroscience, Center for Molecular Neuroscience, Vanderbilt University, Nashville, USA
(3)
Laboratory of Molecular Biology, National Institute of Diabetes, Digestive and Kidney Diseases, National Institutes of Health, Bethesda, USA
(4)
Current address: Department of Cell Biology, Johns Hopkins University School of Medicine, Baltimore, USA
Copyright
© Fox et al.; licensee BioMed Central Ltd. 2007
This article is published under license to BioMed Central Ltd. This is an open access article distributed under the terms of the Creative Commons Attribution License (http://creativecommons.org/licenses/by/2.0), which permits unrestricted use, distribution, and reproduction in any medium, provided the original work is properly cited.