A global view of gene expression in lithium and zinc treated sea urchin embryos: new components of gene regulatory networks
Received: 15 January 2007
Accepted: 16 May 2007
Published: 16 May 2007
Abstract
Background
The genome of the sea urchin Strongylocentrotus purpuratus has recently been sequenced because it is a major model system for the study of gene regulatory networks. Embryonic expression patterns for most genes are unknown, however.
Results
Using large-scale screens on arrays carrying 50% to 70% of all genes, we identified novel territory-specific markers. Our strategy was based on computational selection of genes that are differentially expressed in lithium-treated embryos, which form excess endomesoderm, and in zinc-treated embryos, in which endomesoderm specification is blocked. Whole-mount in situ hybridization (WISH) analysis of 700 genes indicates that the apical organ region is eliminated in lithium-treated embryos. Conversely, apical and specifically neural markers are expressed more broadly in zinc-treated embryos, whereas endomesoderm signaling is severely reduced. Strikingly, the number of serotonergic neurons is amplified by at least tenfold in zinc-treated embryos. WISH analysis further indicates that there is crosstalk between the Wnt (wingless int), Notch, and fibroblast growth factor signaling pathways in secondary mesoderm cell specification and differentiation, similar to signaling cascades that function during development of presomitic mesoderm in mouse embryogenesis. We provide differential expression data for more than 4,000 genes and WISH patterns of more than 250 genes, and more than 2,400 annotated WISH images.
Conclusion
Our work provides tissue-specific expression patterns for a large fraction of the sea urchin genes that have not yet been included in existing regulatory networks and await functional integration. Furthermore, we noted neuron-inducing activity of zinc on embryonic development; this is the first observation of such activity in any organism.
Keywords
Additional Data FileSerotonergic NeuronApical OrganZinc TreatmentApical Plate
Background
Body plan development is controlled by large gene regulatory networks (GRNs). Such networks consist of components that accurately specify cell fate at defined times during development via their physical interaction, or in the case of transcription factors via their binding to cis-regulatory DNA elements. One of the best studied developmental GRNs is the sea urchin endomesoderm GRN, which includes almost 50 genes [1, 2]. These genes were uncovered in part through three array screens: a subtractive screen, in which RNA from lithium-treated embryos was subtracted with RNA isolated from cadherin injected embryos [3]; a Brachyury target gene screen [4]; and a screen for pigment cell-specific genes [5]. Comparison of the endoderm network between vertebrates (mouse, xenopus, and zebrafish) showed that many components have been conserved. Common key zygotic factors are the Nodal-related transforming growth factor-β ligands, the Mixlike (paired box) family of homeodomain transcription factors, the Gata4/Gata5/Gata6 zinc-finger transcription factors and the HMG box transcription factor Sox17 [6–10]. Orthologs of some of these genes are components of the sea urchin endomesoderm GRN. Examples include SpGataE and SpGataC (orthologs of Gata4/Gata5/Gata6 and Gata1/Gata2/Gata3, respectively), SpFoxA (ortholog of FoxA1 [HNF3b], which in Xenopus is a target of Mixer), and SpOtx (ortholog of Otx2, which in Xenopus is induced by Sox17). However, comparison of the vertebrate and sea urchin endomesoderm network also reveals that many sea urchin orthologs of vertebrate endomesoderm genes are absent from the respective sea urchin GRN.
This could be due to the fact that the existing sea urchin endomesoderm GRN is built progressively, starting from genes found to be regulated in the initial screens; this raises the possibility that nodes of the endomesoderm network that are not affected by the above subtractive hybridizations have not yet been explored. In addition, some genes employed in the sea urchin endomesoderm GRN are apparently absent from vertebrate endomesoderm GRNs. The aim of this study is to identify additional genes that are associated with developmental patterning, primarily focusing on endomesoderm specific genes but also on genes that are involved in ectoderm differentiation and patterning. We then add these genes to the existing GRNs or create novel GRNs that describe sea urchin embryonic development.
The early sea urchin embryo develops two primary axes: the animal-vegetal axis and the oral-aboral axis. Most of the endodermal and mesodermal cells are derived from the vegetal half, whereas the animal cells contribute to neural and non-neural ectodermal territories. During gastrulation the ectoderm is divided into an oral side, which flattens and is the site where the mouth secondarily breaks through, and a rounded aboral side, which is seperated by the ciliary band region.
Activation of the sea urchin endomesoderm GRN is initiated at the molecular level as a result of nuclearization of β-catenin initially in the vegetal micromeres (at the fourth cleavage) and subsequently in the macromeres and their progenitor blastomeres veg2 and part of veg1. The nuclearization of β-catenin in the micromeres at the 16-cell stage is also the earliest molecular evidence of an animal-vegetal axis in Strongylocentrotus purpuratus [11–14].
Reagents exist for manipulation of the GRNs that specify the embryonic axis. Lithium chloride acts as a vegetalizing (posteriorizing) agent by directly binding glycogen synthase kinase-3β, thus freeing up β-catenin, which then enters the nucleus and activates target genes via a complex with Tcf/Lef [
14
] (Figure
1
shows a sketch of the resulting axis perturbations). As result of the vegetalization, the endomesodermal domain is expanded at the expense of ectodermal territories. A recent study suggested that lithium chloride treatment induces an increase in endoderm at the expense of the ectoderm, but without alterating the mesodermal territories, because the expression domain of
Frizzled5
/
8
at the animal pole is eliminated whereas its expression at the secondary mesenchyme cells (SMCs) is not affected [
15
]. Furthermore, recent evidence based on study of
Nodal
suggests that lithium chloride also intervenes with the oral-aboral axis of the embryo, because the region expressing the oral marker
Nodal
is reduced and shifted to the animal side [
16
], which is consistent with the conversion of part of the ectoderm to endoderm. Oral-aboral axis is established before the sixth cleavage and is dependant on signals from the vegetal pole [
16
,
17
]. Complementary to lithium treatment, zinc treatment animalizes (anteriorizes) the embryos and leads to embryos with no or reduced endomesodermal cells [
18
–
20
].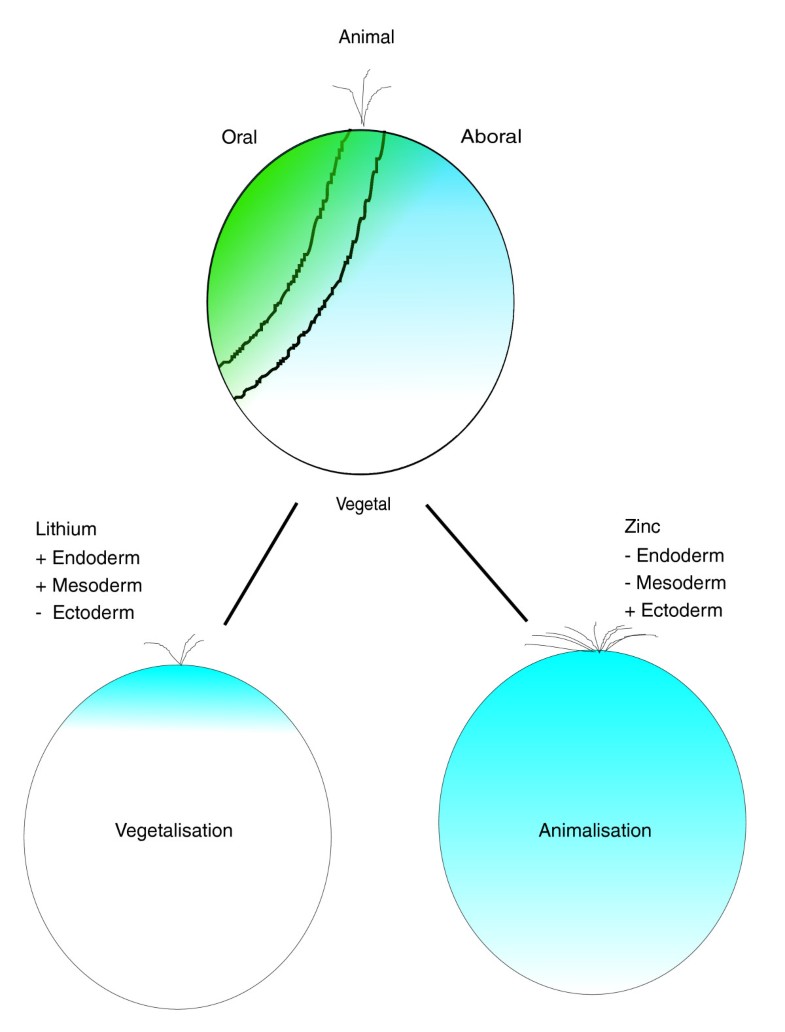 Using these reagents we conducted separate array hybridizations of lithium chloride or zinc sulfate treated and normal embryos. Because lithium vegetalizes and zinc complementarily animalizes embryos, we would expect endomesoderm-specific genes to be upregulated in embryos treated with lithium and downregulated in embryos treated with zinc sulfate, whereas ectoderm-specific genes should exhibit the opposite pattern.
Hybridizations were carried out on nonredundant arrays that correspond to 50% to 70% of all sea urchin genes [21]. In our experimental design we have used repetitions of experiments in order to calculate sensitivity as a factor of reproducibility. We deliberately did not amplify or subtract any probes, because these procedures run the risk for distorting the representation of different sequences in the RNA sample. In addition, they can interfere with the identification of (for instance, they may remove) highly expressed genes, which can also be territory specific markers. Differentially expressed genes were analyzed by whole-mount in situ hybridization (WISH) from early blastula stages (10 hours) to the pluteus stage (90 hours) during normal embryonic development, and certain identified marker genes were also analyzed for expression in treated embryos. In this way we identified key molecules of endomesoderm and oral-aboral axis differentiation, novel territories, and new highly dynamic expression patterns in the sea urchin embryo. A total of about 700 out of more than 4.000 differentially expressed genes representing all functional protein classes have thus far been analyzed by WISH. All WISHs were annotated and deposited in a database that is freely accessible [22]. The differential expression data are available in the Array Screens Database [23]. As the screens progress, this database will continue to be expanded.
Discussion
Via a series of targeted array screens, we identified 250 genes exhibiting a restricted expression pattern. An analysis of global gene expression using whole-genome tiling arrays indicates that 9,000 genes are expressed in the sea urchin embryo [34]. Previous random WISH screens across multiple organisms have concluded that 20% of all genes assessed had a restricted expression pattern [35, 36]. This could mean that perhaps 1,800 sea urchin genes are expressed in specific tissues during embryonic development. We hence assume that the genes identified thus far and the additional differentially expressed genes that have not yet been analyzed represent a significant portion of all tissue-specific sea urchin genes. This assumption provides the rationale for using our approach of combined array-WISH screens to unravel new candidate genes of GRNs, ultimately to move toward a global systems level understanding of sea urchin embryogenesis.
Neuronal identity, apical plate, and zinc treatment
Among the genes that we found to be upregulated in zinc-treated embryos is the homeobox transcription factor gene mox, which is a member of the extended hox complex in humans [37], which in vertebrates has been found to be involved in mesoderm development [38, 39]. By simultaneous WISH and immunohistochemical localization with serotonin, we could show that Mox is expressed in serotonergic neurons in the apical plate (Figure 8). Hence, this is the first transcription factor identified in sea urchin embryos that is expressed specifically by serotonergic cells; furthermore, its pattern of expression is consistent with its functioning in neuronal specification. It is also the first time that a mox ortholog had been found to be expressed by neurons in any organism. WISH analysis of mox in zinc-treated embryos revealed an apparent expansion of expression of mox in these embryos. Consistent with this, immunohistochemical localization of serotonin in zinc-treated embryos revealed an increase in the number of serotonergic neurons (Figure 7). Although two other transcription factors, expressed in the apical plate (FoxQ2 and glass), were found to be negative for expression in serotonergic neurons, it remains possible that they are expressed by one of the other types of neurons of the apical organ. The transcription factor glass is required for the differentiation and survival of photoreceptor cells in Drosophila [31]. In the sea urchin, glass is expressed in cells adjacent to serotonergic neurons. The structure of photoreceptors in sea urchins is not known, but it is presumed to involve sensory neurons and lack image-forming specializations. Thus, the apical organ may contain photoreceptors. However, there are no published data demonstrating that urchin embryos and larvae are responsive to photic cues.
The secreted frizzled-related protein gene Sp-sFRP1/5, selected because of being upregulated in zinc-treated embryos and downregulated in lithium-treated embryos, is also expressed exclusively in the apical plate and later in the apical organ (Figure 6). Secreted frizzled proteins are potent and highly specific inhibitors of Wnt signaling because they lack membrane domains and strongly compete with the Wnts on their receptors (frizzleds) [40]. This finding is an indication that downregulation of Wnt signaling may be a requirement for apical organ formation and neurogenesis, and one of the possible actions of zinc treatment on embryogenesis. A second finding, namely that aboral genes are upregulated in zinc-treated embryos, suggests that oral specific genes may be downregulated. This was found to be the case for the oral-specific genes chordin and goosecoid. However, other oral expressed genes exhibit a different pattern of regulation. As an example, the chordin antagonist Bmp2/4 is not differentially expressed, whereas nodal and its antagonist lefty are upregulated (see Q-PCR data in Table 2). This finding appears to contradict a recent finding that Nodal signaling, in the absence of vegetal signaling, represses the serotonergic cell content in the embryo [41]; hence, further investigation into the roles of BMP and nodal signaling, and expansion of the animal plate is required. The screens for zinc-treated embryos were conducted at a stage where normal embryos are at the gastrula stage (38 hours) and oral expression of nodal and lefty are downregulated in the oral ectoderm at this stage (expression shifts to the right side [42]). Hence, nodal and lefty may not be useful oral markers at this stage, and it is better to rely on chordin and goosecoid, which remain orally expressed until the end of gastrulation. Alternatively, there may be interactions between transforming growth factor-β signaling pathways, or the zinc-treated embryos may undergo a recovery process that leads to elevated expression of early patterning genes. Because many of the differentially expressed genes have not been analyzed in detail, we expect that there are additional genes that are involved in neurogenesis.
TBX6, Notch, fibroblast growth factor, and Wnt signaling in SMC specification
In the sea urchin, induction of the mesodermal founder cells that give rise to the secondary mesenchyme cells of the embryo (SMCs; for example, pigment cells and blastocoelar cells) require a signal transduced by the Notch receptor [43–46]. This signal is the Delta ligand, which is expressed by the eight large micromere daughter cells beginning at the seventh cleavage [47]. The Delta signal is received directly by the adjacent cells of the macromere lineage. Our screen has identified fibroblast growth factor (FGF) signaling components Tbx6 and snail as components of SMC-specific gene expression (Figure 4). This signaling cascade reveals striking similarities in gene expression between sea urchin SMC cells and mouse presomitic mesoderm. In the mouse embryo Tbx6 is expressed in presomitic mesoderm during mouse gastrulation [48, 49]. Studies have shown that Wnt signaling, in synergy with T/TBX6, controls Notch signaling by regulating Delta1 (Dll1) expression in the presomitic mesoderm of mouse embryos by demonstrating the need for T-box-binding and LEF/TCF-binding sites for activity of the Dll1 promoter in the tailbud and presomitic mesoderm. This suggests that T/TBX6 and Wnt signaling directly and synergistically regulate Dll1 transcription in the tailbud and presomitic mesoderm in mouse [50]. In addition, T-box transcription factors, as well as FGF and Wnt signaling, are essential regulators of formation, differentiation, and maintenance of paraxial mesoderm in mouse embryos, because mutations in T, Fgfr1, wnt3a, and Tbx6 cause defects in formation and differentiation of paraxial mesoderm [51–53].
Thus, it appears that several levels of crosstalk exist between the Notch, the Wnt, and the FGF pathways in somitogenesis in the mouse. The co-expression of Tbx6, FGFR1, and FGFR3 (this report) and delta [54] in sea urchin embryo suggests that during sea urchin SMC specification, differentiation, or maintainance, highly similar processes function as in mesenchymal epithelial transition of mouse presomitic mesoderm to somites. Hence, we propose that in sea urchin there may exist a feed-forward loop, in which Tbx6 and Wnt may act in synergy to activate delta to control Notch signaling in SMC differentiation. Moreover, we also found the transcription factor Prox1 to be co-expressed with FGFR3. This indicates that, like in mouse, FGFR3 may be a target of Prox1 [55]. Interestingly, a PKCdelta1 gene is expressed in migrating SMC cells. In the Xenopus embryo it has been shown that PKCdelta is essential for dishevelled function in a noncanonical Wnt pathway that regulates convergent extension movements [56]. This indicates that noncanonical Wnt signaling is involved in cell migration and convergent extension movements during sea urchin embryogenesis and further indicates that there exists crosstalk between Wnt, Notch, and FGF signalling in secondary mesenchyme (SMC) specification and differentiation.
Evolution of axial patterning
In the development of bilaterian animals, the indirect mode of development is regarded to be ancestral because it occurs in deuterostomes (echinoderms and hemichordates) and protostomes (lophotrochozoans), but in chordates (and ecdysozoan protostomes) indirect modes of development appear to have been lost during evolution [57]. Indirect development (also referred to as maximal indirect development) is characterized by use of a larval stage, the body patterning of which is essentially different from the body patterning of the adult [57]. The comparative study of gene expression patterns in the larvae of protostomes (for instance, annelid trochophora) and deuterostomes (for example, sea urchin dipleurula type) is a key step toward gaining insights into the Urbilateria, the common bilaterian ancestors. For example, comparison of gene expression between three patterning genes in indirect developing lophotrochozoan embryos and their counterparts in vertebrates and basal deuterostomes suggests that the Urbilateria has developed through a free swimming larva [58].
Gene expression data in lophotrochozoan larvae are still few, and gene expression studies in indirect developing basal deuterostomes are also in their infancy; hence, this study aims to close the gap.
There are several parallels between the organizer region of other animals and the vegetal pole of sea urchin. For example, in all cases this is the site of gastrulation as well as the source of axial specification signals that are capable of reorganizing surrounding tissue upon transplantation. Chordin and nodal are molecules classically associated with organizer and dorsal axis specification; in particular, chordin was used to interpret the expression on the ventral side in flies as possible proof of an axis inversion that happened during the evolution of tribloblastic animals. In fact, ecdysozoans are very derived animals with a direct mode of development that is regarded not to be ancestral [57]. The derived state of ecdysozoans is reflected by the recent finding that diploblastic cnidarians may share more genes with vertebrates than they do with ecdysozoans [59]. In sea urchin embryo we have an example in which the gene expression pattern of chordin and the organizer-like region are dissociated. One could view this finding as an indication that the vegetal plate is not the only organizer region in sea urchin embryo, but that the oral ectoderm also has organizer functions, perhaps similar to head and trunk organizer in vertebrates. Moreover, the classical dorso-ventral patterning genes chordin (Figure 6) and nodal, and their antagonists BMP2/4 and lefty/antivin [16, 42], respectively, are all expressed at the same time on the same side of the embryo, in the oral ectoderm, and this may have further implications for the evolution of axial patterning. Even more strikingly, a recent analysis of dorso-ventral genes in the cnidarian Nematostella vectensis has revealed a similar situation in which, unlike in flies and vertebrates, the transforming growth factor-β ligands and their antagonists are co-localized at the onset of gastrulation in presumptive endoderm [60].
It is therefore imperative to analyze the development of indirect developing organisms in order to analyze axis relationships between protostomes and deuterostomes.
We predict that chordin will be expressed on the ventral side of lophotrochozoan embryos as well, which would indicate that the bilaterian ancestor developed through a swimming larva, similar to types of larvae that can be found in basal deuterostomes, such as echinoderms and hemichordates and prototypic protostomes, the lophotrochozoans.
Such a result would also mean that an axis inversion could not have taken place at the time point in evolution when the tribloblastic world arose, but rather at the time when chordates arose. Expression and GRN architecture analysis of the chordin molecule and other dorso-ventral patterning genes in lophotrochozoan embryos and in amphioxus will clarify this interesting aspect of bilaterian evolution.
Additional data files
The following additional data are available with the online version of this paper. Additional data file 1 provides a figure with WISH images of 88 endomesoderm genes in Strongylocentrotus purpuratus embryos at blastula stage (20 hours). Additional data file 2 provides a table summarizing the sequences of the used Q-PCR primers, amplicon size, and melting temperatures.
Declarations
Acknowledgements
We thank Drs Matthew Clark and Pia Aanstad for discussions during the course of this project and help with experimental design. Furthermore, we thank Florian Thiel for help with the WISH database, Dr Andrew Hufton for careful reading of the manuscript, and Professor Bernhard G Herrmann for valuable suggestions. We thank Drs George Weinstock and Erica Sodergren, and the Baylor College of Medicine (Human Genome Sequencing Center, Houston, TX, USA) for access to the S. purpuratus genome sequence before scientific publication. This work was supported by the Max-Planck Gesellschaft zur Förderung der Wissenschaften e.V. and by the Network of Excellence Marine Genomics of the European Union contract N° 505430.
Authors' Affiliations
(1)
Max-Planck Institut für Molekulare Genetik, Evolution and Development Group, Berlin, Germany
(2)
University of Victoria, Departments of Biology and Biochemistry/Microbiology, Victoria, Canada
(3)
US National Institutes of Health, National Institute of Dental and Craniofacial Research, Bethesda, USA
Copyright
© Poustka et al.; licensee BioMed Central Ltd. 2007
This article is published under license to BioMed Central Ltd. This is an open access article distributed under the terms of the Creative Commons Attribution License (http://creativecommons.org/licenses/by/2.0), which permits unrestricted use, distribution, and reproduction in any medium, provided the original work is properly cited.