FOCS: a novel method for analyzing enhancer and gene activity patterns infers an extensive enhancer–promoter map
Received: 23 October 2017
Accepted: 13 April 2018
Published: 1 May 2018
Abstract
Recent sequencing technologies enable joint quantification of promoters and their enhancer regions, allowing inference of enhancer–promoter links. We show that current enhancer–promoter inference methods produce a high rate of false positive links. We introduce FOCS, a new inference method, and by benchmarking against ChIA-PET, HiChIP, and eQTL data show that it results in lower false discovery rates and at the same time higher inference power. By applying FOCS to 2630 samples taken from ENCODE, Roadmap Epigenomics, FANTOM5, and a new compendium of GRO-seq samples, we provide extensive enhancer–promotor maps (http://acgt.cs.tau.ac.il/focs). We illustrate the usability of our maps for deriving biological hypotheses.
Keywords
EnhancersPromotersGene regulationENCODERoadmapFANTOM5GRO-seqeRNAChIA-PETeQTL
Background
Deciphering the regulatory role of the noncoding part of the human genome is a major challenge. With the completion of the sequencing of the genome, efforts have shifted over the past decade towards understanding the epigenome. These efforts aim at understanding regulatory mechanisms outside the protein-coding sequences that allow the production of thousands of different cell types from the same DNA blueprint. Enhancer elements that distally control the activity of target promoters play critical roles in this process. Consequently, large-scale epigenomic projects set out to identify all the cis-regulatory elements that are encoded in the genome. Prominent among them is the ENCODE consortium [1, 2], which applied a variety of epigenomics techniques to a large panel of human cell lines. Profiling epigenetic marks of regulatory activity (including DHS-seq profiling of DNase I hypersensitive sites (DHSs), which is accepted as a common feature of all active elements), ENCODE collectively identified hundreds of thousands of putative regulatory elements in the genome [2]. As ENCODE analyses were mainly applied to cancer cell lines, a follow-up project, the Roadmap Epigenomics, applied similar analyses to a large collection of human primary cells and tissues, in order to establish more physiological maps of common and cell type-specific putative regulatory elements [3]. Given the plethora of candidate enhancer regions called by these projects, the next pressing challenge is to identify which of them is actually functional and map them to the genes they regulate. A naïve approach that is still widely used in genomic studies links enhancers to their nearest genes. Yet, emerging indications suggest that up to 50% of enhancers cross over their most proximal gene and control a more distal one [4]. A common approach that improves this naïve enhancer–promoter (E–P) mapping is based on pairwise correlation between activity patterns of promoters (P) and putative enhancers (E), and identifies E–P pairs, located within a distance limit, that show highly correlated patterns across many samples [2, 3]. However, this approach does not take into account interactions among multiple enhancers that control the same target promoter. Furthermore, Pearson correlation, which is typically applied for this task, is highly sensitive to outliers and thus prone to false positives.
Improved detection of functional enhancers is offered by a recently discovered class of non-coding transcripts, named enhancer RNAs (eRNAs) [5]. eRNAs are mostly transcribed bi-directionally from regions of enhancers that are actively engaged in transcriptional regulation [5] (reviewed in [6, 7]), and, importantly, changes in eRNA expression at specific enhancer regions in response to different stimuli correlate both with changes in the amount of epigenetic marks at these enhancers and with the expression of their target genes [8–11]. Most eRNAs are not polyadenylated and are typically expressed at low levels due to their instability (reviewed in [12]). Therefore, eRNAs are not readily detected by standard RNA-seq protocols, but can be effectively measured by global run-on sequencing (GRO-seq), a technique that measures production rates of all nascent RNAs in a cell [8–10, 13, 14], or by cap-analysis of gene expression (CAGE) followed by sequencing [4, 15, 16]. Utilizing eRNA expression as a mark of enhancer activity, the FANTOM5 consortium recently generated an atlas of predicted enhancers in a large panel of human cancer and primary cell lines and tissues [4]. This study too used pairwise correlation (in this case, calculated between expression levels of an eRNA and a gene whose transcription start site (TSS) is within a distance limit from it) to infer E–P links. Regression analysis was applied to characterize the configuration of promoter regulation by enhancers [4]. However, since all samples were used for training the regression models, this analysis is prone to over-fitting and thus the predictive power of the derived models on new samples is unclear.
Here, we present FOCS (FDR-corrected OLS with Cross-validation and Shrinkage), a novel procedure for inference of E–P links based on correlated activity patterns across many samples from heterogeneous sources. FOCS uses a cross-validation scheme in which regression models are learnt on a training set of samples and then evaluated on left-out samples from other cell types. The models are subjected to a new statistical validation scheme that is tailored for zero-inflated data. Finally, validated models are optimally reduced to derive the most important E–P links. We applied FOCS on massive genomic datasets recorded by ENCODE, Roadmap Epigenomics, and FANTOM5, and on a large compendium of eRNA and gene expression profiles that we compiled from publicly available GRO-seq datasets. We demonstrate that FOCS outperforms extant methods in terms of concordance with E–P interactions identified by ChIA-PET, HiChIP, and eQTL data. Collectively, applying FOCS to these four data resources, we inferred ~ 300,000 cross-validated E–P interactions spanning ~ 16,000 known genes. FOCS and our predicted E–P maps are publicly available at http://acgt.cs.tau.ac.il/focs.
Discussion
In this study we present FOCS, a novel statistical framework for predicting E–P interactions based on activity patterns derived from large-scale omic datasets. Applying FOCS to four different genomic data sources, we derived an extensive resource of statistically cross-validated E–P links. Our E–P mapping resource further illuminates different facets of transcriptional regulation. First, a common naïve practice is to map enhancers to their nearest promoters. In FOCS predicted E–P links, ~ 26% of the enhancers are mapped to a promoter that is not the closest one (Additional file 1: Figure S10). Second, intronic enhancers are very common; 70% of the predicted E–P links involve an intronic enhancer (Additional file 1: Table S2). Third, while in the shrunken models each promoter was linked to, on average, ~ 3 enhancers, many promoters were linked to a single dominant enhancer and some were linked to a very high number of enhancers (8–10).
As an initial step in exploring relationships between the configuration of E–P interactions and gene function, we examined the set of housekeeping genes taken from [
24
]. These genes are ubiquitously expressed across different cell types, suggesting that they are likely to have a simple regulation logic. Indeed, the promoters of these genes were involved in a significantly lower number of E–P links compared to all other genes (
p
value < 0.001 in all data types; Additional file
1
: Figure S11). To further explore a possible relationship between the breadth of gene expression across tissues and the complexity of transcriptional regulation, we calculated the Shannon entropy for each gene promoter (higher entropy indicates larger expression breadth). Interestingly, we observed a strong negative relationship where promoters with more restricted activity profiles (that is, lower entropy) are associated with a larger number of enhancers (Fig.
6
, Additional file
1
: Figure S12). As a set, the genes associated with higher numbers of enhancers were enriched for Gene Ontology (GO) categories related to cell adhesion, signal transduction, and differentiation (Additional file
2
).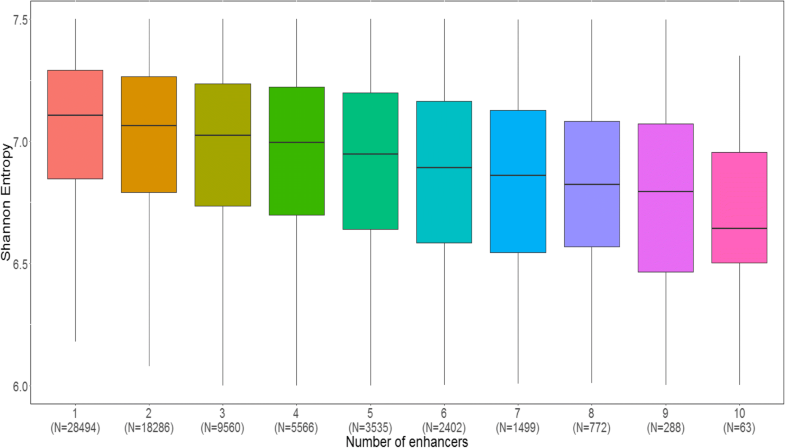 We also observed that while the vast majority (~ 90%) of enhancers in FOCS-derived models had positive Pearson and Spearman correlation with the activity pattern of their target promoters, the models also included cases of negative correlation, suggesting that the regulatory element functions as a repressor (Additional file 1: Figure S13). Finally, the activity level test in FOCS, computed using the Spearman correlation, can also account for promoter models where the relationship between the enhancer and promoter activity patterns is not linear, perhaps explaining the R2 < 0.5 values observed in the majority of FANTOM5 and Roadmap models (Additional file 1: Figure S6B).
An aspect that we did not consider in our analysis is the constraints imposed on transcriptional regulation by the 3D organization of the genome. Recent findings indicate that most E–P interactions are limited by chromosomal territories called topologically associated domains [25, 26]. Further research is needed to better elucidate this connection between 3D organization and E–P links and to better understand to what extent such constraints are universally or differentially imposed in different cell types.
Biological interpretation of our analysis of DHS data (ENCODE and Roadmap Epigenomics datasets) implicitly assumes that transcription rate at promoters is positively related with promoter DHS signal. We therefore examined DHS–expression correlations in cell lines for which both DHS and RNA-seq data were available in the ENCODE project (17 cell lines in total). In all cases, we observed high Spearman but low Pearson correlations (Additional file 1: Figure S14), indicating a strong monotonic but non-linear relationship.
The leave-cell-type-out scheme applied by FOCS is conservative and ensures that the inferred models have predictive power in diverse cellular contexts. However, it will not infer models for genes whose expression is strictly cell type-specific. Analyzing larger numbers of diverse cell types containing related cell types, we expect a lower chance of missing gene models that are cell type-specific.
While our manuscript was under review another novel method for inference of E–P interactions, called JEME, was introduced [27]. Unlike FOCS, JEME (and the previously published TargetFinder [28]) makes cell type-specific predictions and combines different omic data types within the same model.
Our broad compendium of E–P interactions can greatly assist the functional interpretation of genetic variants that are associated with disease susceptibility, as the majority (~ 90%) of the variants detected by genome-wide association studies are located in noncoding sequences [29]. Similarly, it can help in the interpretation of recurrent noncoding somatic mutations (SMs) in cancer genomes. SM hotspots in regulatory regions are detected at an accelerated pace with the rapid accumulation of whole-genome sequencing (WGS) of tumor samples [30, 31]. Additionally, the predicted E–P links can be integrated into and boost bioinformatics pipelines that seek DNA motifs in regulatory elements that putatively regulate sets of co-expressed genes. Overall, the FOCS method and the compendium we provide hold promise for advancing our understanding of the noncoding regulatory genome.
Conclusions
FOCS predicts ~ 1.5-fold more E–P links (n = 302,050) compared to the standard pairwise method with Pearson coefficient r > 0.7 (n = 204,276). On average over all datasets, FOCS E–P links show a higher support rate by external validation resources compared to the commonly used pairwise method (r > 0.7). These results demonstrate the improved prediction power and control of false positive E–P links.

FOCS uses two non-parametric tests to examine the robustness of each promoter model. Using these tests we can correct for multiple promoter models and use them when it is suspected that there is no linear relationship between the E–P activity patterns. Previous methods used the Pearson correlation test (or, equivalently R2 values) assuming linearity between enhancer and promoter activity patterns.

FOCS is capable of detecting repressor–promoter (R-P) links, which result from negative Spearman correlation between R–P activity patterns. R–P links are less known and are also of high interest.

We provide a new compendium of eRNA and gene expression patterns based on 245 GRO-seq profiles from 23 different cell types. This compendium can be used as a genome-wide resource of enhancer activity in a diverse panel of cell lines.
Declarations
Funding
T.A.H. and D.A. were supported in part by fellowships from the Edmond J. Safra Center for Bioinformatics at Tel Aviv University. R.S. is supported by the Israeli Science Foundation (Grant 317/13) and the Bella Walter Memorial Fund of the Israel Cancer Association. R.E. is supported by the Israeli Cancer Association, with the generous assistance of the ICA Netherlands friends. R.E. is a Faculty Fellow of the Edmond J. Safra Center for Bioinformatics at Tel Aviv University.
Availability of data and materials
Review history
The review history of this article is available in Additional file 4.
Authors' contributions
TAH, RE, and RS designed the research. TAH and DA developed the computational method. TAH performed the analyses, parsed the ENCODE, Roadmap, and FANTOM5 data, and assembled the GRO-seq compendium. All authors analyzed the data and wrote the manuscript. All authors read and approved the final manuscript.
Competing interests
The authors declare that they have no competing interests.
Open AccessThis article is distributed under the terms of the Creative Commons Attribution 4.0 International License (http://creativecommons.org/licenses/by/4.0/), which permits unrestricted use, distribution, and reproduction in any medium, provided you give appropriate credit to the original author(s) and the source, provide a link to the Creative Commons license, and indicate if changes were made. The Creative Commons Public Domain Dedication waiver (http://creativecommons.org/publicdomain/zero/1.0/) applies to the data made available in this article, unless otherwise stated.
Authors' Affiliations
(1)
Blavatnik School of Computer Science, Tel Aviv University, Tel Aviv, Israel
(2)
Stanford Center for Inherited Cardiovascular Disease, Stanford University, Stanford, USA
(3)
Department of Human Molecular Genetics & Biochemistry, Sackler School of Medicine, Tel Aviv University, Tel Aviv, Israel
(4)
Sagol School of Neuroscience, Tel Aviv University, Tel Aviv, Israel