Epidermal Wnt signalling regulates transcriptome heterogeneity and proliferative fate in neighbouring cells
Received: 31 October 2017
Accepted: 22 December 2017
Published: 15 January 2018
Abstract
Background
Canonical Wnt/beta-catenin signalling regulates self-renewal and lineage selection within the mammalian epidermis. Although the transcriptional response of keratinocytes that receive a Wnt signal is well characterized, little is known about the mechanism by which keratinocytes in proximity to the Wnt-receiving cell are co-opted to undergo a change in cell fate.
Results
To address this, we perform single-cell RNA-sequencing on mouse keratinocytes co-cultured with and without beta-catenin-activated neighbouring cells. We identify five distinct cell states in cultures that had not been exposed to the beta-catenin stimulus and show that the stimulus redistributes wild-type subpopulation proportions. Using temporal single-cell analysis, we reconstruct the cell fate change induced by Wnt activation from neighbouring cells. Gene expression heterogeneity is reduced in neighbouring cells and this effect is most dramatic for protein synthesis-associated genes. Changes in gene expression are accompanied by a shift to a more proliferative stem cell state. By integrating imaging and reconstructed sequential gene expression changes during the state transition we identify transcription factors, including Smad4 and Bcl3, that are responsible for effecting the transition in a contact-dependent manner.
Conclusions
Our data indicate that non-cell autonomous Wnt/beta-catenin signalling decreases transcriptional heterogeneity. This furthers our understanding of how epidermal Wnt signalling orchestrates regeneration and self-renewal.
Background
The mammalian epidermis comprises interfollicular epidermis (IFE), hair follicles, sebaceous glands and sweat glands. Under steady-state conditions, each of these compartments is maintained by distinct populations of stem cells. However, following wounding, each stem cell subpopulation exhibits the capacity to contribute to all differentiated lineages [1]. Recent single-cell gene expression profiling of adult mouse epidermis identified multiple epidermal subpopulations [2]. Furthermore, in cultures of human and mouse keratinocytes, there are three or more subpopulations with varying proliferative potential [3, 4].
One pathway that plays a key role in regulating stem cell renewal and lineage selection in mammalian epidermis is Wnt/beta-catenin signalling, which is an important regulator of epidermal maintenance, wound repair and tumorigenesis [5, 6]. Gene expression profiling has identified a number of signalling pathways that are regulated by cell-intrinsic activation of beta-catenin. Wnt signalling is indispensable for adult epidermal homeostasis; loss of beta-catenin in the IFE causes a defect in stem-cell activation, resulting in reduced basal layer proliferation and IFE thinning [7, 8], and loss of hair follicles. Conversely, transient activation of epidermal beta-catenin in adult epidermis leads to expansion of the stem-cell compartment and results in the formation of ectopic hair follicles, at the expense of the sebaceous glands, and an increase in IFE thickness [9, 10].
There is good evidence that intrinsic beta-catenin activation in epidermal keratinocytes leads to effects on neighbouring epidermal cells. For example, in the mouse hair follicle, activated mutant beta-catenin cells can co-opt wild-type (WT) cells to form a new hair growth through secretion of Wnt ligands [9, 11]. This form of non-cell autonomous (NCA) activation suggests that autonomous Wnt signalling has the capability to change neighbouring cell fate. Although the mechanisms of autonomous Wnt activation are well described, it is unclear how NCA effects differ from cell intrinsic effects and how beta-catenin can simultaneously regulate self-renewal while changing the fate of neighbouring cells.
In this study, we set out to analyse NCA signalling in WT mouse keratinocytes that were co-cultured with keratinocytes in which beta-catenin was activated. This has revealed previously unknown heterogeneity of WT mouse keratinocytes and elucidated the effect of Wnt signalling on neighbouring cell state and heterogeneity.
Discussion
Heterogeneity in the self-renewal and proliferative capabilities of keratinocytes has long been recognised. Previous analysis of clones and subclones of cultured human epidermal cells has demonstrated that there are at least three subpopulations, 'holoclones', 'meroclones' and 'paraclones' with descending self-renewal potential [4, 41, 42]. More recently, Roshan et al. have shown the existence of two in vitro states with differing proliferation rates and single cell transcriptomics have identified two distinct subpopulations of human keratinocytes in culture [31]. In this study, we have dissected molecular heterogeneity of epidermal cells at greater resolution and extended previous research by exploring the response of keratinocytes to neighbouring cells in which beta-catenin is activated. We have identified five distinct transcriptomic states and characterised their biological relevance in order to create a state map of keratinocytes in vitro.
Using the cell state map and inducible activation, we have shown that Wnt/beta-catenin signalling acts to perturb cell fate by co-opting neighbours to become biased towards a pre-existing proliferative fate (Fig.
6
). It is important to note that we found no evidence for a de novo cell state as a result of non-cell autonomous signalling. This highlights the relevance of transient Wnt/beta-catenin signalling to cell state and is consistent with a model of stochastic epidermal commitment where extrinsic cues alter the likelihood of a cell switching state [
43
]. The observed difference in transcriptome variability between states A and D reflects a difference in cell state stability. Only a modest increase in translational activity is observed in state D or neighbouring cells; however, there is a marked reduction in the variability of translation-associated genes, highlighting the importance of transcriptional noise as well as transcriptional volume for determination of cell state.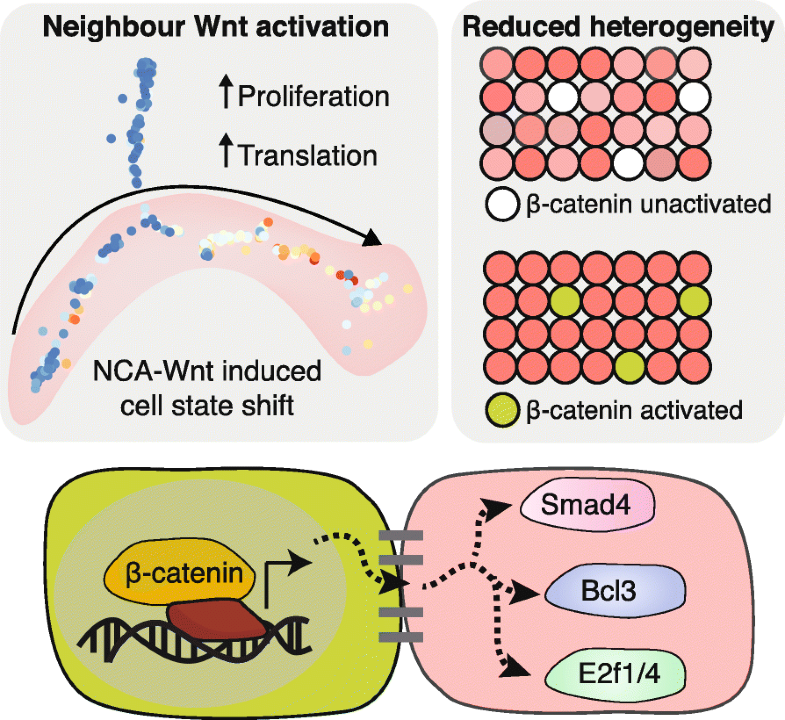 Combined transcriptomic and positional single cell analyses allowed us to resolve spatial and temporal effects. As a result of this, we identified a collection of TFs, many of which were not previously implicated in epidermal cell state. One example is Bcl3, which is expressed in murine and human basal IFE; however, its role in epidermal cell fate is poorly understood [2, 44]. In addition, we identified Smad4 and utilised this as a marker of cell state transition. Smad4-beta-catenin cross-talk has been previously identified as essential for hair follicle maintenance [45–47]. Here, we show that beta-catenin signalling activation leads to Smad4 activation in a non-cell autonomous manner.
Our study does not address the extracellular effectors of NCA Wnt signalling. We previously identified a diverse array of secreted signalling molecules downstream of canonical Wnt signalling, including Bmp6, Dkk3, Wnt ligands, cytokines and ECM components [48]. Our analysis of TF effectors and previous evidence of epidermal self-renewal via autocrine Wnt signalling suggests that cells neighbouring a beta-catenin+ cell are simultaneously committed to a state of lesser self-renewal and greater proliferative abilities. This is achieved via a combination of Bmp signalling (effected through Smad3/4; Fig. 6) and neighbouring Wnt inhibition (Dkk3, Lim et al.). Intriguingly these effects are contact-dependent, hinting at yet-unknown mechanisms of locally restricting these signalling molecules or major signalling contributions from other membrane-bound factors. The observed difference in translation rate and proliferation in neighbouring cells demonstrates asymmetric coupling of cell fates, an essential component of epidermal homeostasis to ensure a balance of cell fates and epidermal metabolism.
Conclusions
In conclusion, our data provide a framework for studying cell state in the interfollicular epidermis and extend our understanding of functional heterogeneity and NCA signalling. Using this knowledge, we demonstrate how Wnt/beta-catenin signalling, an orchestrator of regeneration, homeostasis and tumorigenesis in multiple tissues, influences neighbouring cell fate.
Methods
Cell isolation and culture
K14ΔNβ-cateninER transgenic mice were generated as previously described [10]. Keratinocytes were isolated and cultured from adult dorsal skin in FAD medium (one part Ham's F12, three parts Dulbecco's modified Eagle's medium, 1.8 × 10–4 M adenine), supplemented with 10% fetal calf serum (FCS) and a cocktail of 0.5 μg/mL hydrocortisone, 5 μg/mL insulin, 1 × 10–10 M cholera enterotoxin and 10 ng/mL epidermal growth factor (HICE cocktail) [49]. For the co-culture scRNA-seq experiment, WT and K14ΔNβ-cateninER keratinocytes were cultured on 12 well plates in a ratio of 9:1 for a total of 200,000 cells per well and allowed to attach for 24 h. Subsequently, cells were treated with 4-OHT (200nM) or DMSO as a control. After 24 h of treatment, cells were trypsinised and resuspended as a single cell suspension.
Single cell capture, library preparation and RNA-sequencing
Single keratinocytes were captured on a medium-sized (10–17 μm) microfluidic chip (C1, Fluidigm). Cells were assessed for viability (LIVE/DEAD assay, Life Technologies) and C1 capture sites were imaged by phase contrast to determine empty and doublet capture sites. Cells were loaded onto the chip at a concentration of 300 cells μL–1. Doublet or non-viable cells were excluded from later analysis. Cell lysis, reverse transcription and ccomplementary DNA (cDNA) amplification were performed on the C1 Single-Cell Auto Prep IFC, as per the manufacturer's instructions. For cDNA synthesis, the SMART-Seq v4 Ultra Low Input RNA Kit (Clontech) was used. Single cell Illumina NGS libraries were constructed with Nextera XT DNA Sample Prep kit (Illumina). Sequencing was performed on Illumina HiSeq4000 (Illumina) using 100-bp paired-end reads.
Bulk RNA extraction and real-time qPCR
Total RNA was purified with the RNeasy mini kit (Qiagen) with on-column DNaseI digestion, according to the manufacturer's instructions. RNA was reverse transcribed with SuperScript III (Invitrogen). PCR reactions were performed with TaqMan Fast Universal PCR Master Mix and Taqman probes purchased from Invitrogen.
RNA-seq quantification and statistical analysis
Processing of reads and quality control
Reads were preprocessed using FastQC [50] and Cutadapt [51]. Sequences were aligned to the Mus Musculus genome (GRCm38) using Tophat [52] discarding multiply-mapped reads. Gene level counts were extracted using featureCounts [53]. Transcript levels were quantified as TPM. Genes with a TPM > 1 were considered as expressed. We filtered cells for analyses on the basis of number of aligned reads (> 200,000), percentage of ribosomal reads (< 2%) and number of genes expressed (> 2000). A total of 254 cells were taken forward for analysis. To assess replicate consistency, we pooled single cells within each replicate and observed that between-replicate Pearson correlation was > 0.96 for both control and non-cell autonomous beta-catenin signalling activated conditions.
Identification of K14ΔNβ-cateninER cells
K14ΔNβ-cateninER cells were identified by aligning RNA-seq reads to the transgene locus using bowtie2 [54]. Subsequently, cell identity was confirmed using qRT-PCR with Fast SYBR Green Master Mix (ThermoFisher Scientific) using the primers ATGCTGCTGGCTGGCTATGGTCAG (forward) and ATAGATCATGGGCGGTTCAGC (reverse) spanning the beta-catenin estrogen-receptor junction.
Dimensionality reduction, cell state map and pseudotransition
We performed dimensionality reduction and constructed the principal graph representing transitions between all possible cell states using DDRTree from Monocle2 [12]. All DDRTree dimensionality reduction was performed using default parameters and a final dimensionality of two. We initially performed this analysis on WT cells to determine the unperturbed cell state map. Subsequently we applied the DDRTree algorithm on the Wnt + cell exposed group to confirm that we independently achieve a similar cell state map. We used all 254 cells for the final transcriptomic state map and differential expression to obtain cell state marker genes. Cell clusters obtained from Monocle were confirmed by a combination of dimensionality reduction of the cells using t-distributed stochastic neighbour embedding (tSNE) [55] and cluster identification with DBSCAN [56]. Differential gene expression analysis was performed using Monocle 2 and VGAM using a likelihood ratio test controlling for batch effects and number of aligned reads per cell. Genes were filtered for log-2-fold change > 0.5 and an adjusted p value < 0.05. Expression profiles from this study were correlated with expression profiles from Joost et al. (single cell RNA-seq, GSE67602), Zhang et al. (bulk microarray, GSE16516) and Lien et al. (bulk microarray, GSE31028) using Pearson correlation coefficient of all genes expressed TPM > 1 in more than five cells.
Heterogeneity analysis
Differential gene dispersion was performed using the Kolmogorov–Smirnov test after subtracting group mean expression from each group. Differentially dispersed genes were defined as q value < 0.05. We filtered for genes with a coefficient of variation (CV) fold change > 2 between the state in question and the remainder of the population. Enrichment of gene log-fold change in heterogeneity was performed using a mean-rank gene set enrichment test on GO Biological Process terms as described previously [57].
Pseudotransition gene expression and TF enrichment
Pseudotransition cell ordering was determined by applying the Monocle pseudotime algorithm to the states with significantly different proportions of control and Wnt + exposed cells (states A, B, C and D). GO enrichment was performed on the resulting clusters of temporal gene expression using enrichR [58]. TF enrichment was performed by quantifying over-representation of target genes in the set of temporally regulated genes using the ChEA ChIP-X TF binding database [59].
Immunofluorescence, imaging and neighbour cell quantification
Immunofluorescence staining
The following antibodies were used: β-catenin (1:250, Sigma); Smad4 (1:250, Sigma); Bcl3 (1:250, Sigma). For EdU experiments (Molecular Probes; C10337), half of the cell culture medium was replaced with medium containing EdU for a final concentration of 10 μM EdU 30 min before fixation. Similarly, for OPP experiments (Molecular Probes; C10456) half of the cell culture medium was replaced 30 min before fixation with medium containing OPP for a final concentration of 20 μM OPP. Cultured cells were fixed with 4% PFA for 10 min followed by permeabilisation with 0.1% Triton X-100 for 10 min at room temperature. Cells were blocked for 1 h at room temperature with 1% BSA in PBS. Primary antibody incubation was carried out for 90 min at room temperature. Samples were labelled with Alexa Fluor (488, 555, 647)- conjugated secondary antibodies for 1 h at room temperature. Cells were imaged within 24 h using an Operetta or Operetta CLS High-content Imaging System (PerkinElmer). Single cell cytoplasmic and nuclear fluorescence intensities were quantified with Harmony software (PerkinElmer) and analysed in R.
Neighbour cell quantification
For neighbouring cell quantification K14ΔNβ-cateninER cells were labelled with CellTracker Green CMFDA dye (Molecular Probes) according to the manufacturer's instructions. Single cell fluorescence intensity data and positional information were analysed in R. For each K14ΔNβ-cateninER CellTracker + cell the mean fluorescence intensity of neighbouring cells was calculated. Neighbouring cells were defined as the nearest cell within 20 μm (nucleus-to-nucleus distance). The mean number of neighbours was 5.4, as expected from a hexagonal packing model below confluence with mean cell diameter of 8 μm. K14ΔNβ-cateninER cells were excluded if more than two neighbouring cells were also CellTracker+. Fluorescence intensity distributions from biological and technical replicates were pooled and contrasted between conditions using the non-parametric Kolmogorov–Smirnov test.
Declarations
Acknowledgements
We are most grateful to Abdul Sesay, Leena Bhaw, Marta Costa and Greg Elgar for their advice and technical assistance in performing single cell transcriptomics. We also thank Victor Negri and Bénédicte Oulès for helpful advice and discussions.
Funding
AG is a King's/Crick PhD student. This work was supported by the Francis Crick Institute which receives its core funding from Cancer Research UK (FC001110), the UK Medical Research Council (FC001110) and the Wellcome Trust (FC001110). This work was funded by grants to FMW from the Wellcome Trust and MRC. We also gratefully acknowledge funding from the Department of Health via the National Institute for Health Research comprehensive Biomedical Research Centre award to Guy's & St Thomas' National Health Service Foundation Trust in partnership with King's College London and King's College Hospital NHS Foundation Trust.
Availability of data and materials
All data analysed here are publicly available. Raw single-cell sequencing data generated in this study and a table of processed and normalised read counts (TPM; transcripts per million) have been deposited in the Gene Expression Omnibus (GEO) under the accession GSE99989 [60]. Raw and processed high-content imaging data are available upon request. All other gene expression datasets have appeared in previous publications and are publicly available: Joost et al. (single cell RNA-seq, GSE67602) [2], Zhang et al. (bulk microarray, GSE16516) [14], Lien et al. (bulk microarray, GSE31028) [15] and Collins et al. (bulk microarray, GSE32966) [17].
Authors' contributions
AG designed and executed experiments, performed bioinformatic analyses and wrote the paper. GD conceived the project and supervised the experiments. NML and FMW supervised the project and co-wrote the paper. All authors read and approved the final manuscript.
Ethics approval and consent to participate
Not applicable.
Competing interests
The authors declare they have no competing interests.
Publisher's Note
Springer Nature remains neutral with regard to jurisdictional claims in published maps and institutional affiliations.
Open AccessThis article is distributed under the terms of the Creative Commons Attribution 4.0 International License (http://creativecommons.org/licenses/by/4.0/), which permits unrestricted use, distribution, and reproduction in any medium, provided you give appropriate credit to the original author(s) and the source, provide a link to the Creative Commons license, and indicate if changes were made. The Creative Commons Public Domain Dedication waiver (http://creativecommons.org/publicdomain/zero/1.0/) applies to the data made available in this article, unless otherwise stated.
Authors' Affiliations
(1)
The Francis Crick Institute, London, UK
(2)
King's College London, Centre for Stem Cells and Regenerative Medicine, London, UK
(3)
Department of Life Sciences and Systems Biology, University of Turin, Torino, Italy
(4)
UCL Genetics Institute, University College London, London, UK
(5)
Okinawa Institute of Science & Technology Graduate University, Okinawa, Japan