Long-term balancing selection contributes to adaptation in Arabidopsis and its relatives
Received: 11 July 2017
Accepted: 16 October 2017
Published: 15 November 2017
Abstract
Background
In contrast to positive selection, which reduces genetic variation by fixing beneficial alleles, balancing selection maintains genetic variation within a population or species and plays crucial roles in adaptation in diverse organisms. However, which genes, genome-wide, are under balancing selection and the extent to which these genes are involved in adaptation are largely unknown.
Results
We performed a genome-wide scan for genes under balancing selection across two plant species, Arabidopsis thaliana and its relative Capsella rubella, which diverged about 8 million generations ago. Among hundreds of genes with shared coding-region polymorphisms, we find evidence for long-term balancing selection in five genes: AT1G35220, AT2G16570, AT4G29360, AT5G38460, and AT5G44000. These genes are involved in the response to biotic and abiotic stress and other fundamental biochemical processes. More intriguingly, for these genes, we detected significant ecological diversification between the two haplotype groups, suggesting that balancing selection has been very important for adaptation.
Conclusions
Our results indicate that beyond the well-known S-locus genes and resistance genes, many loci are under balancing selection. These genes are mostly correlated with resistance to stress or other fundamental functions and likely play a more important role in adaptation to diverse habitats than previously thought.
Keywords
Adaptation Arabidopsis thaliana Balancing selection Capsella rubella Trans-species polymorphism
Background
Understanding the maintenance of genetic variation in the face of genetic drift is of critical importance to decipher the mechanisms of adaptation. Balancing selection maintains advantageous genetic variation within a population [1–6] and has received long-term attention in evolutionary biology [7]. Classical examples are mainly restricted to the major histocompatibility locus (MHC) in vertebrates [8], ABO blood group in primates [5], heterokaryon incompatibility in fungi [9], and self-incompatibility (S) loci [10–13] and disease resistance (R) genes [14] in plants. Recently, a novel gene involved in resistance to severe malaria was found in a region of ancient balancing selection in a genome-wide association study [15]. In another case, balancing selection on the srx-43 locus in Caenorhabditis elegans [16] surprisingly shapes density-dependent foraging behaviors. Obviously, almost all loci under balancing selection are important for the fitness of organisms.
Despite rapid progress in the understanding of balancing selection, confirmed cases are rather limited. Therefore, a question naturally follows, namely, what other genes in the genome are under balancing selection? The availability of genome-wide variation data provides the opportunity to comprehensively address this question.
One convenient signature of ancient balancing selection is trans-species polymorphisms (TSPs) [
2
,
17
], i.e. ancestral polymorphisms that arose before species diverged from a common ancestor, survived the split, and segregate in the present populations of different species. However, TSPs can be neutral if there is not enough time for genetic drift to erase the ancestral polymorphisms in any species. In contrast, if divergence time is sufficiently long, neutral TSPs will be eliminated and only the ones under balancing selection can survive. The surrounding ancestral regions of TSPs under balancing selection may be broken up by recombination, which becomes narrower as balancing selection becomes more ancient [
5
,
18
]. Furthermore, TSPs can be easily confounded with recurrent mutations or introgression (Fig.
1
), since both of the cases also produce shared polymorphisms in closely related species [
17
]. Nevertheless, some features are associated with ancient balancing selection [
18
]. In particular, orthologous sequences from different species cluster by allele, rather than species, due to tight linkage around the site under balancing selection [
3
,
18
], while neutral recurrent shared polymorphisms still cluster by species. Another associated signal of long-term balancing selection is a high level of variation, since the polymorphisms surrounding TSPs should be more ancient than the genome-wide average coalescent time. Furthermore, the allele frequency distribution for sites under balancing selection is expected to exhibit a trend towards intermediate frequencies [
18
].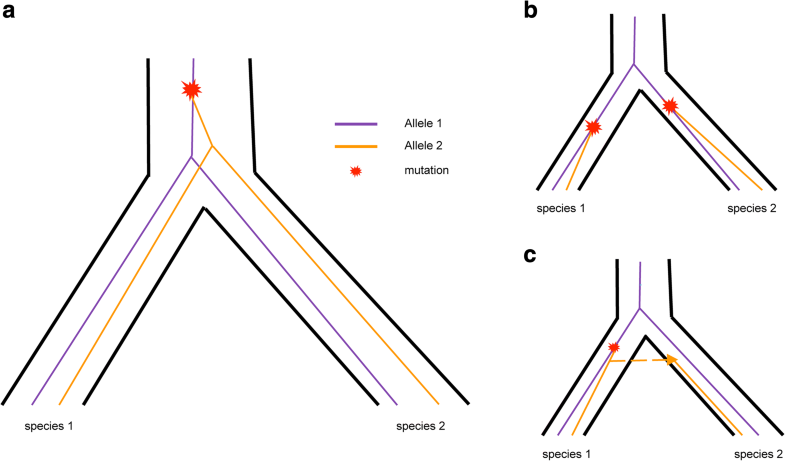 Genome-wide scans for TSPs are rather limited to Hominidae-related species [3, 19], except for one recent study in plants [20], in which a complex history of non-bifurcating speciation was identified in the genus Arabidopsis and many ancestral polymorphisms were detected. However, it is not clear whether these ancestral polymorphisms are maintained by balancing selection.
In this study, we performed a whole-genome scan for TSPs under balancing selection between two plant species, Arabidopsis thaliana and Capsella rubella. Unless otherwise specified, TSPs in this study refer to those under balancing selection, not neutral ones. Arabidopsis and Capsella belong to Brassicaceae and diverged about 8 million years (or ~ 8 million generations) ago [21], a much larger timescale than that of previous studies of humans and chimpanzees (~0.25 million generations) [3, 5, 19]. Beyond this, C. rubella, a highly selfing species, recently diverged from its outcrossing relative Capsella grandiflora and has experienced a severe population bottleneck, resulting in a tremendous reduction in genetic diversity and ancestral polymorphisms [22–24]. Therefore, TSPs that persist for such a long time, particularly through the dramatic demographic event, must be of critical importance for plants. We are particularly interested to see, as a kind of standing variation, the extent to which polymorphisms at loci under balancing selection could contribute to adaptation.
Interestingly, we detected 433 candidate genes that exhibit shared coding single nucleotide polymorphisms (SNPs) between the two species. We confirmed that five of these genes were under long-term balancing selection. Furthermore, there was significant ecological diversification between the two haplotype groups separated by the TSP sites. Our results indicate that, in plants, beyond the well-known S-locus genes and R genes, many loci are under balancing selection. These genes were mostly associated with resistance to stress and other fundamental functions and likely play an important role in adaptation to diverse habitats.
Discussion
The importance of balancing selection for the maintenance of variation has received long-standing attention in evolutionary biology. However, many fundamental questions remain largely unanswered [3, 52]. For example, besides the well-known examples, what genes are under balancing selection across genomes, especially in plants? How long does genomic signature of balancing selection persist? In addition, as a kind of standing variation, to what extent does polymorphism of loci under balancing selection promote adaptation?
To address these questions, we performed a genomic scan for TSPs maintained in the model plant A. thaliana and its relative C. rubella, which diverged more than 8 million generations ago. TSPs can be neutral if the species diverged recently or have large effective population sizes. We therefore estimated demographic parameters for A. thaliana and C. rubella using population data and confirmed the theoretical prediction that neutral ancestral TSPs are highly unlikely in our system. After ruling out recurrent mutations and gene flow, we finally got five genes out of 433 candidate ones.
However, we focused on orthologous genes with two or more shared SNPs in both species, our method for TSP detection likely missed some genes with single TSP sites. Furthermore, we may have missed TSPs outside of genes; one previous study on humans and chimpanzees identified 123 non-coding TSPs and balancing selection has targeted regulatory variation in the human genome [3]. In addition, the further filters we used to get reliable shared coding SNPs may be too stringent, e.g. the mappability filter removed two-thirds of the shared SNPs. Nevertheless, this is a reasonable strategy to avoid false positives.
The genes under balancing selection may have played critical roles in adaptation to divergent habitats, since for four of the genes under balancing selection, the niches of the two haplotype groups were significantly differentiated. Unlike animals, in which genes experiencing balancing selection are mainly involved in resistance to viruses, in this study we found some other genes under balancing selection in plants, correlated with the response to stress and fundamental functions. In particular, these genes were correlated with diversifying niches, indicating that balancing selection probably has more influences on ecological distribution in plants than in animals. However, we cannot exclude the possibility that other environmental factors, especially microhabitat or biotic factors, like pathogens, contributed to the maintenance and spread of the genetic footprint of balancing selection [6]. More correlations may be discovered if additional factors are considered.
Loci under balancing selection are a good system to understand the mechanism of adaptation. The identification of genetic loci associated with both particular climatic factors and fitness traits is critical for the understanding of adaptive mechanisms in organisms, but this is extremely difficult to achieve given the limited time and usually weak selection strength [53, 54]. However, balancing selection can act through a variety of mechanisms [1, 2]. For example, by temporal and spatial variation in selection [55], loci can be functionally associated with local or global environmental changes during their long-term evolutionary history. In this way, strong and clear selection signal could be kept in the genome and could be studied in-depth. For example, a recent study identified a novel locus of resistance to severe malaria [15], which was in a region of ancient balancing selection [3].
Finally, it will be interesting to determine how genetic differentiation at these loci contributes to adaptation to different habitats. Given that C. rubella experienced a severe population bottleneck during the breeding system transition [23, 24], TSPs that survived this dramatic demographic event could be of critical importance for plant fitness. Therefore, it will be highly rewarding to further investigate the biological functions of these five genes under ancient balancing selection or genes with candidate TSPs to determine the biological basis for balancing selection. Moreover, a genome scan for loci under balancing selection is an effective way to reveal functionally important genes or sequences that are difficult to detect using common reverse or forward genetics owing to weak or indirect effects on organisms.
Conclusions
We identified a number of shared polymorphic sites in the genomes of two closely related species and confirmed that at least five genes are under long-term balancing selection. The two different haplotypes of these genes under balancing selection were significantly differentiated with respect to habitats, suggesting that balancing selection could have contributed to adaptation to different habitats in plants in general.
Declarations
Acknowledgements
We thank the anonymous reviewers for their help improving the manuscript, Detlef Weigel and Daniel Koenig for access to the resequencing datasets of Capsella rubella, and Xing Wang Deng and Guangming He for the Arabidopsis thaliana seeds. We also thank Haipeng Li, Zhe Cai, and Fumin Zhang for their helpful discussions.
Funding
This work was supported by the National Natural Science Foundation of China (91231104, 31222006, and 31470331 to YLG; 61103066 to QW) and the 100 Talents Program of the Chinese Academy of Sciences (YLG).
Availability of data and materials
The genome sequence of ecotype 928 of C. rubella reported in this paper has been deposited in the NCBI Sequence Read Archive (SRA) under accession number SRP066343 [27]. Sequences obtained by PCR have been submitted to GenBank (accession numbers KU233378–KU233484, KY123666–KY123684) [38, 39]. The code has been deposited in a public repository under the link: https://github.com/anai1031/TSP/ [80].
Authors' contributions
YLG conceived the study. QW performed the principal analysis. TSH, ZWL, JFC, YPZ, and YCX performed the ecological and other analyses. XC and TSH performed the validation experiments. QW and YLG wrote the paper with contributions from all other authors. All authors read and approved the final manuscript.
Ethics approval and consent to participate
Not applicable.
Consent for publication
Not applicable.
Competing interests
The authors declare that they have no competing interests.
Publisher's Note
Springer Nature remains neutral with regard to jurisdictional claims in published maps and institutional affiliations.
Open AccessThis article is distributed under the terms of the Creative Commons Attribution 4.0 International License (http://creativecommons.org/licenses/by/4.0/), which permits unrestricted use, distribution, and reproduction in any medium, provided you give appropriate credit to the original author(s) and the source, provide a link to the Creative Commons license, and indicate if changes were made. The Creative Commons Public Domain Dedication waiver (http://creativecommons.org/publicdomain/zero/1.0/) applies to the data made available in this article, unless otherwise stated.
Authors' Affiliations
(1)
State Key Laboratory of Systematic and Evolutionary Botany, Institute of Botany, Chinese Academy of Sciences, Beijing, China
(2)
University of Chinese Academy of Sciences, Beijing, China