The genome landscape of indigenous African cattle
Received: 5 October 2016
Accepted: 11 January 2017
Published: 20 February 2017
Abstract
Background
The history of African indigenous cattle and their adaptation to environmental and human selection pressure is at the root of their remarkable diversity. Characterization of this diversity is an essential step towards understanding the genomic basis of productivity and adaptation to survival under African farming systems.
Results
We analyze patterns of African cattle genetic variation by sequencing 48 genomes from five indigenous populations and comparing them to the genomes of 53 commercial taurine breeds. We find the highest genetic diversity among African zebu and sanga cattle. Our search for genomic regions under selection reveals signatures of selection for environmental adaptive traits. In particular, we identify signatures of selection including genes and/or pathways controlling anemia and feeding behavior in the trypanotolerant N'Dama, coat color and horn development in Ankole, and heat tolerance and tick resistance across African cattle especially in zebu breeds.
Conclusions
Our findings unravel at the genome-wide level, the unique adaptive diversity of African cattle while emphasizing the opportunities for sustainable improvement of livestock productivity on the continent.
Keywords
African cattleGenomeAdaptationDiversity
Background
Cattle are central to the African economy and society. The so-called "African Cattle Complex" refers to their role as walking larder, as a source of traction and manure, as well as to their societal importance, including during marriage, birth, death, and/or initiation ceremonies, and their representation of power, prestige, and status [1–3].
The earliest cattle of Africa were of taurine Bos taurus type. Subsequent waves of migrations of humped zebu B. indicus animals then reshaped the genomic landscape of African cattle [4–6]. Today, the African continent is uniquely rich in cattle diversity with around 150 African cattle breeds or populations recognized [7, 8]. These are grouped according to their phenotypes into taurine, zebu, and the ancient stabilized taurine × zebu crossbreed known as sanga [6]. Importantly, it is now well established that African cattle carry a taurine maternal ancestry originating from the Near East taurine domestication center(s), while the possible genetic contribution of the now extinct African auroch B. primigenius opisthonomous remains unclear [9, 10]. The pattern of introgression of the zebu genome across the South, East, and the North-Western part of sub-Saharan Africa has been well-documented using autosomal and Y-specific microsatellite loci [4–6].
African cattle inhabit more than five distinct agro-ecological zones [
11
]. Overall, zebu cattle are common in the arid and semi-arid northern Sahelo-Sudanian zone as well as on the eastern part of the continent including the highlands; whereas taurine cattle today form the majority of the herds in the sub-humid and humid regions of West Africa, which are heavily infested with the vector of African trypanosomes, the tsetse fly [
11
]. Sanga cattle are predominantly found in the western region of central Africa around the Great Lakes region and on the southern part of the continent [
11
] (Fig.
1a
). African cattle populations have been subjected to strong environmental pressures including hot, dry, or humid tropical climate conditions and heavy and diverse disease challenges. Accordingly, they are expected to display unique adaptive traits. This is exemplified by the trypanotolerance traits of the N'Dama and other West African taurine breeds inhabiting the tsetse-infested areas [
12
]. African cattle have also been shaped by human selection for traits such as coat color and horn size [
8
]. Although, their productivity is much lower than that typically achieved by commercial breeds under the intensive production systems [
11
], indigenous cattle are often the only option available for millions of farmers in the African agro-pastoral systems, where exotic improved breeds under-perform in the traditional management systems [
13
].

With an extended geographic distribution across agro-ecological zones and production systems, African cattle populations represent a unique genetic resource for the understanding of the role of natural and artificial selection in the shaping of the functional diversity of a ruminant species. Moreover, unraveling their genome diversity may provide new insights into the genetic mechanisms underlying their adaptation to various agro-ecosystems [14].
In this publication, we report for the first time the genome characterization of five indigenous African cattle breeds which are representatives of the cattle diversity of the continent: N'Dama, which belong a group of West African taurine with tolerances to multiple infectious diseases; Ankole, which represents African sanga the intermediate crossbreed between zebu and taurine cattle populations, with large and distinctive horns and coat color selected by human; Boran and Kenana, two East African zebu, with beef and dairy characteristics, respectively; Ogaden, an East African zebu living in a hot and dry environment.
The comparative genome-wide analysis with three European and one Asian commercial cattle breed across African cattle types allows us to identify the unique genome response of African cattle breed to tropical challenges.
Results and discussion
Sequencing, assembly, and identification of single nucleotide polymorphisms
Individual genomes of 48 indigenous African (Boran, Ogaden, Kenana, Ankole, and N'Dama) cattle were generated to ~11 X coverage each and were jointly genotyped with publicly available genomes of commercial cattle breeds (Angus, Jersey, Holstein, and Hanwoo) (Fig. 1a, Additional file 1: Note S1, Table S1). These breeds comprise Bos indicus (Boran, Ogaden, and Kenana), African Bos taurus (N'Dama), European-Asian Bos taurus, and sanga (Ankole, cross between taurine and zebu) [8]. In total, 6.50 billion reads or ~644 Gbp of sequences were generated. Using Bowtie 2 [15], reads were aligned to the taurine reference genome sequence UMD 3.1 with an average alignment rate of 98.84% that covered 98.56% of the reference genome (Additional file 1: Table S2). Concordant with previous analysis of zebu Nellore [16], overall alignment rate of the African B. indicus samples to the reference genome UMD 3.1 was found comparable to the one obtained for the African taurine samples (Additional file 1: Table S2). After filtering the potential PCR duplicates and correcting for misalignments due to the presence of INDELs, we detected single nucleotide polymorphisms (SNPs) using GATK 3.1 [17]. Several filtering steps to minimize the number of false-positive calls were applied before using candidate SNPs in further analyses. In particular, SNPs were removed based on the following criteria: phred-scaled quality score, mapping quality, quality depth and phred scaled P value (see "Methods"). A total of ~37 million SNPs were finally retained and breed-specific SNPs were identified using SnpSift [18] (Fig. 1b, Additional file 1: Table S3). The genomic DNA from 45 African samples were additionally genotyped using the BovineSNP50 Genotyping BeadChip (Illumina, Inc.) to evaluate the accuracy of the SNP calling from the resequencing data. We observed ~95% overall genotype concordance, between the BovineSNP50 Genotyping BeadChip SNPs and the re-sequencing results across the samples, providing confidence on the accuracy of SNP calling (Additional file 1: Table S4).
African genome diversity and relationships
Single nucleotide polymorphisms
Figure 1b illustrates the number of SNPs present in each breed, including breed-specific ones, with numbers provided at Additional file 1: Table S5. Looking at different cattle lineages, the largest number of SNPs is found in the zebu cattle (Boran, Kenana, Ogaden), where the great majority of the SNPs are homozygous across the three breeds representing candidate African zebu lineage specific variants. Most (65.13%) of the SNPs were present in intergenic regions. The remaining SNPs were located upstream (3.90%) and downstream (3.96%) of open reading frame, in introns (26.0%), and untranslated regions (UTRs, 0.240%). Exons contained 0.69% of the total SNPs with 115,439 missense and 1336 nonsense mutations (Additional file 1: Table S5).
Nucleotide diversity measures the degree of polymorphism within a population and it is defined as the average number of nucleotide differences per site between any two DNA sequences chosen randomly from the sample population [
19
]. On a genome-wide window scale of 10 Mb, the commercial European breeds show reduced levels of nucleotide diversity compared to all indigenous African breeds (Fig.
2d
). Here, the reduced level of nucleotide diversity at the whole-genome level is expected and is likely the result of intensive artificial selection over generations and/or genetic drift followed by a demographic history characterized by a low effective population size. Interestingly, N'Dama also show relatively low genetic diversity, perhaps a legacy of an initial low effective population size and/or of population bottleneck following disease challenges [
20
]. Nucleotide diversity is the highest across the African zebu (Boran, Ogaden, Kenana) and the Ankole sanga. These are admixed taurine × zebu breeds with a relatively large effective population size. The relatively high nucleotide diversity in the commercial Hanwoo may reflect weaker, targeted, and shorter selection history compared to other commercial breeds [
21
].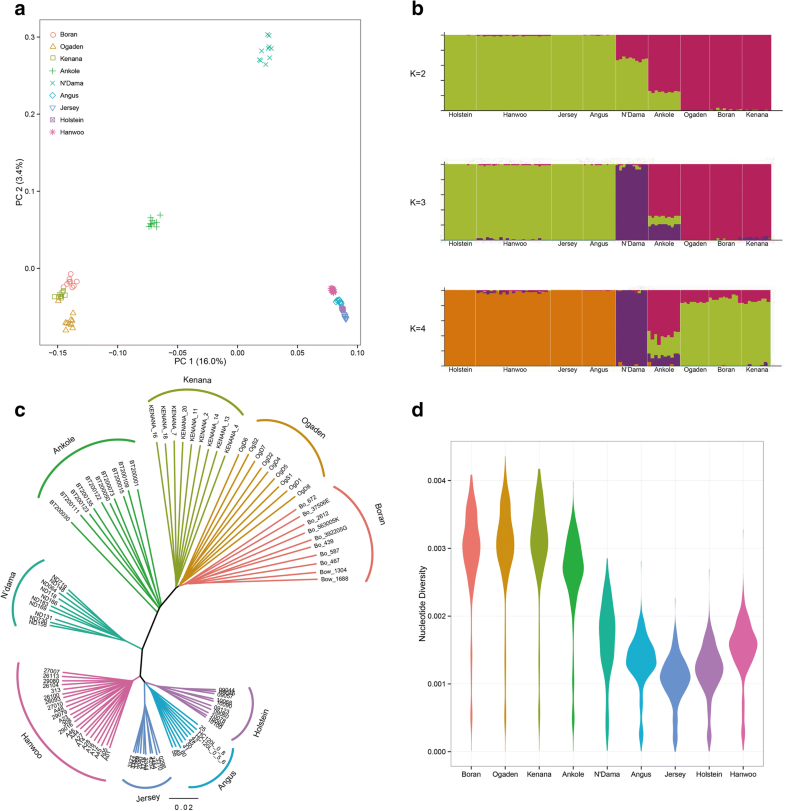 Population structure and relationships
We performed principal component analysis (PCA) of the autosomal SNPs genotype data (Fig. 2a) using EIGENSTRAT [22]. The analysis ignores breed membership but nevertheless reveals clear breed structures as samples from the same breed cluster together. The first two PCs, explaining 16.0% and 3.4% of the total variation, respectively, separate African from non-African breeds with the Ankole cattle at an intermediate position. PCA based on African, commercial, and taurine samples separately (Additional file 1: Figure S1) show no evidence of admixture between breeds or the presence of outlier animals within breeds.
To further understand the degree of admixture in the populations, we used STRUCTURE [23, 24] on a randomly sampled subset of SNPs (~20,000 SNPs). We increased K from 1 to 9, where K is the assumed number of ancestral populations (Fig. 2b and Additional file 1: Figure S2). The analysis suggested K = 2 as the most likely number of genetically distinct groups within our samples (Fig. 2b), reflecting the divergence of taurine and zebu cattle in the cattle population. At K = 3, Ankole showed clear evidence of genetic heterogeneity with shared genome ancestry with African (N'Dama), Asian zebu, and commercial (Holstein, Jersey, Angus, Hanwoo) taurine genetic background. Increasing values of K indicated higher levels of breed homogeneity in the commercial population compared to African zebu breeds. In addition, a neighbor-joining tree (Fig. 2c) separates each breed in its own separate clade. European breeds cluster together, then with the Hanwoo and the N'Dama. Similarly, all the African zebu breeds cluster together and Ankole animals are found at an intermediate position between zebu and N'Dama.
Demographic history and migration events
Variation of effective population size through time [
25
] is shown in Fig.
3a
and Additional file
1
: Figure S3. N'Dama seemed to have suffered a stronger population decline compared to the other African populations. This observation is compatible with an initial population bottleneck following the arrival and adaptation of the ancestral population in the tropical sub-humid and humid Western African environment. These West African cattle populations have been subjected in recent times to new environmental pressures imposing strong adaptive constraints (e.g. new pathogens including parasites) [
26
,
27
]. In addition, the estimates of Ogaden and Kenana show a slight increase in population size around 1000 years ago corresponding to the time of the first wave of zebu arrival through the Horn of the continent [
8
]. All share a common population decline starting approximately 10,000 BP, a likely consequence of Neolithic domestication events [
25
,
28
].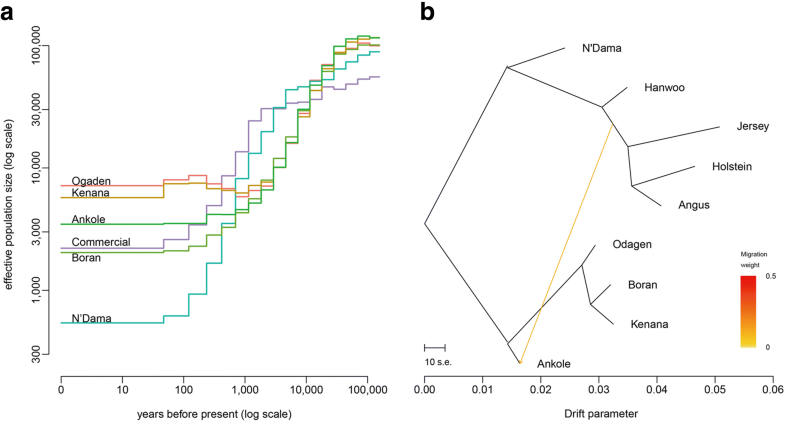 We then reconstructed the maximum likelihood tree (Fig. 3b) and residual matrix (Additional file 1: Figure S4) of the nine breeds using Treemix [29] to address population history relationships and to identify pairs of populations that are related to each other independent of that captured by this tree. Adding sequentially migration events to the tree, we found that one inferred migration edge produces a tree with the smallest residuals and thus best fits the data (Additional file 1: Figure S4). We observed a statistically significant migration edge (P < 2.2E-308) with the estimated weight of 11.4%; this edge provides evidence for the gene flow from European B. taurus (represented here by Jersey, Holstein, and Angus) into Ankole. In recent years, Ankole cattle have been increasingly crossbred with taurine breed including Holstein cattle which were first introduced to Uganda 50 years ago [30].
The adaptation of African cattle to environmental stresses and human selection
We compared the genomes of African cattle breeds to identify within each breed signatures of positive selection following environmental and human selection pressures. In contrast to SNP chip data, where diversity is overestimated in taurine lineages and underestimates in indicine lineages [31], whole-genome sequencing can overcome this limit of ascertainment bias to properly enable population analyses of both populations and to identify targets of selections in African B. indicus as well. In particular, we examined extreme haplotype homozygosity and allele frequency differentiation over extended linked regions using cross-population extended haplotype homozygosity (XP-EHH) [32] and the cross-population composite likelihood ratio (XP-CLR) [33]. Considering the close genetic distance among African B. indicus (Additional file 1: Table S6), N'Dama and Ankole cattle breeds were separately compared against all other African breeds for the identification of African breed-specific signatures. XP-EHH maintains power with small sample size (as low as ten samples) [34]. In addition, when estimates of genetic distance (F ST ) between pairs of populations are greater than or close to 0.05, as in our analyses (Additional file 1: Table S6), fewer than 20 individuals per population should be sufficient for population differentiation analysis [35]. To enable comparisons of genomic regions across populations, we divided the genome into non-overlapping segments of 50 Kb [36]. Outlier regions (the top 0.5% XP-EHH or XP-CLR statistics) were considered to be breed-specific candidate regions for further analysis (haplotypes and polymorphisms). The distributions of raw XP-EHH and XP-CLR values of each comparison and SNP density in each non-overlapping 50-kb window are provided in Additional file 1: Figures S5–S7.
Conclusion
In this study, we have generated for the first time a catalog of genetic variants found in selected sub-Saharan African cattle. While the studied breeds represent only a small subset of the 150 recognized on the African continent [86], they illustrate the extraordinary diversity present within and across African cattle breeds. We were able to highlight and map at the genome level some unique African adaptations, which may represent responses to climatic challenges (e.g. heat), disease resistance (e.g. trypanosomosis challenge), and artificial selection (e.g. coat color, horn development), including new genes or gene pathways putatively involved in these adaptations. These results can therefore inform targeted genomic in vitro, and in vivo studies to further test hypotheses arising from our work, and to identify underlying genomic mechanisms. On a practical note, these results provide new genomic evidence and options for designing and implementing genetic intervention strategies for improved cattle productivity and resilience in sub-Saharan Africa. Already, some of our results may provide new avenues for the improvements of livestock productivity and resilience to environmental challenges within breeds and through crossbreeding (e.g. marker-assisted selection to increase haplotypes frequencies). Perhaps most importantly, this study shows the value of comparative genome studies in cattle breeds selected for diverse environments and it argues for the value of a comprehensive continent-wide characterization of the genome landscape of African cattle. The African continent is now witnessing major transformations of its agricultural systems and rapid loss of indigenous livestock. Unfortunately, the opportunity to explore this treasure trove of diversity may not last for very much longer.
Declarations
Acknowledgements
The following institutions and their personnel provided help for the sampling of the African cattle: ILRI Kapiti Ranch (Kenyan Boran), Direction Nationale de l'Élevage Guinea (N'Dama), Ministry of Animal Resources, Fisheries and Range, Sudan (Kenana), Ol Pejeta Conservancy, Kenya (Ankole originating from Uganda), Institute of Biodiversity (Ogaden), Ethiopia. Last, but not least, we thank the Directors of Veterinary Services and the cattle keepers from Ethiopia Guinea, Kenya, Uganda, and Sudan for their assistance and permission to sample the animals. We also thank all donors which, through their contributions to the CGIAR system, support the work of ILRI.
Funding
This work was supported by Agenda (PJ01040603) of the National Institute of Animal Science, Rural Development Administration (RDA), Republic of Korea and by a grant from the Next-Generation BioGreen 21 Program (Project No. PJ01104401), Rural Development Administration, Republic of Korea.
Availability of data and materials
The 48 newly sequenced African cattle genomes in this study are publicly available from GenBank with the Bioproject accession number PRJNA312138. The NCBI-SRA accession numbers are available in Additional file 1: Table S2. All SNPs are deposited in dbSNP under handle BIOPOP. A full list of accession numbers for the 53 commercial cattle genomes (PRJNA210521, PRJNA318089, PRJNA318087, and PRJNA210523) is provided in Additional file 1: Table S1.
Authors' contributions
OH, OAM, TD, KS, DL, SC, HJL, DY, SJO, SK, KHL, and HK conceived of and designed all of the described experiments. OAM, TD, SB, and BD contributed to sample collection. JK, WK, SS, MS, HJ, TK, KK, and MT analyzed the data. JK, OH, OAM, MA, and HK drafted the manuscript. All authors read and approved the final manuscript.
Competing interests
The authors declare that they have no competing interests.
Ethics approval
Blood samples were collected during routine veterinary treatments with the logistical support and agreement of relevant agricultural institutions in each country (Direction Nationale de l'Élevage, Guinea (N'Dama); Ministry of Animal Resources, Sudan (Kenana); Ol Pejeta Conservancy, Kenya (Ankole); Ethiopian Institute of Agricultural Research, Ethiopia (Ogaden); no further specific ethics permissions were required for this study. For previously published taurine samples, all animal work was approved by the Institutional Animal Care and Use Committee of the National Institute of Animal Science in Korea under approval numbers 2012-C-005 (Holstein and Hanwoo) and NIAS-2014-093 (Angus and Jersey). All animals were handled in strict accordance with good animal practice.
Disclaimer
Springer Nature remains neutral with regard to jurisdictional claims in published maps and institutional affiliations.
Open AccessThis article is distributed under the terms of the Creative Commons Attribution 4.0 International License (http://creativecommons.org/licenses/by/4.0/), which permits unrestricted use, distribution, and reproduction in any medium, provided you give appropriate credit to the original author(s) and the source, provide a link to the Creative Commons license, and indicate if changes were made. The Creative Commons Public Domain Dedication waiver (http://creativecommons.org/publicdomain/zero/1.0/) applies to the data made available in this article, unless otherwise stated.
Authors' Affiliations
(1)
C&K genomics, Seoul National University Research Park, Seoul, Republic of Korea
(2)
The University of Nottingham, School of Life Sciences, Nottingham, UK
(3)
International Livestock Research institute (ILRI), Addis Ababa, Ethiopia
(4)
International Livestock Research Institute (ILRI), Nairobi, Kenya
(5)
Department of Parasitology, Faculty of Veterinary Medicine, University of Khartoum, Khartoum North, Sudan
(6)
National Coordinateur RGA, Ministère Elevage – Productions Animales, Conakry, Guinea
(7)
Nelson Mandela African Institution of Science and Technology, Arusha, Tanzania
(8)
Interdisciplinary Program in Bioinformatics, Seoul National University, Seoul, Republic of Korea
(9)
Department of Animal Sciences, University of Illinois, Urbana, USA
(10)
Department of Agricultural Biotechnology and Research Institute of Agriculture and Life Sciences, Seoul National University, Seoul, Republic of Korea
(11)
College of Agriculture and Environmental Sciences, Bahir Dar University, Bahir Dar, Ethiopia
(12)
The Animal Molecular Genetics and Breeding Center, Chonbuk National University, Jeonju, Republic of Korea
(13)
Division of Animal Genomics & Bioinformatics, National Institute of Animal Science, RDA, Jeonju, Republic of Korea
(14)
Animal Nutritional & Physiology Team, National Institute of Animal Science, RDA, Jeonju, Republic of Korea
(15)
Department of Animal Science, Kyungpook National University, Sangju, Republic of Korea
(16)
National Institute of Animal Science, RDA, Jeonju, Republic of Korea
(17)
The Centre for Tropical Livestock Genetics and Health, The Roslin Institute, The University of Edinburgh, Easter Bush Campus, Midlothian, UK
(18)
Department of Animal Biotechnology, Chonbuk National University, Jeonju, Republic of Korea
(19)
Institute for Biomedical Sciences, Shinshu University, Nagano, Japan