Resources for the design of CRISPR gene editing experiments
Published: 27 November 2015
Abstract
CRISPR-based approaches have quickly become a favored method to perturb genes to uncover their functions. Here, we review the key considerations in the design of genome editing experiments, and survey the tools and resources currently available to assist users of this technology.
Keywords
CRISPR SystemProtospacer Adjacent MotifRepair TemplateProtospacer Adjacent Motif SequenceCRISPR Technology
Genetic perturbations with CRISPR technology
The ability to edit genomes has been greatly enhanced by the adaptation of the bacterial type II CRISPR-Cas9 system into mammalian and other cell types [1–8]. This powerful technology has rapidly become a favored approach to perturb genes to probe their function. With the rapid evolution of technology and applications based on clustered regularly interspaced short palindromic repeats (CRISPRs), it is challenging for aspiring users of CRISPR technology to keep up with all the latest developments in the field and with the tools and resources available to help design and implement CRISPR-based experiments. For common applications of CRISPR-based technology in mammalian cells, we outline practical considerations in designing CRISPR-based experiments, and tools and resources available to assist in the design and execution of such experiments.
Major applications of CRISPR technologies include functional knockout (KO) of a small number of individual genes [3, 9], large-scale KO screens [10, 11], gene editing [knock-in (KI)] [2], transcriptional activation or inhibition (small scale or screening scale) [12, 13], and in vivo mouse models [14, 15]. Here, we focus mainly on reviewing strategies for editing coding genes to uncover their function. Many experimental considerations are shared across different applications, but some factors differ in their relevance or relative importance. Common considerations include delivery of CRISPR-associated protein 9 (Cas9) and guide RNAs (gRNAs) to the target cells, maximizing on-target activity and specificity, and evaluation of editing results (for efficacy, specificity). We briefly discuss the basics of CRISPR technology, then outline basic experimental design considerations and associated tools and resources, and finally highlight issues relevant for specific CRISPR applications (summarized in Box 1).
A general description of type II CRISPR-Cas9 systems
As noted, CRISPR-based methods enable multiple distinct types of genetic perturbations: KO of gene function, specific edits to the genome (KI), and activation or inhibition of gene expression [
16
]. For all of these applications, two molecules must be introduced into each target cell — a Cas9 protein and a single guide RNA (sgRNA). These two molecules form a complex with genomic DNA (gDNA), specifically targeting DNA sites complementary to an approximately 20-base sequence within the sgRNA and neighboring a protospacer adjacent motif (PAM), the identity of which is dictated by the particular Cas9 protein employed (Fig.
1
). For the most commonly used Cas9 to date from
Streptococcus pyogenes
, the optimal PAM sequence is NGG (where 'N' is any nucleobase). The wild-type Cas9 (wtCas9) has two endonuclease domains that produce double-stranded breaks (DSBs) in the targeted gDNA sites. Alternatively, an endonuclease-dead Cas9 (dCas9) can be used to ferry functional domains to the sequence-specified sites in the genome — for example, for transcriptional activation (CRISPRa) or inhibition (CRISPRi) at gene promoters.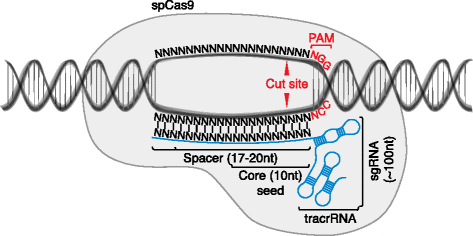 For applications that modify the gDNA — for example, KO and KI — the DSBs produced by wtCas9 are subsequently repaired through endogenous DNA repair mechanisms, either non-homologous end-joining (NHEJ) or homology-directed repair (HDR) (Fig.
2
). NHEJ is prone to introduce sequence insertions or deletions (indels), and can therefore produce frameshifts in open reading frames and gene loss of function. As a variety of indels are produced at each CRISPR target site in coding genes — in-frame or out-of-frame and varying in size — the resulting alleles are actually a mixture of complete functional KOs, partial loss of function, wild-type alleles, and even potentially altered (neomorphic) function. As currently implemented, the fraction of modified KO alleles typically ranges from 30–60 %, so that the cell population generally exhibits loss-of-function phenotypes. Various factors can contribute to the residual non-KO alleles, including (i) failure of Cas9 activity in individual cells — owing to a low level of Cas9 or other reasons, (ii) poor accessibility or susceptibility of the gene or target site, (iii) the NHEJ errors incurred at the targeted site frequently producing still-active alleles, and (iv) targeting multiple alleles of the same target gene sometimes being inefficient (for example, for >2 N cell lines and duplicated genomes such as zebrafish). The relative importance of the factors governing the 'penetrance' of KO across a cell population in different genes, target sites, cell lines, etcetera is not yet fully understood. Ideally, methods to improve, across the board, the fraction of cells or alleles converted will emerge, but, for the present, significant heterogeneity in the initial edits is unavoidable. Thus, obtaining a uniformly edited cell population currently requires picking individual cell clones for expansion. While conversion to the desired genotype is not perfectly efficient, CRISPR is nonetheless the most straightforward method to produce KOs for most applications.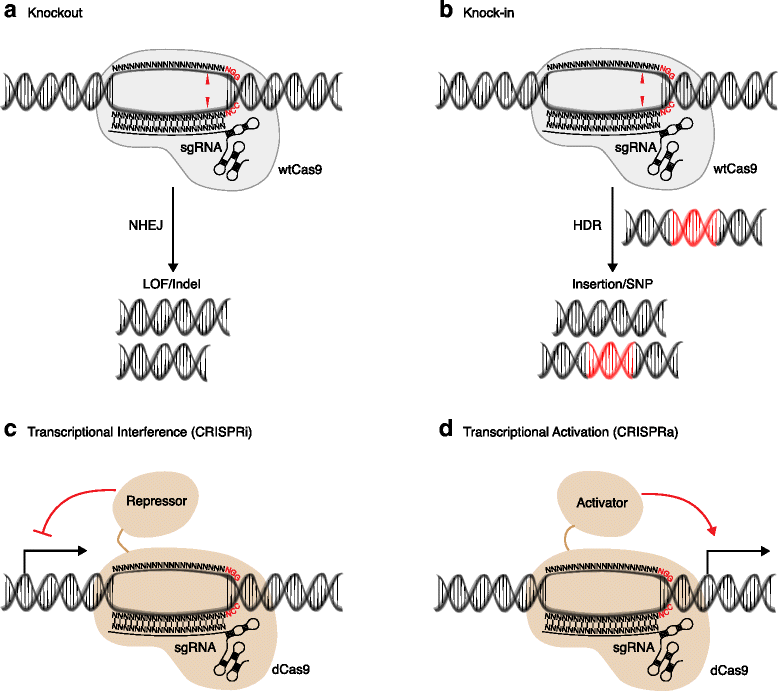 To utilize HDR to edit the genome, a DNA repair template with the desired sequence modification is introduced. The HDR process that incorporates the template at DSBs is of relatively low efficiency, producing typically a single-digit or low-double-digit percentage of the desired edit in treated cells. NHEJ is more efficient than HDR, producing undesired indels in the cell population, and it will be desirable to find ways to enhance HDR versus NHEJ for KI applications. In this context, chemical inhibition of NHEJ has been demonstrated to improve the efficiencies of HDR-mediated genome editing [17, 18]. Even so, HDR remains a low-efficiency process, and, to obtain the desired genome modifications, one must isolate the low percentage (typically single digit) of single-cell clones with the desired sequence for expansion. Importantly, HDR only occurs during S and G2 phase [19], whereas NHEJ can occur at any point of the cell cycle [20]. Thus, KI approaches requiring HDR are less suited for terminally differentiated cells compared with cycling cells [21]. Conversely, KO indels created by NHEJ can be reverted to the wild-type sequence by HDR in rapidly cycling heterozygous cells, potentially slowing the accumulation of KO cells in fast-cycling cell populations.
For methods that use the CRISPR-Cas9 system to activate or inhibit gene expression, an endonuclease-dead dCas9 is used to recruit a transcriptional activating or inactivating activity to the promoter regions of genes [12, 13, 22–28]. In general, the dCas9-sgRNA system could be used as a sequence-specific binding complex to deliver, in principle, any 'warhead' (a functional domain, reporter, etc.) to sequence-specified target sites.
Practical considerations and tools for the experimentalist
To obtain the best results from CRISPR-based experiments, some basic factors must be considered in the experimental design. The overall goal of CRISPR experiments is to obtain, in your preferred biological model system, high rates of the desired genome perturbation, low rates of off-target (OT) or nonspecific effects, and a good readout of the outcome. While CRISPR has proven quite powerful, the editing efficiency and specificity are not perfect, and delivery of the CRISPR system into the biological model system of interest is challenging in some systems. Therefore, it is necessary to optimize and validate experimental designs to achieve the best results.
Delivery of Cas9 and sgRNAs and Cas9 activity
The gene encoding S. pyogenes Cas9 (SpCas9) can be introduced by transfection or viral transduction with a Cas9 expression construct or by direct delivery of Cas9 protein [29–34]. Furthermore, a germ-line Cas9 mouse has been generated, providing a source of animals and primary cells in which Cas9 expression is already established [35, 36]. Delivery of Cas9 by transfection can be quite efficient in many cell types; frequently employed expression vectors include pX330-U6-Chimeric_BB-CBh-hSpCas9 and lentiCRISPRv2 [3, 37, 38] (available from AddGene). In hard-to-transfect cells, including many primary cell types, transduction with a viral vector provides an alternative, using, for example, lentiCRISPRv2. Furthermore, for pooled screening applications, each cell must receive only a single or small number of sgRNAs by treatment with a mixed sgRNA pool, and hence transduction is the only standard delivery option. Delivery of SpCas9, alone or together with an sgRNA, can be achieved with adeno-associated virus (AAV), retroviral or lentiviral vectors and is challenging owing to the generally poor viral packaging and titers of the 4-kb Cas9 gene. Whether employing transfection or transduction, Cas9 expression varies from cell to cell, and the levels also vary among cell lines. Transduced cells are typically obtained by selecting for a marker present on the Cas9 expression cassette. It is important to verify that the promoter construct employed is effective in the model of interest, and it can be helpful to grow clonal populations with empirically verified high Cas9 expression for subsequent experiments. By contrast, delivery of sgRNA oligonucleotides is relatively straightforward and can be achieved by transfection of plasmids or transduction with viral genomes driving sgRNA expression from the U6 promoter [2, 3]. Alternatively, sgRNAs can be delivered by transfection of in vitro transcribed sgRNA or chemically modified synthetic sgRNA [30].
It appears that most cell lines are amenable to CRISPR-based editing, but some cell types appear to exhibit low or no Cas9 activity even when Cas9 is expressed at high levels. In general, the factors that govern how uniformly the alleles in all the cells of a population receive the desired edit have yet to be fully teased apart and could include, for example, not only the Cas9 and sgRNA levels, but also Cas9 activity determinants such as localization, the kinetics of DSB formation, and the kinetics and fidelity of repair processes, all of which can vary across cells types. For the moment, the suitability of any particular model system of choice for CRISPR should be confirmed empirically.
A straightforward assay to assess CRISPR activity in a cell population involves transducing the cells with a cassette expressing both green fluorescent protein (GFP) and a validated high-efficacy GFP-targeting sgRNA [37] (available at AddGene). The cells are then analyzed by flow cytometry to determine the fraction of GFP-negative cells [37]. The parental line with no Cas9 should be uniformly GFP-positive, whereas a Cas9 line in which the cells are all active for CRISPR should be mostly GFP-negative. It should be noted that KO of a single GFP integrant can be considerably more efficient than targeting both alleles of an endogenous gene, so that this assay might represent a near-best-case scenario for KO rate. Additionally, the time required to achieve gene edits appears to depend on many factors, such as target gene, cell type, KO versus KI, and the levels of Cas9 and sgRNA. Generally, when feasible, it is necessary to wait a week or more following the introduction of Cas9 and sgRNA in order to accumulate edits in the targeted cells.
Target-site selection, sgRNA design
For CRISPR-based experiments, one must select a target site to achieve the desired modification. The Cas9 protein requires a PAM adjacent to the sgRNA homology region to achieve efficient Cas9 binding and DSBs. For gene KOs, there are typically many possible PAM sites from which to choose. Different sites can yield widely varying rates of gene KO, raising the question of how to predict activity in advance. Similarly, it is obviously desirable to predict which sgRNAs will be most specific to the intended target. Research is ongoing to determine criteria that predict sites favoring high activity and specificity. Here, we describe current criteria and tools for selecting sgRNAs.
Experimental evaluation of on- and off-target activity and clonal selection
As with all gene-perturbation technologies, various types of validation are needed to confirm the relationship between the perturbed gene and the phenotype, and to understand the observed phenotype and its mechanism. For CRISPR-based results, one useful validation experiment is to assess the genotype of the modified cells at the intended target site, and with respect to OT effects elsewhere in the genome. Numerous approaches have been employed (Fig.
3
), and determining which ones to use and the degree of validation necessary can be challenging. Validation practices are currently far from standardized, but we will outline below some of the options and the key considerations in choosing a practical path to validating the link between the gene targeted for perturbation and the observed phenotypes.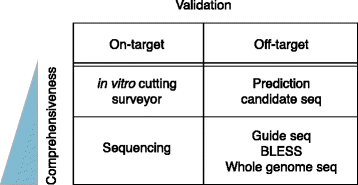 On-target editing confirmation
A common approach for evaluating on-target modifications is the Surveyor assay [3, 14]. Implementation is quite straightforward and involves PCR amplification of the modified and unmodified target site, followed by denaturation and annealing of the PCR products. Addition of the Surveyor nuclease then specifically cleaves double-stranded DNA (dsDNA) at mismatch sites created by indels. Under optimal conditions, this approach facilitates estimation of CRISPR indel frequency. While the strength of Surveyor assays is their rapid and simple workflow, for many target sites some level of custom optimization is required to achieve good results, and the sensitivity and quantitative accuracy are limited. Moreover, nuclease assays do not reveal the frame of indels relative to the coding sequence and cannot predict loss-of-function rates. Another approach for determining on-target cleavage efficiency employs an in vitro cutting reaction that again uses the target PCR amplicon, but combines it with transcribed sgRNA, and recombinant Cas9. While this assay is extremely sensitive, it does not reliably predict cutting efficiency in situ in cellular gDNA, as the in vitro reaction is vastly more efficient.
The most definitive means of determining on-target efficacy in cells is sequencing the target site. PCR amplicons derived from the target site can be sequenced by next-generation sequencing (NGS) to obtain the distribution of allele modifications. If access to NGS is limiting, an alternative can be to clone the target amplicon into a standard plasmid, transform competent Escherichia coli with the ligation products, and submit bacterial plates for colony sequencing. Many companies now offer services for Sanger sequencing directly from bacterial colonies. Importantly, sequencing approaches allow for quantitative determination of indel frequencies and out-of-frame mutations. Furthermore, programs such as 'tracking of indels by decomposition' (TIDE) have been developed to assist users in PCR primer design and downstream sequence deconvolution of CRISPR target sites [70].
Empirical OT specificity assessments
In principle, the experimenter could assess OT mutations for each sgRNA by sequencing genome-wide. In practice, the required high-coverage sequencing is impractical. The GuideSeq-type alternatives described above provide a more focused look at OT DSBs, but they too are impractical to perform on more than a small number of sgRNAs. Furthermore, while there is evidence that these methods can be quite thorough, it is hard to preclude false-negative blind-spots in their OT detection.
How can a CRISPR user identify OT effects in a practical manner in gene-function experiments? Most importantly, one should employ multiple distinct sgRNAs to target each gene. On-target effects should exhibit phenotypic concordance among different sgRNAs targeting the same gene, whereas the likelihood that relatively rare OT events will overlap among distinct sgRNAs is very small. Therefore, provided that the background rate of scoring by negative controls is low, a phenotype produced by multiple sgRNAs targeting the same gene can be ascribed to on-target activity. If target cells are to be subcloned, multiple such clones and controls should be produced so that their behaviors in experiments can be compared. A gold standard to determine whether a phenotype was caused by loss of a specific gene is to perform a rescue experiment. Specifically, introduction of cDNA encoding the target gene and mutated at the sgRNA target site should rescue the observed phenotype of a KO, provided that the phenotype is reversible and that the ectopically expressed cDNA faithfully recapitulates the gene activity.
To investigate OT mutations of individual sgRNAs, a common approach is to predict a list of likely OT sites based on sequence homology between the genome and sgRNA and then sequence these regions. As discussed above, many design tools facilitate these types of predictions, but these predictions are only as accurate as the data they are based upon, which is currently quite limited, and so the candidate site list can have high false-positive and false-negative rates. As many relevant OT sites can be overlooked, this approach is no substitute for experimental validation of sgRNAs. Such predictions can be useful for a priori selection of sgRNAs to maximize the odds of obtaining target-specific phenotypic results or the desired engineered cell clones. Specificity can also be increased by employing the paired sgRNA Cas9 nickase or FokI-chimera approaches [71, 72], although these approaches also reduce on-target efficacy and still do not guarantee perfect specificity.
Looking ahead, new versions of Cas9 or other RNA-guided nucleases (RGNs) will continue to improve the specificity of genome engineering, but experimental confirmations of specificity will still be needed. Rescue experiments and the use of multiple independent sgRNAs are the most straightforward approaches, but in some cases it can be worthwhile to empirically assess the specificity of individual 'high-value' sgRNAs. For example, for low-throughput experiments to generate model cells or mice that go through clonal selection, the selected clones can be assessed not only for definitive on-target modifications but also based on OT site assessments. Recent advances have provided options, but their cost limits their application to small numbers of sgRNAs. As noted above, relatively unbiased identification of OT sites can be achieved in cells by monitoring integration of exogenous DNA elements into Cas9 cleavage sites (reviewed in [73]). Recovery of the genomic coordinates of these integrants is then determined by sequencing. For example, integrase-defective lentiviral genomes [67] will primarily integrate into Cas9 cleavage sites. GuideSeq [59] and BLESS [40] approaches employ short dsDNA elements to tag DSBs created by Cas9 and rely on mapping these known DNA sequences within the context of the entire genome.
CRISPR use cases: application-specific considerations for experimental design
Future prospects for CRISPR-Cas9
CRISPR-Cas9 technology has emerged as a dominant technology for genetic perturbations, including editing of genome elements, modulation of transcription levels of specific genes, and engineering of model systems tagged with reporters, binding elements or other convenient handles. For research applications, it holds tremendous advantages with respect to ease of use, efficacy, specificity and versatility. There are many ongoing efforts to improve and expand CRISPR technology on multiple fronts.
One major goal is to achieve more efficient, predictable editing. If it were possible to convert every cell in a population to the desired genotype, the painstaking work of selecting and characterizing individual clones would be reduced or eliminated. This would make it feasible to engineer large numbers of clonal cell lines, or even to engineer specific alleles at a screening scale. It would also make it far more efficient to produce cells with multiple edits. One approach is to re-engineer Cas9 for desirable characteristics, including altered PAM sequences, better packaging into virus, better binding and cutting efficacy and higher specificity. The hunt is also under way for better type II Cas9 proteins [40] or other type II CRISPR proteins that might possess performance advantages, or to provide altogether new activities. The adoption of new CRISPR systems might necessitate new studies to determine their on- and off-target behavior and ideal design parameters. Experience with SpCas9 can inform strategies to determine the properties of new CRISPR systems efficiently. Heuristic rules currently employed to predict CRISPR efficacy and OT effects must be replaced with data-driven models. To truly understand the products of CRISPR systems and to predict and evaluate accurately the performance of CRISPR systems, thorough experimental evaluation of on-target modification efficacy and target-site specificity across many contexts will be required. Parallel work is under way to make transcriptional modulation easier and more predictable, building on the previous versions [12, 13, 22–24, 26–28, 100]. Transcriptional modulation approaches are being applied to non-coding as well as coding genes for which loss-of-function edits may be hard to interpret, short of deleting the entire region of gDNA [101]. Improving the modularity and versatility of the CRISPR functions that carry cargo — for example, functional domains sometimes referred to as 'warheads' — could make effector functions such as transcriptional modulations or targeted epigenetic changes easier to devise and use.
Given the recent history of gene-perturbation technologies, including predecessors to CRISPR for gene editing such as zinc-finger nucleases and transcription-activator-like (TAL) proteins, it is certainly possible that CRISPR will be joined by other gene-editing techniques. At this time, CRISPR-Cas9 enjoys major advantages for diverse research applications with respect to ease of use, efficacy, specificity and versatility. Continuing efforts to evaluate CRISPR technologies thoroughly with respect to their strengths and limitations in the context of different types of cells and model systems will be crucial, and research into novel variations and applications of this technology will drive new functional genomics opportunities in the coming years.
Abbreviations
AAV:

Adeno-associated virus
Cas9:

CRISPR associated protein 9
CDS:

Coding DNA sequence
ChIP-seq:

Chromatin immunoprecipitation-sequencing
CRISPR:

Clustered regularly interspaced short palindromic repeats
CRISPRa:

CRISPR activation
CRISPRi:

CRISPR interference
dCas9:

Endonuclease-dead Cas9
DSB:

Double-stranded break
dsDNA:

Double-stranded DNA
FACS:

Fluorescence-activated cell sorting
GFP:

Green fluorescent protein
sgRNA:

Single guide RNA
HDR:

Homology-directed repair
KI:

Knock-in
KO:

Knockout
NGS:

Next-generation sequencing
NHEJ:

Non-homologous end-joining
OT:

Off-target
PAM:

Protospacer adjacent motif
RNAi:

RNA interference
sgRNA:

Single guide RNA
shRNA:

Short hairpin RNA
siRNA:

Small interfering RNA
SpCas9:

S. pyogenes Cas9
TSS:

Transcriptional start site
wtCas9:

Wild-type Cas9
Declarations
Acknowledgements
We thank the members of Broad Institute's Genetic Perturbation Platform for helpful discussions and the Functional Genomics Consortium for support.
Open AccessThis article is distributed under the terms of the Creative Commons Attribution 4.0 International License (http://creativecommons.org/licenses/by/4.0/), which permits unrestricted use, distribution, and reproduction in any medium, provided you give appropriate credit to the original author(s) and the source, provide a link to the Creative Commons license, and indicate if changes were made. The Creative Commons Public Domain Dedication waiver (http://creativecommons.org/publicdomain/zero/1.0/) applies to the data made available in this article, unless otherwise stated.
Authors' Affiliations
(1)
Broad Institute of MIT and Harvard, Cambridge, USA
(2)
Department of Medicine, Massachusetts General Hospital, Harvard Medical School, Boston, USA
(3)
Center for the Study of Inflammatory Bowel Disease, Massachusetts General Hospital, Boston, USA