High-frequency, precise modification of the tomato genome
Received: 21 June 2015
Accepted: 2 October 2015
Published: 6 November 2015
Abstract
Background
The use of homologous recombination to precisely modify plant genomes has been challenging, due to the lack of efficient methods for delivering DNA repair templates to plant cells. Even with the advent of sequence-specific nucleases, which stimulate homologous recombination at predefined genomic sites by creating targeted DNA double-strand breaks, there are only a handful of studies that report precise editing of endogenous genes in crop plants. More efficient methods are needed to modify plant genomes through homologous recombination, ideally without randomly integrating foreign DNA.
Results
Here, we use geminivirus replicons to create heritable modifications to the tomato genome at frequencies tenfold higher than traditional methods of DNA delivery (i.e., Agrobacterium). A strong promoter was inserted upstream of a gene controlling anthocyanin biosynthesis, resulting in overexpression and ectopic accumulation of pigments in tomato tissues. More than two-thirds of the insertions were precise, and had no unanticipated sequence modifications. Both TALENs and CRISPR/Cas9 achieved gene targeting at similar efficiencies. Further, the targeted modification was transmitted to progeny in a Mendelian fashion. Even though donor molecules were replicated in the vectors, no evidence was found of persistent extra-chromosomal replicons or off-target integration of T-DNA or replicon sequences.
Conclusions
High-frequency, precise modification of the tomato genome was achieved using geminivirus replicons, suggesting that these vectors can overcome the efficiency barrier that has made gene targeting in plants challenging. This work provides a foundation for efficient genome editing of crop genomes without the random integration of foreign DNA.
Keywords
Cluster Regularly Interspaced Short Palindromic Repeat
Indolyl Acetic Acid
Indolyl Acetic Acid
Gene Target Vector
TALEN Pair
Background
The ability to precisely edit genomes holds much promise for advancing both basic and applied plant research. Already in many plant species, loss of function mutations can be created using sequence-specific nucleases that introduce double-strand breaks (DSBs) in coding sequences [
1
]. Mutagenesis results when the broken chromosomes are repaired imprecisely through non-homologous end joining (NHEJ), and small insertions/deletions (indels) are created at the break site. Repair of DSBs through homologous recombination (HR), however, offers a much richer spectrum of possibilities for modifying plant genomes, ranging from introducing single nucleotide substitutions to the seamless integration of multiple transgenes at a target locus. HR-based repair, or gene targeting (GT), uses information from an exogenously supplied DNA donor template to repair the break, and information is copied from the donor template to the chromosome, achieving the desired DNA sequence modification. GT in plants has been challenging, and only a handful of cases have been reported in which endogenous plant genes have been successfully modified by HR [
2
–
6
]. One of the obstacles in achieving GT has been the ability to deliver sufficient donor templates to the plant cell to repair the DSB. Here, we demonstrate that this delivery barrier can be overcome using geminivirus-based DNA replicons (Fig.
1
) to achieve high-frequency, targeted modification of the genome of an important crop plant, namely tomato.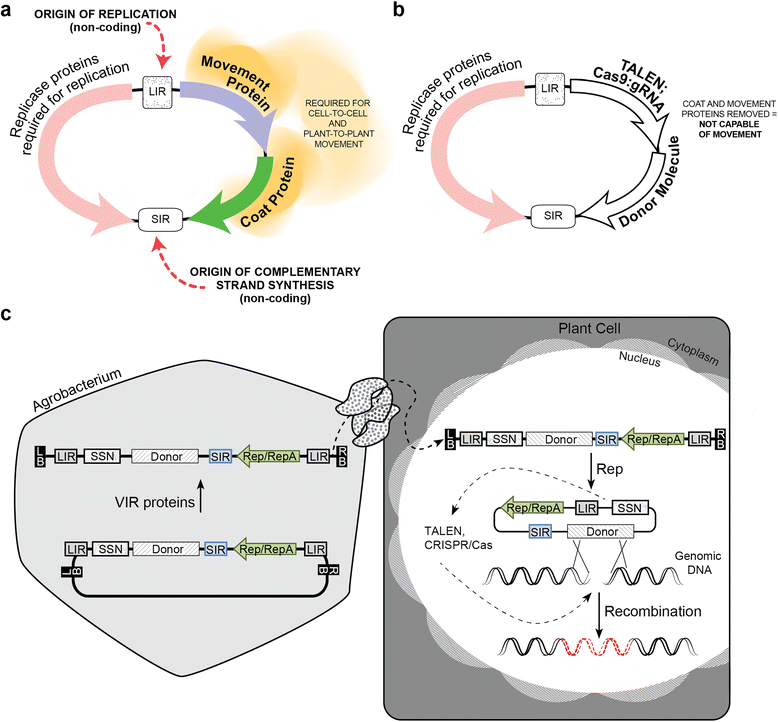 Results and discussion
To achieve GT, a single-component bean yellow dwarf virus (BeYDV) vector [10] was used to deliver both the donor template and cassettes encoding the nucleases (Fig. 2a). The TALENs or Cas9 were expressed from the 35S promoter, and the gRNAs were expressed from the AtU6 promoter. The donor template (Figure S3 in Additional file 1) consisted of the 35S promoter for targeted ANT1 overexpression and a neomycine phosphotransferase II (NPTII) cassette to confer kanamycin resistance to recombinant cells (totaling 1938 bp). The 35S promoter and NPTII cassette were flanked by 987-bp and 719-bp homology arms. We expected that once delivered to the nucleus of a plant cell, the viral Rep protein would initiate circularization and rolling circle replication, resulting in hundreds to thousands of copies of the vector per cell. Indeed, when the BeYDV vector was delivered to tomato cells by Agrobacterium-mediated transformation, circularization of the geminivirus replicons was detected by PCR as early as 2 days post-inoculation and persisted for up to 8 weeks (Figure S4 in Additional file 1).
Although the frequency of NHEJ-induced mutations was higher with CRISPR/Cas9 than with the TALEN (Figure S2 in Additional file 1), GT frequencies were comparable for both classes of reagents. A lack of correlation between frequencies of NHEJ-induced mutagenesis and GT was observed by others, for example, in human induced pluripotent stem cells [11, 12] and Drosophila [13]. The authors of these studies speculated the differences were due to the types of DSBs generated by TALENs (5′ overhangs) and CRISPR/Cas9 (blunt ends), which biased repair pathway choice [11, 12]. We believe that the differences in the frequencies and types of recombination events recovered are not related to our geminivirus-based method to induce gene targeting, but rather are due to intrinsic features of the NHEJ and HR repair pathways, which may be influenced by the types of DSBs made by TALENs and CRISPR/Cas9. Nevertheless, we demonstrate that both TALENs and CRISPR/Cas9 can be used to enhance GT in combination with geminivirus replicons.
In control experiments, no purple spots were observed among 200 cotyledons transformed with the donor-only (no nuclease) construct (GT frequency was <0.66 × 10−2), indicating that a DSB is essential to induce GT and that the truncated ANT1 gene sequence in the right homology arm of the donor template does not produce functional ANT1 protein (Table 1). The GT frequency was not substantially altered if the nuclease was located on the transfer DNA (T-DNA) outside of the replicon and therefore unamplified. To determine if the GT frequency is enhanced using geminivirus replicons, we transformed cotyledons with a non-replicating T-DNA vector. Here, we observed a GT frequency of 1.3 × 10 −2, which is approximately one order of magnitude less than the GT frequency observed with the BeYDV replicon.
In some instances, such as commercial crop production, the presence of the selectable marker in the genome is not desirable due to regulatory considerations, and so we also attempted to isolate GT events without selection. No purple spots were observed in the absence of kanamycin selection (Table 1), suggesting that the non-transformed green tissue outcompeted the purple cells, and that growth on kanamycin is required to give a selective advantage to cells that have undergone GT. The accumulation of anthocyanins may result in slower growth of the purple tissue compared with wild type (WT). Based on this observation, we anticipate that it might not be possible to regenerate plants with modifications that lead to growth inhibition without the use of a selectable marker, even when using alternative (potentially more efficient) transformation methods, such as biolistic bombardment, because the challenge lies in the regeneration of plants rather than transformation. ANT1 was chosen as a target for modification because it allowed us to isolate and analyze the GT events at the callus stage, due to the purple pigmentation, and thus it served well for this proof-of-concept study in a crop species. Achieving gene targeting in plants without selection will require further optimization.
To further confirm the molecular nature of the GT events, we performed Southern blot analysis on plants 1.9, 11.1 and 2.5 (Fig. 4c), using a DNA probe that is homologous to sequences upstream of the ANT1 start codon. In addition to detecting the GT event, this DNA probe was designed to also detect random T-DNA integration and extrachromosomal replicons. As expected, a 4.4-kb band indicative of true HR-mediated insertion was detected in plants 1.9 and 2.5, which gave the expected bands in the initial PCR survey. Plant 11.1, which was PCR-negative for the left junction, showed a larger ~6.3-kb band, consistent with a one-sided event. All plants showed a 2.5-kb band predicted for an unmodified locus, indicating the plants were heterozygous for the GT event. Remarkably we did not detect any additional bands in any of the four lines, suggesting that our modified plants were free of T-DNA insertions and extrachromosomal replicons. To confirm this observation, a second Southern blot was performed using different restriction enzymes (Figure S8 in Additional file 1). In this case, the T-DNA would be detected as a specific, 1.84-kb band, which was present in sample 11.1 but not in samples 1.9 and 2.5. Sample 11.1 carries a one-sided GT event that includes part of the T-DNA. Taking into account that plant 11.1 tested negative for T-DNA insertion in the first Southern blot and in PCR analysis (see below), we conclude that we did not find any evidence of random T-DNA integration in the whole plants.
Although in the majority of cases geminivirus replicons are released from the T-DNA by rolling-circle replication (not excision), in rare cases intramolecular recombination between the LIR repeats can lead to loss of the intervening sequence [15]. Random, off-target integration of such T-DNAs containing only an LIR would not be detected by the probe used in the above Southern blots. Therefore, both blots were re-probed with an LIR-specific probe (Figure S9 in Additional file 1). No signals were detected, suggesting that the genomes of these plants are free of such rare off-target integration events. To further confirm that no extrachromosomal replicons remained and no T-DNA insertions took place, we performed PCR using a pair of primers designed to amplify circular BeYDV genomes and another pair of primers designed to detect both the presence of replicons and random T-DNA insertions. No evidence of circular replicons was observed in any of the 26 mature plants recovered from events 1, 2, 10 and 11 using the first primer pair (Fig. 4b). Similarly, PCR performed with the other primer pair did not detect the presence of T-DNA or replicons in any of the five T0 plants tested (one from each GT event) or 34 T1 progeny (Figure S10 in Additional file 1). These results demonstrate that, unlike the in planta GT approach [16] in which the donor template is integrated into the genome, T-DNA integration is not required to achieve HR. Furthermore, our data indicate that the T-DNA simply serves as a vehicle for delivery and release of the viral replicons, and that T-DNA integration is dispensable. Although our ANT1 overexpressing lines are transgenic due to the insertion of the 35S promoter, non-transgenic, replicon-free plants with precise DNA sequence modifications could be created by this approach.
Although we did not detect any off-target integration events, we were curious whether short indels were induced by NHEJ at other sites in the genome due to TALEN binding and cleavage. We used TAL Effector Nucleotide Targeter 2.0 [17] to identify the closest possible off-target sites for TALEN 1193/1194 in the tomato genome. As we used heterodimeric FokI architecture in our TALENs, which prevents cleavage of homodimeric targets [18], we focused on the three best off-target sites containing binding sites for each of the two different monomers. Two of these three sites had seven and six mismatches in the TALEN 1193 and 1194 binding sites, whereas the third had three and eight mismatches. All three sites were intergenic. We designed three pairs of primers (Table S1 in Additional file 2) and amplified these off-targets from genomes of five T0 plants (one plant from each GT event). The PCR products were subjected to a T7 endonuclease I (T7EI) assay and direct DNA sequencing. No mutations were found by either of these methods (Figure S11 in Additional file 1). The sensitivity of mutation detection by direct sequencing is 15–20 % [19], whereas the minimal detection limit for the T7EI assay was reported to be between 0.5 % and 5 % [20]. Thus, if any undetected mutations are present at these off-targets, their frequency should be below 5 %. With such a low frequency, the plants would have to be chimeras carrying both WT and mutant alleles, and the mutation would have to be induced at a later stage of development to be so rare, which is unlikely due to the fact that the nuclease-expressing replicons were detected in the transformed tissue up to 8 weeks post-inoculation, but not in mature plants (Fig. 4b; Figure S4b in Additional file 1). Furthermore, it is very unlikely that such rare mutations would be transmitted to progeny [21]. We conclude that our approach resulted in clean GT lines with no detectable off-target mutations.
We hypothesized that GT frequencies may be further increased using a geminivirus for which tomato is the primary host. To this end, we constructed another GT vector based on the DNA-A component of tomato leaf curl virus (ToLCV; Begomovirus [22]; Figure S14 in Additional file 1). We engineered the ToLCV vectors to contain the same TALEN pair and donor molecule as used in the BeYDV vectors. Whereas we observed purple calli with the ToLCV vector, the GT frequency was lower than with the BeYDV vector (Table 1). This could be explained by differences in rates of replication of the two viruses [23] or other factors such as the expression of three Begomovirus-specific proteins, AC2 (TrAP), AC3 (Ren) and AC4, which facilitate ToLCV replication.
Conclusions
Precise gene editing in crop species provides an alternative to traditional transgenesis, in which foreign DNA is inserted into a plant genome to create a trait of value [24, 25]. Whereas both gene editing and transgenesis accelerate trait development, gene editing, in some instances, leads to crops with no foreign DNA, and thus may pose fewer regulatory hurdles for cultivar deployment. A few crop varieties have already been produced using site-specific nucleases to create targeted mutations through imprecise repair of breaks by NHEJ [26–29]. To fully exploit the potential of gene editing, however, efficient methods for the precise modification of genes will be needed — for example, to create new alleles by introducing point mutations in cases where a gene knock-out is not desirable. Our study provides an example of such a method to create tomato plants modified by GT. Compared with other GT approaches in plants [6, 16], the use of geminivirus replicons creates genome-modified plants without the need for stable integration of transgenes, which would have to be segregated away in subsequent generations to produce non-transgenic plant lines. We show that geminivirus vectors are efficient tools for GT in tomato, and coupled with TALENs or CRISPR/Cas9 reagents, they allow the targeting of virtually any sequence in a given genome, making it possible to extend this technology to other crop species to create valuable traits.
Abbreviations
ANT1:

anthocyanin mutant 1
BeYDV:

bean yellow dwarf virus
CRISPR:

clustered regularly interspaced short palindromic repeat
DSB:

double-strand break
gRNA:

guide RNA
GT:

gene targeting
HR:

homologous recombination
HSP:

heat shock protein
IAA:

indolyl acetic acid
LIR:

long intergenic region
NHEJ:

non-homologous end joining
NOS:

nopaline synthase
NPTII:

neomycine phosphotransferase II
PCR:

polymerase chain reaction
SIR:

short intergenic region
TALEN:

transcription activator-like effector nuclease
T-DNA:

transfer DNA
ToLCV:

tomato leaf curl virus
WT:

wild type
Declarations
Acknowledgements
This work was supported by a grant from the National Science Foundation to D.F.V. (IOS-1339209). R.C. was supported by the LH-KONTAKT II grant number LH14002 from the Ministry of Education, Youth and Sports of the Czech Republic. We thank Lynn Hu for technical assistance, Marsha Leffler for help with the figures, and Joyce Van Eck and Vai Lor for helpful discussions and providing updated protocols for tomato transformation.
Open AccessThis article is distributed under the terms of the Creative Commons Attribution 4.0 International License (http://creativecommons.org/licenses/by/4.0/), which permits unrestricted use, distribution, and reproduction in any medium, provided you give appropriate credit to the original author(s) and the source, provide a link to the Creative Commons license, and indicate if changes were made. The Creative Commons Public Domain Dedication waiver (http://creativecommons.org/publicdomain/zero/1.0/) applies to the data made available in this article, unless otherwise stated.
Authors' Affiliations
(1)
Department of Genetics, Cell Biology & Development and Center for Genome Engineering, University of Minnesota, Minneapolis, USA
(2)
Department of Plant Developmental Genetics, Institute of Biophysics, Academy of Sciences of the Czech Republic, v.v.i., Brno, Czech Republic
(3)
Department of Biotechnology, School of Life Sciences and Technology, University of Electronic Science and Technology of China, Chengdu, P.R. China