Checkpoints couple transcription network oscillator dynamics to cell-cycle progression
Received: 1 July 2014
Accepted: 19 August 2014
Published: 5 September 2014
Abstract
Background
The coupling of cyclin dependent kinases (CDKs) to an intrinsically oscillating network of transcription factors has been proposed to control progression through the cell cycle in budding yeast, Saccharomyces cerevisiae. The transcription network regulates the temporal expression of many genes, including cyclins, and drives cell-cycle progression, in part, by generating successive waves of distinct CDK activities that trigger the ordered program of cell-cycle events. Network oscillations continue autonomously in mutant cells arrested by depletion of CDK activities, suggesting the oscillator can be uncoupled from cell-cycle progression. It is not clear what mechanisms, if any, ensure that the network oscillator is restrained when progression in normal cells is delayed or arrested. A recent proposal suggests CDK acts as a master regulator of cell-cycle processes that have the potential for autonomous oscillatory behavior.
Results
Here we find that mitotic CDK is not sufficient for fully inhibiting transcript oscillations in arrested cells. We do find that activation of the DNA replication and spindle assembly checkpoints can fully arrest the network oscillator via overlapping but distinct mechanisms. Further, we demonstrate that the DNA replication checkpoint effector protein, Rad53, acts to arrest a portion of transcript oscillations in addition to its role in halting cell-cycle progression.
Conclusions
Our findings indicate that checkpoint mechanisms, likely via phosphorylation of network transcription factors, maintain coupling of the network oscillator to progression during cell-cycle arrest.
Keywords
Cyclin Dependent KinaseSpindle Assembly CheckpointNetwork OscillatorCheckpoint PathwayCentrifugal Elutriation
Background
Successful cell divisions depend on proper temporal ordering of cell-cycle events. The central oscillator driving periodic events in early embryos is based on the activity of the mitotic cyclin/ cyclin dependent kinase (CDK) complex [1],[2]. CDKs are also the central components of the oscillator in many contemporary models of yeast and metazoan cell-cycle control. However, more recent models suggest a network of interconnected transcription factors may serve as an underlying cell-cycle oscillator in budding yeast, Saccharomyces cerevisiae[3]-[7]. In the network oscillator model, a transcription factor network controls the temporal program of cell-cycle-regulated transcription, including the cyclin genes [5]. Thus, CDK oscillations are driven by the transcription network [5],[6], and successive waves of expression of different cyclin/CDK complexes trigger the ordered events of the cell cycle [8],[9]. CDKs act as effectors of the transcription network oscillator to trigger cell-cycle events, and feed back on the transcription network to control aspects of oscillation dynamics [6]. In mutant cells lacking CDK activities, the cell cycle arrests; however, transcriptional oscillations continue, indicating that network oscillations and cell-cycle progression can be uncoupled [5],[6].
While the ordering of cell-cycle events is important, the time it takes to complete any particular process can vary [10],[11], especially when environmental or physiological conditions perturb processes such as DNA replication or spindle assembly [12]. Is there a mechanism that ensures the transcription network oscillator is restrained when cell-cycle progression has been slowed or arrested, or does the network oscillator continue to free-run and get re-entrained at a later time?
It has been proposed that CDK acts as a master oscillator to entrain subordinate autonomous oscillators capable of driving subsets of periodic cell-cycle phenomena [
13
]. Mitotic CDKs are known to both inhibit and activate specific transcription factors within the network oscillator [
14
] (Figure
1
a), and we have shown that CDKs play a role in controlling oscillation amplitude and period of the network oscillator [
6
]. In budding yeast, physiological perturbations that inhibit cell-cycle progression do so through checkpoints whose primary effect is thought to be maintenance of high mitotic CDK activity. Therefore, we sought to test the hypothesis that mitotic CDKs function not only as effectors of the network oscillator, but also act to stall the transcription network oscillator when cell-cycle progression is delayed.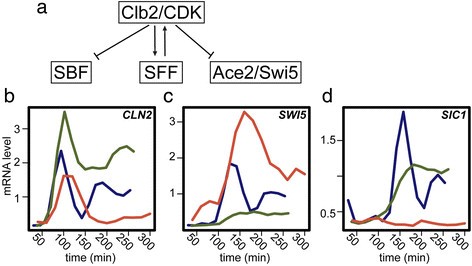 Discussion
The results presented herein suggest that the transcription network is not simply a CDK-subordinate mechanism that can produce spurious oscillations when CDK activities are limiting. Even when stabilized mitotic CDK inhibits a large portion of the network, it is still capable of driving oscillations with a period nearly identical to the period observed in cells lacking mitotic CDKs (Figures 2 and 3). Consistent with previous observations [6], CDK can modulate various aspects of oscillator function, yet oscillations produced by the transcription network are clearly robust to substantial changes in CDK levels. Moreover, we demonstrate that two distinct checkpoint pathways both act to halt transcript dynamics during a cell-cycle arrest (Figures 4, 5, and 6), suggesting the importance of maintaining coordination between cell-cycle progression and network oscillator dynamics.
In addition to its role in coordinating the DNA-replication checkpoint response, our results indicate that the checkpoint effector kinase, Rad53, collaborates with stabilized mitotic kinases in order to arrest oscillations in the cell-cycle transcription network during the checkpoint (Figure 6). Some of the behaviors observed (Figure 6) could be an indirect effect of Rad53 s regulation of the checkpoint kinase, Dun1 [38],[39]. Moreover, the fact that approximately half of the genes in a rad53-1;cdc8 ts ;cdc20;P GALL -CDC20 cells resume oscillation (Figure 6a) leaves open the possibility that the checkpoint kinase, Mec1 [37],[40] or other checkpoint-dependent mechanisms are regulating the other genes in the cell-cycle transcription network. Further studies will be needed to precisely identify the comprehensive set of checkpoint mechanisms that control the function of the network, and to identify the set of transcription factors that are under regulation. Nonetheless, our results are certainly consistent with reports of Rad53-mediated phosphorylation targeting cell-cycle transcription factors upon activation of the DNA replication checkpoint in S. cerevisiae[29],[32],[35],[41],[42], and S. pombe[30],[31],[43].
Although the results of our studies (and others) indicate that multiple transcription factors within the cell-cycle-network are targets of the replication checkpoint, SBF and MBF are likely to be important targets based on the fact that they control genes involved in DNA metabolism [24],[25]. Mechanisms have been proposed for the regulation of MBF and SBF by Rad53 and mitotic cyclin/CDK, and these mechanisms predict distinct behaviors of SBF- and MBF-regulated genes in cells arrested by the DNA checkpoint [29],[32],[35]. Just as observed in the Cdc20-depleted cells, the behaviors observed for SBF- and MBF-regulated genes in the rad53-1;cdc8 ts ;cdc20;P GALL -CDC20 cells are not fully consistent with expectations (Figure 6a and d and Additional file 1: Figure S12). For example, it is surprising that several SBF-regulated genes resume oscillation in rad53-1;cdc8 ts ;cdc20;P GALL -CDC20 cells (Figure 6d and Additional file 1: Figure S12), because persistent Clb2/Cdk1 (due to Cdc20 depletion) should continue to inhibit SBF transcription (Figure 1) even in the absence of Rad53 activity [8]. It is unlikely that these unexpected behaviors are the result of mis-annotation the SBF and MBF gene lists. Analyses of behaviors across multiple checkpoint and Cdc20-depletion conditions illustrates that genes annotated as SBF- or MBF-regulated do not always have consistent and distinct behaviors across all conditions (Figure 3d and e, Additional file 1: Figures S7, S12, and S13). It is likely that there are additional layers of control for SBF- and MBF-regulated transcription that vary across conditions. For example, SBF/MBF switching has been observed during checkpoint responses [32]. It is also possible that additional transcription factors may contribute to the regulation of SBF and MBF targets in different conditions (Additional file 1: Figures S3, S5, and S6 and Tables S1, S2, and S3).
Despite its identification around the same time as the replication checkpoint, the spindle assembly checkpoint targets have not been exhaustively identified [44],[45]. Although there are multiple effector kinases in the DNA replication checkpoint pathway that have transcriptional targets, Clb2/Cdk1 in the Cdc20 effector pathway of the spindle assembly checkpoint is the only one known to target transcription factors [8],[17],[46],[47]. Because Cdc20 depletion on its own does not halt oscillations of the entire transcriptional program (Figures 2 and 3), it is clear there are other effector pathways in the spindle assembly checkpoint that are responsible for regulating transcription. Identification of these pathways and targets will further our understanding of how the spindle assembly checkpoint controls the transcriptional network oscillations.
Conclusion
Taken together, our findings suggest that checkpoint pathways evolved to regulate both cell-cycle progression and transcription in order to maintain phase coherence between cell-cycle progression and the transcription network oscillator. Here, we propose a new cell-cycle model in which two functional modules, CDK and checkpoints, are intimately coupled with a transcription network that serves as an underlying cell-cycle oscillator (Figure
7
).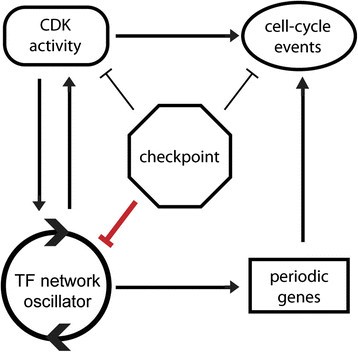 Materials and methods
Strains and cell synchronization
WT and all mutant strains of S. cerevisiae are derivatives of BF264-15Dau and were constructed by standard yeast methods. A description of all yeast strains and plasmids used in this study are outlined in Additional file 1: Table S4. Standard growth conditions were used. Cells were synchronized as previously described [5],[6].
RNA isolation and microarray analysis
For all global mRNA level studies, total RNA was isolated at time intervals by methods described previously [3]. RNA was purified and concentrated using the RNAeasy MinElute Cleanup Kit (QIAGEN). mRNA amplification and fluorescent labeling was done using either the GeneChip One Cycle Labeling (Affymetrix) or the Ambion MessageAmp Premier kit (Ambion Biosystems). Labeled cDNA was hybridized to Yeast 2.0 Expression arrays (Affymetrix) and image collection was carried out by the Duke Microarray Core Facility [48] using standard Affymetrix protocols.
Data access
Newly generated gene expression microarray data from this manuscript have been submitted to the NCBI Gene Expression Omnibus [49] under accession number GSE49650.
Authors' contributions
SLB, ARL, LASK, and SBH designed and performed the experiments. AD and JH performed the computational analyses, with contributions from SLB and SBH. SLB and SBH prepared the manuscript with contributions from ARL, LASK, AD, and JH. All authors read and approved the final manuscript.
Declarations
Acknowledgements
We thank D. Lew and members of the Haase lab for helpful discussions. We also thank D. Lew and C. Kelliher for critical reading of the manuscript and F. Cross, S. Biggins, and D. Clarke for supplying yeast strains and plasmids. Thanks to C. Kelliher for sharing the rad53-1 allele mutation. This work was supported by the National Institutes of Health, NIH P50-GM081883 (Duke Center for Systems Biology) and by the Defense Advanced Research Projects Agency, DARPA D12AP00001 (Biochronicity).
Authors' Affiliations
(1)
Department of Biology, Duke University, Durham, USA
(2)
Duke Center for Systems Biology, Duke University, Durham, USA
(3)
Program in Computational Biology and Bioinformatics, Duke University, Durham, USA
(4)
Department of Mathematics, Duke University, Durham, USA
Copyright
© Bristow et al.; licensee BioMed Central Ltd. 2014
This article is published under license to BioMed Central Ltd. This is an Open Access article distributed under the terms of the Creative Commons Attribution License (http://creativecommons.org/licenses/by/4.0), which permits unrestricted use, distribution, and reproduction in any medium, provided the original work is properly credited. The Creative Commons Public Domain Dedication waiver (http://creativecommons.org/publicdomain/zero/1.0/) applies to the data made available in this article, unless otherwise stated.