Cancer progression modeling using static sample data
Received: 30 April 2014
Accepted: 14 August 2014
Published: 26 August 2014
Abstract
As molecular profiling data continue to accumulate, the design of integrative computational analyses that can provide insights into the dynamic aspects of cancer progression becomes feasible. Here, we present a novel computational method for the construction of cancer progression models based on the analysis of static tumor samples. We demonstrate the reliability of the method with simulated data, and describe the application to breast cancer data. Our findings support a linear, branching model for breast cancer progression. An interactive model facilitates the identification of key molecular events in the advance of disease to malignancy.
Keywords
Principal CurveSpectral ClusterCopy Number DataBasal PhenotypeLuminal Phenotype
Background
Human cancer is a dynamic disease that develops over an extended time period through the accumulation of a series of genetic alterations. Once initiated, the advance to malignancy can to some extent be considered a Darwinian process (a multistep evolutionary process) that responds to selective pressure [1]-[5]. While the majority of genetic alterations confer no growth advantage, tumor cells that acquire mutations in genes that control key cellular processes can overwhelm less vigorous cell populations within the tumor mass, and this process continues through a series of clonal expansions that result in tumor persistence and growth, and ultimately the ability to invade surrounding tissues and metastasize to distant organs. The delineation of this dynamic process and the identification of pivotal molecular events that drive stepwise progression to malignancy would provide a critical foundation and guide for the development of cancer diagnostics, prognostics and targeted therapeutics.
The assembly of time-series data collected through repeated sampling across an entire disease process would provide essential information for the elucidation of system dynamics and disease-associated genetic regulation [6], and recent advances in genomic technologies has made it possible to study cancer genomes at a scale and cost that allow the design of such studies [7],[8]. However, due to the need for immediate treatment upon diagnosis, it is ethically infeasible to collect time-series data to study disease progression. An alternative is animal studies where time-series data could be obtained, but the extrapolation of animal data to human disease is not always appropriate. Moreover, the development of spontaneous human cancer is a process that takes several years, and to overcome the heterogeneous nature of the disease and to minimize random effects, a very large number of samples is required, so animal studies are not economically or logistically viable in this context. Conversely, due to the high incident rate of cancer, and the clinical care protocols in place in developed countries, a huge number of archived tumor specimens is available. For example, it is estimated that about 250,000 new cases of breast cancer will be diagnosed in 2014 in the US [9]. Assuming that cancer cells are derived from normal cells, and that a static sample can be regarded as a snapshot of the dynamic cancer process, then we can pose the following question: Is it possible to construct a cancer progression model using data acquired from static samples?
In this paper, we present a proof-of-principle population study to address the above question. Figure
1
depicts a flowchart of the presented stepwise study. It involves extensive work on algorithm development, computational simulation, disease model construction and validation. By analysis of publicly available data, we demonstrated that through the application of advanced computational techniques it is
indeed
possible to construct a cancer progression path using massive data obtained from static sampling. Analysis of molecular data from 2,133 breast samples [
7
] enabled the visualization of high-dimensional data structures that provided a framework for the extrapolation of progressive disease associations and trends across tumor samples. A very similar data structure was revealed through the analysis of an independent dataset of 524 samples [
8
], and mapping of copy number alteration (CNA) frequencies, somatic mutation rates, tumor grade information, and the expression levels of specific key genes supported the validity of the model. Our analysis,
for the first time
, showed that while breast cancer is a genetically and clinically heterogeneous disease, tumor samples are distributed on a low-dimensional data structure manifold, suggesting that genotypes are not hard-wired and can shift over time.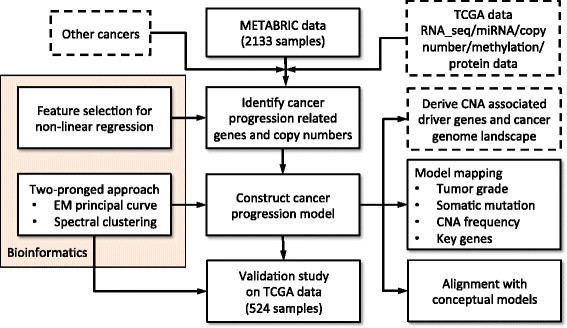 The study provides a framework for the construction of high-resolution cancer progression models that can combine all currently available genetic information. Through the visualization of key events in tumor progression, such models can facilitate the identification of pivotal driver genes, improved prognostic stratification systems and potential points of susceptibility for therapeutic intervention. Although in this paper we focus on breast cancer, the developed data analysis strategy is equally applicable to model other cancers and other human diseases where the lack of time-series data to study system dynamics is a ubiquitous problem.
Conclusions
We describe the derivation of a novel computational approach for mapping the development of cancer towards malignancy. Through application to two independent, large-scale breast cancer datasets, we have shown that the proposed method can reconstruct tumor progression through the analysis of static samples and thereby identify genetic events associated with pivotal shifts in phenotype. This new set of tools will enable the construction of high-resolution progression trees for cancers and other diseases for which longitudinal data sampling is ethically or logistically not possible. Refinement of progression trees will facilitate the identification of molecular drivers of disease progression and the derivation of robust biomarker signatures for patient evaluation and management.
Endnotes
a The data is available in the European Genome-Phenome Archive with the accession number [EGAS00000000083].
b Based on a rule of thumb used in the statistical community, two variables with a correlation larger than -0.2 and smaller than 0.2 are considered as having no or negligible relationship.
Authors' contributions
YS and SG designed the study. YS and JY performed the data analysis. YS, JY, NJN and SG wrote the manuscript. All authors read and approved the final manuscript.
Abbreviations
EM:

expectation maximization
ER:

estrogen receptor
KNN:

K nearest neighbor
LN:

lymph node
miRNA:

microRNA
ML:

maximum likelihood
N-B:

normal through luminal to basal phenotype
N-H:

normal through luminal to HER2+ phenotype
OS:

overall survival
PCA:

principal component analysis
TCGA:

The Cancer Genome Atlas
Declarations
Acknowledgements
Thanks to the collective efforts of the TCGA initiative of the National Institutes of Health (NIH) and equivalent European consortia, multi-format data from large numbers of tumor tissue samples are publicly available. Without these efforts, it would not be feasible to develop computational approaches that describe the dynamic aspects of disease progression. This work was supported in part by the National Science Foundation under grant number 1322212 (YS), the SUNY Research Foundation (YS), the JR Oishei Foundation (NJN) and NIH RO1 CA108597 (SG).
Authors' Affiliations
(1)
Department of Microbiology and Immunology, Department of Computer Science and Engineering, Department of Biostatistics, University at Buffalo, The State University of New York, Buffalo, USA
(2)
Department of Bioinformatics and Biostatistics, Roswell Park Cancer Institute, Buffalo, USA
(3)
Department of Electrical and Computer Engineering, University of Florida, Gainesville, USA
(4)
Department of Biochemistry, University at Buffalo, The State University of New York, Buffalo, USA
(5)
Department of Health Sciences Research, Mayo Clinic, Jacksonville, USA
Copyright
© Sun et al.; licensee BioMed Central Ltd. 2014
This article is published under license to BioMed Central Ltd. This is an Open Access article distributed under the terms of the Creative Commons Attribution License (http://creativecommons.org/licenses/by/4.0), which permits unrestricted use, distribution, and reproduction in any medium, provided the original work is properly credited. The Creative Commons Public Domain Dedication waiver (http://creativecommons.org/publicdomain/zero/1.0/) applies to the data made available in this article, unless otherwise stated.