Identification of distinct miRNA target regulation between breast cancer molecular subtypes using AGO2-PAR-CLIP and patient datasets
Received: 24 July 2013
Accepted: 7 January 2014
Published: 7 January 2014
Abstract
Background
Various microRNAs (miRNAs) are up- or downregulated in tumors. However, the repression of cognate miRNA targets responsible for the phenotypic effects of this dysregulation in patients remains largely unexplored. To define miRNA targets and associated pathways, together with their relationship to outcome in breast cancer, we integrated patient-paired miRNA-mRNA expression data with a set of validated miRNA targets and pathway inference.
Results
To generate a biochemically-validated set of miRNA-binding sites, we performed argonaute-2 photoactivatable-ribonucleoside-enhanced crosslinking and immunoprecipitation (AGO2-PAR-CLIP) in MCF7 cells. We then defined putative miRNA-target interactions using a computational model, which ranked and selected additional TargetScan-predicted interactions based on features of our AGO2-PAR-CLIP binding-site data. We subselected modeled interactions according to the abundance of their constituent miRNA and mRNA transcripts in tumors, and we took advantage of the variability of miRNA expression within molecular subtypes to detect miRNA repression. Interestingly, our data suggest that miRNA families control subtype-specific pathways; for example, miR-17, miR-19a, miR-25, and miR-200b show high miRNA regulatory activity in the triple-negative, basal-like subtype, whereas miR-22 and miR-24 do so in the HER2 subtype. An independent dataset validated our findings for miR-17 and miR-25, and showed a correlation between the expression levels of miR-182 targets and overall patient survival. Pathway analysis associated miR-17, miR-19a, and miR-200b with leukocyte transendothelial migration.
Conclusions
We combined PAR-CLIP data with patient expression data to predict regulatory miRNAs, revealing potential therapeutic targets and prognostic markers in breast cancer.
Keywords
MCF7 Cell
miRNA Target
Molecular Subtype
miRNA Family
Intronic miRNAs
Background
Breast cancer is a heterogeneous disease involving various tumorigenesis mechanisms manifesting at the DNA, RNA, and protein level. Patients are classified by estrogen receptor (ESR/ER), progesterone receptor (PGR/PR), and ERBB2/HER2 amplified oncogene expression based on immunohistochemistry, molecular subtypes based on mRNA expression signatures (luminal, basal-like, HER2, normal-like), or integrated clusters based on combination of mRNA expression and DNA copy number alteration [1]. Prognostic mRNA expression signatures have been defined for specific sets of breast tumors [2, 3], but given the heterogeneity of patient outcomes within the same subtype, it is clear that pathways regulating tumor aggressiveness remain to be further elucidated. miRNAs have shown promise as therapeutic targets in cancer, suggested by the recent introduction of the first miRNA mimic in Phase I cancer clinical trials, and as diagnostic/prognostic markers, suggested by their cell-type specificity. Oncogenic and tumor suppressive miRNAs have been implicated in the regulation of critical cellular pathways, such as differentiation and apoptosis, across several tumor types [4–6], but identifying miRNA target regulation/repression in tumor samples remains challenging.
Multiple studies have examined the correlation between miRNA and mRNA expression in breast tumors as well as the role of miRNA expression in prognosis, using samples from variable molecular subtypes, but a clear conclusion has yet to be reached (Additional file 1: Table S1) [7–12]. The Cancer Genome Atlas (TCGA) published same-sample miRNA and mRNA expression profiles for a large patient collection (n = 797) determined by sequencing but has not commented on miRNA targeting activity and prognosis [13]. Finally, a recent study including 1,302 breast tumors, utilizing miRNA and mRNA expression by microarrays, did not determine direct miRNA target repression [14]. The variability of findings, some of which is due to technical limitations of quantification methods, highlights the need for further studies and detailed examination of approaches used for correlation analysis aimed at establishing regulatory relationships between miRNAs and their targets in patient samples.
We recently reported miRNA profiles of a well-characterized breast cancer collection (
n
= 179) using small RNA cDNA library preparation and deep sequencing, with 161 of these also studied using mRNA microarrays [
15
]. Here, we used the patient miRNA and mRNA expression profiles, TargetScan predictions [
16
] and AGO2-PAR-CLIP [
17
] to identify miRNA targets (Figure
1
). First, we selected miRNAs and mRNAs from the patient data based on their expression levels and conducted the analysis within molecular subtypes. Our study differs from earlier studies in that it includes miRNA binding sites determined experimentally by AGO2-PAR-CLIP in ductal MCF7 cells. We defined a list of validated miRNA-target interactions by using the experimentally supported AGO2-PAR-CLIP interactions and training a regression model to rank and select miRNA target interactions from TargetScan predictions that display similar characteristics to AGO2-PAR-CLIP targets. We then prioritized miRNA regulatory activity based on association with expression of respective validated targets, as well as association with KEGG pathways and known cancer genes. Finally, we predicted outcome among molecular subtypes based on miRNA and respective target expression. We validated and compared our results in two independent datasets: TCGA [
13
] and NKI295 [
3
]. We provide the prioritization of miRNA targets, miRNA pathway association, and miRNA activity in a web-based format that can be easily sorted for molecular subtype and dataset, and searched for a particular miRNA, mRNA target, and pathway [
18
].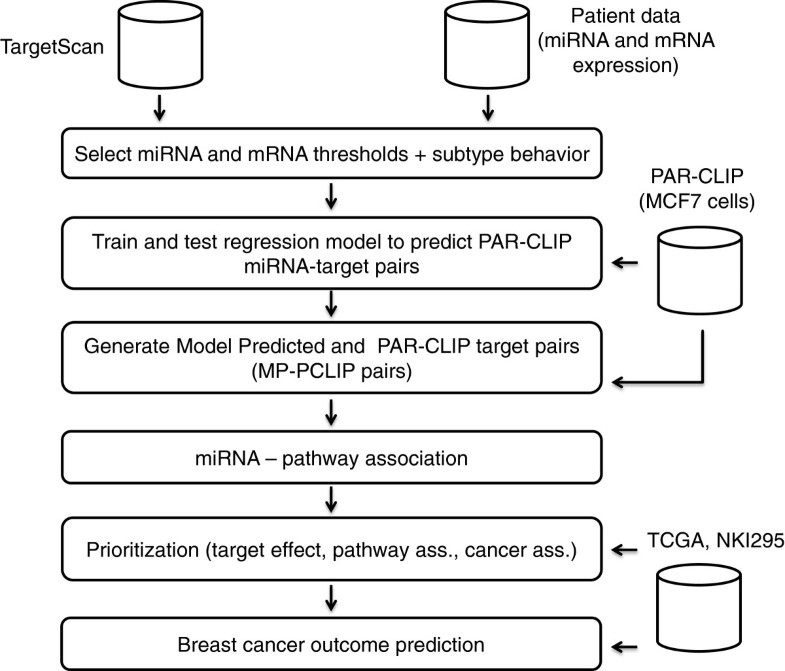 Discussion
Functional studies in breast cancer cell lines and mouse models have suggested multiple roles played by miRNAs in the development of breast carcinomas and their metastatic potential involving targets regulating many cellular pathways. However, which miRNA-target pair(s) is (are) important in human disease progression is not always predicted by cell culture or animal model studies alone. Here we examined the extent of correlation in mRNA and miRNA expression in large sample collections by prioritizing the effects of miRNAs on many targets.
High miRNA abundance is critical for experimental analysis of transcriptome-wide seed-dependent target mRNA repression [44–47]. In our study we showed the importance of miRNA and mRNA abundance thresholds to focus on more reliably quantified and molecularly validated miRNA targets to conduct computational analysis of miRNA-mRNA correlations in tumor samples. The recent study by Dvinge et al. [14] did not impose sequence-based derived thresholds for miRNA expression and did not document miRNA repression in breast cancer, as suggested by lack of enrichment of negative correlations for miRNA-target pairs. Our approach documented miRNA and mRNA expression changes consistent with miRNA target regulation and focused on miRNA-target pairs based on their crosslinking to AGO2 through PAR-CLIP. This limited the large number of possible miRNA-TargetScan-target pairs to experimentally tractable pairs.
Even though miR-21 is highly expressed both in MCF7 cells and patient breast tumor samples, we were only able to identify a small number of its targets crosslinked by AGO2-PAR-CLIP. A recent article sheds some light into the targeting behavior of miR-21 [48]. They showed that miR-21 exhibited poor mRNA silencing activity in healthy mouse liver, despite being one of the top expressed miRNAs in this tissue, and suggested that reduced thermodynamic stability of seed pairing and target binding may contribute to this effect. At the same time, they were able to document target miR-21 regulation in HeLa cells, suggesting that the effect may be modulated by competition from AU-rich-RNA-binding proteins differentially expressed in distinct cell types.
We showed that conducting the analysis in each tumor subtype pointed to miRNAs and associated pathways that may represent therapeutic targets for specific groups of patients. Members of the mir-17~92 cluster had high miRNA regulatory activity (Table 2) in the basal-like subtype both in our and the TCGA dataset. MiR-17 and miR-19a families were associated with the leukocyte transendothelial migration pathway, with similarities to metastasis, and were negatively correlated with their PAR-CLIP target CXCL12. CXCL12, involved in metastasis [49], was also a PAR-CLIP target of other miRNA families (miR-7, miR-23a, miR-182, and miR-183) (Additional file 2: Figure S8).
Our prioritization of miRNA regulatory activity selects for miRNAs that show regulation through association with their respective targets and regulated pathways, as well as genes implicated in cancer, in distinct molecular subtypes. We consistently observed regulation by miRNAs in the basal-like subtype across two independent datasets. Detecting miRNA activity and cancer association does not necessarily predict whether inhibiting or over-expressing the miRNA will have therapeutic benefit - it simply points to the relevance of the prioritized miRNA as evidenced by repression of its targets in patient tissues. Two recent manuscripts also point to the importance of two of our top prioritized miRNA families: miR-200 and miR-22 [50, 51] (Table 2). Song et al. found that miR-22 regulated breast cancer stemness and metastasis via TET-family-dependent chromatin remodeling. In vitro and in vivo experiments showed that miR-22 promoted epithelial mesenchymal transition and tumor invasion and metastasis. Our results point to high miR-22 activity in the luminal B subtype in the TCGA dataset, as well as the HER2 subtype in both datasets (ranked second with P value >0.05 in TCGA and P value <0.05 in our dataset). Another study by Pecot et al. showed that the miR-200 family blocked cancer angiogenesis specifically in the basal-like subtype. Our results point to high miR-200b family activity in the basal-like subtype in our dataset.
Conclusions
Abundant miRNAs repress their respective targets in breast tumor-related processes, as documented by regulation of their targets in patient tissues. This regulation is subtle and may not be readily revealed in global analysis with a moderately large number of patient samples, but only by using approaches involving data curation and biochemical evidence, relying on miRNA sequencing-derived abundance. Moreover, this regulation may only be evident when conducting the analysis within individual molecular subtypes: for example, the extent of regulation as supported by pathway association in the HER2 subtype is less pronounced compared to the other subtypes.
We can only detect regulation for few highly abundant miRNAs, and can only validate three of these miRNAs across two independent datasets. Challenges and caveats to interpretation of our results include: (1) patient heterogeneity between the different patient datasets examined; (2) noise in the patient mRNA profiles due to the different platforms used for their detection (that is, sequencing vs. microarray); (3) assumptions made for the detection of miRNA targets, mainly focusing on targets that exhibit a negative correlation between their respective regulating miRNAs to derive thresholds for miRNA and mRNA abundance and negative or positive correlations for miRNA pathway association. Lack of detection of miRNA activity using our methodology does not necessarily rule out miRNA-mediated regulation; the analysis, instead, focuses on providing support from patient data for a few miRNAs that could be considered promising candidates for therapeutic manipulation. Finally, the challenges in validating prognostic signatures across datasets are not unique to our study, but represent frequent complexities arising from breast cancer heterogeneity and the different sets of genes detected by microarray and/or sequencing methodologies not allowing a direct comparison of gene expression signature performance.
In conclusion, we provide a list of miRNA targets, associated pathways, tumor phenotypes, and miRNA regulatory activity derived from patient samples as well as supported by biochemical evidence, to allow generation of clinically relevant hypotheses. Our analysis allows definition of a few specific miRNAs as potential therapeutic targets and prognostic markers in breast cancer and can be applied to other patient datasets.
Materials and Methods
Datasets and analysis
Our miRNA dataset was reported in [15]. mRNA abundance values (A) correspond to the fluorescence intensity averaged from both dye swap NKI Operon array experiments: defined as log2(sqrt(R*G)), where R and G are the red and green fluorescent channels. mRNA expression was normalized to a set of 100 tumors (log2(fold-change)). Probes correlating >0.8 were condensed to genes by averaging probe log2(fold-change). The TCGA dataset is described in [13] and was downloaded from ([52]; 2013-02). miRNA counts correspond to the most abundant isoform read measured for each miRNA within each sample and normalized to RRF. Detected miRNAs were defined as having more than 10 reads in at least 5% of the samples. Detected mRNAs were defined as having more than 20 reads in at least 5% of the samples. mRNA RPKM values of 0 were set to the lowest non-zero RPKM value measured in a given sample and subsequently log2-transformed. The NKI295 dataset is described in [3] and downloaded from [53], with an updated median follow-up of 12 years.
Intronic miRNAs were obtained from Table S2 in [54]. We excluded miRNAs with multiple copies, as they cannot be assigned to a single host gene. We used TargetScan version 6.2 [55] (context score and evolutionary conservation scores aggregated per gene and miRNA; Summary Counts file) and miRanda-miRSVR August 2010 release [56] (miRSVR scores aggregated per gene and miRNA). KEGG pathways were obtained from BioConductor [57], the CGC from [58] (Table_1_full_2012-01-18.xls). GT 5.12.0 and glmnet 1.9-3 packages were obtained from BioConductor version 2.11 (R version 2.15.3; 2013-03-01). Rank test for miRNA regulatory activity and phenotype association as described in [36]. Figure 1 and Additional file 2: Figure S9 describes the analysis outline and provides examples of the tables generated.
Biochemical identification of miRNA targets using AGO2-PAR-CLIP
MCF7 cells were obtained from ATCC and grown at 37ºC in an atmosphere containing 5% CO2 in Dulbecco's modified Eagle's medium (1X D-MEM/high-glucose/L-glutamine/sodium pyruvate) supplemented with 10% heat inactivated fetal bovine serum, 100 unit/mL penicillin, 100 mg/mL streptomycin (Invitrogen, Sigma, and Gibco). Cells were grown in the presence of 100 μM 4-thiouridine (4SU) for 24 h and AGO2 complexes were immunoprecipitated using a monoclonal antibody against AGO2 (Millipore clone 9E8.2; used in [28, 29]), according to [17]. We used lysis buffer in lieu of high-salt wash buffer to not disrupt the monoclonal antibody-bead interaction. Crosslinked RNA of 20-40 nt in length was recovered from the 100 kDa AGO2 immunoprecipitated protein complexes separated on SDS gel, confirmed by Western blot probing with a polyclonal antibody recognizing AGO2 (Millipore 07-590). The isolated RNA was converted into cDNA libraries, and sequenced by Illumina at the Rockefeller University Genomics Center. We analyzed the data similarly to [17]. The sequence reads were aligned to the human genome and transcript sequences from public databases, allowing for up to one mismatch. Overlapping reads >20 nt were clustered, and clusters containing <5 sequence reads or those with a content of <20% crosslinked sequences were not considered. A T-to-C conversation rate of 80% and 40% was noted for mRNA and miRNA reads, respectively. The lower T-to-C conversion rate for miRNAs was noted in our previous publication [17] and is likely due to the association of AGO2 with background abundant non-crosslinked miRNAs (such as, miR-21). miRNA targets were defined for the 69 top-expressed miRNAs in MCF7 cells (95% of miRNA sequence reads) by searching the sequences for complementary miRNA seed sequence sites (position 2-8, 1-7 perfect match, or allowing A at position 1), that are enriched within the isolated mRNAs compared to random sequences of the same di-nucleotide composition. The raw sequencing file is deposited with the Sequence Read Archive (SRX388831; [60]). Finally, we compared the number of conserved TargetScan and high miRSVR scoring Miranda miRNA-target interactions validated by PAR-CLIP. Accounting for expression of potential targets in MCF7 cells (RPKM >14), PAR-CLIP validated 8.3% of conserved TargetScan-predicted targets (3,104) and 9.9% of high miRSVR (<-1.2) scoring Miranda-predicted targets (1,970).
Abbreviations
AGO2-PAR-CLIP:

AGO2-Photoactivatable-ribonucleoside-enhanced crosslinking and immunoprecipitation
AUC:

Area under the curve
CCR:

Crosslink-centered region
CDS:

Coding DNA sequence
DCIS:

Ductal carcinoma in situ
FDR:

False discovery rate
ESR/ER:

Estrogen receptor
GT:

Global test
IDC:

Invasive ductal carcinoma
miRNA:

MicroRNA
nt:

Nucleotide
PGR/PR:

Progesterone receptor
PPV:

Positive predictive value
RPKM:

Reads per kilobase per million
RRF:

Relative read frequency
TCGA:

The Cancer Genome Atlas
UTR:

Untranslated region.
Declarations
Acknowledgments
We thank Anders Jacobsen for assistance with the processed level 3 TCGA miRNA and mRNA dataset and discussions; Olivier Elemento, Pavel Morozov and Doron Betel for helpful discussions. We thank Alexander Kotlyar for technical assistance at the beginning of the project.
Authors' Affiliations
(1)
Howard Hughes Medical Institute, Laboratory of RNA Molecular Biology, The Rockefeller University, New York, USA
(2)
Division of Molecular Carcinogenesis, The Netherlands Cancer Institute, CX Amsterdam, The Netherlands
(3)
Department of Pathology, Academic Medical Center, AZ Amsterdam, The Netherlands
(4)
CancerGenomics.nl, The Netherlands
Copyright
© Farazi et al.; licensee BioMed Central Ltd. 2014
This article is published under license to BioMed Central Ltd. This is an open access article distributed under the terms of the Creative Commons Attribution License (http://creativecommons.org/licenses/by/2.0), which permits unrestricted use, distribution, and reproduction in any medium, provided the original work is properly cited.