Dissecting the expression landscape of RNA-binding proteins in human cancers
Received: 1 August 2013
Accepted: 10 January 2014
Published: 10 January 2014
Abstract
Background
RNA-binding proteins (RBPs) play important roles in cellular homeostasis by controlling gene expression at the post-transcriptional level.
Results
We explore the expression of more than 800 RBPs in sixteen healthy human tissues and their patterns of dysregulation in cancer genomes from The Cancer Genome Atlas project. We show that genes encoding RBPs are consistently and significantly highly expressed compared with other classes of genes, including those encoding regulatory components such as transcription factors, miRNAs and long non-coding RNAs. We also demonstrate that a set of RBPs, numbering approximately 30, are strongly upregulated (SUR) across at least two-thirds of the nine cancers profiled in this study. Analysis of the protein–protein interaction network properties for the SUR and non-SUR groups of RBPs suggests that path length distributions between SUR RBPs is significantly lower than those observed for non-SUR RBPs. We further find that the mean path lengths between SUR RBPs increases in proportion to their contribution to prognostic impact. We also note that RBPs exhibiting higher variability in the extent of dysregulation across breast cancer patients have a higher number of protein–protein interactions. We propose that fluctuating RBP levels might result in an increase in non-specific protein interactions, potentially leading to changes in the functional consequences of RBP binding. Finally, we show that the expression variation of a gene within a patient group is inversely correlated with prognostic impact.
Conclusions
Overall, our results provide a roadmap for understanding the impact of RBPs on cancer pathogenesis.
Keywords
Prognostic Impact
Protein Interaction Network
Short Path Length
Median Absolute Deviation
Path Length Distribution
Background
RNA-binding proteins (RBPs) have been identified as key regulatory components interacting with the RNA within a cell. Their function is largely dependent on their expression and localization within a cell. They may be involved in processes ranging from alternative splicing to RNA degradation. Combining together, RBPs form dynamic ribonucleoprotein (RNP) complexes, often in a highly combinatorial fashion that can affect all aspects of the life of RNA [1–3]. Due to their central role in controlling gene expression at the post-transcriptional level, alterations in expression or mutations in either RBPs or their binding sites in target transcripts have been reported to be the cause of several human diseases such as muscular atrophies, neurological disorders and cancer (reviewed in [4–7]). These studies suggest there is precise regulation of expression levels of RBPs in a cell. In fact, a recent system-wide study of the dynamic expression properties of yeast RBPs showed that RBPs with a high number of RNA targets are likely to be tightly regulated, since significant changes in their expression levels can bring about large-scale changes in the post-transcriptional regulatory networks controlled by them [8]. RBPs have also been shown to autoregulate their expression levels. Fluctuations in the expression of autoregulatory RBPs are significantly decreased [9]. These results show that a low degree of expression noise for RBPs is a characteristic feature of their normal state.
Cancer is a complex genetic disease and many of its regulatory factors have been identified as being irregularly expressed. In particular, changes in the normal expression of RBPs have been shown to alter their function leading to a cancer phenotype [10]. Enhanced eIF4E and HuR expression levels have been implicated in initiating translation of mRNAs encoding mostly for pro-oncogenic proteins and other cancer-promoting processes. For instance, Sam68 regulates the alternative splicing of cancer-related mRNAs [10]. Yet another example is the cell-specific alternative splicing of FAS (Fas cell surface death receptor, a member of the TNF receptor superfamily) mRNA. This has been linked to cancer predisposition depending on whether the pro- or anti-apoptotic protein form is produced as a result of the interplay between various RBPs on the FAS transcript [11–14]. In some cases, disruption of the functionality of RBPs, although without directly acting on oncogenic genes, has been shown to affect alternative splicing regulation or the regulation of alternative cleavage mechanisms on transcripts, which can lead to the development of cancer [15, 16].
In a recent study, Castello and co-workers [17] utilized cross-linking and immunoprecipitation (CLIP) and photoactivatable-ribonucleoside-enhanced CLIP (PAR-CLIP) to isolate and validate, via proteomics, a set of approximately 850 high-confidence RBPs in humans. These approaches can be used to catalogue and study RBPs and their post-transcriptional networks in healthy and diseased states. By knowing the low degree of expression variation that is tolerated by RBPs in a healthy state and identifying them in mammalian systems, we can begin to investigate their dysregulation profiles in various disease conditions.
In this study, we analyzed the expression patterns of RBPs in a set of 16 healthy human tissues and compared their fold change in expression levels in nine human cancers using the high-resolution expression profiles based on RNA sequencing (RNA-seq) available from the Human BodyMap (HBM) [
18
] and the Cancer Genome Atlas (TCGA) [
19
] (see Figure
1
, which outlines the different steps, and Materials and methods). We also compared the network properties of a set of 31 RBPs, which were found to be strongly upregulated (SUR) for most of the cancers studied. The network properties may help to determine the cause of the altered expression for the RBPs. Finally, a subset of RBPs was identified based on their expression profiles and network metrics and their contribution to the survival of patients with breast cancer was investigated.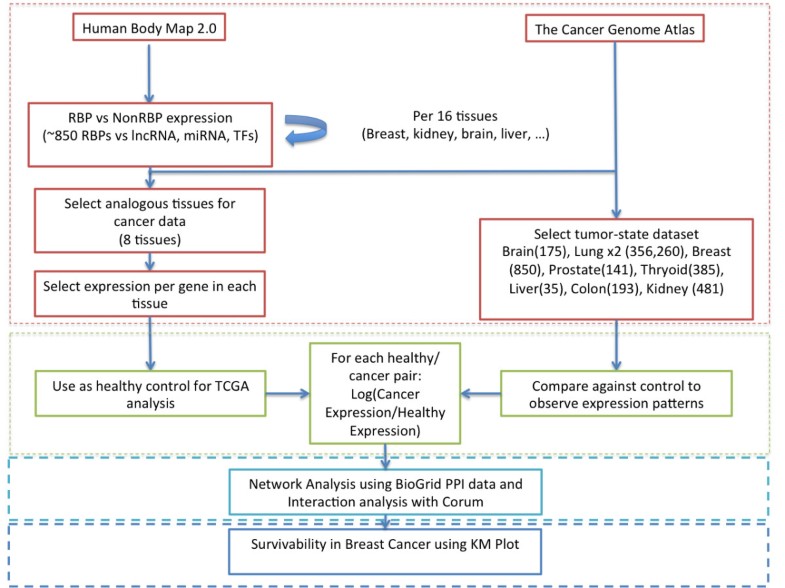 Conclusions
In this study, we investigated the gene expression profiles of RBPs in healthy humans for 16 tissues and found that RBPs are consistently and significantly highly expressed compared to other classes of genes (non-RBPs) as well as in comparison to well-documented groups of regulatory factors like transcription factors, miRNAs and lncRNAs. This, in concordance with previous research, emphasizes their importance in post-transcriptional regulatory control across all the tissues. To understand the expression profile changes in a disease state for hundreds of RBPs in the human genome, we obtained analogous RNA-sequencing-based expression data for a total of 2,876 patient samples spanning nine cancers from TCGA and calculated a log-ratio for expression between cancer and healthy states. We showed that there is a unique signature of approximately 30 RBPs that had significantly increased expression levels across six out of nine (two-thirds) cancers profiled. These could be clearly labeled as a set of SUR RBPs delineating them from the rest of the RBPs based on the change in expression levels. This proportion of SUR RBPs in the RBP population is greater than the proportion of SUR non-RBPs suggesting for the first time that the expression levels of a significant fraction of the RBPs are affected in cancerous states. Analysis of the protein–protein interaction network properties for SUR and non-SUR group of RBPs, suggested that the shortest path length distributions between SUR RBPs is significantly lower than that observed for non-SUR RBPs. This observation together with survival analysis based on path lengths suggests that not all the SUR RBPs might be directly implicated in cancer but rather that a cause-and-effect relation might hold between some of the SUR RBPs. This observation was further supported by the fact that the higher the expression variation of a RBP in breast cancer patients, the higher the number of protein–protein interactions. This indicates that fluctuating RBPs whose expression is not tightly controlled (with differing fold changes in expression levels across patients) might be involved in more promiscuous (non-specific) protein interactions thereby leading to variable RNA off-targets at the post-transcriptional level.
To further determine the prognostic impact in breast cancer patients we ranked the SUR and non-SUR RBPs based on path length. The two RBP groups had different distributions. We found that as the mean path lengths between SUR RBPs increased their contribution to prognostic impact increased, suggesting that SUR RBPs with higher network distances with respect to other SUR RBPs, are more likely to contribute independently to survival as they might influence a larger fraction of the dysregulated network of SUR RBPs. In contrast, when a non-SUR RBP had a shorter path to a SUR RBP, there was a significant prognostic impact. This suggests that they are closer to the actual contributors of pathogenesis at the post-transcriptional level; however, the longer the path lengths, the weaker the prognosis. To gain further insight into the contribution of these subsets of RBPs in the development of and survival with cancer, we compared the overall significance of the Kaplan–Meier P values (-log[P]) for groups of RBPs classified by their level of dysregulation (SUR vs non-SUR). This analysis revealed no significant differences between groups of SUR and non-SUR RBPs in terms of their prognosis for survival. However, we found that, in general, the higher the expression variation across patients, the lower the prognostic impact of the protein. Our results suggest that RBPs from our signature set with lower variation in expression levels across patients might be good starting points for studying the effect of RBPs in cancer pathogenesis since SUR RBPs with large expression fold changes might be downstream or there might be indirect effects (Additional file 8: Figure S6). Additionally, common factors that are dysfunctional along the shortest paths in the protein interaction networks of SUR RBPs could also provide clues for potential drug targets as they can act as regulators for rewiring the post-translational landscape of RBPs thereby affecting RNP complex formation. With increasing efforts to uncover the binding sites of RBPs in higher eukaryotes using a variety of high-throughput approaches [69, 70], it should also become possible in the near future to study the differences in the target RNA pools between healthy and cancer genomes for several of these SUR RBPs. This would provide a global picture of the affected post-transcriptional regulatory networks. The global integration of networks governed by post-transcriptional players like miRNAs and RBPs together with signaling networks can provide a comprehensive picture of the cause of the dysregulation in these RBPs, which can be used to tease apart the contributions of local malfunctions and those due to an upstream or downstream effect in the cellular networks.
Materials and methods
Data for healthy expression of RNA-binding proteins in 16 human tissues
Our general workflow is illustrated in Figure 1. RNA-seq data for 16 different human tissues from ArrayExpress [71] (Accession no. E-MTAB-513), which is part of the Human BodyMap (HBM) 2.0 project [18, 22], was obtained for expression profiling. This data represents the healthy RNA transcript levels of male and female individuals aged 19 to 86, for 16 tissues: adipose, adrenal, brain, breast, colon, heart, kidney, liver, lung, lymph node, ovary, prostate, skeletal muscle, testes, thyroid and white blood cells. Expression data from the HBM project was quantified per transcript using the current annotations of the human genome from the Ensembl. This is available as reads per kilobase per millions of reads (RPKM) for each sample and hence can be compared across and within tissues. Therefore, each of the 16 tissues has a single RPKM value for the expression level of each transcript. A total of 850 genes experimentally characterized as RBPs in the human genome were obtained from a previous publication [17] and 4,647 transcripts associated with these RBPs were identified within the HBM set. The remaining set of 102,462 transcripts were classified as non-RBPs in this study. To examine the other regulatory factors in humans we obtained a set of 9,440 long non-coding RNAs (lncRNAs) from a Gencode study [18, 72], 529 microRNAs (miRNAs) from miRBase [73] and 1,231 transcription factors (TFs) from the DBD database [74] (Additional file 2: Table S1). For each of the 16 tissues we compared the distribution of the RPKM values for transcripts associated with RBPs and non-RBPs, as well as the distribution of expression levels of transcripts associated with RBPs with other regulatory factors to study their relative effect on regulatory control at the tissue level.
Data for cancer expression of RNA-binding proteins for nine cancers in humans
The cancer expression data was downloaded from TCGA [19]. TCGA provides multi-level data (clinical, genome sequencing, microarray, RNA sequencing and so on) procured from a number of institutions, from a variety of patients, for over 25 cancers. In this study, we collected RNAseq V2.0 data for 2,876 patients spanning nine cancers analogous to eight of our tissues in the HBM dataset: breast (850 patients), brain (175 patients), colon (193 patients), kidney (481 patients), liver (35 patients), two for lung (356 and 260 patients), prostate (141 patients), and thyroid (385 patients). TCGA accession numbers for the patient samples used in this study are available in Additional file 9: Table S3. For each cancer we collected the expression levels for each gene for all patients and determined a median representative level and MAD. This defines the genes' RNA expression levels and variability in the relevant cancer state. Likewise, cancer expression and variation were determined for the group of non-RBP genes from HBM as a complementary group for later network, interaction, and expression analyses. Hierarchical clustering of RBP expression for these nine cancers was performed in R, to determine if similar cancers and tissues group together (Additional file 3: Figure S2). Clustering results verified that the collected and amalgamated data are an accurate representation of their anatomical origin, and can be utilized to draw further conclusions.
Profiling for dysregulation of RNA-binding proteins and identification of strongly upregulated RNA-binding proteins across human cancers
For each gene identified as an RBP, we calculated a median expression level of its transcript products in the HBM data when there were multiple protein coding transcripts. To determine the extent of dysregulation in RBPs across cancers, we calculated for each cancer the log-ratio of the median expression in the cancer state over its expression in the associated healthy state. This allowed us to determine for the nine cancers if a particular gene annotated as an RBP is upregulated, downregulated or does not change in expression level in cancer states. Based on this analysis, if an RBP has a log-ratio of expression level greater than 9 across six or more of the studied cancers, we classified it as being SUR. Otherwise, it was categorized as non-SUR. We focused mainly on defining characteristics unique to these SUR RBPs that differentiate them from other RBPs and non-RBPs. SUR genes as defined here were also observed in non-RBPs and a hypergeometric test was performed to examine potential differences in the proportionality of SUR RBPs and non-SUR RBPs between the two functional classes. The genes associated with RBPs and non-RBPs were also classified by their level of expression variability in a cancer, measured as the MAD value of the fold change in expression for the profiled patients for the cancer. If a gene's variability within a cancer was above the 75th percentile, it was considered highly variable, below the 25th percentile it was considered least variable and the remainder were considered moderately variable.
Network and interaction properties of dysregulated RNA-binding proteins in human cancers
The most recent BioGRID [66] protein–protein interaction (PPI) information (version 3.2.97) was downloaded and used to construct an undirected network of interactions documented in humans. These interactions were used to determine if there were any differences in network properties between the two classifications of dysregulated RBPs, that is, SUR and non-SUR RBPs. This allowed the determination of the potential importance of the classifications for these RBPs. For example, if an SUR RBP forms a hub, it could cause patterns of dysregulation in other, associated interactors. We compared network centrality measures such as degree, closeness and betweenness as well as clustering coefficients and shortest paths between nodes, for different RBP classes utilizing the R package igraph [75]. For shortest paths, we calculated the mean shortest paths for a SUR RBP to other SUR RBPs and SUR RBPs to non-SUR RBPs. We also obtained the overall average path length between each RBP/non-RBP and SUR RBP/non-SUR RBP combination.
Manually curated experimentally characterized human protein complex data was obtained from CORUM [76], to determine the general promiscuity of RBPs in forming complexes. Then 5,217 protein complexes were mapped to the RBPs. We calculated for SUR RBPs and non-SUR RBPs the frequency of membership in CORUM complexes, as well as the mean complex size. This information together with the log-ratios of expression levels between healthy and cancer states in the tissues, allowed us to address whether SUR RBPs are enriched in protein complexes and/or occur in larger or smaller complexes. This analysis also allowed us to test the relation between the extent of an RBP's dysregulation in the context of its membership.
Determination of prognostic impact of RNA-binding proteins for breast cancer
A gene's prognostic impact is the gene's ability to impact positively or negatively patient survival. The prognostic impact for each gene was determined using data from the Kaplan–Meier (KM)-Plotter [68], which was determined from microarray experiments for over 20,000 genes for 1,800 breast cancer patients. For each gene in the RBP and non-RBP groups, we further categorized them as SUR or non-SUR and high or low variability in expression. We compared the significance [-log(KM-plotter P)] of the prognostic impacts within and between these groups.
Based on the network analyses, the genes were ranked in descending order based on their mean path lengths to the classification of dysregulated genes (SUR vs non-SUR). Path length calculations were determined from a distance matrix generated by the network analysis. From the ranked list of genes we selected five genes with the shortest and longest mean path lengths, and took a random sample of five genes with intermediate mean path lengths. This provided information on the prognostic impact associated with increased gene expression.
Abbreviations
CLIP:

cross-linking and immunoprecipitation
HBM:

Human BodyMap
KM:

Kaplan–Meier
Kolmogorov–Smirnov test:

KS test
lncRNA:

long non-coding RNA
MAD:

median absolute deviation
miRNA:

microRNA
PAR-CLIP:

photoactivatable-ribonucleoside-enhanced CLIP
PHD:

plant homeodomain
PPI:

protein–protein interaction
RBP:

RNA-binding protein
RNA-seq:

RNA sequencing
RNP:

ribonucleoprotein
RPKM:

reads per kilobase per millions of reads
SUR:

strongly upregulated
TCGA:

the Cancer Genome Atlas
TF:

transcription factor
TNF:

tumor necrosis factor
KS test:

Kolmogorov–Smirnov test.
Declarations
Acknowledgements
SCJ acknowledges support from the School of Informatics and Computing at Indiana University Purdue University Indianapolis (IUPUI) in the form of start-up funds. The authors would also like to thank members of the Janga Lab for providing helpful feedback in the course of this study and Sasan Hashemi for help with survival analysis using KM plotter.
Authors' Affiliations
(1)
Department of Biohealth Informatics, School of Informatics and Computing, Indiana University – Purdue University, Indianapolis, USA
(2)
Center for Computational Biology and Bioinformatics, Indiana University School of Medicine, 5021 Health Information and Translational Sciences (HITS), Indianapolis, USA
(3)
Department of Medical and Molecular Genetics, Indiana University School of Medicine, Indianapolis, USA
Copyright
© Kechavarzi and Janga; licensee BioMed Central Ltd. 2014
This article is published under license to BioMed Central Ltd. This is an open access article distributed under the terms of the Creative Commons Attribution License (http://creativecommons.org/licenses/by/2.0), which permits unrestricted use, distribution, and reproduction in any medium, provided the original work is properly cited.