Chromatin structural changes around satellite repeats on the female sex chromosome in Schistosoma mansoni and their possible role in sex chromosome emergence
Received: 23 November 2011
Accepted: 29 February 2012
Published: 29 February 2012
Abstract
Background
In the leuphotrochozoan parasitic platyhelminth Schistosoma mansoni, male individuals are homogametic (ZZ) whereas females are heterogametic (ZW). To elucidate the mechanisms that led to the emergence of sex chromosomes, we compared the genomic sequence and the chromatin structure of male and female individuals. As for many eukaryotes, the lower estimate for the repeat content is 40%, with an unknown proportion of domesticated repeats. We used massive sequencing to de novo assemble all repeats, and identify unambiguously Z-specific, W-specific and pseudoautosomal regions of the S. mansoni sex chromosomes.
Results
We show that 70 to 90% of S. mansoni W and Z are pseudoautosomal. No female-specific gene could be identified. Instead, the W-specific region is composed almost entirely of 36 satellite repeat families, of which 33 were previously unknown. Transcription and chromatin status of female-specific repeats are stage-specific: for those repeats that are transcribed, transcription is restricted to the larval stages lacking sexual dimorphism. In contrast, in the sexually dimorphic adult stage of the life cycle, no transcription occurs. In addition, the euchromatic character of histone modifications around the W-specific repeats decreases during the life cycle. Recombination repression occurs in this region even if homologous sequences are present on both the Z and W chromosomes.
Conclusion
Our study provides for the first time evidence for the hypothesis that, at least in organisms with a ZW type of sex chromosomes, repeat-induced chromatin structure changes could indeed be the initial event in sex chromosome emergence.
Keywords
Chromatin StructureHeterochromatic RegionH3K9 AcetylationMassive SequencingAdult Couple
Background
The origin and evolution of sexuality is one of the most fascinating topics in evolutionary biology. Sex can be determined by several mechanisms, such as environmental stimuli (environmental sex determination) or genetic differences between males and females (genetic sex determination). Genetic sex determination is mainly based on the acquisition of sex chromosomes, a more stable strategy than environmental determinism, especially when the environment becomes variable. The principle steps leading to the emergence and evolution of sex chromosomes have been proposed by Charlesworth et al. [1] and Rice [2]. In this model, the emergence of a locus with female fertility and male sterility and another locus with male fertility and female sterility led to the establishment of a small sex-determining region on ordinary autosomes in hermaphrodite ancestors. These so-called proto-sex chromosomes are hardly distinguishable. To prevent the production of infertile individuals, recombination of these loci becomes restricted [3, 4]. This crucial step is intensively debated and two mechanisms of action have been proposed: (i) structural changes by translocation or inversion (reviewed in [5]); or (ii) chromatin status changes involving heterochromatization of the heterosexual chromosome [4, 6–9]. Heterochromatization of the sex-determining region has been shown in species with primitive or nascent sex chromosomes, such as in papaya or tilapia (reviewed in [10]). The suppression of recombination between the heterochromosome and its homologue would trigger gradual degradation of the heterochromosome (Y in XY systems, or W in WZ systems) because genes that are not essential for males (in XY systems) or females (in WZ systems) show accelerated rates of mutation and deletion. Consequently, the heterochromosome becomes progressively gene-poor (for example, [11]) and in the extreme case the degradation process can lead to the complete loss of the heterochromosome (for example, [12]).
We decided to investigate the role of chromatin structural changes in sex chromosome emergence by using a basal metazoan species harboring a ZW system, the acoelomate Schistosoma mansoni. Schistosomes are parasitic plathyhelminthes that are responsible for schistosomiasis (bilharziosis), an important parasitic human disease ranking second only to malaria in terms of parasite-induced human morbidity and mortality [13]. S. mansoni's life cycle is characterized by passage through two obligatory hosts: the fresh-water snail Biomphalaria glabrata (or other Biomphalaria species, dependent on the geographical location), for the asexual stage; and human or rodents for the sexual adult stage. The sex of the parasite is determined in the eggs (syngamic determination). Eggs are excreted with the host feces and free-swimming larvae (miracidia) are released when the eggs come into contact with water. These miracidiae infect the freshwater mollusk host and transform into primary and secondary sporocysts. Finally, a third larval stage, the cercariae, capable of infecting the vertebrate host, is released into the water. Once in the human or rodent host, morphological differences between female and male adults develop, and these then mate and produce eggs. In the larval stages, schistosome males and females are genetically different but morphologically identical; the sexual dimorphism (that is, the phenotypic expression of sex differentiation) is restricted to the adult stage. All stages are experimentally accessible, which allows the study of chromatin structural modifications for all stages of the life cycle.
Analysis of metaphase spreads indicates that sex is determined in schistosomes by sex chromosomes, with female being the heterogametic sex (ZW) and male the homogametic sex (ZZ) [14]. In some schistosoma species, there is a clear size difference between W and Z, while in other species, such as S. mansoni, discrimination is solely based on chromatin structure [15]. This makes S. mansoni a model of choice to study the involvement of chromatin structural changes in sex determination of a model harboring a ZW system. In addition, and in contrast with most other plathyhelminth species, schistosomes are gonochoric [16]. This suggests that, in general, being hermaphrodite is an advantage in this phylum, probably through minimizing the risk that is associated with finding a mate inside the host [17]. In Schistosomatidae, the acquisition of separated sexes was concomitant with the invasion of warm-blooded animals [16]. This could be explained by the benefit that genetic diversity provides against the sophisticated immune system of warm-blooded vertebrate hosts and/or by the specialization of each gender for a limited set of 'domestic tasks' [16, 18, 19]. This particular feature of schistosomes in the plathyhelminth phylum provides the opportunity to study sex chromosome emergence.
The genome of S. mansoni was sequenced and initially only partially assembled (version 3.1 with 19,022 scaffolds) [20]. During the preparation of this manuscript, an improved version with assembly at the chromosome level became available (version 5.2 with 882 scaffolds) [21], and Criscione et al. [22] constructed a linkage map for 210 version 3.1 scaffolds using microsatellite markers. They identified eight linkage groups corresponding to the seven autosomes and one sex chromosome [22], indicating that the sex chromosomes recombine. Nevertheless, Criscione et al. discovered a small region of roughly 18 Mb on the sex chromosome that shows recombination repression. Several open questions remain to be answered. First, it is not clear what are the genetic differences between W and Z chromosomes of S. mansoni, or in other words, what are the W- and what are the Z-specific sequences. Second, the mechanism of recombination repression between S. mansoni sex chromosomes is not clear. As outlined above, either inversion events or heterochromatization [7, 9, 23] have been proposed for other species. The specific objectives of the present study were to determine what the sex-specific DNA sequences of S. mansoni are, and how heterochromatization of the W chromosome might be initiated. We present here evidence that S. mansoni sex chromosomes contain large pseudoautosomal regions. Outside these regions, Z-specific sequences are composed of unique sequences and interspersed repeats. W-specific sequences are almost entirely composed of satellite-type repeats located in the heterochromatic region of the W chromosome. While no female-specific gene could be identified, many of the female repeats are transcribed in the larval stages of the parasite but never in the adults. This loss of transcriptional activity and the development into adults is accompanied by chromatin structural changes around the W-specific repeats. We develop a model in which female-specific repeats are expressed to induce a change in chromatin structure of the W chromosome specifically in the sexual part of the life cycle, leading to functional heterogametism.
Discussion
Despite tremendous advancements in the past, the elements that are responsible for the establishment of sex chromosomes remain still enigmatic. According to Müller's ratchet model, sexual reproduction evolved because deleterious mutations could be eliminated by recombination between the parental autosomes [31]. To maintain isolation of two different sexes, recombination must, however, be repressed (at least partially) between the sex chromosomes. Zones in which recombination is repressed between sex chromosomes were meanwhile identified in many species. Accumulation of repeats on the heterogametic sex chromosome was also found in many examples, although their role is unknown and many authors still consider them as junk DNA. The view that repetitive DNA is non-functional was challenged by the discovery of transcription from repeats on autosomes and the production of small RNA that could be related to heterochromatization events [32]. The presence of large heterochromatic blocks is also a common feature of sex chromosomes. So far, these observations were made in isolation from each other, and generally in different species, which makes the construction of a hypothetical model difficult. Here we present for the first time a comprehensive analysis of sequence composition, gene and repeat content, chromatin structure and repeat transcription of the sex-specific chromosome regions of the Z and W chromosomes of our biological model S. mansoni. Recombination repression has been described before in this region of interest [22]. Our data, in relation to previous reports, allows the current models for the suite of events that led to sex chromosome differentiation in S. mansoni to be refined and could represent a general model for this process in species with genetic sex determination of the Z/W type.
Z- and W-specific sequences
Criscione et al. [22] identified a region of 20 scaffolds in which recombination repression was observed and suggested that these are Z-specific sequences. We indeed found a male/female sequence reads hit and/or qPCR ratio of ≥1.5 for 13 of these scaffolds, indicating an overrepresentation in the male genome. However, seven scaffolds in this region showed no disequilibrium of hit counts and/or qPCR between males and females (male/female hit ratio ≤1.4), that is, the sequences are not specific to the Z chromosome (Figure 1). In other words, recombination is repressed but the homologous sequences on the sister chromosomes are still present. We find at least two blocks of sequences that are shared between the Z and W chromosome located in the large region with recombination repression. This result was confirmed with the most recent version of the genome assembly. We see three possible conclusions that can be drawn from our results. Either the Z/W sequence blocks are inverted, and additionally or alternatively the sequences are heterochromatic, thus preventing recombination. It is also possible that the scaffolds in the original assembly of the S. mansoni genome were chimeric. Indeed, of the 48 scaffolds originally found in linkage group Z/W [22], 4 are on other chromosomes in the 5.2 assembly. It will be difficult to formally exclude the possibility that our results are due to misassembly.
We did not find any paralogues to sex determination genes among the predicted genes on the Z-specific scaffolds. The specific region of the W chromosome is largely composed of large satellite blocks of at least 36 different W-specific repeats. These repeats are abundant on the W chromosome but our PCR analysis on different male individuals indicates that these sequences can also sometimes be found on other chromosomes. The strength of the PCR signal suggests, however, that they are present in very low copy number there. Analysis of the genomic sequence shows that they can occur intermingled with other repeats on autosomal scaffolds as individual sequences or as small blocks of up to five repeats in tandem. Our understanding of these results is that these repeats exist as large satellite blocks on the W chromosome but can occasionally be transferred to autosomes by a so far unknown mechanism. Such a behavior was described for W1 [28] and could depend on the chromatin structure around the repeats and/or flanking regions. Several of these W-specific repeats are transcribed in the miracidia and cercariae stages but never in the adults.
Role of W-specific repeats
In most species that possess sex chromosomes of the Y or W type it was found that (i) repetitive sequences accumulate on these chromosomes, (ii) large regions are heterochromatic and (iii) these chromosomes deteriorate or are completely absent in the extreme case. We show that the W chromosome in
S. mansoni
is no exception to this rule. What is unknown, however, is the suite of events in the evolution of sex chromosomes and the role of the different elements in sex determination. We believe our present study sheds some light on this matter. Heterochromatization of the W chromosome in schistosomes has been known for a long time and has been even used as a marker for sex identification in morphologically indistinguishable cercariae [
14
,
15
,
33
]. Based on cytogenetic analysis, some authors argued that heterochromatization of the W starts in miracidia [
14
]. Since it is impossible to determine chromosome banding in miracidia and then reuse the larvae for infection and production of adults, these results are difficult to verify. Our results clearly show that the repeats that are located in the W heterochromatic region carry a euchromatic signature in miracidia and lose their euchromatic character progressively during the development into adults. This process is accompanied by a decrease of transcription until complete silencing of the repeats in the sexually mature adult stage. During the miracidia to cercaria transition - that is, precisely when sexual dimorphism starts to develop - the repeats heterochromatize. Sex-specific repeats are found in many species [
34
–
36
]. In some cases transcription has been described and it was suspected that these repeats play a role in the sex determination process [
37
,
38
]. The transcription of repetitive elements of the satellite type in
S. mansoni
is particularly interesting in the light of the recent discovery of stage-dependent expression of the elements that constitute the RNA interference (RNAi) pathway in schistosomes [
39
,
40
]. In many organisms RNAi and chromatin structural changes are linked [
32
,
41
–
43
] and it is tempting to speculate that transcription of W-specific repeats is actually the origin of chromatin compaction on the W chromosome during the life cycle. A hypothetical scheme is shown in
Figure
5
. In our model, reset of the repeat chromatin structure occurs during early embryogenesis (formation of miracidia). In the miracidia, repeats are euchromatic and several of them are transcribed. Transcripts are processed through a pathway that has similarity to RNAi and a hypothetical repeat-induced silencing complex is formed that induces the formation of heterochromatin around the repeats. At this stage, miracidia have infected the mollusk host and develop via sporocyst stages into cercaria. In cercaria, most of the repeats are heterochromatic and not transcribed. We hypothesize that the heterochromatization extends beyond the repeat frontiers and that nearby loci are silenced. If a sex determination locus is found among these loci, the heterochromatization would lead to a dose effect that could be the origin of the formation of the female adult phenotype. Once the task of silencing this locus in
cis
(or
trans
) is accomplished, repeats are not anymore transcribed and the chromatin structure of the pericentromeric W chromosome is fixed into an unknown but transcriptionally silent configuration. We can only speculate about the proteins that are involved since our data indicate that neither the euchromatic markers H3K9Ac and H3K4Me3 nor the heterochromatic markers H3K9Me3 and H3K27Me3 are abundant. This model is supported by our finding that
in vitro
treatment of adults does not lead to detectable transcription from the W-specific repeats while autosomal retrotransposons can be activated.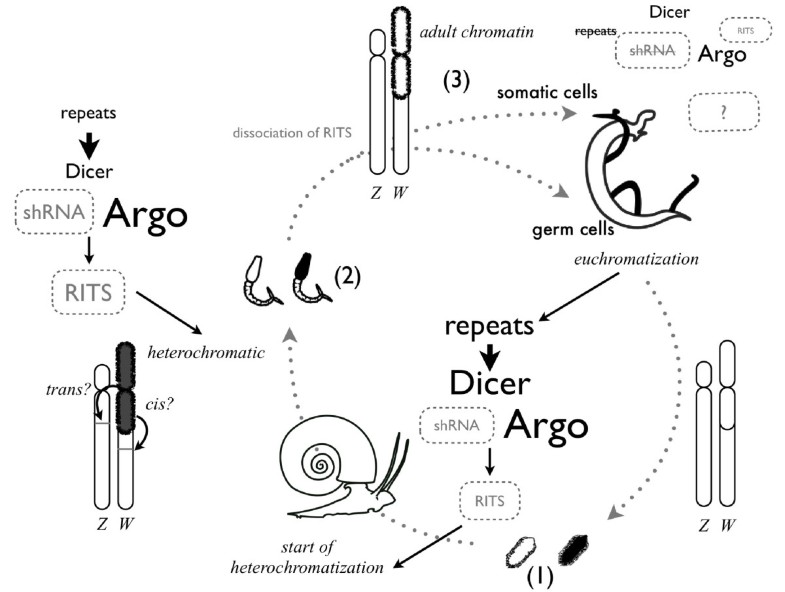 One could argue that the function of repeat-induced silencing is purely defensive and down-regulates retrotransposon expression in general. Such a mechanism was described as the repeat-associated small interfering RNA (rasiRNA)-mediated pathway [44] in Drosophila ovary cells and is believed to protect the (female) germ line from transposable elements. If this were the case for S. mansoni, transcription should be observed in the ovary. Our data do not support this view.
Conclusions
Most authors agree that suppression of recombination is an initial event in sex chromosome emergence, although it is not clear by what mechanism it is caused. Chromosome rearrangements (for example, inversions) or the action of modifier genes have been proposed (reviewed, for example, in [45]). Other authors see conformation differences (chromatin structural changes, differences in replication timing) as the origin for recombination inhibition [3, 5]. Accumulation of repeats is a general feature of Y/W-type chromosomes. Some consider it an important feature with unknown function [36], while others see repeat accumulation as the result of recombination suppression [1] or solely as a genome defense mechanism [7], placing it late in the suite of events that characterize evolution of sex chromosomes.
With the present work we contribute two new elements that allow us to exclude some of the current hypotheses and to refine others. First, we show that the presence of satellite repeats on the W chromosome does not lead in all life cycle stages to heterochromatization. Consequently, it is not their presence itself that induces the heterochromatin formation. We show that all W-specific repeats are euchromatic in the miracida stage. Our ChIP-Seq data tell us that this is not a general feature of autosomal and pseudoautosomal repeats, but specific for the W-specific satellites. Second, we demonstrate that the euchromatization occurs concomitantly with transcription and that transcription always precedes heterochromatization.
Based on these findings, we propose two not necessarily exclusive scenarios for the emergence of sex chromosomes. In the first model, transcription of non-coding RNA from repetitive DNA elements was the initial event in sex chromosome evolution of schistosomes. Non-coding RNA would have induced heterochromatization and suppression of recombination. Both favored expansion of repeats and organization in large blocks (satellites). Satellite expansion would have reinforced the system and led finally to the beginning of genetic changes in the W chromosome. The very basal phylogenetic position of leuphotrochozoans such as S. mansoni permits a general model for the main stages of sex chromosome evolution to be proposed: the establishment of a sex-determining region, recruitment of repeats for production of non-coding RNA, RNA-directed heterochromatization and repeat expansion, local suppression of recombination, and shrinkage of the chromosome by deletion.
In the second model, a small mutation and/or local heterochromatization could have been the initial event, leading to recombination repression in the first place. Repetitive DNA accumulated subsequently. During germ cell formation or during early embryogenesis euchromatization occurs. Cytogenetic evidence in other species in which the female is the heterogametic sex shows that the W chromosome is often condensed in somatic cells, and becomes euchromatic in early oocytes (reviewed in [46]). This releases transcription repression and repeats are transcribed, leading subsequently to heterochromatization. Our preliminary data suggest that chromatin structural changes do not occur in trans - that is, not on the Z chromosome but on the adjacent regions of the W chromosome (not shown).
We cannot formally exclude that sex determination is based on a specific protein-coding gene that is absent or present on the W chromosome. But we show that the most pronounced difference in transcription between ZZ and ZW individuals is at the level of 'non-coding' RNA. We therefore favor the hypothesis that sex differentiation in S. mansoni is based on developmental stage-dependent tagging of the W chromosome by non-coding RNA and a chromatin marking system. Our model predicts that chromatin structural changes influence transcription of one or several genes in the close vicinity of the core heterochromatic region and that transcriptional activation or inactivation of these leads to morphological and/or physiological changes that are the bases for development of the male and female phenotypes in the adult stage.
Abbreviations
bp:

base pair
ChIP:

chromatin immunoprecipitation
ChIP-qPCR:

chromatin immunoprecipitation followed by quantitative PCR
ChIP-Seq:

chromatin immunoprecipitation followed by massively parallel sequencing
EST:

expressed sequence tag
FISH:

fluorescence in situ hybridization
H3K27Me3:

histone H3 tri-methylated on lysine 27
H3K4Me3:

histone H3 tri-methylated on lysine 4
H3K9:

histone H3 lysine 9
H3K9Ac:

histone H3 acetylated on lysine 9
H3K9Me3:

histone H3 tri-methylated on lysine 9
NCBI SRA:

Sequence Read Archive at the National Center for Biotechnology Information
PCR:

polymerase chain reaction
qPCR:

quantitative PCR
RNAi:

RNA interference
TSA:

trichostatin A.
Declarations
Acknowledgements
The authors are grateful to the Plant Genome and Development Laboratory (UMR5096) of the University of Perpignan for access to their fluorescence microscope. Anne Rognon, Bernard Dejean and Kristina Smith provided important support. The work received financial support from the CNRS (PostDoc fellowship to CC) and the programs 'Schistophepigen' and 'Monogamix' from the French National Agency for Research (ANR).
Authors' Affiliations
(1)
Université de Perpignan Via Domitia, CNRS, UMR 5244 Ecologie et Evolution des Interactions (2EI), Perpignan Cedex, France
(2)
Department of Biochemistry and Biophysics, ALS 2011, Oregon State University, Corvallis, USA
(3)
CEBio - Centro de Excelência em Bioinformática, Rua Araguari, Brazil
Copyright
© Lepesant et al.; licensee BioMed Central Ltd. 2012
This article is published under license to BioMed Central Ltd. This is an open access article distributed under the terms of the Creative Commons Attribution License (http://creativecommons.org/licenses/by/2.0), which permits unrestricted use, distribution, and reproduction in any medium, provided the original work is properly cited.