DriverNet: uncovering the impact of somatic driver mutations on transcriptional networks in cancer
Genome Biology
2012
13:R124
Received: 1 August 2012
Accepted: 22 December 2012
Published: 22 December 2012
Abstract
Simultaneous interrogation of tumor genomes and transcriptomes is underway in unprecedented global efforts. Yet, despite the essential need to separate driver mutations modulating gene expression networks from transcriptionally inert passenger mutations, robust computational methods to ascertain the impact of individual mutations on transcriptional networks are underdeveloped. We introduce a novel computational framework, DriverNet, to identify likely driver mutations by virtue of their effect on mRNA expression networks. Application to four cancer datasets reveals the prevalence of rare candidate driver mutations associated with disrupted transcriptional networks and a simultaneous modulation of oncogenic and metabolic networks, induced by copy number co-modification of adjacent oncogenic and metabolic drivers. DriverNet is available on Bioconductor or at http://compbio.bccrc.ca/software/drivernet/.
Keywords
driver mutationssequencingcancertranscriptional networks.
Background
Cancer genome sequencing experiments are designed to enumerate all somatic mutations within a cancer. Some of these mutations will serve as actionable genomic aberrations upon which to develop and apply targeted therapies (for example, mutations in PIK3CA, BRAF, and KRAS) and ultimately enabling rational frameworks for improved clinical management and patient care based on precise genomic patterns of somatic alteration. To this end, next generation sequencing (NGS) technology has shifted the rate-limiting step from identifying all cancer mutations in a sequenced genome to identifying the relatively few functional mutations that drive the phenotype of malignant cells. Therein lies a major challenge in the cancer genomics field: distinguishing pathogenic, driver mutations from the so-called passenger mutations that accrue stochastically, but do not confer selective advantages.
In order to discover novel driver mutations, several large-scale sequencing initiatives such as The Cancer Genome Atlas project (TCGA, for example, [1]) are generating simultaneous whole genome and transcriptome interrogations for hundreds of cases of the same tumor type. This opens the possibility of ascribing the impact of individual somatic mutations on gene expression networks. Initial observations in high-throughput datasets, coupled with innumerable functional studies suggest that driver mutations are expected to alter gene expression of their cognate proteins, their interacting partners, or genes that share the same biochemical pathway. This will lead to a correlated pattern of gene expression in a network of genes associated with a driver mutation, which differs from benign passenger mutations with little to no phenotype. Moreover, somatic aberrations in genes may alter more than one transcriptional network, thus enabling the enumeration of a group of pathways driven by a single genomic event. The importance of placing mutations in the context of their gene expression has been illuminated recently by Prahallad and colleagues [2], who established the therapeutic effect of PLX4032 against the BRAF V600E oncoprotein, which is mechanistically linked to the activation of EGFR. Thus, differential expression of EGFR in different cell types (colon cancers versus melanomas) has a dramatic impact on drug efficacy. Consequently, knowing active pathways coupled with mutational profiles will be critical for implementation of therapeutic decisions informed by the presence of mutations in a cancer.
Current approaches for driver analysis typically rely on the frequency of aberration of a given gene or locus in a population of tumors as a function of the background mutation rate (for example, [3–5]). Recent whole genome interrogations, however, have revealed the vast majority of mutated genes exhibit low population frequencies [6–10]. While most of these events can be explained by stochastically acquired mutations due to increased proliferation or acquisition of mutagenic processes, with no oncogenic properties, many others are in fact well-known pathogenic mutations with, in some cases, actionable clinical utility. For example, sequencing of complete exomes of 316 ovarian cancers [7] and 65 triple negative breast cancers [11] revealed rare but functionally important and actionable mutations (for example, in ERBB2 and BRAF) in a small percentage of cases that were not identified by frequency and background mutation rate analyses. Thus, frequency analysis will fail to recognize infrequent, but nonetheless important driver mutations.
We suggest that integrative analysis of genomic aberrations and transcriptional profiles in cancer will reveal somatic mutations that drive biological processes, regardless of the population frequency. Furthermore, we propose that biological networks can be leveraged to relate mutations to their consequent effect on transcription and gene expression. Figure
1A
shows an example of high-level amplification of
EGFR
in a glioblastoma multiforme (GBM) tumor, accompanied by the coincident outlying expression of genes that are connected to
EGFR
through known biological pathways. We note that
BRAF
in this case, although not amplified itself, exhibits elevated expression compared to the population distribution. Other genes known to interact with
EGFR
exhibit similar extreme changes in expression levels in this example, such that PI3K signaling and MAPK signaling could be affected by this single genomic event. Figure
1B
shows fitted Gaussian expression distributions of three genes that interact with
EGFR
:
FGF11, PIK3R1
, and
PRKACB
, and shows that some cases with outlying expression have coincident
EGFR
amplifications. Our assumption is that amplification of
EGFR
in these cases has driven expression of the example genes to the tails of their respective distributions. Thus, extreme changes in expression levels of genes related to genomic aberrations are observable in orthogonally measured high-throughput transcriptome assays. As such, simultaneous analysis of genome and transcriptome measurements should amplify important signals in the data. Motivated by this idea, we hypothesize that driver aberrations will measurably disrupt transcriptional profiles regardless of their frequency in the population.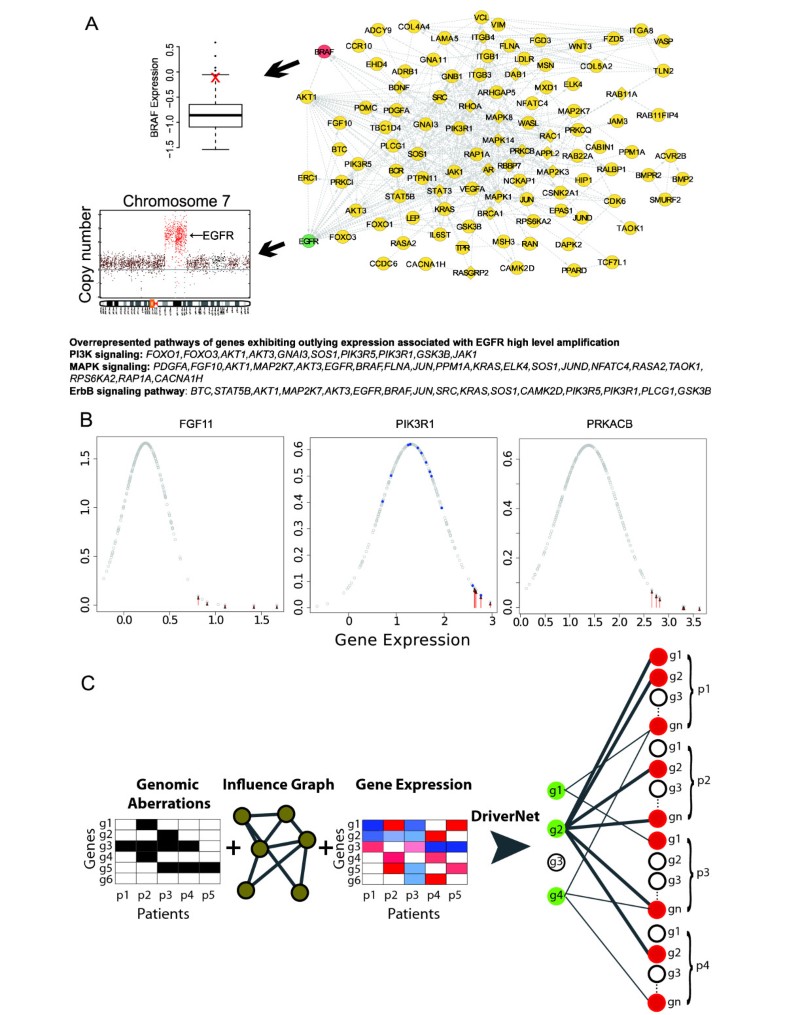 Algorithmic frameworks to exploit the relationship between genomic events and consequent changes in gene expression to nominate putative driver genes are underdeveloped. We therefore propose an integrated genome/transcriptome analysis framework, called DriverNet, to contextualize genomic aberrations (for example, mutations and copy number alterations) by their effect on transcriptional networks and identify candidate genomic aberrations suitable for functional experimental follow-up. Our approach allows individual mutations to be related to coincident changes in gene expression and assigns statistical significance to candidate predictions, thus quantitatively and rationally prioritizing candidate genes. We note that our intent differs from complementary approaches such as the one described by Vaske et al. [12], which aims at nominating driver pathways rather than driver genes in cancer, and from those that leverage genome data without considering expression [4, 13]. Both Masica and Karchin [14] and Ciriello et al. [15] integrate genome and transcriptome relationships in their framework; however, they differ from our approach, since Masica and Karchin [14] do not utilize known biological pathway information and Ciriello et al. [15] only consider mRNA expression associated with copy number aberrations and not with mutations. Other methods focusing on copy number and expression associations do not consider mutations, nor do they employ the use of previously annotated pathways [16, 17].
To study the properties and advantages of our approach, we analyzed four large-scale genome-transcriptome interrogations of tumor populations (Table
1
) in human gliomas, triple negative breast cancers, a population of nearly 1,000 breast tumors (all subtypes) and high-grade serous ovarian cancers. We present results from three experiments: i) ascertainment of sensitivity and specificity in the context of several cancer datasets; ii) enumeration of well-known, but infrequent, drivers modulating transcriptional networks, and iii) identification of complex driver events that implicate compound metabolic and oncogenic pathway modulation from single genomic events.
Table 1
Description of datasets
| Dataset | Tumor type | Number of cases | Genomic aberrations | Outliers | Reference |
| --- | --- | --- | --- | --- | --- |
| GBM | glioblastoma | 120 | 3,198 | 26,956 | [6] |
| GBM2 | glioblastoma | 140 | 573 | 35,618 | |
| METABRIC | breast | 997 | 18,331 | 214,530 | [19] |
| TN | triple negative breast | 66 | 4,824 | 15,929 | [11] |
| TN2 | triple negative breast | 66 | 1,019 | 15,929 | |
| HGS | serous ovarian | 304 | 8,229 | 91,697 | [7] |
| HGS2 | serous ovarian | 307 | 4,919 | 92,491 | |
Discussion
A major challenge in large-scale interrogation of genomic and transcriptomic profiles of tumor types is to contextualize genomic aberrations within their gene expression profiles. Assessing the impact of a somatic mutation on the expression networks of a tumor provides strong evidence for its status as a driver. We presented a novel algorithm called DriverNet for integrative analysis of genomic and transcriptomic data derived from population-level studies of tumors. DriverNet associates the presence of a mutated gene with its impact on the gene expression levels of its known interacting partners. We showed in several cancer datasets that this approach is both sensitive and specific with respect to known driver genes and is suitable for application in population-level datasets for numerous tumor types that will rapidly emerge in the coming years.
Investigation of infrequent drivers revealed a surprising number of rare mutations in known cancer genes typically associated with other cancers. Although infrequent, they nonetheless modulate the expression profiles and their identification is critical to understanding the pathogenesis of the cancers that harbor them. We suggest that examination of genomic patterns in the population without the integration of the transcriptome would likely result in overlooking these important, but rare drivers. The structure of the bipartite graph induces an interplay between the influence graph, the frequency of mutations, and the frequency of aberrant expression. A natural question that arises is the role of both frequency of mutation and node degree in the ranking of the output. Additional files 18 and 19 show that while rank is correlated with both frequency and node degree, the relationship is not monotonic and therefore the structure of the graph does not deterministically order the output. This suggests instead that simultaneous observations in the genome and the transcriptome in many cases override the structure induced by the influence graph and mutation frequency and can therefore penetrate the seemingly deterministic structure induced by the initial bipartite graph.
Finally, we describe a set of aberrations whereby proximal drivers appear to simultaneously modulate oncogenic and metabolic pathways. This was observed in both breast cancer and GBM datasets and leaves open the possibility that selection of well-known drivers such as ERBB2 and EGFR may be synergistically acting on altered metabolic processes abrogated by co-altered, nearby metabolism genes. In light of recent renewed interest in studying altered metabolism in cancer [28] owing to IDH1/2 somatic mutations in AML and GBM, the compound effects of single genomic events on metabolic and oncogenic pathways, suggest that disruption of metabolic pathways by somatic mutations may be more widespread than previously thought and provides an impetus for novel therapies that might restore normal metabolic function in a cancer-cell specific manner.
Limitations
The DriverNet algorithm has some limitations. As outlying expression is computed in a deterministic manner, we may not be capturing less extreme but nonetheless important changes in expression that are modulated by a genomic event. Furthermore, DriverNet does not gracefully handle the directionality of the expression change. A probabilistic model would account for the subtler changes in expression handling; however, the combinatorial complexity of inference required in a fully probabilistic framework remains a daunting and unresolved challenge because of the number of parameters to estimate. Thus, this remains an open problem. In addition, DriverNet relies on the genomic aberrations including mutations and extreme copy number alteration events that are supplied to the algorithm. The threshold to determine what constitutes a significant copy number alteration lies within third-party copy number analysis algorithms and can affect DriverNet results. Performance benchmarking suggest that, in most cases, DriverNet performs better when only extreme copy number alterations, that is, high-level amplifications and homozygous deletions, were included in the analysis (Additional file 20). Reducing the thresholds to detect more copy number alterations (such as chromosome-arm level events) results in too large a space of altered genes in a given dataset (Additional files 21, 22, 23, 24).
The DriverNet framework relies on a predetermined influence graph that is undoubtedly sparse and incomplete. This is underscored by the omission in the METABRIC dataset of ZNF703, which resides in the amplification of the 8p12 locus that includes FGFR1. We have recently described ZNF703 as a driver [29] in luminal B cancers; however, DriverNet was not positioned to identify it due to its absence in the Reactome database. There are undoubtedly other false negative predictions due to poor characterization and lack of protein-protein interaction data; however, as interaction databases increase in density and volume of interactions, the DriverNet framework will be well placed to leverage such improvements. Nevertheless, our goal is not to discover new protein interactions in this work, but rather to describe the association of mutations and expression in the context of well-understood knowledge bases. Finally, we note that this framework is suitable for datasets with many patients sequenced. Ultimately, we wish to extend the framework for application to individual patients to determine the effectiveness of identification of actionable driver mutations for clinical use. This will require the accumulation of large gene expression repositories for tumor types that can be used to contextualize a patient's expression and mutational profiles.
Conclusions
We have presented a comprehensive analysis from four independent datasets of how transcriptional networks are affected by genomic aberrations in cancer and demonstrate how integrative analysis can be used effectively to identify novel driver genes in population-level studies of tumor genomes and transcriptomes. Our results demonstrate the power of integrative analysis across multiple tumor types in recently generated population-scale datasets in revealing infrequent, but functionally important, mutations and novel patterns of pathway disruption in cancer. We expect DriverNet to generalize well to planned future studies, including application to patient-specific mutational and expression profiles for genome/transcriptome-informed personalized cancer care.
Methods
In this section we present the essential details of the DriverNet algorithm. Additional details of data analysis, data preprocessing, and the Fisher method are presented in Additional file 1.
Abbreviations
AMP:

amplifications
CGC:

cancer gene census
CNA:

copy number alteration
COSMIC:

catalogue of somatic mutations in cancer datasets
GBM:

glioblastoma multiforme
GO:

gene ontology
HETD:

hemizygous deletion
HLAMP:

high-level amplification
HOMD:

homozygous deletion
MTAP:

methylthioadenosine phosphorylase
NGS:

next generation sequencing
PPI:

protein-protein interaction
TCGA:

the cancer genome atlas.
Declarations
Acknowledgements
Technical support is acknowledged from the Centre for Translational Genomics (CTAG), the Michael Smith Genome Sciences Centre technical group. This work was supported by the BC Cancer Foundation, Canadian Breast Cancer Foundation (BC Yukon) (SA, SS), Eli-Lilly Canada (AB), Michael Smith Foundation for Health Research (SS), and the Canadian Cancer Society (SS) (grant no. 2012-701125).
Authors' Affiliations
(1)
Department of Molecular Oncology, British Columbia Cancer Agency, Vancouver, Canada
(2)
Faculty of Information Technology, Monash University, Clayton, Australia
(3)
Department of Computer Science, University of British Columbia, Vancouver, Canada
(4)
Bioinformatics Training Program, University of British Columbia, Vancouver, Canada
(5)
Department of Pathology and Laboratory Medicine, University of British Columbia, Vancouver, Canada
(6)
Centre for Translational and Applied Genomics, BC Cancer Agency, Vancouver, Canada
(7)
Cancer Research UK, Cambridge Research Institute, Li Ka Shing Centre, Cambridge, UK
Copyright
© Bashashati et al.; licensee BioMed Central Ltd. 2012
This article is published under license to BioMed Central Ltd. This is an open access article distributed under the terms of the Creative Commons Attribution License (http://creativecommons.org/licenses/by/2.0), which permits unrestricted use, distribution, and reproduction in any medium, provided the original work is properly cited.