A genome triplication associated with early diversification of the core eudicots
Received: 3 November 2011
Accepted: 26 January 2012
Published: 26 January 2012
Abstract
Background
Although it is agreed that a major polyploidy event, gamma, occurred within the eudicots, the phylogenetic placement of the event remains unclear.
Results
To determine when this polyploidization occurred relative to speciation events in angiosperm history, we employed a phylogenomic approach to investigate the timing of gene set duplications located on syntenic gamma blocks. We populated 769 putative gene families with large sets of homologs obtained from public transcriptomes of basal angiosperms, magnoliids, asterids, and more than 91.8 gigabases of new next-generation transcriptome sequences of non-grass monocots and basal eudicots. The overwhelming majority (95%) of well-resolved gamma duplications was placed before the separation of rosids and asterids and after the split of monocots and eudicots, providing strong evidence that the gamma polyploidy event occurred early in eudicot evolution. Further, the majority of gene duplications was placed after the divergence of the Ranunculales and core eudicots, indicating that the gamma appears to be restricted to core eudicots. Molecular dating estimates indicate that the duplication events were intensely concentrated around 117 million years ago.
Conclusions
The rapid radiation of core eudicot lineages that gave rise to nearly 75% of angiosperm species appears to have occurred coincidentally or shortly following the gamma triplication event. Reconciliation of gene trees with a species phylogeny can elucidate the timing of major events in genome evolution, even when genome sequences are only available for a subset of species represented in the gene trees. Comprehensive transcriptome datasets are valuable complements to genome sequences for high-resolution phylogenomic analysis.
Keywords
Synteny Block
Phylogenomic Analysis
Syntenic Block
Transcriptome Dataset
Basal Angiosperm
Background
Gene duplication provides the raw genetic material for the evolution of functional novelty and is considered to be a driving force in evolution [1, 2]. A major source of gene duplication is whole genome duplication (WGD; polyploidy), which involves the doubling of the entire genome. WGD has played a major role in the evolution of most eukaryotes, including ciliates [3], fungi [4], flowering plants [5–16], and vertebrates [17–19]. Studies in these lineages support an association between WGD and gene duplications [6, 20], functional divergence in duplicate gene pairs [21, 22], phenotypic novelty [23], and possible increases in species diversity [24, 25] driven by variation in gene loss and retention among diverging polyploidy sub-populations [26–29].
There is growing consensus that one or more rounds of WGD played a major role early in the evolution of flowering plants [2, 5, 7–9, 13, 30, 31]. Early synteny-based and phylogenomic analyses of the Arabidopsis genome revealed multiple WGD events [8, 9]. The oldest of these WGD events was placed before the monocot-eudicot divergence, a second WGD was hypothesized to be shared among most, if not all, eudicots, and a more recent WGD was inferred to have occurred before diversification of the Brassicales [9]. Synteny analyses of the recently sequenced nuclear genomes of Vitis vinifera (wine grape, grapevine) [32] and Carica papaya (papaya tree) [7] provided more conclusive evidence for a somewhat different scenario in terms of the number and timing of WGDs early in the history of angiosperms. Each Vitis (or Carica) genome segment can be syntenic with up to four segments in the Arabidopsis genome, implicating two WGDs in the Arabidopsis lineage after separation from the Vitis (or Carica) lineage [7, 12, 32]. The more ancient one (β) appears to have occurred around the time of the Cretaceous-Tertiary extinction [10]. Analyses of the genome structure of Vitis revealed triplicate sets of syntenic gene blocks [11, 32]. Because the blocks are all similarly diverged, and thus were probably generated at around the same time in the past, the triplicated genome structure is likely to have been generated by an ancient hexaploidy event, possibly similar to the two successive WGDs likely to have produced Triticum aestivum [33]. Although the mechanism is not clear at this point, the origin of this triplicated genome structure is commonly referred to as gamma or γ (hereafter γ refers to the gamma event). Comparisons of available genome sequences for other core rosid species (including Carica, Populus, and Arabidopsis) and the recently sequenced potato genome (an asterid, Solanum tuberosum) show evidence of one or more rounds of polyploidy with the most ancient event within each genome represented by triplicated gene blocks showing interspecific synteny with triplicated blocks in the Vitis genome [7, 11, 34, 35]. The most parsimonious explanation of these patterns is that γ occurred in a common ancestor of rosids and asterids, because all sequenced genomes within these lineages share a triplicate genome structure [12, 35].
Despite this growing body of evidence from genome sequences, the phylogenetic placement of γ on the angiosperm tree of life remains equivocal (for example, [13]). As described above, the γ event is readily apparent in analyses of sequenced core eudicot genomes, and recent comparisons of regions of the Amborella genome and the Vitis synteny blocks indicate that the γ event occurred after the origin and early diversification of angiosperms [36]. In addition, comparisons of the Vitis synteny blocks with bacterial artificial chromosome sequences from the Musa (a monocot) genome provide weak evidence that γ postdates the divergence of monocots and eudicots [11].
As an alternative to synteny comparisons, a phylogenomic approach has also been used successfully to determine the relative timing of WGD events. By mapping paralogs created by a given WGD onto phylogenetic trees, we can determine whether the paralogs resulted from a duplication event before or after a given branching event [9]. In a recent study, Jiao et al. [5] used a similar strategy to identify two bouts of concerted gene duplications that are hypothesized to be derived from successive genome duplications in common ancestors of living seed plants and angiosperms. When using a phylogenomic approach, extensive rate variation among species could lead to incorrect phylogenetic inferences and then possibly also result in the incorrect placement of duplication events [11]. Gene or taxon sampling can reduce variation in branch lengths and the impact of long-branch attraction in gene tree estimates (for example, [37–39]). Therefore, effective use of the phylogenomic approach requires consideration of possible differences in substitution rates and careful taxon sampling to divide long branches that can lead to artifacts in phylogenetic analyses.
The availability of transcriptome data produced by both traditional (Sanger) and next-generation cDNA sequencing methods has grown rapidly in recent years [40, 41]. In PlantGDB, very large Sanger EST datasets from multiple members of Asteraceae (for example, Helianthus annuus, sunflower) and Solanaceae (for example, S. tuberosum, potato), in particular, provide good coverage of the gene sets from the two largest asterid lineages. With advances in next-generation sequencing, comprehensive transcriptome datasets are being generated for an expanding number of species. For example, the Ancestral Angiosperm Genome Project has generated large, multi-tissue cDNA datasets of magnoliids and other basal angiosperms, including Aristolochia, Persea, Liriodendron, Nuphar and Amborella [5]. The Monocot Tree of Life project [42] is generating deep transcriptome datasets for at least 50 monocot species that previously have not been the focus of genome-scale sequencing. The 1000 Green Plant Transcriptome Project [43] is generating at least 3 Gb of Illumina paired-end RNAseq data from each of 1,000 plant species from green algae through angiosperms (Viridiplantae). In this study, we draw upon these resources, including an initial collection of basal eudicot species that have been very deeply sequenced by the 1000 Green Plant Transcriptome Project. Six members of Papaveraceae (Argemone mexicana, Eschscholzia californica, and four species of Papaver) have been targeted for especially deep sequencing, with over 12 Gb of cDNA sequence derived from four or five tissue-specific RNAseq libraries. Three other basal eudicots (Podophyllum peltatum (Berberidaceae), Akebia trifoliata (Lardizabalaceae), and Platanus occidentalis (Platanaceae)) sequenced by the 1000 Green Plant (1KP) Transcriptome Project, and EST sets available for additional strategically placed species (for example, [44, 45]) were employed for phylogenomic estimation of the timing of the γ event. Assembled unigenes (sequences produced from assembly of EST data sets) were sorted into gene families and then the phylogenetic analyses of gene families were performed to test alternative hypotheses for the phylogenetic placement of the γ event.
Results and discussion
Since the γ event was first identified in a groundbreaking phylogenomic analysis of the
Arabidopsis
genome [
9
], its timing has been hypothesized to have predated the origin of angiosperms (for example, [
25
,
46
]), the divergence of monocots and eudicots (for example, [
47
]) and the divergence of asterid and rosid eudicot clades (for example, [
11
,
35
]) (Figure
1
). Most recent analyses suggest that γ occurred within the eudicots, but the timing of the γ event relative to the diversification of core eudicots remains unclear [
13
]. Resolving whether γ occurred just before the radiation of core eudicots or earlier, in a common ancestor of all eudicots, has implications for our understanding of the relationship between polyploidization, diversification rates, and morphological novelty (for example, [
14
]).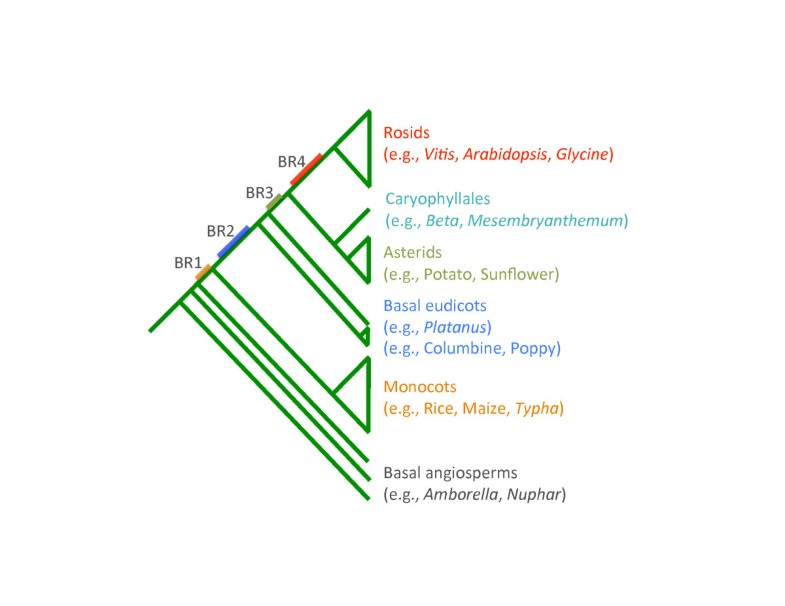 Phylogenomic placement of the γ polyploidy event
Molecular dating of the γ duplications
To estimate the absolute date of the γ event, we calibrated 161 of the 168 orthogroups supporting (BS ≥50%) a core eudicot-wide duplication and 66 of the 70 orthogroups supporting a eudicot-wide duplication, and then estimated the duplication times using the program r8s [
53
] (Materials and methods). We then analyzed the distribution of the inferred duplication times using a Bayesian method that assigned divergence time estimates to classes specified by a mixture model [
54
]. The distribution of duplication times of core eudicot-wide
Vitis
pairs shows a peak at 117 ± 1 (95% confidence interval) (Figure
4a
), and the distribution of all eudicot-wide duplication times has a peak at 133 ± 1 million years ago (mya) (Figure
4b
). Dating estimates have additional sources of error beyond the sampling effects accounted for in standard error estimates (for example, [
55
]). However, the clear pattern is that the duplication branch points occurred over a narrow window of time very close to the eudicot calibration point that represents the first documented appearance of tricolpate pollen in the fossil record. We also analyzed the 80 nodes and 19 nodes showing duplication shared by core eudicots and all eudicots, respectively, with bootstrap support ≥80% (Figure
4d, e
) and found similar distributions (116 ± 1 mya for core eudicot duplications and 135 ± 2 mya for all eudicot duplications). The inferred dates for
Vitis
duplications shared either by core eudicots or all eudicots are very close to each other, and are concentrated around 125 mya. We also investigated the distribution of all inferred duplication times together (core eudicot-wide and eudicot-wide). Even given a time constraint (125 mya) that would split the date estimates for core eudicot and eudicot-wide duplications, the distributions of combined inferred duplication times show only one significant peak, with a mean at 121 mya for orthogroups with bootstrap support ≥50% (Figure
4c
) and 120 mya for orthogroups with bootstrap support ≥80% (Figure
4f
). A single peak observed for the combined data (Figure
4c
) suggests that the genome-scale event(s) leading to the triplicated genome structure of core eudicots occurred in a narrow window of time nearly coincident with the sudden appearance of eudicot pollen-types in the fossil record [
56
].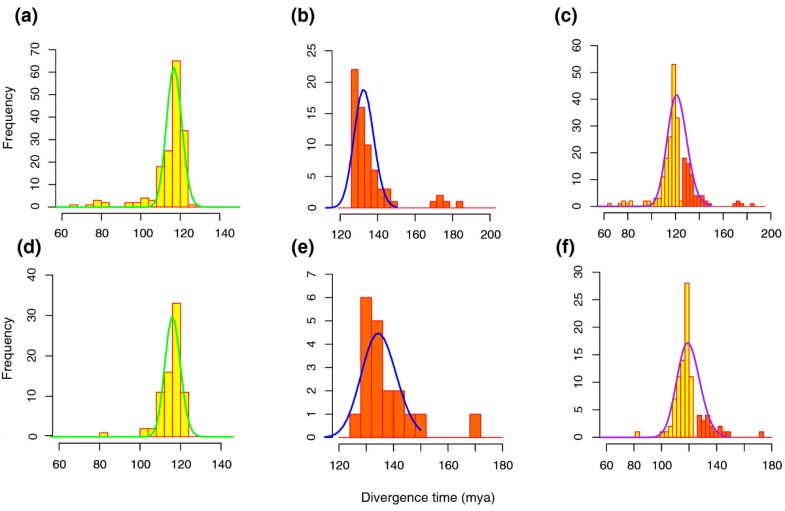 Hexaploidization and early eudicot radiation are close in time
Many of the gene trees showed no resolution or low bootstrap support for nodes distinguishing hypotheses BR2 and BR3. If the γ event had occurred almost anywhere along the long branch leading to eudicots, this event would have been relatively easy to resolve. The lack of resolution of the timing of duplication events around the basal eudicot speciation nodes suggests that the γ event may have occurred during a rapid species radiation. Another possibility could be due to the nature of hexaploidization. If, as our analyses suggest, the polyploidy event (see below for possible scenarios) occurred soon after the divergence of basal eudicots, the substitution rates for γ paralogs could vary. For example, one duplicate could evolve very slowly while the other evolves at an accelerated rate [4]. These possibilities could add significant challenges to the precise resolution of events occurring at or near the branch points for basal versus core eudicot lineages. Despite these challenges, most well-resolved gene trees support the hypothesis that the γ event occurred in association with the origin and diversification of the core eudicots, after the core eudicot lineage diverged from the Ranunculales (BR3 of Figure 1).
Nature of the γ event
An additional question is whether the ancient hexaploid common ancestor was formed by one or two WGDs that occurred over a very short period (for example, as with hexaploid wheat). It was demonstrated that two of the three homologous regions were more fractionated than the third, suggesting a possible mechanism for the γ event [34]. In one proposed scenario, a genome duplication event generated a tetraploid, which then hybridized with a diploid to generate a (probably sterile) triploid. Finally, a second WGD event doubled the triploid genome to generate a fertile hexaploid. Alternatively, unreduced gametes of a tetraploid and a diploid could have fused to generate a hexaploid directly. Another characterization of syntenic blocks indicates that the three corresponding regions are generally equidistant from one another [11]. Our analyses of duplication points in the phylogenomic analyses resolve only a single peak in estimated dates for the 'γ event', which would be consistent with either scenario, given that any complex scenario would involve ancient events that occurred within a brief period of time. More evidence is needed to establish a more definitive mechanism for the apparent hexaploidization (that is, as one versus two events, allopolyploid versus autopolyploid).
Rate variations between paralogs of Vitis
In another attempt to increase resolving power,
K
s
distributions for duplicate
Vitis
genes were investigated. The
K
s
distributions of
Vitis
pairs supporting a core eudicot-wide duplication inferred from phylogenetic analyses show one significant peak at
K
s
~1.03 (Figure
5a
). The
K
s
values for eudicot-wide duplicate
Vitis
pairs were not well clustered, and their distribution shows one peak at 1.31, which indicates slightly more divergence for these
Vitis
pairs (Figure
5b
). This result is consistent with phylogenetic analyses that show this set of duplications occurred somewhat earlier (all eudicot-wide versus core eudicot-wide). We also investigated the distribution of all
K
s
values together (core eudicot-wide and eudicot-wide). Three statistically significant peaks were identified: 0.3, 1.02 and 1.40 (Figure
5c
). Finally, we estimated
K
s
values for all (2,191) pairs of
Vitis
γ paralogs identified by Tang
et al.
[
11
] in analyses of syntenic blocks. We were able to detect four significant components using the mixture model implemented with EMMIX (McLachlan
et al.
[
54
]): 0.12, 1.09, 1.85, and 2.7 (Figure
5d
). This
K
s
distribution clearly shows that the major peak (approximately 1.09; green curve in Figure
5d
) was close to the peak of
K
s
distribution of core eudicot-wide duplicates (at approximately 1.03; Figure
5a
). This intriguing pattern (Figure
5c, d
) could be a consequence of stable hexaploidy arising from two WGDs, one in the common ancestor of all eudicots and one in the common ancestor of core eudicots. However, there are no consistent patterns of duplications for entire syntenic blocks; for example, some syntenic blocks have genes consistently duplicated in core eudicots, while other syntenic blocks were duplicated eudicot-wide (results not shown). Alternatively, this pattern also could be consistent with the hypothesis of an allopolyploidy event for γ. If two ancestral genomes were involved in the hexaploidization and the
Vitis
genome had evolved slowly, two significant peaks might be detected [
57
]. A third possibility is that
Vitis
pairs supporting a eudicot-wide duplication may be the products of pre-WGD tandem or segmental duplications that were misidentified as syntenic γ paralogs due to loss of alternative copies through the fractionation process. These hypotheses will have to be tested through comparative analyses as additional plant genomes, especially of outgroups (for example,
Aquilegia, Amborella
) and other basal eudicots (eg.,
Buxus, Trochodendron
), are sequenced.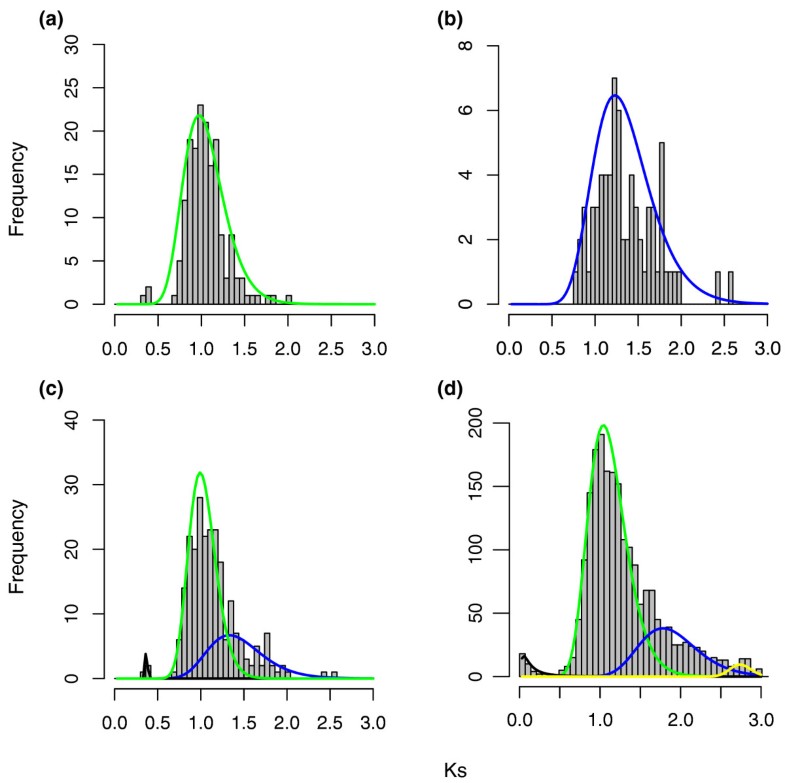 Implications of the γ event characterizing most eudicots
Our results suggest that the γ polyploidy event was closely coincident with a rapid radiation of major lineages of core eudicot lineages that together contain about 75% of living angiosperm species. This rapid lineage expansion following the γ event could be an important exception to the general pattern described by Mayrose et al. [31], who concluded that there may generally be reduced survival of polyploid plant lineages. The eudicots consist of a graded series of generally small clades (often called early-diverging or basal eudicots) that are successive sisters to the core eudicots ([49] and references therein). It is within the core eudicot clade where most major lineages as well as the large majority of angiosperm species reside (for example, rosids, asterids, caryophyllids). Several key evolutionary events seem to correspond closely to the origin of the core eudicots, including the genome-wide event described here, the evolution of a pentamerous, highly synorganized flower with a well-differentiated perianth, and the production of ellagic and gallic acids [58]. Significantly, the duplication of several genes crucial to the establishment of floral organ identity also occurred near the origin of the core eudicots (AP3, AP1, AG, and SEP gene lineages) [46, 59, 60], suggesting that these duplications - possibly originating from the γ event - may also be involved in the 'new' floral morphology that emerged in this clade [61, 62].
This study also helps to shed light on prior studies, where the potential timing of the γ event varied widely from possibly in an ancestor of all angiosperms [9] to perhaps as recent as only rosids [63]. A polyploid event has been detected that is angiosperm-wide, but this was an earlier event (ε, epsilon) [5]. Our results are consistent with a recent study that identified a signature of the γ event in the genome of the potato, an asterid [35]. The γ event was suggested to be absent from grass genomes in comparisons of Vitis and Oryza [32], but this finding was questioned by Tang et al. [11]. However, the draft genome of strawberry (Fragaria vesca), a rosid that shares the γ event, did not show evidence for γ in syntenic block analysis [64], suggesting that either the γ event has been obscured by further rearrangements and fractionation, or expansion of the Fragaria genome sequence data may be necessary. Although sequenced plant genomes are being produced at an increasing rate, a much larger source of genome-scale evidence is coming from very large-scale transcriptome studies such as the 1000 Green Plant Transcriptome Project and the Monocot Tree of Life Project. In this paper, we have used gigabases of transcriptome data from species at key branch points to phylogenetically time hundreds of ancient gene duplications. Combined with evidence from K s analysis and syntenic blocks, global gene family phylogenies could incorporate extensive evidence without a sequenced genome, and ultimately facilitate a much better understanding of plant evolution.
Conclusions
Phylogenetic analyses and molecular dating provide consistent and strong evidence supporting the occurrence of the γ polyploidy event after the divergence of monocots and eudicots, and before the asterid-rosid split. It is difficult to determine whether the γ event was shared by monocots or not based only on synteny patterns shared between Vitis and other monocot genomes [11]. By including massive transcriptome datasets from many additional taxa, such as basal angiosperms, non-grass monocots, basal eudicots and asterids, we employed a comprehensive phylogenomic approach, and dated gene pairs on syntenic blocks in a relatively slowly evolving species (Vitis) [11]. We were able to place the γ event(s) in a narrow window of time, most likely shortly before the origin and rapid radiation of core eudicots.
Abbreviations
BS:

bootstrap value
EST:

expressed sequence tag
K s :

rate of synonymous substitutions per synonymous site
mya:

million years ago
WGD:

whole genome duplication.
Declarations
Acknowledgements
We thank Joshua P Der for helpful comments. This work was supported in part by funds from the NSF Plant Genome Research Program (DEB 0638595, The Ancestral Angiosperm Genome Project to CWD, JL-M, PSS, DES; DEB 0701748, The Parasitic Plant Genome Project to CWD; DEB 0922742, The Amborella Genome: A Reference for Plant Biology to CWD, JL-M, PSS, DES; IOS 0421604, Genomics of Comparative Seed Evolution to DWS, RM), NSF Tree of Life program ('MonATOL,' DEB 0829868, From Acorus to Zingiber - Assembling the Phylogeny of the Monocots to DWS, JCP, JL-M, RM, CWD), National Institute on Drug Abuse (NIDA) at the National Institutes of Health (project 5R01DA025197-02 to TMK, CWD, JL-M), the Alberta 1000 Plants Initiative (1000 Green Plant Transcriptome Project, to GW) by Alberta Advanced Education and Technology, by Musea Ventures, and by BGI-Shenzhen), iPLant (to JL-M) and by the Biology Department and Plant Biology Graduate Program of Penn State University.
Authors' Affiliations
(1)
Intercollege Graduate Degree Program in Plant Biology, The Pennsylvania State University, USA
(2)
Department of Biology, Institute of Molecular Evolutionary Genetics, Huck Institutes of the Life Sciences, The Pennsylvania State University, USA
(3)
Department of Plant Biology, University of Georgia, Athens, USA
(4)
Department of Biology and Physics, Kennesaw State University, Kennesaw, USA
(5)
Donald Danforth Plant Science Center, St Louis, USA
(6)
Division of Plant Science and Conservation, Chicago Botanic Garden, Glencoe, USA
(7)
Beijing Genomics Institute-Shenzhen, Bei Shan Industrial Zone, Shenzhen, China
(8)
The Novo Nordisk Foundation Center for Basic Metabolic Research, Department of Biology, University of Copenhagen, København K, Denmark
(9)
Intercollege Graduate Degree Program in Genetics, The Pennsylvania State University, USA
(10)
Department of Biological Sciences, University of Alberta, Edmonton, Canada
(11)
Florida Museum of Natural History, University of Florida, Gainesville, USA
(12)
Department of Biology, University of Florida, Gainesville, USA
(13)
New York Botanical Garden, Bronx, New York, USA
(14)
Genome Research Center, Cold Spring Harbor Laboratory, Woodbury, USA
(15)
Division of Biological Sciences, University of Missouri, Columbia, USA
(16)
Departments of Biological Sciences and Medicine, Department of Biological Sciences, University of Alberta, Edmonton AB, Canada
Copyright
© Jiao et al.; licensee BioMed Central Ltd. 2012
This article is published under license to BioMed Central Ltd. This is an open access article distributed under the terms of the Creative Commons Attribution License (http://creativecommons.org/licenses/by/2.0), which permits unrestricted use, distribution, and reproduction in any medium, provided the original work is properly cited.