RNA-seq in grain unveils fate of neo- and paleopolyploidization events in bread wheat (Triticum aestivum L.)
Genome Biology
2011
12:R119
Received: 20 May 2011
Accepted: 2 December 2011
Published: 2 December 2011
Abstract
Background
Whole genome duplication is a common evolutionary event in plants. Bread wheat (Triticum aestivum L.) is a good model to investigate the impact of paleo- and neoduplications on the organization and function of modern plant genomes.
Results
We performed an RNA sequencing-based inference of the grain filling gene network in bread wheat and identified a set of 37,695 non-redundant sequence clusters, which is an unprecedented resolution corresponding to an estimated half of the wheat genome unigene repertoire. Using the Brachypodium distachyon genome as a reference for the Triticeae, we classified gene clusters into orthologous, paralogous, and homoeologous relationships. Based on this wheat gene evolutionary classification, older duplicated copies (dating back 50 to 70 million years) exhibit more than 80% gene loss and expression divergence while recent duplicates (dating back 1.5 to 3 million years) show only 54% gene loss and 36 to 49% expression divergence.
Conclusions
We suggest that structural shuffling due to duplicated gene loss is a rapid process, whereas functional shuffling due to neo- and/or subfunctionalization of duplicates is a longer process, and that both shuffling mechanisms drive functional redundancy erosion. We conclude that, as a result of these mechanisms, half the gene duplicates in plants are structurally and functionally altered within 10 million years of evolution, and the diploidization process is completed after 45 to 50 million years following polyploidization.
Keywords
Bread WheatDuplicate GeneHomoeologous GeneBrachypodium GenomeBrachypodium Chromosome
Background
More than 40 years ago, based on a few protein sequences from vertebrates, Susumu Ohno proposed polyploidization as a major source of new biological pathways created from duplicated gene copies [1]. The vertebrate genomes can be considered as paleopolyploids that had become modern diploids by means of ancestral chromosome fusions as well as sequence divergence between duplicated chromosomes. Recent paleogenomic analyses in plants have confirmed and refined Ohno's conclusions and led to the identification of polyploid common ancestors, showing that present-day species have been shaped through several rounds of whole genome duplications (WGDs), small scale duplications (SSDs) as well as copy number variations (CNVs) of tandem duplicated genes followed by numerous chromosome fusion (CF) events leading to the their present-day chromosome numbers [2–4]. Duplicate genes that persisted in multiple copies diverged by differentiation of sequence and/or function. Overall, recurrent gene or genome duplications generate functional redundancy followed either by pseudogenization (that is, unexpressed or functionless paralogs), concerted evolution (that is, maintained function of paralogs), subfunctionalization (that is, partitioned function of paralogs), or neofunctionalization (that is, novel function of paralogs) during the course of genome evolution. Functional divergence either by subfunctionalization or neofunctionalization of duplicated genes has been proposed as one of the most important sources of evolutionary innovation in living organisms [5]. As a consequence, polyploidy followed by diploidization is a major mechanism that has shaped complex regulatory networks during the evolution of the plant genomes. However, the real impact of genome duplication on gene network evolution, by comparing ancestral pre-WDG networks to modern post-WGD networks, is not clear. Recent access to numerous sequenced plant genomes [4] now offers the opportunity to study, at an unprecedented resolution, the impact of WGD on gene and genome organization as well as regulation.
Recent paleogenomics studies in plants aiming at comparing modern genome sequences to reconstruct their common founder ancestors based on the characterization of shared duplication events allowed the characterization of seven genome paleoduplications for the monocots and seven genome paleotriplications for the eudicots. These data led to the construction of extinct ancestors of seven protochromosomes (9,731 protogenes) and five protochromosomes (9,138 protogenes) for the eudicots and monocots, respectively [
4
] (Figure
1a
). These recent evolutionary studies in plants suggest that most duplicated genes that are structurally retained during evolution (referred to as 'persistent duplicated genes') have at least partially diverged in their function [
6
,
7
]. Microarray studies in eudicots and monocots showed that the vast majority of duplicated genes have diverged in their expression profiles, with 73% [
8
,
9
] and 88% [
10
] of gene pairs in
Arabidopsis
(eudicot reference genome) and rice (monocot reference genome), respectively, associated with asymmetric expression profiles after 50 to 100 million years of evolution. In maize, where a recent WGD dating back to 5 million years ago (MYA) occurred [
11
], more than 50% of the duplicated genes have been deleted and are no longer detectable within paralogous chromosomal blocks [
12
]. These results clearly demonstrate that most of the genetic redundancy originating from polyploidy events is erased by a massive loss of duplicated genes by pseudogenization in one of the duplicated segments soon after the polyploidization event.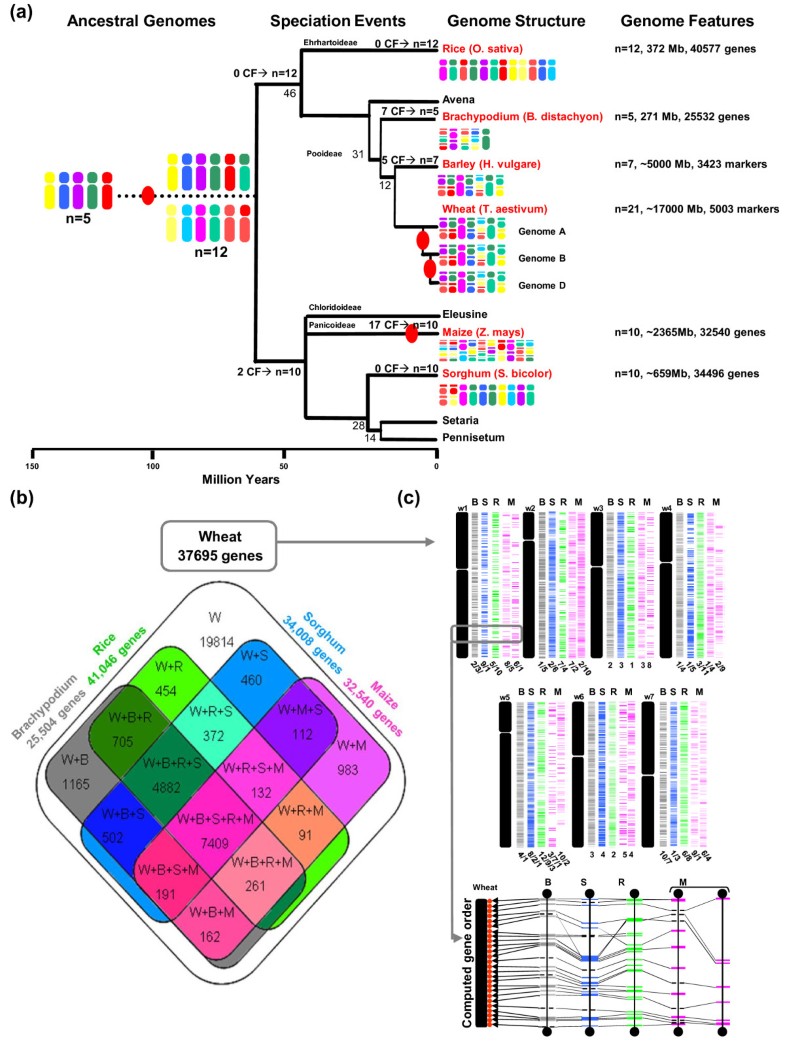 Because many genes are part of more global regulatory networks, a change in the expression pattern of a single gene could induce changes for numerous genes involved in the same functional pathway. Haberer et al. [13] noted for example that tandem as well as segmental duplicate gene pairs exhibiting high cis-element similarities within promoters had divergent expression in Arabidopsis, suggesting that changes to a small fraction of cis-elements could be sufficient for neo- or subfunctionalization. We can argue that functional novelties derived from neo- or subfunctionalization of orthologous and paralogous copies may reduce the risk of extinction of plant species [14, 15], similar to what has been suggested in mammals, where extinction events of vertebrate lineages is higher prior to the known ancestral WGD [16]. In this scenario, rapid genomic (that is, reciprocal gene loss) and functional changes (that is, neo- or subfunctionalization) following WGD might enable polyploids to better or quickly adapt to environmental conditions with improved physiological and morphological traits and properties that were not present or sufficient in their diploid progenitors. For instance, it has been suggested that neo- or paleopolyploidy may increase vigor [17], favor tolerance to environmental changes [15], and facilitate propagation through increased self-fertilization species [18, 19].
To gain insight into the impact of genome doubling on gene structure and expression, we performed high-throughput RNA sequencing (RNA-seq)-based inference of the grain filling gene network in bread wheat. We focused our functional experiments on a grain developmental kinetic to be able to run comparable experiments in other cereals (for example, rice in the next sections) based on the main conserved grain developmental phases: cell division, filling, and dehydration. Bread wheat is a good plant model to study the impact of distinct rounds of WGD on gene structure and function, as its genome comprises seven ancestral paleoduplications shared with all known cereal genomes and two recent neopolyploidization events to form Triticum aestivum, which originated from two hybridizations, one between Triticum urartu (A genome) and an Aegilops speltoides-related species (B genome) 1.5 to 3 MYA, forming Triticum turgidum ssp. durum, and one between T. turgidum (genomes A-B) and Aegilops tauschii (D genome) 10,000 years ago [20, 21]. Bread wheat is thus a good genome model to study in the same analysis the impact of ancient and recent WGD on genome structure and function. The bread wheat genome architecture offers us the opportunity to study not only the structures and corresponding expression patterns of paleoduplicated genes (50 to 70 million years of evolution) but also neoduplicated genes (1.5 to 3 million years of evolution) by comparing expression profiles of A, B and D homoeologous gene copies, that is, homoeoalleles (Figure 1a). As the complete assembled wheat genome sequence is not yet available, we have used Brachypodium as reference genomes to investigate the grain filling gene network modification in response to recent and ancient evolutionary events, such as duplication, polyploidization and speciation. The aim of this study was not to perform a quantitative (that is, transcriptome) analysis of the genes expressed during grain development but rather a robust qualitative identification (that is, large scale repertoire) of homoeologous/orthologous/paralogous gene networks, allowing us to provide new insights into the structural and functional evolution of genes after a WGD event in plants. This article provides relevant conclusions on how recent and ancient duplicated genes in plants evolve in both structure and function at the whole genome level, the gene family level, and the gene network level. The established divergence of structural and expression patterns between duplicated genes might have accelerated the erosion of colinearity between plant genomes as discussed in the article.
Discussion
Structural divergence between duplicated genes in plants
Our estimate of the frequency of chromosomal rearrangements (that is, duplicated gene loss) between homoeoalleles in wheat - 54% within less than 1.5 to 3 million years of evolution - needs to be viewed in the context of published studies. Qi et al. [22], based on a restriction fragment length polymorphism (RFLP) genotyping approach, mapped 7,104 EST unigenes onto 16,099 loci within the 21 bread wheat chromosomes. Because 39% of the ESTs mapped to the three homoeologous groups, those studies might have suggested that up to 61% of the homoeologs might have lost at least one of the homoeoalleles even despite technological limits due to the RFLP mapping resolution. Overall, we suggest here that, based on our and published data, 54 to 61% (depending on the genetic mapping or chromosome assignation procedures) of the wheat homoeoalleles have been entirely deleted or pseudogenized within less than 3 million years of evolution.
Re-analysis of the paleoduplication within the rice genome, consisting of ten major duplications as part of a WGD event 50 to 70 MYA, has shown that 87.4% of the duplicated genes have lost their orthologous counterparts [10]. Diverged polyploids, such as maize, are likely to have evolved from ancient polyploids by a process of pseudogene formation followed by sequence loss. In a study of the fate of duplicated genes in the maize genome, Lai et al. [36] and Messing et al. [12] have suggested that, within 5 million years of evolution, about 50% of duplicated genes have been lost through deletion. Nonetheless, gene duplication in maize, per se, via (auto)polyploidization may be associated with detectable increases in expression level, as demonstrated by Guo et al. [37]. Blanc et al. [9] reported similar findings from the Arabidopsis genome, where also only 20% of paralogs were retained within duplicated segments. More precisely, the authors stated that 28% and 13.5% of duplicated genes are retained in recent (date back to the Arabidopsis/Brassicacae divergence, 24 to 40 MYA) and old (date back to the monocot/dicot divergence, approximately 150 to 200 MYA) duplication blocks, respectively. Considering the recent data obtained in dicots (Arabidopsis) and monocots (rice, wheat, maize), our results provide additional support that most of the genetic redundancy originating from polyploidy is erased by a massive loss of duplicated genes by pseudogenization in one of the duplicated segments soon after the polyploidization event.
The structural loss of duplicated genes between paralogous segments as well as gene duplication in tandem (CNVs) accounted for a large part of the erosion of colinearity between cereal genomes. It became clear that using synteny-based approaches to establish a virtual gene order in non-sequenced genomes might mimic up to 77% of the gene order and content [4]. The remaining consists of lineage-specific duplicates loss and CNVs that will not be known until the genome is fully sequenced [4]. However, we can estimate that a large majority of the gene content can be modeled based on synteny, especially to support the development of gene-based markers such as COS [26].
Expression divergence between duplicated genes in plants
As for chromosomal rearrangements, we also need to place our estimate of the frequency of change in expression patterns between homoeoalleles in wheat - 36 to 49% (depending on the considered tissues) within less than 1.5 to 3 million years of evolution - in the context of published studies. Using a similar cDNA-SSCP approach to that reported in this study, Bottley et al. [38] demonstrated that for 27% (in leaf) and 26% (in roots) of the considered genes, one homoeologous copy was not detectable within the cDNA samples. Our estimate of functional partitioning between homoeoalleles includes not only a presence/absence variation at the tissue level (49%) but also takes into account the difference in the expression profiles based on a developmental kinetic within a specific organ (36% in wheat grain). Using a cDNA-amplified fragment length polymorphism (AFLP) assay, Kashkush et al. [39] estimated that about 5% of the genes are silenced in a newly synthesized allohexaploid, a figure comparable with the study of He et al. [40] using a similar approach. This level is substantially lower than our estimates, but not surprising given the time gene silencing could continue over many generations. It certainly confirms that the diploidization process immediately follows the polyploidization event. Exploiting large collections of EST data, Mochida et al. [41, 42] concluded that silencing affected 11 out of 90 sets of homoeoalleles (12%). Overall, based on our and published data, we suggest that 12 to 49% (depending on the tissues and approaches considered) of the wheat homoeoalleles have been neo- and/or subfunctionalized within less than 3 million years of evolution.
A similar difference between synthetic and ancient hybrids has been demonstrated in cotton, where Adams et al. [43, 44] used a cDNA-AFLP assay to show that about 5% of all genes are silenced in a newly synthesized allotetraploid, but that about 25% of genes were affected in natural tetraploid cotton (within 1 to 2 million years of divergence). However, in newly synthesized A. thaliana × A. arenosa hybrids described by Comai et al. [45], only 0.4% of genes are silenced as a direct result of polyploidization, a figure substantially lower than that described in wheat and cotton. On the other hand, a survey on gene expression variation of A. thaliana and A. arenosa, which split from a common ancestor approximately 1.5 MYA, showed a higher number of approximately 2.5% of gene expression differences. The reason(s) for these disparities remain unclear, but might be a consequence of lower levels of homoeology between the two contributing genomes, and therefore the induction of a lower level of interference in their independent expression. Still, gene silencing certainly appears to be a common phenomenon in established polyploids, and the frequency of silencing seems to increase over time. Using detailed analysis of expression divergence between rice paleoduplicates, Throude et al. [10] have shown that 88%, 89%, and 96% diverged in their expression pattern in grain, leaf and root within 50 to 70 million years of evolution, respectively. Blanc et al. [9] showed that 57% (for young duplications) to 73% (for old duplications) of paralogs have diverged in expression based on a computational analysis involving 62 Affymetrix microarray experiments in Arabidopsis. However, Blanc et al. [9] cautioned that the 73% of gene pairs that have diverged in expression in the context of old duplications is an underestimate as cross-hybridization occurred at a high rate in this type of array-based experiment. Finally, expression of maize duplicates has been investigated through EST and cDNA mapping (EST-overgos by Gardiner et al. [46] and cDNA-RFLP by Helentjaris et al. [47]), suggesting that 20% and 29%, respectively, of the considered probes identified two distinct contigs or loci. These data suggest that 71 to 80% of the maize paralogs have diverged in their expression profiles from both EST and cDNA-based mapping experiments. However, gene silencing of duplicated copies rather than deletion is probably more a gene-dosage effect than just a strict diploidization response. Paralogous copies of prolamin genes (a medium size multigene family) in maize also showed that less than 50% of the duplicated copies remained intact [48]. Interestingly, at the same level, differential gene amplification (such as CNVs) also resulted in subfunctionalization of additional gene copies by divergent transcriptional regulation, mimicking the same events that happen in the same period of evolution between homoeologs [49].
Temporal modeling of structural and expression gene shuffling after duplications in plants
We established clearly in this study that around 70% of homoeoalleles in the hexaploid wheat genomes have been lost (54 to 61%) or have diverged in gene expression (12 to 49%) since 1.5 to 3 MYA. These data confirm and complement the conclusion of Mochida
et al.
[
41
,
42
] that, considering 79 genes with scored expression in 10 tissues, 15 (19%) were expressed equally for the three homoeologs whereas the remaining 64 (81%) showed preferential homoeologous gene expression in at least one of the considered tissues. Based on the collective data from wheat detailed in the current article and from other plant species available in the literature, we tried to model the structural and functional consequences of gene set amplification after genome doubling for the last 100 million years of evolution. Figure
5a
illustrates plant phylogeny, where speciation events are dated in MYA and known WGDs are marked with red dots. Based on our and other studies from the literature referenced in Table S11 in Additional file
1
, we propose that structural rearrangements (from pseudogenization up to deletion) have been suggested to affect 54 to 61% of wheat homoeoalleles (Figure
5b
, data point 1), 71 to 80% of maize neoparalogs (Figure
5b
, data point 2), 72% of
Arabidopsis
neoparalogs (Figure
5b
, data point 3), 87% of rice paleoparalogs (Figure
5b
, data point 4), and 86% of
Arabidopsis
paleoparalogs (Figure
5b
, data point 5) after 1.5 to 3, 5, 24 to 40, 70 to 100, and 150 to 200 million years of evolution, respectively. Regarding the impact of polyploidy on functional differentiation between duplicated gene copies, our and published data have suggested that 12 to 49% of wheat homoeoalleles (Figure
5b
, data point 6), 50% of maize neoparalogs (Figure
5b
, data point 7), 57% of
Arabidopsis
neoparalogs (Figure
5b
, data point 8), 88% of rice paleoparalogs (Figure
5b
, data point 9), and 73% of
Arabidopsis
paleoparalogs (Figure
5b
, data point 10) do not exhibit any concerted and redundant expression after 1.5 to 3, 5, 24 to 40, 70 to 100, and 150 to 200 million years of evolution, respectively.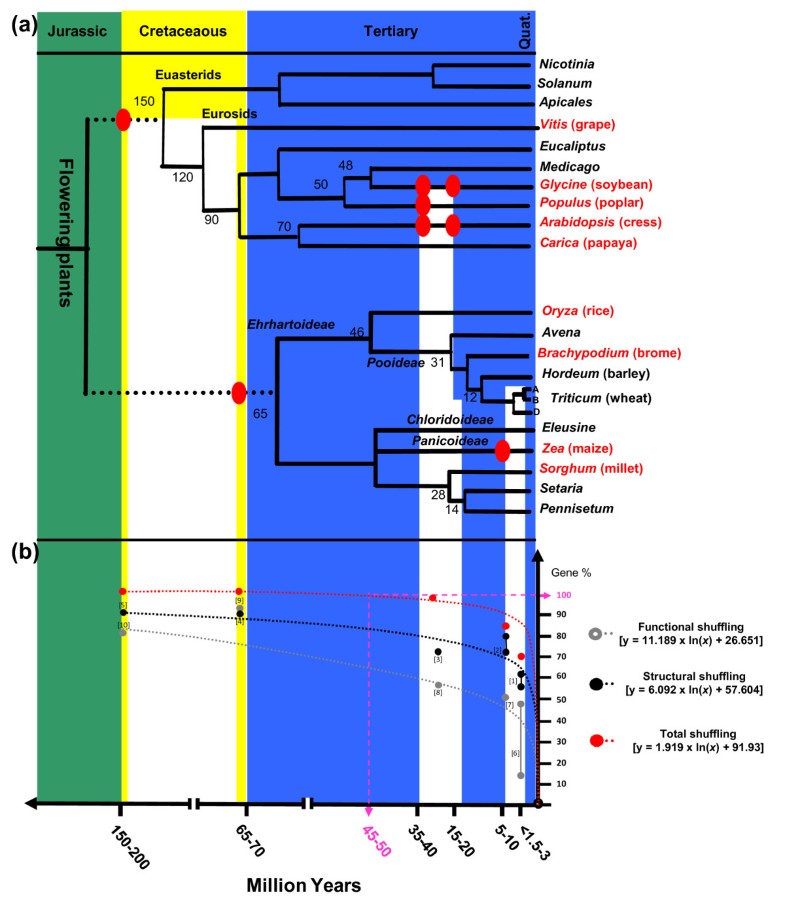 Given the prevalence of gene and genome duplication in the paleohistory of plant, species and lineage development in angiosperms might differ from organisms where genome duplication was rare and where extensive expression divergence following duplication would have a profound impact on the pattern of developmental and regulatory networks. Our data support the idea that after 50 to 70 million years of evolution since grass genomes experienced a shared paleotetraploidization event, the vast majority of the homoeologous genes have been lost within a sister block and that the expression profiles of the remaining gene copies have largely diverged (Figure 5b). Changes in gene expression may have occurred immediately after polyploidy or might need a few generations to reach a new expression status. This trend towards silencing (or gene loss via pseudogenization) or expression shift (via neo- or subfunctionalization) of a particular locus soon after a polyploid event could be advantageous for adaptation and the establishment of a successful polyploid genome compared to its diploid founder progenitor. Figure 5b shows the evolution of gene function (grey dotted curve) and structure (black dotted curve). It follows that loss of duplicated genes due to mutation and deletion appeared to be a rapid and exponential process arising immediately after polyploidy because there is sufficient time for point mutations to accumulate. Moreover, expression modification and silencing of duplicated genes appear to take longer and are probably epigenetically induced (that is, the putative causal factor). Strikingly, based on the deduced total duplicated gene shuffling inference (dotted curves in Figure 5b) within approximately 10 million years of evolution after a polyploidization event, approximately 50% of the homoeologs have either been lost or sub- or neofunctionalized in plants. The superimposition on these immediate or short-term (putatively mutation-based changes) and longer-term (putatively epigenetic-based changes) responses to genome doubling might explain the observed structural and functional partitioning among gene pairs originating from a duplication event. We can hypothesize that the diploidization that takes place immediately after a WGD is completed for 100% of the duplicated genes after 45 to 50 million years of evolution, the evolutionary timescale necessary to observe that none of the sister duplicated gene copies exhibit any structural or expressional or functional redundancy (pink dotted lines in Figure 5b).
Gene dosage relations, which play a huge role in genome reorganization, are unbalanced after a WGD due to function redundancy between duplicated copies. Structural and functional shuffling occurs relatively soon (within less than a few million years of evolution) after polyploidy in plants that are still cytogenetically polyploidy (such as in the case of bread wheat in the current study), but is still active several million years latter, during or after cytological diploidization (such as in the case of rice, Arabidopsis and maize in the current study). We may hypothesize that epigenetic differences between duplicates or even sub-genomes deriving from WGD might have contributed to a gene or genome dominance through the rapid differentiation of expression toward gene dosage balance recovery soon after polyploidy. Wang et al. [50] observed silencing of polyploidy-derived duplicates due to hypermethylation in Arabidopsis polyploids. Epigenetic mechanisms as well as interaction networks might be the origin of an extremely rapid divergence of expression between duplicated genes soon after polyploidization. It has even been reported that polyploidization-derived modulation of expression between gene pairs was due to epigenetic mechanisms (sensu lato) in higher plants (reviewed in [45, 51]). Based on our data set and derived conclusions, the bread wheat genome could be considered as a pertinent model for studying the molecular basis of the interaction between homoeologous gene pairs, especially the epigenetic basis of such observed modification in expression between duplicates in response to polyploidizations. The spectrum of phenomena discussed here illustrates the immediate impact of polyploidy on genome structure and its profound implication for evolution. For example, some of the observed genomic changes are known to affect phenotypes in ways that are highly visible to natural selection. A case in point concerns genomics rearrangements that affect the flowering-time locus/network in synthetic Brassica polyploids. These polyploidy-induced structural and functional rearrangements may impact traits as relevant as flowering-time divergence in modern plant species.
Conclusions
Even if our estimates of divergence of expression between gene pairs might represent an underestimation of the true values in wheat because the data set is (i) centered on a grain developmental kinetic and then only a sampling of possible environmental conditions or tissues where the duplicated genes may be expressed, and (ii) based on RNA-seq, which may bias low expressed gene and homoeoallele identification, one cannot escape the theme that a large majority of the polyploidy-derived duplicated genes in plants have acquired divergent expression patterns and with them probably functions. Overall, duplication-mediated structural and functional gene shuffling promote a powerful acceleration of evolution in plants.
Abbreviations
AFLP:

amplified fragment length polymorphism
bp:

base pair
CALP:

cumulative alignment length percentage
CNV:

copy number variation
CDS:

coding sequence
CIP:

cumulative identity percentage
COS:

conserved orthologous set
DD:

degree day
EST:

expressed sequence tag
GO:

Gene Ontology
HSPs:

high scoring pairs
MYA:

million years ago
RFLP:

restriction fragment length polymorphism
RNA-seq:

RNA sequencing
SNP:

single nucleotide polymorphism
SSCP:

Single Strand Conformational Polymorphism
TF:

transcription factor
WGD:

whole genome duplication.
Declarations
Acknowledgements
We gratefully acknowledge Joachim Messing (Rutgers, The State University of New Jersey, USA) and Thierry Langin (INRA, Clermont-Ferrand, France) for fruitful discussions in preparing the current article. The authors would also like to thank Isabelle Nadeau, Christine Girousse (INRA Clermont-Ferrand, France) and Biogemma (route d'Ennezat 63720 Chappes, France) for technical support and advice during the plant material preparation. This work has been supported by grants from INRA ('Génétique et Amélioration des Plantes', reference 'Appel d'Offre Transcriptome') and from the 'Agence Nationale de la Recherche' (Program ANRjc-PaleoCereal, reference ANR-09-JCJC-0058-01; program ANR Blanc-PAGE, reference ANR-2011-BSV6-00801).
Authors' Affiliations
(1)
INRA, UMR 1095, Genetics, Diversity and Ecophysiology of Cereals, Clermont-Ferrand, France
(2)
INRA, Unité de Recherches en Génomique Végétale, Evry Cedex, France
Copyright
© Pont et al.; licensee BioMed Central Ltd. 2011
This article is published under license to BioMed Central Ltd. This is an open access article distributed under the terms of the Creative Commons Attribution License (http://creativecommons.org/licenses/by/2.0), which permits unrestricted use, distribution, and reproduction in any medium, provided the original work is properly cited.