A human functional protein interaction network and its application to cancer data analysis
Received: 12 January 2010
Accepted: 19 May 2010
Published: 19 May 2010
Abstract
Background
One challenge facing biologists is to tease out useful information from massive data sets for further analysis. A pathway-based analysis may shed light by projecting candidate genes onto protein functional relationship networks. We are building such a pathway-based analysis system.
Results
We have constructed a protein functional interaction network by extending curated pathways with non-curated sources of information, including protein-protein interactions, gene coexpression, protein domain interaction, Gene Ontology (GO) annotations and text-mined protein interactions, which cover close to 50% of the human proteome. By applying this network to two glioblastoma multiforme (GBM) data sets and projecting cancer candidate genes onto the network, we found that the majority of GBM candidate genes form a cluster and are closer than expected by chance, and the majority of GBM samples have sequence-altered genes in two network modules, one mainly comprising genes whose products are localized in the cytoplasm and plasma membrane, and another comprising gene products in the nucleus. Both modules are highly enriched in known oncogenes, tumor suppressors and genes involved in signal transduction. Similar network patterns were also found in breast, colorectal and pancreatic cancers.
Conclusions
We have built a highly reliable functional interaction network upon expert-curated pathways and applied this network to the analysis of two genome-wide GBM and several other cancer data sets. The network patterns revealed from our results suggest common mechanisms in the cancer biology. Our system should provide a foundation for a network or pathway-based analysis platform for cancer and other diseases.
Keywords
Gene Ontology
Network Module
Pathway Database
Average Short Path
Human Protein Reference Database
Background
High-throughput functional experiments, including genetic linkage/association studies, examinations of copy number variants in somatic and germline cells, and microarray expression experiments, typically generate multiple candidate genes, ranging from a handful to several thousands. These data sets are noisy and contain false positives in addition to genes that are truly involved in the biological process under study. An unsolved challenge is how to understand the functional significance of multi-gene data sets, extract true positive candidate genes, and tease out functional relationships among these genes with confidence for use in further experimental analysis.
Using biological pathways to interpret high-throughput data
One way to approach the above problem is to analyze the data from the perspective of biological pathways [1, 2]. A pathway is a set of biochemical events that drives a cellular process. For example, the transforming growth factor beta (TGFβ) pathway consists of a ligand receptor binding event that initiates a series of protein-protein interaction (PPI), protein degradation, protein phosphorylation, and protein-DNA binding events that transmit a regulatory signal and regulate proliferation, differentiation and migration [3]. In cancer, the TGFβ signaling network functions in complex ways to both suppress early tumor growth and promote late stage progression [4]. Some breast cancers [5–9] are thought to arise in part when components of the TGFβ pathway are deleted, thereby freeing the tissue from growth inhibition. The same type of cancer can arise via several different routes [2]. For example, tumors from two different patients might have deleted different components of the TGFβ pathway. Although the two tumors both share the loss of TGFβ growth inhibition, they may not share defects in a common gene or gene sets. However, a pathway-based analysis will resolve this confusing finding and point towards the etiology of the disease. By projecting the list of mutated, amplified or deleted genes onto biological pathways, one will find that a statistically unlikely subset of otherwise unrelated genes are closely clustered in 'reaction space'. Pathway-based analysis can thus provide important insights into the biology underlying disease etiology. One striking example of this approach is the finding of the 'exclusivity principle' in cancer: only one gene is generally mutated in one pathway in any single tumor [1].
Recently, several large-scale genome-wide screening projects have revealed common core signaling pathways in the etiology or progression of several cancer types [10–14], indicating the relevance of pathway-based analysis for the understanding of large scale disease data sets. Pathway-based analysis accomplishes at least two things: it marks the genes associated with the disease or other phenotype and separates them from innocent bystanders caught in the general instability of the malignant genome or other false positive hits [15]; and it identifies the biological pathways affected by the genes [16]. The latter outcome also places the high-throughput analysis results in an intellectual framework that can be more easily comprehended by the researcher. It connects his results to prior work from the literature, and allows him to propose hypotheses that can be tested by further experimental work.
Resources for pathway analysis
Pathway-based hypothesis generation has been the subject of great interest over the past few years [17]. It is the basis for several popular data analysis systems, including GOMiner [18, 19], Gene Set Enrichment Analysis [20], Eu.Gene Analyzer [21], and several commercial tools (for example, Ingenuity Systems [22]).
Reactome [23] is an expert-curated, highly reliable knowledgebase of human biological pathways. Pathways in Reactome are described as a series of molecular events that transform one or more input physical entities into one or more output entities in catalyzed or regulated ways by other entities. Entities include small molecules, proteins, complexes, post-translationally modified proteins, and nucleic acid sequences. Each physical entity, whether it be a small molecule, a protein or a nucleic acid, is assigned a unique accession number and associated with a stable online database. This connects curated data in Reactome with online repositories of genome-scale data such as UniProt [24] and EntrezGenes [25], and makes it possible to unambiguously associate a position on the genome with a component of a pathway. A computable data model and highly reliable data sets make Reactome an ideal platform for a pathway-based data analysis system. However, since all data in Reactome is expert-curated and peer-reviewed to ensure high quality, the usage of Reactome as a platform for high-throughput data analysis suffers from a low coverage of human proteins. As of release 29 (June 2009), Reactome contains 4,181 human proteins, roughly 20% of total SwissProt proteins. Other curated pathway databases, including KEGG [26], Panther Pathways [27], and INOH [28], offer similarly low coverage of the genome.
In contrast to pathway databases, collections of pairwise relationships among proteins and genes offer much higher coverage. These include data sets of PPIs and gene co-expression derived from multiple high-throughput techniques such as yeast two-hybrid techniques, mass spectrometry pull down experiments, and DNA microarrays. These kinds of data sets are readily available from many public databases. For example, PPIs can be downloaded from BioGrid [29], the Database of Interacting Proteins [30], the Human Protein Reference Database (HPRD) [31], I2D [32], IntACT [33], and MINT [34], and expression data sets from the Stanford Microarray Database [35] and the Gene Expression Omnibus [36]. Protein or gene networks based on these pairwise relationships have been widely used in cancer and other disease data analysis with promising results [37–42].
Transforming pairwise interactions into probable functional interactions
A limitation of pairwise networks is that the presence of an interaction between two genes or proteins does not necessarily indicate a biologically functional relationship; for example, two proteins may physically interact in a yeast two-hybrid experiment without this signifying that such an interaction forms a part of a biologically meaningful pathway in the living organism. In addition, some pairwise interaction data sets may have high false positive rates [43, 44], which contribute noise to the system, and interfere with pathway-based analyses. For this reason, groups that make pathway-based inferences on high-throughput functional data sets inevitably draw on curated pathway projects to cleanse their data and to train their predictive models.
Our goal is to achieve the best of both worlds by combining high-coverage, unreliable pairwise data sets with low-coverage, highly reliable pathways to create a pathway-informed data analysis system for high-throughput data analysis. As the first step towards achieving this goal, we have created a functional interaction (FI) network that combines curated interactions from Reactome and other pathway databases, with uncurated pairwise relationships gleaned from physical PPIs in human and model organisms, gene co-expression data, protein domain-domain interactions, protein interactions generated from text mining, and GO annotations. Our approach uses a naïve Bayes classifier (NBC) to distinguish high-likelihood FIs from non-functional pairwise relationships as well as outright false positives.
In this report, we describe the procedures to construct this FI network (Figure
1
), and apply this network to the study of glioblastoma multiforme (GBM) and other cancer types by expanding a human curated GBM pathway using our FIs, projecting cancer candidate genes onto the FI network to reveal the patterns of the distribution of these genes in the network, and utilizing network clustering results on cancer samples to search for common mechanisms among many samples with different sequence-altered genes. Finally, we introduce a web-based user interface that gives researchers interactive access to the derived FIs.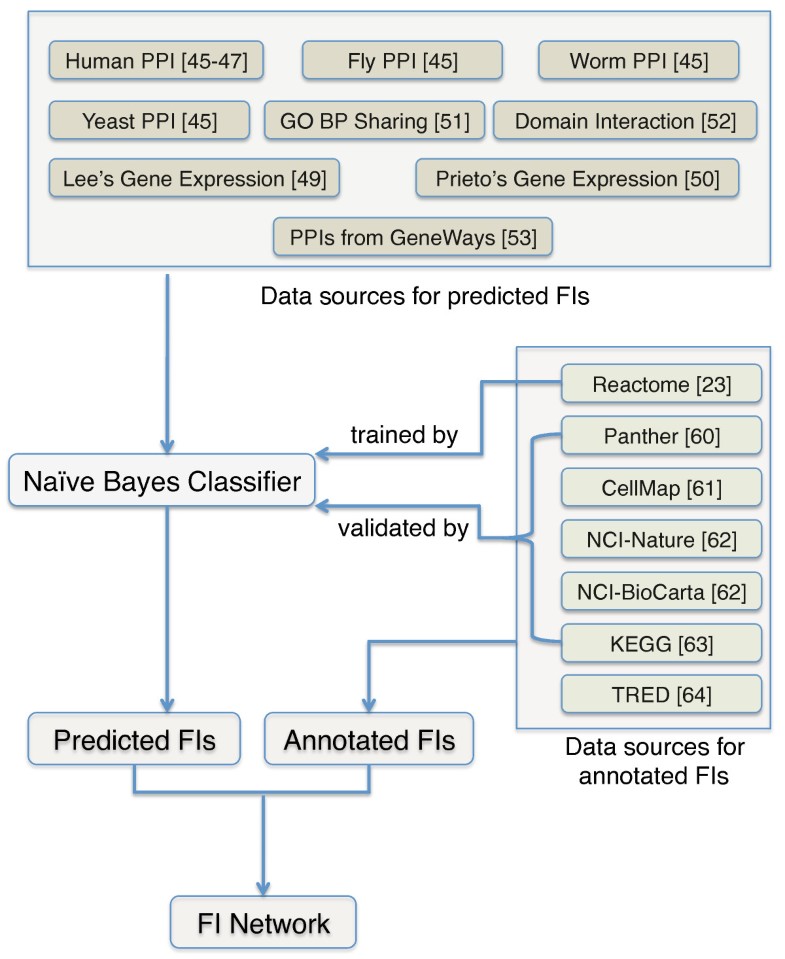 Discussion
Increasingly, human diseases and other traits are being probed by genome-wide screens. For example, several recent papers [10–14] describe genome-wide screening efforts to identify somatic mutations in several cancer types. Placing such lists of genes or proteins into a pathway context can yield information on the relationships among these genes and has the potential to generate hypotheses about the mechanism(s) linking these genes to phenotypes.
Reliable pathway databases are essential for such an analysis, but because of the effort needed to curate pathways is so human-intensive, even the largest pathway database has a SwissProt coverage of under 20% (Table 2). In this report, we describe how we have integrated several large-scale experimental data sets to build and train a machine-learning system that identifies potential 'functional interactions' among pairs of human proteins. We have combined the FIs predicted by this classifier with the curated pathways from Reactome and other pathway databases to create an extended database of FIs that covers nearly 50% of the human proteome. Our literature search for a small set of predicted FIs around a human curated GBM pathway [14] shows that our prediction has an accuracy around 78% (Table 4).
An essential step in building this extended FI network was the construction of a naïve Bayes classifier to predict FIs from a combination of physical PPI data and other noisy sources of information.
NBC is a simple, robust method that is usually the first to be tried in machine learning techniques. NBCs can frequently yield better results than more sophisticated techniques [80]. One requirement for a successful NBC is that the features used in the classifier be independent. In our NBC, we used human physical PPIs, protein-protein interologs from yeast, worm, and fly, two independent gene co-expression data sets, protein domain interactions, GO biological process annotations and PPIs generated from text mining. Human PPIs, protein interactions from other species, and gene-expression data sets were generated experimentally, and meet the requirement for independence. Many of the GO annotations and protein domain interactions are based on sequence similarities among proteins in different species. Hence, there is a potential dependency among these two data types and protein-protein interologs from yeast, worm and fly since they all rely on the same phylogenetic trees. Many human protein interactions in interaction databases we used (IntAct, BioGrid, and HPRD) are human curated from the literature. This literature may be used by the text mining technique to generate PPIs. But we feel both effects are likely to be small.
Many computational methods have been developed to generate biological pathways and networks based on DNA microarray or other similar data sets from scratch with promising results [81]. Most recently, Vaske et al. [82] developed a factor-graph-based method to expand known pathways using array data sets generated from perturbation experiments. Here we propose a new approach to expand a known human curated pathway by using FIs, with the example of the human curated GBM pathway. Compared to the computational approach, our method provides direct supporting evidence for expanded FIs from curated pathways (for curated FIs) and high reliability from multiple data sources (for predicted FIs). We are in the process of developing a software tool so human curators can make use of these FIs to expand known pathways for expedited curating.
By applying our FI network to two independent GBM data sets from whole-genome screening projects, we are struck by the finding that most genes with recurrent mutations (>70%; Table 6) co-cluster into a small corner of huge FI space. These clusters are highly enriched in classical signaling pathways as well as the cell cycle, in agreement with pathway analyses performed by the original authors of the studies. We are also able to identify extensive crosstalk among the pathways, which indicates the complexities in tumorigenesis. Furthermore, we show how the FI network can reveal overlaps - and possibly common mechanisms - between the two GBM studies. This suggests a scenario in which the two cancer whole-genome screening projects are sampling from a common core cancer pathway that can be revealed by FI network analysis.
Our result that most cancer candidate genes are clustered together is similar to what was reported by Cui et al. [83] based on a much smaller signaling interaction network generated from BioCarta [84] and CellMap [61], a small subset of our imported pathway databases. The reason why most cancer genes cluster closely together is still under investigation. The connection degree contributes to such clustering. However, the degree alone still cannot interpret the clustering based on our degree-based permutation test. We suspect that the major factor that governs the clustering is from FIs among cancer genes. A subset of cancer genes may form a small graph component via these FIs in the huge FI network. Such a small graph component may be used as a core to pull other cancer genes together to form a bigger cluster.
Lin et al. [85] investigated network patterns for breast and colorectal cancers using a similar but smaller data set [86], and predicted that over half of the mutated proteins (59 out of 83) in breast cancers participate in an interaction cluster, but only a very small percentage of mutated proteins in colorectal cancers form an interaction cluster, which contains 12 proteins. We used different network analysis approaches based on a larger and more reliable FI network. Our results uncovered network modules that have been mutated in the majority of cancer samples and show that most recurrently mutated genes form a network cluster that is more interconnected than would be expected by chance in both breast and colorectal cancers. The results from multiple cancer types imply that the patterns revealed in our study might be common in all cancer types.
Multiple sources of evidence show that tumorigenesis in human is a multi-step process and that genomes of tumors have sequence alterations at multiple sites [1]. Pathway analysis indicates that many pathways are mutated in cancer samples [2]. A striking finding from our study is that, for all cancer types examined so far, most samples have mutations involving a small number of discrete network modules. One of these modules typically corresponds to cell cycle regulation, DNA repair, and other nucleus-based processes, while another corresponds to signal transduction events in the plasma membrane and cytoplasm. This result suggests that the transformation from normal cells to malignant cells requires functional mutations in both nuclear and cytoplasm/plasma membrane-based pathways. However, our work also suggests that different cancer types have different network modules. A detailed network module based comparison analysis is likely to reveal different specific mechanisms in different cancer types.
A major motivation for this work was the desire to integrate information from multiple pathway databases in order to reduce the fragmentation of knowledge stored in these useful resources. Even with common data models such as BioPAX [87], this is not easy to accomplish due to different focus of interests among the pathway databases, and different standard operating procedures, which allow the same series of biological reactions to be described quite differently from one database to the next. By reducing the pathway databases into a series of pairwise FIs, however, we have been able to merge five of the major pathway databases into a single uniform data model, although much information about the distinct roles of each protein has been lost during the process. Much of our current and future effort will be devoted to developing methods to map the FIs back to their original pathway contexts in order to find causal and directional relationships among the proteins.
Conclusions
We have built a FI network that covers close to half of human gene products. This functional network, which interconnects with the curated pathways available from Reactome and other human curated pathway databases, forms the foundation for a pathway-based data analysis system for high-throughput data analysis. We have applied this system to the analysis of two genome-wide GBM data sets and data sets from other cancer types and revealed common network patterns in cancer related genes and samples, suggesting that there exists a core network in GBM tumorigenesis.
Abbreviations
CNV:

copy number variation
EGFR:

epidermal growth factor receptor
FI:

functional interaction
GBM:

glioblastoma multiforme
GO:

Gene Ontology
HPRD:

Human Protein Reference Database
NBC:

naïve Bayes classifier
PPI:

protein-protein interaction
TCGA:

The Cancer Genome Atlas
TGF:

transforming growth factor
TNC:

tenascin-C.
Declarations
Acknowledgements
The authors wish to thank the whole Reactome team: Ewan Birney, Michael Caudy, David Croft, Bernard de Bono, Peter D'Eustachio, Phani Garapati, Marc Gillespie, Gopal Gopinath, Jill Hemish, Henning Hermjakob, Bijay Jassal, Alex Kanapin, Suzanna Lewis, Shahana Mahajan, Lisa Matthews, Bruce May, Esther Schmidt, and Imre Vastrik. The data and data model from the Reactome project form the basis of this work. We thank Ethan Cerami of MSKCC for discussions on network module discovery that inspired our choice of the edge-betweenness algorithm [78]. We also wish to thank Paul Boutros, Irina Kalatskaya and Shannon McWeeney for their comments on the draft manuscript. We are also indebted to Rzhetsky's group, who provided us with the text-mined PPI data set, and to Zhang's group, who provided us with the TRED database. This work was supported by a NIH grant (P41 HG003751).
Authors' Affiliations
(1)
Ontario Institute for Cancer Research, MaRS Centre, South Tower, Toronto, Canada
(2)
Cold Spring Harbor Laboratory, Cold Spring Harbor, USA
(3)
Stony Brook University, Stony Brook, USA
Copyright
© Wu et al.; licensee BioMed Central Ltd. 2010
This article is published under license to BioMed Central Ltd. This is an open access article distributed under the terms of the Creative Commons Attribution License (http://creativecommons.org/licenses/by/2.0), which permits unrestricted use, distribution, and reproduction in any medium, provided the original work is properly cited.