The Cell Cycle Ontology: an application ontology for the representation and integrated analysis of the cell cycle process
Received: 20 December 2008
Accepted: 29 May 2009
Published: 29 May 2009
Abstract
The Cell Cycle Ontology (http://www.CellCycleOntology.org) is an application ontology that automatically captures and integrates detailed knowledge on the cell cycle process. Cell Cycle Ontology is enabled by semantic web technologies, and is accessible via the web for browsing, visualizing, advanced querying, and computational reasoning. Cell Cycle Ontology facilitates a detailed analysis of cell cycle-related molecular network components. Through querying and automated reasoning, it may provide new hypotheses to help steer a systems biology approach to biological network building.
Keywords
Gene Ontology
Resource Description Framework
Cell Cycle Protein
SPARQL Query
Query Pattern
Rationale
Molecular biology has spent the past two decades cataloguing genes, expression levels, proteins, molecular interactions and more. The combination of all these catalogues should enable a biologist to start building a comprehensive picture of a biological system rather than only looking at the individual components. The formation of representations of these components into a network that describes a biological system constitutes the first step in allowing a biologist to develop an understanding of the behavior of a system. If adequate kinetic and other parameters can be obtained or estimated, such models can be used for network simulations in a mathematical framework, making them particularly useful to study the emergent properties of such a system [1–5]. These models provide the basis for much of systems biology that is built on integrative data analysis and mathematical modeling [6–9]. In systems biology, dynamic simulations with a model of a biological process serve as a means to validate the model's architecture and parameters, and to provide hypotheses for new experiments.
Complementary to such model-dependent hypothesis generation, the field of computational reasoning promises to provide a powerful additional source of new hypotheses concerning biological network components. The integration of biological knowledge from various sources and the alignment of their representations into one common representation are recognized as critical steps toward hypothesis building [10, 11]. Such an integrated information resource is essential for exploration and exploitation by both humans and computers, as in the case of computers via automated reasoning [12].
Bio-ontologies
While it is easy to compare nucleic acid or polypeptide sequences from different bioinformatics resources, the biological knowledge contained in these resources is very difficult to compare as it is represented in a wide variety of lexical forms [13–15], and there are no tools that facilitate an easy comparison and integration of knowledge in this form. This is where ontologies can provide assistance.
Ontologies represent knowledge about a specific scientific domain, and support a consistent and unambiguous representation of entities within that domain. This knowledge can be integrated into a single model that holds these domain entities and their term labels, as well as their connecting relationships [16]. A well-known example of such an ontology is the Gene Ontology (GO) [17]. Therefore, an ontology links term labels to their interpretations, that is, specifications of their meanings, defined as a set of properties.
Ontologies not only provide the foundation for knowledge integration, but also the basis for advanced computational reasoning to validate hypotheses and make implicit knowledge explicit [18, 19]. Integrated knowledge founded on well-defined semantics provides a framework to enable computers to conceptually handle knowledge in a manner comparable to the handling of numerical data: it allows a computer to process expressed facts, look for patterns and make inferences, thereby extending human thinking about complex information. On a more technical level, computational reasoning services can also be used to check the consistency of such integrated knowledge, to re-engineer the design of parts of the entire ontology or to design entirely new extensions that comply with current knowledge [20].
Generally speaking, ontologies that model domain knowledge are developed through an iterative process of refinement, an approach common in the field of software engineering [21]. Ontology development has been pursued for many years, and while several methodologies have been proposed [22–29], none has been widely accepted. The Open Biomedical Ontology (OBO) project [30], however, aims to coordinate the development of bio-ontologies (for example, the GO and the Relation Ontology (RO) [31], among many others). The OBO foundry [32] has provided a set of principles to guide the development of ontologies. These ontologies have gained wide acceptance within the biomedical community [33] as a means for data annotation and integration and as a reference.
Biological information is known to be difficult to integrate and analyze [34]. One of the reasons for this is that biologists are inclined to invent new names and expressions for, for example, proteins and their functions that others have already named. This has led to high incidences of synonymy, homonymy and polysemy that plague biomedicine. Furthermore, biological knowledge is often not crisp, as evidenced by the widespread use of quantifiers such as 'often', 'usually' and 'sometimes'. Finally, the sheer volume and complexity of biological data and the diversity of representational formats provide profound challenges for efficient biomedical knowledge management. Altogether, this calls for a concerted effort of experts from the biomedical and computational sciences to organize and facilitate the integration and exploitation of rapidly accumulating biological information.
Application ontologies in the life sciences and their role in systems biology
Application ontologies define relevant concepts for a particular application or use [
35
]. They can be built by combining domain ontologies (or parts of domain ontologies) or serving as 'a reference', and they can be extended according to the needs of a particular application. Application ontologies are intended to be directly embedded into knowledge bases on which different applications can be run, such as data mining and hypothesis generation. Application ontologies can play an important role in exploiting the formalization of domain knowledge, thereby facilitating the integration of different types of information (for example, knowledge about biological processes and subcellular localizations, both parts of GO). Figure
1
shows a sample piece of knowledge composed of such integrated information. This schematic representation gives a minimal but context-linked notion of a specific protein and its environment of functional characteristics (for example, where it is located, in which processes it participates, and by which gene it is encoded).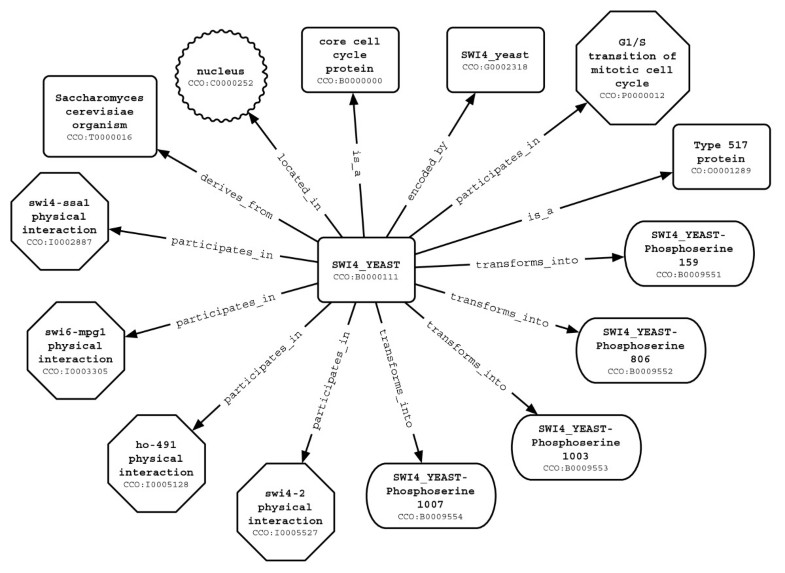 A successful application ontology may form the core of an efficient and effective management system. Such a system combines data extraction methods, data format conversions and a variety of information sources. To illustrate the potential use of application ontologies for the life sciences, we have designed and built a knowledge management system that facilitates the analysis of cell cycle control.
Why focus on the cell cycle process?
The eukaryotic cell cycle, or cell division cycle, is the series of events that happen between two consecutive cell divisions that underlie cell multiplication. The molecular events that control the cell cycle are ordered and directional; that is, each process occurs in a sequential fashion and it is impossible to reverse the cycle. The cell cycle control network is complex and is thought to include hundreds of proteins [36, 37].
Although the basic principles of cell cycle control are now well documented [38], we are far from having a complete understanding of all the intricacies of the underlying system. A deeper knowledge of the cell cycle control system is essential to the understanding of the growth and development of eukaryotic organisms. In turn, this is necessary in order to be able to combat numerous diseases in which cell cycle aberrations are involved, such as cancer.
Part of this knowledge has already been incorporated into dynamic system models that are being exploited to test, refine and generate hypothesis [39]. This holistic and integrative approach in biological research, also called systems biology, is gaining momentum [40, 41] and is leading to novel insights into cell machinery [37, 42, 43]. To further augment the cell cycle research with computational approaches, we have built the Cell Cycle Ontology (CCO), which integrates a wide variety of knowledge sources pertinent to the cell cycle.
Materials and methods
Data integration pipeline
CCO is built from scratch every three months, and only the identifiers are kept for consistency between releases. This automatic pipeline encompasses the typical life cycle of an integrated system: set-up, data integration and system maintenance. All the integrated information is cross-referenced to the original sources to ensure data provenance. The integration pipeline relies on the ability to programmatically manipulate ontologies, terms and relations, a functionality offered by ONTO-PERL [
57
]. The code of the pipeline is available as supplementary material [
119
]. The output of the pipeline is four species-specific ontologies, plus a composite ontology that integrates the species-specific ontologies via orthology relationships. Figure
6
depicts the system integration pipeline and the various phases of its development.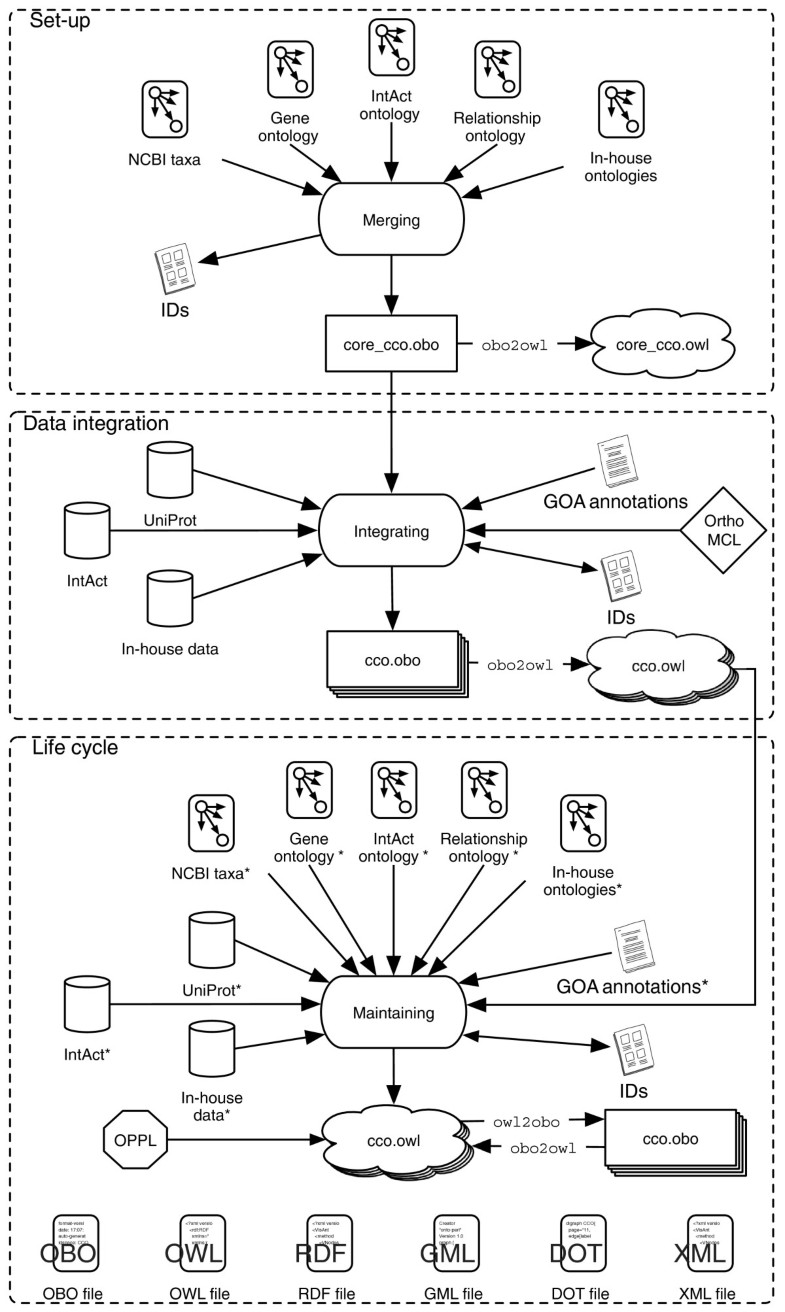 Availability
All the software and data of the CCO project are freely available, either upon request or through websites [112, 113] (both through CVS and SVN). An interactive SPARQL query interface is available at [73]. CCO can also be browsed, searched and visualized through the BioPortal at [52]. CCO is also available at The Ontology Lookup Service [110]. Comments and suggestions about CCO can be exchanged through a mailing list ccofriends@psb.ugent.be.
Abbreviations
CCO:

Cell Cycle Ontology
CVS:

Concurrent Versions System
DL:

Description Logics
GML:

Graph Modeling Language
GO:

Gene Ontology
GOA:

Gene Ontology Annotation
MI:

Molecular Interactions ontology
NCBI:

National Center for Biotechnology Information
OBO:

Open Biomedical Ontology
OBOF:

Open Biomedical Ontology Format
ODP:

ontology design pattern
OPPL:

Ontology Pre-Processor Language
OWA:

Open World Assumption
OWL:

Web Ontology Language
RDF:

Resource Description Framework
RO:

Relation Ontology
SVN:

Subversion
ULO:

upper level ontology
URI:

Uniform Resource Identifier
XML:

eXtensible Markup Language.
Declarations
Acknowledgements
We acknowledge Dany Cuyt, Alan Ruttenberg and the OpenLink Virtuoso community for their support while setting up the Virtuoso system for CCO; Jens Hollunder, Waclaw Kusnierczyk and Barry Smith for interesting and motivating discussions; Frederik Delaere and Luc Van Wiemeersch for their administrative support; Nirmala Seethappan, Kent Overholdt and Bjørn Lindi for their help in setting up CCO at NTNU; Nick Drummond for setting up the OWLDoc server; Martine De Cock for help with the manuscript; Bijan Parsia for useful hints while dealing with reasoning issues; Marta Acilu from NorayBio for her support in developing the DIAMONDS visualization platform; Steven Vercruysse for developing the initial graph visualization applet. This work was funded by the European Union's Sixth Research Framework Programme (LSHG-CT-2004-512143). ME was funded by the Engineering and Physical Sciences Research Council (EPSR) and the University of Manchester. VM was funded by FUGE Mid-Norway. WB and EA received funding from the European Science Foundation (ESF) for the activity entitled Frontiers of Functional Genomics.
Authors' Affiliations
(1)
Department of Plant Systems Biology, VIB, Gent, Belgium
(2)
Department of Molecular Genetics, Ghent University, Gent, Belgium
(3)
School of Computer Science, University of Manchester, Manchester, UK
(4)
Department of Applied Mathematics, Biometrics and Computer Science, Ghent University, Gent, Belgium
(5)
Noray Bioinformatics, Derio, Spain
(6)
Department of Biology, Norwegian University of Science and Technology, Trondheim, Norway
Copyright
© Antezana et al.; licensee BioMed Central Ltd. 2009
This article is published under license to BioMed Central Ltd. This is an open access article distributed under the terms of the Creative Commons Attribution License (http://creativecommons.org/licenses/by/2.0), which permits unrestricted use, distribution, and reproduction in any medium, provided the original work is properly cited.