A sequence-based survey of the complex structural organization of tumor genomes
Received: 9 October 2007
Accepted: 25 March 2008
Published: 25 March 2008
Abstract
Background
The genomes of many epithelial tumors exhibit extensive chromosomal rearrangements. All classes of genome rearrangements can be identified using end sequencing profiling, which relies on paired-end sequencing of cloned tumor genomes.
Results
In the present study brain, breast, ovary, and prostate tumors, along with three breast cancer cell lines, were surveyed using end sequencing profiling, yielding the largest available collection of sequence-ready tumor genome breakpoints and providing evidence that some rearrangements may be recurrent. Sequencing and fluorescence in situ hybridization confirmed translocations and complex tumor genome structures that include co-amplification and packaging of disparate genomic loci with associated molecular heterogeneity. Comparison of the tumor genomes suggests recurrent rearrangements. Some are likely to be novel structural polymorphisms, whereas others may be bona fide somatic rearrangements. A recurrent fusion transcript in breast tumors and a constitutional fusion transcript resulting from a segmental duplication were identified. Analysis of end sequences for single nucleotide polymorphisms revealed candidate somatic mutations and an elevated rate of novel single nucleotide polymorphisms in an ovarian tumor.
Conclusion
These results suggest that the genomes of many epithelial tumors may be far more dynamic and complex than was previously appreciated and that genomic fusions, including fusion transcripts and proteins, may be common, possibly yielding tumor-specific biomarkers and therapeutic targets.
Keywords
Breast Cancer Cell Line
Additional Data File
Fusion Transcript
Candidate SNPs
Tumor Genome
Background
Cancer is driven by selection for certain somatic mutations, including both point mutations and large-scale rearrangements of the genome; thus, the genomes of most human solid tumors are substantially diverged from the host genome. Many copy number aberrations have been shown to be recurrent across multiple cancer samples. These recurrent copy number aberrations frequently contain oncogenes and tumor suppressor genes, and are associated with tumor progression, clinical course, or response to therapy [1]. Moreover, it is now possible to alter the clinical course of breast cancer by the therapeutic targeting of amplified ERBB2 oncoprotein [2].
Structural rearrangements, particularly translocations, are frequently observed in solid and hematopoietic tumors. In hematopoietic malignancies the importance of translocations is well established, but their biologic and clinical significance in solid tumors remains largely enigmatic because of technical difficulties and complex karyotypes that defy interpretation. Recently, a bioinformatics approach identified recurrent translocations in about 50% of prostate tumors [3]. This discovery of recurrent translocations in prostate tumors is important because it demonstrates their presence in a common solid tumor and may make possible development of tumor-specific biomarkers and drug targets. Therapeutics such as imatinib (Gleevec, produced by Novartis Pharmaceuticals, East Hanover, NJ, USA), which are are directed toward tumor-specific molecules, may be more efficacious with fewer off-target effects than therapies aimed at molecules whose structures and/or expression are not tumor specific.
End sequencing profiling (ESP) is a technique that maps and clones all types of rearrangements while generating reagents for functional studies [
4
–
7
]. To perform ESP using bacterial artificial chromosomes (BACs), a BAC library is constructed from tumor DNA, BACs are end sequenced, and the end sequences aligned to the reference human genome sequence (Figure
1
). Previous ESP analysis of the breast cancer cell line MCF7 revealed numerous rearrangements and evidence of co-amplification and co-localization of multiple noncontiguous loci [
6
,
7
]. Similarly complex tumor genome structures were recently identified in cell lines derived from breast, metastatic small cell lung, lung and neuroendocrine tumor using BAC end sequencing [
8
].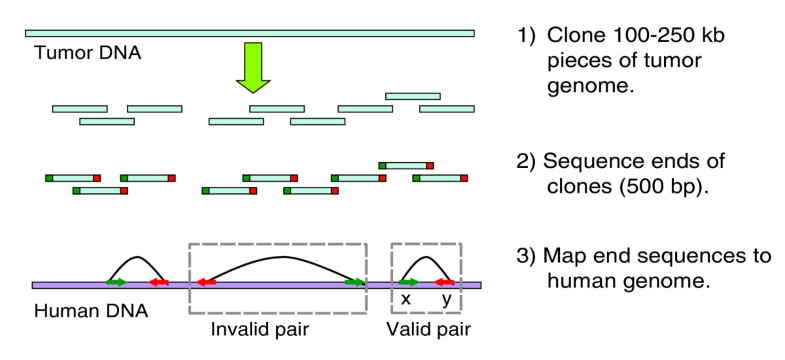 We performed ESP on the following: one sample each of primary tumors of brain, breast, and ovary; one metastatic prostate tumor; and two breast cancer cell lines, namely BT474 and SKBR3. Hundreds of rearrangements were identified in each sample, some of which may encode fusion genes. Fluorescence in situ hybridization (FISH) confirmed the presence of translocations predicted by ESP in BT474 and SKBR3 cells. Sequencing of 41 BAC clones from cell lines and primary tumors validated a total 90 rearrangement breakpoints. Mapping these breakpoints in multiple breakpoint spanning clones provided evidence of numerous genomic rearrangements that share similar but not identical breakpoints, a phenomenon analogous to the inter-patient variability of breakpoint locations in many fusion genes identified in haematopoietic cancers. Comparison of rearrangements shared across multiple tumors and/or cell lines suggests recurrent rearrangements, some of which confirm or suggest new germline structural variants, whereas others may be recurrent somatic variants. Analysis of single nucleotide polymorphisms (SNPs) in BAC end sequences revealed putative somatic mutations and suggests a higher mutation rate in the ovarian tumor.
ESP complements other strategies for tumor genome analysis including array comparative genomic hybridization (aCGH) and exon resequencing by providing structural information that is otherwise not available. New sequencing technologies [9] promise to decrease radically the cost of ESP and thus make it widely applicable for analysis of hundreds to thousands of tumor specimens at unprecedented resolution. The present study previews the discoveries of such future large-scale studies, examines some of the challenges these studies will face, and provides reagents (genomic clones) for further functional studies, particularly for cell lines that have proved useful as models for cancer research [10, 11].
Discussion
The importance ascribed to different types of genome aberrations in cancer is frequently directly coupled to the technology available to measure them; classic cytogenetics demonstrated the functional significance of translocations in tumors with simple karyotypes, whereas loss of heterozygosity, CGH, and array-CGH studies have led to an explosion of interest in recurrent copy-number aberrations. More recently, targeted [32, 35] and whole genome exon resequencing [31] has demonstrated the importance of coding mutations. The Cancer Genome Atlas project [36] promises to increase drastically the number of known coding somatic mutations. However, it is likely that structural rearrangements in tumor genomes are as important to tumor biology and the development of biomarkers and therapeutics as are coding point mutations [37, 38]. We have demonstrated that ESP provides direct access to the structural complexity of tumor genomes by identifying and cloning all classes of structural rearrangements, including fusion genes and their transcripts. ESP also proved to be a powerful tool for analysis of structural polymorphism present in the normal human genome [39, 40]. Moreover, identification of the HYDIN gene fusion by ESP reveals that duplicon-mediated genome rearrangements can result in expression of structurally novel genes. Using this approach, it is also possible to survey the spectrum of mutations and/or SNPs present in a tumor genome in an unbiased manner.
Many of the recurrent breakpoints that we identified arise from micro-rearrangements of less than 2 Mb (Figure 4). Although some of these rearrangements are likely to be novel structural polymorphisms, micro-rearrangements have also been observed in evolution [41, 42] and in some tumors [43]. Because micro-rearrangements are largely invisible to cytogenetic techniques, the collection of the breakpoints reported in this paper provides an excellent resource for future studies of the mechanisms, prevalence, and consequences of these micro-rearrangements in tumorigenesis.
Sequencing BAC clones identified by ESP was performed to localize and validate about 90 breakpoints in this and in a previous study [7]. To our knowledge, this is currently the largest collection of sequenced rearrangement breakpoints in cancer. Importantly, this collection can be easily extended as needed, because ESP also created the largest collection to date of hundreds of sequence-ready breakpoint-spanning BAC clones. Most breakpoint-spanning BAC clones, including all BAC clones sequenced from primary tumors, contain single breakpoints. However, in the three cell lines, 17 clones containing multiple breakpoints were identified and confirmed by PCR. These observations were supported by DNA fingerprinting (Marra M, personal communication) [21]. The observed differences between the primary tumors and cell lines may be due to genomic heterogeneity (and consequently lower sequence coverage) of tumor samples, differences in tumor type and/or stage, or intrinsic differences in genomic organization between cell lines and primary tumors. It will be informative to perform ESP on primary breast tumors with copy-number profiles very similar to those of the cell lines studied here [10, 11] and to establish the degree of the structural similarity of the samples with similar copy-number and expression profiles.
Our analyses of breakpoint junction sequences revealed that the overwhelming majority of identified rearrangements (96%) are consistent with aberrant NHEJ repair. This observation is consistent with the previously reported predominant role of nonhomologous recombination in generation of pathologic translocations [44] and in frequent rearrangements at chromosomal ends [45]. Although there are reports of associations between locations of cancer breakpoints and evolutionary breakpoints [46], ESP data did not reveal a significant association in our samples (data not shown).
We used sequenced breakpoints to refine the mapping of amplicon structures in MCF7 using PCR in seven independent BES clusters. This process identified breakpoint heterogeneity in five clusters (Figure 2 and Additional data file 2 [Figure S3]). One explanation for this phenomenon is variability in the location of breakpoints in multiple fusions of the same loci, analogous to the variability of breakpoints in fusion genes in hematopoietic malignancies. Alternatively, the heterogeneity might reflect early events present in a minority of cells in the population. To our knowledge, this is the first example of structural heterogeneity observed on a molecular level in tumor genomes.
Analysis of SNPs in BAC end sequences identified elevated rates of SNPs in each tumor sample compared with the normal sample, with the ovarian tumor exhibiting a rate significantly above the other samples. Although the ability to distinguish somatic mutations from sequencing errors or germline mutations is limited in the present study, there is no reason to suspect that these confounding factors vary enough between samples to explain the observed differences. The mutational spectra of SNPs in these samples share some features with those from exon resequencing studies [31, 32], but there are also many differences. These differences might be due to different mutational biases in coding regions, but further study is needed to support this hypothesis. Given that the BES arise from a genome-wide survey, it is not surprising that we identify few candidate mutations in coding regions. However, it is intriguing that even the relatively small numbers of putative mutations are enriched for zinc finger genes, including the known breast cancer oncogene ZNF217 [27, 47, 48].
Using ESP it is possible to reconstruct tumor genome structure and evolution [4–7]. ESP data from the three breast cancer cell lines identify clones that fuse noncontiguous amplified loci, possibly suggesting functional coupling of co-amplified genes. The discovery of recurrent breakpoints and regularly spaced breakpoints in the cell-line data could be a molecular signature of breakage/fusion/bridge (B/F/B) cycles [7]. In some cases, ESP data suggest a specific temporal progression in which amplification follows translocations or deletions. For example, a cluster of 19 clones span a 17;20 translocation in MCF7. This coverage is highly unlikely (P < 10-20) for a nonamplified locus, and PCR mapping confirmed identical breakpoints in these clones. The most parsimonious explanation is that the translocation preceded the amplification. In a second example, a cluster of six BT474 clones spans a deletion. Once again the simplest explanation is that the deletion preceded amplification of the surrounding locus, because a cluster of size six clones is highly unlikely (P ≈ 10-5) in a nonamplified locus. Interestingly, this deletion may truncate the THRA1 gene, as reported by Futreal and coworkers [25], and fuse it to the SCAP1 gene. Amplification of a breakpoint might occur because the fused genomic region encodes a fusion gene that confers a selective growth advantage. Alternatively, amplification might be a random byproduct of genomic instability near the rearrangement breakpoint. Regardless, the breakpoint information is valuable for determining the temporal evolution of tumor genome organization.
The identification of TMPRSS2 translocations in about 50% of prostate tumors [3] underscores the significance of structural rearrangements in solid tumors. Although our prostate sample does not contain the TMPRSS2 translocation (Rubin M, personal communication), ESP mapping and breakpoint sequencing provide numerous examples of possible gene fusions, including the previously published BCAS4/3 fusion in MCF7. Moreover, integration of public EST data with ESP data demonstrates that this approach can identify fusion transcripts en masse. We identified a fusion transcript that results from an evolutionarily recent rearrangement of the normal genome and obtained evidence for the first recurrent fusion transcript in breast cancer. In this study the clonal coverage of tumor genomes ranged from only 0.15-fold to 0.7-fold redundancy. It is probable that many additional gene fusions will be identified upon deeper paired end analysis of both normal and tumor genomes and transcriptomes.
The extension of ESP to multiple tumor types demonstrates that its application is not restricted to specific tumor types and that ESP functions well even with small tumor specimens. This is important because advances in diagnostics have resulted in a reduction in the average volume of many surgically excised tumors. For example, the average size of breast tumors excised before 1985 was 25 mm, whereas after 1985 it decreased to 21 mm [49], a 1.6-fold decrease in the volume of excised breast tumors. Moreover, tumor heterogeneity and normal cell admixture necessitates dissection further reducing subsequent yields of tumor cell DNA. Finally, clinically annotated tumor specimens are an extremely valuable resource and should be used as sparingly as possible. Therefore, it is significant that we were able to construct a tumor BAC library from less than 20 mg of a frozen and partially necrotic tumor (B421).
DNA yields from the tumors suggest that libraries comprised of 200,000 to 400,000 clones are possible, meaning that the genomes of these tumors can be immortalized and made widely available. This study demonstrates the utility of ESP for whole genome screening of SNPs/mutations. The immortalization of the tumor genome in a clone library is important, because some studies report underestimation of the mutation load because of heterogeneity in tumors [50], and overcoming this problem will require either development of the novel software or implementation of the novel sequencing technologies, allowing analysis of single DNA molecules [51]. Because clone libraries can be duplicated and their DNA pooled, it becomes feasible to perform large exon resequencing projects on small tumors, such as those of the breast and prostate. In addition, because BAC clones contain DNA from a single tumor cell, identification of rare SNPs/mutations in heterogeneous tumors is theoretically possible in a manner analogous to the identification of breakpoint heterogeneity in tumor amplicons reported here. Finally, the ability to rapidly identify sequence variants in DNA pools and to then recover the physical clone means that studies aimed at determining the biologic relevance of the variants are possible using established in vivo and in vitro systems.
ESP is less impeded by tumor heterogeneity or contamination by normal cells than is aCGH, because each end sequenced clone originates from a single DNA molecule from a single cell. Deep sequencing of many clones allows one to overcome normal tissue admixture and enables direct measurements of heterogeneity and detection of rare events. Eventually it will be possible to apply techniques from metagenomics [52] to study the heterogeneous pool of cells that are present in early stage tumors, with the goal of identifying the earliest informative biomarkers and therapeutic targets. At present, the relatively high cost of ESP limits its application to a small number of tumors, but advances in massively parallel sequencing technologies capable of paired-end sequencing (for review [9]) will permit large-scale ESP studies at a fraction of the current cost. However, much of the cost savings realized by the current crop of next generation sequencing technologies result from skipping the immortalization of the tumor genome as a clone library. Such cloning enables further sequencing of breakpoints and evaluation of their functional significance via in vitro and in vivo assays [7]. Combining ESP with such assays will enable tumor progression studies aimed at identification of events linked to initiation, progression, and metastasis. Thus, although the selection of a particular implementation of ESP will be driven by the cost/benefit analysis for the specific goals of the project, paired end sequencing approaches promise to revolutionize our understanding of the complex organization of the genomes of solid tumors.
Additional data files
The following additional data are available with the online version of this paper. Additional data file 1 contains supplemental text and tables, including a description of all supplemental tables. Additional data file 2 contains three supplemental figures. Additional data file 3 contains supplemental tables.
Abbreviations
aCGH:

array comparative genomic hybridization
BAC:

bacterial artificial chromosome
BES:

BAC end sequence
BLAT:

BLAST-like alignment tool
DAVID:

Database for Annotation, Visualization, and Integrated Discovery
DSB:

double strand break
ESP:

end sequencing profiling
EST:

expressed sequence tag
FISH:

fluorescence in situ hybridization
kb:

kilobase
Mb:

megabases
NCBI:

National Center for Biotechnology Information
NHEJ:

nonhomologous end joining
PCR:

polymerase chain reaction
RT:

reverse transcription
SKY:

spectral karyotyping
SNP:

single nucleotide polymorphism
UCSF:

University of California, San Francisco.
Declarations
Acknowledgements
The work in the CC laboratory was supported by the grants from the NIH/NCI (R33 CA103068), the Breast Cancer Research Program (8WB-0054), the Susan G Komen for the Cure Foundation (BCTR0601011), the Prostate Cancer Foundation, the Bay Area Breast Cancer Spore (CA5807), and a developmental research program award from UCSF brain tumor SPORE. BJR is supported by a Career Award at the Scientific Interface (CASI) from the Burroughs Wellcome Fund, and a fellowship from the Alfred P Sloan Foundation. The work in the BJT laboratory was supported by NIH RO1 GM057070. SJA is supported by a William R Hewlett Stanford Graduate Fellowship and a National Science Foundation Fellowship. RPB is supported by a Ruth L Kirschstein National Research Service Award - NIH Bioinformatics Training Grant number GM00806-06. KJP is supported by SPORE P50 CA69568. JWG is supported by the Director, Office of Science, Office of Basic Energy Sciences, of the US Department of Energy under Contract Number DE-AC02-05CH11231, by the USAMRMC BC 061995, and by the National Institutes of Health, National Cancer Institute grants P50 CA 58207, the P50 CA 83639, the P30 CA 82103, the U54 CA 112970, the U24 CA 126477 and the P01 CA 64602, the NHGRI U24 CA 126551, and by the SmithKline Beecham Corporation grant to JWG. The work in the J-FC laboratory was supported by National Heart, Lung, and Blood Institute, Programs for Genomic Applications Grant Number UO1HL66728. The work in the TR laboratory was supported in part by the Intramural Research Program of the NIH, National Cancer Institute, Center for Cancer Research.
Authors' Affiliations
(1)
Department of Computer Science & Center for Computational Molecular Biology, Brown University, Providence, USA
(2)
Cancer Research Institute, UCSF Comprehensive Cancer Center, San Francisco, USA
(3)
Chinese National Human Genome Center, North Yongchang Road, BDA, Beijing, P.R.C.
(4)
Shandong Provincial Hospital, Jinan, P.R.C.
(5)
Division of Human Biology, Fred Hutchinson Cancer Research Center, Seattle, USA
(6)
The University of Michigan, Departments of Internal Medicine and Urology, Ann Arbor, USA
(7)
MD Anderson Cancer Center, University of Texas, Houston, USA
(8)
Amplicon Express, NE Eastgate Blvd, Pullman, USA
(9)
BioMedical Informatics Program, Stanford University, Stanford, USA
(10)
Bioinformatics Program, University of California, San Diego, Gilman Drive, La Jolla, USA
(11)
Lawrence Berkeley National Laboratory, Life Sciences Division, Berkeley, USA
(12)
Lawrence Berkeley National Laboratory, Genomics Division and Joint Genome Institute, Berkeley, USA
(13)
BACPAC Resources Children's Hospital Oakland, Oakland, USA
(14)
Section of Cancer Genomics, Genetics Branch, Center for Cancer Research, South Drive, Bldg. 50, MSC-8010, National Cancer Institute, National Institutes of Health, Bethesda, USA
Copyright
© Raphael et al.; licensee BioMed Central Ltd. 2008
This article is published under license to BioMed Central Ltd. This is an open access article distributed under the terms of the Creative Commons Attribution License (http://creativecommons.org/licenses/by/2.0), which permits unrestricted use, distribution, and reproduction in any medium, provided the original work is properly cited.