Mutagenesis in rodents using the L1 retrotransposon
Genome Biology
2007
8(Suppl 1):S16
Published: 31 October 2007
Abstract
LINE1 (L1) retrotransposons are genetic elements that are present in all mammalian genomes. L1s are active in both humans and mice, and are capable of copying themselves and inserting the copy into a new genomic location. These de novo insertions occasionally result in disease. Endogenous L1 retrotransposons can be modified to increase their activity and mutagenic power in a variety of ways. Here we outline the advantages of using modified L1 retrotransposons for performing random mutagenesis in rodents and discuss several potential applications.
Keywords
Enhanced Green Fluorescent ProteinLong Terminal RepeatGene TrapLong Terminal Repeat RetrotransposonsHeterologous Promoter
Introduction
LINE1 (long interspersed nucleotide element 1 [L1]) elements are important genome modifiers, altering mammalian genomes in many ways. L1 elements have contributed to new gene formation by inserting their own coding sequences into genes, by shuffling other coding sequences through L1 mediated transduction, and by creating processed pseudogenes. They have created deletions both during their retrotransposition (by their mechanism of integration) and after insertion through unequal homologous recombination. They have affected gene expression by altering both transcription and translation of nearby genes. They have expanded the genome by their continued retrotransposition and by mediating retrotransposition of non-autonomous retrotransposons (for reviews [1–6]). L1s have also been a source of insertional mutagenesis, occasionally inserting into genes and disrupting their function. In this review, we discuss a practical application of L1 retrotransposons, namely harnessing their mutagenic power by modifying endogenous elements and using them to create mammalian animal models.
A full-length active L1 retrotransposon is approximately 6,000 nucleotides long and encodes the proteins necessary to mobilize itself to a new genomic location. The L1 retrotransposon moves by a 'copy and paste' mechanism, which means that the parent element remains in its original genetic location, and a copy (
de novo
insertion) is inserted somewhere else in the genome (as opposed to the 'cut and paste' mechanism of DNA transposons, in which the parent element is removed from its original genetic location and inserted somewhere else). An L1 element is transcribed into RNA and the bicistronic mRNA is exported from the nucleus to the cytoplasm, where it is translated into open reading frame (ORF)1 and ORF2 proteins. At least one L1 RNA molecule, one ORF2 molecule, and one or more ORF1 molecules may assemble into a ribonucleoprotein (RNP) complex. Then, both the ORF2 protein and associated L1 RNA must gain access to the nucleus, where the L1 RNA is reverse transcribed and integrated into a new genomic location by a process called target primed reverse transcription (TPRT; Figure
1
; for review [
6
]).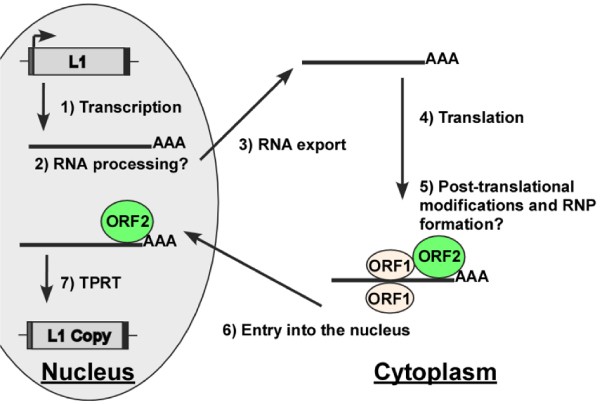 Advantages of using retrotransposons for performing random mutagenesis
Mouse mutagenesis using L1 retrotransposons
Germline mutagenesis
The first description of an endogenous L1 causing a disease in humans by insertional mutagenesis was reported in 1988. In that instance, an L1 had inserted into the gene encoding coagulation factor VIII, thereby causing hemophilia A [29]. Since that time, there have been more than 20 descriptions of disease causing de novo L1 insertions in humans and mice [2, 6]. It is not apparent whether these endogenous L1 insertions integrated directly into the germline during spermatogenesis or oogenesis, or whether they integrated early enough in development that they were later incorporated into the germ cells, where they were passed on to future generations. However, it is clear from the many instances of insertional mutagenesis by endogenous L1s and by the hundreds of thousands of L1 elements that have accumulated in mammalian genomes that at least some de novo insertions make their way into the germline and are stably transmitted to offspring.
Proof-of-principle for germline mutagenesis in the mouse using L1 retrotransposons was demonstrated in animals that contained a transgene consisting of a highly active human L1 element tagged with a modified version of an enhanced green fluorescent protein (EGFP) retrotransposition cassette [30]. Several lines of transgenic mice were created. In some lines the L1 element used its endogenous promoter for transcription, and in others the L1 was driven by the addition of a heterologous promoter. As expected, the endogenous L1 promoter was active in the germ cells. The addition of the heterologous promoter increased transcript levels in the germ cells and allowed for low levels of transcription in multiple somatic tissues. Mouse lines that contained either type of transgene demonstrated retrotransposition, detected by reverse transcription PCR and PCR of de novo insertions. Two germline insertions, one of which had inserted into a gene intron, were cloned from mice that had the heterologous promoter transgene. However, the transgenes in these initial mice did not contain gene traps and were not expected to disrupt genes when inserting into introns. The frequency of insertion was estimated at approximately one de novo insertion in every 70 sperm for mice with the heterologous promoter, and lower for mice containing the transgene that used only the endogenous promoter. More refined estimates using real-time PCR have demonstrated that some of these lines have germline insertion frequencies as high as one insertion in every 20 sperm.
Subsequent attempts at germline mutagenesis using L1 involved strategies to increase the frequency of retrotransposition, including the use of a more active human L1 element, a different heterologous promoter, and a more efficient retrotransposition cassette [13]. The highest reported frequency of germline transmission of de novo L1 insertions was estimated at one insertion in every three sperm [12]. These transgenic mice contained a codon optimized mouse L1 [31]. Although L1-based germline mutagenesis will probably play a role in the creation of a genome-wide collection of mouse knockouts, the existence of other already well established methods for creating germline mutations in mice (knockouts, knockins, and conditional mutations, among others) may limit its usefulness.
Somatic mutagenesis
L1 elements are also capable of somatic mutagenesis. However, little is known about the regulation, frequency, and relevance of such retrotransposition. Two examples of disease-causing somatic L1 insertions have been described in humans, one associated with a case of colon cancer and the other associated with a breast cancer. An L1 insertion into exon 16 of the APC tumor suppressor, predicted to be an inactivating mutation, was discovered in a human colon cancer and was not present in adjacent normal tissue [32, 33]. An L1 insertion between exons 2 and 3 at the myc locus was also identified in a ductal carcinoma of the breast, although the functional implication of this mutation was not determined [34]. These findings indicate that L1 elements are occasionally active in somatic tissue and are capable of driving carcinogenesis. However, the relative contribution to oncogenic transformation is largely unknown. Growing evidence that L1 elements become hypomethylated within cancers suggest that L1 expression may be reactivated in somatic tissue and that retrotransposition may play a significant role as an insertional mutagen, thereby contributing to genomic instability [35–39]. Whether global L1 hypomethylation augments L1 expression and retrotransposition requires more rigorous investigation.
Human and synthetic mouse L1 sequences have proven to retrotranspose in somatic tissue in transgenic mice [12, 13, 40]. In one transgenic model, a highly active human L1 element (L1RP) [41], which was tagged with an EGFP retrotransposition cassette [42] and was transcribed using its endogenous promoter, exhibited somatic retrotransposition within neuronal precursors [40]. However, it is not known whether retrotransposition from endogenous L1 elements occurs in neuronal precursor cells in mice or humans. In other transgenic mice, a native human L1 element (L1LRE3), tagged with a markerless retrotransposition cassette and driven by the mouse Hspa2 promoter, demonstrated somatic retrotransposition into sites throughout the genome, including transcriptional units, with 14.6% of insertions found within RefSeq genes [13]. A synthetic, codon optimized mouse L1 (ORFeus) tagged with an EGFP retrotransposition cassette and driven by the CAG promoter (a hybrid between the human cytomegalovirus immediate early promoter and chicken β-actin promoter) was also capable of a high level of somatic retrotransposition in transgenic mice [12]. Because both high level ubiquitous expression (with CAG) and codon optimization (ORFeus) would both probably enhance retrotransposition, the relative contributions of each of these factors in this transgenic mouse is unknown.
The most practical application of L1-based somatic mutagenesis in mice would be a screen for tumor suppressors and oncogenes. A tissue specific promoter could direct L1 mediated mutagenesis to a particular organ to drive the formation of different types of cancers. The incidence of loss of function mutations could be enhanced by tagging the L1 with a gene trap cassette containing strong splice acceptors. For some trapped tumor suppressors a loss of heterozygosity may be rate limiting for carcinogenesis, but could be expedited by using a Blm mutant background. Germline mutations in the RecQ-like helicase Blm causes a profound increase in sister chromatid exchange, which is mediated by homologous recombination, resulting in widespread cancer [43]. Blm inactivation causes accelerated loss of heterozygosity of the wild-type Apc allele in Apcmin/+ mice, causing nearly four times as many polyps [43]. Because Blm appears to repress cancer in multiple tissues, Blm mutants may be useful for somatic mutagenesis in many different cell types.
Rat mutagenesis
Without question, the mouse is and will continue to be an important animal model for performing functional genomics. However, there are circumstances in which mouse models are limited. The great majority of common human diseases remain un-modeled in the mouse. Published knockouts exist for approximately 10% of mouse genes. Although efforts are now underway to create publicly available genome-wide collections of mouse knockouts, it will take many years to achieve this goal, and it seems unlikely that every gene in the mouse will be amenable to disruption [44, 45]. Furthermore, there are many instances in which disrupting a gene in the mouse leads to no observable phenotype. Rat models are an alternative to mice that may enable the creation of new gene disruptions that are unavailable in the mouse, and that can complement existing transgenic mouse models. The evolutionary distance between rats and mice, some 12 to 24 million years [46, 47], is about the same as that between humans and new world monkeys [48]. Comparing mouse and rat models with known human diseases can allow the distinction between rodent specific phenotypes and those that may be general to all mammals.
In many applications the rat is a better animal model for human disease. Although mice have been the animal model of choice for most geneticists, the rat has traditionally been favored by physiologists and pathologists. Their larger size make rats more conducive to study by instrumentation, and facilitates manipulations such as blood sampling, studying nerve conduction, or performing surgery. In many ways, rats are physiologically more similar to humans than are mice. For example, rats have a heart rate similar to that of humans, whereas mice have a heart rate nearly ten times as fast [28]. Rats have been used as important models for human cardiovascular disease, diabetes, arthritis, and many other autoimmune and behavioral disorders [28]. Rat models are superior to mouse models for testing the pharmacodynamics and toxicity of potential therapeutic compounds, partially because the number and type of many of their detoxifying enzymes are very similar to those in humans [49].
Most techniques for genetic manipulation, including random mutagenesis with a gene trap (both retrovirus-based and non-retrovirus-based), gene knockouts, gene knockins, and conditional mutations, depend upon embryonic stem (ES) cells [50]. However, for unknown technical reasons, rat ES cells cannot be isolated and used to create a viable organism [51]. Consequently, many genetic manipulation techniques widely used in the mouse have not been possible in the rat. There are currently only two technologies that can be used to produce rat models of human disease: cloning and chemical mutagenesis using ENU. Although cloning could be used to create rats with specific genetic modifications, by first creating mutations in mitotic cells and then using the mutated cells to clone a rat, this approach is extremely inefficient. The first published attempt at cloning a rat had a success rate of less than 1% [52]. Alternatively, ENU mutagenesis is a common random mutagenesis gene knockout strategy in the mouse that can also be used in the rat. However, only a very small number of the total mutations created by ENU mutagenesis have an observable phenotype [53], and mapping mutations responsible for interesting phenotypes is typically difficult and time consuming.
There is a need for new techniques that can rapidly create and map gene knockouts in rats for the creation of new models of human disease. Mutagenesis using transposable elements is an attractive option. Indeed, a recent report demonstrated the feasibility of using SB for mutagenesis in rats [54]. We recently showed the feasibility of using L1 for mutagenesis in the rat (Sprague-Dawley strain) and demonstrated a high level of somatic retrotransposition with occasional germline transmission of de novo insertions (Kano H, Ostertag EM, Kazazian HH Jr, unpublished data).
Factors affecting the frequency and tissue specificity of retrotransposition
When designing an L1 mutagenesis system, it is important to consider the factors that will determine the frequency and tissue specificity of retrotransposition. The following are important considerations.
Conclusion
Endogenous L1 elements have caused both germline transmissible and somatic insertions in humans and mice. We and other groups have demonstrated that modified L1 elements can be used to perform random mutagenesis in mice or rats. Depending on the promoter used to drive transcription, either germline or somatic mutagenesis is feasible. Given the urgent need for rat models of human diseases and the limited methods for performing mutagenesis in rats, L1 based mutagenesis is an attractive option. When designing an L1 transgene for mutagenesis, it is important to consider the activity of the retrotransposon, the type of retrotransposition cassette used to detect insertions, the strength and tissue specificity of the promoter used to drive transcription of the L1, and the genetic background of the animal model.
Declarations
Acknowledgements
This article has been published as part of Genome Biology Volume 8, Supplement 1, 2007: Transposons in vertebrate functional genomics. The full contents of the supplement are available online at http://genomebiology.com/supplements/8/S1.
Authors' Affiliations
(1)
Department of Genetics, Curie Blvd, University of Pennsylvania School of Medicine, Philadelphia, USA
(2)
Department of Pathology and Laboratory Medicine, Curie Blvd, University of Pennsylvania School of Medicine, Philadelphia, USA
Copyright
© BioMed Central Ltd 2007