Determinants of protein function revealed by combinatorial entropy optimization
Received: 18 July 2007
Accepted: 1 November 2007
Published: 01 November 2007
Abstract
We use a new algorithm (combinatorial entropy optimization [CEO]) to identify specificity residues and functional subfamilies in sets of proteins related by evolution. Specificity residues are conserved within a subfamily but differ between subfamilies, and they typically encode functional diversity. We obtain good agreement between predicted specificity residues and experimentally known functional residues in protein interfaces. Such predicted functional determinants are useful for interpreting the functional consequences of mutations in natural evolution and disease.
Keywords
Additional Data FileFunctional ConstraintResidue TypeInterface ResidueSpecificity Residue
Background
The diversity of biologic phenomena arises from the complexity and specificity of biomolecular interactions. Nucleic acid and protein polymers encode and express biologic information through the specific sequence of polymer units (residues). The sequences and corresponding molecular structures are under selective constraints in evolution. At specific sequence position, changes in sequence alter intermolecular communication and affect the phenotype and can lead to disease [1–6]. Detailed understanding (quantitative and predictive description) of how such molecular changes affect cellular and organismic function lies at the heart of molecular and systems biology. Our ability to predict the biologic and medical consequences of human genetic variation and to design therapeutic interventions can benefit hugely from such detailed understanding. We are therefore motivated to develop further our ability to identify functionally specific residues in protein molecules.
Identifying interaction sites on protein molecules is difficult, both experimentally and theoretically. Most proteins have complicated three-dimensional shapes with interaction sites that are composed of contributions from nonsequential residues. Even with the three-dimensional structure known, however, the sites of functionally important interactions may not be obvious. Mutational experiments to probe the contributions of individual residues to such interactions are expensive. Computational methods to simulate the interactions of biologic macromolecules in molecular detail do not yet have adequate power and accuracy. Fortunately, biologic evolution has recorded rich and highly specific information in genetic sequences. For proteins, this provides the opportunity to analyze conservation patterns in amino acid sequences and extract valuable information about specific protein-partner interactions. In particular, residues in protein active sites and protein binding sites are under sufficiently strong selective pressure to allow their identification from an analysis of protein family alignments.
In a sufficiently diverse family, globally conserved residues (residues conserved in most or all family members) are easily identified and are likely to be conserved as a result of strong selective constraints. A number of research groups have developed sophisticated methods to identify additional key residues that are involved in protein structure and function, especially residues that are strongly conserved within each subfamily but differ between subfamilies [7–18]. If subfamily specific conservation patterns were perfect, then these methods would probably yield identical lists of functional residues. However, real conservation patterns can be considerably more complicated for a variety of reasons, for instance because of superimposition of multiple evolutionary constraints involving several interactions partners. In addition, current sequence collections are incomplete, for example with respect to species representation, and particular protein families are often not evenly sampled. Finally, results depend on the level of subfamily granularity (the number of subfamilies defined in a given protein family). Consequently, the extraction of biologically relevant conservation signals from multiple sequence alignments remains a challenging problem.
We present a new algorithm with which to solve the combinatorial complex problem of identifying specificity residues and, simultaneously, the corresponding optimal division into subfamilies. In our approach, called combinatorial entropy optimization (CEO), we optimize a conservation contrast function over different assignments (clusterings) of proteins to subfamilies. Hierarchical clustering [19] is used to explore the space of alternative clusterings over a diverse set of clustering trajectories to reach an optimum. Given an optimal clustering, individual residue positions (columns) vary considerably in the value of the combinatorial entropy. The distribution of column entropy values is a z-shaped curve and, reassuringly, is drastically different from the corresponding distribution for randomized alignments. Different entropy values are interpreted to reflect different residue-specific functional constraints, and residues with lowest entropy values are predicted to be functional.
We validate the method by comparing sets of predicted specificity residues with sets of experimentally known functional residues, such as interaction residues observed in three-dimensional macromolecular complexes, and we obtain good agreement between prediction and observation. Interestingly, the predictive power of the method goes beyond protein-protein interactions and is applicable to any functional constraint that conserves specific residue types in particular positions across all members of a protein subfamily.
The implementation of the method [
20
] takes a multiple sequence alignment as input and returns subfamilies and a set of specificity residues (Figure
1
). The computed subfamilies may be used, for example, to assign a likely function to new protein sequences or to choose maximally informative targets for structural genomics projects. The computed specificity residues may be used to design highly specific mutation experiments that test function with minimal side effects; to build sharper and more informative evolutionary trees that more accurately reflect functional relatedness; to predict interactions with proteins; and to estimate the functional consequences of genetic variation.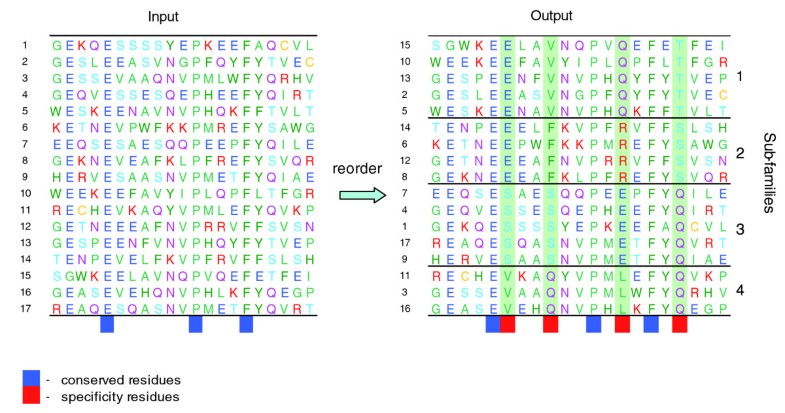 Discussion
Algorithmic innovation
The CEO algorithm is motivated by the observation that functional constraints in many cases give rise to a position-specific signature of amino acid residue types in protein sequences. Given a protein family alignment, the algorithm developed and tested here solves the challenging computational problem of detecting functional protein subfamilies and, at the same time, identifying a functional residue signature. This signature is a set of key residues (sequence positions) that vary characteristically between subfamilies but are conserved within each subfamily. The computational procedure ranks the key residues by their contribution to the optimal value of the contrast function, defined in terms of combinatorial entropy. One can use this residue ranking to prioritize further analysis and design experiments. The method also provides a signal-to-background criterion that is used to automatically classify all residues into three broad classes: specificity residues, conserved residues, and 'neutral' residues.
Alternative solution to a complicated problem
As far as we know, the first algorithmic approaches to the problem of identification of specificity residues appeared in the mid-1990's, from the groups of Sander [7] and Cohen [8]. (See Background, above, for references to additional methods.) The current approach is sufficiently different from previous approaches to offer an alternative solution to this complicated problem. We cannot, however, claim superior performance relative to other approaches, because no 'gold standard' of experimentally determined specificity residues exists against which to validate different methods. In practice, we see a number of advantages relative to our own first approach, which was based on multivariate correspondence analysis, especially the automated definition of the resulting set of specificity residues and corresponding protein subfamilies, with granularity of subfamily division depending on a single adjustable parameter.
Method refinement and advanced use
The algorithm performs well in practice and has been tested in many protein families in consultation with domain experts. In the future, one interesting refinement of the algorithm would be a strict distinction between paralogous (same species) and orthologous (different species) variation, provided that enough sequences are available. We are also interested in applying the method to signal enhancement in the derivation of evolutionary trees by restricting phylogenetic analysis to the subset of functionally constrained residues. Our earlier work has demonstrated the way in which evolutionary trees of this type appear less noisy and potentially reach further back in evolutionary time [7]. In another interesting application, joint specificity analysis across two protein families of potential interaction partners may lead to successful prediction of matched residues sets that are involved in protein-protein interactions [7, 28]. The kernel of the CEO method may also be applicable to the analysis of gene expression patterns, patterns of gene copy number changes, and large-scale genotyping datasets. This may lead to the discovery of novel subtypes of tissues and samples, and to the derivation of characteristic genetic and molecular patterns corresponding to different developmental and disease phenotypes (Reva B, Antipin Y, Sander C, unpublished).
Conclusion
Our results and examples demonstrate that the method can be used to identify functionally important residues from sequence information alone, without the use of three-dimensional structure or experimental functional annotation. Multiple applications are possible. The ability to locate functional determinants will be useful for the identification of residues in active sites that determine binding specificity; for the prediction of binding sites of protein complexes with other proteins, NAs, or other biomolecules; for assessing the biologic or medical significance of nonsynonymous single nucleotide polymorphisms; and for planning sharply focused mutation experiments to explore protein function. A particularly valuable application may be the design of therapeutic compounds that are highly specific to one (or a select few) of a series of paralogous proteins.
The method is publicly accessible via a web server [20] hosted in the Computational Biology Center of Memorial Sloan Kettering Cancer Center.
Additional data files
The following additional data are available with the online version of this paper. Additional data file 1 is a table summarizing the results of a robustness analysis of the method, as described in the main text. Additional data file 2 is a table summarizing the results of optimal clustering of 126 GTPases of human Ras superfamily. Additional data file 3 is a tutorial section that explains the link between the common notion of probability entropy (information entropy) and the less well known formulation of combinatorial entropy.
Source code of the core method is available on request from the authors, subject to acceptance of a public domain license.
Abbreviations
CDK:

cyclin-dependent kinase
CEO:

combinatorial entropy optimization
NA:

nucleic acid
PDB:

Protein Data Bank
PFAM:

Protein Families.
Declarations
Acknowledgements
We thank two anonymous reviewers for challenging questions and comments. We thank Joanne Edington, Maureen Higgins, and Alex Lash for helpful suggestions and support, and Daniel Eisenbud for comparison of methods. This work was funded in part by the Alfred W Bressler Scholars Endowment Fund and by Atlantic Philanthropies.
Authors' Affiliations
(1)
Computational Biology Center, Memorial Sloan-Kettering Cancer Center, New York, USA
References
Hussain SP, Hofseth LJ, Harris CC: Tumor suppressor genes: at the crossroads of molecular carcinogenesis, molecular epidemiology and human risk assessment. Lung Cancer. 2001, S7-S15. 10.1016/S0169-5002(01)00339-7. Suppl 2Google Scholar
Heo WD, Meyer T: Switch-of-function mutants based on morphology classification of Ras superfamily small GTPases. Cell. 2003, 113: 315-328. 10.1016/S0092-8674(03)00315-5.PubMedView ArticleGoogle Scholar
Yang Z, Ro S, Rannala B: Likelihood models of somatic mutation and codon substitution in cancer genes. Genetics. 2003, 165: 695-705.PubMedPubMed CentralGoogle Scholar
Greenblatt MS, Beaudet JG, Gump JR, Godin KS, Trombley L, Koh J, Bond JP: Detailed computational study of p53 and p16: using evolutionary sequence analysis and disease-associated mutations to predict the functional consequences of allelic variants. Oncogene. 2003, 22: 1150-1163. 10.1038/sj.onc.1206101.PubMedView ArticleGoogle Scholar
Xi T, Jones IM, Mohrenweiser HW: Many amino acid substitution variants identified in DNA repair genes during human population screenings are predicted to impact protein function. Genomics. 2004, 83: 970-979. 10.1016/j.ygeno.2003.12.016.PubMedView ArticleGoogle Scholar
Buchholz TA, Weil MM, Ashorn CL, Strom EA, Sigurdson A, Bondy M, Chakraborty R, Cox JD, McNeese MD, Story MD: A Ser49Cys variant in the ataxia telangiectasia, mutated, gene that is more common in patients with breast carcinoma compared with population controls. Cancer. 2004, 100: 1345-1351. 10.1002/cncr.20133.PubMedView ArticleGoogle Scholar
Casari G, Sander C, Valencia A: A method to predict functional residues in proteins. Nat Struct Biol. 1995, 2: 171-178. 10.1038/nsb0295-171.PubMedView ArticleGoogle Scholar
Lichtarge O, Bourne HR, Cohen FE: An evolutionary trace method defines binding surfaces common to protein families. J Mol Biol. 1996, 257: 342-358. 10.1006/jmbi.1996.0167.PubMedView ArticleGoogle Scholar
Mihalek I, Res I, Lichtarge O: A family of evolution-entropy hybrid methods for ranking protein residues by importance. J Mol Biol. 2004, 336: 1265-1282. 10.1016/j.jmb.2003.12.078.PubMedView ArticleGoogle Scholar
Mirny LA, Shakhnovich EI: Universally conserved positions in protein folds: reading evolutionary signals about stability, folding kinetics and function. J Mol Biol. 1999, 291: 177-196. 10.1006/jmbi.1999.2911.PubMedView ArticleGoogle Scholar
Afonnikov DA, Oshchepkov DY, Kolchanov NA: Detection of conserved physico-chemical characteristics of proteins by analyzing clusters of positions with co-ordinated substitutions. Bioinformatics. 2001, 17: 1035-1046. 10.1093/bioinformatics/17.11.1035.PubMedView ArticleGoogle Scholar
Oliveira L, Paiva AC, Vriend G: Correlated mutation analyses on very large sequence families. Chembiochem. 2002, 3: 1010-1017. 10.1002/1439-7633(20021004)3:10<1010::AID-CBIC1010>3.0.CO;2-T.PubMedView ArticleGoogle Scholar
Goh CS, Cohen FE: Co-evolutionary analysis reveals insights into protein-protein interactions. J Mol Biol. 2002, 324: 177-192. 10.1016/S0022-2836(02)01038-0.PubMedView ArticleGoogle Scholar
Lockless SW, Ranganathan R: Evolutionarily conserved pathways of energetic connectivity in protein families. Science. 1999, 286: 295-299. 10.1126/science.286.5438.295.PubMedView ArticleGoogle Scholar
Suel GM, Lockless SW, Wall MA, Ranganathan R: Evolutionarily conserved networks of residues mediate allosteric communication in proteins. Nat Struct Biol. 2003, 10: 59-69. 10.1038/nsb881.PubMedView ArticleGoogle Scholar
Kalinina OV, Mironov AA, Gelfand MS, Rakhmaninova AB: Automated selection of positions determining functional specificity of proteins by comparative analysis of orthologous groups in protein families. Protein Sci. 2004, 13: 443-456. 10.1110/ps.03191704.PubMedPubMed CentralView ArticleGoogle Scholar
Donald JE, Shakhnovich EI: Predicting specificity-determining residues in two large eukaryotic transcription factor families. Nucleic Acids Res. 2005, 33: 4455-4465. 10.1093/nar/gki755.PubMedPubMed CentralView ArticleGoogle Scholar
Marttinen P, Corander J, Törönen P, Holm L: Bayesian search of functionally divergent protein subgroups and their function specific residues. Bioinformatics. 2006, 22: 2466-2474. 10.1093/bioinformatics/btl411.PubMedView ArticleGoogle Scholar
Everitt BS, Landau S, Leese M: Cluster Analysis. 2001, Arnold Publishers, Oxford University Press, US. ISBN 0340761199, 4Google Scholar
Predicts functional residues in a protein. Based on entropy analysis of a multiple sequence alignment. [http://proteinfunction.org]
Jaffe AB, Hall A: Rho GTPases: biochemistry and biology. Annu Rev Cell Dev Biol. 2005, 21: 247-269. 10.1146/annurev.cellbio.21.020604.150721.PubMedView ArticleGoogle Scholar
Hall BE, Yang SS, Boriack-Sjodin PA, Kuriyan J, Bar-Sagi D: Structure-based mutagenesis reveals distinct functions for Ras switch 1 and switch 2 in Sos-catalyzed guanine nucleotide exchange. J Biol Chem. 2001, 276: 27629-27637. 10.1074/jbc.M101727200.PubMedView ArticleGoogle Scholar
Li R, Zheng Y: Residues of the Rho family GTPases Rho and Cdc42 that specify sensitivity to Dbl-like guanine nucleotide exchange factors. J Biol Chem. 1997, 272: 4671-4679. 10.1074/jbc.272.8.4671.PubMedView ArticleGoogle Scholar
Elliot-Smith AE, Mott HR, Lowe PN, Laue ED, Owen D: Specificity determinants on Cdc42 for binding its effector protein ACK. Biochemistry. 2005, 44: 12373-12383. 10.1021/bi0506021.PubMedView ArticleGoogle Scholar
Karnoub AE, Symons M, Campbell SL, Der CJ: Molecular basis for Rho GTPase signaling specificity. Breast Cancer Res Treat. 2004, 84: 61-71. 10.1023/B:BREA.0000018427.84929.5c.PubMedView ArticleGoogle Scholar
Stenmark H, Valencia A, Martinez O, Ullrich O, Goud B, Zerial M: Distinct structural elements of rab5 define its functional specificity. EMBO J. 1994, 13: 575-583.PubMedPubMed CentralGoogle Scholar
Murzin AG, Brenner SE, Hubbard T, Chothia C: SCOP: a structural classification of proteins database for the investigation of sequences and structures. J Mol Biol. 1995, 247: 536-540. 10.1006/jmbi.1995.0159.PubMedGoogle Scholar
Pazos F, Helmer-Citterich M, Ausiello G, Valencia A: Correlated mutations contain information about protein-protein interaction. J Mol Biol. 1997, 271: 511-523. 10.1006/jmbi.1997.1198.PubMedView ArticleGoogle Scholar
Landau LD, Lifshitz EM: Statistical Physics, part 1. 1996, Oxford, UK: Butterworth-Heinemann, 3Google Scholar
Press WH, Teukolsky SA, Vettering WT, Flannery BP: Numerical Recipes in C. 1992, Cambridge, UK: Cambridge University PressGoogle Scholar
Manning CD, Raghavan P, Schütze H: Introduction to Information Retrieval. 2007, Cambridge, UK: Cambridge University PressGoogle Scholar
Reva BA, Rykunov DS, Finkelstein AV, Skolnick J: Optimization of protein structure on lattices using a self-consistent field approach. J Comput Biol. 1998, 5: 531-538.PubMedView ArticleGoogle Scholar
Gough J, Karplus K, Hughey R, Chothia C: Assignment of homology to genome sequences using a library of Hidden Markov Models that represent all proteins of known structure. J Mol Biol. 2001, 313: 903-919. 10.1006/jmbi.2001.5080.PubMedView ArticleGoogle Scholar
Bateman A, Coin L, Durbin R, Finn RD, Hollich V, Griffiths-Jones S, Khanna A, Marshall M, Moxon S, Sonnhammer ELL, et al: The Pfam protein families database. Nucleic Acids Res. 2004, D138-D141. 10.1093/nar/gkh121. 32 DatabaseGoogle Scholar
Schneider R, Sander C: The HSSP database of protein structure-sequence alignments. Nucleic Acids Res. 1996, 24: 201-205. 10.1093/nar/24.1.201. Hanks S, Quinn AM: Protein kinase catalytic domain sequence database: identification of conserved features of primary structure and classification of family members.Methods Enzymol 1991, 200:38-62PubMedPubMed CentralView ArticleGoogle Scholar
Smith C, Shindyalov IN, Veretnik S, Gribskov M, Taylor S, Ten Eyck LF, Bourne PE: The Protein Kinase Resource. Trends Biochem Sci. 1997, 22: 444-446. 10.1016/S0968-0004(97)01131-6.PubMedView ArticleGoogle Scholar
Brown NP, Leroy C, Sander C: MView: a web compatible database search or multiple alignment viewer. Bioinformatics. 1998, 14: 380-381. 10.1093/bioinformatics/14.4.380.PubMedView ArticleGoogle Scholar
Hobohm U, Sander C: A sequence property approach to searching protein databases. J Mol Biol. 1995, 251: 390-399. 10.1006/jmbi.1995.0442.PubMedView ArticleGoogle Scholar
Sayle R, Bissell A: RasMol: a program for fast realistic rendering of molecular structures with shadows. Proceedings of the 10th Eurographics UK '92 Conference, University of Edinburgh, Scotland. 1992Google Scholar
Copyright
© Reva et al.; licensee BioMed Central Ltd. 2007
This article is published under license to BioMed Central Ltd. This is an open access article distributed under the terms of the Creative Commons Attribution License (http://creativecommons.org/licenses/by/2.0), which permits unrestricted use, distribution, and reproduction in any medium, provided the original work is properly cited.