Finding disease candidate genes by liquid association
Received: 16 April 2007
Accepted: 4 October 2007
Published: 04 October 2007
Abstract
A novel approach to finding candidate genes by using gene expression data through liquid association is developed and used to identify multiple sclerosis susceptibility candidate genes.
Keywords
Multiple Sclerosis
Multiple Sclerosis Patient
Myelin Basic Protein
Additional Data File
Experimental Allergic Encephalomyelitis
Background
Studies aiming to identify susceptibility genes in complex diseases have proceeded along two lines. The traditional candidate gene approach is limited by our ability to come up with a comprehensive list of biologically related genes. On the other hand, the 'hypothesis free' approach relies on genome-wide scans for disease loci, typically via linkage in exceptionally large families or via association in case control studies. Multiple sclerosis (MS), which is one of the most common neurologic disorders affecting young adults, is characterized by demyelination and reactive gliosis [1]. Analogous to many complex traits, genome scans in MS have identified numerous chromosomal loci often with only a nominal evidence for linkage to MS [2–6]. With the notable exception of the human leukocyte antigen (major histocompatibility complex [MHC]) locus on 6p21, evidence for specific MS genes emerging from these studies is still scanty. Thus far, the only associated non-HLA genes replicated in multiple populations are the PRKCA gene [7] and the recently reported IL2RA and IL7R genes [8]. For MS, as for most complex traits, the loci derived from linkage scans have remained quite wide because of multiple uncertainties concerning the disease model in statistical analyses. To expedite the process of gene identification in these wide DNA regions, we need novel approaches to identify potentially involved pathways and to prioritize genes on identified loci for further sequencing efforts.
Our idea is to turn to full genome functional studies for these goals. As illustrated in Figure
1
, our approach takes advantage of the availability of abundant microarray data and a wealth of genomic/proteomic knowledge base from the public domain. Our intention is to integrate information from both the candidate gene and the full genome scan (thus far mostly family-based linkage) approaches. In this report we use two previously reported MS susceptibility genes, identified in the same study sample [
7
,
9
], namely
MBP
and
PRKCA
, as the lead to probe microarray gene expression data for functionally associated genes. High score genes, identified by statistical data analysis, are followed up by an extensive literature search for their biologic relevance.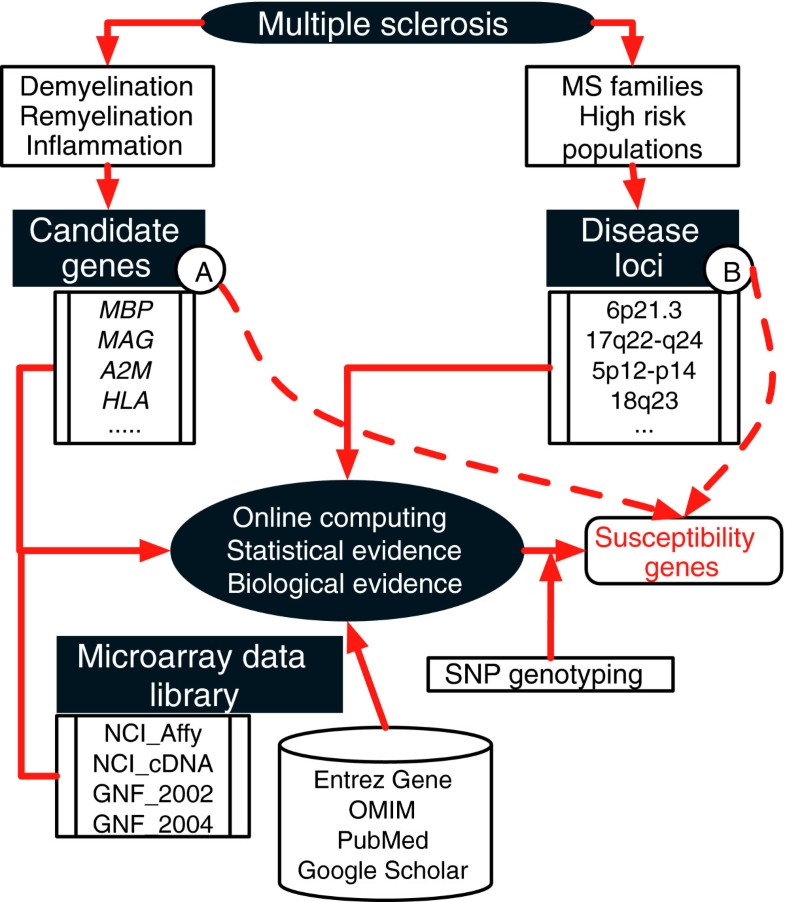 Four large expression datasets are employed in this study (see Materials and methods, below). The first two, namely NCI_cDNA and NCI_Affy, are expression profiles for US National Cancer Institute (NCI)'s 60 human cancer cell lines reported by two different research teams [10, 11]. The other two databases, GCN_2002 and GCN_2004, provide expression profiles for a diverse array of human tissues [12, 13]. Together, they offer a glimpse into transcript regulation under a wide spectrum of physiologic conditions.
In addition to the conventional similarity study, we utilized a new computational tool, termed liquid association (LA) [14–16]. The power of the LA method in identifying elements of biologic pathways has been demonstrated by its use to identify correctly genes that are involved in the urea cycle [14]. In conventional similarity analysis, we tend to rely on the correlation corr(X,Y), which measures the degree of co-expression between two genes X and Y. Genes with high correlations are likely to be functionally associated. The encoded proteins may participate in the same pathway, form a common structural complex, or be regulated by the same mechanism. However, not all functionally associated genes are co-expressed; indeed, the majority of them are not. One conceivable reason for this is that gene expression can be sensitive to the often varying cellular state, such as presence or absence of hormones, metabolites, ion homeostasis, and so on. Two genes X and Y that are engaged in a common process under some conditions may disengage and embark on activities of their own as the cellular state changes. Consequently, two functionally related genes with a positive correlation in expression may become uncorrelated or even negatively correlated as the relevant state variable changes. If we could characterize the mediating state variable, then we might be able to detect the correlation by controlling the state variable.
Finding the mediating state variable is by no means simple. LA is a statistical device introduced for this purpose. The method is based on the assumption that the state variable is correlated with the expression of a third gene Z. If this is the case, then we may use Z to detect such a 'liquid' (as opposed to 'solid') pattern of statistical association between X and Y. Figure
2
illustrates how LA works. A liquid association score
LA
(
X
,
Y
|
Z
) can be computed using a simple statistical formula given in [
14
]. There are two ways of applying LA. For a given pair of X and Y, one can look for genes that may mediate X,Y co-expression by computing the LA score
LA
(
X
,
Y
|
Z
) for each gene Z in the genome and obtaining a genome-wide ranking. Alternatively, given one gene Z, we may ask which pairs of genes Z may mediate. With more computing effort, we can obtain
LA
(
X
,
Y
|
Z
) for every pair of genes X,Y and rank their scores in order to identify the most significant pairs. We have constructed a website to facilitate online searching for genes of interest. (See Additional data file 2 [Supplementary Text 1] for an illustrative application to the Alzheimer's hallmark gene
APP
[amyloid-β precursor protein].)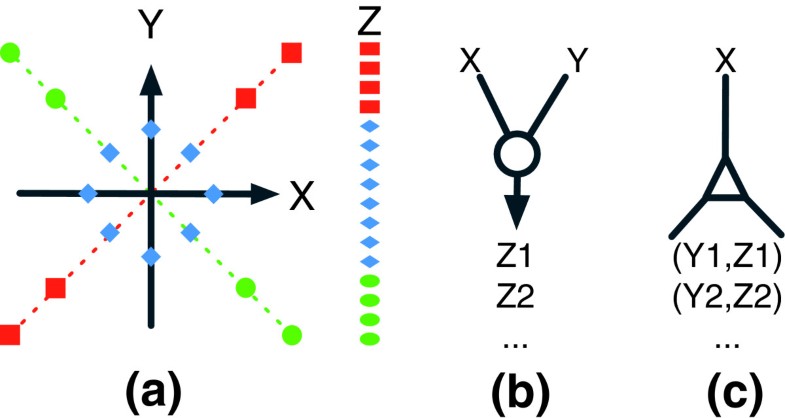 Discussion
We here introduce a novel bio-computational approach to identifying new candidate genes for genetic and functional studies of complex human traits. The initial result from the MS study is encouraging. We demonstrated that using only two genes, MBP and PRKCA, as the lead to probe for functionally associated genes, the LA method was successful in identifying a number of potential MS-related genes through subtle transcription co-regulation under a wide spectrum of cellular conditions. Additionally, when MBP and SLC1A3 were used as query genes in the LA analysis, the recently identified MS susceptibility gene IL7R was among the highest scoring, statistically significant genes.
LA allows the detection of gene co-regulation, which may only occur under specific cellular states. There is no need to specify the states, and this is one of the advantages of LA [14]. Furthermore, LA can be used in conjunction with traditional correlation analysis. An online computation system to conduct both LA and correlation analysis is available at our website [36]. This platform allows users to switch conveniently from one gene expression dataset to another. Those conducting research in other diseases can easily carry out analyses similar to that presented here with a few leading genes related to the disease of interest.
Glutamate-induced excitotoxicity
Although all of the putative genes identified using LA method must be confirmed with genetic association studies in multiple populations and eventually in targeted functional studies, the putative genes identified here are highly relevant to MS. Our transcript regulatory findings portray a coherent web of molecular evidence, which supports the glutamate-induced excitotoxicity hypothesis of MS. SLC1A3 is highly expressed in various brain regions including cerebellum, frontal cortex, basal ganglia, and hippocampus. It encodes a sodium-dependent glutamate/aspartate transporter 1 (GLAST). Glutamate and aspartate are excitatory neurotransmitters that have been implicated in a number of pathologies the nervous system. Glutamate concentration in cerebrospinal fluid rises in acute MS patients [37], whereas the glutamate antagonist amantadine reduces MS relapse rate [38]. In EAE, the levels of GLAST and GLT-1 (SLC1A2) have been reported to be downregulated in spinal cord at the peak of disease symptoms, and no recovery was observed after remission [39]. We consider it encouraging that several lines of evidence, including both genetic association and gene expression association, are consistent with the glutamate-induced excitotoxicity hypothesis, which states that glutamate-induced excitotoxicity results in demyelination and axonal damage in MS [40].
International multiple sclerosis Whole Genome Association study
The recent international MS Whole Genome Association scan [8] provided additional evidence supporting an association between MS susceptibility and SLC1A3. A major component of the study is the use of Affymetrix 500K to screen common genetic variants of 931 family trios. Using the online supplementary information provided by the International MS Genetics Consortium [8] we found two SNPs, namely rs4869676 (chromosome 5: 36641766) and rs4869675 (chromosome 5: 36636676), with TDT P values of 0.0221 and 0.00399, respectively, which are in the upstream regulatory region of the SLC1A3 gene. In fact, within the 1 Mb region of rs486975 there are a total 206 SNPs in the Affymetrix 500K chip. No other SNPs have P values less than that of rs486975. The next most significant SNPs in this region are rs1343692(chromosome 5: 35860930) and rs6897932 (chromosome 5: 35910332; the identified MS susceptibility SNP in the IL7R axon). The MS marker we identified, rs2562582 (chromosome 5: 36641117), less than 5 kilobases away from rs4869675, was not used in the Affymetrix chip.
Although the results reported here should be considered preliminary, we propose that the genes and networks identified should be targets for additional analyses of MS in different study populations.
Use of public gene expression data
One unique feature of our approach to finding candidate genes is the use of public domain gene expression databases, of which the original experiments were not designed to study our disease of interest. For example, the two NCI-60 cell line (a panel of 60 diverse human cancer cell lines) gene expression data have primarily been used to aid anticancer drug screening, not for the study of MS. With our promising initial findings, we expect our functional genomics approach to be applicable in the initial identification of involved molecular pathways in the pathogenesis of other complex diseases. Investigators may apply our LA method or bring in other computational methods to data mine the numerous free public gene expression databases, thus reducing the time and expense associated with disease gene identification.
Abbreviations
CEPH:

Centre d'Etude du Polymorphisme Humain
EAE:

experimental allergic encephalomyelitis
GLAST:

glutamate/aspartate transporter 1
HLA:

human leukocyte antigen
LA:

liquid association
Mb:

megabase
MHC:

major histocompatibility complex
MS:

multiple sclerosis
NCI:

National Cancer Institute
SNP:

single nucleotide polymorphism
TDT:

transmission disequilibrium test.
Declarations
Acknowledgements
Research conducted by Li, Yuan, and Wei is supported by NSF grants DMS0201005 and DMS0406091. Li and Yuan were also supported in part by MIB, Institute of Statistical Science, Academia Sinica and grant NSC95-3114-P-002-005-Y. The research conducted by Palotie, Bronnikov, Chen, Wei, Choi, Saarela, and Peltonen is supported by NIH grant RO1 NS 43559, grants from Sigrid Juselius Foundation, Helsinki University Central Hospital Research Foundation and Center of Excellence of Disease Genetics of the Academy of Finland, and a grant from the National Multiple Sclerosis Society. We thank Sun Wei, Ching-Ti Liu, Yijing Shen, and Tun-Hsiang Yang for contributing to the LAP website development. Correspondence and requests for materials should be addressed to KL and LP. The authors are grateful to two anonymous referees for their insightful suggestions that greatly helped in improving the presentation.
Authors' Affiliations
(1)
Department of Statistics, UCLA, Los Angeles, USA
(2)
Institute of Statistical Science, Academia Sinica, Nankang, Taiwan
(3)
The Finnish Genome Center and Department of Clinical Chemistry, University of Helsinki, Haartmaninkatu, Finland
(4)
The Broad Institute of Harvard and MIT, Cambridge Center, Cambridge, USA
(5)
Department of Pathology and Laboratory Medicine, Gonda Researach Center, UCLA, Los Angeles, USA
(6)
Department of Human Genetics, UCLA, Los Angeles, USA
(7)
National Public Health Institute, Helsinki, Finland, Biomedicum Helsinki, Haartmaninkatu, Finland
(8)
Department of Medical Genetics, University of Helsinki, Biomedicum Helsinki, Haartmaninkatu, Finland
Copyright
© Li et al; licensee BioMed Central Ltd. 2007
This article is published under license to BioMed Central Ltd. This is an open access article distributed under the terms of the Creative Commons Attribution License (http://creativecommons.org/licenses/by/2.0), which permits unrestricted use, distribution, and reproduction in any medium, provided the original work is properly cited.