Identifying repeat domains in large genomes
Received: 13 June 2005
Accepted: 5 January 2006
Published: 31 January 2006
Abstract
We present a graph-based method for the analysis of repeat families in a repeat library. We build a repeat domain graph that decomposes a repeat library into repeat domains, short subsequences shared by multiple repeat families, and reveals the mosaic structure of repeat families. Our method recovers documented mosaic repeat structures and suggests additional putative ones. Our method is useful for elucidating the evolutionary history of repeats and annotating de novo generated repeat libraries.
Keywords
Additional Data File
Segmental Duplication
Pairwise Alignment
Repeat Domain
Biological Origin
Background
Repetitive elements form a major fraction of eukaryotic genomes. Though once dismissed as mere junk DNA, they are now recognized as "drivers of genome evolution" [1] whose evolutionary role can be "symbiotic (rather than parasitic)" [2]. Examples of potentially beneficial evolutionary events in which repetitive elements have been implicated include genome rearrangements [1], gene-rich segmental duplications [3], random drift to new biological function [4, 5] and increased rate of evolution during times of stress [6, 7]. For these and other reasons, the study of repeat elements and their evolution is now emerging as a key area in evolutionary biology.
Individual repeat elements can be grouped into repeat families, each defined by the consensus sequence of its diverged copies. Repeat family libraries, such as Repbase Update libraries [8, 9] and RepeatMasker libraries [10], contain consensus sequences of known repeat families. Repeat families often contain shared subsequences, which we call repeat domains. Repeat domains can occur more than once within the same repeat family; for example, the ubiquitous human Alu family is dimeric [11]. There are a number of cases of repeat families whose repeat domains are known to have different biological origins, for example, from repeat families with different modes of replication or from distinct retrovirus families. These repeat families and the domains they share are worthy of special attention, since they are assumed to result from interesting evolutionary events. We define a repeat family to be a composite repeat if it contains at least two repeat domains of different biological origin. Of course, discerning the biological origin of a repeat domain is a challenging endeavor. Nevertheless, human Repbase Update documents more than 10 repeat families as composite repeats, including the RICKSHA and Harlequin families. Many other composite repeats contain fragments from different retroviruses. Since composite repeats that contain only fragments of retroviral origin are probably products of retroviral recombinations, these are documented in Repbase Update as retroviral recombinations (see [12] for a review). Composite repeats are likely more than a mere curiosity: one composite repeat, SVA, is the third most active retrotransposon since the human/chimpanzee speciation [13]. An additional example is found in the eel where a composite SINE repeat family borrowed a repeat domain from a different LINE family; this borrowed domain was experimentally shown to greatly enhance the retrotransposition rate of the SINE family [14].
Shared repeat domains yield important insights into repeat evolution, in the same way that multidomain protein organization yields insights into protein evolution [15, 16]. However, while the study of protein domains is a well-established research area, the study of repeat domains is still in its infancy. Indeed, RepeatGluer [17] is the only existing algorithm for repeat domain analysis. While RepeatGluer shows promise as a tool for repeat domain analysis, it is computationally intractable for large genomes. For large genomes, we propose that instead of identifying repeat domains de novo from genomic sequence, we identify repeat domains by analyzing repeat family libraries that are obtained via other means.
The main challenge in the analysis of repeat domains is that repeat family consensus sequences typically form a complex mosaic of shared subsequences. This mosaic structure is reminiscent of the mosaic structure of segmental duplications in mammalian genomes [
18
] (H Tang, Z Jiang, EE Eichler, submitted). Standard sequence comparison tools are unable to capture mosaic structure. These tools reveal local similarities between different repeat families, but do not reveal the structure of shared repeat domains between different families. For example, although a dot plot of the sequences of the 11
Caenorhabditis elegans
and
C. briggsae
repeat families sharing repeat domains (Figure
1
) contains essentially all the information about these repeat families, it is not well-organized and leaves one puzzled about what the repeat domains are. Thus, identifying repeat domains is an important and unsolved problem.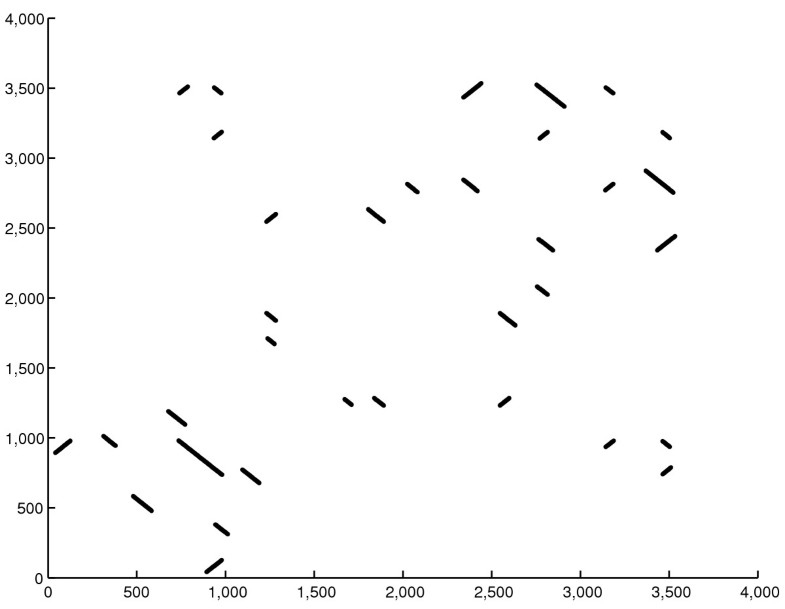 In this paper, we propose a new framework for analyzing a library of repeat families to identify the mosaic structure of its shared repeat domains. Our main idea is to represent a repeat library by a repeat domain graph that reveals all repeat domains as edges (lines linking between nodes) of the graph, and indicates the order(s) in which those domains appear in the corresponding repeat famili(es). For example, Figure
2
illustrates the domain structure of a selected subset of repeat families sharing repeat domains with the RICKSHA family, and the corresponding repeat domain graph. We describe a method to construct the repeat domain graph from a set of repeat sequences, and we demonstrate methods for analyzing the topology of the repeat domain graph that lead to hypotheses about repeat biology. We apply our method to single-species analyses of human and
C. elegans
repeat family libraries. Our method recovers documented composite repeats in Repbase Update [
8
,
9
] and suggests a number of additional putative shared repeat domains in human and
C. elegans
. In addition, we use our method to perform a cross-species comparative analysis of
C. elegans
and
C. briggsae
repeat libraries, and we find a putative ancient repeat domain shared between
C. elegans
and
C. briggsae
. We also demonstrate the application of our method in assisting annotation of repeat libraries that are generated
de novo
from genomic sequence. As numerous new genomes are sequenced and repeat family libraries are automatically constructed, the applications of our method will multiply.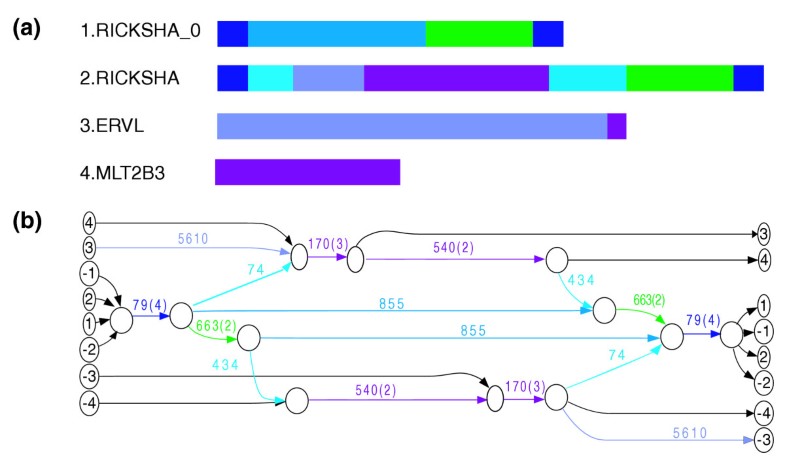 Results and discussion
Finding all repeat domains is a difficult problem, since repeat family consensus sequences can share subsequences with themselves (for example, Alu repeats) or with other repeat families (for example, the composite repeat families described above). Thus, we argue that the ideal method for comparing repeat families and identifying repeat domains should allow for both self-similarities and shared similarities that appear in different orders in different sequences. Such similarities are difficult to capture in traditional multiple alignments that either attempt to align sequences over their entire length (for example, global alignment) or show small conserved regions of similarity (for example, local alignment) with no information about the location of these regions in the original sequence. Recently, several software programs including the Partial Order Alignment (POA) program [19], Threaded Blockset Aligner (TBA) [20], and the A-Bruijn Aligner (ABA) [21] were developed to address these shortcomings. ABA seems particularly well-suited both to the alignment of repeat family consensus sequences and to the decomposition of a library of such consensus sequences into repeat domains since ABA was designed for the alignment of sequences with both repeated and shuffled segments. However, we found that ABA could not automatically generate a repeat domain graph from a repeat library because repeat libraries frequently contain a large number of diverged sequences, including palindromic sequences. Below we describe how to overcome these difficulties.
In addition, since a repeat library typically contains several hundred to several thousand sequences, and the annotation of repeats is typically incomplete, the analysis of a repeat domain graph is a nontrivial task. Below we show several examples illustrating how particular queries in the repeat domain graph can provide powerful systematic analysis of repeat families in a repeat library, how topology of the repeat domain graph can help in elucidating evolutionary history, and how to deal with contaminants, which are common in de novo generated repeat libraries.
Conclusion
The computational analysis of repeats is becoming increasingly important as additional full genome sequences become available, particularly of repeat rich mammalian and plant genomes. In particular, the problem of identifying shared repeat domains is critical to understanding repeat evolution. This paper describes the first algorithmic advance on automatic identification of repeat domains in large genomes. We have applied our method to single-species analysis of human and C. elegans repeat family libraries and cross-species analyses between C. elegans and C. briggsae libraries and between mouse and rat de novo libraries, illustrating the discovery of their mosaic repeat domain structure and revealing interesting clues about repeat evolution.
We have only begun to explore the uses of the repeat domain graph in understanding the relationships between different repeat sequences. We demonstrated that the repeat domain graph reveals known repeat domains of different biological origin. Additional candidates of such domains can be directly identified by signatures in the graph. Repeat families with shared domains that represent putative composite repeat families can be further analyzed to check if their repeat domains do in fact have different biological origins; the PILER algorithm [27], which achieves high specificity in distinguishing between different classes of repeat families, may aid this process. The repeat domain graph opens up additional topics for further research. The library of repeat domains obtained using our decomposition procedure removes all of the redundancy in the original repeat family library. One could build a repeat masking program based on the repeat domain graph and network matching. Repeat subfamily classification algorithms (for example, [31]) can be applied to individual repeat domains to further understand their evolution.
The increasing use of de novo repeat identification tools demands careful analysis of the resulting libraries. Our repeat domain graph overcomes certain imperfections found in automatically constructed repeat family libraries, and might prove useful for comparison of repeat libraries generated by different repeat identification tools. As numerous new genomes with high repeat contents, such as mammals and plants, are sequenced and repeat family libraries will be typically automatically constructed, we expect that the applications of our method will multiply.
Materials and methods
To understand the difficulty in applying the A-Bruijn graph to repeat analysis, we first review the basic concepts of A-Bruijn graph construction, first described in [17]. Briefly, given n sequences and a set of pairwise local alignments between them, we first model each sequence S = s 1. . .s k as a directed path on k vertices. A pairwise local alignment between sequence S i and S j gives the instruction to glue together the paths corresponding to S i and S j at every pair of matched positions in the alignment. The gluing procedure is transitive, that is, if vertex x is glued to vertex y and vertex y is glued to vertex z, then vertices x and z are also glued. Thus, the set of glues define single-linkage clusters of vertices. The A-Bruijn graph construction is completed by contracting all single-linkage clusters of vertices into nodes, and stretching each remaining chains of l nodes, each containing m vertices, into an edge of length l and multiplicity m. The resulting A-Bruijn graph can be viewed as an amalgamation of n paths: each path corresponds to an input sequence, and similar regions among multiple sequences are represented as edges of high multiplicity. If the inputs are DNA sequences, we take both the direct and reverse strands of each repeat consensus sequence as input. Thus, the A-Bruijn graph of n DNA sequences contains 2n sources and 2n sinks and is symmetric: for any edge representing the alignment of m segments, its complement edge in the graph represents the reverse complements of the m segments.
In practice, a major obstacle to building an A-Bruijn graph from a set of pairwise alignments is handling inconsistencies in the alignments. These inconsistencies appear as short cycles in the A-Bruijn graph complicating the identification of sequence domains. We define short cycles as cycles of edges with a total length shorter than a predefined parameter, girth. We classify short cycles in an A-Bruijn graph as whirls if all edges of the cycle are oriented the same way, or bulges otherwise. The existing method for A-Bruijn graph construction uses an 'apply-all-glues-then-simplify (AAGTS)' strategy. Basically, all glues, that is, pairs of positions that are aligned in one of the input pairwise alignments, are applied to construct an initial A-Bruijn graph (often full of short cycles), and then a series of graph operations are applied that remove bulges and whirls. In [17], for example, the bulge and whirl removal procedure gave an approximate solution to the Maximum Subgraph with Large Girth (MSLG) problem.
When investigating the A-Bruijn approach to the construction of a repeat domain graph, we found the direct application of existing A-Bruijn graph construction algorithms is problematic. The major technical challenge is the internal sequence repeats in repeat consensus sequences. Consensus sequences of repeat families typically contain tandem duplicated subsequences, and directed or inverted terminal repeats. Tandem repeats and directed repeats with repeating unit longer than
girth
are represented as cycles in the repeat domain graph, and those with repeating unit shorter than
girth
are handled by the whirl removal procedure. However, the pairwise alignments between repeat families containing similar repeating units can confound the existing procedure for whirl removal in the A-Bruijn graph. For example, when a tandem repeating unit is duplicated for a modest number
n
times in a repeat, a large number (up to
n
(
n
- 1)/2) of pairwise local alignments can be generated just by self-similarities in this repeat. Even worse, different copies of a tandem duplicated subsequence can have slight variations, which may result in an even larger number of inconsistencies among the set of pairwise local alignments, leading to huge whirl-bulge networks in the A-Bruijn graph. We found the existing whirl removal heuristic is insufficient in handling the complexity in the alignments of repeat consensus sequences in a repeat library. As a result, some similar regions among repeat families are obliterated during bulge/whirl removal and left unglued in the simplified graph. For example, three repeat families, Ce000444, Ce000069 and Ce000167, in the
C. elegans
RECON library [
23
] contain 2, 3, and 5 copies of some 48 bp long repeat domains. The alignments between these repeat families have extensive pairwise inconsistencies. When applying the existing bulge and whirl removal procedure to simplify the A-Bruijn graph (Figure
8a
) for the
C. elegans
repeat library, the resulting graph loses 312 pairs of gluing positions between Ce000444 and Ce000069 and the two repeat families are separated in two different connected components (Figure
8b
).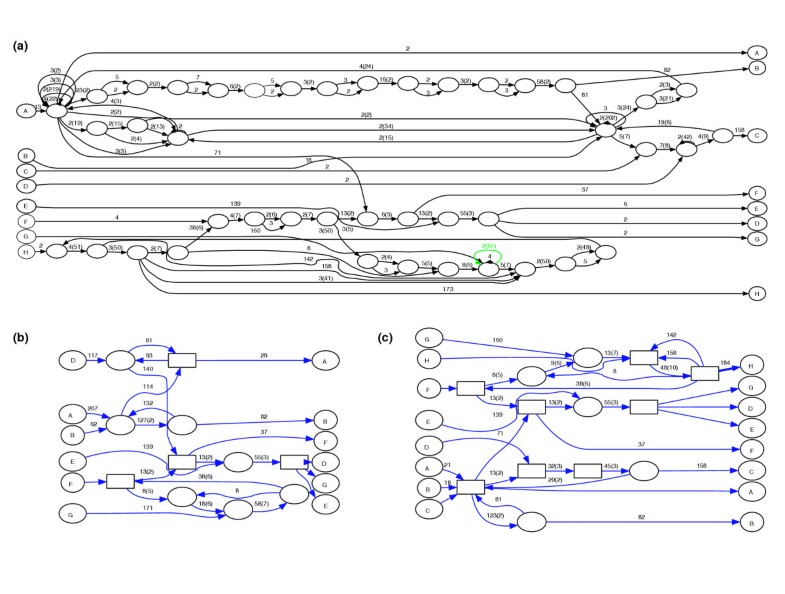 In order to handle such complex inconsistent glues in repeat libraries, we designed and implement a new strategy for filtration of glues. Instead of applying all glues as in the AAGTS approach, we apply the glues one by one and watch for the creation of potential whirls. Specifically, if a pair of positions (a, b) is about to create a whirl, that is, if position b is in a node n(b), and n(b) contains a position that is on the same sequence as position a and is less than girth away from position a, then the gluing pair (a, b) is discarded. This conservative gluing procedure prevents the formation of whirls during the A-Bruijn graph construction, and thus a later whirl removal procedure is no longer necessary.
We compare our new whirl-filtration procedure to the existing AAGTS procedure used by ABA by computing the fraction of gluing pairs in the input pairwise alignments that are present in the resulting repeat domain and ABA graphs. To measure the differences between the two methods, we compute the ratio of: the number of gluing pairs in the pairwise alignments that are input to each method; and the number of gluing pairs present in the resulting ABA or repeat domain graph. If there are no inconsistencies in the input alignments, this ratio is 1. If there are inconsistencies in the input alignments, the resulting graphs would have fewer alignment positions, since both methods resolve inconsistencies by removing some aligned positions. Thus, the ratio would be less than 1; however, the best possible ratio is not known. We compute the number of gluing pairs in the input and in the resulting graphs in the following way. Gluing pairs in the input may be redundant. For example, for three positions i, j, and k, if pairs (i, j), (j, k) and (i, k) are aligned in the input, then since pair (i, k) can be inferred from pairs (i, j) and (j, k) by transitivity, only pairs (i, j) and (j, k) are sufficient to define same set of gluing operations for constructing the graph. Thus, when we count the number of gluing pairs in the input, we only count nonredundant sets of position pairs; for example, if three positions are aligned transitively, we only count two pairs. In general, if n positions are aligned transitively, we only count n-1 pairs. To count the number of gluing pairs in the resulting graph, we count the number of positions along the edges with a multiplicity higher than 1. For an edge with multiplicity m and length l, we count the number of gluing pairs as l(m - 1). This count is corrected with consideration of over-counting of the positions at common vertices shared by multiple edges.
We find that the whirl-filtration method shows a definite improvement in retaining gluing pairs from the input alignments for the
de novo
derived repeat family libraries C.
elegans
RECON and human RepeatScout (Table
3
). Most prominently, for the
C. elegans
RECON library, the repeat domain graph produced by the whirl-filtration procedure retains 97.2% of the input gluing pairs while the graph produced by the AAGTS strategy retains only 89.4%; thus, the new procedure recovers 11,553 gluing pairs. In particular, the alignment between the repeat families Ce000444 and Ce000069 is now correctly represented in the repeat domain graph (Figure
8c,d
). Conceptually, the whirl-filtration strategy appears to throw away gluing pairs at the beginning and, therefore, should have produced a graph with fewer glued positions than the previous AAGTS strategy. The explanation for this seeming paradox is the failure of the aggressive whirl removal procedure in the AAGTS approach. In the case of the well-annotated human Repbase, there are fewer inconsistent pairwise alignments in the input, and thus the whirl-filtration and the AAGTS strategies give essentially the same results. Thus, we conclude that the whirl-filtration is more effective when the input alignments contain many inconsistencies, which is often the case for libraries constructed
de novo
from genome sequences.
Table 3
Comparison of the AAGTS and whirl-filtration strategies
Repeat Library

Number of non-redundant input POAP

Fraction of input POAP in graph

Difference in POAP

AAGTS

Whirl-filtration

C. elegans RECON

148,989

0.894

0.972

11,553

Human RpeatScout

378,080

0.981

0.994

4,898

Human RepBase

666,100

0.982

0.979

-2,446
The second complication in the construction of the repeat domain graph in repeat is the presence of palindromic sequences. The procedure for constructing an A-Bruijn graph of DNA sequences is designed to preserve the intrinsic symmetric structure of the entire graph. Thus, when gluing a pair of positions, the reverse complement pair of positions is also immediately glued. With palindromic sequences, the order of gluing needs to be coordinated carefully. The existing A-Bruijn construction algorithm did not consider palindromic sequences, and consequently we found that the direct application of the existing procedure often results in a repeat domain graph containing broken paths for a single sequence. We solve this problem by changing the A-Bruijn graph construction procedure so that all glues between positions from same strands are applied before those from opposite strands. Furthermore, we ensure the bulge removal procedure can correctly remove bulges contained in palindromic regions (see Additional data file 5 for details).
While the procedure for construction of the A-Bruin graph is independent of the particular local alignment method, in practice, the resulting repeat domain graph will vary with different input alignments. We determined that cross_match (P Green, unpublished) with the default scoring matrix and the gap penalties used by BLASTN is an effective tool for generating pairwise local alignment of repeat consensus sequences. In comparison, repeat domain graphs produced from alignments with BLASTN (using default parameters) were generally similar but typically contain more edges, thus artificially fragmenting repeat domains.
In all experiments, we selected local alignments with minimal length of 40 and minimal score of 30 (corresponding to BLAST E-value 1E-3) and input these into our method using default parameters with the minimal girth (-w) 40. We found that the topology of the repeat domain graph was similar when BLASTN was used to determine the input alignments (data not shown). However, we also observed the importance of filtering out low-complexity alignments, which both cross_match and BLASTN perform under their default options, but using different techniques. When low-complexity filtering was turned off in BLASTN with the '-F F' option, the repeat domain graph generally included larger connected components, reflecting the fact that more low-complexity regions were aligned into repeat domains.
We comment that although our method shares A-Bruijn graph framework with the RepeatGluer program [17], these programs have different goals. RepeatGluer is a de novo repeat family identification tool that attempts to identify all repeat families in an input genomic sequence. Unfortunately, it is currently not feasible to run RepeatGluer directly on long genomic sequences. Our approach takes an existing repeat family library as input and decomposes it into repeat domains.
We incorporated our new methods for A-Bruijn graph construction and simplification into a modified version of the ABA program, which is available at the ABA website [32]. The program can also be run online at [33]. Perl scripts used for analyzing the repeat domain graphs are available as Additional data file 6.
Additional data files
The following additional data are available with the online version of this paper. Additional data file 1 contains a set of browsable HTML files with a complete list of the connected components in the repeat domain graph of human Repbase. Additional data file 2 provides the full version of Table 1, listing repeat families containing domains shared with repeat families of different biological origins. Additional data file 3 is a figure showing a connected component containing three Y-forks in the human RepeatScout library repeat domain graph. Additional data file 4 provides an analysis of the comparative repeat domain graph from mouse and rat RepeatScout repeat libraries. Additional data file 5 shows an example of how palindromic sequences are handled by our revised algorithm. Additional data file 6 provides the repeat domain graph analysis software package
Declarations
Acknowledgements
We thank Arian Smit for sharing his expertise in repeat analysis. We are grateful to Evan Eichler for discussions on the mosaic structure of segmental duplications, and to Neil Jones for technical assistance. B.R. is supported by a Career Award at the Scientific Interface (CASI) from the Burroughs Wellcome Fund.
Authors' Affiliations
(1)
Bioinformatics Program, University of California, San Diego, USA
(2)
Department of Computer Science and Engineering, University of California, San Diego, USA
(3)
Department of Genetics, Harvard Medical School, Boston, USA
(4)
School of Informatics and Center for Genomics and Bioinformatics, Indiana University, Bloomington, USA
Copyright
© Zhi et al.; licensee BioMed Central Ltd. 2006
This article is published under license to BioMed Central Ltd. This is an open access article distributed under the terms of the Creative Commons Attribution License (http://creativecommons.org/licenses/by/2.0), which permits unrestricted use, distribution, and reproduction in any medium, provided the original work is properly cited.