A class of human exons with predicted distant branch points revealed by analysis of AG dinucleotide exclusion zones
Received: 26 July 2005
Accepted: 28 November 2005
Published: 13 January 2006
Abstract
Background
The three consensus elements at the 3' end of human introns - the branch point sequence, the polypyrimidine tract, and the 3' splice site AG dinucleotide - are usually closely spaced within the final 40 nucleotides of the intron. However, the branch point sequence and polypyrimidine tract of a few known alternatively spliced exons lie up to 400 nucleotides upstream of the 3' splice site. The extended regions between the distant branch points (dBPs) and their 3' splice site are marked by the absence of other AG dinucleotides. In many cases alternative splicing regulatory elements are located within this region.
Results
We have applied a simple algorithm, based on AG dinucleotide exclusion zones (AGEZ), to a large data set of verified human exons. We found a substantial number of exons with large AGEZs, which represent candidate dBP exons. We verified the importance of the predicted dBPs for splicing of some of these exons. This group of exons exhibits a higher than average prevalence of observed alternative splicing, and many of the exons are in genes with some human disease association.
Conclusion
The group of identified probable dBP exons are interesting first because they are likely to be alternatively spliced. Second, they are expected to be vulnerable to mutations within the entire extended AGEZ. Disruption of splicing of such exons, for example by mutations that lead to insertion of a new AG dinucleotide between the dBP and 3' splice site, could be readily understood even though the causative mutation might be remote from the conventional locations of splice site sequences.
Keywords
Alternative SpliceSplice SiteBranch PointAdditional Data FileAlternative Splice Event
Background
Pre-mRNA splicing is an essential step in eukaryotic gene expression as well as an important regulatory point via the process of alternative splicing [1–4]. Removal of introns and splicing together of exons is essential for the generation of functional mRNAs from pre-mRNAs. The importance of splicing is attested to by the observation that at least 15% of human genetic diseases are caused by mutations within the consensus sequence elements at the exon-intron boundaries, which are important for specifying the splice sites [5–7]. The 5' splice site consists of a nine-nucleotide consensus containing the invariant GU dinucleotide at the start of the intron. At the 3' end of the intron, usually within about 40 nucleotides upstream of the exon, there are three elements (in 5' to 3' order): a branch point sequence (BPS); a polypyrimidine tract (PPT); and the 3' splice site itself, which consists of the invariant AG dinucleotide at the end of the intron, usually preceded by a pyrimidine residue. Recognition of these consensus elements by various trans-acting protein and RNA splicing factors leads to assembly of the spliceosome, within which the two chemical steps of splicing occur [8]. In the first step the 2'-OH group of the branch point adenosine attacks the 5' splice site, leading to formation of the 5' exon and the intron lariat intermediates. In the second step, the 3'-OH of the 5' exon attacks the 3' splice site, leading to production of the spliced RNA and the excised intron, still in the lariat configuration.
Although the consensus splice site elements are essential, they are degenerate in many positions, and have insufficient information content to specify correctly the ends of long metazoan introns [8]. This deficit is partly addressed by the presence of auxiliary splicing enhancer sequences, commonly found within exons (exonic splicing enhancers), which activate splicing of adjacent splice sites [9, 10]. A number of RNA binding (for example [11]) and functional SELEX (selective evolution of ligands by exponential enrichment) experiments [12–14], as well as computational analyses [15, 16], have been used to identify various classes of exonic splicing enhancers (see Matlin and coworkers [3] for a discussion).
The conventional arrangement of elements within 40 nucleotides at the 3' ends of introns is not obligatory. A number of alternatively spliced exons have been characterized in which the BPS has been mapped 100-400 nucleotides from the 3' splice site [
17
–
21
] (Figure
1
), and artificial splicing substrates have also been created with this arrangement [
22
]. In some cases, these distant branch points (dBPs) are close enough to the upstream exon to promote mutually exclusive splicing [
19
,
20
]. In all cases that have been investigated, regulatory elements have been found to lie between the dBP and the exon [
20
,
21
,
23
–
26
]. These introns can be characterized as 'AG independent' in the sense that step 1 of splicing occurs without the need for the 3' splice site AG [
22
]. The 3' splice site is then located during step 2 of splicing by a linear search for the first AG dinucleotide downstream of the dBP [
27
–
29
]. Consequently, a hallmark of experimentally verified dBP exons is an extended region immediately upstream that is devoid of AG dinucleotides. We refer to this region as the 'AG exclusion zone' (AGEZ). In these verified cases the BPS and PPT are located toward the 5' end of the AGEZ, and upstream of the AGEZ AG dinucleotides appear to occur at a normal frequency (Figure
1
). Exceptions to the simple BPS to AG scanning model can occur when AG dinucleotides occur relatively close (<12-15 nucleotides) to the BPS and these can be bypassed, or when the 3' splice site has two or more closely spaced (<12 nucleotides) AGs, in which case the preceding nucleotide plays an important role in their competition [
28
,
30
].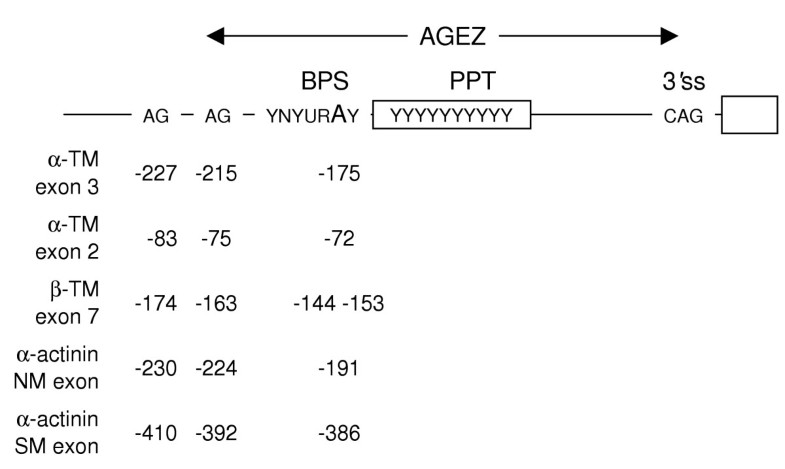 We devised a simple algorithm that can be used to locate putative dBPs. First, we define the AGEZ upstream of each exon by conducting a 3' to 5' search from the 3' splice site for the first upstream AG. In the small number of cases in which AG dinucleotides exist before -12, we ignore them and continue the search for the first AG beyond -12. We then search for probable candidate BPs in a region defined by the AGEZ but also including a further approximate 15 nucleotides upstream. This additional 15 nucleotides is also considered because AGs very close to the BPS can be bypassed by the spliceosome during step 2 of splicing [28, 30]. Candidate dBPs are identified by consensus sequence (see Materials and methods, below) and by the presence of an adjacent PPT, and are often close to the 5' end of the AGEZ. Here, we have applied this approach globally by classifying human exons according to the size of their AGEZ. We find that there is an excess of exons with large AGEZ, and that putative dBP exons exhibit a higher than average prevalence of alternative splicing.
Results
Analyzing introns for AG exclusion zones
We analyzed a set of 67,334 human exons from AltExtron (version 3; based on GenBank release 147) [
31
,
32
] for the size of dinucleotide exclusion zones upstream of their 3' splice site. When plotted as log(number of exons) versus log(size of EZ), the distribution of AGEZ values did not obviously exhibit a simple excess of high values compared with the curves for the other dinucleotides. However, frequencies of dinucleotide occurrence can be affected by many factors other than splicing. Notably, the general scarcity of CpG dinucleotides leads to very large CGEZs upstream of many exons (Figure
2
). We therefore compared the distributions of 'first' and 'second' exclusion zones upstream of exons (EZ
1
and EZ
2
, respectively). In the experimentally verified dBP exons, the distance between first and second AGs upstream of the 3' splice site is much shorter than between the 3' splice site and the first upstream AG (Figure
1
). Because scanning for the 3' splice site takes place downstream from dBPs, we expect a selective pressure against AG dinucleotides between dBPs and the 3' splice site, and conversely a general lack of selective pressure against AGs upstream of BPs. On this basis we expect the AGEZ
1
distribution to be biased toward higher values when compared with AGEZ
2
distributions. Although our method avoids potential problems that can arise due to heterogeneity in base composition dynamics between the gene sequences (by having one EZ
1
datum and a corresponding EZ
2
datum derived from each intron sequence, for each dinucleotide, under consideration), it remains a concern that heterogeneity in base composition within an intron could affect our analysis. The common location of the PPT immediately upstream of the 3' splice site is an obvious candidate for introducing this sort of bias. In order to control for this to some extent and for other methodological reasons (see Materials and methods, below), we present these distribution comparisons (Figure
2
) using modified definitions of the EZ
1
and EZ
2
(mod-EZ
1
and mod-EZ
2
), and having restricted the dataset to exclude introns of less than 350 nucleotides in length (see Materials and methods, below). Briefly, mod-EZ
1
is the distance from -25 (relative to the 3' splice site) to the first upstream occurrence of a particular dinucleotide. A further upstream shift of 25 nucleotides from the 5' end of the mod-EZ
1
is then carried out before commencing the search to define mod-EZ
2
.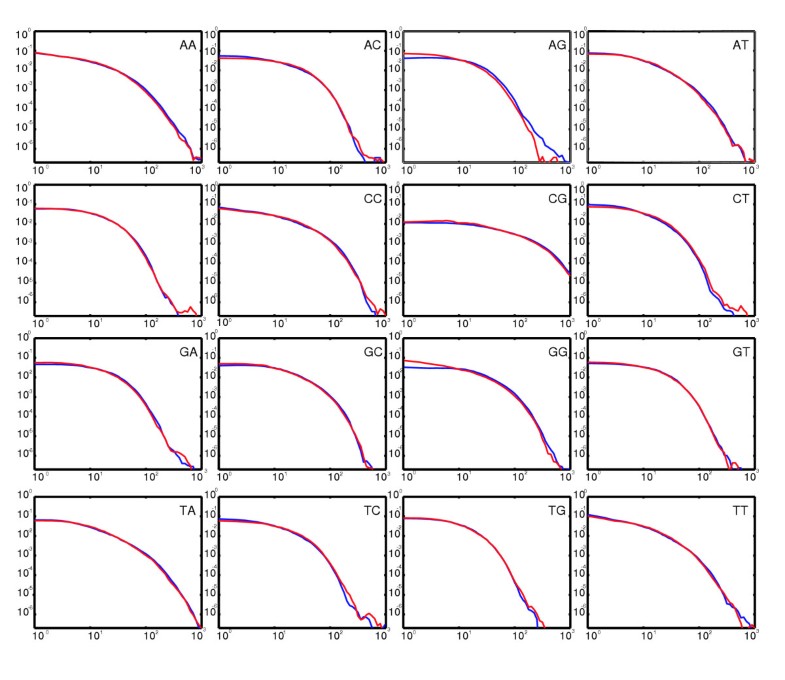 Comparison of the mod-EZ1 and mod-EZ2 profiles revealed the curves for each dinucleotide to be (visually) very similar in all cases except for AG (Figure 2; compare blue and red lines). For the AG dinucleotides there was a readily identifiable shoulder on the mod-EZ1 distribution at higher values (≥ 100 nucleotides) compared with the mod-EZ2 distribution. There are 279 mod-AGEZ1 exons at 100 nucleotides or greater compared with 148 for the mod-AGEZ2 curve, giving a χ2 value of 116 (P ≈ 0). This confirms the visual impression that the mod-AGEZ1 and mod-AGEZ2 distributions are significantly different. The excess of exons with large AGEZ1 represents a group of potential dBP exons. We note that some other dinucleotides also exhibit lesser but still statistically significant differences under equivalent analysis (in particular bias toward TC and CT in the mod-EZ1 region; further details may be found under Materials and methods, below). As an initial test of whether the excess of the exons with mod-AGEZ1 ≥ 100 are associated with dBPs, we repeated the analysis of mod-AGEZ1 distributions having first split the intron data-set into two groups according to whether or not they had an AG dinucleotide between -12 and -25 with respect to the 3' splice site. The expectation is that exons with an AG between -12 and -25 (the 'plus' group) cannot have a dBP (otherwise the additional AG would be used as the 3' splice site). Consistent with this expectation, the percentage of mod-AGEZ1 values ≥ 100 nucleotides was 0.68% for introns without an AG in the -12 to -25 region (the minus group), but only 0.23% for those with an AG. With a null hypothesis that the minus group should generate the same statistics as the plus group, we observe the null hypothesis to be false, with a χ2 of 356 (P ≈ 0).
In the data set proper there are 838 exons with AGEZ ≥ 100. We estimate that between one-half and one-fifth of these indicate dBPs (see details under Materials and methods, below); with 838 of 67,334 introns having an AGEZ1 ≥ 100, we expect that approximately 1/160 to 1/400 introns have dBPs. Taking an 'average' human gene to have eight introns, this reduces to between 1/20 and 1/50 genes having at least one dBP (as defined here).
To facilitate manual examination of large AGEZ exons, we restrict consideration to those exons with AGEZ ≥ 150 (165 cases). Our data are available online [33], with separate files for the starting data set, and for exons with AGEZ ≥ 150. Among the exons with AGEZ ≥ 150 were exon 11 of the human PTB gene (AGEZ = 381, IDB1087423.10917), for which we have some in vitro evidence for use of a dBP [21]. Likewise, the equivalent exon from the neuronal specific paralog nPTB/brPTB [34, 35] was identified (AGEZ = 438, predicted branch point at -389, IDB1145220.85254). Other dBP exons from the α-tropomyosin and α-actinin genes, which were experimentally verified for the rat genes and appear to be conserved, were not in the current build of AltExtron. Many of the exons with large AGEZ (≥ 150) had a clear potential dBP located toward the upstream end of the AGEZ with no obvious candidate BPS close to the 3' splice site. For example, IDB1152764.11013 has an AGEZ of 220 with a TACTAAC sequence at -214 and an adjacent PPT. The mouse ortholog has an AGEZ of 247 and a consensus TACTAAC BPS at -214. In other cases, large AGEZs did not appear to be related to splicing, with no obvious candidate BPS/PPT toward the 5' end of the AGEZ, whereas good candidates were in the conventional location. For example, IDB1079466.8106 has an AGEZ of 369 nucleotides. However, this appears to be due to a repetitive element upstream of the 3' splice site. Because this element lacks AG dinucleotides there is a large AGEZ, and AGs further upstream are still widely spaced. The only good candidate BPS is at -17. Instructively, the mouse orthologous exon has an AGEZ of only 31 nucleotides and a predicted BPS at -24. Intermediate between these extremes are multiple examples that might have dBPs, but that will require careful experimental verification. A striking example is tyrosine phosphatase sigma (IDB1087363.1770), which has an AGEZ of 1126 (the entire intron is only 1132 nucleotides) and potential dBPs at -1079, -829 and -288. The closest potential BPS that scores above threshold is at -171. The mouse orthologous exon has an AGEZ of 229 nucleotides with a predicted dBP at -192.
Testing predicted distant branch points
Prevalence of alternative splicing in candidate distant branch point exons
All experimental examples of dBP exons are alternatively spliced [17–21], and it is our expectation that a dBP is likely to indicate that an exon is alternatively spliced under at least some circumstances. We therefore analyzed the prevalence of observed alternative splicing (as seen in the AltExtron data set) as a function AGEZ size.
First, we examined observed cassette exon type events (including mutually exclusive events) versus AGEZ (Figure
7a
). Exons with AGEZ ≥ 100 nucleotides had a significantly higher frequency of observed alternative splicing, compared with the much larger number of exons with AGEZ up to 100 nucleotides (
P
= 0.002; see Materials and methods, below). The higher observed frequency of alternative splicing among large AGEZ exons is probably a conservative reflection of the alternative splicing propensity of dBP exons due to the following: all inferences of alternative splicing based upon expressed sequence tags (ESTs) are heavily restricted by the incomplete coverage and end biases of ESTs [
38
], and not all large AGEZ are associated with dBPs. We therefore suspect that the true prevalence of alternative splicing among dBP exons will be far higher. We also observed a higher prevalence of cassette exon events associated with very short AGEZs. The presence of two closely spaced AG dinucleotides is important for cassette skipping of exon 3 of
Drosophila sex-lethal
; if the upstream of the two AGs is mutated the the exon is constitutively included [
39
,
40
]. The group of short AGEZ cassette exons may be candidates for a similar form of regulation.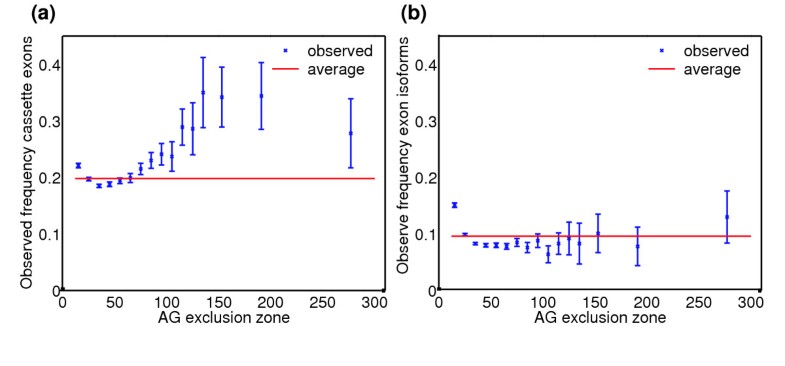 As a comparison, we observed the level of acceptor site exon modification (extension or truncation at the 3' splice site) type alternative splicing events versus AGEZ (Figure 7b). The median level was around 8% and was fairly uniform. Exons with large AGEZ did not exhibit elevated levels of this type of alternative splicing event. However, the group of exons with shortest AGEZ had a 15% observed level of alternative splicing. This spike at low AGEZ values had been considerably more pronounced prior to the following: ignoring any AGs in the last 12 nucleotides of an intron in the determination of the AGEZ; and the exclusion from the analysis (for Figure 7) of acceptor sites ≤ 40 nucleotides downstream of another acceptor site (data not shown). These filtering steps removed a large number of acceptor site isoforms involving small truncations or extensions, including the class of so-called NAGNAG splicing events [31, 41] that result from competition between closely spaced AGs during step 2 of splicing [28, 42]. It is noteworthy that, even after restricting the analysis in this way, there remained a modest spike at low AGEZ values. Further examination of this phenomenon is beyond the scope of this report but will be examined thoroughly in future work.
Mutations within the AG dinucleotide exclusion zones
There are a number of instances in which human disease is associated with mutations that introduce new AG dinucleotides a short distance upstream of the usual 3' splice site (for example [
43
,
44
]). Use of the new AG as the 3' splice site leads to insertion of one or more additional peptides, and may cause a frameshift thus potentially leading to nonsense mediated decay (NMD). Insertion of AG dinucleotides at most positions within the extended AGEZ of the rat α-TM exon 3 leads to use of the new AG as the 3' splice site
in vitro
using single intron substrates [
27
,
28
]. Exons with dBPs are therefore likely to be vulnerable to mutations within the AGEZ. To test the possible impacts of mutations that create new AG dinucleotides within a large AGEZ, we took TM minigenes containing TM exon 3 flanked by exons 1 and 4 and inserted AG dinucleotides at 149 or 121 nucleotides upstream of exon 3 (Figure
8
; mutants 3a and 3b, respectively). The effect upon splicing was analyzed
in vitro
and
in vivo
. In HeLa nuclear extract we found that splicing of the mutant substrates occurred with similar efficiency to wild type, and the major splicing pathway involved use of exon 3. However, step 2 of splicing in each case used the newly inserted AG, as had been seen previously with single intron substrates
in vitro
[
27
,
28
]. When constructs were transfected into HeLa cells the levels of the product from the mutant constructs were undetectable at PCR cycle numbers used to detect wild-type product (Figure
8
). With further cycles of amplification a small residual amount of spliced product could be detected in which the normal 3' splice site of exon 3 had been used (data not shown). The variation between the
in vitro
and
in vivo
data might be connected to the differences between cotranscriptional splicing
in vivo
and post-transcriptional splicing
in vitro
. However, the simplest interpretation is that splicing
in vivo
also occurs predominantly to the upstream AG, but that the products of this reaction are degraded efficiently. These model substrates illustrate that mutations throughout extended AGEZs can have catastrophic effects upon gene expression; however, analysis of
in vivo
steady state RNAs might not give any clue that disruption of gene expression is at the level of splicing.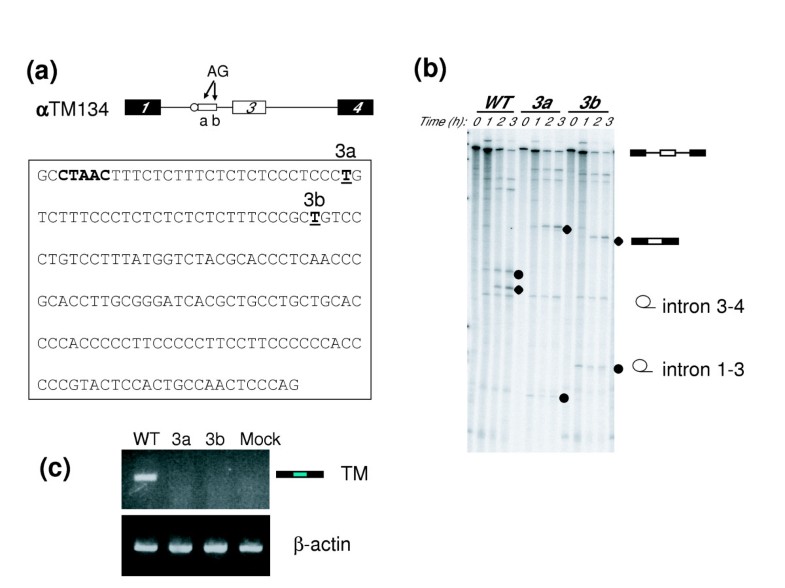 Discussion
Characterization of exons by upstream AGEZs provides a novel perspective for branch point prediction. This approach contrasts with conventional methods, which usually search for probable branch points within a fixed distance of the 3' splice site, sometimes using a 3' to 5' polarity for the search (for example [45]). Although the number of exons with very large AGEZ is relatively small (165 with AGEZ of 150 nucleotides or greater in our data set), there is a much larger number of exons with AGEZ of 80 nucleotides and more (2,264 cases), which is likely to include many exons with dBPs well beyond the conventional 40 nucleotides distance from the 3' splice site.
Some dBPs can be predicted by an almost mechanical application of a 5' to 3' search from the 5' end of the AGEZ (Figures 4, 5, 6). This was the case with GABBR1 exon 23, for which the AGEZ was 287 nucleotides and a high scoring dBP, subsequently verified by mutagenesis, was located at -275 (Figure 5). PTB exon 11 was slightly more complex in that the AGEZ is 380 nucleotides and, in addition to the verified dBP at -351, there were two other high scoring potential dBPs at -384 and -369, and the latter even had an adjacent PPT (Figure 4). However, the -351 BPS was higher scoring than either of the upstream candidates and its adjacent PPT is extensive and uridine rich, whereas the predicted PPT adjacent to -369 has a number of purine interruptions. The PTB, GABBR1, and IDB1088375 systems provide an attractive illustration of the applicability of the AGEZ approach to identifying dBP exons. However, many of the other large AGEZ exons do not have such readily predictable dBPs. In some cases there are multiple potential dBPs, and in others there are few or no obvious candidates.
One of our aims in future work will be to improve the computational prediction of dBPs taking into account additional information relating to the quality of the branch point and PPT sequence, and the distance separating possible branch point and PPT elements. Some of these approaches have already been adopted [45]. However, further improvements in prediction should be facilitated by the experimental verification of some of the more 'difficult' dBP exons. Another useful factor to consider is phylogenetic conservation. The BPS of human-mouse orthologous pairs have been found to be more highly conserved for alternative than constitutive exons [45]. Comparison of mouse orthologs of the human exons whose dBPs we verified here (Figures 4, 5, 6) suggests that conservation of a large AGEZ can help to focus in on a dBP even when basic local alignment search tool (BLAST) alignments do not detect significant sequence matches. For example, BLAST detected only a 24 nucleotides match immediately upstream of GBBR1 exon 23, even though the mouse had an AGEZ of 264 and predicted dBP at -225 (compared with 287 and -275 for human). Another striking example, as we previously noted [21], is the Fugu PTB exon 11. Its AGEZ of 590 and predicted dBP at -566 is remarkable in an organism noted for its compact genome.
We have focused on the use of AGEZs to identify unusually distant BPS. However, this approach may be a generally useful first step in prediction of all BPS. Previous BPS prediction approaches have typically used an arbitrary distance upstream of the 3' splice site within which to search for potential BPS. For example, both AltExtron [31, 32] and the successful BPS procedure described by Ast and coworkers [45] restricted their searches to 100 nucleotides upstream of the exon. Defining the AGEZ as the first step in BPS prediction may help to focus the search zone to a much shorter region in many cases, in addition to the obvious advantage of locating dBPs that would otherwise be missed.
The significance of the group of probable dBP exons that we identified is twofold. First, we identified a group of exons with an increased probability of being alternatively spliced (Figure 7a). In contrast to computational identification of alternative splicing events by EST alignments [38], our approach is expected to identify some alternative splicing events for which there may be no existing experimental data. This is analogous to the use of extended regions of flanking conserved sequence as an indicator of alternative splicing [46–48]. For example, alternative splicing of PTB exon 11 was not recognized for a long time because the exon skipping event leads to NMD of the spliced product [21]. Characterization of the probable dBP arrangement gave us an early suggestion that exon 11 may indeed be a genuine alternatively spliced exon. We expect that the initial identification of some exons as having a probable dBP may provide an initial prediction of their alternative splicing, and that as more data becomes available the proportion of dBP exons known to be alternatively spliced will approach 100%.
The second significant point is that the dBP exons are expected to be vulnerable to mutations within the entire AGEZ. As we showed, mutations that introduce AG dinucleotides at multiple locations in the AGEZ can have highly disruptive effects. At a minimum, additional amino acids would be inserted. More catastrophically, the reading frame can be disrupted. Even in cases in which newly inserted sequence does not alter the reading frame of the spliced mRNA, the newly retained intron sequences can apparently lead to degradation. Interestingly, although mutant 3b (Figure 8) is predicted to lead to NMD, mutant 3a is not, and so degradation may result directly from the presence of the usually intronic sequences in the mRNA product. In addition, the regions between dBPs and their exons are often occupied by regulatory elements. Mutations that did not introduce AG dinucleotides could have more subtle effects by altering the appropriate regulation of exon selection, which can itself be a molecular cause of pathology [5, 6]. Notably most of the experimentally verified cases of dBPs have regulatory elements between the 3' splice site and the dBP and PPT [20, 21, 23–26]. We have shown effects upon levels of exon inclusion for multiple mutations in the extended AGEZ of α-tropomyosin exon 3 [49, 50]. Moreover, single nucleotide polymorphisms (SNPs) that affect the BPS have been shown to have a dramatic influence on the degree of exon inclusion or skipping [51]. Given the sensitivity of dBP exons to mutation within their AGEZ, it is interesting to note that many of the exons with AGEZ ≥ 150 are within genes that are either already known to be disease associated or are in some other way of biomedical interest. So far, we are not aware of any disease causing mutations within the AGEZs of dBP exons. However, there are a number of intronic SNPs within some of them (for example, two within the AGEZ of GABBR1 exon 23; Figure 5), and it is possible that some of these could modulate alternative splicing of their associated exons. Indeed, awareness of the possibility of dBPs, as suggested by the presence of a large AGEZ, might help to improve the design of diagnostic scans. For example, exons 3, 4 and 5 of the serotonin 5-HT4 receptor gene (HTR4) have AGEZs of 149, 291, and 221 nucleotides (IDB1090103.1894, IDB1090103.27415, and IDB1090103.40737), an arrangement that is conserved in the murine ortholog. Polymorphisms in HTR4 have been associated with bipolar disorder and schizophrenia [52, 53]. However, the PCR primers used to detect polymorphisms were proximal to the exons and would have missed potentially interesting SNPs further upstream within the extended AGEZs.
An interesting feature of the regulation of dBP exons is that the small group that have been analyzed experimentally are all regulated by PTB [20, 21, 24, 54, 55]. It will be of interest to determine whether this is a general feature of dBP exons or is merely a coincidence, and also to investigate whether the dBP organization is associated with particular types of tissue specificity of regulation. The collection of extended AGEZs should also provide an enriched source of sequence elements involved in splicing regulation.
Conclusion
We have characterized a group of human exons based upon the large size of the AGEZ immediately upstream. We have verified the location of the dBP toward the 5' end of some of these large AGEZs. Exons with large AGEZs have a higher incidence of computationally observed alternative splicing. If the common rationale for the dBP arrangement is to have regulatory elements located between the dBP and exon, then it is likely that many or most of the dBP exons will ultimately prove to be alternatively spliced, and that initial characterization of a large AGEZ may be a predictor of alternative splicing. These exons are also of interest because they would be vulnerable to mutations within their entire AGEZ that could lead to modification or even loss of gene function. We plan to develop our data set of dBP exons further with the aims of improving our predictions for the likely location of dBPs, and of improving the annotation of the database entries to include evidence of alternative splicing, locations of known SNPs, or mutations, and the consequences of these known sequence variants.
Materials and methods
Output files
The flat files of acceptor splice sites, with information about putative PPT and U2 BPS is available online [33] and contains entries of the form:
>IDB1072296.1230
GB_MAP: IDB1072296 = A06939.1 (1..5322)
PROD: furin
AGEZ: 27
ROI: 1181..1265 -> -50..34
AG: -50, -47, -29, -2, 3, 35,
PPT: -42..-33, -23..-5, 5..14,
U2BP: -31 [5.49], -24 [5.2], 11 [4.58],
SEQ1: agaaggcaCTCTGTGCCTgacagctgaCCCTACCTTCCCTGTCCCCacag
SEQ2: tgagCCACTCATATggctacgggcttttggacgcag
END
'IDB1072296.1230', in this case, is the altExtron identifier for the gene (IDB1072296), with a transcript confirmed intron having a 3' splice site position (1230) being the position of the final intronic nucleotide. 'GB_MAP' gives the mapping to the GenBank entry from which this gene was derived as the accession, version, and (region). If the gene is on the complement strand in GenBank (always sense in altExtron), then the mapping will be labelled as complement. 'PROD' is the gene product as parsed from the GenBank flat files in the construction of altExtron. 'AGEZ' gives the AG exclusion zone. 'ROI' gives the ROI (see above), first in gene coordinates and then relative to the 3' splice site (with no position 0). 'AG' lists the relative positions of the AG nucleotides in the ROI, including the splice site itself at -2. 'PPT' gives the relative positions of putative PPTs in the ROI. 'U2BP' gives the relative positions of putative U2 BPS, with the bracketed number being the bit score from the weight matrix analysis. 'SEQ1' gives the intronic sequence part of the ROI with the putative PPTs in upper case (this may wrap over several lines). 'SEQ2' gives (as for SEQ1) the exonic sequence part of the ROI. Finally, 'END' is a tag helpful in file parsing that indicates the end of the record.
Frequency of alternative splicing versus AG dinucleotide exclusion zone
We examined the level of observed alternative splicing as a function of the AGEZ. Transcript confirmed introns/exons were seen to undergo alternative splicing when they were overlapped by other transcript confirmed introns/exons, and this information was derived from the altExtron flat files. We considered only those observed alternative splicing events that unambiguously fitted into one of two classes of alternative splicing: cassette exon usage (of an exon adjacent to the 3' splice site under consideration), and exon modification at the acceptor site (extension or truncation by use of competing 3' splice site). In both cases we excluded from consideration (for Figure 7) any acceptor site where another acceptor site was observed ≥ 40 nucleotides upstream. This prevents such an upstream 3' splice site defining the AGEZ in all but extreme cases, and acts to select the upstream AG in cases where an isoform pair share a BPS and PPT but differ in the use of two closely spaced AGs for the 3' splice site. Acceptor sites were grouped according to AGEZ value, initially into decade bins, with these then combined as necessary to ensure a minimum of 50 entries per group; as plotted in Figure 7, the fraction of each group with observed alternative splice isoforms was calculated. The standard error was calculated as sqrt(r·(n - r)/n), with n being the total number of introns in the group, and r being the number of these seen to undergo alternative splicing of the defined type.
For the purposes of statistically testing the hypothesis that exons with large AGEZ values are observed to be alternative exons at a higher frequency than exons with lesser AGEZ values, a cutoff of 100 nucleotides was used to define 'large'. Above this cutoff, 68 out of 235 exons were seen to be cassette exons, as compared with an expected value of 47 (on the basis of the overall average of 19.8%); this leads to a χ2 value of 9.4, giving a P value of 0.002.
Molecular and cell biology
Constructs
PAC clones, RPI-271M21 (IDB1089010) and RP5-1009E24 (IDB1088375), were obtained from The Sanger Institute Clone Resources Group. PAC clones were tested for bacteriophage contamination by standard procedures [57]. The ROI was PCR amplified using Pfu polymerase, treated with Taq polymerase to add an A overhang, and ligated into pGEM-Teasy (Promega, Madison, WI, USA) as a shuttle vector.
PCR primers for IDB1089010 were as follows: forward 5'-CCTCTAGTAGTCAACACTCACAGCAGC; and reverse 5'-GGATAGCATGTTCTTCCCAGCTGG. PCR primers for IDB1088375 were as follows: forward 5'-CCCAAAGTGTTGGGATTACAGG; and reverse 5'-CGGACGAATTCTGTCTGCGTTGAC.
Branchpoint and upstream AG mutations were carried out using QuikChange Site-Directed Mutagenesis (Stratagene, La Jolla, CA, USA) in the Teasy clones. Wild-type and mutant clones were subcloned using standard cloning techniques [58] from the shuttle vector either as a NotI fragment into pCAGGsEGFP [21, 59] or as an EcoRI fragment into pTS3St [26, 60]. All subcloned fragments were sequenced in their entirety to ensure that no constructs had secondary mutations.
Cell culture, transfection, and analysis of cellular RNA
HeLa cells were grown in Dulbecco's modified Eagles medium containing 10% foetal calf serum. Transient transfection was carried out using Lipofectamine (Invitrogen, Carlsbad, CA, USA), total RNA was isolated using TRI reagent (Sigma, Poole, Dorset, USA), and RT-PCR was carried out as previously described [55]. Primers for pCAGGsEGFP based constructs were as follows: RT primer 3'CGRT, 5'-TAGTTGTACTCCAGCTT; forward 5'CGTM, 5'-GGCAAAGAATTCGCCACCA; and reverse 3'CGTM, 5'-GGGTGTCGCCCTCGAACTT. Conditions for the PCR were 30 cycles of 94°C at 30 s, an annealing temperature of 58°C for 30 s, followed by an extension at 72°C for 1 minute using a MgCl2 concentration of 1.5 mmol/l.
Primers for pTS3St based constructs were as follows: RT primer SV3'RT, 5'-GCAAACTCAGCCACAGGT; forward SV5'2, 5'-GGAGGCCTAGGCTTTTGCAAAAAG; reverse SV3'1, 5'-ACTCACTGCGTTCCAGGCAATGCT. Conditions for the PCR were 30 cycles of 94°C for 30 s, an annealing temperature of 62°C for 30 s, followed by an extension at 72°C for 1 minute using a MgCl2 concentration of 2.5 mmol/l.
Additional data files
The following additional data are included with the online version of this article: A data file containing the complete set of sequences used in the analysis (Additional data file 1) and a data file with the subset of entries with AGEZ> = 150 nt (Additional data file 2) Data are also available online [33]. Scripts are available on request.
Declarations
Acknowledgements
This work was funded by programme grant 059879 from the Wellcome Trust to C.W.J.S. We thank the Mapping Core group at the Sanger Institute for PAC clones, Alphonse Thanaraj for suggesting the collaboration between C.W.J.S and F.C., and Igor Vorechovsky for helpful comments on the manuscript. F.C. thanks the Australian Academy of Science for a travel fellowship to support a visit to the UK.
Authors' Affiliations
(1)
Department of Biochemistry, University of Cambridge, Cambridge, UK
(2)
Advanced Computational Modelling Centre, and ARC Centre for Bioinformatics, University of Queensland, Australia
Copyright
© Gooding et al.; licensee BioMed Central Ltd. 2006
This article is published under license to BioMed Central Ltd. This is an open access article distributed under the terms of the Creative Commons Attribution License (http://creativecommons.org/licenses/by/2.0), which permits unrestricted use, distribution, and reproduction in any medium, provided the original work is properly cited.