Differential gene expression in anatomical compartments of the human eye
Received: 10 May 2005
Accepted: 15 July 2005
Published: 17 August 2005
Abstract
Background
The human eye is composed of multiple compartments, diverse in form, function, and embryologic origin, that work in concert to provide us with our sense of sight. We set out to systematically characterize the global gene expression patterns that specify the distinctive characteristics of the various eye compartments.
Results
We used DNA microarrays representing approximately 30,000 human genes to analyze gene expression in the cornea, lens, iris, ciliary body, retina, and optic nerve. The distinctive patterns of expression in each compartment could be interpreted in relation to the physiology and cellular composition of each tissue. Notably, the sets of genes selectively expressed in the retina and in the lens were particularly large and diverse. Genes with roles in immune defense, particularly complement components, were expressed at especially high levels in the anterior segment tissues. We also found consistent differences between the gene expression patterns of the macula and peripheral retina, paralleling the differences in cell layer densities between these regions. Based on the hypothesis that genes responsible for diseases that affect a particular eye compartment are likely to be selectively expressed in that compartment, we compared our gene expression signatures with genetic mapping studies to identify candidate genes for diseases affecting the cornea, lens, and retina.
Conclusion
Through genome-scale gene expression profiling, we were able to discover distinct gene expression 'signatures' for each eye compartment and identified candidate disease genes that can serve as a reference database for investigating the physiology and pathophysiology of the eye.
Keywords
Additional Data File
Ciliary Body
Retinal Signature
Visual Cycle
Corneal Wound Healing
Background
The human eye is composed of multiple substructures of diverse form, function, and even embryologic origin that work in concert to provide us with our sense of sight. Identifying the global patterns of gene expression that specify the distinctive characteristics of each of the various compartments of the eye is an important step towards understanding how these complex normal tissues function, and how dysfunction leads to disease. The Human Genome sequence [1, 2] provides a basis for examining gene expression on a genomic scale, and cDNA microarrays provide an efficient method for analyzing the expression of thousands of genes in parallel. Previous studies have used microarrays to investigate gene expression within normal eye tissues, including cornea [3] and retina [4], as well as within pathological tissues such as glaucomatous optic nerve heads [5], uveal melanomas [6], and aging retina [7].
Analysis of gene expression in the eye has been notoriously difficult because of the technical obstacles associated with extracting sufficient quantities of high quality RNA from the tissues. This is especially true for the lens and cornea, which have relatively few RNA-producing cells when compared to a highly cellular tissue such as retina. Furthermore, pigmented ocular tissues contain melanin, which often co-purifies with RNA and inhibits subsequent enzymatic reactions [8]. Any delay between the patient's death and the harvesting of ocular tissues can also compromise RNA quality and yield. To date, many experiments examining the gene expression profile of particular eye compartments have relied on pooled samples or cell culture in order to obtain adequate amounts of RNA. In contrast to these studies, the experiments described in this paper were performed using a linear amplification procedure [9], which made it possible to examine individual specimens using DNA microarrays, thereby eliminating the potentially confounding effects of pooling multiple donor samples or culturing cells, which can elicit dramatic changes in gene expression based on the cell culture media [10]. We chose an in vitro transcription-based, linear amplification approach because this has previously been shown to reproducibly generate microarray gene expression results that are extremely similar to data generated using unamplified RNA [9, 11, 12]. Additionally, the amplification process has been shown to selectively and reproducibly 'over-amplify' some low-copy number transcripts, resulting in a larger fraction of the expressed genome that can be reliably measured on DNA microarrays. Importantly, by analyzing individual donor samples on arrays, we can detect variation in the eye compartments of different donors, which will be critical for future studies that examine how gene expression varies between individuals at baseline and also in disease states.
A major goal of this study was to discover how the various eye compartments differ from one another on a molecular level by identifying clusters of differentially expressed genes, or 'gene signatures', characteristic of each eye compartment. We also wanted to investigate how gene expression varies between geographical regions of the retina. Because certain retinal diseases such as retinitis pigmentosa (RP) and age-related macular degeneration (ARMD) preferentially affect a specific retinal region, identification of genes that are differentially expressed in the macula versus peripheral retina may provide valuable clues to the molecular mechanisms underlying these diseases. Recent work using serial analysis of gene expression (SAGE), a method that involves sequencing thousands of transcripts from a given RNA sample, identified several genes that were significantly enriched in either the macula or the periphery [13]. Our cDNA microarray studies confirmed some of these genes, but also significantly added to the catalog of macula-enriched genes. Lastly, because many ophthalmologic diseases preferentially affect a particular eye compartment, our study demonstrates that gene signatures can be combined with gene linkage studies in order to identify candidate disease genes.
Results
To explore relationships among the different eye compartments and among genes expressed in these compartments, we performed hierarchical cluster analysis of both genes and samples [
14
] using genes that met our selection criteria (see Materials and methods). The display generated through hierarchical clustering analysis is shown in Figure
1a
. In this display, relatively high expression levels are indicated by a red color, and relatively low expression levels are represented by a green color; each column represents data from a single tissue sample, and each row represents the series of measurements for a single gene. Tissue samples with similar gene expression patterns are clustered adjacent to one another, and genes with similar expression patterns are clustered together. In our experiments, samples of the same eye compartment from different donors clustered in discrete groups (for example, cornea with cornea, retina with retina), with the only exception being an intermingling of the ciliary body and iris specimens (Figure
1a
). The lack of a clear distinction between the expression patterns of the ciliary body and iris may be due to both their shared embryological origin and their close anatomical approximation, resulting in sub-optimal separation during dissection. The division between the retinal samples and all other samples was the most striking. Furthermore, there was a distinct grouping of the various macula specimens, which formed a tightly clustered subgroup among the retinal samples. The expression patterns of the optic nerve samples were most similar to those of the three brain specimens.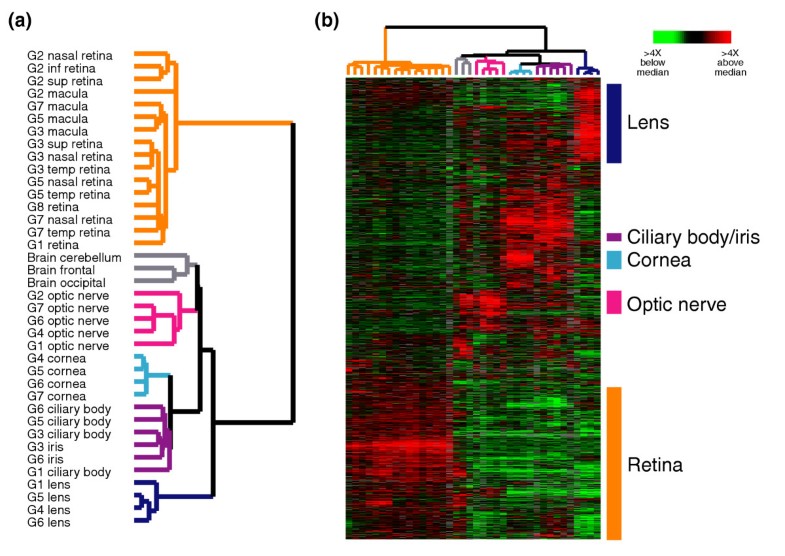 Each anatomical compartment of the eye expressed a distinct set of genes that were not expressed, or expressed at much lower levels, in the other eye compartments (Figure 1b). The repertoire of genes specifically expressed in the retina was especially large and diverse (3,727 genes), but we also found a surprisingly large number of transcripts (1,777 genes) expressed predominantly in the lens. To explore the connections between these compartment-enriched genes and phenotypic features of the compartments in which they were expressed, we considered each group of compartment-enriched genes in detail.
Discussion
Our microarray studies identified distinct molecular signatures for each compartment of the human eye. As we predicted, many of the genes differentially expressed in each tissue could be related to the histology and embryology of the cognate structure in the eye; more usefully, each signature uncovered numerous genes whose expression or function in the eye had not been previously characterized and for which their expression pattern now provides a new clue to their roles. Through a comparative analysis of gene expression among eye compartments, we can also gain insight into the pathophysiology of diseases that afflict specific eye tissues. Furthermore, our data may help anticipate or understand drug effects and side-effects, when the molecular targets of the drugs are preferentially expressed in particular ocular tissues.
The extensive set of genes selectively expressed in the macula demonstrates that there is significant regional variation in gene expression programs in the human retina. The macula-enriched expression pattern may provide clues to the pathogenesis of retinal diseases that preferentially affect the macula, such as ARMD. Because no ophthalmologic clinical data accompanied the autopsy globe samples used in our experiments and because of our limited sample sizes, we were unable to correlate our gene expression data with clinical exam findings or disease course. The techniques used in these experiments did, however, allow us to examine tissues from individual donors rather than requiring us to rely on either pooled tissue samples or cultured cells. Thus, our results show that future experiments examining individual diseased samples will be possible.
By analyzing our global gene expression data together with previous genetic mapping data, we were able to greatly refine sets of candidate genes for many corneal, lenticular, and retinal diseases whose genetic basis is still undefined. When we used a control set of diseases with known causative genes, the candidate gene lists we generated included 50% to 70% of the causative genes for this control set. One explanation for why we did not identify all the causative genes for the control disease set was that some causative genes did not meet our intensity threshold, and thus were not included in the compartment expression lists. Furthermore, we could not have identified those causative genes that are only expressed in the diseased state (but not in normal tissues), because we limited our microarray analyses to tissues with no known ocular pathology. Other reasons why our approach may have missed causative genes include expression of causative genes only at certain points in development and not in adult tissues, technical problems with the array element(s) representing these genes, and possible loss of transcripts in the RNA isolation or amplification process. Future investigation of these potential problems and comparison of our candidate gene lists with genome-scale gene expression data from diseased tissues will result in further refinement of the approach presented here.
Finally, our studies were designed to provide an open resource for all investigators interested in ocular physiology and disease. The tissue signature data, as well as the diseases, genetic intervals, and candidate genes for all the diseases we examined, and the complete set of data from our studies is freely available without restriction from the Authors' Web Supplement accompanying this manuscript [75].
Additional data files
The following additional data are available with the online version of this paper. Additional data file 1 contains the step-by-step amplification protocol used in this work. Additional data file 2 is a table detailing RNA isolation and amplification yields. Additional data file 3 contains more detailed supplemental materials and methods. Additional data file 4 contains the compartment gene lists used in the disease gene analysis. Additional data file 5 contains the list of diseases for each compartment with their mapped genetic intervals. Additional data file 6 contains the results of the disease gene analysis, including the list of candidate genes for each disease.
Declarations
Acknowledgements
We wish to thank members of the Brown laboratory for helpful advice and discussions, M van de Rijn and Stanford pathology for help with tissue acquisition, and T Hernandez-Boussard for computational assistance. This work was supported by the Howard Hughes Medical Institute, NCI grant CA77097, the Stanford Medical Scholars Program (J.D.), and by NIGMS training grant GM07365 (MD). P.O.B. is an investigator of the HHMI.
Authors' Affiliations
(1)
Department of Ophthalmology, Stanford University School of Medicine, Stanford, USA
(2)
Department of Biochemistry, Stanford University School of Medicine, Stanford, USA
(3)
Howard Hughes Medical Institute, Stanford University School of Medicine, Stanford, USA
(4)
Department of Ophthalmology, University of California, San Francisco, San Francisco, USA
Copyright
© Diehn et al.; licensee BioMed Central Ltd. 2005
This article is published under license to BioMed Central Ltd. This is an Open Access article distributed under the terms of the Creative Commons Attribution License (http://creativecommons.org/licenses/by/2.0), which permits unrestricted use, distribution, and reproduction in any medium, provided the original work is properly cited.