Origins of chromosomal rearrangement hotspots in the human genome: evidence from the AZFadeletion hotspots
Received: 23 April 2004
Accepted: 7 June 2004
Published: 14 July 2004
Abstract
Background
The origins of the recombination hotspots that are a common feature of both allelic and non-allelic homologous recombination in the human genome are poorly understood. We have investigated, by comparative sequencing, the evolution of two hotspots of non-allelic homologous recombination on the Y chromosome that lie within paralogous sequences known to sponsor deletions resulting in male infertility.
Results
These recombination hotspots are characterized by signatures of concerted evolution, which indicate that gene conversion between paralogs has been predominant in shaping their recent evolution. By contrast, the paralogous sequences that surround the hotspots exhibit little evidence of gene conversion. A second feature of these rearrangement hotspots is the extreme interspecific sequence divergence (around 2.5%) that places them among the most divergent orthologous sequences between humans and chimpanzees.
Conclusions
Several hominid-specific gene conversion events have rendered these hotspots better substrates for chromosomal rearrangements in humans than in chimpanzees or gorillas. Monte Carlo simulations of sequence evolution suggest that extreme sequence divergence is a direct consequence of gene conversion between paralogs. We propose that the coincidence of signatures of concerted evolution and recurrent breakpoints of chromosomal rearrangement (mapped at the sequence level) may enable the identification of putative rearrangement hotspots from analysis of comparative sequences from great apes.
Keywords
Additional Data File
Gene Conversion
Segmental Duplication
Concerted Evolution
Phylogenetic Network
Background
The pattern of meiotic homologous recombination is not homogeneous throughout the human genome. Hotspots of recombination activity - short genomic regions defined at the sequence level that exhibit higher levels of recombination than their surrounding sequence - have been identified in both the generation of haplotypic diversity by allelic homologous recombination (AHR) and the production of chromosomal rearrangements by non-allelic homologous recombination (NAHR) [1, 2]. The evolution and determinants of these recombination hotspots are poorly understood.
NAHR between duplicated sequences sponsors a wide variety of pathogenic chromosomal rearrangements, giving rise to phenotypes known collectively as 'genomic disorders' (reviewed in [3]). While some of these disorders result from the intermediates of NAHR being resolved as crossovers (that is, rearrangements such as deletions, duplications and inversions), others arise from the same intermediates being resolved as gene conversion events. Gene conversion is the non-reciprocal exchange of sequence between homologous sequences. Genomic disorders can arise when a gene conversion introduces a deleterious mutation into a functional gene, often from a reservoir of mutations present within a pseudogene. The results of NAHR need not be pathogenic, but can result in structural polymorphism (for example, the Yp paracentric inversion [4]). Similarly, gene conversion is capable of homogenizing both allelic and non-allelic (paralogous) sequences with no deleterious consequences.
In contrast to AHR, where unknown factors maintain recombination hotspots at specific locations [5], the frequency of NAHR is thought to be related at least in part to the sequence identity between paralogous (duplicated) sequences [3]. Studies of pathogenic rearrangements [6] and cell-culture assays [7, 8] have demonstrated the length of sequence identity to be a primary determinant of NAHR.
It has recently been suggested that gene conversion between paralogs may render them better substrates for NAHR as a result of increased sequence similarity [9]. Evidence for gene conversion between paralogs has been detected at a number of loci known to be involved in sponsoring pathogenic chromosomal rearrangements [9–12]. If these patterns of gene conversion are polymorphic, some individuals may manifest increased germline rates of specific chromosomal rearrangements. Similarly, over an evolutionary timescale, gene conversion events may result in the formation of species-specific rearrangement hotspots.
In evolutionary analyses, the imprint of gene conversion can be recognized through the distinctive pattern of 'concerted evolution' [13], whereby duplicated sequences within one species (paralogs) are more similar to one another than either is to their ortholog in a closely related species. In principle, two different mechanisms can cause concerted evolution: gene conversion or unequal crossing over within a tandem array of repeats.
To investigate the role of gene conversion in the evolution of NAHR hotspots it is necessary to carry out comparative sequencing of paralogs. The presence in four copies of even minimally duplicated paralogs on autosomes complicates comparative sequencing strategies, and so it was decided to focus on loci on the constitutively haploid portion of the Y chromosome.
NAHR between two paralogous HERV15 proviral sequences (of approximately 10 kb) flanking the Y-chromosomal Azoospermia Factor a (AZFa) locus produces deletions causing male infertility [9, 14, 15]. All sequenced AZFa rearrangement breakpoints in these sequences fall within two NAHR 'hotspots' - ID1 and ID2 - that are characterized by elevated levels of sequence similarity.
In this study, comparative sequences were obtained for the entire proximal and distal AZFa-HERVs from common chimpanzee (Pan troglodytes) and gorilla (Gorilla gorilla). The evolutionary history of sequences within the two rearrangement hotspots was compared to that of the remainder of AZFa-HERV sequences outside hotspots from the same species. Gene conversion simulations were developed to ask how well these empirical comparisons reflect the dynamics of the underlying gene conversion process.
Results and discussion
We sequenced the proximal (approximately 10 kb) and distal (approximately 12 kb)
AZFa
-HERVs from a male chimpanzee (GenBank accession numbers AY573558 and AY573559) and a male gorilla (AY573560 and AY573361). These sequences encompass two intervals containing the NAHR hotspots ID1 and ID2 [
14
], in which all 15 sequenced NAHR breakpoints have been found in humans (Figure
1
, Table
1
). ID1 and ID2 comprise respectively 1,285 base pairs (bp) of absolute identity between paralogs and 1,690 bp containing a single 'paralogous sequence variant' (PSV). These are by far the longest stretches of sequence identity in the
AZFa
-HERVs, as revealed by the paralog similarity plot in Figure
1
.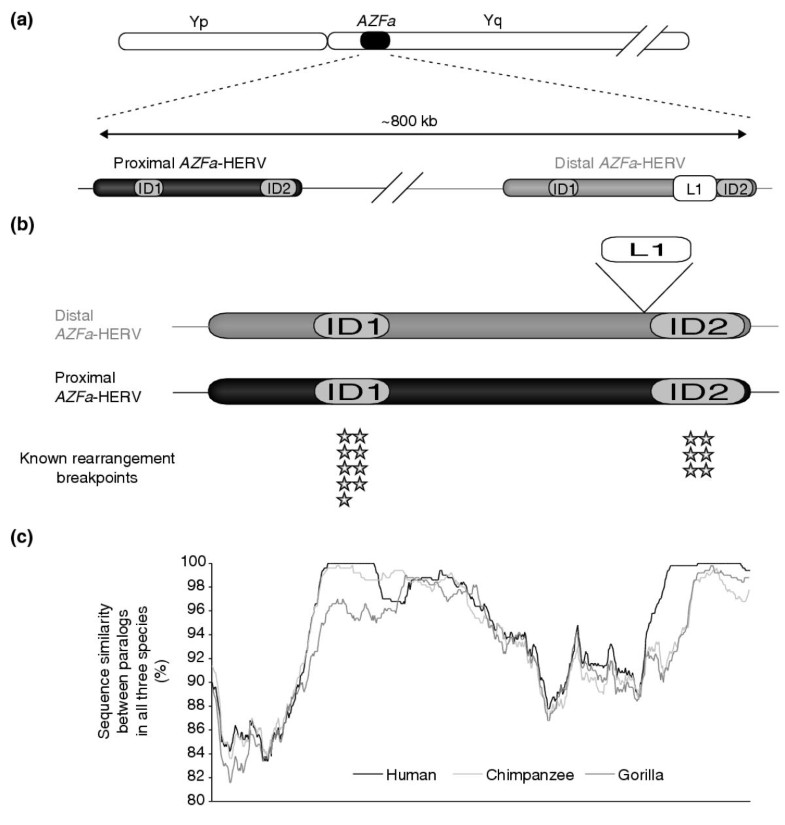 Table 1
The 15 characterized NAHR breakpoints within AZFa-HERVs
| Study | Type of rearrangement | Independent rearrangements | Breakpoint in ID1 | Breakpoint in ID2 |
| --- | --- | --- | --- | --- |
| [9] | Deletion | 1 | 0 | 1 |
| [9] | Gene conversion* | 2 | 2 | 2 |
| [14] | Deletion | 6 | 4 | 2 |
| [15] | Deletion | 2 | 1 | 1 |
| [25] | Duplication | 2 | 2 | 0 |
| | | Total | 9 | 6 |
Additional data files
Additional data available with the online version of this paper comprise: additional data file 1, a table of primers used in amplifying and sequencing the AZFa-HERVs (Additional data file 1); additional data file 2, the alignment of proximal and distal AZFa-HERVs from human, chimpanzee and gorilla in FASTA format (Additional data file 2); and additional data file 3, the source code for simulations of gene conversion used in this study, written in Interactive Data Language (IDL)(Additional data file 3). See Materials and methods for details.
Declarations
Acknowledgements
We thank Mark Jobling and Elena Bosch for discussions and sharing research materials, and are grateful to Mike Jackson for comments on an earlier manuscript. We are also grateful to Jane Rogers for her support. This work was supported by the McDonald Institute and the Wellcome Trust Sanger Institute.
Authors' Affiliations
(1)
Molecular Genetics Laboratory, McDonald Institute for Archaeological Research, University of Cambridge, Cambridge, UK
(2)
The Wellcome Trust Sanger Institute, Hinxton, UK
Copyright
© Hurles et al.; licensee BioMed Central Ltd. 2004
This article is published under license to BioMed Central Ltd. This is an Open Access article: verbatim copying and redistribution of this article are permitted in all media for any purpose, provided this notice is preserved along with the article's original URL.