Exploratory differential gene expression analysis in microarray experiments with no or limited replication
Received: 24 June 2003
Accepted: 11 December 2003
Published: 1 March 2004
Abstract
We describe an exploratory, data-oriented approach for identifying candidates for differential gene expression in cDNA microarray experiments in terms of α-outliers and outlier regions, using simultaneous tolerance intervals relative to the line of equivalence (Cy5 = Cy3). We demonstrate the improved performance of our approach over existing single-slide methods using public datasets and simulation studies.
Keywords
Additional Data FileTolerance IntervalScale EstimatorRegular ObservationBivariate Normality
Background
Multiple studies validate the utility of cDNA microarrays for comparing relative mRNA transcript levels between different biological samples. Both the biological systems under study and the technology itself contribute to the variability within and between microarrays [1–11]. A fundamental question is determining which of the potentially tens of thousands of genes assayed have transcript levels that differ significantly in the two samples. Experimental designs utilizing many levels of replication improve the ability to identify differentially-expressed genes [2–12]. However, the vast majority of studies utilize no or limited replication due to practical considerations of cost and feasibility. Thus, statistical techniques are needed for cDNA microarray studies with constraints on replication. A common strategy is to equate differentially-expressed genes with those genes having a ratio of hybridization intensity values greater, or less, than some user-defined threshold [13, 14], such as two-fold change.
We describe a new approach for identifying differentially expressed gene candidates in cDNA microarray experiments without replication or with limited replication. We illustrate its utility by applying it to published data and demonstrate its advantages over current approaches. Microarray datasets are comprised of pairs of processed fluorescent intensity values, background corrected and normalized, for each of the N genes on the microarray. We discuss a model for such data in which the log2(Cy5) and log2(Cy3) values are linearly related and are samples drawn from a bivariate normal population 'contaminated' with outliers (see detailed definitions of the outlier-generating model in Methods) and possibly distorted due to heteroscedasticity. In a contaminated bivariate normal distribution, the main body of data is a sample from a bivariate normal distribution and constitutes the regular observations. The dataset also contains non-regular observations, 'outliers' or 'contaminants', which represent systematic deviations that, as we describe below, are candidates for differential expression. We check these underlying assumptions by applying exploratory data analysis tools (scatter plots with tolerance ellipses, Quantile-Quantile normal plots (QQNPs) with simulation envelopes and boxplots for residuals) to simulated and empirical datasets.
We formulate our method in terms of an α-outlier-generating model and outlier regions [15, 16]. In a scatter plot of suitably normalized log2(Cy5) versus log2(Cy3) intensity values the majority of data points lie in the vicinity of the line of equivalence (Cy5 = Cy3). The line of equivalence can be estimated using a robust linear regression estimator and normalizing data by the regression fit making slope = 1 and intercept = 0. We subtract the fit from data to compute residuals [log2(Cy5) - log2(Cy3)] which represent the vertical distances from the line of equivalence to the data points and are equivalent to the log-transformed ratios log2(Cy5/Cy3). After these steps, we apply robust scatter plot smoothers to quantify and take into account the distortion of the data, if any, by heteroscedasticity. Data points far from the line of equivalence, 'outliers', are considered to be of greatest interest since they correspond to genes having noticeably different hybridization intensity values. An outlier could represent one of five circumstances: a gene with higher individual variability than the majority of genes; an outlier by chance; a sporadic technical or biological outlier; a systematic technical outlier (due to, for example, heteroscedasticity); or a systematic biological outlier due to differential expression. We assume that the further away from the line of equivalence an outlier is located, the more likely that it is genuinely 'up-' or 'down-regulated'. We compare our approach with some existing single-slide methods [13, 14, 17–20] and demonstrate that it works well in practice.
Results
We examined 10 published cDNA microarray experiments that compared 6,295 transcript levels in wild-type Saccharomyces cerevisiae and single gene deletion mutants pertinent to copper and iron metabolism [18]. The deleted genes were mac1/ YMR021C (experiment number 96), cin5/YOR028C (26), cup5/YEL027W (36), fre6/YLL051C (64), sod1/YJR104C (162), spf1/YEL031W (163), vma8/YEL051W (189), yap1/YML007W (195), yer033c (214) and ymr031c (250).
Discussion
Multiple replications in the design of reagents (multiple spotting of each gene on a microarray) and experimental approach (multiple replicates of each hybridization) provide the soundest approach to confirm differential expression of genes (see, for example, [2–12]). However, experimental realities such as limited samples (for example, tumor specimen), a large number of samples (for example, time course experiments) and experimental cost have resulted in the vast majority of published cDNA microarray studies using limited or no replication. Several methods currently exist for the analysis of data from experiments with limited or no replication. Unfortunately, real microarray data generally violate the assumptions underlying these methods.
Limitations of underlying assumptions of current single-slide methods
Chen et al. [17] assumed that raw non-normalized and non log-transformed Cy5 and Cy3 intensities (raw intensities) are drawn from independent normal populations with common coefficient of variation. An asymmetric density function for raw ratios was derived. This results in asymmetric bands with the identification of more up-regulated than down-regulated genes irrespective of the dataset (compare Figure 4 in [19] and Figure 7 in [8]).
Newton et al. [19] assumed that because raw Cy5 and Cy3 intensities are always positive they can be considered as observations from a Gamma distribution with the same coefficient of variation (if Cy3 and Cy5 are independent, their joint distribution is a bivariate Beta distribution). Hierarchical Gamma-Gamma and Gamma-Gamma-Bernoulli models were formulated in which the posterior odds of change in expression were an additive (Cy5 + Cy3) and multiplicative (Cy5Cy3) functions of intensity. Contours of the posterior odds in (X ≡ log(Cy3), Y ≡ log(Cy5)) scatter plots were used to identify differentially-expressed genes. In practical situations, it may be difficult to determine if data are log-normal or Gamma [41] but we argue that the former is more realistic for microarray data because the combination of biological and experimental noise results in the majority of the measured expression levels changing randomly, independently, non-directionally and for those changes to be small. The central limit theorem would therefore predict bivariate normality for the majority of log-transformed spot intensity values.
Sapir and Churchill [20] compute the posterior probability of differential expression using a mixture of orthogonal residuals derived from ordinary least squares regression of (X ≡ log2(Cy3), Y ≡ log2(Cy5)). The approach assumes that differentially-expressed genes are drawn from populations with unknown distributions approximated with uniform distributions. This mixture model approach assumes that all outliers (k non-regular observations) follow the same distribution D0 = D1 = ... = D k . Under a mixture model, contaminants are less separated from the regular observations than when using Ferguson-type model [16]. The method used to obtain orthogonal residuals in this approach is not resistant to outliers [42] and is redundant because the use of log-transformed ratios log2(Cy5/Cy3) assumes normalization by linear regression to enforce slope equal to 1 and intercept equal to 0 (compare [8]). This approach does not take into consideration residual heteroscedasticity. Similarly, Yue et al. [1] described a method based on parametric two-sided tolerance intervals for ratios. This approach does not consider residual heteroscedasticity and the multiplicity of comparisons.
Hughes et al. [18] performed 63 control 'same versus same' hybridizations in addition to 300 'treatment versus control' cDNA microarray experiments, many in duplicate. They filtered candidates for differential expression on the basis of the information about individual variability in expression levels, and genes with unusually high variation were discarded (Figure 21a). One possible drawback is the assumption that the expression variance is the same in both samples. Hughes et al. [18] quantified residual heteroscedasticity using weighted location and scale estimators for 'same versus same' replicates. Their method used non-robust versions for the estimators - consequently the location estimates may have a bias and the scale estimates would be significantly inflated in the presence of outliers [43]. In addition, since this method uses extensive 'same versus same' hybridizations, it cannot be considered to be a single-slide method.
Advantages of α-outlier model and outlier identification method
In this work, we have described a post hoc (data-oriented) method, which makes fewer assumptions about the nature of the data, tests the assumptions to ensure their validity and produces computationally reasonable results. We showed that a reasonable model is one where the processed fluorescent intensity values are samples drawn from a bivariate normal population contaminated with outliers and possibly distorted due to heteroscedasticity. After a normalization by a robust linear regression fit to make slope equal to 1 and intercept equal to 0, in general, most data points in the log2(Cy5) versus log2(Cy3) scatter plot lie close to the line of equivalence (log2(Cy5) = log2(Cy3)) while a limited number of data points, outliers, lie outside the vicinity. The outliers are good candidates for differentially-expressed genes. The further an outlier is located from the line of equivalence the more likely it is to represent a systematic outlier rather than a chance observation. The α-outlier-generating model approach for identifying differentially expressed gene candidates makes no assumptions about outlier distribution and dependency structure of the candidates. The mixture model of Sapir and Churchill [20] assumes that all candidates have the same distribution D0 (D0 = D1 = ... = D k , see Methods). Other approaches (for example, [17, 19]) assume independence of channel intensities. The individual distributions are usually not known and could be different for each gene, since only replication allows estimation of the distributions. Multiple levels of dependence, such as co-regulated genes, are expected rather than unlikely in gene expression analysis. Since our model and analysis approach does not require such assumptions, which are likely to be violated by the data, we would argue that our approach is more realistic and generally applicable.
Accommodating heteroscedasticity in outlier identification
We compensate for a source of reproducible systematic technical error, heteroscedasticity, by using robust non-parametric regression smoothers to quantify the differences in the variability of gene expression values as a function of spot intensity levels. STIs corrected for heteroscedasticity and adjusted for Gaussian efficiency relative to the line of equivalence (Cy5 = Cy3) serve as a probabilistic tool for identifying outliers. Our approach uses robust scatter plot smoothing techniques to simultaneously diagnose and quantify the variance structure of the data and allow natural accommodation of heteroscedasticity in the identification of outliers. This post hoc approach makes sense especially in view of the large sample size common in microarray experiments.
α-Outlier-generating model can be extended to multiple slide studies
We can extend our adjusted smoothed STI approach to datasets with multiple levels of replication. This provides a consistent method for experiments with and without replication. It is not clear how extant single-slide methods could be adapted for multiple-slide comparisons. Usually, two methods, each with their own data models and assumptions - one for single-slide and a second for a multiple-slide based method, are used.
Transformations versus interpretation of microarray datasets
Our method is based on limited data transformations (for example, background subtraction, log-transformation and global channel normalization) designed to preserve the data distribution and account for heteroscedasticity. A variety of non-linear transformation methods can be used to remove heteroscedasticity, for example, variance-stabilizing monotonic continuous non-linear transformations [21–23, 44]. Equalizing residual variance in this manner does not guarantee that bivariate normality will be preserved for the majority of genes which are not differentially expressed. A model distribution assumption is especially important for statistical inference in the case of limited or no replication in the data. Non-linear transformation methods require preliminary research and computational experimentation with different types of transformations for each specific microarray dataset in order to make a choice between different transformations. Although transformation methods could represent a valuable approach to microarray data analysis, any complex non-linear data transformation calls into question the validity of the transformations. Therefore, the application of these transformation methods requires trial and error followed by validation of each transformation for a particular experimental dataset [44]. We suggest that our approach, which relies on interpretation of existing data distributions including any heteroscedasticity rather than application of methods to change distributions, provides a reasonable alternative to variance-stabilizing methods.
Multiple comparisons in microarray data analysis
Typically, microarray data involve thousands of genes so clearly there is a problem of multiplicity of comparisons. Other model-based single-slide approaches do not consider this issue explicitly (see single-slide procedures described in [
1
,
13
,
14
,
17
,
18
]). First, we identify candidate outliers without correction to obtain unadjusted
p
-values (Table
3
). A
p
-value is a probability to reject the null hypothesis when the null hypothesis is true and represents a measure of statistical significance in terms of false positive rate. One way to obtain adjusted
p
-values is to apply a Bonferroni correction based on
N
(the sample size of the entire dataset) which may be too conservative, so we examine two alternative corrections. In one alternative approach, we apply a multiplicity of comparison correction based on an estimate of
k
(number of non-regular observations) rather than the sample size of the entire dataset. This approach emphasizes stable outliers at the expense of other possible outliers (that is,
N
-
k
) which are inliers in the current single-slide experiment. Clearly, this Bonferroni correction by
k
provides a much less conservative result than the correction by
N
and we would argue more reasonable correction to identify true outliers. Other robust exploratory tools (see Methods) can be used to estimate
k
. In a more sophisticated approach to address these issues, the
q
-value is calculated from the ordered list of unadjusted
p
-values [
45
,
46
] (Figure
24
). The
q
-value is the minimum false discovery rate [
47
] for a particular feature from a list of all features [
45
,
46
]. The false discovery rate is the proportion of true null hypotheses among all null hypotheses which were found to be significant - for example, a false discovery rate of 1% means that among all candidates for differential expression found significant, 1% of these are true nulls on average [
46
].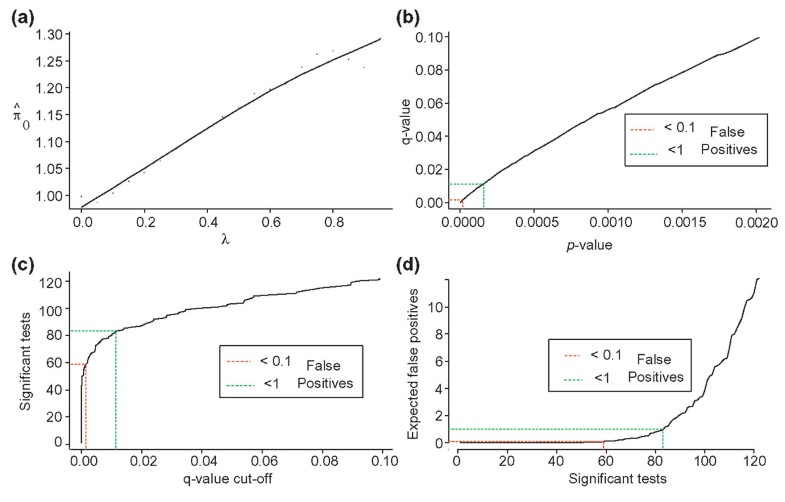 Exploratory and confirmatory differential gene expression analysis
We suggest distinguishing explicitly between exploratory data analysis to identify candidates for differential gene expression and confirmatory analysis to identify differentially-expressed genes based on strict statistical inference. Exploratory differential gene expression analysis is appropriate for datasets with limited replication to identify the most likely candidates for differential expression. Clearly, additional independent experimental approaches or additional replicates are needed to confirm the exploratory analysis and distinguish outliers by chance from systematic outliers. Alternatively, confirmatory differential gene expression analysis with multiple layers of experimental and technical replication provides sound conclusions based solely on the microarray datasets. Nevertheless, exploratory microarray data analysis followed by independent confirmatory validation studies (for example, quantitative RT-PCR) represents a practical and cost effective solution for expression studies.
Additional data files
A comparative summary table (in html format; Additional data file 1) coupled with an auxiliary legend file (Additional data file 2) shows candidates for differential gene expression in all ten experiments used in the paper. An Excel table (Additional data file 3) gives the test accuracy definitions that were used for simulations to evaluate method performance.
Declarations
Acknowledgements
We would like to acknowledge Ruben Zamar, Victor Yohai and Ricardo Maronna for critical reading of the manuscript. Our thanks go to Rus Yukhananov as well for helpful comments. We thank Cathy White for technical assistance. Work by Alex Loguinov and Chris Vulpe was supported by the Life Sciences Informatics Program of the University of California and the International Copper Association. Work by I.S.M. was supported the Director, Office of Energy Research, Office of Health and Environmental Research, Division of the US Department of Energy under Contract number DE-AC03-76F00098.
Authors' Affiliations
(1)
Department of Nutritional Sciences and Toxicology, University of California at Berkeley, Berkeley, USA
(2)
Life Sciences Division, Lawrence Berkeley National Laboratory, Berkeley, USA
Copyright
© Loguinov et al.; licensee BioMed Central Ltd. 2004
This article is published under license to BioMed Central Ltd. This is an Open Access article: verbatim copying and redistribution of this article are permitted in all media for any purpose, provided this notice is preserved along with the article's original URL.