Molecular archeology of L1 insertions in the human genome
Genome Biology
2002
3:research0052.1
Received: 12 February 2002
Accepted: 13 August 2002
Published: 19 September 2002
Abstract
Background
As the rough draft of the human genome sequence nears a finished product and other genome-sequencing projects accumulate sequence data exponentially, bioinformatics is emerging as an important tool for studies of transposon biology. In particular, L1 elements exhibit a variety of sequence structures after insertion into the human genome that are amenable to computational analysis. We carried out a detailed analysis of the anatomy and distribution of L1 elements in the human genome using a new computer program, TSDfinder, designed to identify transposon boundaries precisely.
Results
Structural variants of L1 elements shared similar trends in the length and quality of their target site duplications (TSDs) and poly(A) tails. Furthermore, we found no correlation between the composition and genomic location of the pre-insertion locus and the resulting anatomy of the L1 insertion. We verified that L1 insertions with TSDs have the 5'-TTAAAA-3' cleavage site associated with L1 endonuclease activity. In addition, the second target DNA cut required for L1 insertion weakly matches the consensus pattern TTAAAA. On the other hand, the L1-internal breakpoints of deleted and inverted L1 elements do not resemble L1 endonuclease cleavage sites. Finally, the genome sequence data indicate that whereas singly inverted elements are common, doubly inverted elements are almost never found.
Conclusions
The sequence data give no indication that the creation of L1 structural variants depends on characteristics of the insertion locus. In addition, the formation of 5' truncated and 5' inverted L1s are probably not due to the action of the L1 endonuclease.
Keywords
Inverted ElementEmerinInversion BreakpointInverted SegmentDownstream Flank Sequence
Background
Transposable elements are a prominent component of the human genome, accounting for approximately 45% of the initial draft sequence [1]. This is probably an underestimate, because the heterochromatic and other regions that are difficult to assemble were excluded from these estimates. Nevertheless, this large fraction is a testament to the efficiency with which these elements, now mostly fossil sequences [2,3,4,5], have been able to propagate, and it is clear that they played a large part in determining the structure and organization of our genome. Transposable elements mobilize either directly through DNA or through an RNA intermediate. Retrotransposons mobilize through an RNA intermediate, and are classified as either having long-terminal repeats (LTRs) or not (non-LTR). L1s are one of the most abundant non-LTR retrotransposons, comprising 17% of the human genome [1]. Also, L1-encoded proteins were almost certainly involved in the insertion of most of the Alu elements and processed pseudogenes in the genome [6,7,8,9,10]; thus, L1s are probably responsible, directly or indirectly, for the genesis of most of the transposed fraction of human DNA.
A full-length, active human L1 is approximately 6,000 nucleotides long and consists of a 5' UTR with an internal promoter, two open reading frames (ORFs) separated by a 63-nucleotide intergenic region, and a 3' UTR terminating in a poly(A) tail [
11
] (Figure
1a
). The functional significance of ORF1 is not clear, whereas ORF2 contains three domains critical for L1 propagation: endonuclease [
12
], reverse transcriptase [
7
,
13
], and a 3'-terminal Zn finger-like domain [
14
].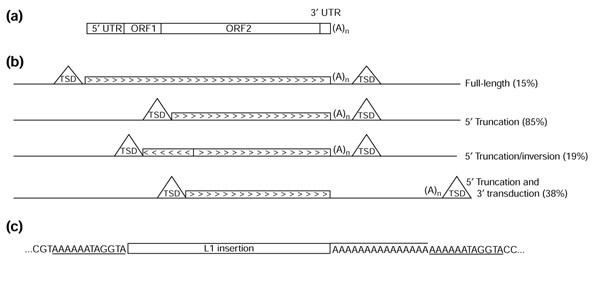 Full-length L1s are capable of autonomous retrotransposition. They propagate by being transcribed from an internal RNA polymerase II promoter [15,16], and then use their endonuclease and reverse transcriptase respectively to nick a target site and reverse transcribe L1 RNA, integrating the L1 into a new genomic locus [12,17,18]; this process is known as target-site-primed reverse transcription (TPRT). A new L1 insertion is usually flanked by short direct repeats derived from the target DNA locus upon L1 integration [19]; these repeats are referred to as target site duplications (TSDs), and can range from just a few to more than 200 nucleotides in length [14].
Relatively recent retrotransposition events can be recognized in genomic DNA with computational sequence analysis tools; however, the precise determination of the boundaries of L1 elements is complicated by the highly variable sequence and anatomy of L1 insertions. Thus, single L1 insertions can be mistakenly annotated as several separate L1 segments by RepeatMasker (A.F.A. Smit and P. Green [20]) and similar repeat-finding algorithms. The most variable features of L1s are the poly(A) tail, which has a variable length and can contain simple repeats, the polyadenylation signal, and the 3' UTR, but many changes have also been reported in the coding regions of young L1s, especially in a segment of ORF1 [21,22,23,24]. Relatively little is known about 5' UTR sequences, especially of the older elements, as the majority of L1s are 5' truncated [25]. Sequence differences in these highly variable components of L1 elements confound precise definition of the TSDs that define L1 insertion boundaries.
In addition to sequence variability, the structure of L1 elements is also quite diverse. Many L1 elements are 5' truncated or both 5' truncated and 5' inverted (Figure 1b). Some L1s have an extra 131 nucleotides in their 5' UTR, starting at position 777 [26]. Also, 3' transduction events associated with L1 insertions add an additional structural variation [27,28]; such elements are generated when the element's transcript includes some downstream flanking sequences that become transduced, along with the L1 sequence, to a new genomic locus. Consequently, the 3' TSD of the resulting L1 insertion event can be located hundreds of nucleotides downstream of the L1 sequence itself [29,30]. Finally, target site deletions can occur; therefore, sequence boundaries for some L1 insertions cannot be determined computationally in the absence of the pre-integration target [14,31,32].
The above variations provide a formidable bioinformatic challenge to accurate and automated identification of L1 termini. Nevertheless, we developed an algorithm that refines the coordinates of L1 insertions found by the existing DNA sequence analysis tool RepeatMasker. The basis of our algorithm is the identification of the flanking TSDs and poly(A) tails of 3' intact L1 insertions. Using this algorithm, we collected from the human genome sequence those L1s with recognizable TSDs. This enabled us to carry out a large-scale study of L1 sequence features related to the molecular mechanisms involved in retrotransposition. We present here some primary structural features of these L1s and a detailed analysis of their TSDs. We also investigated the chromosomal location at which these L1s were found. Studying L1 insertion events in our genome can provide new insights to both L1 biology and the mechanisms by which L1s and the smaller, gene-encoding portion of the human genome have reached an equilibrium.
Discussion
To gain insight into the mechanisms by which L1 structural variants are created, and to identify trends associated with their insertion, we carried out a comprehensive analysis of the L1 sequences and their surrounding DNA loci. To facilitate this study, we wrote the software TSDfinder, which identifies the TSDs, poly(A) tails, and inversion breakpoints (if any) associated with L1s. We found no correlation between the length and quality of either the TSDs or the poly(A) tails and the resulting anatomy of the L1 element. Thus, the poly(A) tail quality probably does not influence the formation of 5' inverted elements. Furthermore, this suggests that the specificity of the initial step of the retrotransposition is conserved in all classes of elements. It is important to consider, however, that any hallmark sequence structures uniquely associated with the insertion of structural variants may be refractory to analysis after millions of years of evolution. For example, Ovchinnikov et al. reported that the poly(A) tails of L1s may become shorter over time [24].
Our analysis of the pre-insertion loci of L1s with TSDs confirms that the top strand consensus site of L1 endonuclease is TTAAAA. This result is completely consistent with previous studies of the L1 endonuclease targeting preference in vitro and as inferred from the TSDs of Alu elements, which are thought to hijack the L1 machinery for their insertion [6,8,53]. We also observed this pattern, albeit not as robust, at the 3' end of the pre-insertion locus, suggesting that L1 endonuclease may also be responsible for the second-strand cleavage of host DNA during L1 insertion. There is evidence that the related sequence-specific R1 element endonuclease makes both cuts in the target DNA [18].
The frequency with which L1s were found in high-copy repeats indicates that insertion into pre-existing L1s and Alu sequences may be somewhat disfavored. Apart from this, the observed frequencies are roughly similar to those with which these same sequence classifications occur in the human genome [1]; therefore, other than a preference for AT-rich DNA, L1 insertion at a particular genomic locus may be influenced more by local chromatin structure than by specific long-range sequence composition of the DNA. On the other hand, Ovchinnikov et al. [24] found that very recently inserted polymorphic L1s were randomly distributed and their distribution shifted over time. Thus, the current flanking sequences of L1s may be an inaccurate reflection of the target DNA of any given L1 at the time of insertion.
In our analysis of 5' inverted L1s, we failed to reveal any similarity of the breakpoint at the junction between the two fragments with the L1 endonuclease consensus cleavage site. This suggests that L1 endonuclease does not participate in 5' inversion formation by cleaving L1 cDNA. Instead, our findings support the recently proposed twin-priming model for inversion [47]; as we showed above, the 3' end top-strand cleavage product has a modest bias to be a 'T' nucleotide (Figure 3b) and we indeed see a modest preference for a complementary 'A' nucleotide at the corresponding position of the inversion breakpoint (data not shown). On the other hand, whereas Ostertag and Kazazian [47] report that the inversion points are clustered towards the 3' end of inverted L1s, we found no clear bias in the position of the breakpoint position in our set of 5' inverted L1s. This discrepancy may be due to their small sample size of inverted elements, the majority of which were less than 2,000 nucleotides long. Another discrepancy between our datasets is their observation that the length of the non-inverted L1 segment is shorter than the inverted segment. In contrast, we found the 3' segment of 5' inverted L1s to be generally longer than the 5' segment.
As inverted elements are found 8% of the time in 3' intact elements, 462 twice-inverted elements were predicted to occur if such events are permitted (that is, 8% of 8% of the time if the two inversions can occur independently more than once during the same retrotransposition event). This provides a powerful independent test of the twin-priming model which cannot explain multiply inverted elements. The fact that we only found two such events suggests that whereas single inversions are a simple perversion of the normal retrotransposition process such as twin priming, doubly inverted elements require some other extremely rare event to occur.
We found that compared to the other L1 structural variants, a smaller proportion of 3' transduction L1s have a patterned poly(A) tail. This is consistent with the poly(A) tails of 3' transduction events being formed mostly through the action of poly(A) polymerase. On the other hand, the presence of L1s with patterned tails is consistent with the results of Chaboissier et al. [40] who found that elements with patterned tails could be converted to elements with heritable poly(A) tails. We propose that L1 elements also exist as two populations, and that L1s with patterned tails beget other elements with patterned tails. These data suggest that polyadenylation of L1 transcripts by poly(A) polymerase may not be obligatory in the formation of standard L1 insertions. Alternatively, it has been reported that the poly(A) tails of retrotransposons may be a source for the creation of microsatellites through post-insertional mutations [24,54]; the patterned tails we found may therefore exemplify this transition from poly(A) tail to microsatellites.
It has been suggested that the high concentration of L1s on the X chromosome may have a role in X inactivation of select genes [39]. This hypothesis seems unlikely, as we see the same elevated density of L1s on the Y chromosome. Boissinot et al. [38] have hypothesized that the high frequency of full-length L1 elements on the Y chromosome may be due to the inability of the Y chromosome to recombine, which is a process by which potentially harmful full-length L1s are eliminated from the genome. Furthermore, we found that a region of the X chromosome at which many X-inactivated genes are located is quite L1-poor, a finding that is contrary to a direct role for L1s in X inactivation.
Implementation of TSDfinder on a genome-wide scale has provided new insights to a variety of hypotheses about L1 insertion and evolution. Finally, analysis of inverted elements by TSDfinder provides strong, independent support for the twin-priming model.
Declarations
Acknowledgements
We are grateful to members of the Boeke lab and Landsman group for helpful discussions during the preparation of this manuscript, especially Liora Strichman-Almashanu, John S.J. Anderson, Wataru Fujibuchi, David Symer, and Greg Cost. We thank Qing Liu for work on Figure 3a. We also acknowledge Joana Silva for critical reading of the manuscript. This work was supported by NIH grant CA16519 to J.D.B.
Authors' Affiliations
(1)
National Center for Biotechnology Information (NCBI), National Library of Medicine, National Institutes of Health, Bethesda, USA
(2)
Department of Molecular Biology and Genetics, Johns Hopkins University School of Medicine, Baltimore, USA
(3)
Biogen, Inc., Cambridge, USA
(4)
Human Genome Sciences, Inc., Rockville, USA
(5)
Department of Biology, The Pennsylvania State University, University Park, USA
(6)
Fred Hutchinson Cancer Research Center, North Seattle, USA
(7)
These authors contributed equally to this work, USA
Copyright
© Szak et al., licensee BioMed Central Ltd 2002