From genome to function: the Arabidopsis aquaporins
Genome Biology
2001
3:research0001.1
Received: 21 May 2001
Accepted: 8 October 2001
Published: 7 December 2001
Abstract
Background
In the post-genomic era newly sequenced genomes can be used to deduce organismal functions from our knowledge of other systems. Here we apply this approach to analyzing the aquaporin gene family in Arabidopsis thaliana. The aquaporins are intrinsic membrane proteins that have been characterized as facilitators of water flux. Originally termed major intrinsic proteins (MIPs), they are now also known as water channels, glycerol facilitators and aqua-glyceroporins, yet recent data suggest that they facilitate the movement of other low-molecular-weight metabolites as well.
Results
The Arabidopsis genome contains 38 sequences with homology to aquaporin in four subfamilies, termed PIP, TIP, NIP and SIP. We have analyzed aquaporin family structure and expression using the A. thaliana genome sequence, and introduce a new NMR approach for the purpose of analyzing water movement in plant roots in vivo.
Conclusions
Our preliminary data indicate a strongly transcellular component for the flux of water in roots.
Keywords
Nuclear Magnetic Resonance
Water Movement
Water Flux
Deduce Protein Sequence
Human AQP1
Background
The most obvious plant characteristic - photosynthesis - depends on terrestrial plants acquiring, transporting and transpiring water to maintain the functional integrity of their photosynthetic apparatus, sustain water-splitting activity and carry out carbon dioxide fixation. There is no growth without water movement through cells and into and out of the plant vascular system, and most plants are severely damaged by even a few hours of water deficit. Evaporation is hormonally regulated through stomata, which adjust in response to an imbalance between water flux in the vascular system and the rate of transpiration. Apart from the macroeconomy of water supply and allocation, we know little about how water movement is regulated within the cell and between cells in different tissues. Until recently, we were ignorant of the existence of proteins facilitating water movement [1,2], although the existence of proteinaceous water channels in plants had been suggested long ago, and received strong experimental support a decade ago [3,4]. The discovery of a family of genes encoding these protein channels, now known as aquaporins (AQPs), had been anticipated in principle by the earlier studies because water permeability, at least in some tissues and cells, has characteristics that cannot be explained if the lipid membrane is the sole barrier to water exchange (for reviews see [5,6,7,8]).
In macroscopic terms, water movement through plants had long been thought of as a biophysical problem, as a topic of capillary resistance in pressurized pipes terminating in 'sprinkler' systems - the stomata - whose apertures adjust when responding to changes in hydraulic pressure. A combined pathway for water through the apoplastic (cell wall) space and through cells, either transcellularly across the cell wall, or through the symplast via plasmodesmata, placed little emphasis on membrane barriers impeding such movement. Reports of an energy-dependent metabolic component to water flux and the poisoning of water flux by mercurials, however, pointed to additional complexity. Nevertheless, the existence of water channels does present a real puzzle, considering that water movement through simple lipid bilayers is significant and the AQPs increase conductance by a factor of maybe 10 (range 0 to 30) [6,8]. Model experiments with Xenopus oocytes injected with AQP cRNA have amply confirmed that many AQPs do facilitate water movement. Most important, AQP functions have been demonstrated in vivo in plants [9,10,11,12].
Aquaporins belong to a group of often abundant membrane proteins of molecular mass 26-35 kDa. They have six transmembrane α helices (TM) and two additional membrane-embedded domains. Their amino and carboxyl termini are located on the cytoplasmic surface of the membrane. The amino- and carboxy-terminal halves of the polypeptide show sequence similarity to each other and are arranged as a tandem repeat, which apparently originated from the duplication of a half-sized gene encoding three transmembrane domains. Each half bears one hydrophobic loop which includes a highly, though not absolutely, conserved Asn-Pro-Ala (NPA) motif [13,14]. The loops containing the NPA motif, located to the carboxy-terminal side of TM2 and TM5, respectively, overlap in the middle of the lipid bilayer ('hourglass' model) and form two hemipores that generate a narrow channel [15,16,17]. Erythrocyte CHIP28 (human AQP1) was the first AQP shown to form water-selective channels [18]. AQP1 forms tetramers [16,17,19] but monomers alone can facilitate water flow [20,21].
Two high-resolution X-ray structures are now available, one for human AQP1 (HsAQP1, CHIP28) and one for the
Escherichia coli
aqua-glyceroporin GLP-F [
22
,
23
,
24
], which transports glycerol. The model for HsAQP1 outlines the pore geometry and suggests a single-file passage of water molecules while the passage of protons is prevented. The two asparagine residues (76 and 192, both in NPA motifs) form hydrogen bonds with a single water molecule, interrupt the hydrogen-bonded file of water molecules in the pore, and thus control water passage. The GLP-F structure [
23
] describes a channel whose selectivity filter and pore are different, forming an amphipathic channel. The alkyl backbone of the transported glycerol is adjacent to the hydrophobic surface and the hydroxyl groups form hydrogen bonds with the hydrophilic surfaces [
23
,
24
]. This bacterial GLP-F is most similar to the NIP/SIP group of plant AQPs, whereas the PIP and TIP plant AQPs are more similar to the animal AQPs (see below). GLP-F transports ribitol and xylitol at a rate lower than that of glycerol, adding an interesting feature to GLP-F's possible physiological functions. The GLP-F structure model is consistent with a string of glycerol (or polyol) molecules following a path that involves successive hydrogen bonding along the channel and through the pore. Also, induced conformation changes may determine which metabolites (possibly including ions) pass through, providing additional flexibility and diversity. The GLP-F structure also suggests that the center of the tetrameric complex might constitute a different channel on its own [
23
]. As more structure models become available, AQP diversity is becoming obvious because, irrespective of overall sequence homology, the surface topographies of different AQPs as seen by atomic force microscopy seem to vary widely [
25
,
26
]. On the basis of deduced amino-acid sequences and one crystallographic model [
27
], plant AQPs seem to include the same general structural motifs that have been detected in mammalian and bacterial AQPs. Figure
1
presents a schematic view of notable domain structures and functional features [
24
,
28
].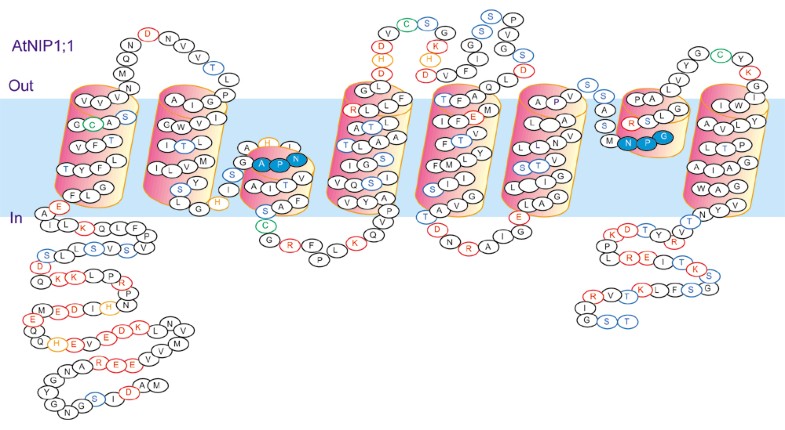 After the first aquaporin from plants (γ-TIP) was cloned and functionally expressed [29], plant AQPs received considerable attention. If functional, their bearing on our understanding of the biophysics of water flow across plant membranes could be significant [5,6,8,30,31,32]. New evidence indicates that the function of AQPs and aquaporin-related proteins may not solely, or not explicitly, be in water-flux facilitation. In addition, glycerol, urea, ammonia, other uncharged small metabolites, and possibly carbon dioxide and ions, seem to traverse membranes containing these 'aquaporins' [6,8,31,32,33,34]. During the past decade, several plant AQPs have been characterized using Xenopus oocyte, yeast, or plant protoplast swelling assays. Although such analyses are far from exhaustive, the evidence supports disparate water-flux characteristics among AQPs, possibly reflecting the fact that their real substrates might be quite different [35,36].
The AQP gene family in plants is unexpectedly large. In contrast to the 10 or 11 AQP genes in the human genome [24], more than 20 expressed AQPs were detected in Arabidopsis by cDNA library screens or RT-PCR [37]. A growing number of transcripts, detected as expressed sequence tags (ESTs), indicated that the actual number might be even higher in maize, where at least 31 unique AQPs have been detected [28]. With the sequence of the A. thaliana (Columbia) genome completed, classical approaches to assessing AQP gene complexity can be replaced by analysis of the genome [38]. We analyzed the Arabidopsis genome sequence for the presence of aquaporin-related sequences and summarize what is known about this gene and protein family.
Discussion
Intracellular locations of AQPs
The original definition of the PIP and TIP subfamilies was their assumed location in the plasma membrane and tonoplast, respectively. When antibodies were used to locate proteins of the TIP group, the signal was always confined to tonoplast membrane fractions [72]. PIP localization seems less well defined. Daniels et al. [73] located a PIP-family protein to the plasma membrane in Arabidopsis. For M. crystallinum, Barkla et al. [43] detected PIPs to a small extent in the plasma membrane but mostly in a vacuolar fraction in continuous sucrose gradients or, more likely, in a membrane fraction with a density similar to tonoplasts. This is not surprising considering that mammalian AQPs have been documented as cycling between the plasma membrane and internal vesicles, a process that seems to be under hormonal control [74,75]. Such mobility may also be at the basis of the distribution of different TIPs in distinct plant vacuoles [61,76,77]
Functions of AQP
We have outlined how the genome of Arabidopsis can provide new information, taking the aquaporin gene and protein family as an example. There are, however, limits on what can at present be deduced from gene sequences alone. The fundamental questions of whether the primary role of all or most AQPs is in increasing water conductivities, and what physiological functions such water permeability increases may serve in plant function, are not settled. They can only be addressed by functional measurements. The straightforward view that most aquaporins in plants are there to regulate water flow, and a subset may facilitate the movement of glycerol or other small molecules, is the most widespread general interpretation of the physiological and functional assays outlined at the start of this article. This dogma is expounded more thoroughly elsewhere [6,30,31,32,36]. This view, in fact, conceals a number of quite different roles for water-channel activity, involving the regulation of water flux and homeostasis at the subcellular, transcellular, tissue and whole-plant levels. Therefore, there are two levels at which functional questions must be addressed for each AQP. One is whether each AQP functions as a water channel, and it seems that a significant number of PIPs, for example, do not in fact greatly increase the water conductivity of the cell membranes in which they reside (at least not in oocytes; see for example [55,78]). In reality we are ignorant about the natural substrates for most AQPs.
The second level of question that requires nongenomic information is: if water-channel activity is significant for a particular AQP, what is the role of this activity in a whole-plant context. A simple example concerns the location of gene expression. The simple statement that a particular gene is expressed in roots, for example, conveys insufficient functional information, as different AQPs have different distributions within one tissue [44,72]. An AQP expressed in the epidermis is unlikely to function in vascular flux. Although our understanding of promoter and protein domains that determine expression and localization is growing, our ability to deduce from genomic sequences which cell types are likely to express a particular gene and where the product will reside under what conditions is still rudimentary. Thus direct determination of the location of each AQP within tissues is still required to understand its function in the plant.
The water-channel view of AQP function requires us to believe that there may be something about some PIPs that prevents them displaying their normal water-channel function in oocytes. This and other considerations arising from the imperfections of oocyte expression systems [79] call for functional measures of AQPs to be made primarily in plant cells or tissues. Assays on plant protoplasts, roots and whole plants are obviously important, and here the question is how the contribution of an AQP is to be determined. Such measurements generally rely on mercurials to perturb AQP function, but mercurials can act in a nonspecific way on membranes and proteins, and not all AQPs are mercury-sensitive, so this is not sufficient.
A path forward: reverse genetics and biophysical investigations
The use of gene knockout and/or antisense technologies is particularly appealing for plant AQPs. In animals, this approach has been used to reveal which AQPs and combinations thereof are, and are not, crucial for water fluxes in vivo in mice lacking the genes for AQP1 and AQP3 [80]. In the one case where it has been applied, lowering AQP expression by AtPIP1;2 (AtPIP1b) antisense expression resulted in plants with root systems that were larger but pressure probe measurements indicated the same overall xylem pressure as the smaller root systems of wild-type plants [52]. Protoplasts from these antisense plants showed lower water permeabilities [12].
We believe that applying a combination of biophysical measures of conductivity to transgenics involving each of the AQPs, and combinations of several AQPs, represents the most promising approach to the fundamental unanswered questions about general and individual AQP functions. By including whole-plant water relations and also metabolite measurements, the use of transgenic plants, preferably of the 'gene knockout' type, will yield a greater understanding and prevent errors of interpretation that could arise from simply correlating single-gene knockouts with changes in hydraulic conductivity parameters.
Only by addressing in a systematic way the functions of each AQP in planta will it be possible to understand such simple but puzzling issues as the reason behind the large number of AQP genes in plants. The number of AQPs in the Arabidopsis genome - 35 - compares with the presence of, for example, 15 potassium channels and 15 proton/metal antiport systems in the Arabidopsis genome. More detailed comparison with animal systems only increases the puzzle. In humans only AQP1 appears to be widely distributed in different tissues (although several other AQPs are expressed as rare transcripts in various tissues), whereas the data in Table 2 show that, in plants, most AQPs are expressed at significant levels in multiple tissue types. We suggest that the reason for the large number of plant AQPs will turn out to be that multiple genes represent multiple functions, of which water permeability is only one. Thus we postulate that plant genomes evolved more AQPs than animals because in plants they serve functions that are either not required or are met by other systems in animals.
Such functions may include metabolite permeation. As with the water permeability of most AQPs, permeability to a particular metabolite does not mean that this is a meaningful function in planta. Thus the permeability of an AQP to ribitol and xylitol, as found for a bacterial glycerol facilitator [23], cannot be significant in cells where these metabolites are not present. Indeed permeability in one species may have a very different role in another. Thus there is good evidence that glycerol permeability is important in yeast cells [81,82] in the secretion of this polyol under stress conditions, but in higher plants that do not accumulate glycerol as an osmoprotectant nor excrete it in large quantities, there is no apparent function for increasing glycerol permeability. One might speculate that by increasing membrane permeability to polyols and/or other metabolites, some plant AQPs could be involved in long-distance apoplastic transport or signaling rather than in the bulk secretion of, for example, glycerol. The discovery of such possible functions will require in planta examination of transgenic plants and an extension of analyses beyond highly selective water and small-molecule permeability assays in heterologous systems and protoplasts.
Biophysical measures of water movement in planta - whether based on pressure probes, NMR or other methods - as well as methods for determining localization and expression and for generating transgenics are available. A relatively neglected area is the development of quantitative anatomical models of water movement for interpreting flux measurements [83]. Such models are needed for testing the potential contribution of AQPs to regulating water content and transport, and indeed for determining which of the range of plausible but untested ideas about AQP function may or may not apply to different membranes, cells, tissues, plants and environmental conditions. The combination of localization of AQP proteins and using anatomically-based models, has the potential to allow function to be assigned to individual AQPs using mutants and transgenics in which expression of AQPs (singly or in combination) is reduced or eliminated.
Conclusions
Studying genome sequences yields unique and useful information about unstudied and understudied genes. The aquaporin gene family in Arabidopsis is an interesting example of the current and potential limitations of this approach. Full sequence comparisons allow the assignment of the AQPs into subfamilies to be placed on a firm footing, and have functional implications for previously unknown genes. While we know about AQP sequences, structure, expression, post-translational modification, permeability properties and subcellular location from some case studies, our ability to extrapolate from gene sequence to functional properties for unstudied members of the same family is still limited. One limitation is that we cannot yet extrapolate reliably from sequence via three-dimensional structural features to conductivity, selectivity and other protein properties. This inability extends to regulatory regions that determine place, time and extent of transcript expression, and to protein characteristics that determine half-life, intracellular localization and membrane trafficking. This type of limitation will decrease as our understanding of sequence-structure and structure-function relationships improves and as our knowledge of expression and cellular targeting in plants expands. This means that genomic information will become more useful in the coming years and analyses such as the one presented here are likely to become common and more useful.
Irrespective of our steadily improving predictive tools for in silico analyses, fundamental questions of the physiological roles of individual genes will continue to require detailed functional assays. Here too, genomic information is important because, as we have argued above, assigning physiological function via transgenic reduction or removal of gene expression requires sequence information for precise targeting. Here, the AQP family provides an ideal opportunity. This is a set of genes whose functions are intuitively perceived as important, much isolated information has been accumulated, yet their function is far from being understood. Also, AQPs pose challenges because the family is likely to contain genes with divergent and unique biological roles in the plant. Indeed it is likely that in many cases individual members of the family have different roles, depending on when and where they are present in the plant. Clearly, this level of understanding will require a combination of biophysical measurements - which we think must be nondestructive, real-time and experimentally flexible - transgenic technology, knockout or precision antisense experiments, and modeling of plant function.
Materials and methods
Genome and transcript analysis
Arabidopsis thaliana (ecotype Columbia) aquaporin coding sequences were identified by searching the Arabipdosis genomic data at NCBI [84] with the BLAST algorithms [85]. Intron-exon splicing sites were verified visually using available cDNA sequences and/or corresponding ESTs. The Arabidopsis Information Resource (TAIR) website [86] was used to localize Arabidopsis aquaporin genes on the chromosomes. Sequences were aligned with the pile-up program of the GCG software (Wisconsin Genetics Computer Group package). Tree building was performed with ClustalX [40] and drawn with the TreeView software [41]. Transmembrane regions were determined with the transmembrane prediction program TMpred [87,88].
Growth of seedlings
Maize seeds (FRB-73) were germinated for 3 days on trays on absorbent paper wetted with 0.1 mM CaSO4 at 28°C in a humidified incubator. Seedlings were then transferred to hydroponic growth on 0.5 cm thick Styrofoam sheets (0.5 cm diameter holes) floating on aerated growth solution. The primary root of each seedling was threaded through a hole in the Styrofoam sheet into the growth solution. Hydroponic growth was under continuous illumination at 28°C in humidified air and growth solutions contained 0.1 mM CaSO4.
Preparation for NMR
Tips 5 mm long were excised from each primary root and discarded. The next 25 mm of primary root was then cut and briefly vacuum infiltrated under reduced pressure to improve magnetic field homogeneity of in vivo spectra. Root segments were placed in 10 mm NMR tubes with their axes aligned parallel to the tube axis and perfused with aerated buffer solutions containing 50 mM glucose, 1 mM Ca2+, 10 mM potassium-gadolinium EDTA, 0.5 mM EDTA, 5 mM methylethylsulfonate (MES) at pH 6 with or without 3% D2O. The gadolinium (Gd) was used to separate intracellular from extracellular signals [70] and is complexed to prevent toxicity. The composition of the perfusion medium was designed to keep the free [Gd3+] below 1 μM, while having [Ca2+] above 0.2 mM and below 1 mM. No toxicity to maize root tissues was observed by in vivo 31P NMR spectroscopy of root tips or segments exposed to the perfusion medium for several hours, and the growth of excised root tips and roots of intact seedlings was the same over 24 h in this medium as in medium without Gd or EDTA. The perfusion system used has been previously described [70]. Perfusion rates of 30-40 ml per min were used.
One-dimensional-pulse 1H and 2H NMR spectra were acquired as previously described [70] using a Unity 400 Varian spectrometer with a 10 mm broadband probe. For tracer experiments, time courses of 150-300 2H spectra were acquired at 1, 10 or 15 sec intervals. The intensities of intracellular 2H signals were measured from these spectra and normalized to final equilibrated intensities (for influxes) or initial intensities (for effluxes).
Model for the analysis of water flux data
The model illustrated in Figure 7 assumes that water diffusing radially through the root encounters several barriers. The three parameters of this model correspond to rate constants (or permeabilities) of the exodermis and the endodermis, as in model 2, with additional barriers for movement between cell layers, similar to model 3. The rate of change of concentration for the nth compartment is given by a set of n equations
in which C n is the concentration in layer n, k n is the rate constant between the nth and the (n - 1)th cell layer. The permeability for water movement between successive cell layers is assumed to be the same for all layers except for those for movement from the external medium into the root (across the exodermis) and movement from the eighth to the ninth layer, which are separated by the endodermis. Therefore the all k values except for k1 and k9 have the same value scaled by dividing by the relative radius of each cell layer. This scaling is because the rate constant for crossing a membrane or other barrier is equal to the permeability of that barrier multiplied by the area-to-volume ratio, and the area-to-volume ratio for an elongated cylinder is 2/(radius). Solution of this set of equations was implemented using a spreadsheet computer program.
Declarations
Acknowledgements
We thank Jennifer Inlow and Ryan Kelley for help with the figures and Jane Dugas for help with the manuscript. The work was supported by the National Science Foundation (DBI9813360; to H.J.B.), US Department of Agriculture (NRI program; to Y.S.H., H.J.B.) and a Crimson Scholarship from New Mexico State University to J.M.R. F.Q. acknowledges a sabbatical fellowship from the University of Grenoble, France.
Authors' Affiliations
(1)
Department of Biochemistry and Molecular Biophysics, University of Arizona, Tucson, USA
(2)
Department of Chemistry and Biochemistry, New Mexico State University, Las Cruces, USA
(3)
Laboratoire de Génetique Moléculaire des Plantes, UMR CNRS 5575, Université Joseph Fourier, Grenoble, France
(4)
Department of Plant Biology, University of Illinois, Urbana, USA
Copyright
© Quigley et al., licensee BioMed Central Ltd 2001