Post-translational buffering leads to convergent protein expression levels between primates
Received: 19 September 2017
Accepted: 10 May 2018
Published: 27 June 2018
Abstract
Background
Differences in gene regulation between human and closely related species influence phenotypes that are distinctly human. While gene regulation is a multi-step process, the majority of research concerning divergence in gene regulation among primates has focused on transcription.
Results
To gain a comprehensive view of gene regulation, we surveyed genome-wide ribosome occupancy, which reflects levels of protein translation, in lymphoblastoid cell lines derived from human, chimpanzee, and rhesus macaque. We further integrated messenger RNA and protein level measurements collected from matching cell lines. We find that, in addition to transcriptional regulation, the major factor determining protein level divergence between human and closely related species is post-translational buffering. Inter-species divergence in transcription is generally propagated to the level of protein translation. In contrast, gene expression divergence is often attenuated post-translationally, potentially mediated through post-translational modifications.
Conclusions
Results from our analysis indicate that post-translational buffering is a conserved mechanism that led to relaxation of selective constraint on transcript levels in humans.
Keywords
BufferingTranslationRibosome profilingPrimate evolutionGene regulation
Background
Almost half of a century ago, King and Wilson postulated that gene regulation differences are the major factor driving phenotypic divergence between human and chimpanzee [1]. Indeed, differences in gene regulation have been reported to be the major factors determining phenotypic differences between closely related species [2, 3]. Alterations of gene expression levels are more likely to survive natural selection than coding substitutions since a limited spatiotemporal change in gene expression is less likely to have deleterious pleotropic effects. Multiple examples, e.g. pelvic fin reduction in freshwater sticklebacks, demonstrate how changes in gene expression patterns could result in dramatic phenotypic divergence between closely related species [4]. Over the past decade, studies surveying genome-wide gene expression levels in primates have documented substantial variation in transcript levels between closely related species. [5–8]. Furthermore, population genomics studies looking for signatures of recent selection also highlighted key roles of regulatory variants in human adaptation [9, 10]. Despite promising progress, how variation at the transcript level impacts evolution of an organismal trait remains far from clear.
Protein expression levels are the biologically relevant quantities for coding genes. Yet most studies investigating divergence in gene expression among primates focused on comparing expression levels of messenger RNA (mRNA) [5, 6, 11, 12]. While the general efficacy of using mRNA level as a proxy for estimating protein levels is still an ongoing debate [13], there is no doubt that in some instances, translational and/or post-translational regulation of gene expression results in protein levels that are far deviated from the mRNA levels upstream [14]. Large-scale studies profiling the impact of genetic variation jointly on transcript and protein levels have begun to reveal clues on how protein expression is post-transcriptionally regulated [15–18]. In fact, it has been shown that protein expression levels are far more conserved across diverse taxa than mRNA levels [19]. How this conservation of protein level is achieved given the apparent larger divergence at the mRNA level is still unclear.
To estimate the divergence of mRNA and protein levels among primates, we previously collected RNA-sequencing and quantitative mass spectrometry data from a set of 15 primate (five humans, five chimpanzees, and five rhesus macaques) lymphoblastoid cell lines (LCLs). Consistent with an earlier observation across wider taxa [19], we found conserved protein expression levels between human and chimpanzee, despite extensive divergence in mRNA levels [20]. While a stronger evolutionary constraint at the protein expression level likely reflects the critical importance of protein stoichiometry [18], which is critical for forming the machinery that executes biological functions, it remains unclear how the divergence is buffered. More specifically, whether this buffering occurs translationally or post-translationally remains an open question.
Ribosome profiling is a technique that uses next generation sequencing to survey ribosome footprints in a massively parallel fashion [21]. It has been shown that ribosome occupancy levels estimated from counting the number of ribosome footprints provide a good approximation for the level of protein translation [22]. Several studies have successfully applied ribosome profiling to a wide range of organisms to better understand expression divergence across species and the impact of genetic variation within species [17, 22–28]. We recently applied this technique in a panel of HapMap cell lines to identify genetic variants affecting protein translation and to estimate relative contributions of translational and post-translational regulation to steady state protein levels [17]. We found that among the human cell lines, protein levels are usually less variable than mRNA levels. Interestingly, variation at ribosome occupancy level is mostly in concordance with mRNA rather than protein levels. Concordance between transcription and translation indicates that the attenuation of transcript level variation in humans is mainly mediated by a mechanism downstream of protein translation.
To further investigate gene expression divergence across primates, we performed ribosome profiling experiments in human, chimpanzee, and rhesus macaque cell lines. By integrating previously published ribosome profiling [17], RNA sequencing (RNA-seq) and quantitative mass spectrometry data [20], we compared the relative contributions of transcriptional, translational and post-translational regulation to gene expression divergence. This dataset allowed us to interrogate the relationships between different layers of gene regulation and their roles in primate evolution. Results from this joint analysis suggested that post-translational buffering plays a major role in maintaining conserved protein levels across primates. To our knowledge, the current study offers the first global view of the translational landscape across primates.
Results
To comparatively estimate levels of protein translation in primates we used ribosome profiling to sequence ribosome protected fragments (RPF) of mRNA [21]. We collected ribosome profiling data from LCLs of four humans, four chimpanzees, and four rhesus macaques (Additional file 1: Table S1) where data for estimating mRNA levels by RNA-seq and protein levels by SILAC were also available.
After excluding sequencing reads that mapped to ribosomal RNA (rRNA) and other contaminating sources (see "
Methods
"), we obtained a median of ~ 12 million uniquely mapped ribosome profiling sequencing reads per sample (Additional file
1
: Table S1 and Additional file
2
: Figure 1 S1a). We performed several analyses to confirm that the quality of the data is consistently high across the three species (See "
Methods
" and Additional file
2
: Figures 1 S1–S4). Briefly, we confirmed that > 95% of reads have a Phred quality score > 30 in all samples (Additional file
2
: Figure 1 S1b), and that across samples, regardless of species, we observe a median footprint length of 29 nt (Additional file
2
: Figure 1 S2) and a consistent codon periodicity pattern, as expected for ribosome profiling data (Fig.
1a
). We also confirmed that technical variation (among different sequencing runs of the same sample) was significantly lower (
P
 < 10
−15
, Wilcoxon rank sum) than biological variation (among different individuals from the same species; Additional file
2
: Figure 1 S3). Finally, we explored the possibility that technical variables (such as sequencing depth and quality) could contribute to variation in our expression data. We determined that none of the technical variables we examined significantly contribute to variation in the normalized expression data (see "
Methods
" and Additional file
2
: Figure 1 S4).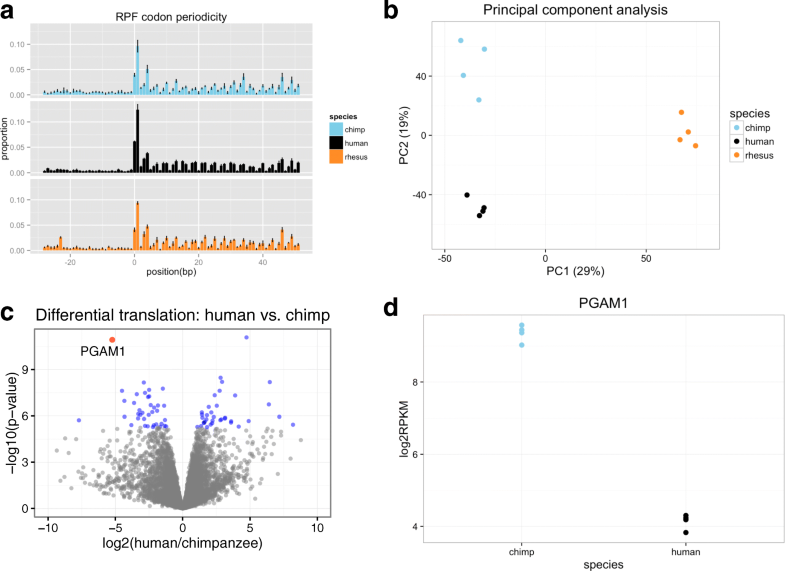 Discussion
To determine the contribution of translational regulation to gene expression level differences between humans and closely related species, we generated new data using ribosome profiling to estimate translation levels. This dataset in conjunction with the data described in Battle et al. [17] and Cenik et al. [27] provided a unique opportunity to explore recent evolution of translational regulation in humans. Through joint analysis with RNA-seq measurement of transcript levels and quantitative mass spectrometry measurement of protein levels, we provided an integrated view of divergence in gene regulation across primates. We found that divergence in translation efficiency is rare, which means that divergence between primate species at the transcript level often propagates to the level of protein translation (ribosome occupancy). This observation is in contrast to previous reports on pervasive translational buffering observed in F1 hybrids between S. cerevisiae and S. paradoxus [24, 25]. Interestingly, a report focusing on the same process in budding yeast hybrids between laboratory and wild isolate strains [23] and a follow-up reanalysis of the Artieri dataset [37] contradicts the notion of a pervasive translational buffering. Instead, their results were more in line with our observations in primates.
Translational regulation is often controlled by regulatory elements that reside in the UTR regions. Variants found in the UTR regions are therefore more likely to impact translation efficiency. Given the level of sequence divergence in the UTR regions [38], the amount of divergence in translation efficiency found between primates appears to be unexpectedly low. That being said, whether these substitutions in the UTR regions impact translational rate remains an open question. It is possible that these genetic variants, while impactful, are cryptic in the environment we tested. Further studies applying appropriate environmental perturbations could reveal species divergence in translational regulation [39]. On the other hand, we identified some inter-species divergence in translation efficiency. Interestingly, however, among the limited number of genes that show significant inter-species divergence in translation efficiency, transcriptional divergence often predicts protein level as well as (or better than) translational divergence for these genes. In other words, inter-primate divergence in translational regulation appears to have minor impact on gene expression differences at the protein level. Unfortunately, measurement noise prevented us from obtaining a precise estimate for the percentage of translational regulation that has a persistent impact on steady state protein levels. However, we were able to show that in contrast to transcriptional regulation, divergence in translation efficiency has only a minor impact on protein levels.
In contrast to gene regulation at translation, we found post-translational gene regulation to have a much broader impact on protein levels. Regulation at this layer often attenuates variation created upstream. A direct comparison between p values from testing effects of buffering from translational vs post-translational mechanisms clearly showed that more genes are regulated by the post-translational mechanisms. Buffering of divergence in gene expression levels has broad implications, especially in the context of evolution. For most genes, proteins often execute cellular functions. Variation in gene expression that has not reached the protein level is therefore less likely to impact organismal phenotypes. Consistent with this notion, we found evidence for relaxation of selective constraint on the mRNA levels in the HapMap YRI population for buffered genes identified between primate species. Further investigation on gene expression buffering in the context of population genetics would likely provide valuable insights on how selection might act on the regulatory variants associated with buffered genes. We found paralleled similarities between effects of post-translational buffering on gene expression divergence and effects of HSP90 chaperone action on rectifying mis-folding caused by missense mutations [40, 41]. HSP90 confers phenotypic robustness by buffering fitness impact imposed by non-synonymous mutations likely through either correcting the protein structure or facilitating the degradation process [42]. We speculate that parallel to HSP90 buffering at the structural level, post-translational buffering could confer phenotypic robustness at the gene expression level by stabilizing protein expression levels against mutations impacting transcription regulation.
We identified post-translationally buffered genes across all three pairwise species comparisons. This observation suggests that post-translational buffering is a conserved mechanism likely evolved under stabilizing selection for protein levels in primates. It remains unclear how post-translational buffering is achieved. We found enrichment of post-translational modifications among this group of genes without significant enrichment of coding substitutions. It could be that divergence in post-translational modifications instead of divergence in coding sequence led to differential turnover rates of proteins and therefore drives buffering. This interpretation provides an explanation for how post-translational buffering could be achieved between human and chimpanzee given the apparent low level of protein sequence divergence.
Post-translational buffering could be a consequence of a conserved cellular quality control system, such as endoplasmic-reticulum-associated protein degradation (ERAD) [43]. Protein quality control mechanisms are in place to ensure that proteins are properly folded and present in adequate amount to execute biological functions [44]. Adequate post-translational modifications are required for proper folding to take place. Moreover, ubiquitination is a key step in targeting mis-folded proteins to proteasome for degradations [44, 45]; misfolded proteins arising out of mutation or shortage of chaperones are labelled for degradation by ubiquitination. Consistent with the role of protein quality control mechanisms, we observed significant enrichment of reported ubiquitination sites in post-translationally buffered genes (Fig. 3e). In addition, many proteins are assembled into multi-subunit complexes with defined stoichiometry. Excess components of these complexes are targeted to proteasome for degradation [46–48]. Active degradation of excess product of translation could explain the apparent buffering of divergence at the protein level. Consistent with this notion, Chick et al. recently reported evidence supporting a stoichiometric buffering effect [18]. Moreover, Ishikawa et al. demonstrated that effects of artificial perturbation of protein stoichiometry through genetic manipulation are often buffered post-translationally [49]. Multiple protein quality control pathways could be involved in post-translational buffering. By overexpressing ribosomal proteins, Sung et al. described a nuclear protein-degradation mechanism mediated by ubiquitination in maintaining ribosomal protein stoichiometry [50]. Perhaps not coincidentally, our gene ontology analysis also found enrichment of genes that are involved in the process of protein translation for post-translationally buffered genes (Additional file 1: Table S5). Further investigation to identify factors involved in maintaining post-translational buffering would provide insights to advance our understanding of both how natural selection acts on gene regulation and how to better predict phenotypes given genetic variants that impact gene expression.
Taken together, our study provided the first integrative view on gene expression divergence across primates that allows a comparison between translational and post-translational events. We found extensive post-translational gene expression buffering that led to a stable protein level across primate species. We propose a scenario where buffering evolved under stabilizing selection of protein levels that prevents negative impacts on organismal fitness from protein level variation while allowing the transcript level to diverge for quick adaptation to environmental changes. Given the energy cost of protein translation [51], it remains puzzling to us that stabilizing selection appears to act on the post-translational level instead of the translational level. We reason that evolution of post-translational buffering is probably the more parsimonious path and speculate a trans-acting mechanism, involving post-translational modification enzymes, achieved gene expression buffering in a relatively short period of evolutionary time.
Conclusions
Using ribosome profiling, we measured the impact of translational regulation on inter-species divergence between human and closely related primate species. We found divergence in translation efficiency between primate species to be relatively rare, while in contrast, we found post-translational buffering to be a major force in shaping protein expression divergence between primates. We provided evidence indicating that post-translational modifications play a role in this buffering process. Post-translational buffering appears to have allowed a relaxation in the selective constraint on transcription regulation. Taken together, these results highlighted our incomplete understanding of gene regulatory divergence between primates and have important implications for understanding human evolution.
Declarations
Acknowledgements
We thank Yoav Gilad for supporting this project and members of the Gilad lab for helpful discussions; Amy Mitrano and Claudia Garcia for collecting the sequencing data; Darren Cusanovich for sharing computing scripts; Yoav Gilad, John Blischak, Annie Shieh, and two anonymous reviewers for reading and commenting on the manuscript.
Funding
This project was founded by NIH grant GM077959 and by the Howard Hughes Medical Institute.
Availability of data and materials
The sequencing data supporting the conclusions of this article are available at Gene Expression Omnibus (accession number GSE71808, data uploaded on 6 Aug 2015) [67]. The processed data tables (Additional files 4, 6, 7) and results from statistical tests (Additional files 5, 8, 9, 10) are included as additional files for this article. R code and bash scripts used for analyses are available at GitHub (https://github.com/siddisis/project_primate_ribo, code deposited on 4 May 2018) [68].
Authors' contributions
SHW, ZK, and JKP conceived and designed the study. SHW performed and oversaw the experiments. SHW and CJH performed and oversaw the data analysis. SHW wrote the paper. SHW, CJH, ZK and JKP commented and revised the paper. All authors read and approved the final manuscript.
Ethics approval and consent to participate
Not applicable.
Competing interests
The authors declare that they have no competing interests.
Publisher's Note
Springer Nature remains neutral with regard to jurisdictional claims in published maps and institutional affiliations.
Open AccessThis article is distributed under the terms of the Creative Commons Attribution 4.0 International License (http://creativecommons.org/licenses/by/4.0/), which permits unrestricted use, distribution, and reproduction in any medium, provided you give appropriate credit to the original author(s) and the source, provide a link to the Creative Commons license, and indicate if changes were made. The Creative Commons Public Domain Dedication waiver (http://creativecommons.org/publicdomain/zero/1.0/) applies to the data made available in this article, unless otherwise stated.
Authors' Affiliations
(1)
Center for Human Genetics, The Brown foundation Institute of Molecular Medicine, The University of Texas Health Science Center at Houston, Houston, USA
(2)
Department of Human Genetics, University of Chicago, Chicago, USA
(3)
Genentech, 1 DNA Way, South San Francisco, USA
(4)
Department of Genetics, Stanford University, Stanford, USA
(5)
Department of Biology, Stanford University, Stanford, USA
(6)
Howard Hughes Medical Institute, Stanford University, Stanford, USA